Sims 4 Christmas & Family Holiday Pose Packs (All Free)
This post may contain affiliate links. If you buy something we may get a small commission at no extra cost to you. (Learn more).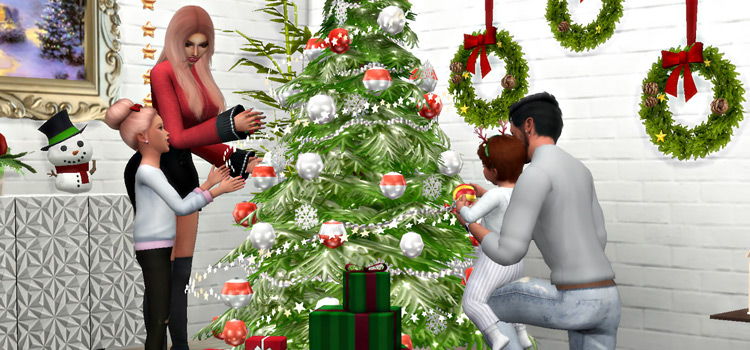 A lot of people typically take the start of the "-ber" months as a free pass to begin decorating and preparing for Christmas.
Nevermind that Halloween and Thanksgiving still need to happen first…
Hey, I get it. 'Tis the season to be festive and all that—even in the Sims.
So if you need a headstart on that holiday cheer for your simulated households, I've got you covered. Here are some sweet Christmas and general Holiday-themed pose packs for you and your festive (Sims) family.
1.

Deck the Halls Posepack by Lost in Parris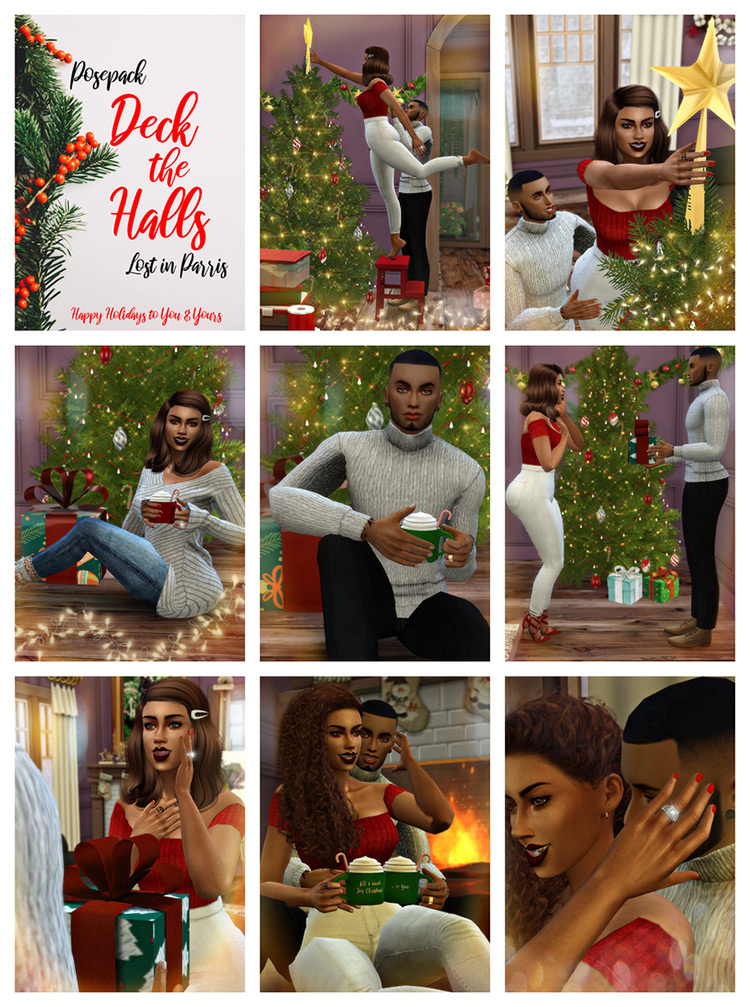 Cozy Christmas for two? Yes, please!
Lost in Parris's Deck the Halls is a cuddly holiday pack that shows a couple celebrating the season together. Tree decorating, Christmas tree posing, gift-giving, fireside snuggling—you've got the whole night pictured, basically.
I love that the poses are pretty clearly labeled in-game (saves me a lot of guesswork). And I like how the soft expressions make for some pretty adorable photos.
My personal favorite?
The fireside snuggles pose.
Just because I'm a sucker for well-made cuddling poses.
All the accessories needed (Christmas tree, stool, mugs, present) are credited in the description. But if you need the direct links to the mug and present accessories, you can get the mug here and the present here.
2.

Sharing a Christmassy Drink Together by katverse
Speaking of cozy Christmases for two, here's another one.
Warm, cuddly, and full of affectionate laughter.
The poses are quite simple and independent of accessories (minus the mug). In fact, with different decorations and outfits, they could be used outside of the holiday context—because it really is just two Sims enjoying good drinks and great company in the comfort of their worn-out sofa.
But the creator says they're Christmassy drinks.
Ergo, it's a Christmas pose pack.
The creator also uses Female rigs in the previews, but I tested the poses using Male models which worked great. So these poses seem pretty unisex to me!
3.

Jingle Bell Poses by Rethdis-love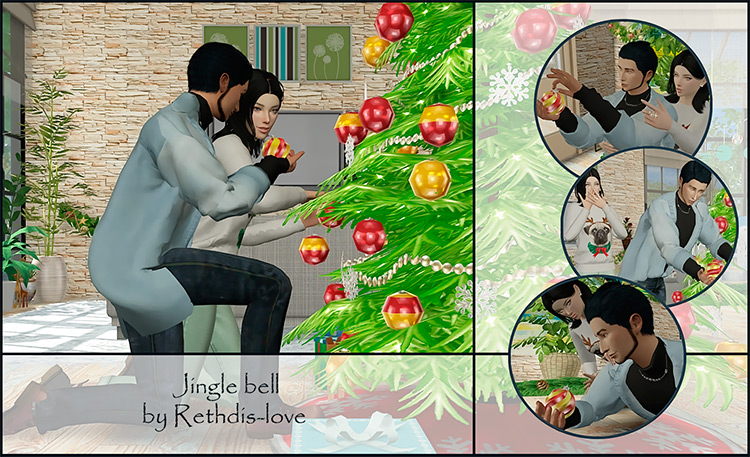 This one's pretty similar to Lost in Parris's Deck the Halls.
You've got a cute couple celebrating Christmas together. Only difference with this pack is that it focuses more on Christmas tree decorating rather than posing.
But don't you fret; there's still plenty of snuggling to go around!
Honestly, the expressions and closeness of the two Sims make this a very tender pack indeed.
There are also a couple of poses in here that add a bit of story to an otherwise straightforward scenario, which I can appreciate.
God forbid the Christmas ball breaks, right?
Even if you don't plan on using the last two, the first handful of poses in the set are perfect for capturing adorably domestic holiday snapshots. Definitely worth downloading.
4.

Christmas Big Family Poses by Stay at Home Sim
Got a pretty extensive family tree (in the Sims)? Not a problem.
You can still fire off that cute family Christmas card with Stay at Home Sim's custom portrait pose.
It works for 14 Sims (yes, really) and it gives them plenty of personality to boot!
All the models have different expressions, different smile variations, different ways of holding themselves … it's pretty interesting how detailed you can get with a bunch of pixels, honestly.
All in all, I think this big family pose pack is cool to play with. And if you've got a crazy huge Sims family, it's a godsend.
P.S. if you want a crazy huge Sims family but don't know how, grab the FullHouse mod by TwistedMexi.
5.

Santa Time by simsgami
Sure, Sims 4 lets you interact with Father Christmas.
But where's the option to sit on his lap and rattle off your mile-long wish list? Pretty sure that's a quintessential Christmas tradition in areas with cheesy Mall Santas.
Simsagmi's Santa Time pose set may not give us an actual in-game interaction between Child and Toddler Sims, but it at least lets us take pictures of that scenario (plus a couple other wholesome Christmas-themed poses to boot).
You can sit Santa, the Toddler, and the Child Sim in any Sims 4 chair (base game or not), but you'll need to use this present accessory to avoid clipping in the third pose.
6.

MSI Christmas (Pose Pack) by Beto_ae0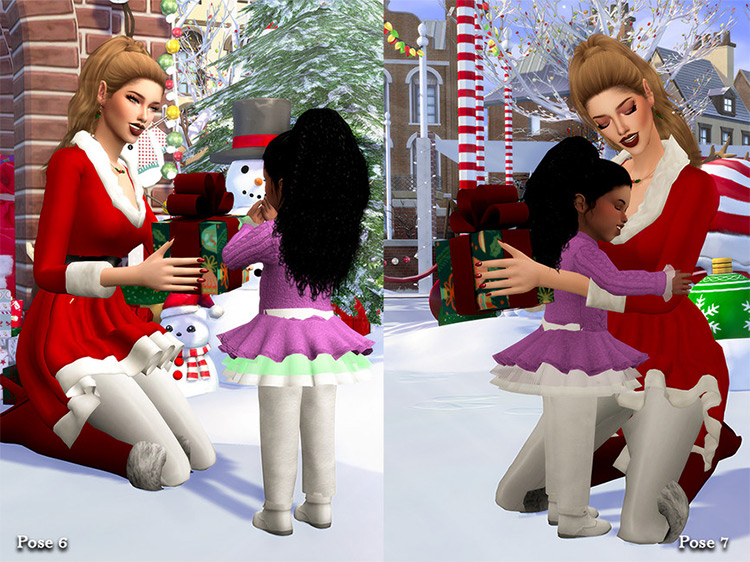 'Tis the season for Santa's helpers to flourish.
And this pose pack captures them in full gift-giving action.
Aside from the group pose (which is distinctly meant for three separate Sims), the poses in this set could be used with the same Adult/Young Adult Sim and Child Sim.
Just to give multiple variations of roughly the same concept.
(I dunno why that child deserves so many gifts, though.)
Otherwise, you can follow the theme set by Beto_ae0 and make it so that three different Sims are handing out presents to (and subsequently posing with) three different children.
Not gonna lie; it's a pretty heartwarming plot.
7.

Merry Christmas Pose Pack by zairahsim
I can always appreciate a nice, simple, straightforward pose pack—especially if the poses are high-quality.
That being said, that's exactly what this pose set from zairahsim is.
A wholesome depiction of a four-unit family at Christmas, decorating their tree and taking a cute family photo for the 'gram.
The creator doesn't explicitly mention any extra accessories to download in the description. But the Toddler Sim seems to be holding a decorative Christmas ball.
I used soloriya's Christmas Decoration Accessory (which is the same accessory used in Rethdis-love's Jingle Bell pack) to complete the pic.
8.

My First Christmas Pose Pack by Rethdis-love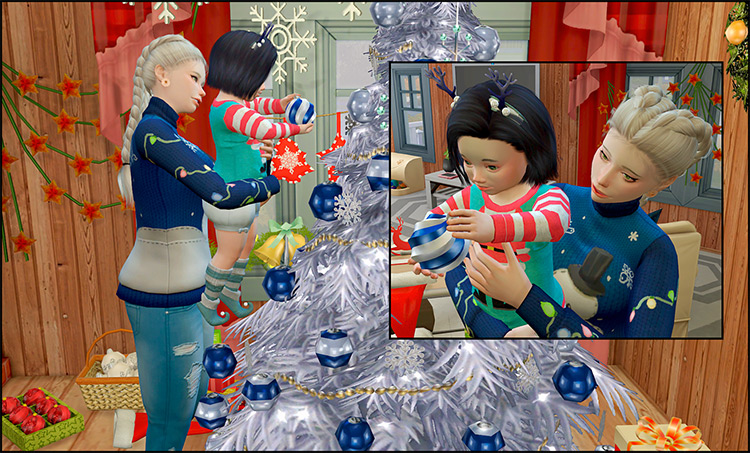 If you want a pose pack that is truly d'aww-worthy, try this one on for size.
It's all warm & fluffy poses of a Toddler decorating the Christmas tree with their family.
Cute, heartwarming, and could be mistaken for screenshots based on a Hallmark holiday special.
Plus the tenderness on the parent Sim's face is almost unreal. So kudos to the creator for the high-level attention to detail.
9.

Christmas Tree Pose Pack by Beto_ae0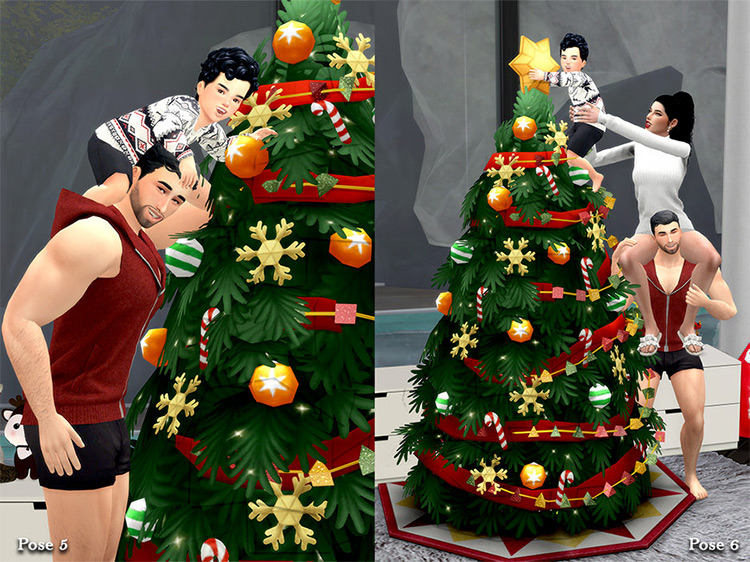 Here's another cheery family-centered holiday pack for the family album.
It features a family of three decorating the tree—and striking a couple poses along the way.
Plus it shares a pretty similar concept with some of the other packs in this list, but it definitely has its own unique charm (as do the others). There's a lot of cuddling, a lot of snuggling, and even a bit of cheerleading going on.
(Check out the sixth pose; that is definitely a festive human pyramid).
The only accessory you really need here is the candy cane (not soloriya's Christmas Ball, for once).
Unfortunately, the link in the creator's description doesn't seem to work anymore.
I think the pose looks fine without the candy cane. But if you really want your Toddler to hold something, I can recommend soloriya's Candy Heart Accessory or these cute twisty Lollipop Accessories from Sims Artists.
10.

Merry Christmas Posepack (TS4) by Jenni Life Sims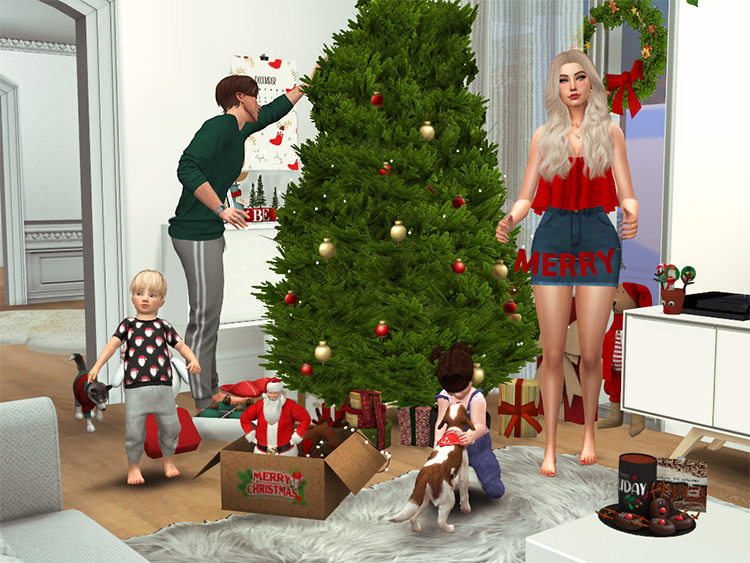 Last (but certainly not least) is another cute Christmassy couple pose set by Jenni Life Sims.
The preview photo sort of makes it look like another Christmas-Tree-Decorating pack, but don't be fooled. It's actually four poses: two solo shots and two couples, and they all involve this Merry Christmas Letters accessory by Simtographies.
Like I said, I can appreciate a simple, straightforward set of poses.
The concept of this bunch seems to be just two Sims sending some holiday cheer to their friends via photos.
It's cute, it's high-quality, and I'm pretty sure there aren't many packs like it. It's got my vote!
Browse:
Lists
The Sims 4
Video Games