Sims 4 Christmas CC: 20 Best Mods & CC Packs For Holiday Cheer
This post may contain affiliate links. If you buy something we may get a small commission at no extra cost to you. (Learn more).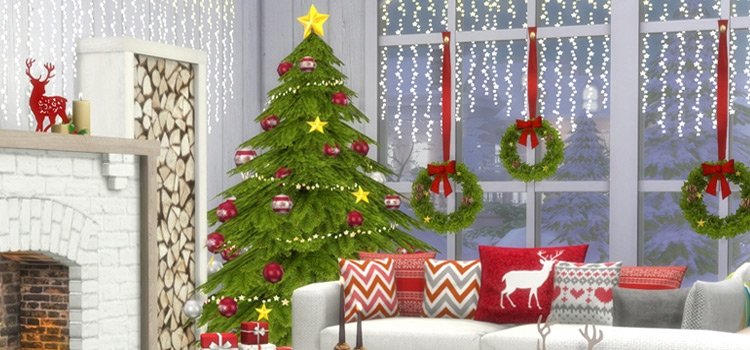 The *-ber months always seem to be right around the corner.
A stark reminder that the most wonderful time of the year is about to come back with a festive vengeance.
And couldn't we all use a little bit of the joyous feelings of Christmas?
Or in the world of the Sims, Winterfest!
This copycat holiday is exclusively celebrated once you install The Sims 4 Seasons expansion pack.
It has all the garlands, gifts, and Christmas shenanigans you'd expect from an eccentric bunch of unhinged Sims.
Yet even without the expansion pack, there are many ways to spread holiday cheer in-game, and still have your ideal celebration without breaking the bank.
All you'll need are some custom made CCs to grab that magic in time for December!
20.

Snow Wall Effect + Snow Terrains
Not all Sims players can experience a white Christmas.
Like how the song goes, some simply dream of making snow angels then drinking a cup of Hershey's hot cocoa when hypothermia starts setting in.
Tropical countries can't relate, but this fantasy can be a simulated reality with just a few dusting of snow CCs.
To fully immerse your Sims in a winter wonderland, you can drop a handful of snow on the windowsills and blanket the terrain with as little or as much snowfall!
19.

Havana Outdoor Lighting
A Christmas light display is as essential as Christmas trees and turkey dinner.
There's nothing like seeing strings of multicolored lights that can get you feeling a sense of awe and wonder.
And with the Havana Outdoor Lighting CC set, your Sim's house is about to get lit!
18.

Modern Pet Bed with Lights
It's a crime to leave your Sim's pets neglected during holiday preparations.
They deserve a great Christmas too!
You don't want them running away and suffering from freezing winter conditions, do you?
Prove you're not actually a psychopath by gifting them this pet bed adorned with lights!
The CC comes with 8 frame swatches and 5 light swatches to make your pets feel at home during the holidays.
17.

Christmas Dishes
I personally don't care about whatever plate, utensil, or glass I have to use when it's time to devour a Christmas feast… but special occasions merit special attention.
Especially if you're obsessed with creating themes out of everything like I am.
My Sims don't have fine china. But I make sure they eat out of reindeer-printed plates once they're done cooking that grand meal.
16.

Hot Chocolate Drinks + Hot Beverages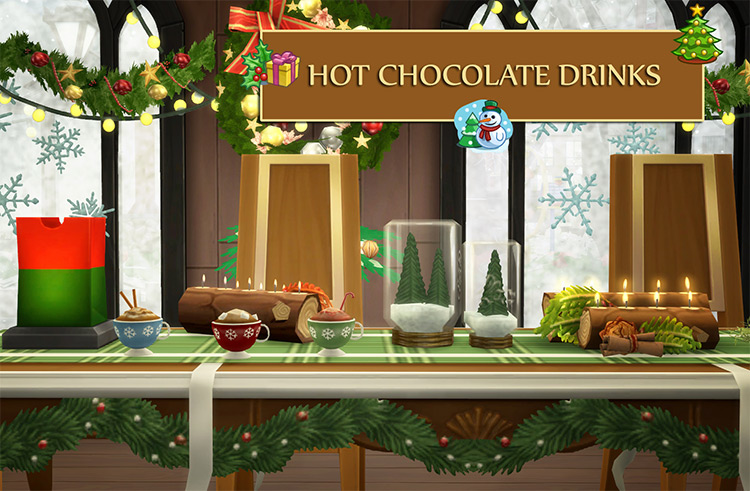 Waking up on Christmas morning in comfy pajamas with a cup of hot chocolate is a sacred rite.
It's like drinking up the holidays in sweet sips of milky cocoa.
Or in your Sim's case, drinking cupful's of barista-level drinks like Hot Peppermint Chocolate, Candylicious Cocoa, Gingerbread Latte (of course), and more!
Level up your custom beverages with these holiday-inspired drinks and get happy moodlets and relationship gains in the process!
15.

Be Merry
There are a lot of pros when celebrating Christmas.
Except maybe, you know, gaining weight?
This lifelong problem is similarly experienced by our Sims who are all programmed to keep on eating ham and turkey as soon as we leave them be.
Savory food is one thing. But Christmas sweets can be the death of dental hygiene.
Yet if you have a spread of candy canes, gingerbread men, snickerdoodles, and melted snowman cakes, who could resist?!
14.

Christmas Day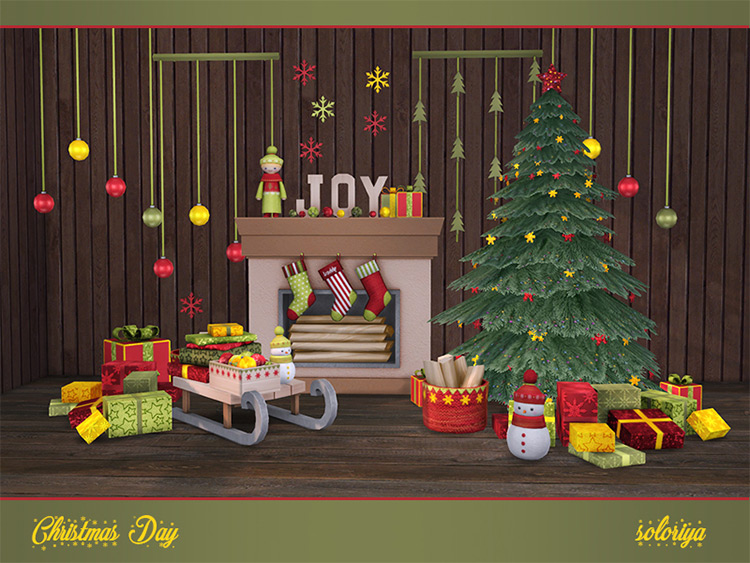 If you're a lazy bum procrastinating until Winterfest eve, then you best rely on this pre-made decoration set by soloriya.
It has all the essentials to make it seem like you exerted real effort in celebrating the holiday.
You already have a pre-decorated tree, a fireplace for Father Winter, socks, a sleigh table (because why the hell not), and more Christmas clutter like snowman figurines and empty gift boxes.
However basic this set is, it can still make you feel all warm and happy inside.
13.

Holiday Yummies
Every Christmas, we drive for five hours to our extended family's house and back because of tradition.
The two things that keep me motivated to take that long miserable drive are the gifts and the food.
Overflowing. Stomach-hurting. Free food.
But even our usual menu of meats and vanilla ice cream is but a fraction of this feast.
This CC covers an entire table with gingerbread houses, cupcakes, cookies, and adorable reindeer cake pops. Now sadly, it's all for show. But still great for décor, right?
An inedible reminder that some CCs are just too good to be true.
12.

Olea Christmas Decorations
364 days is way too long of a waiting time for holiday feasts.
In all those days of cravings, it can't be helped to fantasize how best I can serve a meal to make that long wait worth it.
Naturally, the dining room will be the first to undergo a gorgeous makeover.
But you don't have to design it plate by plate!
This Olea Christmas Decorations pack is your one-stop-shop in creating a sophisticated dining set with pretentious napkins, candles, and all the fancy stuff worthy of a Winterfest dinner.
11.

Christmas Light Set
When decorating for the holidays, it's not just the inside that counts.
We've seen real-life examples of people having too much holiday spirit by wrapping every square inch of their house in Christmas lights while the front lawn is surrounded by an army of snowmen and reindeers.
Excessive decor is just excessive – if you're trying to build something charming, then there's nothing wrong in being modest.
This lighting set from Severinka only consists of lamps… but hey, it's enough to look magical.
10.

Christmas '19 Food
The only acceptable time to binge eat your weight without regretting it afterward is Christmas.
That's why the holidays are both a blessing and a curse because once those holiday treats are served, you could only crave for more.
Luckily, no one's going to complain if your Sims suddenly have a Santa belly and start being lazy bums days after celebrations are over.
And if you're wondering what Father Winter is having for Christmas dinner, then you're looking at it.
9.

Ice to Meet You
It's normal to be picky about what tree you'll be getting.
After all, we're dealing with the ultimate symbol of Christmas. It has to be perfect!
The pre-decorated Christmas trees of the Seasons expansion pack are already great. But CCs were made to be greater.
If you want a tree that looks like it was taken from the White Witch of Narnia, or has edgy black Christmas balls, then this CC is yours to enjoy!
8.

Christmas PJs
It's overwhelming to think about what to do over the holiday break.
There's only so much sleep you can enjoy before reality seeps in and grabs you in a chokehold.
But even faced with the inevitability of work and school, at least you can worry about it in the comforting warmth of Christmas PJs.
No fuss, no ugly itchy sweaters – just matching pajamas in 15 festive prints that you and your whole family could wear and get embarrassed about together.
7.

Xmas Family Poses
Now that you have matching Christmas jammies with the whole fam, it's time to immortalize the moment!
As exhausting as it is to organize a family picture in real life (especially with extended family), The Sims has it all figured out by literally commanding everyone to pose.
Now your Sims (and even pets) can finally look behaved and decent enough to ace a professional Christmas card shoot.
This poses pack has a total of 9 poses, including group and couple poses to maintain that happy family facade.
6.

Fairy Light Trees
I'm sure your Sims are dirty rich and can probably afford to buy an orchard.
If you have a massive estate thanks to the motherlode. So why not have dozens of Christmas trees instead of just one?
Rather than looking like a Whomping Willow from Harry Potter, the Fairy Light Trees CC glisten in colorful lights to illuminate even the most dreary of Winterfest celebrations.
With 10 colors to choose from, there's no excuse to not get into the full festive spirit.
5.

Scandinavian Christmas Living
I think we can all agree that Scandinavians have mastered the art of applying chic Christmas decor.
Modern, minimalist, and unapologetically monotonous, a Scandinavian-style decor will force you to clean up your Christmas mess and not leave any stains on its white and silver palette.
To save you some time on how to achieve such immaculate interior design, this CC from Severinka has got you covered.
Just drag and drop all 12 items in this pack and you got yourself a glamorous Scandinavian holiday look just in time for Christmas!
4.

Outdoor Christmas Set
Ignoring the fact that Sims can freeze to death, this Outdoor Christmas set is too cool to pass over.
Having a Christmas tree outside is probably the most impractical thing in this CC.
But no one's going to notice it while your Sims are roasting marshmallows and sharing Simlish stories around a campfire.
Unconventional and intimate, this CC by Jennisims can be your Sims' newest holiday tradition.
3.

Group Poses
T'was the day of Winterfest, but all your Sims are acting like it's just another day in the life of a video game slave.
Sims should be excited to open gifts and complain where the food's at like any normal Christmas celebrant.
But like we always do, players still have to select a command every 5 seconds for Sims to function properly.
Fortunately, these group poses can do just the trick for Sims to give us players a more festive performance.
2.

Build Up Christmas Tree
If you're expecting Father Winter to break into your Sim's house, you should be prepared to greet him with the best-looking Christmas tree CC.
This Christmas Tree CC from Wondymoon Design contains all the essential items that make up a dazzling holiday centerpiece.
Golden beads, balls, and other baubles, this CC is a shining beacon of Christmas cheer.
Once you've set it up, your Sims can start busting up some classic tunes like Froodage Lang Syne, Fwingle Zibbs, or Bor Simsa Yebsy Da Zurzoh!
1.

Happy Holidays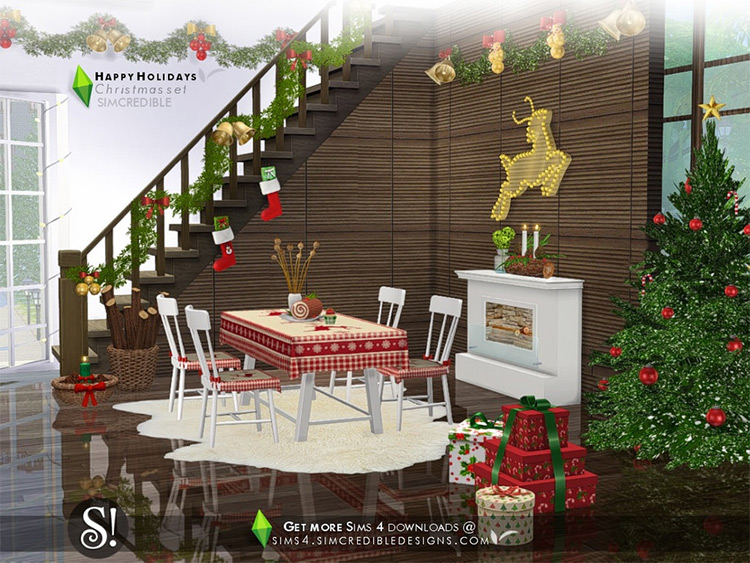 Aesthetics play a big part in getting into that Christmas mood.
And CC creator SIMcredible knows how to bring it in full force.
This Happy Holidays pack is filled with all the must-have decor to create a storybook Christmas.
All the garlands you'll ever need, all the ornaments to litter your home, it's all here in one CC pack!
Even if your Christmas preparations lack the glitz and glamor in real life, you can still enjoy your holiday dreamscape with this free downloadable content.
Browse:
Lists
The Sims 4
Video Games