Sims 4 Christmas Pajamas CC For The Whole Family (Kids + Adults)
This post may contain affiliate links. If you buy something we may get a small commission at no extra cost to you. (Learn more).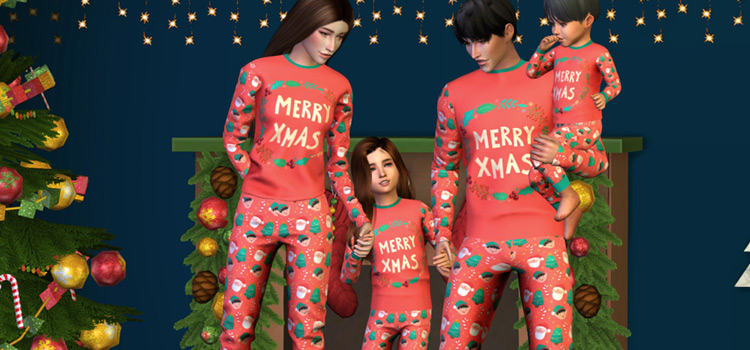 'Tis the season to be holly, jolly, and wear matching Christmas-themed pajamas with the fam.
Why do such traditions exist? No one really knows.
But! No one really minds them either (even if they whine and complain about it).
There's just something about wearing the same tacky matched pajamas with everyone in the family that confirms it is truly the season for family, fun, and festivity.
If your Sims uphold this tradition, you're going to love these custom pajamas.
1.

Holiday Pajamas For All by Onyx Sims
How would your Sim like some thick onesie pajamas with fun, seasonal themes?
Onyx Sims's Holiday Pajamas For All has a pretty interesting silhouette paired with pretty cute (and thematic) patterns.
Texture-wise, the PJs look wonderfully warm and cottony thanks to the random bunches and wrinkles of the fabric.
They add a distinct look to the pieces that make them visually appealing.
This .package file contains 10 different pattern options, and each pattern has a distinct style.
Can't say which one's my favorite, but the blue onesie pajama with tiny Santas scattered all over is a strong contender.
2.

Matchy-Matchy Christmas PJs by simplistic-sims4
First of all, how cute is the name for this set?
Second of all, how cute are the PJs?
Seriously love the detail that went into these Christmas pajamas from simplistic-sims4.
The creator went the extra mile to make each pajama a different style to better suit the model.
So Female Young Adult/Adult frames get a comfortably stylish (and breathable) combo of spaghetti-strap tops and pedal pusher bottoms.
Young Adult/Adult Male frames and kids get the classic button-front sleep set.
And Toddlers get an absolutely adorable onesie with a hood.
All of them can be found in the Full Body Category except for the Young Adult/Adult Male set, and all of them come with 15 different patterns.
3.

Christmas Elf Pajamas 2019 Set by dgandy
These festive green pajama sets give "Santa's Little Helper" a whole new meaning.
The design would honestly be ridiculous if it wasn't meant to be a cheesy family Christmas tradition.
You know, the kind of tacky that literally no one can get away with unless it's for the holidays.
Think Ugly Christmas Sweaters.
It's forgivable only during this season.
That being said, I will admit that matching jingle elf pajamas for everyone in the family – toddlers, kids, and young adults – is certainly unique.
And if they're not being used as pajamas, they can totally double as costumes for the school's annual Christmas play, so. At least it's a great two-for-one.
You can find the PJs in the Full Body category for Male and Female Adults/Young Adults.
As for the Children and Toddlers, their sets come separate. Find the elf top in Tops and the matching pajama pants in Bottoms.
4.

Christmas Patterned Pajamas by JustAGamerGirl
This isn't exactly a full family pajama set, but Kids and Toddlers don't always get cool CC, so.
I thought I'd include this option to give them a little love.
JustAGamerGirl's pack contains custom pajama tops and bottoms for both life stages, and they are so adorable.
They look really cozy too, what with the long sleeves and cuffed bottoms.
The tops and bottoms all come in 12 matching swatches to create 12 pajama sets.
But since the top and bottom are separate, you can totally mix and match the swatches to create more.
Pair the top with the gift box pattern with the blue reindeer bottoms, or the blue reindeer top with the grey snowman bottoms.
Trust me; there are plenty of cute combinations to make.
5.

Family Christmas PJs by SimmerKate
Never thought I'd like full-body onesie jammies but, you know what?
They're growing on me.
This is another unisex full family Christmas pajama set for adults, children, and toddlers.
Unlike simplistic-sims4's Matchy-Matchy Christmas PJs, the style and cut of the onesies remain the same for all models: a long-sleeved one-piece sleep set with cinched cuffs at the wrist and ankles.
It comes in 3 different colors:
The festive pattern for all three colors stays the same.
Find them in the Full Body category for all models and sexes.
If you haven't got all of the available life stages in your household (say you've only got one Young Adult and a Child), no worries; you can download the .package files for each life stage separately.
6.

Family Christmas Set (Get Together Needed) by Pinkfizzzzz
Pinkfizzzzz is another creator that went the extra mile with these custom Christmas pajama sets.
Toddlers gets a hooded onesie, Children get a zippered one-piece suit, Female adult Sims gets another spaghetti-sleeve top with a cropped bottom, and Male adult Sims gets a robe.
This is honestly the most varied pack on this list, and I love the detail.
The styles definitely suit the age and sex.
Like, how on-point is it for dad to just slip on a bathrobe and call it a day?
Not sure how socially acceptable that would be for a cute Christmas family photo, but that's none of my concern.
All I know is that the set is cute – and the available pattern options (there are 4) are a hundred percent festive.
My favorite is the light-gray pattern with the pine trees, but the red one with the gingerbread men and candy canes is definitely a close second.
7.

Merry Christmas by LazyEyelids
These custom pajamas are quite fetching, actually.
I did say that the onesies are growing on me, but my preference for a separate top and bottom still rings true.
I just like that you can mix up the patterns so that they don't match, you know? Just for a bit of flavor.
LazyEyelid's matched set does have a bit of originality in terms of pattern options.
Unlike most of the PJs listed here, the pattern isn't spread out all over the pajama top and bottom.
The main torso looks more like a plain colored t-shirt with a big, holiday-themed cartoon in the middle (spoiler: my personal favorite is the Oh Deer one). Only the sleeves of the sweater and the pajama pants sport the repetitive Christmas design.
It's a great way to draw attention to the festive graphic element without losing the iconic "messiness" of Christmas sweaters.
8.

Xmas Sweaters For The Family by serenity-cc
And speaking of Christmas sweaters …
Yes, these aren't exactly pajama sets. They're matching Christmas sweaters for the whole family!
However, when I saw the preview photos, they looked cozy enough to sleep in.
Also, they're a set for the whole family. How could I say no?
These sweaters are surprisingly stylish (as stylish as Christmas sweaters can be) and look fantastic in-game.
I'm in love with the mesh, too.
All the details – like the bunching around the wrists and the small wrinkles on the sleeves – make it look so soft and comfy.
The patterns also look great!
I mean, yeah, some have the classically obnoxious Christmas patterns.
But some options – like the plain red version and the red-and-white one with snowflakes – look surprisingly good.
Just pair it with some pajama bottoms and you've got yourself a festive sleeping set for the whole family.
9.

Advent Calendar Day 17 & 18 by silverhammersims
This one's a pretty hefty Maxis match CC set from silverhammersims.
One download gives you a Christmas-themed pajama set (with matching tops and bottoms) plus a bonus t-shirt with holiday-vibes graphics.
The PJ set comes in 10 swatches, and the t-shirt has 5 swatches.
This is, again, one of those custom jammies that you can mix and match the tops and bottoms with for more design options.
I personally love how the matched set looks on my Sims.
There's just something about the mesh that looks really good in-game.
And this set also has some of my favorite patterns so far. Specifically, the light grey one with the red and dark-grey reindeer.
It's incredibly fetching on the Male Sims frame.
10.

'Twas the Night Before Christmas Toddler Jammies by Splendid Little Sims
I quote the creator: "Little ones like to be festive too!"
So, so true.
EA gave us the Toddler Stuff stuff pack so we could give the tiny things more love.
But, as I'm sure you'll agree, there's no such thing as too many clothes when it comes to the Sims.
Especially custom clothes.
This pack from Splendid Little Sims contains 21 pajama tops and 11 pajama bottoms.
All holiday-themed, because the creator realized there was a distinct lack of festive jammies for their Sims.
These are only available for Toddlers – so no Kids and up allowed, apparently.
But I had to include them here because they're just too cute!
And although there are more sweater tops than there are pajama pants, all of the pajama pants' swatches match one of the tops' patterns, so you can still create matched PJ sets.
Browse:
Lists
The Sims 4
Video Games