Sims 4 CC: Christmas Presents & Gift Boxes
This post may contain affiliate links. If you buy something we may get a small commission at no extra cost to you. (Learn more).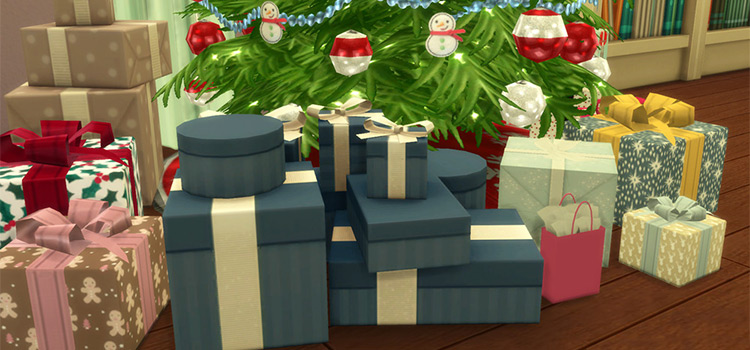 Christmas! 'tis the season to be jolly.
'tis also the season when retail sales and gift wrapping services are at an all-time high.
Everyone's in a giving mood during the holidays. I'm sure your Sims are no exception!
So we've got some cool stuff to help decorate their living space to reflect this suddenly generous behavior with cute, charming, and/or festive gift boxes.
Disclaimer: all CC items in this list are purely decorative. Actual gift items not included!
1.

Single Present by sim_man123
Let's start with something simple: a single present from sim_man123.
It's perhaps the most no-frills, nondescript gift box on this list, and I think that's downright charming.
It's literally just a cube covered in matte colored paper and tied with a single string. If your Sims are so minimalist that even their presents are clean and mono-colored, this Single Present would suit their aesthetic perfectly!
2.

Resized Gift Stack by Martine
If you got the free TS4 Holiday Pack update, then you no doubt have a fresh stack of gifts in your game.
But as the creator says, the presents are quite large. And the colors don't really work, either.
I'm actually fine with the original swatch, but I agree about the size.
Some of us like playing in Tiny Homes; we don't a pile of gifts taking up 50% of the living room!
This Resized Gift Stack by Martine shrinks the mesh down to half its original size and adds 24 gorgeous new swatches for you to enjoy.
3.

A Bunch o' Gift Boxes by bellassims
Exactly what it says on the tin; a bunch of decorative gift boxes all clustered together to create a pretty little holiday picture.
Christmas isn't about the gifts, sure, but gifts do make the ol' Christmas tree look a lot more festive and lively.
This mesh also comes in 30 gorgeous swatches too. So I'm fairly confident you'll find a wrapping-paper-and-ribbons combo that fits your Sim's current seasonal aesthetic!
4.

Christmas Wrapping Paper by bellassims
Bellassims also created these decorative gift wrapping papers.
Some are still rolled up. Others have been crumpled and set aside. I mean, these aren't gift boxes or presents per se, but they're related!
Plus, they add a visual narrative.
Like, imagine these items tucked away in a corner opposite the perfectly-wrapped presents beneath the Christmas tree. Just like that, the whole setup looks more personal!
5.

Scandinavian Christmas Gifts by Severinka_
What makes Scandinavian Christmas gifts different from regular Christmas gifts?
No clue.
Maybe it's the clean lines and slightly-rounded edges. Maybe it's the simple solid red color. Maybe it's the way the boxes are piled just so.
Whatever the case, these seasonal presents from Severinka_ are collected, organized, and really help set the tone.
They only have one color options – a plethora of red with hints of white – so your options are limited. However, given the theme of the décor, a tasteful matte red certainly isn't unexpected!
6.

Christmas Gifts 2018 – Open Gift Box 01 & 02 by Severinka_
The aftermath of excitedly opening presents on early Christmas morning; shiny new stuff, lots of torn wrapping paper, and open boxes everywhere.
In terms of narrative, these Open Gift boxes by Severinka_ would actually work quite well with bellassims' Christmas Wrapping Paper!
In terms of décor, I'd say half-opened boxes with lids and bows can sufficiently – and aesthetically! – clutter up a corner just fine.
Open Gift Box 02 – which you can download here – doesn't have any crumpled paper inside, but its lid is just as askew.
7.

5th of December by stefizzi
This set is actually the base game Christmas tree split into several pieces; the Christmas tree itself and the gift boxes underneath it.
The creator went so far as to split the gift boxes into several separate variations, too: a few gifts, more gifts, a lot of gifts, and opened gifts.
It's a cute concept!
Plus, all individual gift piles clutter quite nicely.
8.

Merry Christmas! Joyeux Noel! by Around the Sims 4
Looks like your Sim's got a fairly large holiday haul this year!
Rolex watches, gaming computers, and boutique dance tunics—oh my!
All jokes aside, this decorative pile of presents is pretty impressive (and intimidating). It's a whole mishmash of ideal gifts ranging from expensive watches to novel knick-knacks.
I'm including it here because some of the items – like the Rolex Watch, the Pastrymix, the Dance Tunic, and the Lillabo Train Set – come with their own separate gift box/bag swatch.
It helps that their wrapping is sufficiently seasonal, too.
9.

Happy Holidays – Stacked Gifts by SIMcredible!
Happy Holidays, indeed! SIMcredible!'s Stacked Gifts is a cute, charming, and very festive little pile of presents all wrapped in themed wallpaper and finished with a shiny bow.
There's a certain playfulness to the décor, what with the perfectly consecutive sizing and the long length of ribbon.
Sneak it under your Sims' tree for some good ol' holiday cheer!
10.

Happy Holidays – Gift Cube by SIMcredible!
The very aptly-named Gift Cube by SIMcredible! is a simple square-shaped present wrapped in bright, festive paper and topped with a glossy little bow.
It's cute, it's straightforward, and it's perfect for custom cluttering!
It comes in five total designs — all appropriately Christmas-themed, of course!
11.

Stackable Presents by linzlu
Can you actually stack these presents?
Yes. Yes, you can.
I was delighted to find that they were basically décor items with décor slots on them and thus spent a solid ten minutes rearranging them.
It can be a little tricky to get them positioned exactly how you want them to look, but I think the potential for variety is what's important here.
Since you can change up the order, you can effectively clutter the bottom of a tree with the same pile of presents and they wouldn't look like carbon copies!
12.

RusticXmas – Gifts by Syboubou
For the environmentally conscious, the themed party throwers, and the true minimalists, behold; some plain gift boxes.
Because why spend on bright and shiny wrapping paper when you know it's just going to be ripped to shreds later on, right? (Some would say it's part of the experience, but this isn't that article).
All jokes aside, these gift boxes are actually really pretty.
Contrary to the name, they actually feel more modern and contemporary than they do rustic, but I think that's just because of the solid matte colors, clean lines, and absence of jarring patterns.
13.

Christmas Presents by Martine
If you need to decorate your Sims' living room for Christmas, how about sliding in a couple presents? In two sizes and 35 designs?
Yeah, the concept behind Martine's Christmas Presents pieces (part of their bigger Christmas 2015 pack) is pretty simple, but the swatches and size options make it pretty darn versatile.
There are two square gift boxes that can be sized up or down as needed. Once the presents are sufficiently piled, you can then go nuts with the wrapping paper. 35 possible designs practically guarantees no repeats!
14.

Yibas Christmas Deco Mix Gift Box by jomsims
This stack of Christmas presents by jomsims is kind of like SIMcredible!'s Stacked Gifts, what with the consecutive sizes and perfect piling.
However, jomsims' version is a little more uniform with the wrapping paper, in the sense that all gifts in the stack have been wrapped in the same starry design.
Also, it looks like each gift gets their own bow and ribbon this time.
Either way, it makes for charming, festive décor.
15.

Christmas 2018 Gifts I, II & III by wondymoon
With wondymoon's Christmas 2018 Gift set, it's all about variety.
Although they're posted separately, all three gifts are part of one big décor set.
And you can absolutely mix, match, and arrange as you see fit to create a unique present pile!
Gift I is a rectangular gift box, Gift II is your typical square, and Gift III is actually a gift bag.
It comes in three appropriately seasonal designs too!
Browse:
Lists
The Sims 4
Video Games