Best Sims 4 Christmas Tree CC: The Ultimate List
This post may contain affiliate links. If you buy something we may get a small commission at no extra cost to you. (Learn more).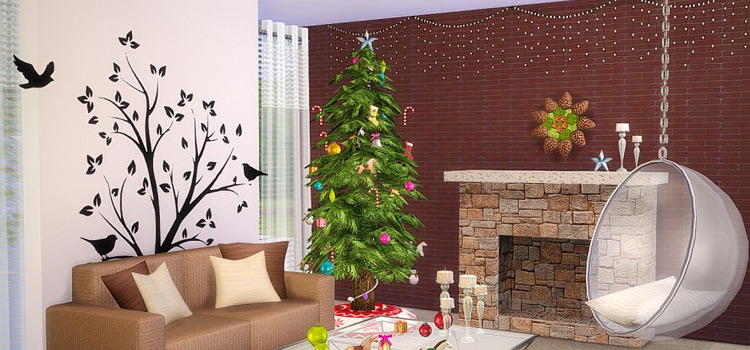 The Sims 4: Holiday Celebration Pack and The Sims 4: Seasons introduced Christmas trees to the game.
And while there's nothing particularly wrong with EA's Christmas trees, there's nothing particularly exciting about them either.
So when Simmers feel like we're lacking variety, who do we turn to?
Good ol' custom content.
Here's our hand-curated list of custom Christmas trees you might be interested in for your festive Sim families.
1.

Sleigh-in' It Modern Winterfest Set by RAVASHEEN
Aside from the incredibly creative and incredibly catchy name, this custom Christmas tree is all kinds of awesome. Starting with the obvious: it's got a different shape.
Sure, its silhouette still leans vaguely pine tree. But as I'm sure you noticed, a major player is missing.
Is it still a Christmas tree without all the fluffy leaves? Apparently, yes!
The avant-garde design, the jagged edges, the geometrical, plumb-bob-y ornaments … they all work surprisingly well together.
It may not be what you traditionally expect a Christmas tree to be.
But you can't deny that this is incredibly eye-catching.
The download link is for the whole set of 15 creations here.
You do have the option to download them individually, but I recommend just getting all of them in one .ZIP file. There are 3 sizes for the tree and 3 sizes for the ornaments that snap on.
And each size (for both trees and ornaments) has eight color options.
2.

Custom Christmas Tree by PlatinumLuxeSims
I noticed that a lot of custom Christmas trees involve some form of a "build your own tree!" concept.
I think the biggest difference is whether the ornaments come pre-arranged to fit the tree, or if you can just slot them onto the tree wherever & however you like.
Obviously, both options have their advantages and disadvantages.
I personally like having the ornaments come pre-arranged, but that's just because I've never been particularly motivated when it comes to decorating.
But I digress.
PlatinumLuxeSims's Custom Christmas Tree uses the pre-arranged method.
The baubles are all just one big décor item that you can snap to the tree so it's decorated in a second. And the baubles are also really pretty. They have this nice metallic sheen to all of them.
The tree itself has 15 swatches, the bauble sets have 18, and the Christmas tree stars have 10.
There are also two types of lights: single string lights and double string lights.
The single string lights have 12 swatches while the double string lights have 6 to pick from.
3.

Christmas Tree Lamp by veranka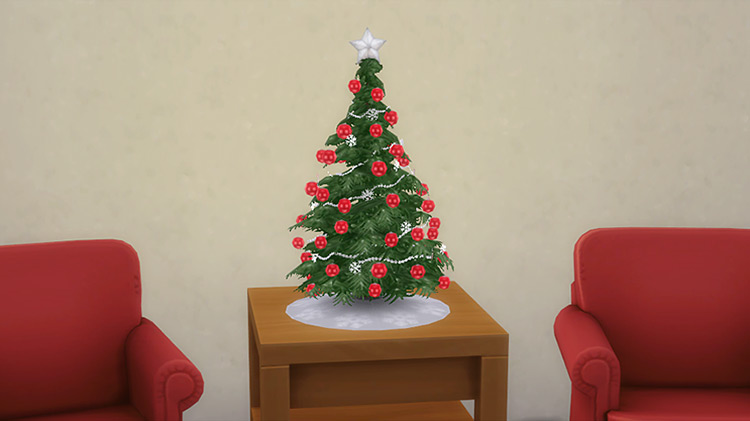 No space for a full-sized Christmas tree?
No problem.
Get some light in your apartment and sneak in a little holiday cheer while you're at it with this oh-so-cute Christmas Tree Lamp by veranka.
It is exactly what the name says: a tiny tabletop-sized Christmas tree that gives off enough light to qualify as a lamp.
It's small, it's adorable, and the concept is by far the most unique one I've seen for this category.
Seriously, I would love to have one of these in my apartment, too.
Studio and one-bedroom spaces don't have the extra wiggle room for a regular tree, so this is a terrific workaround!
4.

Christmas 2018 Decorations by wondymoon
If my research is correct, wondymoon is actually one of the first (if not the first) Sims CC creators to release a build-your-own Christmas tree set.
Their Build Up Christmas Tree CC is also on this list, but I'm starting us here with one of their simpler packs.
This set has 10 total creations inside.
If it's just Christmas trees you're after, you just need to download the following:
Christmas Tree
Christmas Tree Ornaments
Christmas Tree Lighting
Although there's only one variation for the Christmas tree light, there are three Christmas trees to choose from. They're all pretty fluffy, and they come in varying shades of green.
There are also three pre-arranged Christmas ornaments to choose from, and they're all pretty distinct.
Aside from the colors of the baubles being different, other elements in the set are different too.
For instance, one set of decorations uses Christmas balls, plumb-bobs, and drop-shaped ornaments. The other set only uses Christmas balls and a long garland.
The differences are subtle, but they're there.
And they're enough to make each tree feel unique.
5.

Christmas Set by Strange Storyteller Sims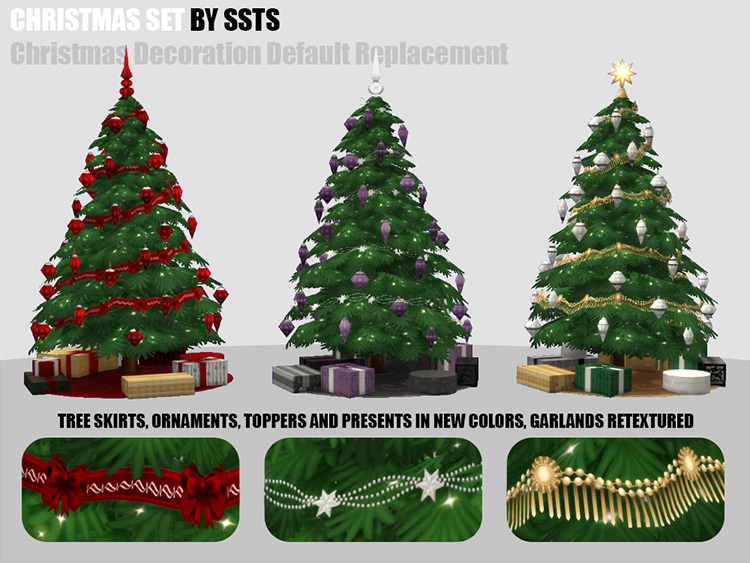 Head's up! For this CC to work, you'll need to have Seasons installed.
But if you don't, don't worry — there's plenty of other awesome trees on this list that work fine with just the base game.
That said, if you do have the expansion pack installed, consider downloading this tree.
Like the previous couple items, this Christmas tree follows the build-your-own-tree concept.
The biggest difference is that the decorations here will actually replace the default Maxis Christmas tree decorations!
So for the tree to actually be decorated, you'll need to get your Sims to interact with it (via the "Put Up Decorations" interaction that you get when you click on the tree).
There are 6 color variations for the tree (and the gifts beneath it) and 4 options for the string lights.
So it's basically a simple custom tree that gives the player new decorative options while still keeping the event aspect of the game.
6.

Customizable Christmas Tree by Things by Dean
This pack contains probably some of the most colorful Christmas trees I've seen so far.
I'm talking red, white, blue, yellow, and hot pink.
Yeah, I was surprised too.
But I gotta admit, it's cute.
And if you're going to get a fake tree anyway, why not go for a really unnatural, eye-catching color?
Another thing that sets this tree apart would be the decorations.
As I mentioned earlier, there are two types of ornaments in buildable Christmas tree packages. One type is the pre-arranged ornament group that just snaps to the tree in a fixed formation.
The other is basically this one: single Christmas ornaments that you can place on the tree wherever and however you please, depending on the number of object slots available.
(This tree has 40)
And as far as CC goes, this type is significantly more customizable since you can actually choose and place each individual decoration.
But if you're in a hurry, the process can be a bit of a bother.
At the end of the day, it all totally depends on you.
If you prefer having control over every detail, this type of buildable Christmas tree is perfect.
7.

Christmas 2020 Set by syboulette
If we're talking buildable Christmas trees, syboulette's is perhaps one of the most intuitive and jam-packed packages you'll find.
Let's start with the fact that the tree has 150 custom slots.
Yup!
You can stick as many as 150 ornaments to that thing and the mesh will allow it.
The creator has also made it so that only ornaments from the same pack will clip on, so you don't have to worry about other clutter accidentally finding their way to the tree.
The whole pack contains a whopping 23 items: the Christmas tree (available in six swatches), the Christmas tree ornaments, piles of presents, an advent calendar, and lots more.
And you can arrange the entire scene literally any way you'd like.
Want ribbons in your tree? Dip-painted baubles? Nothing but lights?
You have these options.
I also have to give mad kudos to the creator: they also include a pre-arranged option for the decorations in case you don't feel like slotting 100+ decorations.
I live for that sort of versatility in Sims 4 CC.
8.

Debka Christmas Living Part 2 Christmas Tree by jomsims
If you're not in the mood to build your own Christmas tree, and you really don't feel like entering live mode to have a Sim put up decorations, jomsims offers a simple solution:
A pre-decorated Christmas tree that you can just plop into your build.
This CC item has everything neatly packaged together in one décor item: the base tree, the ornaments, the garlands, the Christmas tree star, and even the tree skirt at the bottom.
Think of veranka's "Christmas Tree Lamp", only full-sized.
And this tree is available in 4 swatches (I really like the powder blue one, by the way!) plus it's base game compatible.
9.

Build Up Your Christmas Tree by SIMcredible!
Bringing you another comprehensive buildable Christmas tree set by the ever-so-talented SIMcredible!
Let's talk logistics:
There are a total of 14 items in this décor set:
2 types of Christmas trees
2 string light options
10 ornament options
This is the kind of build-your-own Christmas tree pack where you can place individual ornaments into slots rather than snap on a pre-arranged overlay.
The creator doesn't say how many item slots there are specifically (and I didn't dare count them all) but based on my experience, I think there are more than enough to create a well-decorated tree.
Also these trees come in two size options: large pine and small pine. And each option has three color swatches. The color and design options for the baubles vary depending on the ornament.
I'm particularly fond of the candy canes, since I didn't see very many buildable Christmas tree sets with that sweet treat element.
As far as customizable packs go, this one may not be as extensive as the other items on this list… but I think that's what makes it a good middle ground for Simmers who want to customize the ornament arrangement, but don't want to spend too much time finding all the available slots.
10.

Build Up Christmas Tree by wondymoon
Here we go: the OG.
Wondymoon is one of the first creators to release a build-your-own Christmas tree pack.
And as you can see from the other items on this list, a lot of content creators followed suit.
I definitely see the appeal, especially if decorating in TS4 is something you genuinely enjoy.
Wondymoon's pack makes it easier with pre-arranged decoration options that you can just snap into place.
Not as customizable as buildable Christmas trees that have individual object slots, but certainly just as intuitive.
It contains 8 new items: a Christmas tree (available in five swatches), string lights, a treetop star, decorative beads, candy canes, and baubles, just to name a few.
But what's the best part?
It's all base game compatible.
No need to download an EP or GP just for the mesh!
Browse:
Lists
The Sims 4
Video Games