Best Sims 4 Circlet CC & Mods (All Free)
This post may contain affiliate links. If you buy something we may get a small commission at no extra cost to you. (Learn more).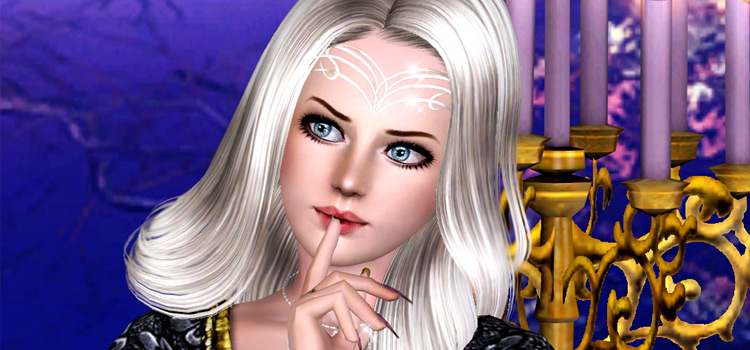 If you've never heard of circlets, let me explain:
They're stunning pieces of headwear that come in different forms: diadem, corolla, or crown. And they're often ornate to purposefully look luxurious and otherworldly. Like you couldn't just buy them with a credit card because they only accept emeralds for these.
I like having circlets in my game, mainly when I play with my supernatural Sims.
Whether they're a princess, a witch, a nature goddess, an elf, or an ancient vampire, my Sims are always happy to make their importance known.
And here are some of my all-time favorite custom circlets that you can download and use in your game too.
1.

Lunar Oracle Circlet by LunarEclipse/Rosiel
These Lunar Oracle circlets are incredible. They come in 24 different colors, and are available for all genders in the game – and for any Sims aged teen to elder.
They would be perfect for Elves or fairies.
Personally, I'll be using these for my Midsummer Night's Dream roleplay.
Tatianna and Oberon would look like proper fairy royalty wearing these.
2.

Circlet with a Pearl by simverses
Circlets don't have to be used for supernatural Sims only. They're also great for some historical gameplay.
I'm sure I'm not the only one who sometimes pretends my Sims aren't from modern days, right?
Well this circlet in particular is distinctly medieval. And when paired with the right dress, it would make a convincing outfit for a jousting party.
3.

Princesse Meride by Jomsims Creations
This set doesn't just come with a circlet – because there's matching earrings and a necklace here too.
That's right – you're getting 3-in-1 with a simple click of a button. And all the accessories here come in 4 swatches: black, red, pink, and blue.
This stuff would be perfect for a member of the royal family.
Or maybe for a princess who likes her jewelry to be more on the extravagant side? Either way, this tiara will definitely make a statement.
4.

Snowflake Accessories by Ladeshire
I'd say this set is a must-download for all of us accessories lovers when winter rolls around.
Not only will you be getting a beautiful circlet, but you'll also have two different types of matching earrings to go with it.
I love the snowflake design on this. It's so intricate and beautiful.
And your Sims could wear this to a winter fair, or even on Christmas day. Plus your Sims don't have to be a princess to feel special during the holidays.
If they want to put on a diadem, let them do their thing.
After all, it's Christmas. It's when everyone's wishes come true. And that definitely goes for our beloved Sims, too.
5.

Celtics Circlet by Tankuz
This Celtics Circlet CC is one of my favorites in this list. It's simple, delicate, and would work for a good number of outfits and themes.
Sure, I can see it looking great on a witch or a druid.
But let's be honest – it would also look just marvelous with an elegant wedding gown.
Who needs tiaras and veils when you have this circlet?
6.

Elven Circlet by Tankuz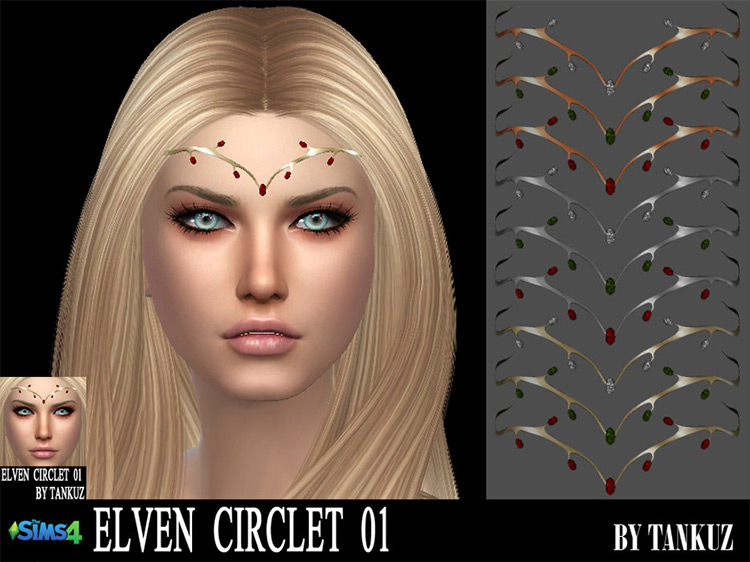 I'm getting a major "Game of Thrones" vibe from this one, even if I can't really explain why.
I think it's the base together with the stones creating a sort of twig/flower effect. It would absolutely work as one of the crowns of the many kings of the series.
Or maybe this one's for the queen of all the kingdoms?
Either way it'll look resplendent on your Sims.
7.

Poison Ivy Circlet by Blahberry Pancake
Even if you tried your hardest, you would not be able to find a more autumnal item than this set of a necklace & circlet.
This colorful crown comes in 14 swatches total, so you can choose anything from warm orange to multicolor to silver. Even if your Sims aren't into this whole fall thing, you could still enjoy this one (depending on the outfit).
The best part here is by far how perfectly the gem matches the leaves.
If I ever become a forest fairy, this is what I'll be wearing all the time.
8.

Elven Circlets by Ladesire
There are enough circlets in this CC set to dress a whole city of elves!
From simple and thin diadems to massive statement pieces with shiny gems, this set truly has everything you could possibly ask for.
What you could do with this one is create a whole hierarchy in the Elven Sim world, and assign different circlets to different posts in the family.
The biggest gem goes to the king. His heir gets the smaller gem. The other children get a bunch of tiny gems. The cousin still gets a circlet but with no gems…
See where I'm going with this?
Follow my lead and we could organize a full-blown kingdom.
9.

Diadem N1 by Kanoya
What I like most about this diadem is that it looks like a choker – except it goes on your forehead, not around your neck. And I think that's kind of neat!
It comes in 9 different gem colors, and you can pick between gold and silver chains – meaning you have a total of 18 swatches available to browse through.
This one would again work wonderfully on a royal member of the family. But maybe this time, instead of a princess, you could put it on the queen?
OK it might just be me here, but I envision this on a gentle mother figure who always gives the best advice and the warmest smiles.
10.

Brienna Accessories Set by Ladesire
This CC is for those of you who like a statement piece, but aren't necessarily fans of massive gemstones.
And it's really an impressive accessory pack – it could even work for male or female Sims!
In this set you'll find earrings, a necklace, and a big diadem.
If your Sim is insecure about their unusually large forehead, this CC might be their perfect match. Trust me – this baby will cover up that forehead without a problem.
Browse:
Lists
The Sims 4
Video Games