Sims 4 Cleaning Supplies CC, Clutter & Mods
This post may contain affiliate links. If you buy something we may get a small commission at no extra cost to you. (Learn more).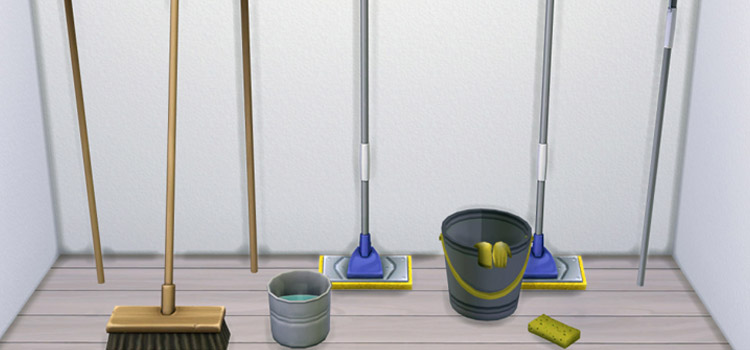 The popularity of packs like Laundry Day and Bust The Dust Kit lets us know one thing:
Simmers sure do like to clean.
If meticulous cleaning is a must in your Sim households, you've noticed that the variety of in-game cleaning items and decor are limited. And some really essential ones are missing altogether.
From dish soap to sponges and mops, the immersion we need for cleaning is sorely lacking… until today!
After searching far and wide, we've compiled a bunch of awesome CC options to make your game really sparkle and shine.
Cleaning Essentials Set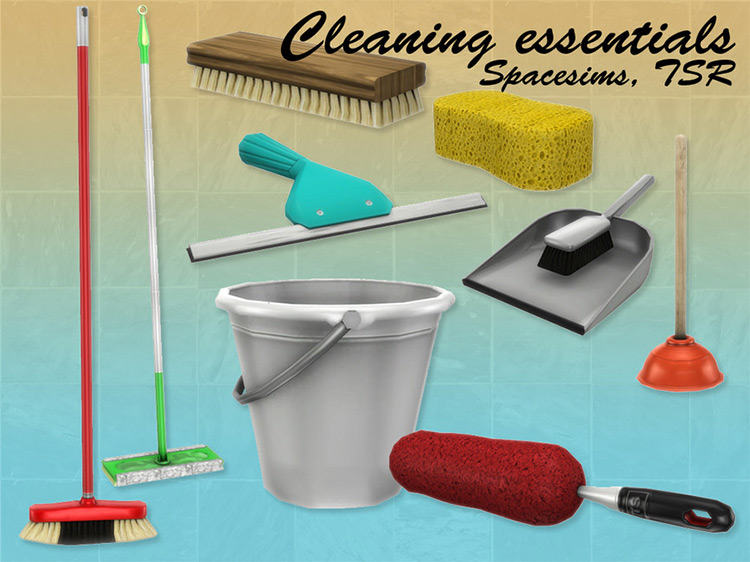 This Cleaning Essentials set by Spacesims gives you everything you need for efficient cleaning without any of the extras.
There are a couple of in-game decor alternatives (brooms and a bucket, for example), but the vast majority are must-haves (sponge, plunger, window squeegee, and more).
This is a great little cleaning kit for a single Sim in a small apartment or tiny home!
And there's a lot you can do with just this CC by itself. But don't leave just yet, we've got plenty more stuff to share.
Supplies Party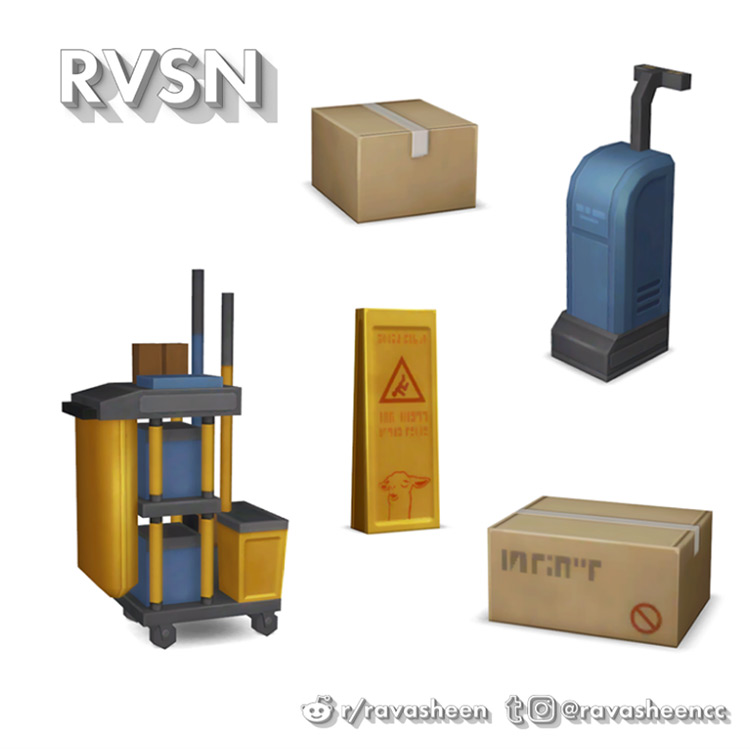 Ravasheen's party CC collection was made for small business-owning Sims who take pride in keeping their stores and restaurants clean.
It comes with two boxes, a yellow Simlish 'caution' sign for wet floors, an industrial vacuum cleaner, and a janitor-style mopping station.
What's not to like here?
These are Maxis-Match friendly and base-game compatible, so no need to worry about styles clashing if you're not into Alpha CC.
TS4 Cleaning Supplies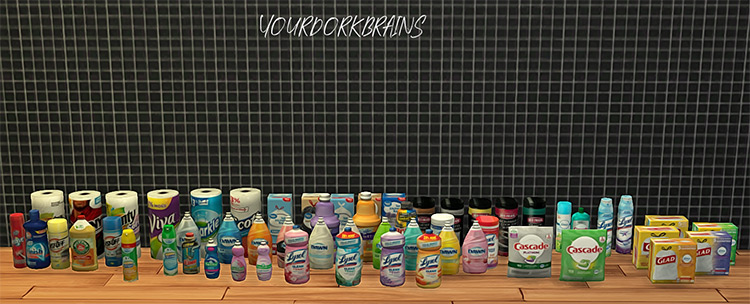 Don't fret, Alpha players: this TS4 Cleaning Supplies set will certainly be at home in your game.
YourDorkBrain's 22-item collection has every real-life cleaning supply item and product available to fill your Sim's pantry or linen closet.
This includes dish soaps, trash bags, cleaning solutions, disinfectant sprays, dishwasher tablets and much, much more.
They are very high-quality items, so if you value realism in your game above all, don't hesitate to add it to your downloads.
Boxroom Vacuum Cleaner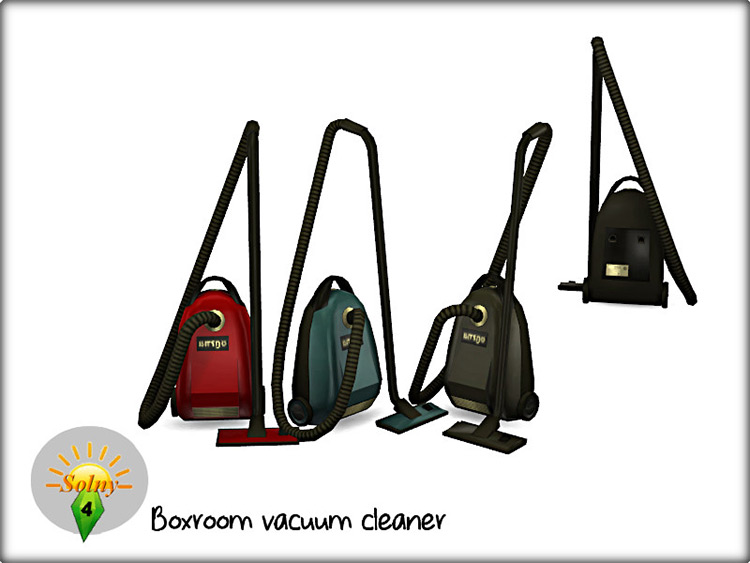 I've got good news and better news about this entry.
But here's one little thing to keep in mind: Solny's Boxroom vacuum CC was released long before the release of Bust the Dust from EA.
The good news?
You'll have an awesome, Maxis-Match friendly decorative vacuum in your game.
The better news?
Because it's only decorative, you won't have to worry about the incessant autonomous vacuuming and endless dust bunnies that plague your Sim homes.
Choose from three different swatches: red, blue, and black.
House Cleaning CC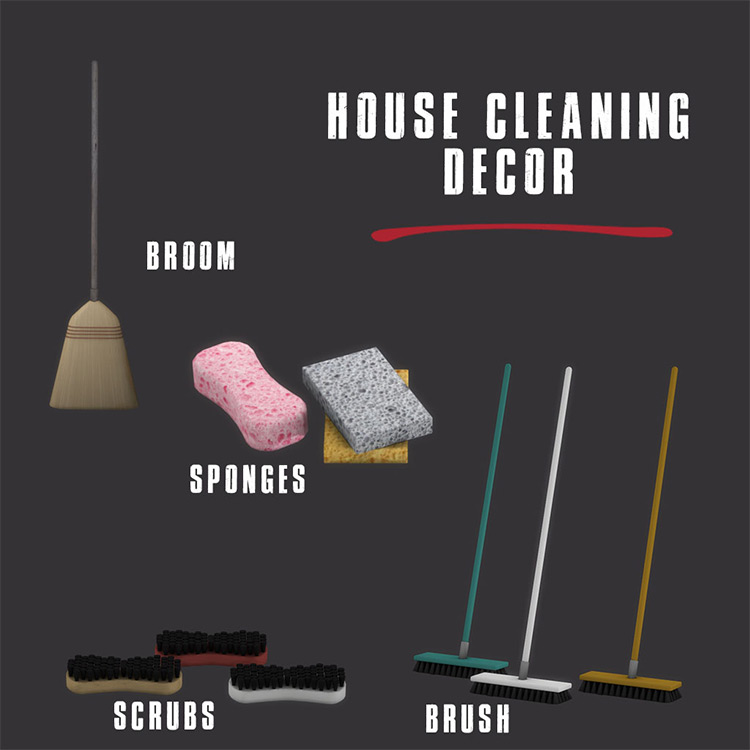 Big Sim households call for lots of brooms, brushes, scrubs, and sponges.
And that's exactly what the House Cleaning Set by LeoSims offers, in five different swatches, no less.
Plus the quality is as high as you can go without stepping into Alpha territory, which is a rare find when it comes to CC.
Laundry Detergent and Softener
Laundry is serious business in The Sims 4.
Washer and dryer, wash bucket, or clothesline – doesn't matter.
Many of us spend more time than we probably should making our Sim's laundry rooms perfect.
AroundTheSim's Laundry Detergent & Softener Set takes things to the next level.
You'll get a total of nine items here, including fabric softener and laundry detergent, and these come with anywhere from a single swatch to six different options.
And if you like real-life brands but prefer lore-friendly CC, most of the items are designed to look like products we know and love – but have Simlish text instead of English.
Laundry Decor Set
"I want the appearance of laundry in my game, without actually having to do it. Laundry Day Stuff's just not for me."
Sound familiar?
DaraSims' Laundry Decor Set was made with you in mind.
All the cool decor, none of the annoying clothes piles or malfunctioning appliances.
The standouts in this 14-item CC set are the seven-slot friendly ironing board, iron, and clothesline.
Best of all? You don't need Laundry Day Stuff Pack to use it.
Clutter Crazy – Garden, Kitchen, and Cleaning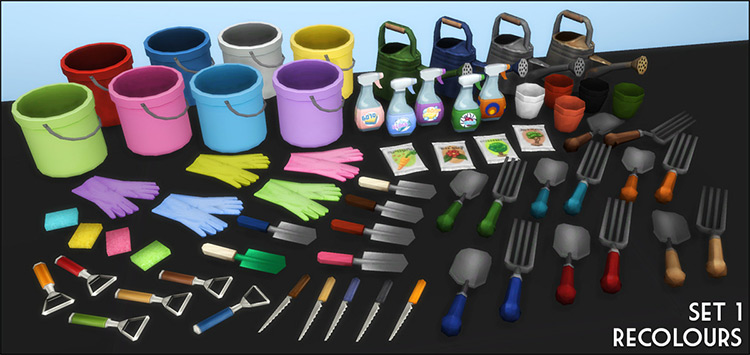 Everyone knows clutter is life.
And this Clutter Crazy CC Collection by Martine will give your Sim's a little more spice in their clutter piles.
While there are your staple cleaning supplies here like sponges, this set is an awesome CC find for your gardening Sims too.
This pack includes some gardening gloves, a mini rake and spade, and a garden sign and pots!
There are 23 items in all, many of which have several swatches, and they're all Maxis-Match friendly.
Janitor Cart & Cleaning Stuff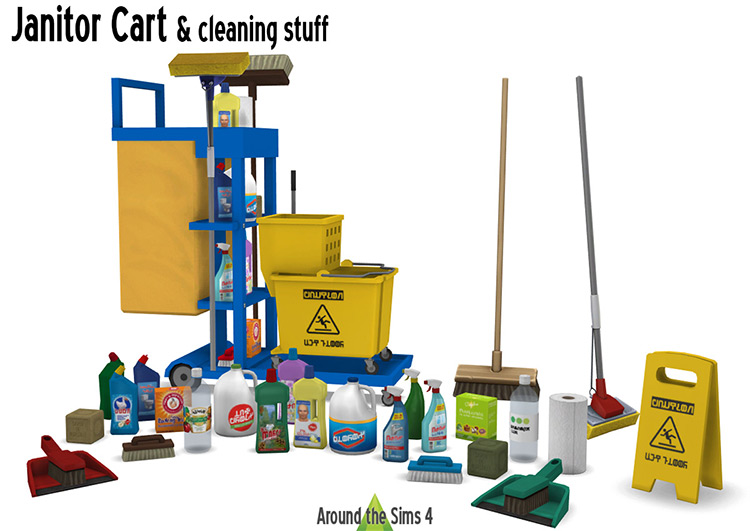 This one's for the proprietary Sims in your game who need a little more than what the Supplies Party can offer.
As the second entry by CC maker AroundTheSims, this Janitor Cart and Cleaning Stuff Set is an 18-item collection, and the ultimate in commercial cleaning.
It has everything your Sim's employees will ever need to keep their properties in tip-top shape, including the janitor cart, mop, broom, cleaning supplies, and several others.
And like the Laundry Detergent and Softener Set mentioned earlier, all the items here are quite complementary to the in-game world.
iRobot Roomba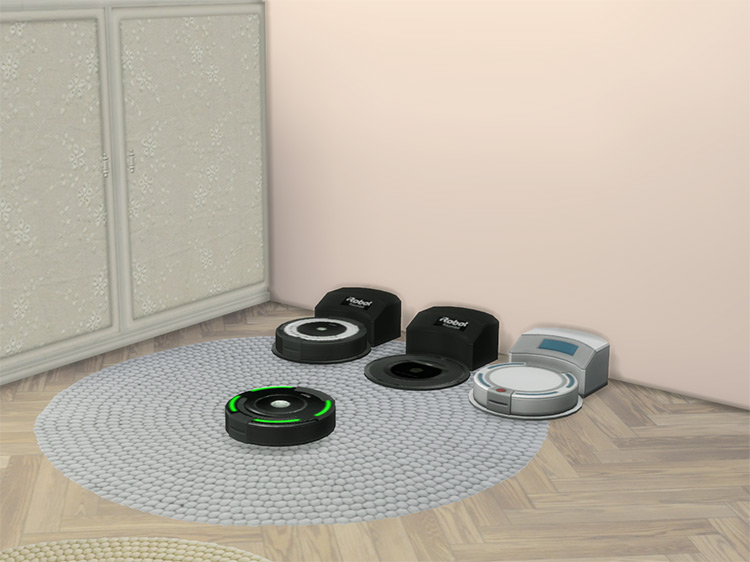 Cats and Dogs Pack owners, your cats can now ride around in style.
Nordica-sims iRobot Roomba functions exactly the same way as the in-game robot vacuum, but now it has name recognition.
The design's also pretty sleek, with its all-black theme (though there is another swatch that incorporates a little more white).
It's a small change, sure. But sometimes the little things go the furthest in breathing new life into our games.
Joung Laundry Clutter
Look, you can never have enough clutter.
It's just not possible.
And this Joung Laundry Clutter Set from Slox takes a different approach from the other laundry clutter on this list, by featuring often-overlooked items like plastic storage bins, clothespins, and a stool for folding laundry.
There's a happy medium between Alpha and Maxis-Match here, with high quality textures and Simlish text.
Country Kitchen Liquid Soap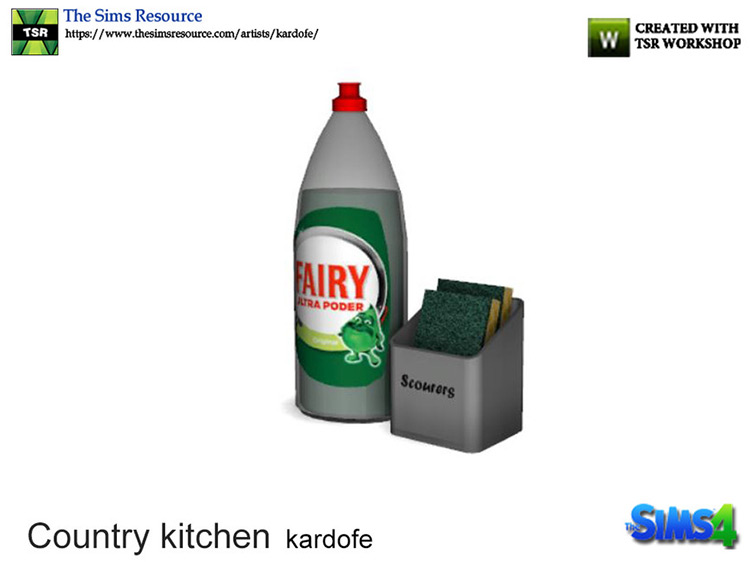 Sometimes, the basics are all you need.
Your minimalist sim will love Kardofe's Country Kitchen Liquid Soap.
Why, you ask?
Because this two-item set has dish soap, and a stocked scouring pad holder. Talk about details.
It's got everything you need to bust some suds, with no filler. Knox Greenburg would be proud.
Spring Cleaning Washer & Dryer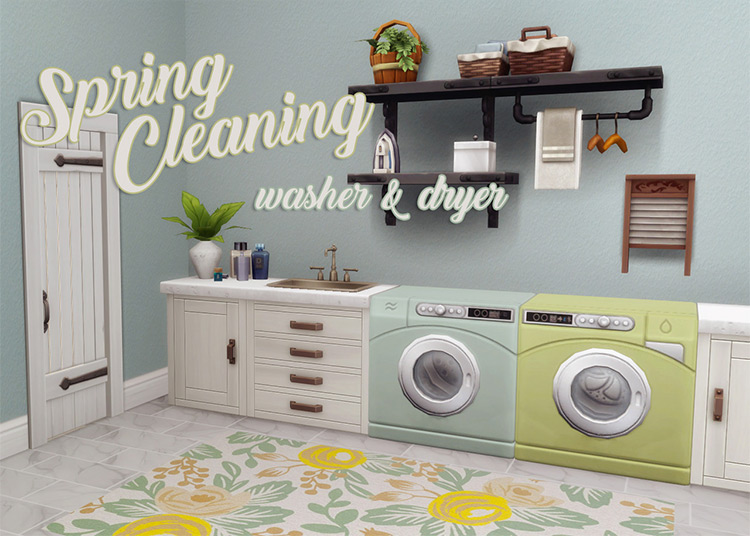 This custom CC pack by Hamburgercakes offers a prime example of the power of recolors.
It expands the color swatches of the Laundry Day washer and dryers (which, head's up, you'll need that pack for this CC).
And this expansion takes those originals rom a scant handful of designs, to over 20 distinct bold colors.
There are also some subtle style changes that make them look a teensy bit more realistic, without stepping too far away from the Maxis design.
Cleaning Frenzy For All
Neat Sims are a joy to control, because they're just as obsessive about cleaning as you want them to be.
They're so passionate about dust-busting that they can enter cleaning frenzies. So it's real entertaining to watch them fly from room to room, mopping and scrubbing like their lives depend on it.
It's a bummer, but unless you make every Sim with the neat trait, this special state is locked for everyone else.
That's before creator Iced Cream thought, "Nope. I want all my Sims to experience cleaning frenzies."
The Cleaning Frenzy For All mod removes the trait restriction, so now all of your Sims can mop like mad and vacuum until perfection! Trust me, once you have this in-game, cleaning gameplay will never be the same.
Browse:
Lists
The Sims 4
Video Games