Best Sims 4 Close-Up Poses (All Free To Download)
This post may contain affiliate links. If you buy something we may get a small commission at no extra cost to you. (Learn more).
A randomized Sim is like a blank canvas or lump of clay.
You can turn it into anything you want – and it needs to match your vision.
But no matter what your preferred look is, you probably like to see your Sims up close. That's where you can really admire your hard work, taking in every little detail. And it sure helps a Sim seem more human when they aren't just a vague blob.
Of course, it's never more important to see a Sim's true colors than with the Gallery.
That's where millions of players can post their Sims for others to play. Those who download them certainly want to know what they're getting.
If you've spent any amount of time messing around in CAS, then you're familiar with those same old randomized poses.
And you can get professional-style close-up portraits every time with some awesome poses that come from The Sims 4 community.
1.

Simple Close Ups
MartyP, this posepack's creator, says these are simple – but I think the Sim's expressions are rather intense.
Those eyes stare into your soul, and you can experience that all over again with your own Sims.
How wonderful.
The Evil trait will be replaced by these, and with each one, your Sim will be looking directly at the camera like he or she was born to do it.
And in a way, they were.
You made them to look good – and now they're just fulfilling their destiny.
2.

Spirirock's Chic Poses
Being chic is a physical thing.
You've got to know just the expression to wear, and just the right way to work the camera.
Your Sims will have it all going on with these poses. Each one has the potential to really bring out their best features.
Their jawline may very well steal the show, and eyes of all shapes, sizes, and colors will be like the focal point by drawing in anyone who happens to scroll by.
While many close-up poses involve using a trait in CAS, just as many (if not more) simply become part of the randomized library that's presented when you save or upload your household.
To use this set (or any other gallery pose), just download and proceed with slamming that "randomize portrait" button as usual.
3.

Confidence Poses
What's wrong with being confident?
As Demi Lovato says in her song, in a roundabout way, not a gosh darn thing.
That level of confidence can change your Sim's entire outlook.
Most Sims have no problem with that, Confident trait or not. They live life on the edge – and us as their overlords generally have to keep them away from hazards, or force them to take the right risks.
Still, it shows through someone's eyes and body language when they feel good about themselves. GuyC_UK definitely has got that vibe down perfectly with this set of six poses.
Made just for female Sims, they'll make your ladies look like a force to be reckoned with.
Their smoldering eyes and playful smile say it all!
4.

Gwiniel's Close Up Pose Set
Here's a set of 6 poses for whenever you want to switch things up.
I honestly don't even pay attention anymore when I'm saving or uploading a new household. After seven years of the same randomized shots, the thrill is gone.
But if you'd like to really make your time in CAS count, you can show off your beautiful Sims with some close ups of their surely flawless faces.
Or if they do have flaws, it's probably intentional… so technically still flawless. That's what's so amazing about the customization possibilities in this game.
You can always make Sims look exactly how you want (now more than ever), whether that means making them unnaturally perfect just for the aesthetic, or incorporating some real life touches to make them feel more human.
Either way, they all photograph the same.
And this is another pose set just for the ladies.
Each one is quite different here, too. These aren't candid shots by any means, as they're truly posed to the core and are made to capture your Sims at their best.
5.

Up Close & Personal Gallery Poses
More poses.
And this time, it's personal.
Well, there's nothing inherently personal about a pose. But it can feel that way when you're all up in a Sim's face.
Good thing we can't smell breath through a screen, or we might be in trouble.
These will get your Sims looking as pretty as a picture for the gallery. Both female and male Sims can make use of these gentle & casual shots. The smiles really meet their eyes!
There are even some poses here of the profile view which is super important.
We all know some rather harrowing features can be hidden when just looking at a Sim straight on. Ridiculous jaw lines and noses can be deceiving, but not when they're viewed from the side.
It's like full disclosure for your Sims.
You'll always be able to see your handiwork, and if you're sharing it for other Simmers, they'll know exactly what to expect.
That's important when so many people just get on the Gallery to find a potential suitor and future co-parent for their own Sims.
6.

Male Attitude Pose Set
Who doesn't love a little bit of attitude?
It's a good way to spice up photo shoots and give a strong first impression… if it's the right attitude, that is.
I think every parent has complained about their kid's attitude at one point or another. But that dreaded "a" word doesn't actually have to be a bad thing. It's just the way you behave and how your feelings, good or bad, come across.
So really, it all boils down to intent.
You can even give your own context to these poses.
Is your Sim giving attitude in a sexy way, or is he being playful?
And of course, maybe it's just good old fashioned bad attitude. That does have a place as well.
But honestly, these poses will just make your male Sims look very handsome. The little smirk and sly eyes are sure to make other Sims and players alike swoon.
7.

Distinction Poses
Sims can kinda blur together sometimes. Without CC, there are only so many ways you can use the same facial features, hair colors, clothes, and randomized poses.
Sometimes the results of your awesome CAS session can seem stale.
What you need to set your Sims apart from the rest are some distinct poses – and that's just what SakuraLeon has here.
These lighthearted poses have a laidback vibe and offer a fantastic view of your Sim's face. You'll really get a good idea of who they are through these feminine expressions and get to enjoy your efforts in CAS close up.
8.

Male Close Up Poses
Like most things for The Sims 4, poses are more common for female Sims.
I don't know why. There are plenty of running jokes in The Sims community about how much more fun female Sims are to play, though.
It's estimated that 60% of Simmers are female, so maybe it's easier for some players to relate and express themselves that way.
But personally, I enjoy making male Sims just the same.
CAS is like Build-A-Boyfriend when done right. And it's really satisfying to be able to step back and admire the handsome guy you just sculpted, knowing his genes will be suitable to further the line.
There are never any guarantees that your Sims won't have unsightly offspring. But parents with strong features at least makes it less of a gamble.
Oh, and as I always like to point out I'm not this horrendously shallow and judgmental when not playing The Sims… Hopefully no one is.
That said, you'll get 6 great poses here.
They have a really casual look, like they're the product of a professional modeling photoshoot.
Not every Sim is model material – but every Sim can be posed!
9.

Yearbook Poses As Gallery Poses
Everyone who has ever gone through a school picture day has some memories surrounding that event.
For some it was exciting.
While others wouldn't have even shown up if their mom didn't make them.
At the end of day, it's a nice opportunity to take a step back and see who you are at that time. That photo may be hung on the wall, or distributed to relatives, and everyone is always thrilled to see those lovely yearbook photos.
You may or may not be grateful that your family hung onto yours. But you're sure to love these Gallery poses for your Sims.
They're mostly front-facing poses, and the Sim's expression will vary, with lots of smiles all around.
10.

Fashion Close-Ups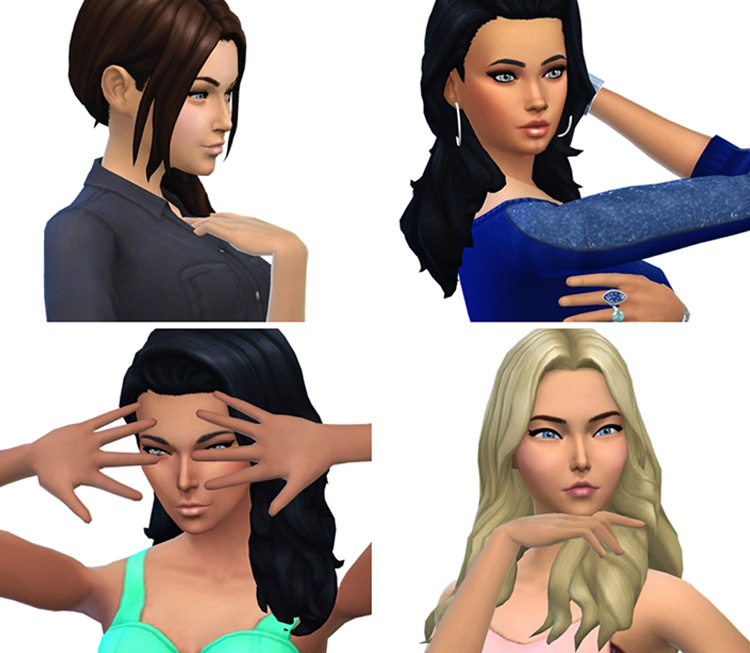 When most people think about poses or modeling, fashion is likely the first source that comes to mind.
The industry rules all – from film to magazines, cosmetics, commercials, all of that.
Appearance is everything in some circuits, not unlike in this game.
Sims on the Gallery don't get a second glance if they aren't well dressed and posed.
These close-up poses will give just a glimpse of what your Sim has to offer, so you'll want to make it count. Their hands play a part in several options so this would be a good time to utilize jewelry or those awesome new nails that came in a recent patch.
A bit of their torso will be in the shot as well, so choose wisely with a nice top/dress & necklace combo.
Besides, this is really all you'll need to show off your Sim. I know I never pay much attention to their legs and feet!
Browse:
Lists
The Sims 4
Video Games