Sims 4 CC: Closet Doors, Closet Décor & Clutter Packs
This post may contain affiliate links. If you buy something we may get a small commission at no extra cost to you. (Learn more).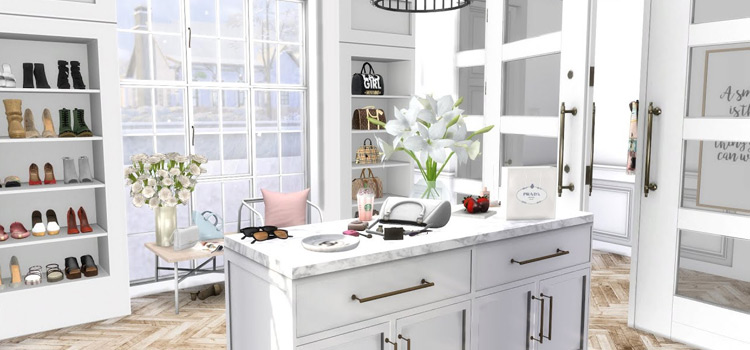 What's the thing almost every real-life abode has that's always been suspiciously missing from The Sims?
Closets, of course!
It's a small part of a home that you probably never even think about unless you need it.
But when you do find yourself looking for somewhere to store clothes, you're probably pretty glad it's there.
Not to mention, Sim houses are rather unique without including closets in the floor plan.
Many houses not only have them in the bedroom, but in the living room or even hallways as well.
You can quite easily give your Sim's a closet, CC or not. Just designate a little boxy space with a door, easy peasy.
But that's rather boring and definitely not functional.
So with all the with doors and clutter on this list, it'll be easier than ever to give your Sims a dedicated storage space.
1.

Shopping Bags & Boxes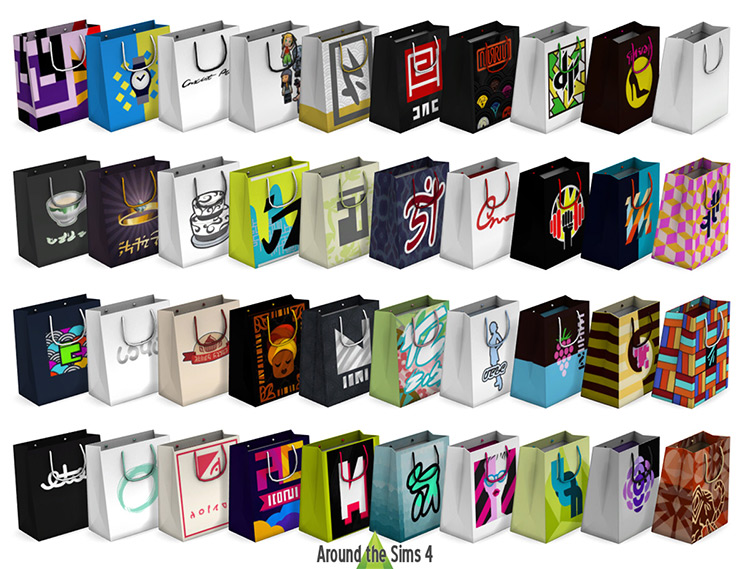 A good shopping trip tends to result in a lot of bags and boxes.
And where do they end up? The closet, of course!
This CC set is pretty complex, consisting of typical boutique or mall-style shopping bags and boxes in a huge variety of swathes.
You can mix and match to really give the impression your Sim is a shopaholic, or place just a select few for a more balanced, decorative look.
Some version of this idea has been done several times over, but this set is my own personal favorite because it just looks so perfectly "Sims".
The appearance of these items is right in line with the game's art style, too. So it's easy to imagine your Sims have really been on some killer shopping trips.
2.

Closet CC Set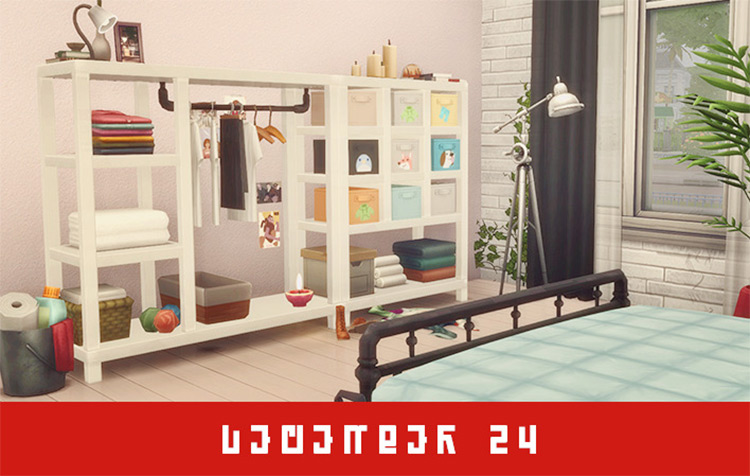 Here's a set full of things that will be perfect if you'd like your Sims to have a more organized closet.
I'd be curious to know what the stats are regarding how many people just have heaps of junk in their closet versus those who have things properly sorted…
But in this game, the former is much more aesthetically pleasing.
You can build a closet as simple or as elaborate as you please.
You just need to have the materials to do so.
The shelves included here are simply perfect, and just the kind of thing real people would kill to have.
Slots for décor and a usable rail for clothes are already huge upgrades to the possibilities for closets in The Sims 4, and the added bag and box also serve as valuable pieces of clutter.
3.

Gabrielle Closet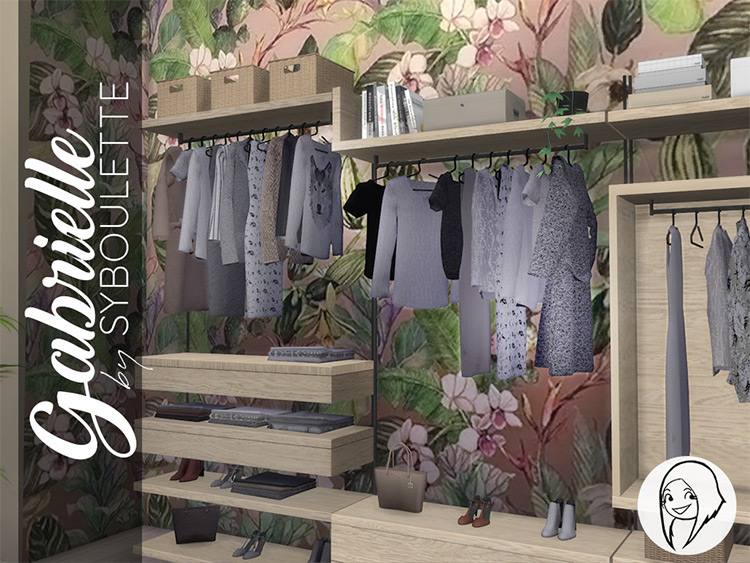 This expansive CC set contains several different pieces that you can use to create a fully personalized closet for your Sims.
And best of all, it can be functional!
What exactly makes a closet functional, you may ask?
Well, in theory, any space that stores items as you intended is functional. But that's not what I'm talking about here.
Your Sims will actually be able to change their clothes in here!
That's right, you can do away with bulky dressers if you want, and just stick to closets.
There's everything here you'll need too: from clothing racks and decorative clothes on hangers, to even some classic bedroom clutter like shoes, purses, and boxes.
4.

Sole Mates Shoe Clutter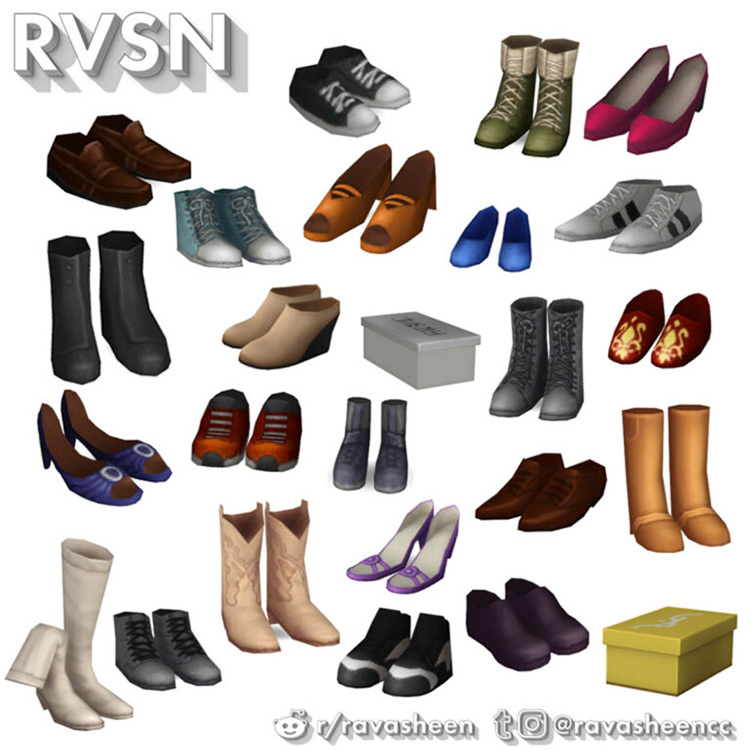 Shoe storage can be quite the conundrum for many people.
It can seem like there just isn't a right place.
Racks might get in the way, or maybe there just isn't a good place to put them.
Shoe trees could ruin the shape.
And strangely enough, a Sim either wears their shoes 24/7, or they disappear to parts unknown once they change into pajamas.
Shoe storage is not even a concept for them. And that's just not right.
A closet is the most sensible and natural place to store shoes anyway. So here's some great clutter to match.
23 individual pairs are included in this set: sneakers, boots, heels, loafers – there's quite a variety indeed. And there are even boxes here, too.
All of these items will aid in making your Sim's closet look a little better, and a lot more realistic.
It's even up to you just how much clutter you want to include.
A few pairs of shoes and a box will create a more minimalist, neat look, while using everything here will give the vibe that your Sims really like footwear.
5.

Hang Around Pocket Closet Door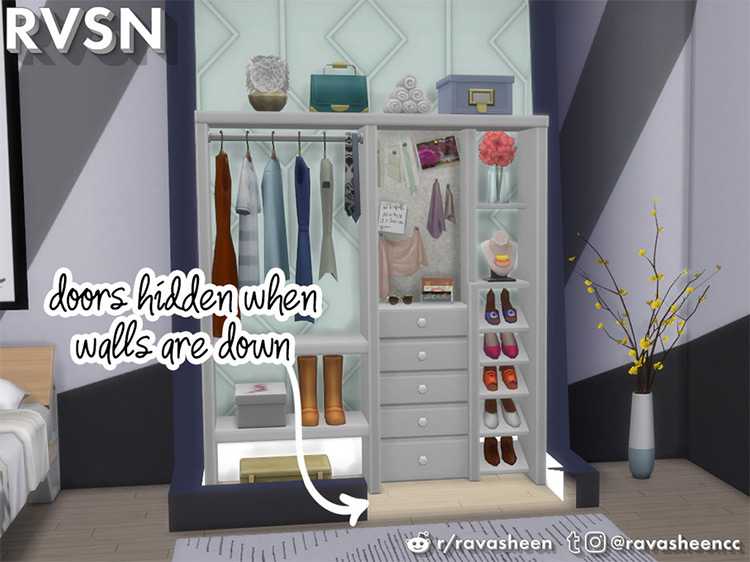 Modern homes and apartments have mastered practicality.
No space is left underutilized, and nothing takes up any more room than it has to.
That's why many things have dual purposes now, like a seat doubles as a storage chest or a lamp that's also a shelf.
It's all about making the most of what you've got – and having to ensure a door has enough room to swing open can be a bit of a hindrance.
That's a thing of the past anyway, because pocket doors are the obvious innovative choice.
This one from talented RAVAHSEEN was made specifically with closets in mind.
You'll probably have to change the wall setting at some point while playing to properly see in your Sim's closet.
And when you do, this door will be hidden.
When the walls are down, it's like this slid into them – as the pocket doors do.
6.

Leather Handbag Decor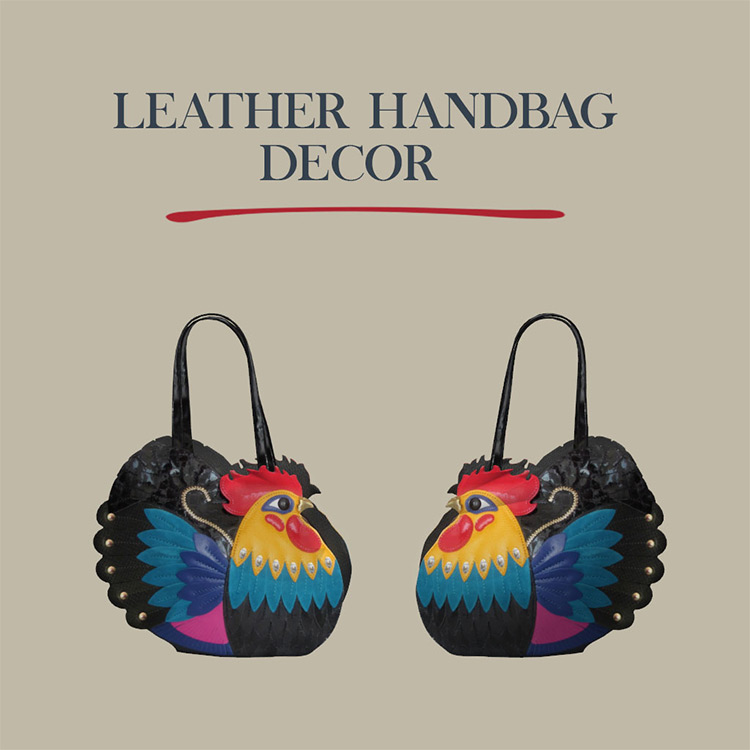 Bags deserve a proper place.
And no, your computer chair or bed don't count.
Life is just easier with less clutter – or at least if the clutter is in the right place.
And none of this applies to Sims, by the way… the more clutter the better, because there's always a battle to make them as realistic as possible.
For many people, that's half the fun of playing.
A simple décor item like this may not seem very noteworthy. But on the contrary, it's a unique item that will be a fun addition to your game.
Sims may not have much need for handbags.
But hey, this is a colorful chicken bag!
Who could pass up something this cool? Not me.
I'm just gonna start including this magnificent thing in all of my builds, honestly.
7.

Shoe Boxes Clutter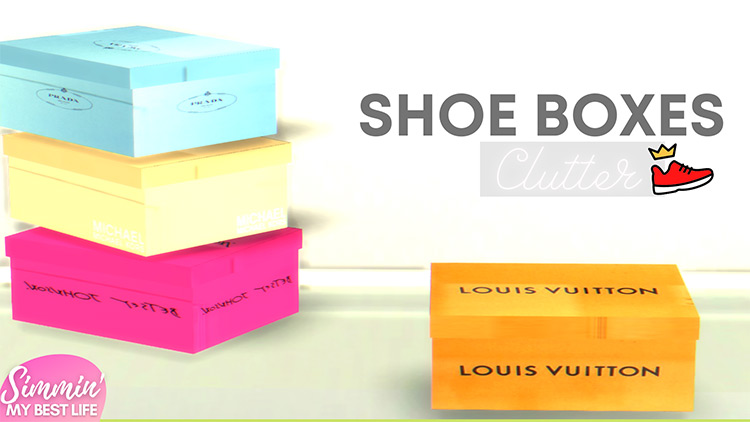 We've already established that shoes make for fantastic closet clutter.
But what about the boxes?
There's no telling what's actually in them – and yet almost everybody has multiple in their home.
Often times, it's the shoes that came a box never return to it.
Instead it gets repurposed as something to hold keepsakes, old photographs, or perhaps an injured animal.
I don't know why it's almost a universal experience to end up with a baby bird or little mouse in a shoebox, but it seems that way.
That's why it's good to keep shoe boxes on hand – you never know when you'll need them.
But in this game, you never know when you'll need them to decorate your Sim's closet.
No matter how you build it, there are bound to be some empty spots somewhere.
You can remedy that pretty quickly by placing these custom boxes, which are colorful and feature real brand names like Louis Vuitton or Nike.
8.

Fashionista Closet Add-On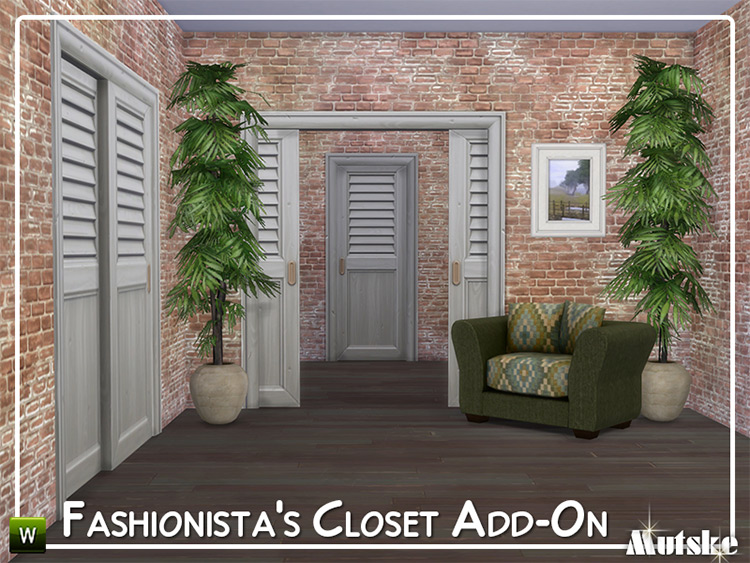 Up until The Sims 4, closets weren't even a thought in this series.
You could always create a fake dark space in previous games to serve as a closet – but there wasn't much you could actually do with it.
That was the same story for years in TS4, until the release of Get Together gave us real closets at last.
Well, the developers did such a great job of giving it the appearance of a real closet that the doors are rather hard to top now.
But this CC creator separated them here so you can place them however you want in your own build.
There are options for the doors to be fully or partially closed, as well as some simple doorways to easily create walk-in closets.
Plus the grainy wood appearance of this is great, and the slatted front is a classic… one that has been utilized by way too many horror movies.
But let's all hope our Sims have better experiences than that.
9.

Simple Clothes Racks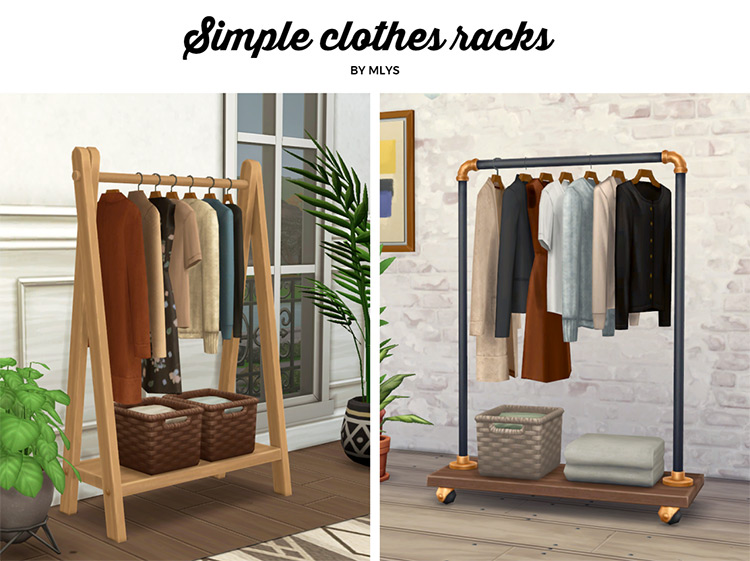 As tempting as it may be to just load a closet with clutter and junk, the original purpose of them is to store clothes.
I'm not sure why such a simple pursuit takes so many forms.
There are dressers, armoires, wardrobes, and cabinets, just to name a few alternatives.
But still, closets are the most practical and least intrusive.
The other options take up room your Sims just might not have.
A clothing rack, which is necessary to create the typical closet look, will be out of the way.
There are two styles here: one with a wood frame and one with a metal frame.
Both have clothes hanging on them already.
Jackets, shirts, and dresses with detailed coat hangers, the dream of any realism-focused player.
What the clothes look like depends on the swatch you choose.
Not just the color, but the style as well.
The dress only appears in some of them, which is a nice touch. It's 2021 and all, but that's not something that would make sense in all male-only homes.
A little wicker laundry bin is included here too, which is another nice decorative item.
10.

Hanger & Bags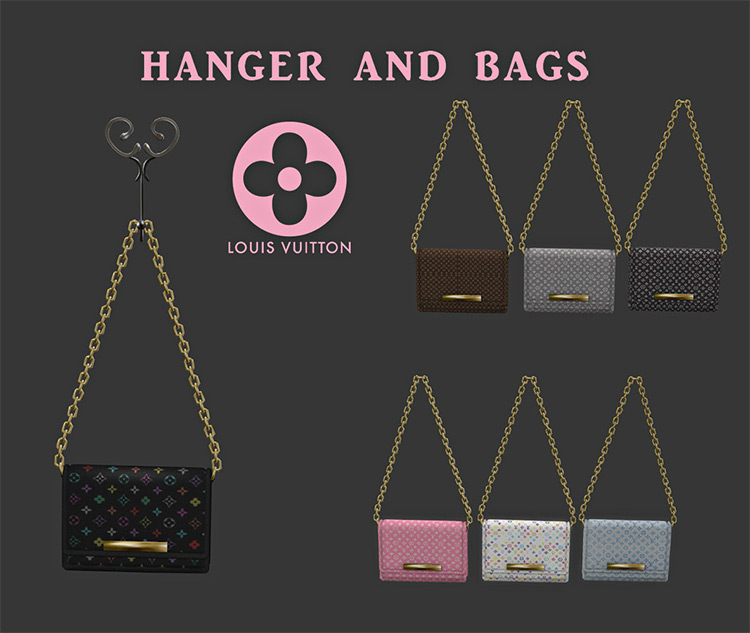 Shelves and clothing racks are very handy.
But you can't forget to utilize some wall space.
Even the smallest closets have some room for a little peg or hanger. And it's wise to take advantage of that.
Creator Leosims has just the thing to do that, and it's in the form of some cute purses.
If you take the time to always place your purse on a hanger then I must say, I admire you.
But Sims don't know the difference, since they have no need for bags with their endless inventory space that can hold everything from laundry to rotten food.
Still, these still are great items to further flesh out your closet.
If you ever find yourself looking at your build and thinking something's missing, then it's probably wall decor!
You'll have some great swatches to choose from here, too.
So whether you place one bag or several, you can keep things looking fresh.
Browse:
Lists
The Sims 4
Video Games