Best Sims 4 Clothes Clutter CC Sets (All Free)
This post may contain affiliate links. If you buy something we may get a small commission at no extra cost to you. (Learn more).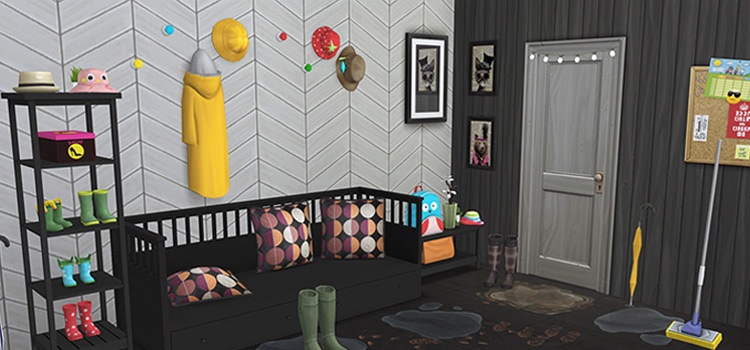 The right amount of clutter can turn a cold house into a warm home.
That cozy, "lived in" feel doesn't come easily to The Sims 4. In fact, it can be a bit of a challenge to give your Sims something more than that.
Without clutter, a lot of houses look like they're ready to be sold.
Clothes tell a different story, though.
Boots by the front door, coats hanging in the entryway, a neat pile of shirts atop a dresser… all stuff that clearly says "someone lives here, and they're here to stay".
You get a handful of options with The Sims 4 base game. But there are plenty of CC clutter sets to breathe life into your build – and in this list we'll be focusing on clothing clutter in all its forms.
1.

Rainy Day Clutter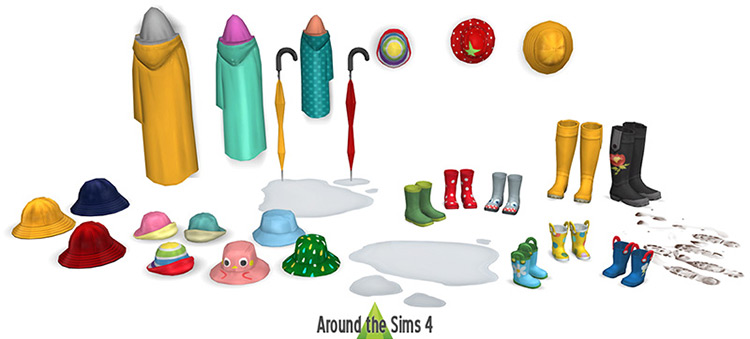 With proper gear, rainy days can be a breeze.
Only in a metaphorical sense, of course. Rain paired with too much of a breeze is called a hurricane and that's no fun at all.
But hopping in puddles and playing in the mud can be great, provided you have the right clothes… Canvas shoes and hoodies ain't it.
This CC set has everything to signify that your Sims are ready, come rain or shine.
It takes the CAS items we got with Seasons and makes them decorative, so you really can match up your Sim's decor to their actual clothes.
There are several options for wall-mounted coats and hats, as well as some hats that can be placed on tables or shelves.
The boots might just be the best part, since there are adult, child, and toddler versions.
Who doesn't love the sight of tiny toddler boots!?
Dozens of swatches are available for all of those, making them fantastic decorative pieces for living rooms, foyers, and porches alike.
2.

Sole Mates Shoe Clutter
Shoe clutter is a really a necessary evil – unless you have the space to accommodate a shoe tree or dedicated shelving.
The fact is, most people will settle for keeping their kicks lined up or in a pile.
They're the kind of thing that'll give any room a homey vibe.
And now thanks to RAVASHEEN, us Simmers have 23 pairs to choose from to help with that at-home feeling.
Yes, 23!
We're talking sneakers, cowboy boots, loafers, and heels all with plenty of variety.
Whatever's a fit for your Sim can be found here.
3.

Retro Vibe Hanging Coat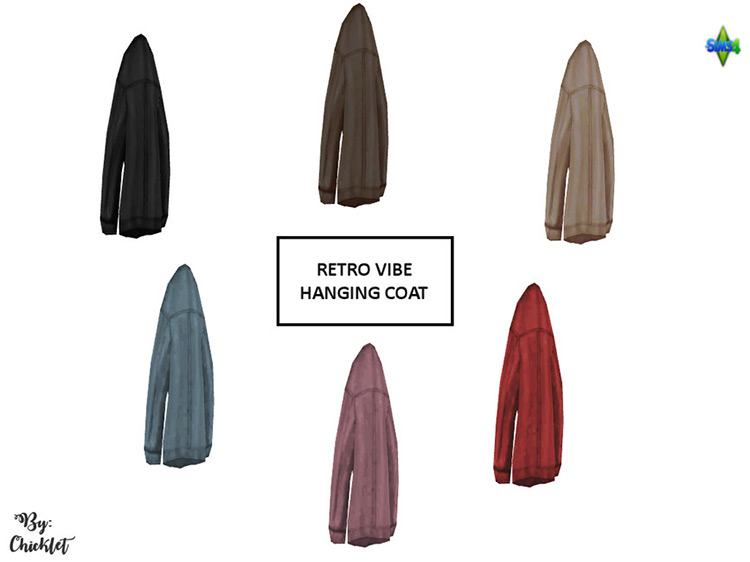 Anyone who's delved into organizing has heard "a place for everything and everything in its place."
In other words, tossing a coat over the back of a chair or leaving it on the floor isn't conducive to orderly living.
That should be the next stuff pack, honestly.
Something that's all about cluttering in a systematic way and providing ways for players to make builds more realistic without just haphazardly covering surfaces with stuff. I think I'm onto something…
But until then, you can take advantage of tidy touches added to the game through CC like this.
Just a simple worn-looking coat that can be hung on the wall.
No coat rack or hanger necessary.
Pick whatever color compliments the room and be on your way!
4.

Folded Clothes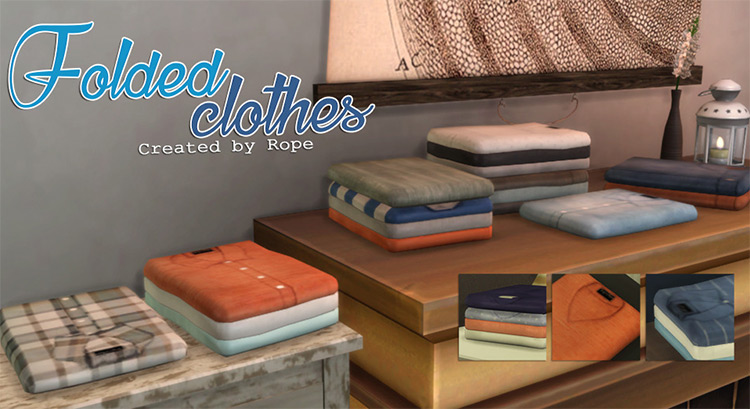 The Sims 4 really brings out the adventurous spirit in people.
When I saw these, I got super excited because I'd have more stuff to set out at my Sim's yard sales.
Hey, some are heading to Batuu, some players get the most enjoyment out of recreating everyday life.
It's a strange phenomenon, but one a lot of Simmers know well.
The fun doesn't stop there though. Since creator Rope made these stackable, you can really use them for some realistic décor.
Whether you'd like to clutter up a laundry room or bedroom, or add a more authentic feel to the apartment your Sim just moved into, these will be very handy.
Rope has a lot of great creations like this – and as always, he's really outdone himself with the swatches.
Some stacks include pants, while the shirts come in several options like denim, plaid, and solids, plus much more.
5.

Baseball Hat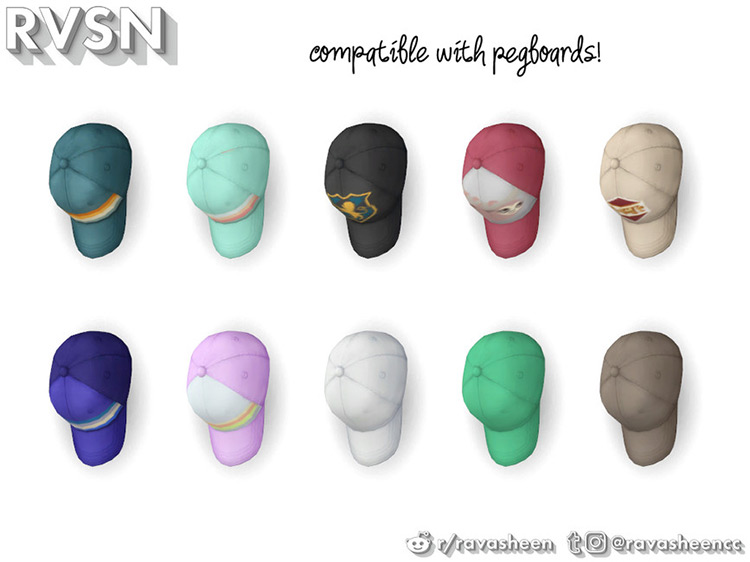 Looking at the big picture, it may seem like the little details don't matter.
But all of the most amazing builds are from Simmers who are adept at bringing each room together through seemingly unimportant additions, like a porcelain dog on a shelf or a little potted plant in the corner.
It's all important.
Everything you place in your Sim's home will contribute to the end result… for better or worse.
You can't go wrong with some stuff, though – like these ballcaps.
They're very popular, have been for decades, and aren't going anywhere.
Also, these hats are perfectly Maxis Match, identical to the ones in CAS, and can easily be mounted to the wall.
6.

Accordion Wall Rack + Clothes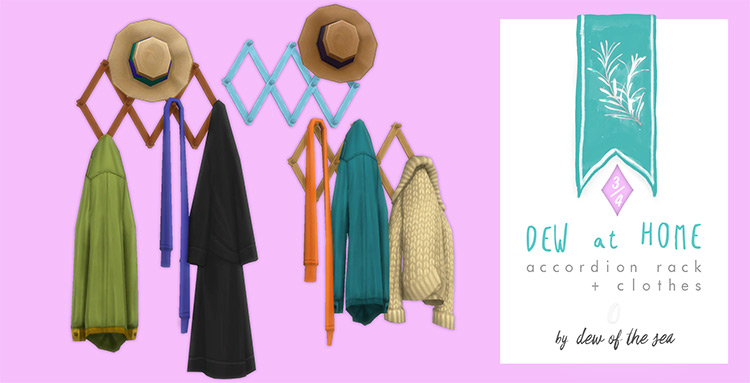 Accordion wall racks are the ultimate upgrade from coat stands.
Rather than taking up floor space, which most rooms don't have much of to spare, all clothing storage is focused on the wall.
It's simple, efficient, and walls are a little neglected in The Sims 4 anyway.
And with this set, it'll be really easy to add some cozy clutter to any room.
Like all the best custom content, exactly how this looks is left up to you as the player.
The rack itself and the clothes are all separate, and can be arranged however you choose.
But for details, the creator included two coats, a straw hat, a chunk sweater, and a scarf. Each article of clothing comes with so many swatches then you can easily double or triple them up on the rack without anyone thinking twice!
7.

Snowy Day Clutter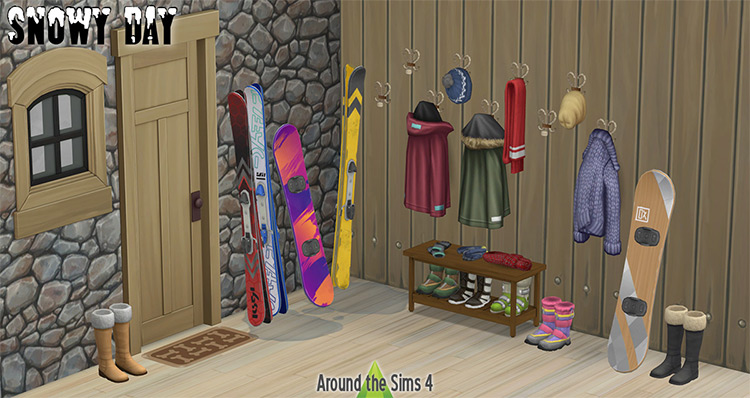 Winter can be a lot of fun.
You've got snowball fights and building Snowpals, plus all of the sports like skiing and snowboarding.
But without warm clothes, not one bit of Winter is fun.
No one but Snowpals themselves enjoy being cold and wet.
Most of this clutter set is centered around the winter gear that makes this season bearable.
The more layers required to be comfortable, the more clutter! And this stuff is perfect for all Sims who live in snowy regions, or if they're planning a holiday trip to Granite Falls.
For wall mounted items, we have an assortment of coats, beanies, and scarves with tons of different colors and designs.
There's a similar variety with boots, with a total of four pairs available. Some are aimed at snowboarding and skiing, while the other two are more suited for everyday wear.
And lastly, there's even a small pair of gloves you can place on any surface.
8.

Simple Hallway Shoes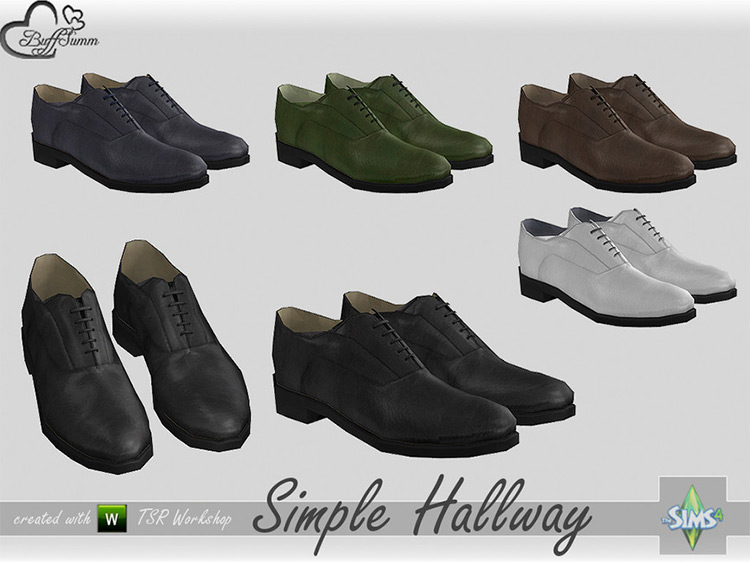 Many homeowners opt for a "no shoes on the carpet" policy – which means keeping shoes stored in a certain area near the entryway.
Really it could be any room, but hallways seem particularly well-suited for the job.
But these classic men's shoes are detailed while still being basic enough to blend into any space seamlessly.
Formal events and business-focused wardrobes alike are bound to include shoes like these. So for many Sims, it'll just make sense to have a pair lying around.
These hallway shoes come with a neutral color palette of white, green, brown, and black options.
9.

Rhenium Clothes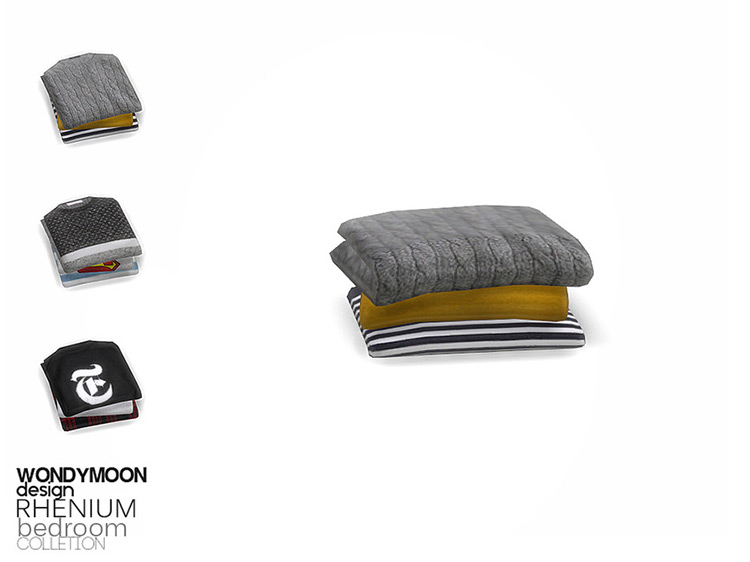 Here's some more folded stacks of clothes and Wonymoon's version is just slightly less neat than the last.
It's a step up from tossing laundry in a pile or leaving it in a basket, but it's not perfectly straight.
There's something particularly natural about that and besides, each shirt in the stack is visible.
Each of the three swatches are quite different, and one has a lovely detailed knit sweater right on top.
In another, you can catch just a glimpse of the Superman logo.
The creator made these as part of a bedroom collection. And with some minor cheats like "move objects", you could put these anywhere – from the bed itself to the nightstand.
Or just on the floor, for true anarchists.
10.

Décor Robes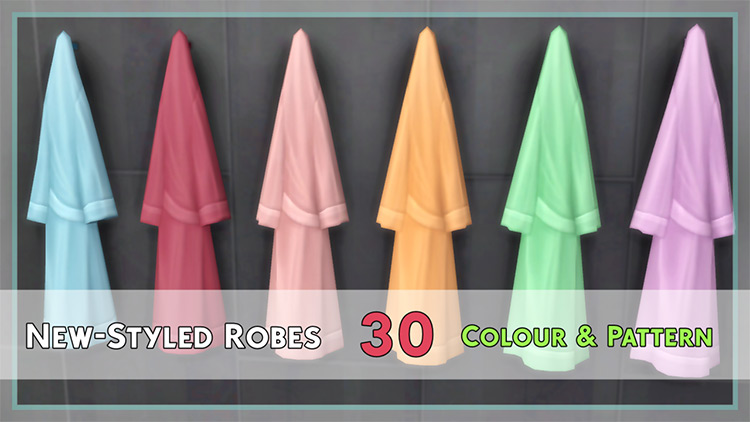 One of the few base game options we have for clothing clutter is the robe. But it only comes in a few swatches.
Black, white, and blue.
They're okay for most bathrooms, which is the room they mostly seem to come up under… But you can use them in lots of other places, from bedrooms to pool houses.
It's clear these aren't just intended for the grownups, either.
Many of these cute recolors have designs suitable for the little ones, like bears and hearts.
I'd say the best one has to be the swatch with weiner dogs wearing sweaters.
I mean…need I say more? That's like, award-worthy.
Overall, these 12 swatches are all considerably more vibrant and lively than the solid colors we're used to in the base game.
So they'll feel right at home on the wall of any modern Sim bathroom.
Browse:
Lists
The Sims 4
Video Games