Best Sims 4 Clown CC: Makeup, Clothing & More
This post may contain affiliate links. If you buy something we may get a small commission at no extra cost to you. (Learn more).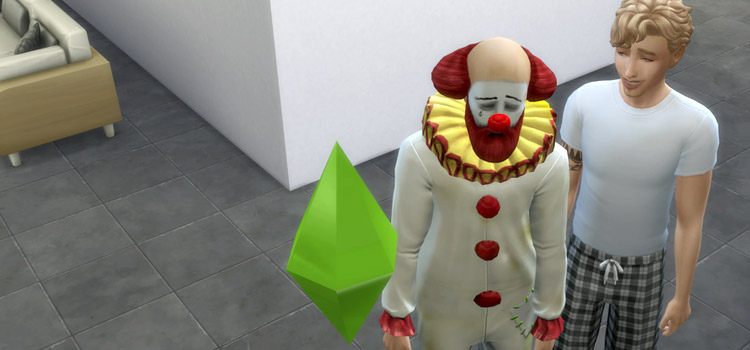 I've always loved the non-traditional relationship between The Sims franchise and clowns.
Who wants your standard carnival clown when you had the iconic Tragic Clown in the original installment?
Fun fact: he lives on in a painting in The Sims 4, and may even visit your lot!
From scary to gloomy, the clowns in our game always come with a bit of a twist.
So it's only right that the CC on this list deviates from your average clown accessories by showcasing the more unique offerings out there.
Clown Makeup Pre-Halloween Set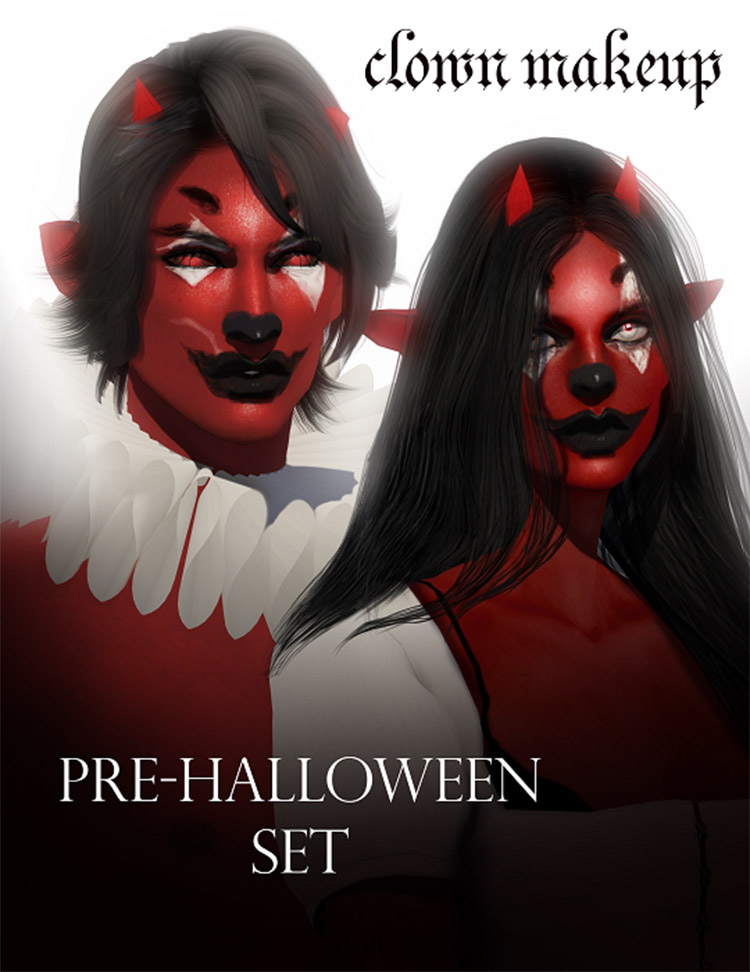 "Clown, but make it fashion."
This collaboration from CC creators Ceberussims and SensualErotique presents a different twist on what a clown should look like.
This custom clown makeup set bundles greasepaint and clown paint, and has a combined 54 swatches for variety.
The triangular eye makeup, similarly designed smile, and heart-shaped nose looks like something you'd see in a fashion magazine or stage play.
Which is honestly a breath of fresh air.
You can find these in the blush and tattoo categories in CAS.
Clown Hat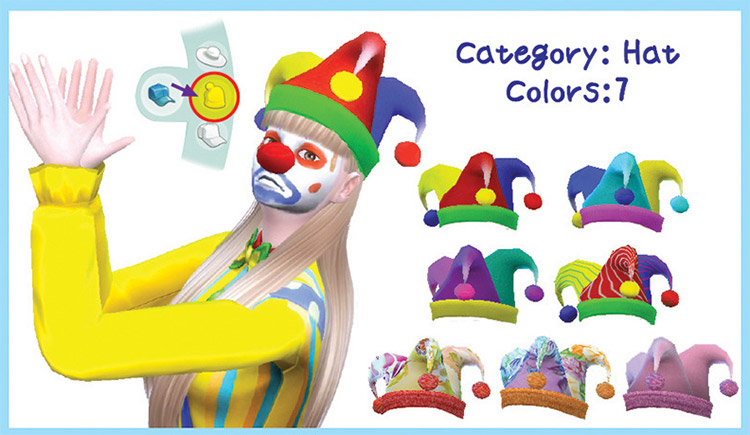 What is a clown without the good ol' clown hat?
ALuckyDay's jester-style hat is the staple your aspiring clown Sim needs in their wardrobe.
There are seven colors in all, including the classic red/blue/yellow/green color palette.
This one's completely wearable, too. Head over to the hat category to find it.
Scary Clown SFX Makeup
Own the Spooky Stuff pack and need some terrifying clown makeup?
Well the Scary Clowns SFX Makeup set by KareemZiSims will have your young Sims petrified in no time.
This five-makeup CC set includes three different versions of the nightmare-inducing Pennywise the Clown (IT), a possessed court jester, and a giant-mouthed evil clown.
The photos alone are scary enough, so just wait till you actually get these installed.
Clownin' Neck Ruffle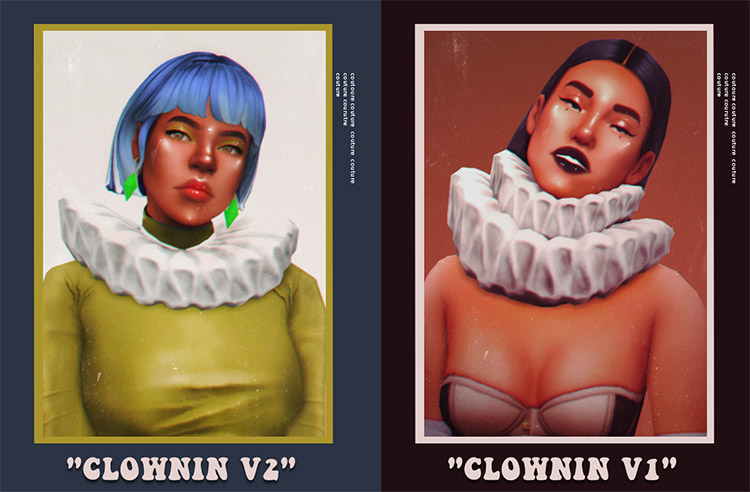 The only thing better than good CC is good, multi-purpose CC.
Sure, Monunge's neck ruffle CC would be the perfect addition to a clown's ensemble.
But it's also awesome for historical builds, or Simmers who love 16th and 17th century-era fashion (like this kinda stuff).
It's also separate from the in-game clown costume, so you can wear it with or without the ruffle.
Either way, it comes in two versions: single and double layered, and in black/white swatches.
This is also base-game compatible, and you'll find it in the necklace category.
Dusk Makeup Set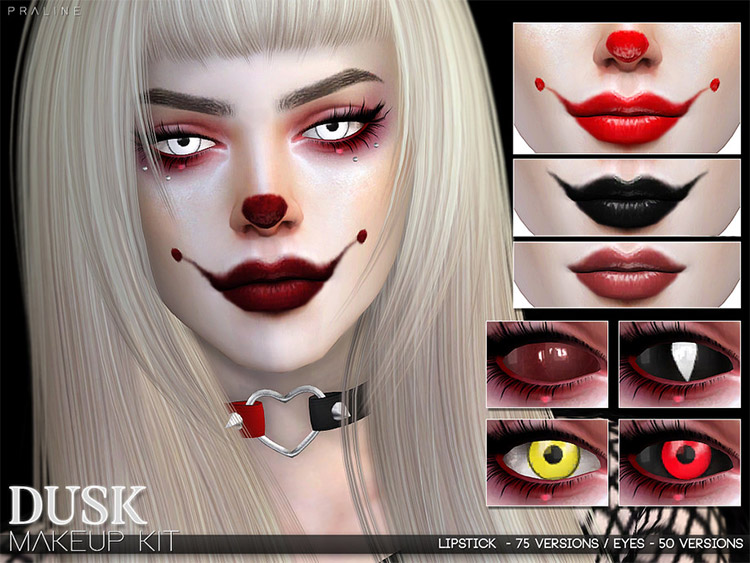 Alpha Simmers, get in here.
We've found the HQ clown makeup you've been looking for.
This custom makeup kit from Pralinesims isn't just the standard wide smile and colored nose – it also comes with a bunch of awesome contact lenses to change your Sim's whole look.
The heavy under eye shadow and rhinestones are also a nice touch.
And no running out of options with this set, because there's 50 swatches for the eyes and 75 for the lipstick.
Clown Hair + Makeup for Kids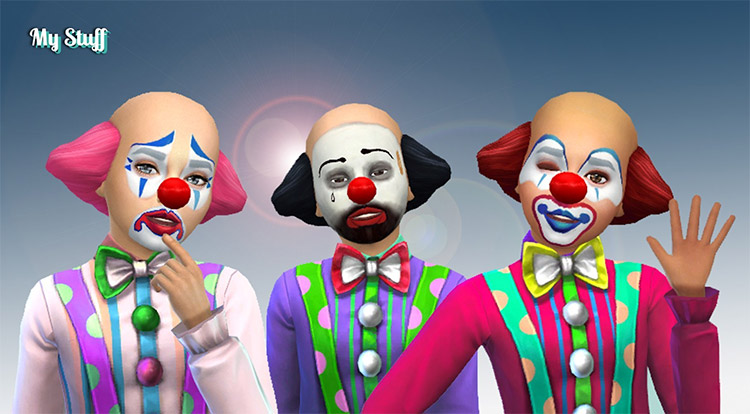 Clowning around isn't just for adults, thanks to KiaraZirk's Clown Hair + Makeup for Kids.
This adorable set comes with five makeup palettes, including a Tragic Clown-eqse overlay with a beard.
The hair is a conversion of the EA clown hair, previously only available to Teens and up.
You'll find these in the casual and party outfit section, and it's also base-game compatible.
Clown Earrings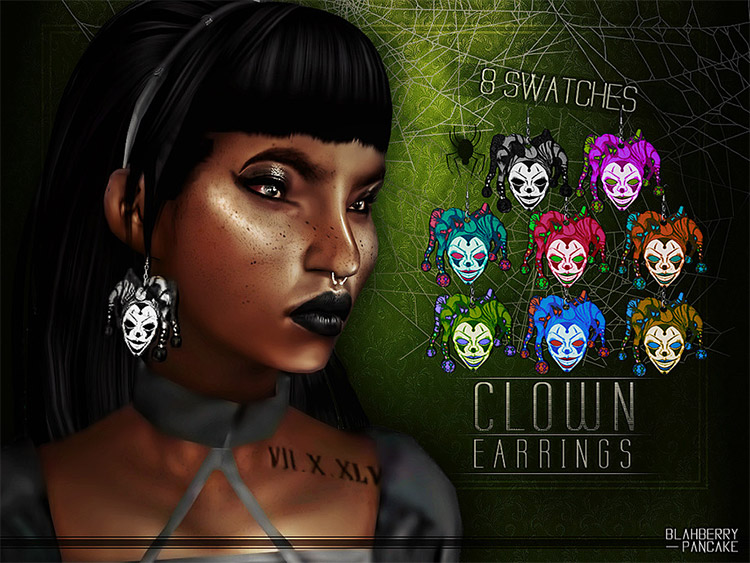 Sometimes you only want the essence of a clown, not the whole getup.
Well these Clown Earrings by BlahberryPancake offer the perfect alternative, adding a dash of spooky clown without being the centerpiece of an outfit.
There's something very Mardi Gras-like about these, and they'd go really well with a Goth-themed ensemble.
You only need the base game to wear them, which is great.
And they're available in eight swatches.
Pennywise IT Set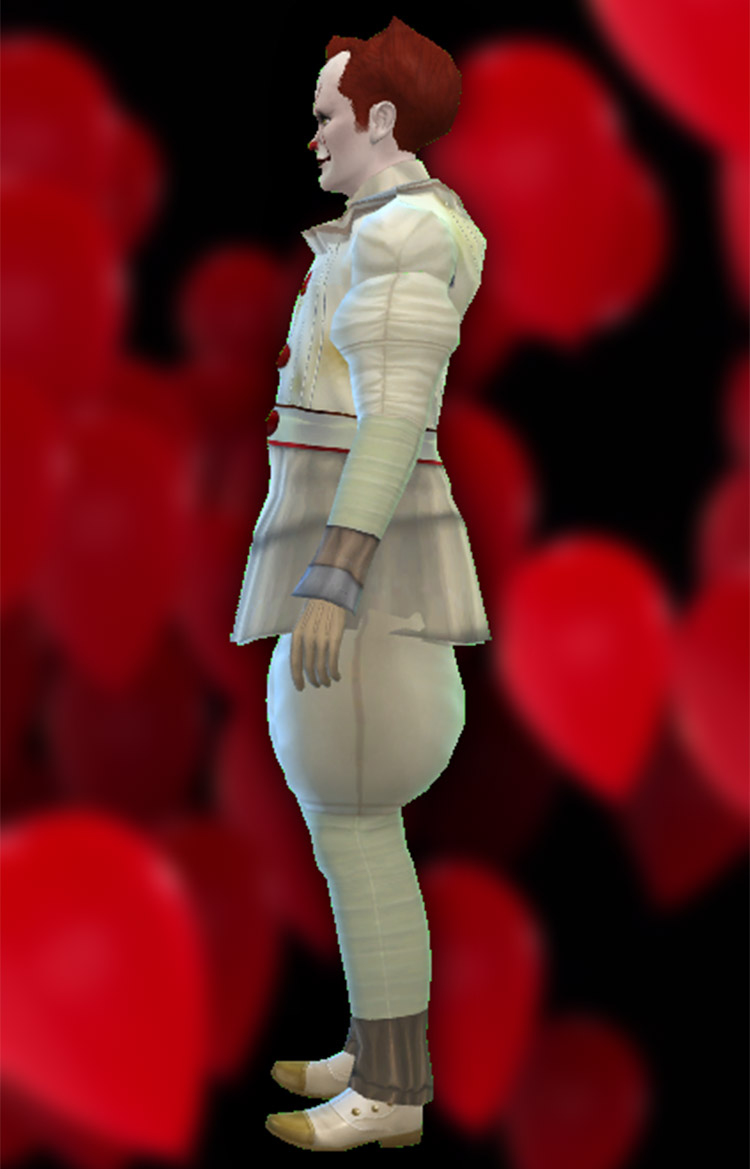 We couldn't finish this list without revisiting arguably the scariest clown in history.
CC creator DannyDomain went all out with this Pennywise "IT" CC set, which offers an entire replica outfit of 2017's creepy clown flick, IT.
From the spiked red hair to the unnerving makeup and the poofy clown suit, this is one pack to get if you want Pennywise to go around scaring your Sims to death.
Note that you'll need Vampire Stuff to use the included face wrinkles, but the rest of the set is base-game compatible.
Tragic Clown Redux
Remember that fun fact I mentioned earlier about the Tragic Clown?
As important as he is to The Sims franchise, it just might be time for something new.
And this Tragic Clown Redux from Brainstrip gives us exactly that:
A revamped experience of the Tragic Clown, featuring two different clowns, ironically named Sunny and Rainbow.
They come with their own unique makeup, but offer the same sadness and misery as the original Tragic Clown we know and love.
Tragic Clown Career
If your Sim is a kindred spirit to the Tragic Clown, even to the point of wanting to be him, then this is the mod for you.
Not sure why any Sim is going this route in life, but hey we're not here to judge.
Gauntlet101010's Tragic Clown Career puts any Sim in the role of our favorite clown.
But simply dressing up and moping won't do.
No, to really be the Tragic Clown, your Sim will have dedicated work hours (2 p.m. to 9 p.m.) and will have to read supplemental material, such as "Tickle Your Own Ivories" and "Tragic Comedy: Tears of a Clown".
Just read a special comedy book until your Sim gains a hidden trait, and then the career will be open to them!
And that's where the real fun begins.
Browse:
Lists
The Sims 4
Video Games