Best Sims 4 Cocktail Dress CC (All Free To Download)
This post may contain affiliate links. If you buy something we may get a small commission at no extra cost to you. (Learn more).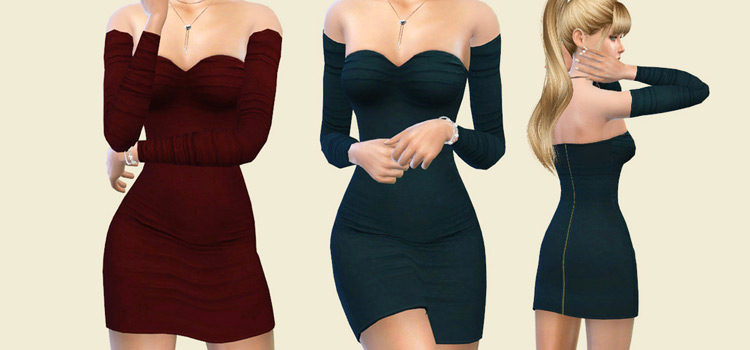 As much as we love baggy jeans, oversized sweaters, and overused Converse sneakers, there are certain occasions where casual attire is a no-no.
Formal events such as weddings and "special invite" dinners are rare for most people. But for Sims, they can party and get married seven days a week and no one would bat an eye.
With that much going on, relying on just one formal outfit simply won't cut it (not to mention it's unhygienic).
Luckily, the dress code for formal events isn't limited to ball gowns and tutu dresses.
Have your Sims look regal with these custom cocktail dresses that are perfect for every fancy occasion!
10.

No Tears Dress
Cocktail attire rule #10: keep your dress short and sweet.
It's nice to want to have a Cinderella moment, but save the ball gowns and the fluffy skirts for debuts and prom night.
If the invite says cocktail attire, then you need to look less like a fairytale princess and more Meghan Markle.
Of course, the British royal family would never be caught dead in this No Tears Dress. But for Sims, it has just the right length and elegant simplicity to merit a royal entrance to a party.
9.

Valentine 2018 Cocktail Dress
Cocktail attire rule #9: wear one standout accessory.
Overdoing accessories is one of the most common mistakes when dressing up for a cocktail party.
Adding too many bangles, bracelets, rings, and necklaces will make your Sim look more like a Christmas tree (which is not the kind of look we're going for).
In this case, when you have a dress with a sweetheart neckline like this CC, it's best to pair it up with a layered necklace and simple studs for a more balanced (but still stunning) look.
8.

Strapless Midi Dress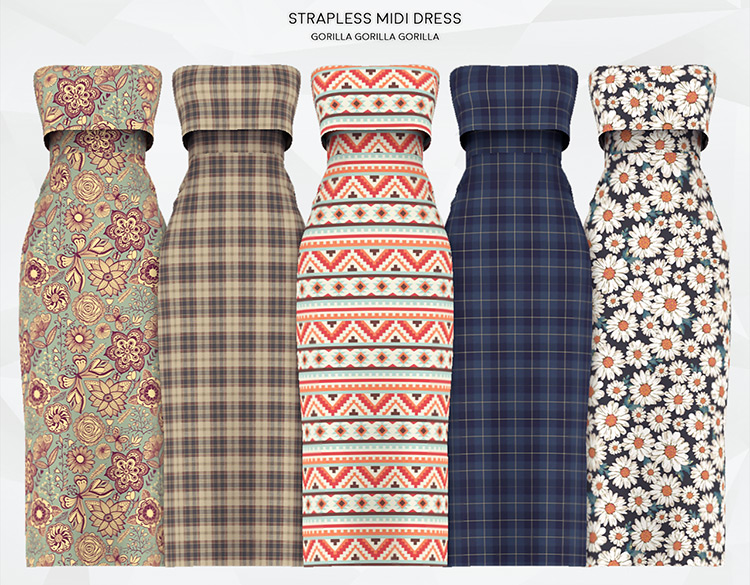 Cocktail attire rule #8: love the clutch.
Looking good for cocktail parties is high maintenance work.
Throughout the night, there's a constant need to freshen up and look your best, even though you're already wasted from drinking too many cosmos and apple martinis.
But if you're using a bag as small as an iPad mini, how can you ever fit in makeup, a pack of Kleenex, or mints?
The answer is you can't – and your Sim will have to deal with it for the sake of pulling off this gorgeous Strapless Midi Dress.
7.

Valentina Dress
Cocktail attire rule #7: nothing will ever go wrong with a little black dress.
The evergreen choice for a cocktail party is the quintessential little black dress (LBD).
It's a staple for every wardrobe and is appropriate for almost every formal gathering (even funerals).
Even though it lacks the glitz and glamour of Swarovski crystals and sequins, LBDs like this Valentina Dress will always be sought after for their effortless sophistication.
6.

David Koma Dress
Cocktail attire rule #6: don't look too sexy, be classy.
I'm not a big fan of rules. But I do agree that sometimes, see-through dresses are not appropriate for formal events (shoutout to Kim K).
Going commando to wear a barely-there dress (hi again, Kim K) is too much of a risky business and can make other people feel… uncomfortably overdressed.
If you want to strike a balance between sexy and classy, then this David Koma Dress offers a peek into some skin without going overboard.
5.

Moonstruck Satin Mini Dress
Cocktail attire rule #5: know what you're getting into to get the best look possible.
There are a lot of events where cocktail dresses can be worn: bachelorette parties, weddings, black tie events, business parties, and more.
Certain dress styles fit certain events, which is why ambiguous dress codes like "all white" or simply "cocktail" can be frustrating to guests who are all about that like count on Instagram.
Case in point, would you wear this Moonstruck Satin Mini Dress at a wedding reception or your parents' anniversary dinner? I don't think so.
How about a New Year's Eve Party at a nightclub? Absolutely!
4.

One Sleeve Side Cut Mini Dress
Cocktail attire rule #4: if it doesn't go well with sneakers and flats, it's a cocktail dress.
Look, not everyone can pull off a Kristen Stewart and get a pass for pairing black Converse shoes with a cocktail dress.
No one can blame her though: stilettos and high-heeled shoes are evil creations.
They're painful, hard to walk in, and are 100% capable of making anyone fall on their butt.
But even scientists have to agree that high heels are pretty damn sexy.
It's an enduring struggle. But believe me, no other type of shoe will elevate this One Sleeve Side Cut Mini Dress like a killer stiletto (RIP feet).
3.

Joanne Dress
Cocktail attire rule #3: black isn't the only color for cocktail dresses.
The little black dress will forever be the ultimate go-to cocktail dress.
But that doesn't mean your options are limited to a goth princess' aesthetic.
Slip into this sultry Joanne Dress CC and get to choose from 66 swatches that would make your Sim stand out from the crowd!
2.

Winnie Dress
Cocktail attire rule #2: a wrap dress will never let you down.
At first, cocktail dresses may seem underwhelming or even lackluster because of their simplicity.
But the more you overdo cocktail attire with jewelry and embellishments, the more it'll look cheap.
No one wants a Disney princess in an adult cocktail party. But if you want to take it up a notch, then a wrap dress is all you'll need to look like red carpet royalty.
Get this Winnie Dress from beloved CC creator Sentate, which comes in 8 bright colors and a whole lot of appeal.
1.

Date Night Dress
Cocktail attire rule #1: follow rules 10 to 2.
This Date Night Dress follows all the essential guidelines that make up the perfect cocktail dress.
The form-hugging ensemble exudes a delicate beauty that would charm anyone with two eyes and good taste.
This CC is proof that a great dress doesn't need yards of tulle or chiffon to impress others.
If you don't agree, then I suggest you try this one out.
Browse:
Lists
The Sims 4
Video Games