Sims 4: Best Coffee Table Mods & CC (All Free To Download)
This post may contain affiliate links. If you buy something we may get a small commission at no extra cost to you. (Learn more).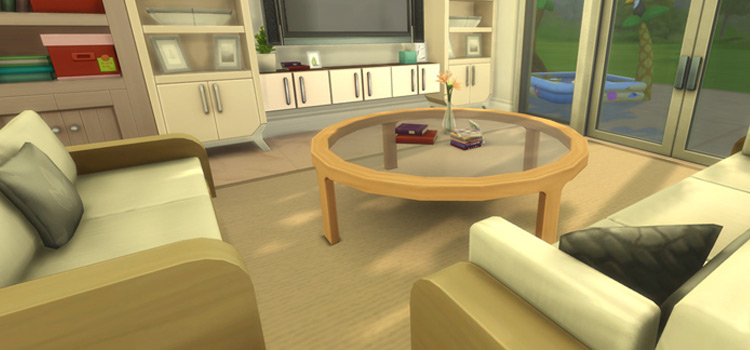 If you're in love with The Sims 4, you're likely to spend hours worrying about every little piece of furniture and decoration in your Sims' homes, even more than in your own space!
The best way to really make any room come to life is to pay attention to detail, put yourself in your Sim's shoes, and think of practical improvements that'll make a room feel lived-in.
One of the essential pieces of any living room has to be a coffee table.
Sims have friends over all the time (presumably). Sitting down to chat is always better with a cup of coffee or tea to go with it.
So if you're on the lookout for some coffee tables to complete your Sim's garden or living room, you'll find some of the best CC in this list. Enjoy!
20.

New Coffee Table & End Table Recolors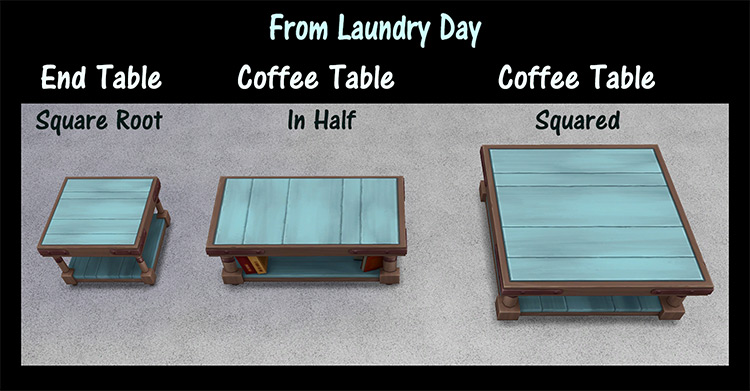 It's always better to start simple when youre' hunting down mods to give your TS4 a makeover.
And these recolored coffee tables by creator Simmiller are just the simple things you'll want.
It's basically a single coffee table design, recolored to 16 different hues that'll let you keep a cohesive decorative style throughout different spaces, without having to marry a single color.
It's based on the Laundry Day SP' Coffee Table Squared, and it even includes some resized versions of the original, such as the Square Root size and the half-table to serve as an end table wherever you need one.
19.

Regatta Big Coffee Table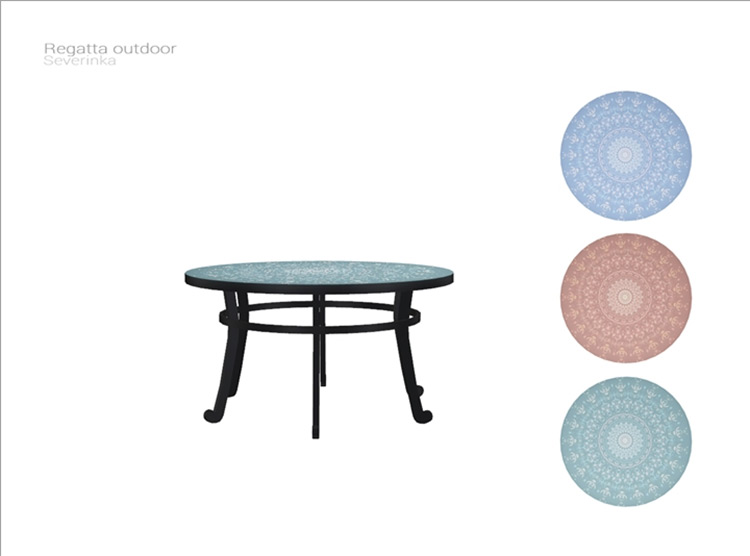 If rather than sprucing up your indoor living spaces, you'd rather give the terrace and your garden a new style, you have to consider Severinka's Regatta Coffee Table.
This simple round table looks tasteful, but solid enough that nothing short of a hurricane will blow it away.
This is one of the most intuitive and "natural" ways to furnish your garden.
It's part of Severinka's Regatta Outdoor set of CC, so if you like this and want the complete set to decorate your outdoor space, be sure to check that out too.
18.

Wella Double Coffee Table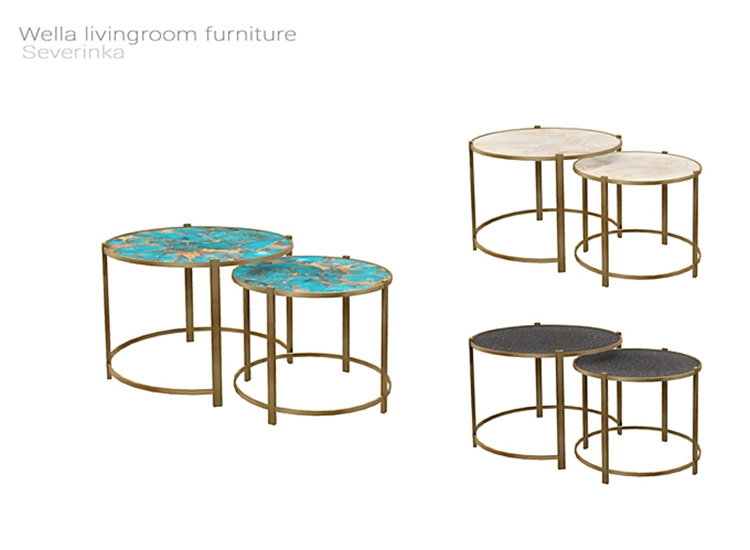 This next entry could work both outdoors and indoors, depending on your needs.
All thanks to its tasteful metal frame and eye-catching looks.
Having the option to move the second table under the larger one whenever it's not in use will make your Sim feel like they're more in control of their space as well.
It's also one of Severinka's amazing creations, and it's available in several materials to fit your needs.
These include a light marble surface, a colorful patchy turquoise, and a darker version for the decoratively conservative Sims.
17.

Zara Pouf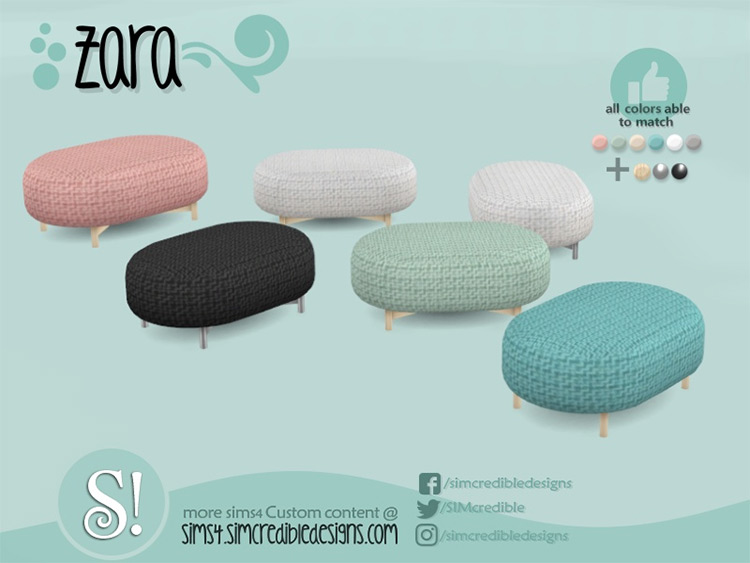 This ranking is supposed to focus on coffee tables… but there are plenty of other small pieces that could take their place.
Prolific creator SIMcredible makes a solid case for that with their Zara Pouf.
This soft-looking foot-rest may not be the best place to set your tea down to rest.
But it'll make sitting on a nearby sofa a much more comfortable experience.
If this striking piece caught your eye, you'll be happy to know it comes in a total of six colors, adding up to 18 swatches thanks to other minor changes.
16.

Various Coffee Table Edits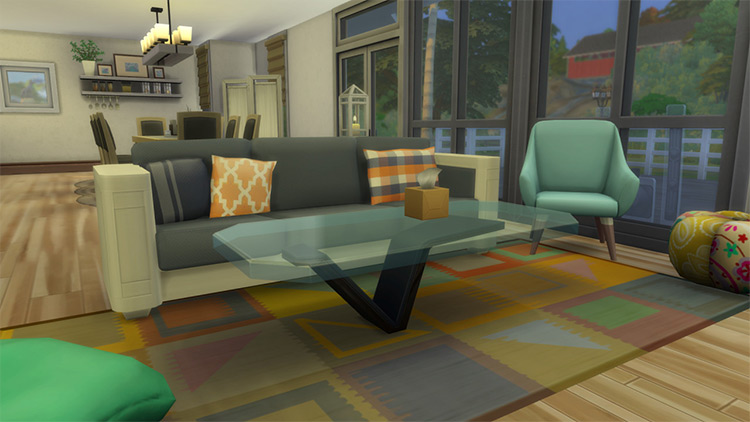 I may research mods and custom content for a living, but I try to keep things as fast and straightforward as possible when it comes to my own needs.
That's why I'm recommending IllogicalSims' Various Coffee Table Edits.
Instead of looking for a massive Alpha CC pack to refurbish my entire house to accommodate a new, high-definition coffee table, I'd rather set up this little CC. It centers around cleverly modified vanilla furniture that's perfectly in-line with the rest of the clay-like Maxis aesthetic.
This CC pack isn't about to overdrive your TS4 game completely. But it'll make your functional furnishing options more varied.
15.

Debka Christmas Living Coffee Table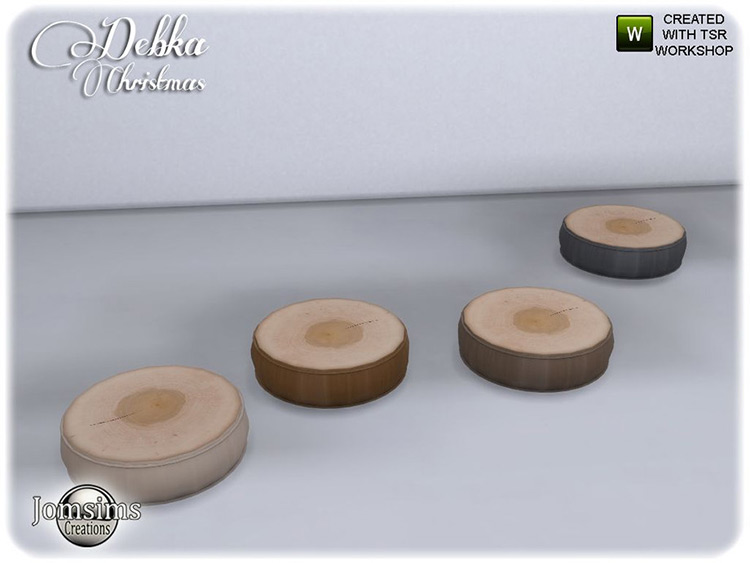 Nature is where everything beautiful comes from.
And bringing some of its most appealing pieces into our living room is the perfect way to complete a space, and give it that cozy feeling.
This light-colored coffee table is made from a slab of a tree's trunk, perfectly round, and framed by a smooth painted-over finish that elevates it from rustic furniture to a distinctive piece.
If you like it, consider checking out the complete set, meant to give your living room a modern but still cozy Christmas ambiance.
14.

Vitra Coffee Table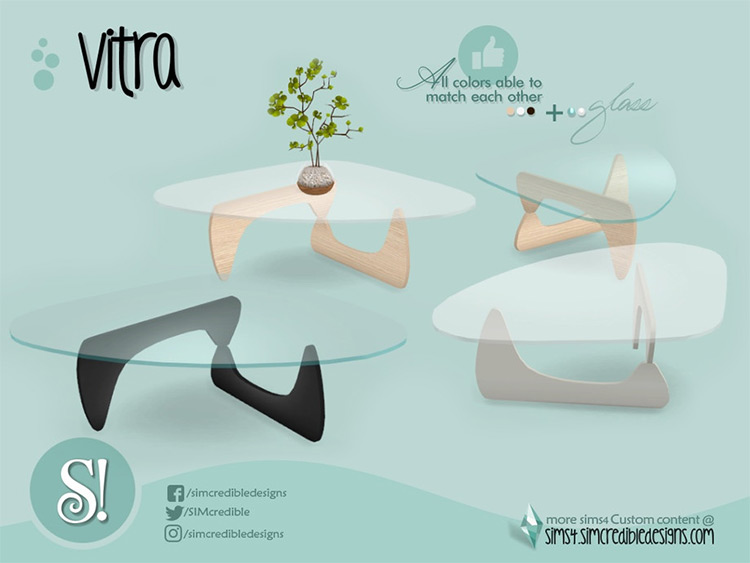 I love it whenever I see a piece of Sims furniture that I just know would look amazing in my own real-life home.
This Vitra Coffee Table by SIMcredible! looks very modern and light. Which makes it perfect to complement a space, without it taking over the whole room.
It goes perfectly with delicate decorations such as bonsai trees, or even just a couple of books.
And this CC is available in a total of eight variations, including four different colors to fit whatever area you decide to place it in. You can even decorate a whole room in this style if you get the complete Vitra Living Room set.
13.

Shrunken Square Coffee Tables
Here's another amazing entry that takes the base game's eclectic collection of furniture, and slightly modifies it for a more complete experience: the Peacemaker's Shrunken Square Coffee Tables.
This humble CC pack features twelve vanilla coffee tables and resizes them considerably.
They'll go from big and somewhat cumbersome tables, to smaller, chic additions to any room.
12.

Uzux Living Room Coffee Table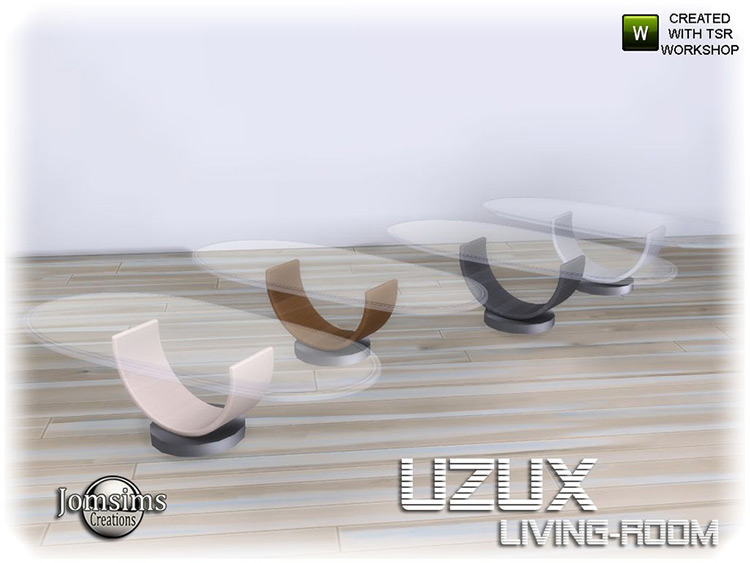 Rounded and organic shapes with a sense of flow are what many avant-garde designers are all about.
And now, you can get some of this style in the middle of your living room.
You won't find a single straight line or angle on this coffee table. And the heavy use of glass makes it a very light piece that gives the illusion of not taking up any space at all.
The best part? You don't have to carry heavy fragile slabs upstairs to install it.
As is the case with most other coffee tables on the list, you can get a larger set with more modern pieces from creator Jomsims.
11.

California Dreaming Coffee Table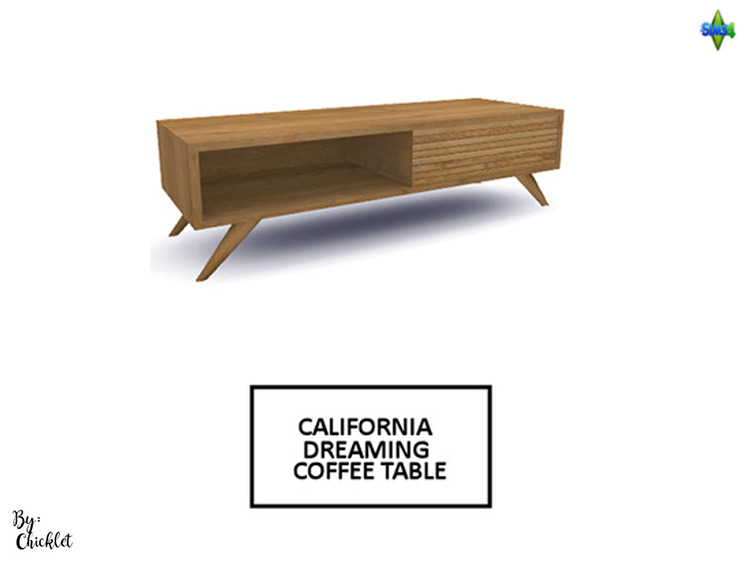 If I were about to get a coffee table for myself, I'd get something like this California Dreaming Coffee Table.
A convenient and modern-looking piece with a bit of a Scandinavian design aesthetic.
Creator Chicklet offers us this beautiful table as part of their California Dreaming set, which transforms your living room into a comfy space with a very minimal design. It plays with materials and brings a bit of nature into your Sim's home with its wooden surfaces.
Even if you don't want the whole set, this table will look amazing in any room with a couple other wooden pieces.
10.

TS2 Coffee Tables
Many of the most active and hardcore Sims fans began their journey with the beloved second installment in the series.
And a lot of them just can't let go of the game they poured so many hours into.
For our TS2-obsessed friends, creator Elias943 brings this set of TS2 coffee tables ported to the more recent TS4.
With one of these tables, you'll always have a bit of TS2 around to remind you of those wonderful times.
They're not really of the highest quality when it comes to detail, polygons, and texture definition. But they're still charming and ideal for Maxis Match areas.
9.

Atlanta Coffee Table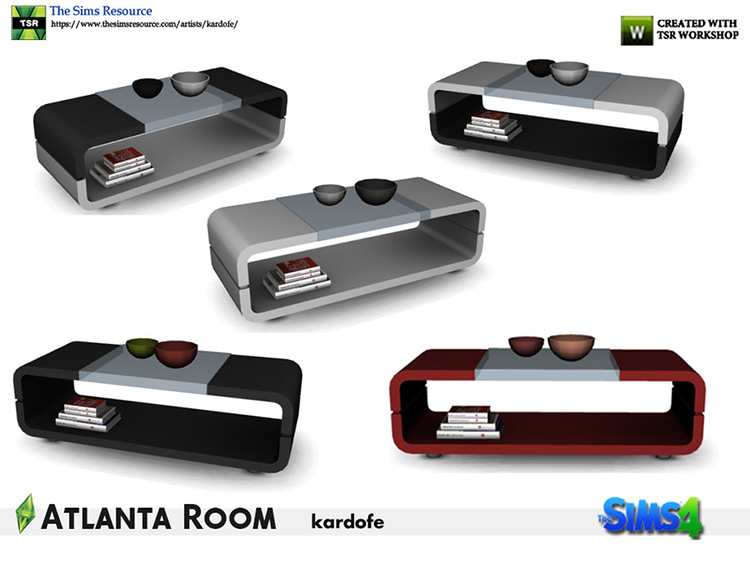 If you've got a wealthy Sim that dreams of an optimized existence and futuristic architecture all around, you can kick-start their ambitions by adding this modern Atlanta Coffee Table to your furniture roster.
Created by Kardofe, this bold coffee table will look right at home at a technocrat's lair. Or anywhere with a pseudo-futuristic aesthetic reminiscent of The Jetsons.
If you want it to look a little less experimental, you can always add some books. Or maybe a plant on top to break up the tension, and make it feel like part of your home.
8.

Car Roof Coffee Table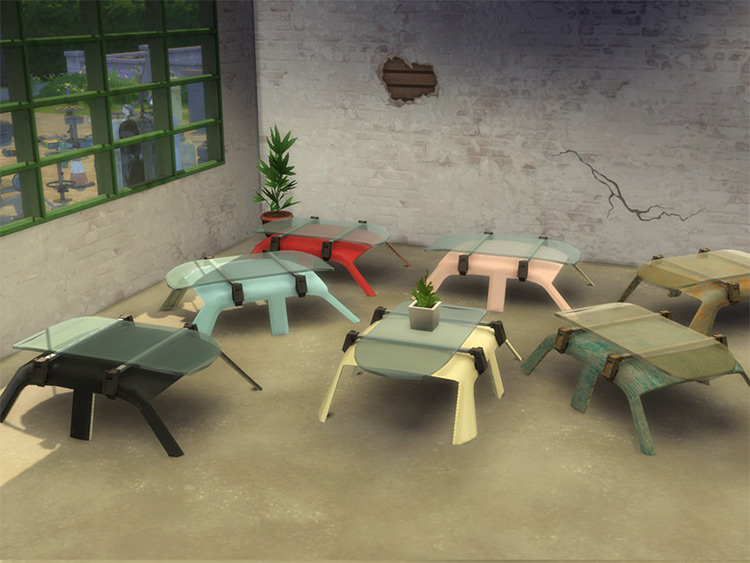 Made from the roof of a totaled car, and sporting its windshield as the table's surface, this Car Roof Coffee Table by creator Cyclonesue is the last word in upcycled furniture.
Did you steal it? Did you buy it from a crafts fair?
Nobody knows.
But your visitors all remember that your Sim is not afraid to break the mold.
Besides adding an odd piece of furniture to an otherwise ordinary room, it can also complete a hideout in an abandoned garage, a basement, or even a junkyard!
7.

Children's City Luggage Table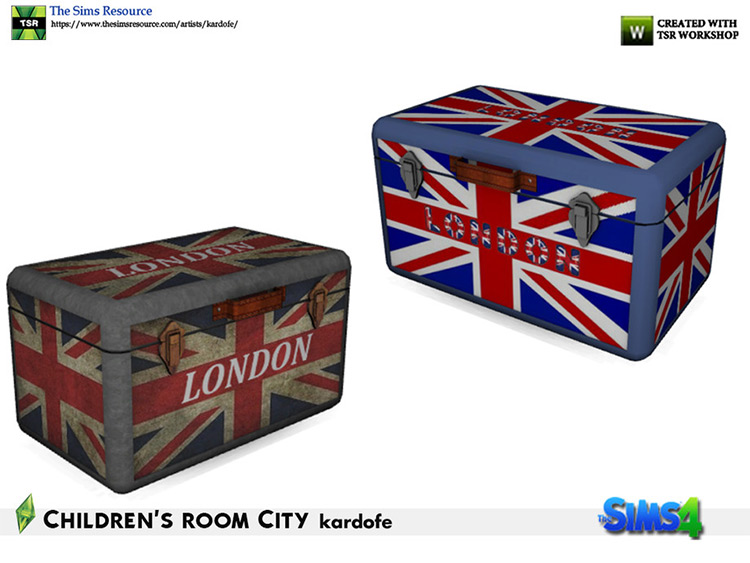 Even children Sims need stylish rooms.
And while a coffee table for a child might be a bit much, this re-purposed Luggage Table will look right at home in a child's space.
It features the UK's well-known Union Jack banner, making it a trendy piece that shows your kiddo is all about multiculturalism… or just British.
It comes in two different versions, one looking brand-new, and the other sporting a patina of dirt and scratches that make it look vintage. That last one is probably better for an edgy teen than a child.
6.

Stockwell Wood Slab Coffee Table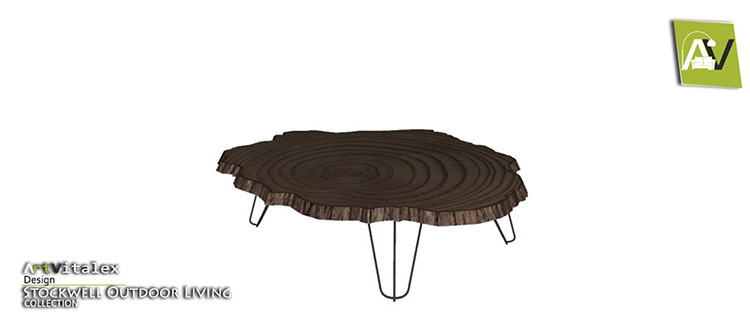 Bring an untouched piece of the outside world into your living room with this Wood Slab Coffee Table from creator ArtVitalex.
This highly-detailed coffee table is one of the most tasteful wooden pieces around.
And its eye-catching nature makes it the perfect way to complete a room that's just one step away from perfection.
It could also look amazing outdoors along with other uncut trees.
This comes in three different kinds of wood, so you could probably match whatever trees you have in your backyard, and imagine your crafty Sim made it themselves.
5.

Felicity Coffee Table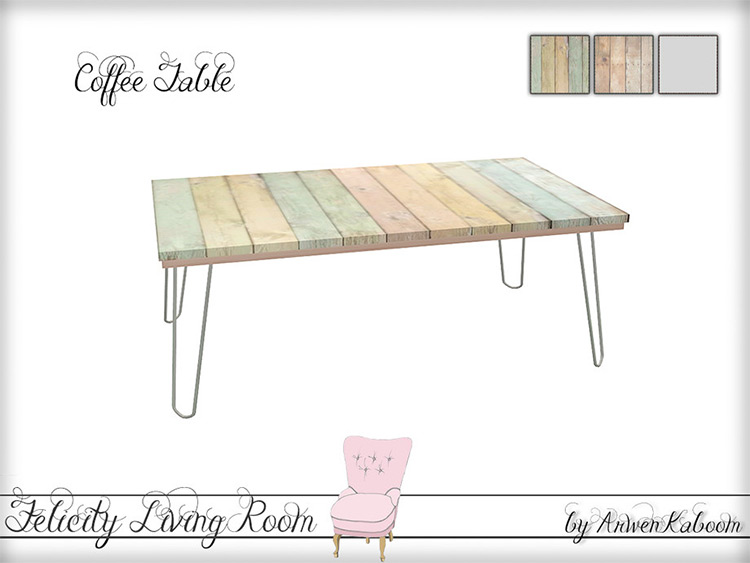 When I first saw this dreamy coffee table by creator ArwenKaboom, I was struck by how beautiful the pastel colors looked on it… and that's the reason I bring it to you today.
Each plank features a slightly different pastel color, creating a pale rainbow that gives this lovely coffee table a bit of an ethereal look.
It's part of the gentle Felicity Living Room set, which is ideal for the Sim that grew up on Tumblr and can't ever get enough of pastel hues with that slight DIY look.
4.

Kezao Garden Coffee Table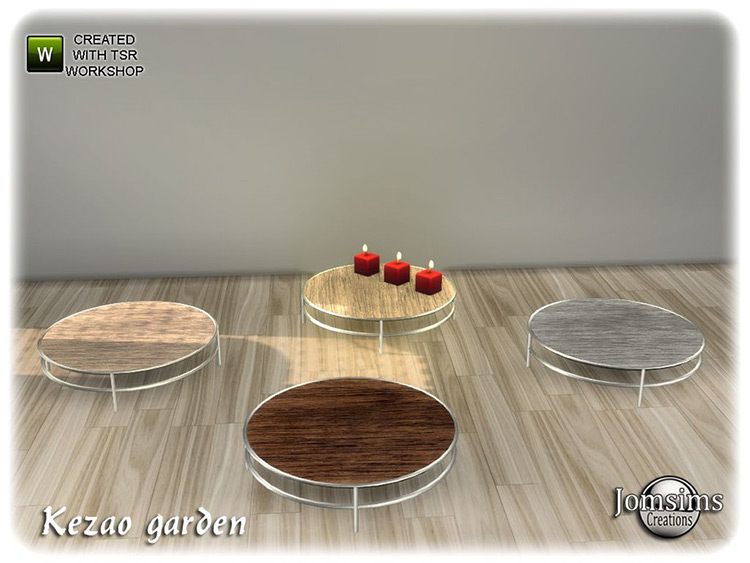 Jomsims' Kezao Garden Coffee Table is one that I wouldn't pass up by a long shot if I saw it in real life.
And you shouldn't pass it up either!
It's round and straightforward, making use of natural materials that'll make a room feel like another one of nature's spaces rather than a capsule made to keep it out.
The CC is available in three different colors and looks lovely with some homely décor on top. If you like it quite a bit, you could give your whole space a bit of a seaside resort aesthetic with the complete Kezao Garden set.
3.

Round Coffee Table Recolors
Creator Oldbox knows it's not the form, but the texture that ultimately gives a piece of furniture its definite style.
With that principle in mind, they bring us one of EA's basic coffee tables retextured in ten different ways ranging from a modern square grid design, to one that makes the surface of the table look like a salvaged piece of an ancient Greek mosaic.
It's one of the simplest, fastest ways to extend your coffee table variety in-game with tasteful designs.
2.

Emmanuelle Coffee Table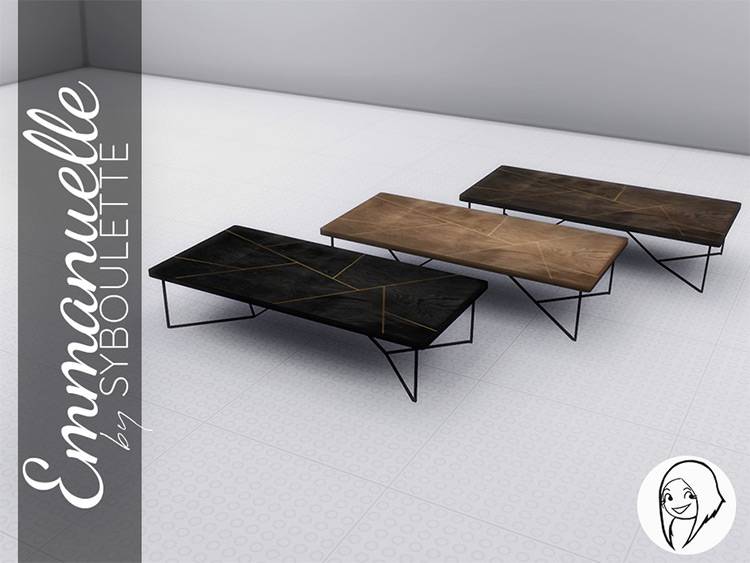 I'm a sucker for bold pieces of furniture that make you feel like refurnishing your whole house to accommodate their magnificence.
Such is the case with Syboubou's Emmanuelle Coffee Table.
This dark rectangular coffee table with golden accents reminds me of the Japanese practice of kintsugi, a technique for fixing broken porcelain pieces with molten gold.
Needless to say, it looks regal.
It's perfect for a wealthy Sim's ostentatious abode. And while its black color is the most visually striking part, there's some good color variety for you to play around with.
1.

ECO Living Coffee Table Recolors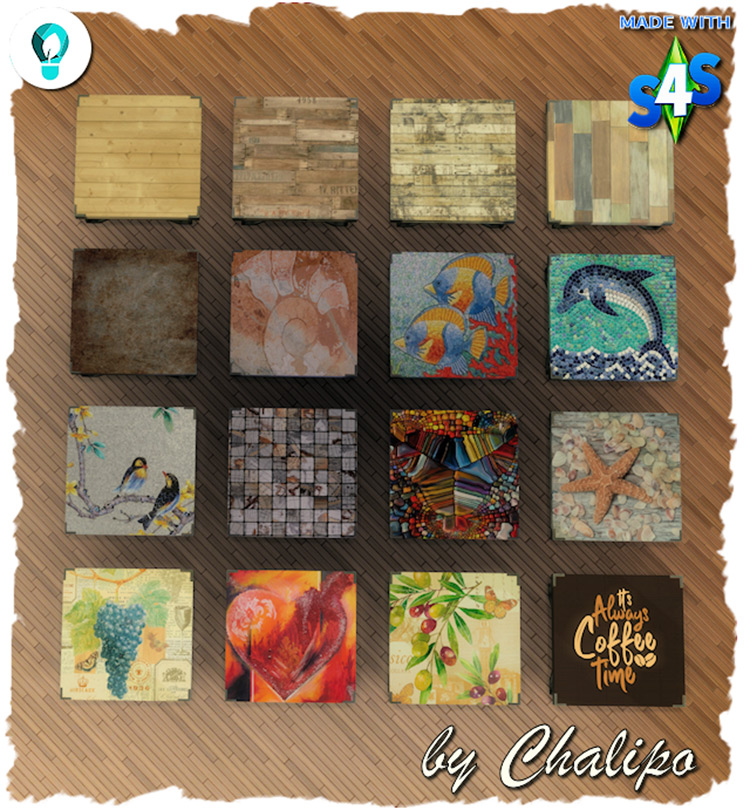 After scouring the Internet for a sizeable amount of time, I was unable to find a pack of coffee tables that I liked more than Chalipo's ECO Living Coffee Table recolors.
It's nothing fancy in terms of meshes, as it's just a retexturing of a coffee table introduced in the recent Eco Lifestyle expansion.
Still, this array of creative designs has something for almost any room. And they're all beautiful to boot.
These are all certainly the kind of thing you'd buy at a craft fair. But the bold designs and diversity in materials play to their favor.
It's the perfect table for the artsy Sim with an eclectic decorative style.
Browse:
Lists
The Sims 4
Video Games