Sims 4 Comic Book CC: Collectibles, Apparel & Décor
This post may contain affiliate links. If you buy something we may get a small commission at no extra cost to you. (Learn more).
Comic books have been a sensation in English-speaking countries since the 20th Century.
Whether you've been a fan of comic books for decades or got into it after loving one of Marvel and DC Comics' notable blockbuster films, we're all joined together by our love for the wacky and inspiring stories hiding between comic book pages.
Read comic books long enough, and you'll start wanting collectibles, apparel, posters, and all sorts of ways to show your love for your favorite series.
While that can be a bit too expensive (or impractical) for most of us, nothing stops you from living your dreams through The Sims 4.
So let's take a look at best TS4 custom creations for comic book lovers.
10.

DC Comics T-Shirts for Men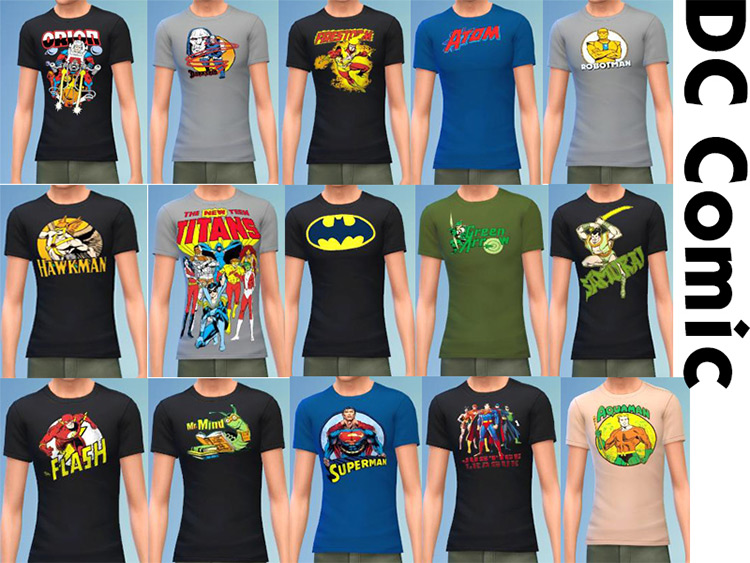 For modern Sim men, there's nothing quite like a simple printed t-shirt to tell the world how much a comic book hero meant for them growing up.
Creator Bobojellycatface brings us a massive collection of 22 tees with sleek DC Comics designs for the superhero enthusiast in your Sim household.
What makes me pick this pack over other comic book apparel for men is the variety.
Instead of sticking with just The Flash or Aquaman, the creator has included some underrated heroes like Hawkman, Mr. Mind, and Plastic Man.
9.

Superhero Tights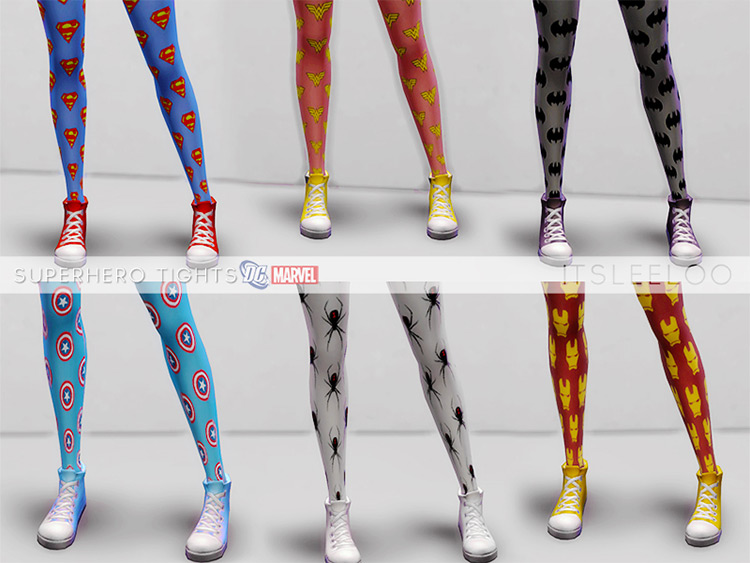 Another fantastic option for the athleisure-loving crowd is these Superhero Tights for female Sims.
Creator ItsLeeLoo combines both DC and Marvel to create a gorgeous collection of skin-tight pants with patterns depicting our favorite heroes' logos – including Superman, Wonder Woman, Batman, Spider-Man, Iron Man, and Captain America.
It's got a total of six swatches for adult and teen female Sims to show off their geeky side.
8.

Readable Marvel Comics & Decor
I've always loved decorations people can actually engage with – the kind that not only draw attention but keep it while you brew some coffee or finish up dinner for your guests.
An excellent option for young, comic-loving Sims is simply leaving some of their favorites lying around for people to grab and read.
This mod by KnockKnock lets you do just that by introducing all kinds of comic book clutter.
This includes piles of comics, rows ready to fill up shelves, and some individual issues for extra detail.
Among the series your Sims can enjoy, you'll find Captain America, The Amazing Spider-Man, and more.
7.

Suicide Squad Set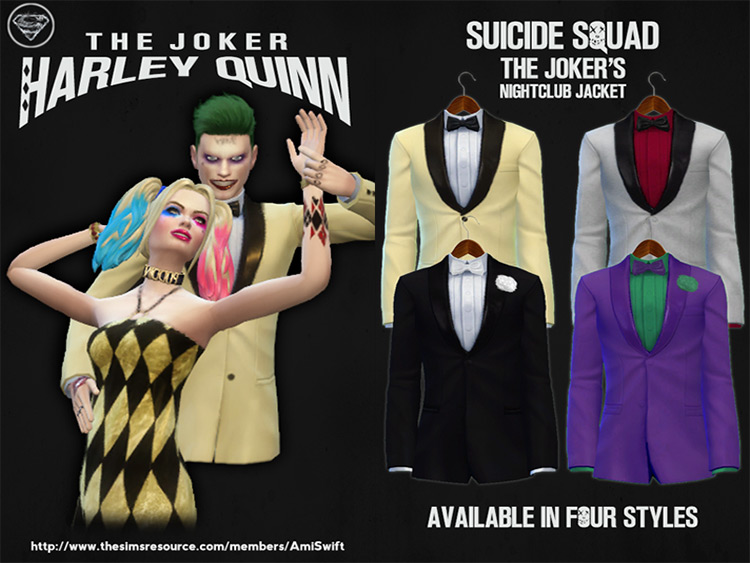 Do villains become heroes when set against an even greater evil?
Well, it's hard to tell – but it hasn't stopped Harley, Joker, Deadshot, El Diablo, and Katana from garnering popularity among edgy teenagers (and adults) as unlikely heroes.
This CC set by AmiSwift includes everything you need for your characters to cosplay as the Suicide Squad, including tops, pants, nightclub clothing, make-up, and much more.
While technically based on the movie, the source material is still well represented in these outfits.
6.

Super Heroes Poster Collection
One of the most tasteful ways to show your love for your favorite comic books (and the heroes that inhabit them) is through awesome posters that bring color and excitement to an otherwise dull space.
This set was created by LilySims, and includes 15 different wall art pieces based on everything from Spider-Man to The Flash.
These are great for children, teenagers, or adults who just want to bring some superheroism into their daily lives.
Also if the link above isn't working then you can find the direct file download here on SimFileshare.
5.

Athletic & Sleeping Outfits
There used to be a time when loving comic books was seen as a nerdy thing to do.
But nowadays, even the sporty types show their love for their favorite heroes.
Active comic-loving female Sims will love these colorful t-shirt + shorts combs by Saliwa.
They work just as well for a morning jog as they do as pajamas – so they'll be the envy of their friends at sleepovers or at the gym.
Each outfit is designed around a different comic book symbol, like Captain America's shield, Batman's bat-signal, and the Marvel and Avengers logos.
4.

Superhero Dungaree for Toddlers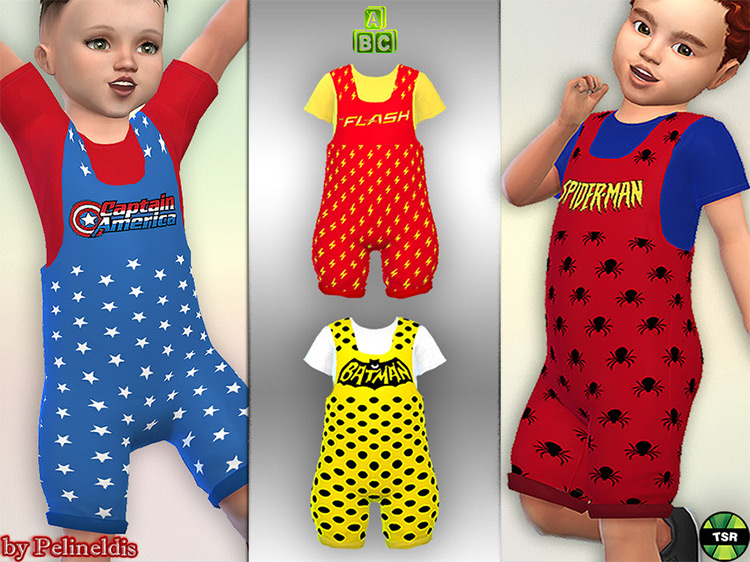 When it comes to cuteness, I don't really think we can do any better than these Superhero Dungarees by creator Pelineldis.
Maybe your Sim toddler has no idea who Spider-Man or Captain America are, but they don't really know much about anything anyway.
You get to choose what they wear, and Mom & Dad just happen to be two comics-obsessed Sims.
The bright colors and fun designs are perfect for any toddler.
3.

Comic Book Décor Set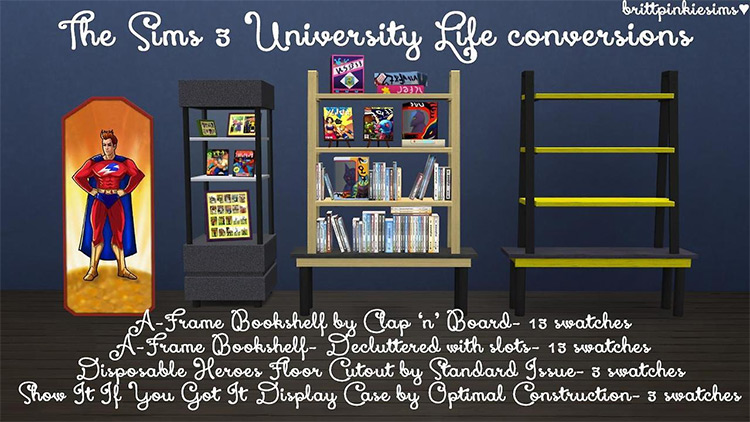 If you want your Sim's home or business to be a place where comic-loving people can come together to browse comics and enjoy the company of like-minded people, this Comic Book Decor Set by creator BrittPinkieSims is the way to go.
This set includes everything from Funko Pop! figures to thematic toy boxes.
There's also artwork, clutter, and entire shelves full of comic books for other Sims to peruse.
It was made with dedication by someone who clearly loves comics, so there's a lot of attention to detail.
Among other things, there are also a ton of different comic book covers, rather than just the same three repeated over and over again.
Plus as a bonus, the pack includes a retail lot called Atomic Books – a pre-built comic book store you can just add to your game with little effort.
If the link above doesn't work then check this SimFileshare link for an alternate download.
2.

Superhero Onesies & Masks for Toddlers
Kids love superheroes. And being small doesn't mean they shouldn't get to dress as their icons.
In fact, considering it takes less fabric, they should do it even more often!
These Superhero onesies are the best way to bring your kids into the world of cosplay in a way they can enjoy.
Whereas wearing cosplay usually requires spending entire days extremely uncomfortable, these onesies have a comfy knit texture and will keep your small ones warm.
Creator SimDollhouse made sure to make these available for both boys and girls, and include the corresponding mask for every hero except Superman because he doesn't wear one.
1.

The Comics Stop
No Sim town or city is complete without the local comics shop.
The Comics Stop by Kardofe includes everything you need to set up a stylish comic book store, with shelves full of all the best Marvel and DC releases.
There are plenty of bins full of collectibles, figures, and mugs to line the shelves, and large cardboard cut-outs of your favorite comic books heroes to stand proud all around.
And if you want even more to build out your Sim's comic book store, you'll find the second part of this fantastic CC pack right here.
Browse:
Lists
The Sims 4
Video Games