Best Sims 4 Contemporary & Modern Interior CC (All Free)
This post may contain affiliate links. If you buy something we may get a small commission at no extra cost to you. (Learn more).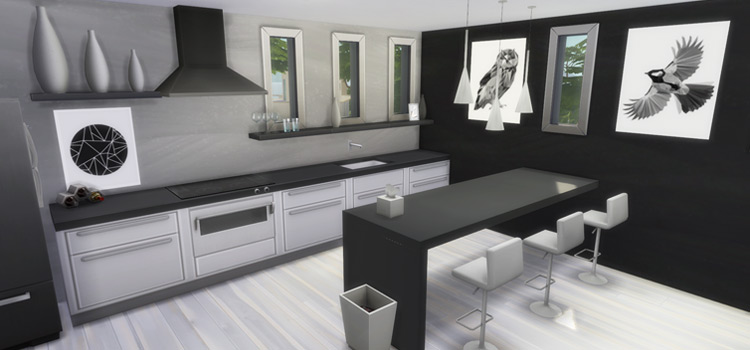 Playing The Sims 4 should honestly count as interior design experience.
I now have knowledge of so many terms and aesthetics that I otherwise wouldn't have.
For example, in the world of design, modern doesn't actually mean present-day stuff. It actually refers to the past, while contemporary refers to the here and now.
And all this time, I thought modern meant modern. I've described countless builds that way. Hmph.
But alas, contemporary & modern are distinct styles in their own right and are often paired together for stunning and bold interiors.
Simmers of course have caught onto this and created plenty of CC specifically for such a style. So get ready to load your Sim's home up on all of the contrasting goodies that come from contemporary & modern design!
Contemporary Living Stuff
As is the case for so many concepts, there's a whole fan-made stuff pack out there dedicated solely to contemporary furnishings.
With this lovely little pack, you get 20 totally new objects, plus 4 new doors and a wall recolor.
But let's focus on the meat here – the objects.
If you like to build, then I'm sure this is always the most exciting part for you!
Everything here has nice, matching wood tones and thin metallic legs, really driving home that modern – er, contemporary – look.
This stuff is so needed for any home or apartment that you want to look super fresh and up to date.
Hamptons Hideaway Collection
If you've ever looked up CC furniture, then chances are you are familiar with Peacemaker.
This creator makes huge collections of build/buy stuff in all of the aesthetics you could want.
Here, he has brought together the best of both worlds – that being contemporary and modern.
You can see the old-school influence of sturdy wood furniture and vibrant wallpaper, but also some of the latest trends like geometric shapes and pops of color.
This is a 39 piece set including everything from furniture and paintings, to even new build objects.
Moku Seating Suite
Here we have another gem from Peacemaker, and this time it's nothing but sweet, sweet seating.
You can never have too many sofas for this game, honestly.
I've got about 30 just from packs and I'm never satisfied.
But that's the joy of CC.
This set alone offers plenty of cool new options – 6 in total.
You'll never have to worry about your living rooms looking empty or mis-matched again. There are 32 swatches for each item with a fantastic fabric texture.
Granite Walls
You've probably noticed certain colors are at the heart of modern design.
It thrives off of neutrals like black, white, dark blue, and of course, gray.
Obviously, if you don't know when and where to switch things up, homes can get boring pretty quickly.
This is where textures come in.
These walls have an awesome, gritty look that will boost the visual appeal of any room. There are six swatches of granite tiles, varying in size and shade.
Modern Paintings
Wall space is always a conundrum when renovating, both in The Sims and in real life.
Every room probably has a lot of it and the possibilities are basically endless, but you don't want to overdo it.
With the contemporary & modern style, it's best to select a few pieces that really pop, rather than covering your whole wall.
You want to save the clutter for surfaces, of course.
These paintings from Deviroses certainly do stand out. They feature very vibrant images that, depending on your color scheme, will either blend seamlessly or be very prominent. Either way is good!
Color Me Cyan Rugs
I have the worst time with rugs in this game.
It's actually the most frustrating part of building for me.
The pretty ones are always way too big. Looking at you, Parenthood, Cats & Dogs, Laundry Day Stuff…
Ahem. I got a little carried away there.
The point is, a delicate balance must be struck between look and size, and Peacemaker has done it.
These gorgeous rugs, all incorporating bright blue, are just the right size for most standard rooms.
All 16 swatches will be stunning against the dark flooring and neutral walls typical of contemporary homes.
Modern Wood Floors
Speaking of dark flooring, you'll probably want some!
Sure, there are plenty of wood swatches already available in quite the array of shades… but none quite like this.
These large floor tiles have nice, clean lines and come in 7 wood tones.
Some are light, some are dark, but all are sure to have just the type of simple detailing you'll want for contemporary & modern interiors.
This is also a good example of how breaking out of your comfort zone can have great results.
I would never think to use wood flooring in a bathroom, but clearly I've been missing out – it looks great!
Sleek Kitchen Stuff
The kitchen is often the first room people renovate when buying or flipping houses.
It's a fairly straightforward process.
Just replacing counters & cabinets and updating the color scheme can make the difference between a dated nightmare and an aesthetically pleasing room that you actually want to be in.
Even in The Sims 4, the kitchen is a room you don't want to neglect. Especially if it doubles as a dining room.
Your Sims will be spending quite a bit of time there!
And this fan made Stuff Pack features tons of items to bring your Sim's kitchen into the 2020s.
With 20 items in total, as a matter of fact.
You'll get all of the no-brainer items like brand new counters, a stove, stools, a sink, and more.
There is even a cool combo item with a stove built into a counter, to maximize functionality in your kitchen.
SIMKEA Furnishings Stuff Pack
IKEA has become quite beloved by so many as an affordable seller of all the hip happenin' home furnishings you could want.
I'm not at all surprised someone has come up with a Sims equivalent, and it's pretty awesome.
This is another CC Stuff Pack, from the same creator who made Contemporary Living Stuff and Sleek Kitchen Stuff.
I actually didn't realize I was including three of his packs here until it had already happened… and I guess that really speaks to how amazing and authentic this guy's stuff is – literally!
With these 45 new items, you will be able to find something for every room in contemporary & modern styles.
Everything is just perfect, from the colors to the shapes themselves.
And if you want even more IKEA-styled stuff, check out this other article.
Modern Couch Conversion
Converting things from other games actually makes a lot of sense, especially in this case.
A couch that was a "contemporary" design for The Sims 3 during 2009 – 2014 might not look so new now, making it perfectly modern.
I'm confusing myself (and probably you) with these newfangled technical terms, so I'll put it a little more simply:
A TS3 couch is a little old, but not so much that it'll stand out in a bad way.
In fact, I think these will mesh seamlessly with any current living room you create.
There are 5 swatches total, and any of them will work just fine, especially the black or dark blue.
Reminiscent Light Set
Lighting can certainly say a lot about the style of a home as well as its owner.
For today's homes, a feeling of openness is key.
And nothing is better for that than ceiling lights. Floor and table lamps take up more space.
But these come in several options for length and will even act as a bit of decoration as well. If you've ever looked up remodel ideas on Pinterest, then you have probably seen tons of dining rooms and breakfast nooks with lights just like these centered over the table.
Not only do the lengths vary, but there are different types of lights as well.
Some have a globe shape, others more dome-like, and triangular ones too.
Skyline Bedroom Set
Well, this list has stuff for almost every room – except the bedroom.
And that's one space that is pretty important.
Every Sim has to sleep, even Vampires!
And unless your Sim lives in a mansion, their bedroom probably serves three or more other purposes as well.
Maybe a place to enjoy hobbies, or even work.
This CC set includes everything you'll need to get your Sim's bedroom looking its contemporary best.
You get a new bed, nightstands, dresser, lamp, sculpture, and more!
Everything has matching swatches, and as a really fun bonus, there's even a new guitar that'll match as well.
Browse:
Lists
The Sims 4
Video Games