Sims 4 Convenience Store CC & Lots (All Free)
This post may contain affiliate links. If you buy something we may get a small commission at no extra cost to you. (Learn more).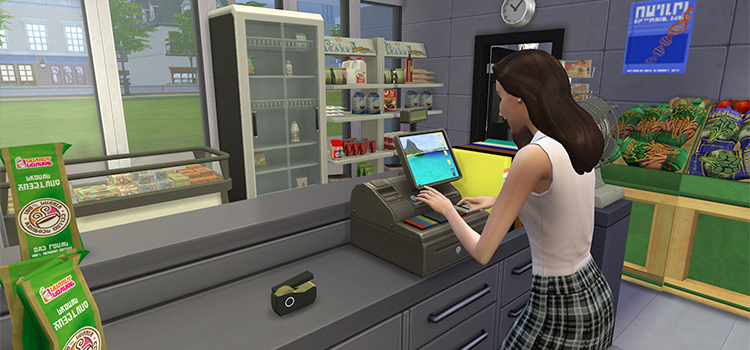 What makes convenience stores such pillars of society is right there in the name.
Convenience.
It's what we all desperately need and these one-stop shops offer all of the essentials under one roof.
Whatever reasons you might have to put one of these in your game, custom content is the key to fully get the right look and experience.
1.

Japanese Convenience Store Set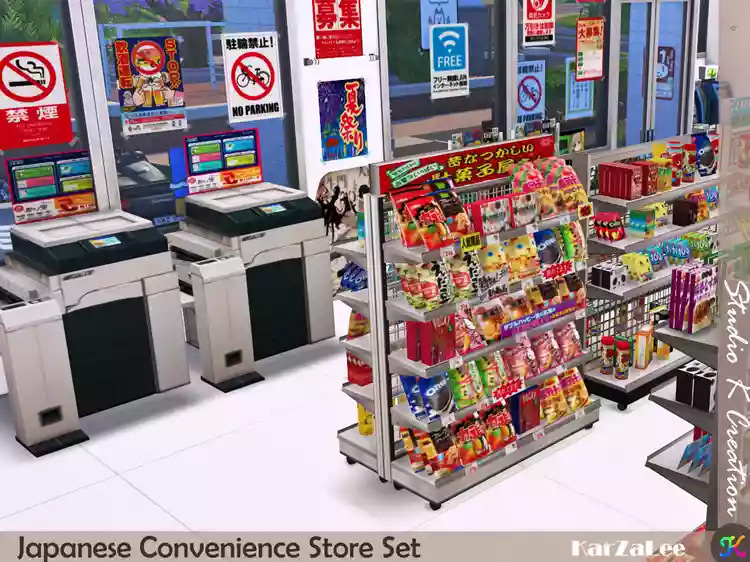 Everything you'll need to build your own Japanese-inspired shop is right here, including wall signs and a checkout counter.
Two separate racks are included, and they're loaded with some of Japan's most beloved products… snacks!
2.

Sandtrap Gas Station Lot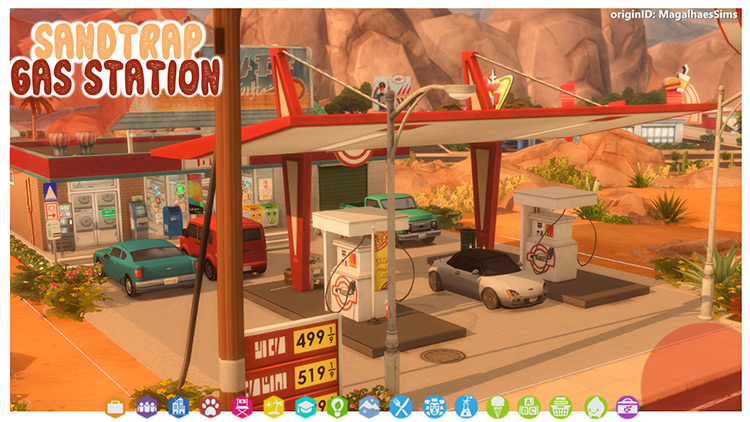 No extra work is required for you to enjoy this incredible lot.
What you see is what you get, and it even has some functional perks.
While the exterior looks fantastic, the inside has several well-stocked shelves which can even be functional with an additional mod, as well as a little laundromat area.
3.

Consignment Shelves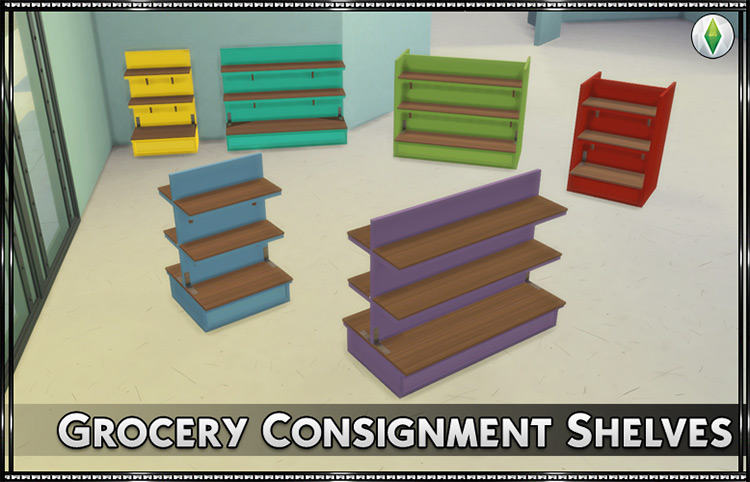 If you're going to be creating your own lot from scratch, you're gonna need shelves.
A lot of them.
This Simmer converted this versatile set from The Sims 3 and they come in a bunch of bright colors – so you don't have to use typical metallic shelves if you don't want to.
These could even work well in another style of shop (maybe a comic book store?)
4.

Grocery Fridge (Get to Work Required)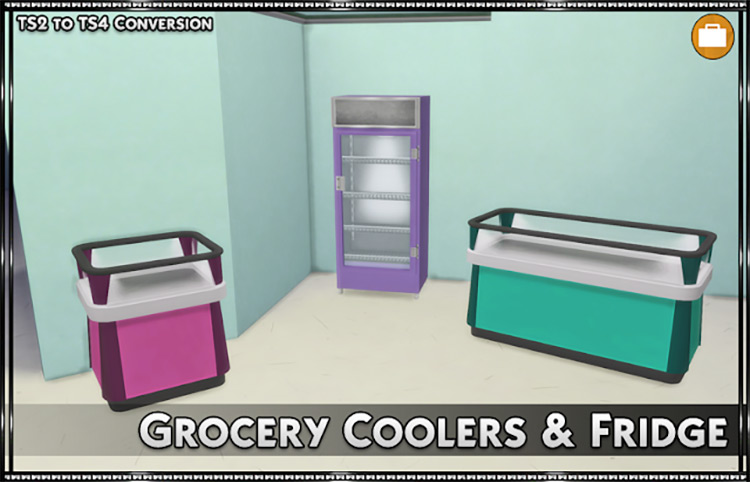 The Get to Work Expansion Pack, which is necessary to use this fridge, will offer quite an advantage if you'd really like a functional convenience store.
And this simple mod empties out the existing fridge and adds a bunch of additional slots so you can place whatever decorative items inside you want.
5.

Functional Vending Machines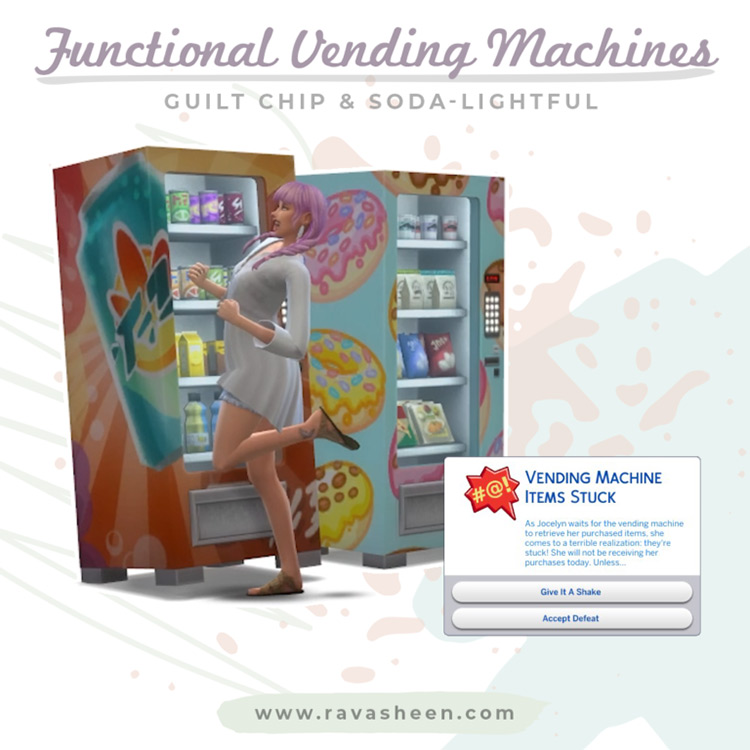 Vending machines might be the epitome of convenience.
Just insert a dollar and get your snack, no checkout or human interaction required.
Thanks to the magic of RAVASHEEN, these machines are base game compatible and functional. They'll definitely be a nice addition to any store.
6.

Fat Snacks Interactive Food Set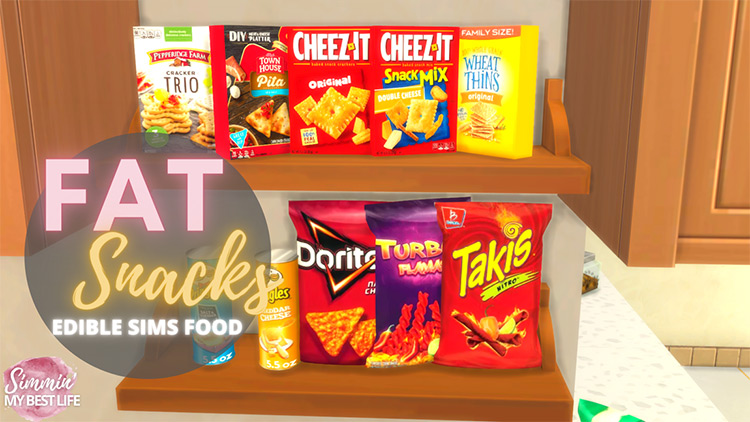 Amazingly, all of the food in this set can actually be eaten by your Sims.
They'll even get a moodlet from it that's kind of hilarious.
All the good stuff is here, including:
Potato chips
Oreos
Pringles
Chips-A-Hoy
And soda
7.

Beauty For Him Set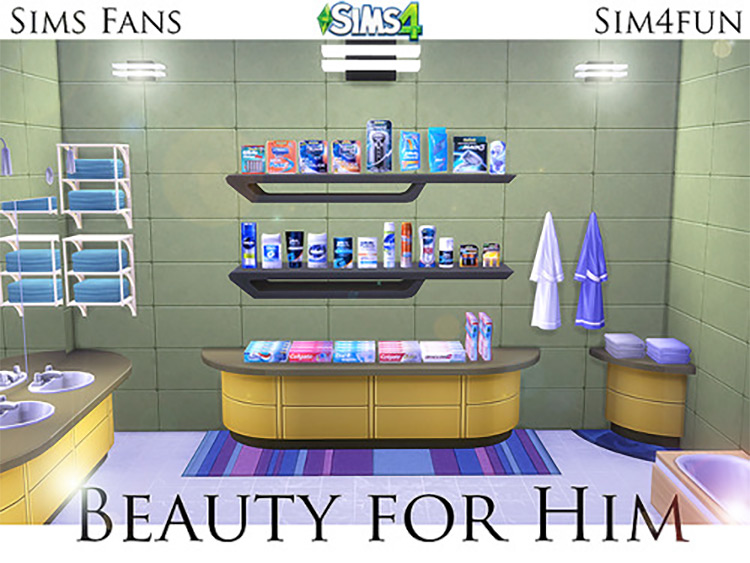 With this set, you'll get plenty of toiletries and hygiene items to clutter the shelves.
All of the big name toothpaste brands, shaving cream, razors, and more are available.
8.

Base Game Compatible Cash Register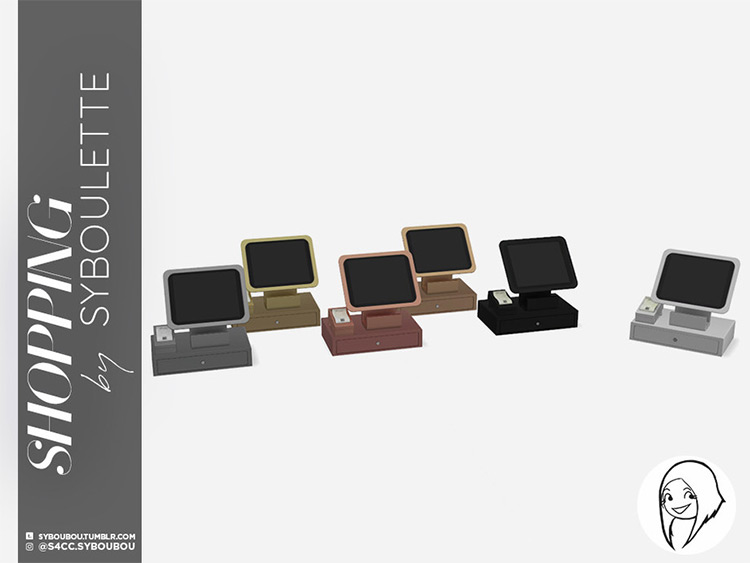 This simple monitor with a cash till is all you need to turn a build from an eclectic mix of clutter and shelves to a professional business.
While these aren't exactly the coolest or most modern pieces of technology, they do come in some fun colors, as well as your standard black and gray.
9.

Minimart Set Part 1: Drinks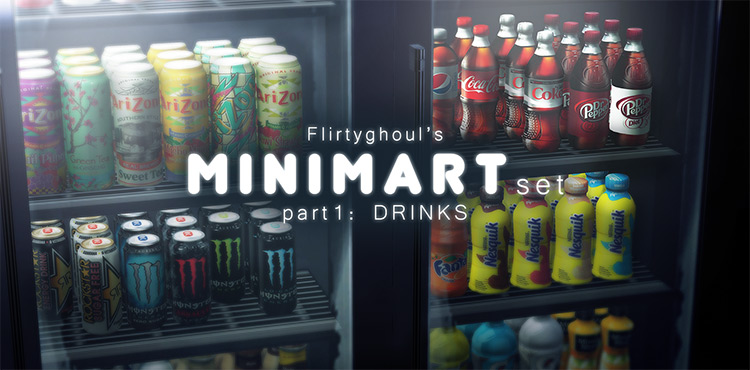 You'll be able to expand the inventory of your Sim's local convenience store even more with this set.
It's complete with an upright cooler, and you can fill it with Flirtyghoul's awesome set of detailed, name brand drinks.
10.

Minimart Set Part 2: Furniture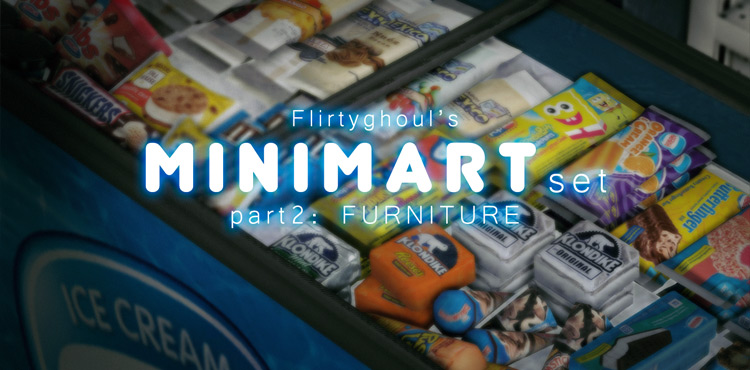 Here's the second part to the previous set, and the creator really packed a lot into it.
Not only are there more shelving units and fridges available, but all the clutter you'll want to put on them, too!
11.

Grocery Stuff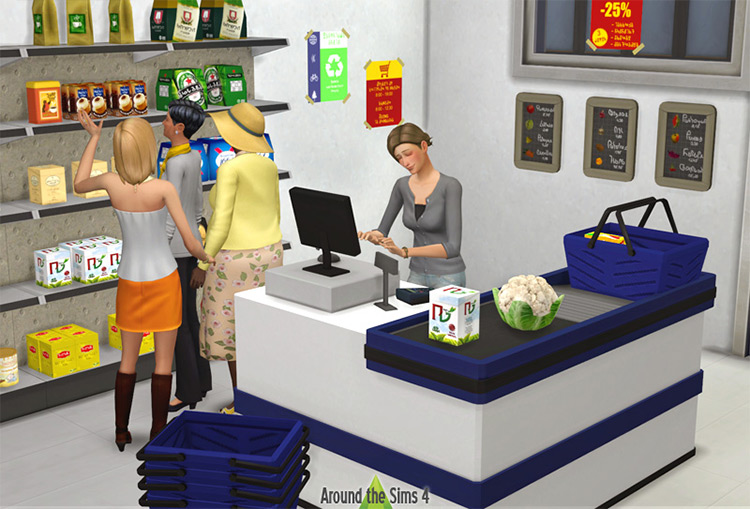 When it's time to add the finer details to your convenience lot, this little pack will have you covered.
It's got everything, from deco shopping baskets and checkout counters, to sale posters and price lists.
If you like some realism in your game, then this CC stuff is essential for your convenience store.
12.

Dental Care Clutter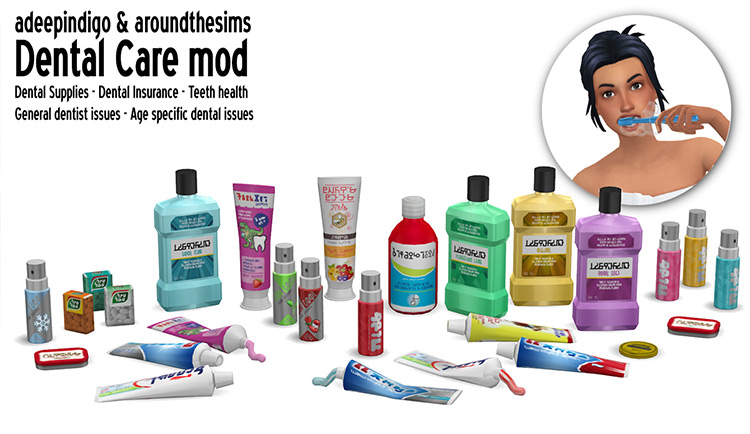 An abundance of dental hygiene products are included in this set, and your Sims can even use them, if you want.
It all makes for good clutter in a convenience store, however. A personal hygiene section is a must!
Everything is in Simlish, so it'll fit right in.
13.

Seven Eleven Convenience Store (Get To Work & Island Living Required)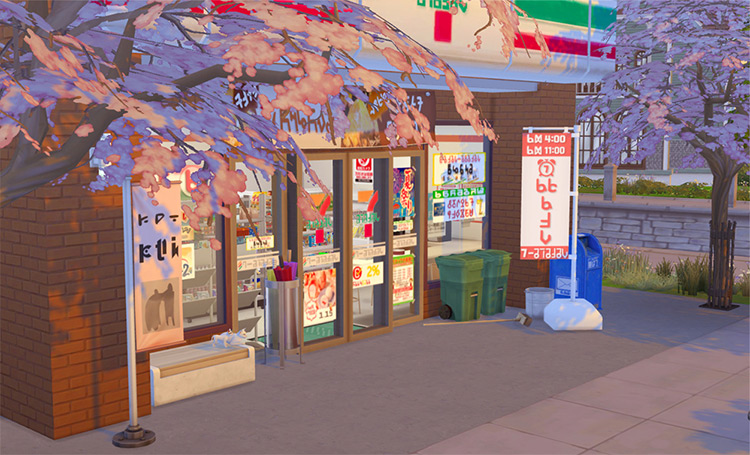 The most famous convenience store of them all is coming to a neighborhood near your Sim.
As long as you place it there, of course.
You can find the completed lot on the gallery, or use these things to build your own.
14.

The Beach Set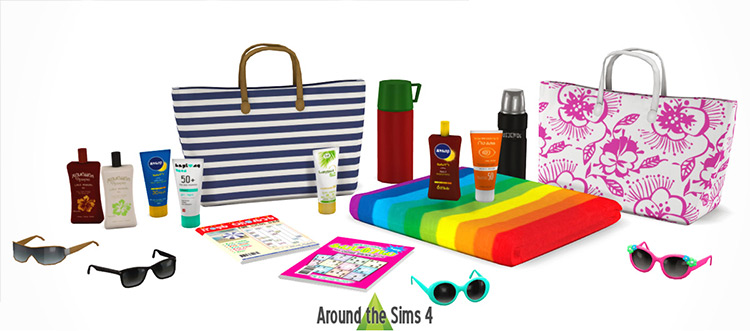 Although this was originally created with a beach in mind, it'll work great for adding some more clutter to your build.
The magazines, bottles, and tubes will look great near the checkout, and you can set up a display with the sunglasses easily enough.
15.

Very Mini Mart Lot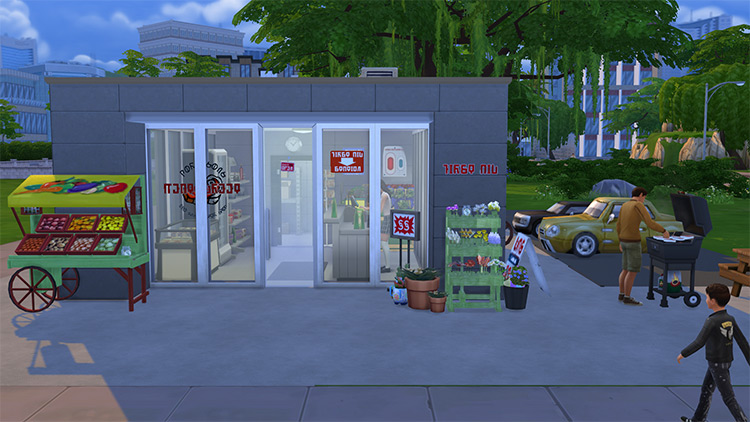 As popular as tiny homes are, we should've known tiny shops would be soon to follow.
This compact 20×15 lot requires several packs and a lot of CC to look exactly as pictured (full details in the lot description).
But the end result is a functional build that's very impressive both inside and out.
Browse:
Lists
The Sims 4
Video Games