Best Converse CC For The Sims 4
This post may contain affiliate links. If you buy something we may get a small commission at no extra cost to you. (Learn more).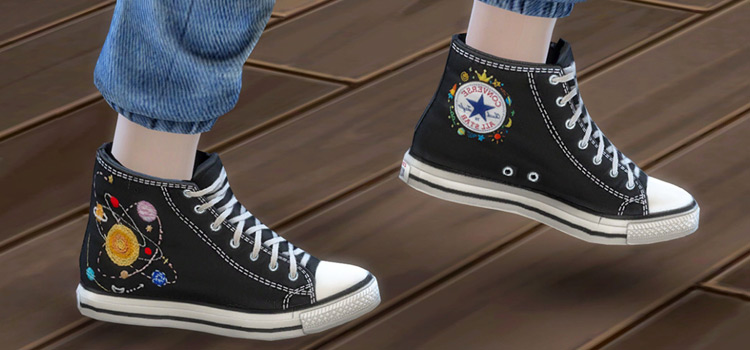 Converse shoes have to be one of the longest lasting, most beloved things out there.
Their overall appearance hasn't really changed that much since they came out in… 1917?!
Yes, you're reading that right. The shoe that has become one of the most popular casual shoes for all ages is over a hundred years old. And it started out as a sports sneaker!
Times sure have changed… except for Converse's form, of course. They used to look a little more like bowling shoes but for the most part, they have been stylish since the start.
Now, looking good is their primary purpose, and they always succeed. Some people shun them, claiming a lack of foot support, but hey – when something is this stylish and comfy, I can't be bothered to care.
We may have a mock-Converse style shoe in the base game, but you probably know Converse has a lot more to offer than that.
And the best CC is available right here, courtesy of our fellow Converse-loving Simmers!
Converse All Star Sneakers for Females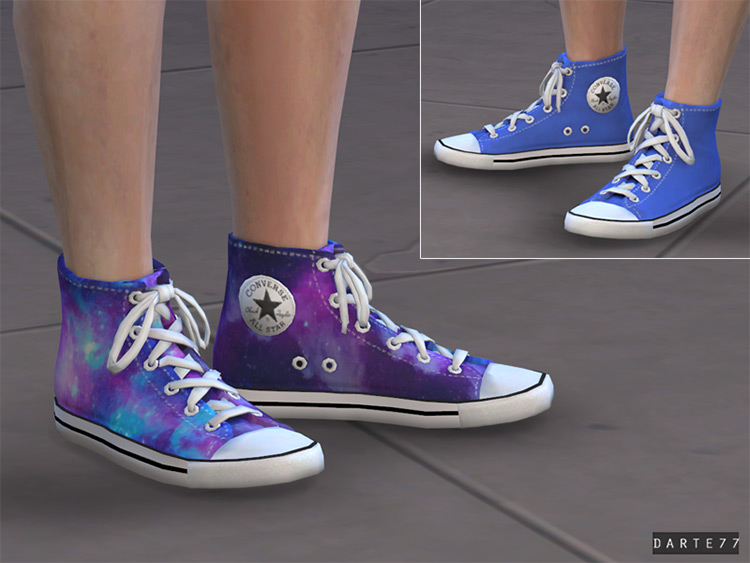 I knew I couldn't be the only one who was personally offended by how female Sims only get the low top Converse.
Seriously, such a tragic decision from… whoever decided such a thing.
Everybody knows the high tops are superior in both style and function.
Well, I'm pretty sure I just highly offended the low top lovers. Sorry. But I've got knobby ankles that need coverage, okay?!
Anyway… these sneakers beat the base game ones for a few reasons. First, there's the fact that they actually have the iconic Converse logo. They're better detailed as well, featuring not only stitching but the black stripe.
And lastly, you get 14 swatches, including galaxy!
Converse Sneakers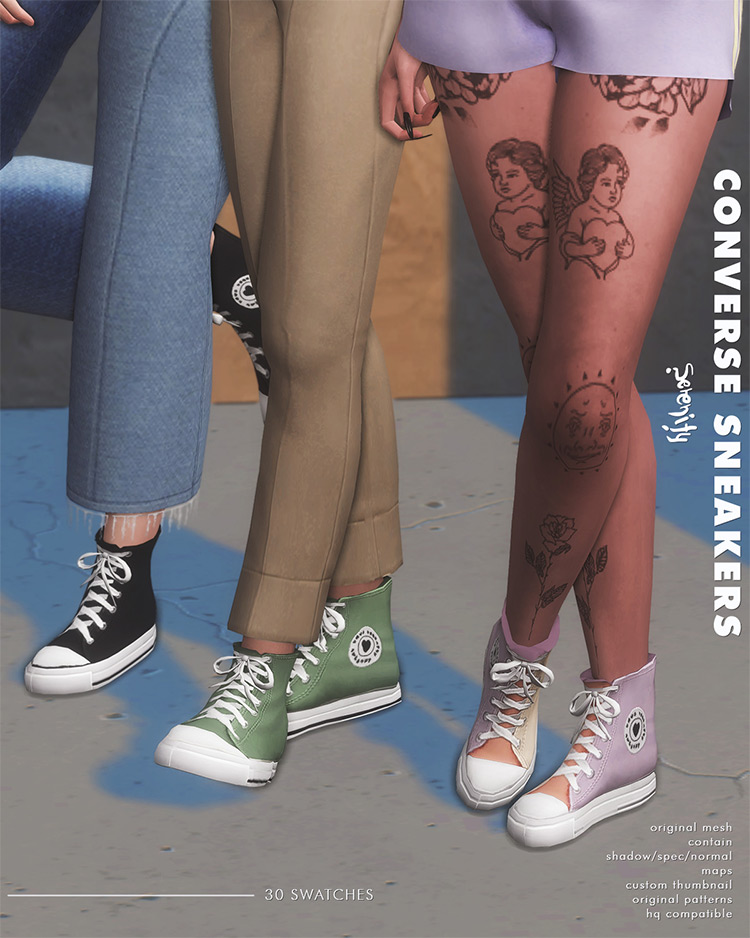 Here are some more traditional Converse shoes, though these don't have the true logo.
In its place is a more vague Simlish design with a heart, which is definitely a plus if you don't like to see English in your game.
These have 30 swatches too – so not only does CC excel in details, but you sure get a lot of colors too!
They also have more vivid laces, and any Converse owner knows the strings are a big deal.
Hightop Converse for Kids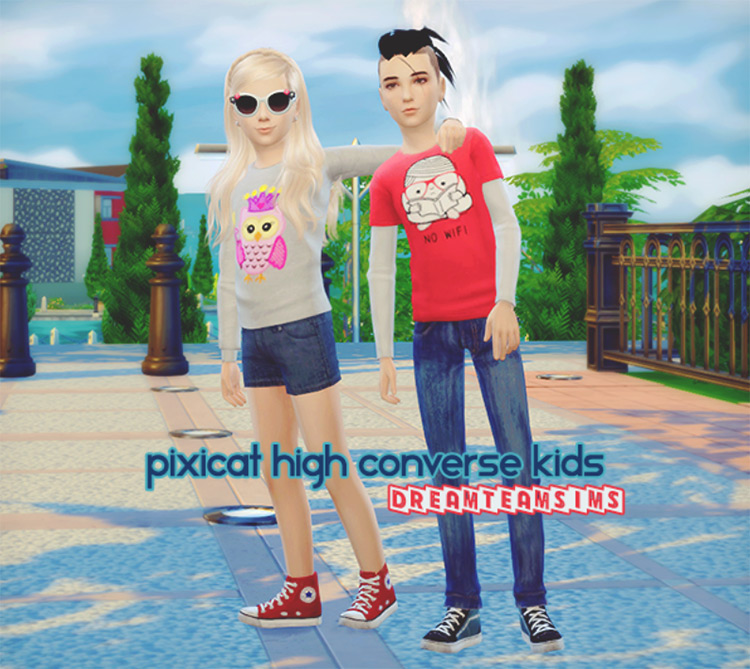 Converse are a great choice for all ages, and many adults love for these shoes started when they were kids.
Now your Sim kiddos can rock this classic style too.
They feature all of the details you need and want when it comes to Converse, from the emblem to the strings, just downsized for children.
Some even just have the stripe design, for a more modern take.
There are ten swatches which include all of the traditional colors, like white, red, blue and black, plus many others.
Coca Cola Converse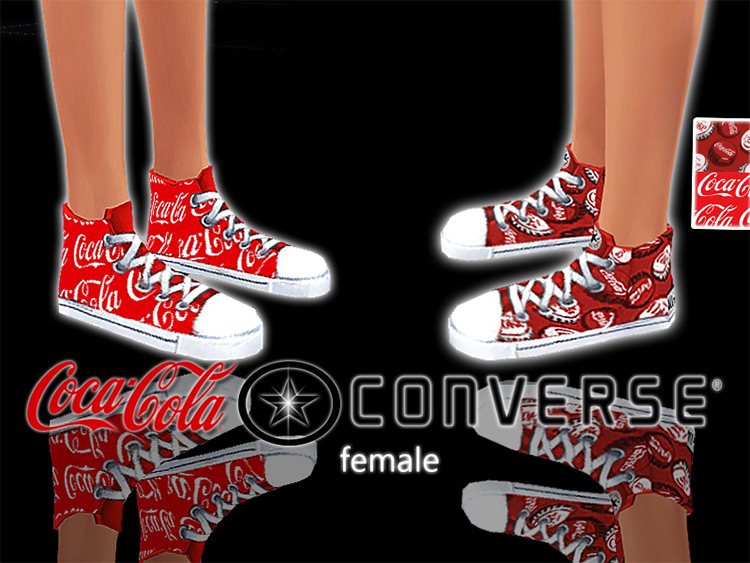 The war between Coke and Pepsi lovers is as old as time itself.
Or at least like, 40 years old or something. Same thing.
But I don't see any Pepsi-themed Converse shoes for my Sims, so I think the winner is clear.
This delicious, cold, sugary drink is a favorite for millions. So who wouldn't want to represent that with their clothes?
For Sims, this is a great and unique shoe choice.
This CC comes with two different versions, where one simply has the Coca-Cola font and name, while the other has a bottle cap pattern.
Hand Embroidered Converse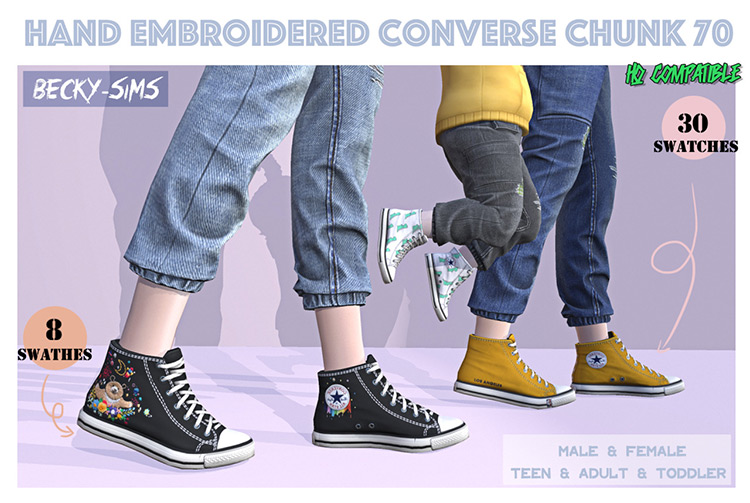 The only thing better than Converse is personalized Converse, made just for you with your tastes in mind.
There are tons of options nowadays to do just that, from custom lettering, patterns, color combinations – pretty much anything you could think of!
And these designs from Becky-Sims will allow you to do the same for your Sims.
With so many cool swatches, you won't have any trouble finding something you like. From tons of pretty, hand embroidered designs to peace signs, animal print, and plenty of solid colors to boot, you'll be able to incorporate these into any outfit.
Pixicat High Converse Recolors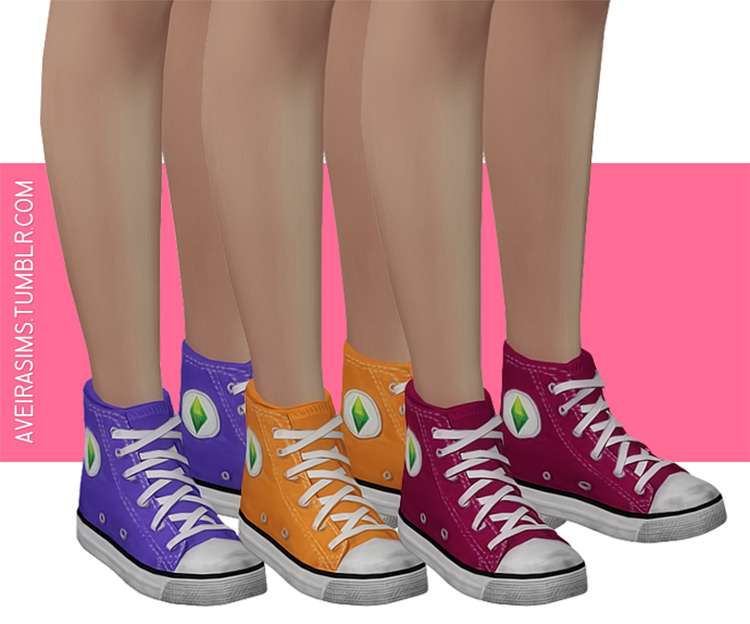 This design features the Sims' Plumbob, the green diamond that denotes which Sim you're in control of.
Although if your gameplay looks anything like mine, the Plumbob isn't green very often.
These little buggers are so high maintenance!
But with these custom shoes, they'll indeed always be green, filling in for the Converse logo.
As if the design itself isn't cool enough, there are also 64 swatches to choose from! So you can color coordinate your Sim's outfits to your heart's content.
You're an All Star High Top Boots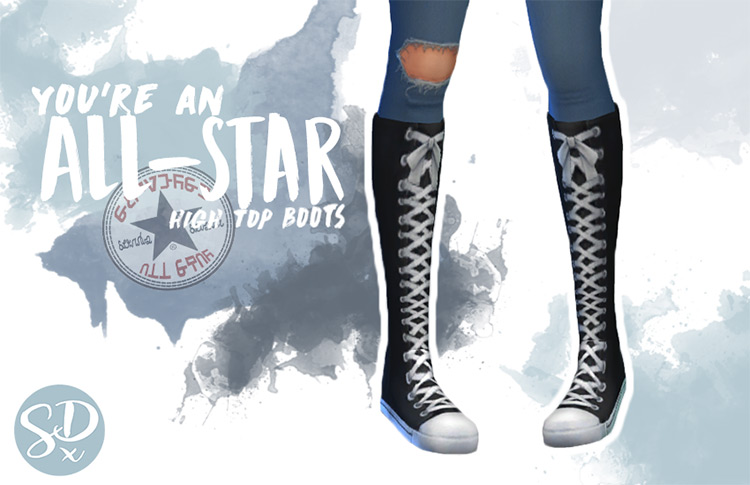 Converse boots.
What a creation.
They're one of those things that are so bold and borderline odd, that anyone who dares to wear them can pull them off and look fantastic.
It's like a high top, except it just keeps going and going, all the way to the knee.
I have no idea how comfortable they would be, and I wouldn't want to be the one to have to lace them up, but they sure are cool!
Josie High Converse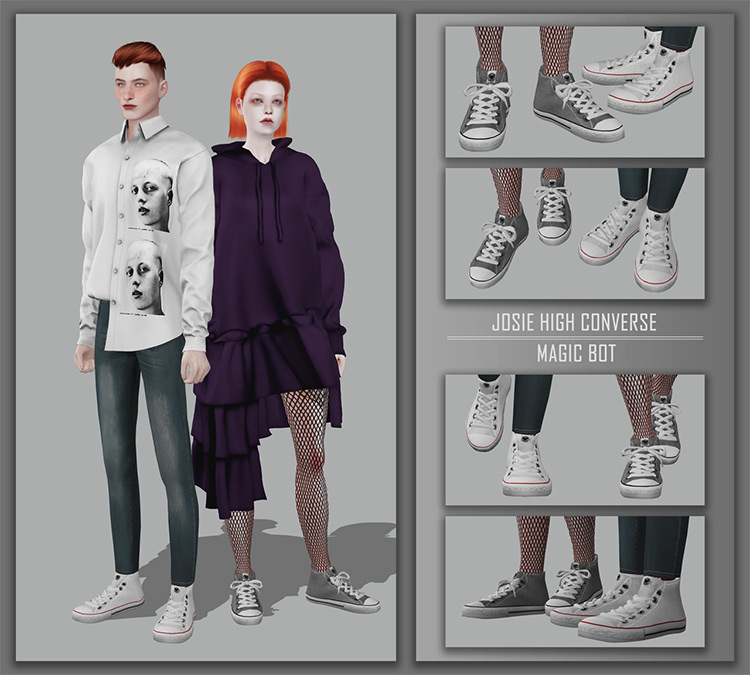 Here are some more options for high tops. The regular type, not knee-high.
One thing that stands out to me about these is the white swatch. In real life, white Chucks don't stay white for very long, and that is their most tragic fault.
But Sims don't have to worry about dirt and grime accumulating on their precious sneakers.
They can rock this timeless look forever.
Even if white isn't your thing, the gray swatch is also a nice neutral choice.
These are also highly-detailed designs, this time with a logo on the tongue.
Low-Top Converse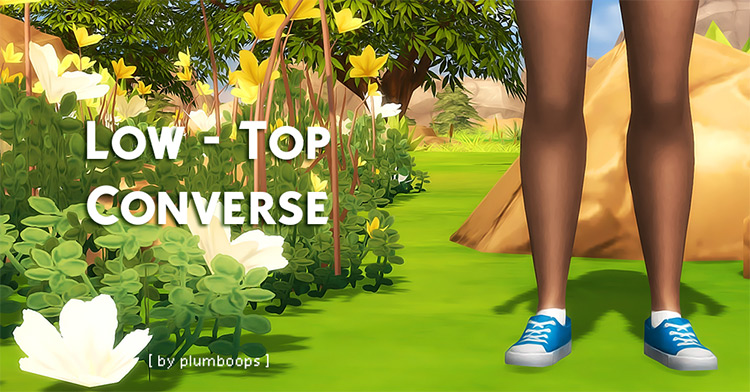 Nobody can argue that low-tops definitely do have their place.
Especially if you're wearing shorts, a skirt, or a dress, somehow these look a little bit better than hightops.
This is all just my opinion, of course. I'm sure some will disagree.
But while Converse offer a uniquely youthful appearance, that goes double for low-tops. They are cute and simple, and sometimes that's all you need.
These recolors are fun and will allow you more customization in CAS.
Low Converse For All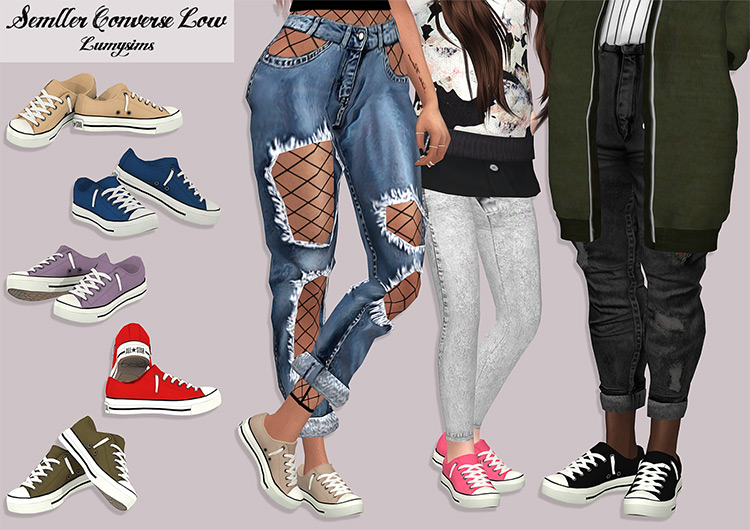 These low Converse sneakers actually showcase another styling choice many people utilize, which is to leave them untied.
Those flappy little strings certainly do have some charm.
The creator managed to make another extremely realistic design here, including everything from the black stripe, mysterious side holes that no one knows the purpose of, and of course, the Converse All Star piece at the heel.
Best of all, these are available for all ages from children to elder!
Yes, the whole family can be decked out in these beauties.
Browse:
Lists
The Sims 4
Video Games