Sims 4 Cookie Jar CC: The Ultimate Collection
This post may contain affiliate links. If you buy something we may get a small commission at no extra cost to you. (Learn more).
Some may say The Sims 4 lacks variety.
We have a lot of items, but what you see is what you get.
I mean, I understand. It'd just be weird if EA officially released a ton of cookie jar options… But this kind of thing is not only exactly why custom content is so popular – it's basically why it exists.
Want some pretty new options? You got it.
How about functional versions? Even that's been done.
Small and seemingly insignificant parts of the game can be exactly how you want, including your Sim's hypothetical cookie storage, all thanks to the efforts of other players.
If you've been looking for some little decorative pieces to store cookies & other stuff, you're sure to love this collection!
1.

Functional Cookie Jar
I always love when I stumble across things that are strictly decorative in the game, but modders have made functional.
It's really exciting to see the kind of amazing things they can pull off. And Icemunmun has made a cookie jar anyone who loves treats will envy.
The best part is, this is a very straightforward and uncomplicated system.
All you have to do is fill the jar, then replace the cookies as they run out. That's right, they're finite!
We're truly living in the future.
It's awesome that as players, we still get some control.
You'll even have various types of cookies to choose from, including the classics like chocolate chip and peanut butter, as well as holiday-themed ones.
The design of the cookies themselves is super impressive too. I have no idea how the creator pulled it off, because they look exactly right for the game's style.
Some recolors are here as well, for a total of 21 swatches.
2.

Simmer Down Macaroon Jar
Macaroons have to be the most aesthetically pleasing dessert ever.
They're the definition of something looking too good to eat.
These fluffy little cookies come in an endless variety of bright colors, and some bakers basically even turn them into artwork.
Since this jar is a deco object, you can fully embrace just displaying them. It's a simple glass design with a wood-toned lid that you can place on any counter or shelf – whether your Sim is running a business, or just likes to have an organized kitchen.
The swatches fully embrace why everyone loves macaroons so much. They come in your typical colors like green, blue and pink.
I love other types of cookies and all, but there aren't many I'd eat if they were green. That's what makes these so special – you know the fun colors probably aren't mold!
3.

Simmer Down Cookie Jar
Here we have the same simple jar as above, only this time it's filled with different types of typical cookies.
These are the ones almost everyone has made (or at least eaten the homemade version at least once).
It looks like there are two sugar cookie variations, one with frosting and one without. Their sweetness is just barely contained by that lid, you can tell! Their sweet aroma is almost as intoxicating as the taste itself.
And of course, where would we be without chocolate chip cookies? They're arguably the best. The pinnacle of all cookies.
Classics don't become classics without good reason – and these have been a favorite of millions of people for generations.
Lastly, the fourth jar option has some that appear to be chocolate and powdered sugar.
The CC creator doesn't specify so I'm just gonna roll with that idea. They sure do look delicious!
4.

Christmas Cookie Jar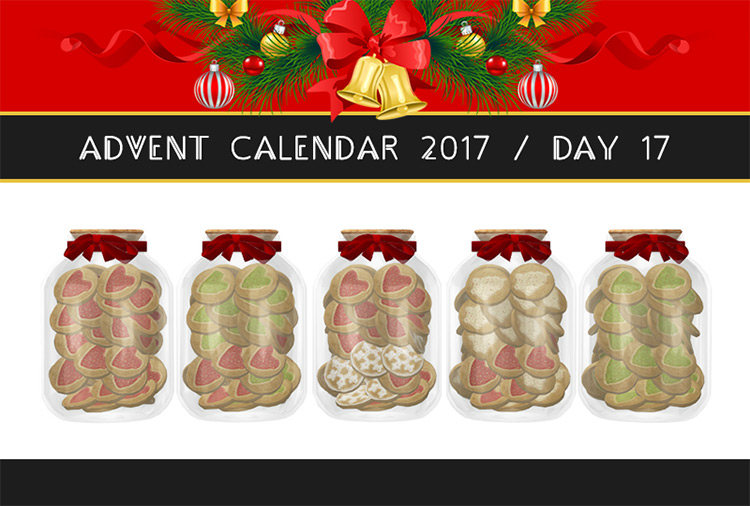 Not to be dramatic, but nothing makes me as excited as the thought of my Sims doing holiday baking.
It's a beautiful and nostalgic tradition that tons of families partake in every year. But your options are limited for that kind of thing in the game.
Sure, they can bake. But nothing specifically Christmas-themed.
At least now you can force that vibe (a little) with these cute and festive glass jars.
They're tall enough to hold a good amount of baked goods, and each one is topped with a pretty red ribbon. The cookies within are even appropriately decorated with a sugary texture in the shape of hearts, bells, and snowflakes in the classic Christmas colors.
I mean, these could even work great with some holiday poses.
Game changing content, honestly.
5.

Kitchen Clutter Jars
Functional kitchens really require some amount of clutter.
Minimalist folks might hate having spaces filled on their counters. But easily accessible flour, sugar, and spices really are a must for people who cook often.
Well, that's not what this is about. If you're here, you want a cookie jar.
And that takes precedence over dry ingredients.
This custom jar is part of a larger CC set that does have some additional tin canisters if you'd like everything to match. But the extras don't have to make it into your Sim's home unless you wan't 'em.
And this set comes in a classic ceramic style, with 20 swatches.
There's something here for every kitchen theme, or lack thereof. Some are simple and timeless, while others are very modern, like the shiny all-black set.
6.

Cafeteria Cookie Jar
Here's a cookie jar that gets straight to the point.
For each jar, the lid is permanently off and set to the side. Presumably for easy access.
It's a good thing staleness isn't a concern with decorative food. Sims would probably still eat it, though.
If plumes of green gas don't stop them when they're hungry, nothing will.
These big glass containers are filled with neat stacks of chocolate chip cookies. They look like the crunchy kind, which everyone knows offer a distinct difference in flavor from the soft ones.
I've always found that most store bought cookies, like delicious Chips Ahoy or Keebler, are crunchy and have killer chocolate chips. So here's a dash of realism for you working Sims who ain't had time to make homemade cookies since they were a teenager.
A little too real, right?
7.

Peacock Cookie Jar
Generally, cookie jars seem to be made with the understanding that they'll probably get used by the whole family – including little kids.
Small children and pretty things really don't mix. So I assume that's why most jars are kept simple.
But gorgeous & unique designs definitely have their place. And you won't find a better cookie jar with those attributes outside of this CC.
The glass texture here is incredible, and the colors really pop.
And whole thing is a peacock with an adorable face, sweeter than any cookie that could be inside.
8.

Avis Jar V2
Here's another modern jar design – perfect for minimalists and Scandinavian decorating schemes.
The grainy wooden lids offset the vibrant swatches nicely. There are a variety of bold geometric patterns to choose from, as well as some bright solid colors.
Okay, to be fair, the creator didn't specify that they're cookie jars…
But the police aren't gonna come knocking if you stick this in your Sim's kitchen and call it one.
That's really what makes jars in general so useful.
You really can use them for any purpose you want, rinse them out, and they're good to go for whatever comes next.
These look just like the kind of thing you can find in the "home" and "decor" aisles of any store – so I think the creator did an awesome job of creating a nice neutral jar.
9.

Cow Cookie Jar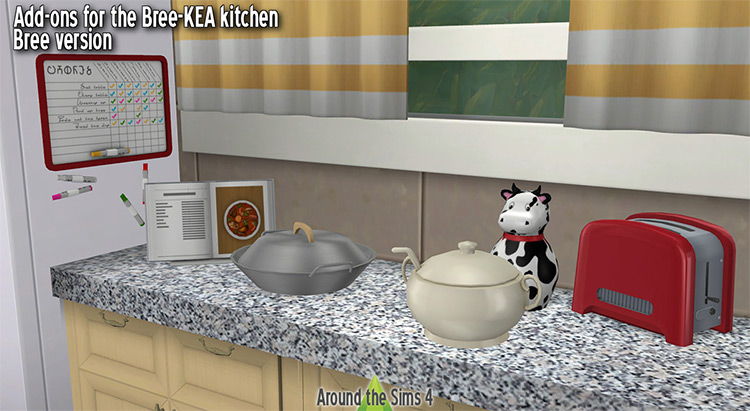 If you thought that Functional Cookie Jar Mod above was cool, you're really gonna love this.
A talented Simmer built off of that to make a cow cookie jar that actually works.
It really is cut, complete with a rounded body, detailed face, and even a collar.
There's just one swatch. But really, what more do we need?
I never knew I needed this until my game until now. But there's no going back.
There's also nothing like getting "mooed" at every time you go get a cookie. It's fun and cozy in a weird way.
Besides, what's more perfect for all of us Cottage Living fiends than more cow-themed content?!
This jar is part of a larger set of addons for the Bree-KEA Kitchen CC pack, with more great items for multi-Sim households.
But don't worry – you can download the jar alone.
Just make sure you have the mod if you want it to be functional.
10.

Cookie Jar Recolors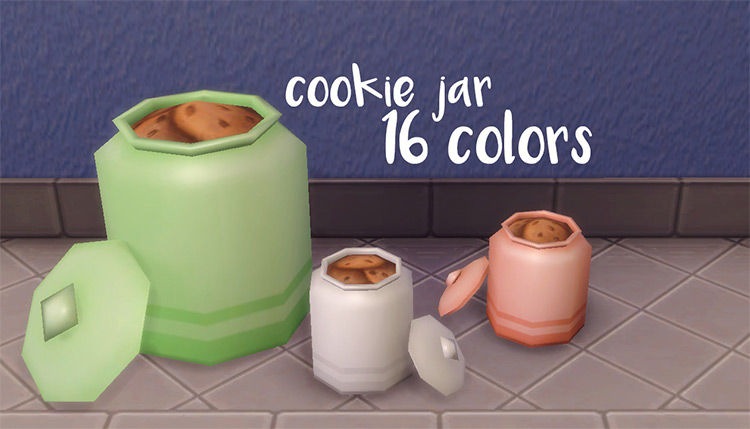 A lot of items in The Sims 4 benefit from some slight tweaking and recolors.
That doesn't mean they're inherently ugly or bad… but a change of pace is really nice sometimes.
Plus I think I can safely speak for all Simmers when I say we can always use more swatches.
You just never know when you'll want something in a slightly different shade or color, and it's super disappointing to not have it available.
You'll never have to go through that again as far as cookie jars go.
This creator gave us a ton of new choices in their very own Candy Palette, which I can assure you is aptly named.
The swatches offer bright new colors named after candy (like Pixy Stix, Twizzler, and Laffy Taffy, among many others).
They're all perfect for snack storage!
Browse:
Lists
The Sims 4
Video Games