Sims 4 Cornrow Hair CC (Maxis Match + Alpha)
This post may contain affiliate links. If you buy something we may get a small commission at no extra cost to you. (Learn more).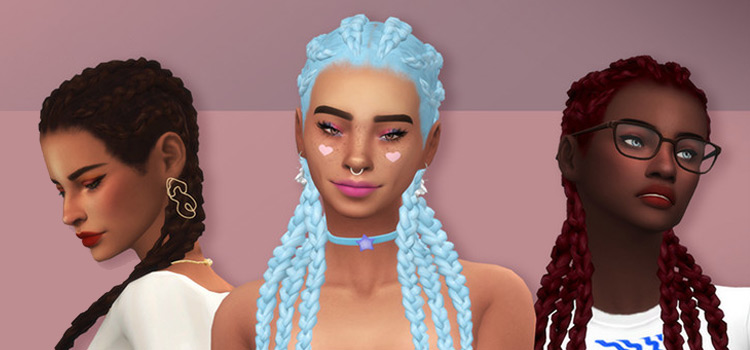 Cornrows are technically defined as a traditional style of braiding the hair wherein the braiding starts quite close to the scalp. The braids are done in neat, straight lines and use an underhand, upward motion to create a raised row—hence the name.
My personal understanding of cornrows is that they're really freaking cool.
I don't know how to do them, and I've never had them done on me, but that's never stopped me from admiring them from afar.
People who can rock cornrows always look so effortlessly cool.
If your Sim can rock this style, then here's a collection of custom cornrow 'dos to add to your CC folder.
1.

Tasia Hair by Quirky Introvert CC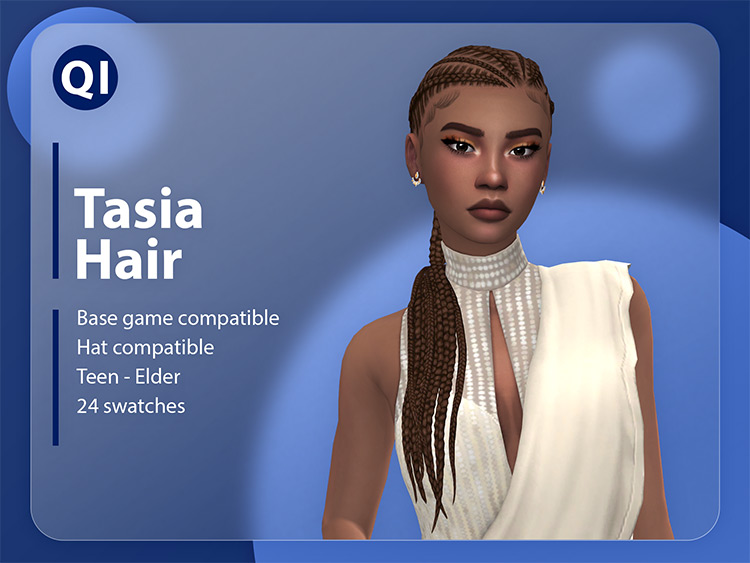 Long, thin cornrows paired with styled baby hairs and a side part look absolutely stunning (and it helps that the creator's Sim Model is drop-dead gorgeous, too).
You may experience slight clipping at the ends with certain tops and chest sizes, but don't worry; the cornrows remain immaculate.
2.

Wood's TwistDreads by birksche
This custom hair by birksche sort of feels like a messy bun, only with cornrows and dreads.
The way it's piled on the top of the head is equal parts haphazard and artistic. Playfully tousled, maybe, in a casually cool way.
3.

Rue Hair by dogsill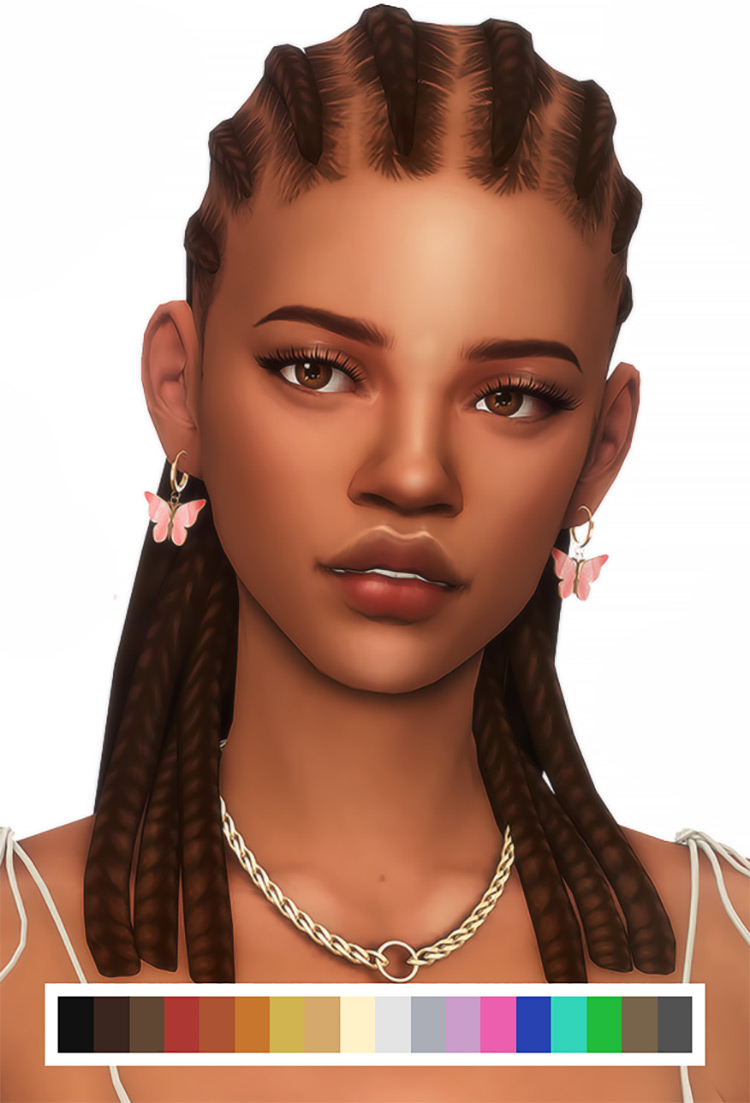 Wholeheartedly agree with the creator; no one named Rue has a single unlikeable bone in their body.
This custom hairstyle by dogsill is cornrows on top, dreads on bottom, and gorgeous all over. Available in all 24 standard EA swatches.
4.

Cornrows & Curls by Leeleesims1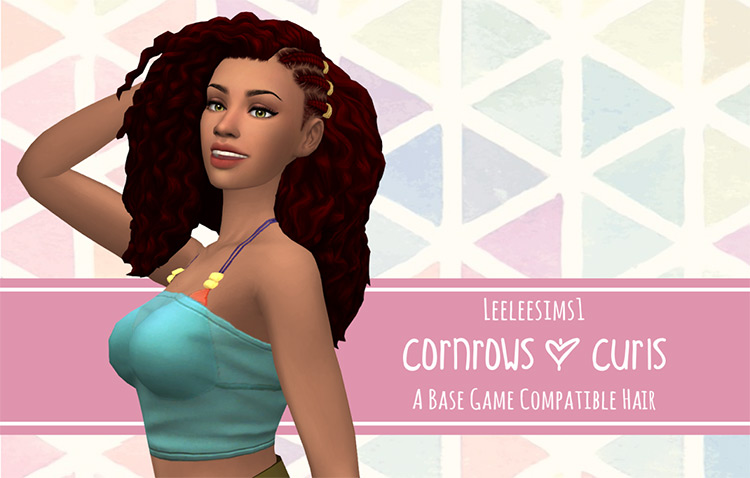 I adore everything about this hair.
The volume, the side styling, the name… hands-down one of my personal favorites.
The cornrows may not be the most obvious or the most defined, but the concept of the hairstyle (and the execution!) is super appealing.
You can change the little hair accessories that it comes with using the accessory overlay included in the download.
5.

Galaxy Hair by Saurus
Although this is an edit and recolor of Wildly Miniature Sandwich's Nova Hair (which is coming up next!), it feels pretty different from the 'do it was based on.
I can't pinpoint why exactly, since they're both gathered buns with fairly extreme cornrows. But they bring different things to the table, for sure.
Anyway, Saurus' Galaxy hair is BGC and comes in 18 EA colors. And as you can see from the preview photo, it looks great with headbands!
6.

Nova Hair v2 by Wildly Miniature Sandwich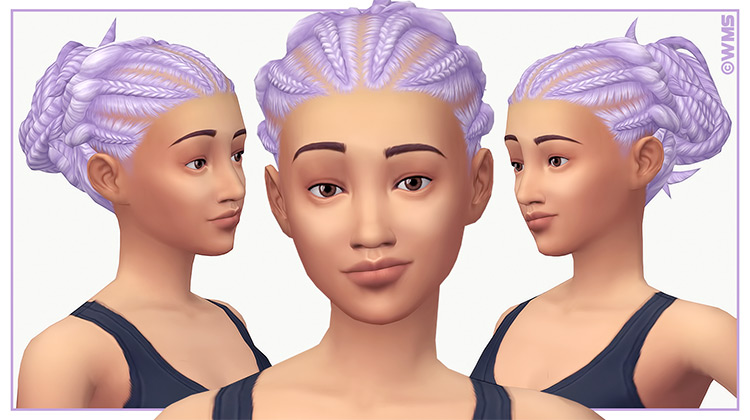 And here's Wildly Miniature Sandwich's Nova Hair!
Like I said earlier, it's a loosely-gathered bun with defined cornrows. Unlike Saurus' Galaxy hair, Nova comes in a lot of colors. Like, a lot.
18 EA swatches, 35 Unnatural Colors, 20 Natural, and 20 Neutral colors from the creator's own Sandwich palette — for a total of 93 color options.
If you can't find a hair color you like amongst all those swatches, I'll eat my laptop.
7.

Twist'nBraids by birksche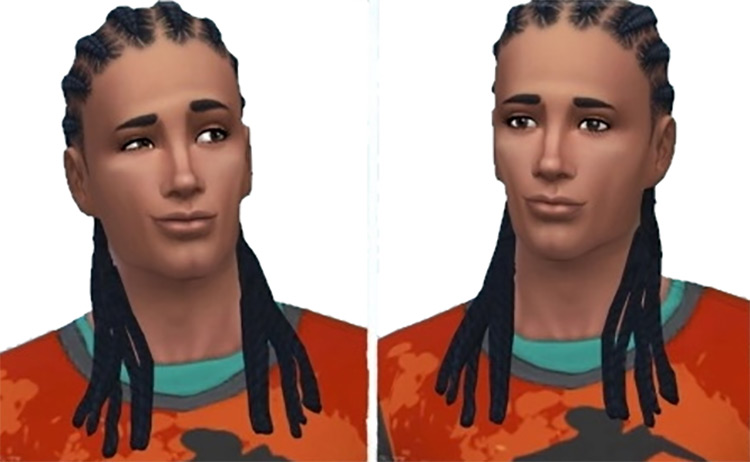 Birksche brings in some cornrows and dreads specifically for Male Sims!
They fall to just below the shoulder line and feature neat, clean rows up top.
Honestly, this 'do kind of looks like a Male Sim counterpart for dogsill's Rue hair!
8.

Twistn'Braids Recolor by xxblacksims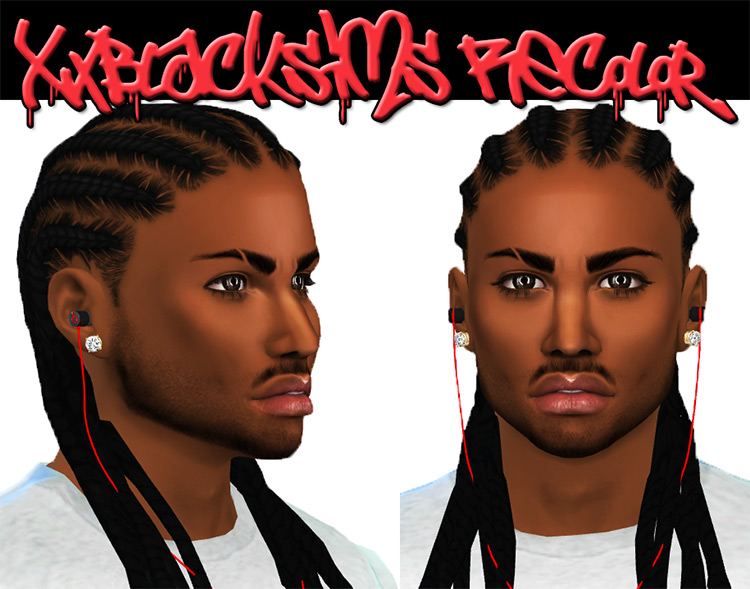 And this is Birksche's Twist'nBraids, Alpha CC-fied.
It has that classic photoskinned texture to it that gives visible emphasis on the small details.
The hair looks pretty high-quality both in CAS and in-game, which means the creator did a fantastic job with the conversion.
9.

Male Cornrows Conversion by schtaeffsims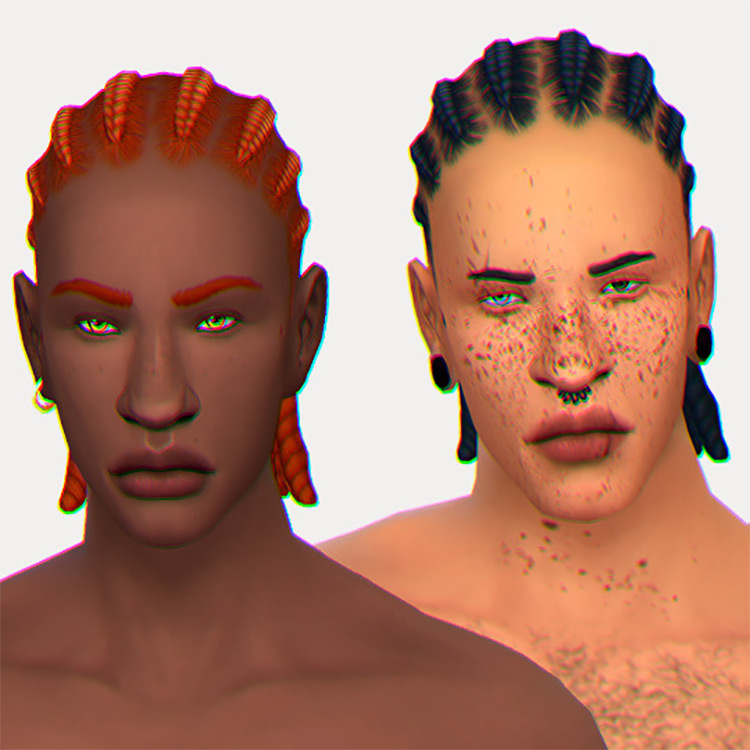 This 'do features shorter dreads and smaller, more separated cornrows. It gives off naturally cool, no-nonsense vibes that suit chill Sims who are rarely ever flustered.
Plus it's a Male Sims exclusive! That's rare for CC.
10.

Rio's Cornrows by dbasiasimbr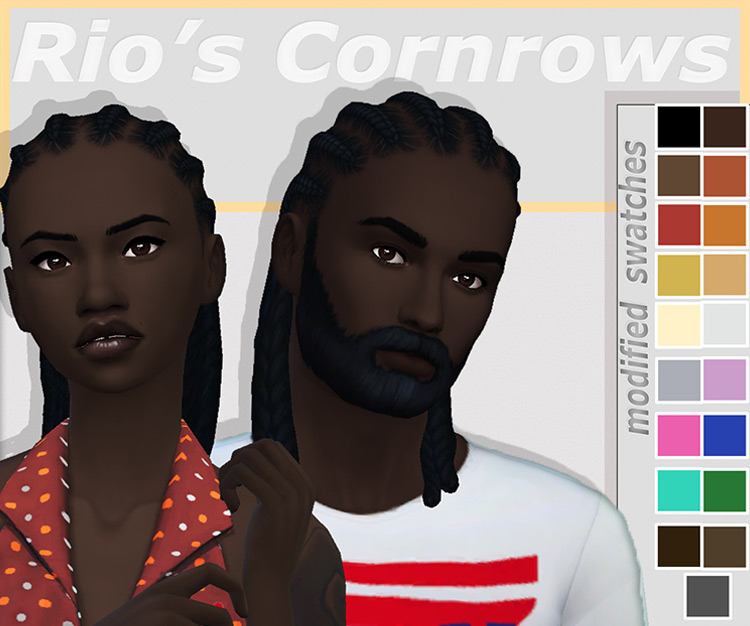 This is another one of my personal favorites from this list. Dbasiasimbr's Rio's Cornrows hair is a fetching 'do with thick, defined cornrows and nineteen possible color options.
It works for both Male and Female models.
The hair also has two versions:
One version has the hair completely pulled back, so that it's resting behind the neck and shoulders. The second version follows the same shape, only it's got a couple of dreads on both sides pulled to the front.
11.

Amari Cornrow Hair by dogsill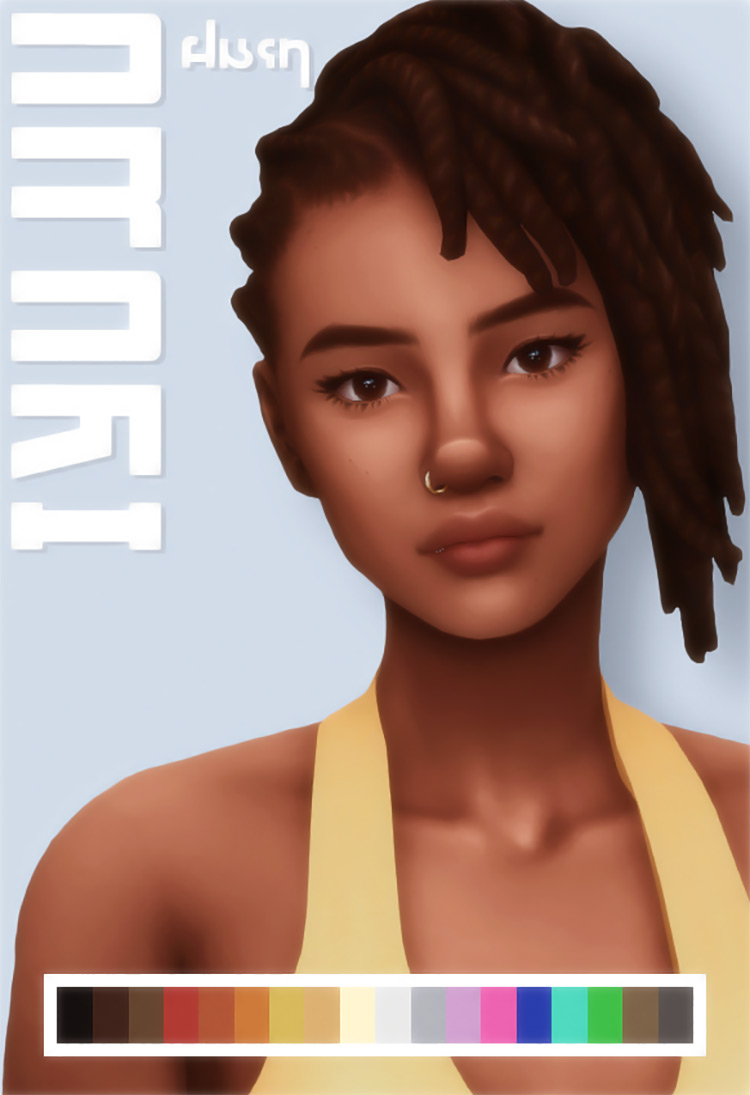 "Kinda edgy," as the creator puts it, is a good enough description for this hair.
I imagine on sharper, stronger features, it would look intimidating.
But as we can see from the preview photo, it works great with soft faces too! I love the asymmetrical look the side cornrows and thin, piled dreads are giving.
12.

Braided Wonder Hair CC by drteekaycee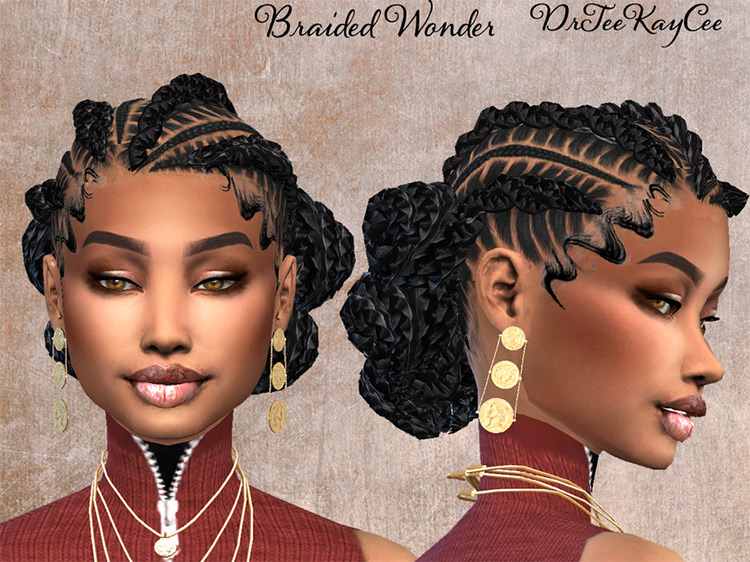 The focus of this 'do is definitely the braids, but I see enough cornrows to justify including this.
Plus the hairstyle itself is stunning!
I can't even begin to list out all the details and intricacies of drteekaycee's Braided Wonder, like the edges and the alternating thin and thick rows. Trust me; there's a lot to love about this hair.
13.

Fun Bun Cornrows by drteekaycee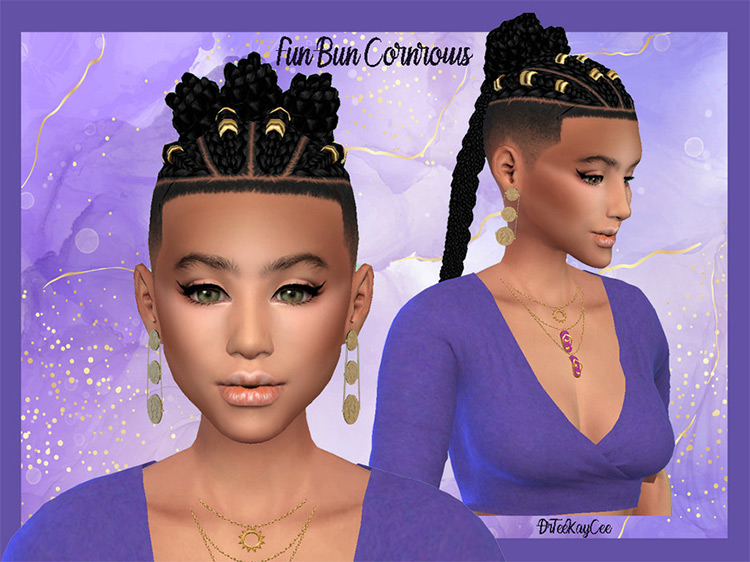 Here's another stunning style from drteekaycee.
Fun Bun Cornrows is a beautiful high pony with three thick braids forming a bun at the top and four tight cornrows.
Each row has several bead accessories adorning them, and may I just say, the visual appeal of gold bands running through dark locks is so high.
14.

Zara Hair CC by Feral Poodles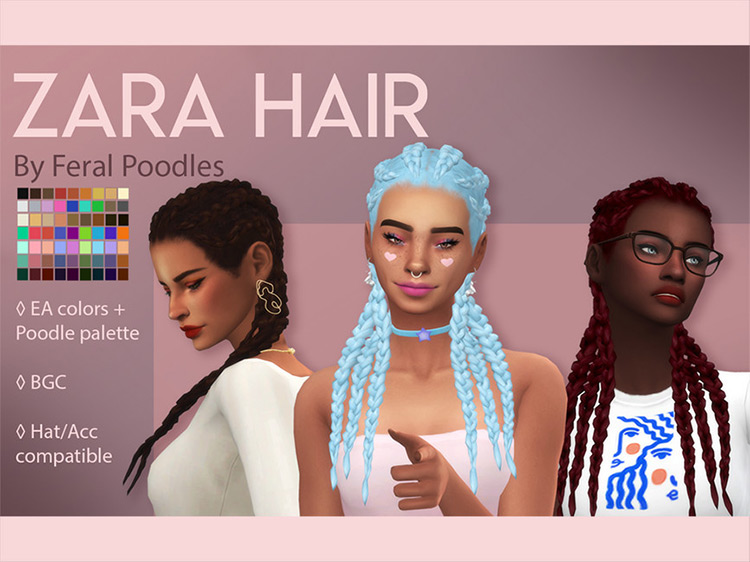 Zara gives us long boxer-style braids with wide cornrows up top.
These don't have much scalp showing between the rows, but the hairstyle is super pretty, so that doesn't matter.
Besides, it's a nice little breather to balance out the super-tight, super neat, and super separated cornrow styles on this list.
15.

Travis Hairstyle by DarkNighTt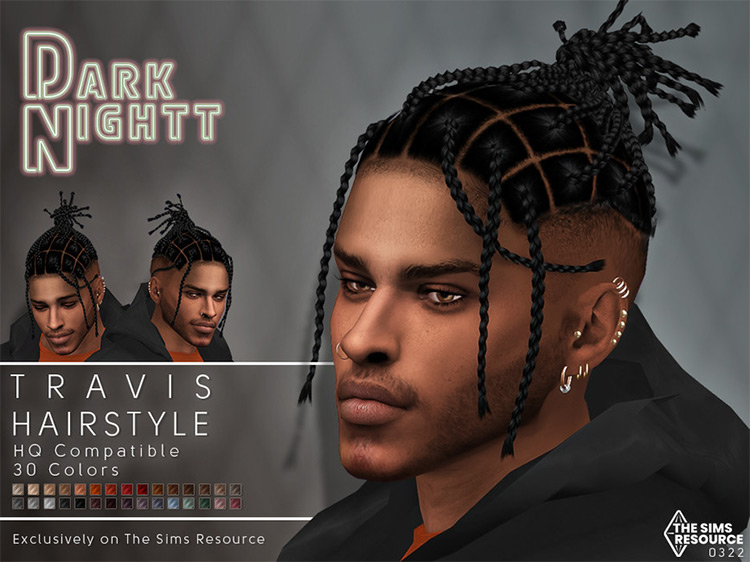 This hairstyle is so awesome! Can't even find any other way to spin it; it's effortlessly, uniquely cool (and I know I've used that word too many times in this article but it can't be helped)!
I don't know if this counts as a "cornrow hairstyle," since there aren't really rows here. Nonetheless, I had to include it. I mean, come on! It looks amazing.
If we're splitting hairs, there are technically rows between the braid boxes.
16.

Jaden Braids by xxblacksims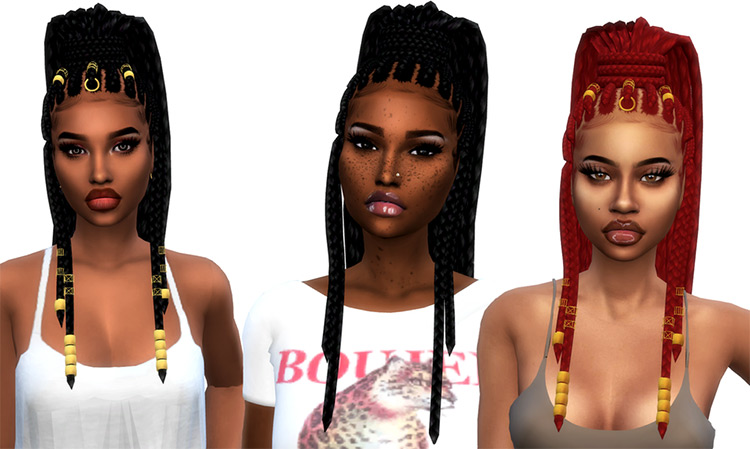 These Jaden Braids share a similar style to drteekaycee's Fun Bun Cornrows.
It's an artful high ponytail with long braids and clear cornrows. There are even golden beads and bands for the rows, too!
And unlike the Fun Bun Cornrows, your Sim can wear these Jaden Braids with or without the accessories.
So if they want a casual look, they can opt out of bands. If they want the bling, the beads are right there.
17.

Tricia "Miller" Hair by sims4satan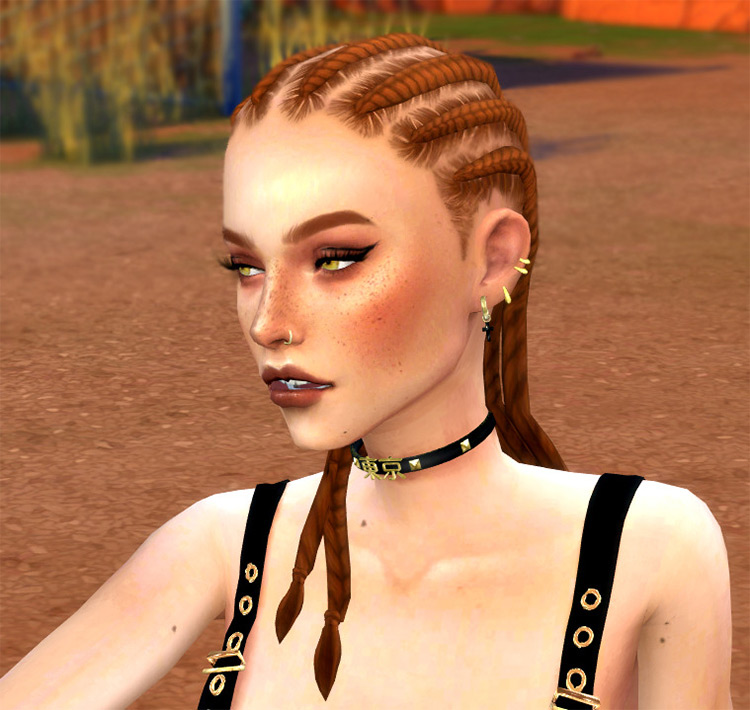 This 'do was inspired by Tricia Miller from Orange is the New Black.
It's a mid-length do with tight (almost harshly-separated) cornrows leading into fairly thin braids. It has a nice Maxis Match texture to it and it comes in the standard 18-color EA palette.
18.

Najlaa Hair by qicc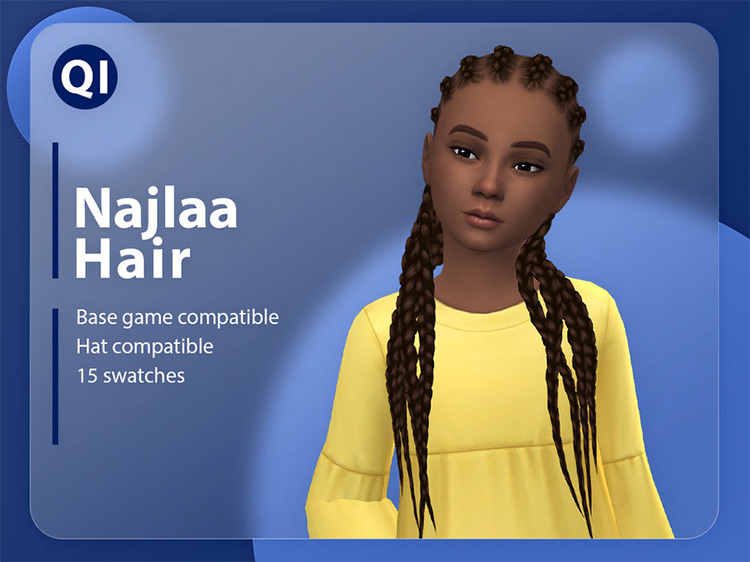 Cornrows aren't just for Teens to Elders, right?
Right.
So here's a Child Sim exclusive! Qicc's Najlaa hair is similar to Feral Poodles' Zara Hair and dbasiasimbr's Rio's Cornrows: neatly-parted cornrows on the top that lead to fairly long-ish individual braids.
19.

Goddess Pony by ebonix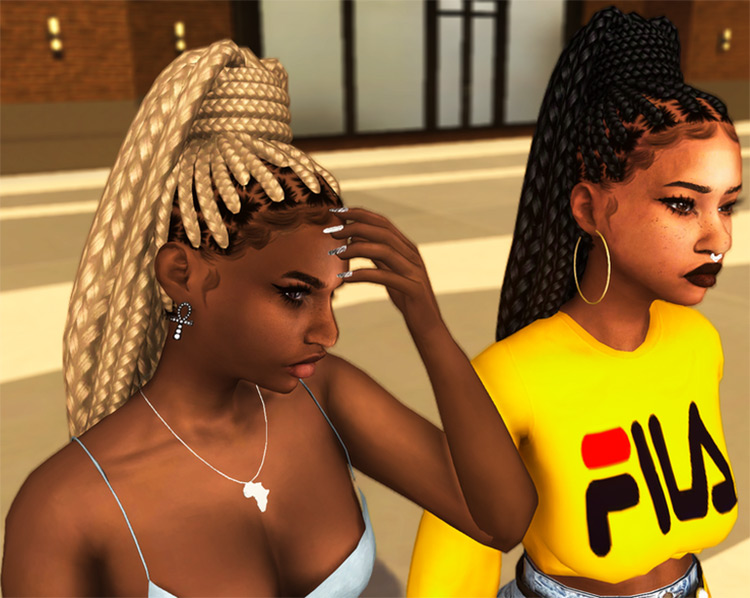 For goddesses only!
This stunning, high pony 'do by ebonix looks fantastic both in CAS and in-game. The cornrows are neatly defined and pulled back into a really long ponytail.
I love the braids wrapping around the base of the ponytail. It's complex in a way that's so visually pleasing.
20.

Goddess Dreads by Nolan-Sims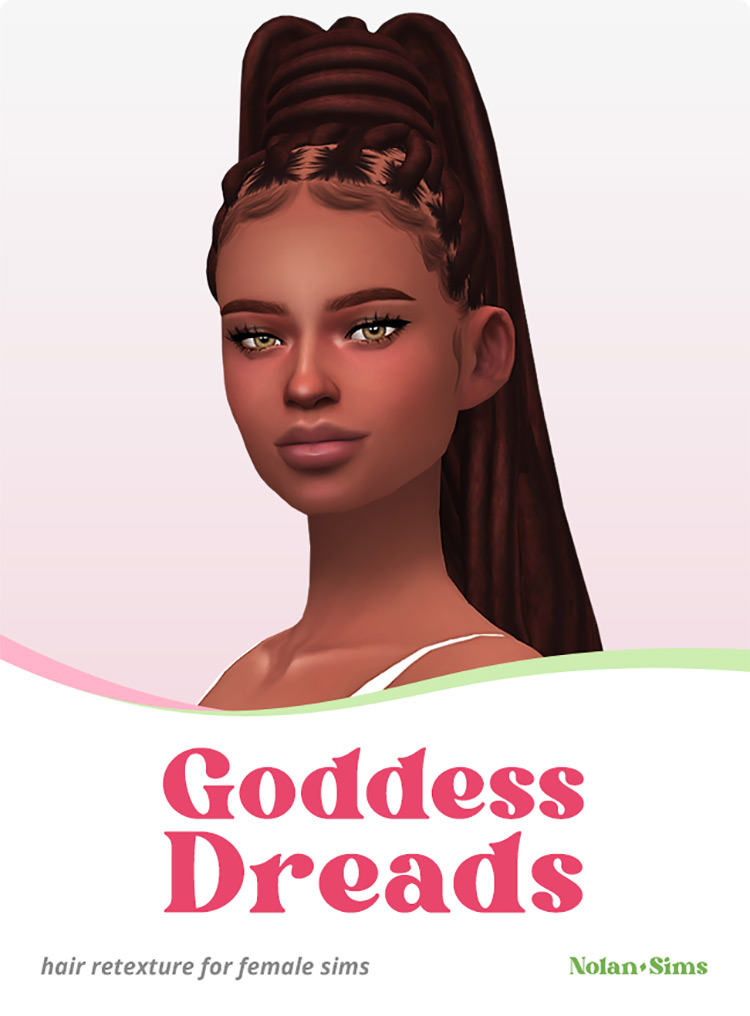 Ebonix's Goddess Pony is undeniably gorgeous.
But if you're strict about your textures (aka Maxis Match or Alpha CC only), don't worry; you can use Nolan-Sims' MM edit aka the Goddess Dreads.
Same style, same design, just different texture!
Browse:
Lists
The Sims 4
Video Games