Best Halloween Costumes & Dress-up CC For The Sims 4
This post may contain affiliate links. If you buy something we may get a small commission at no extra cost to you. (Learn more).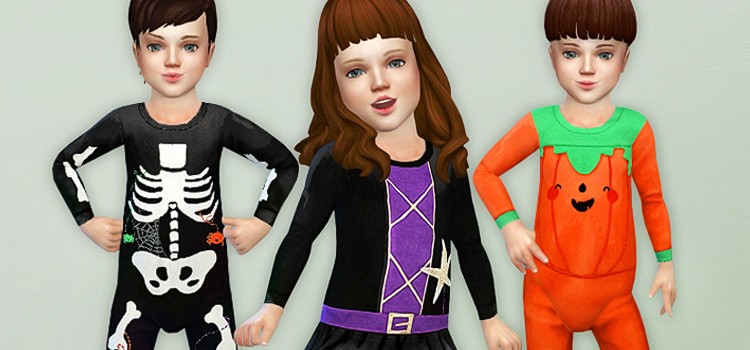 Halloween is a sacred holiday to many.
In fact, it's even bigger than Christmas, depending on who you ask.
A month (or even longer) dedicated to spooky creative decorations and snacks, culminating in a day of costumes and parties? It's a beautiful thing, truly.
And the costumes themselves are usually at the heart of it.
People who love Halloween usually go all out. Whether partygoers and trick-or-treaters opt for costumes bought at a store, or made with love from home, the possibilities really are endless.
You've got elaborate couple's costumes, silly outfits, or the ones that will make your hair stand on end… it's safe to say that fall just isn't the same without costumes, and neither is The Sims.
With this huge list of CC you'll find all of the above costume ideas, and plenty more!
1.

The Contessa Outfit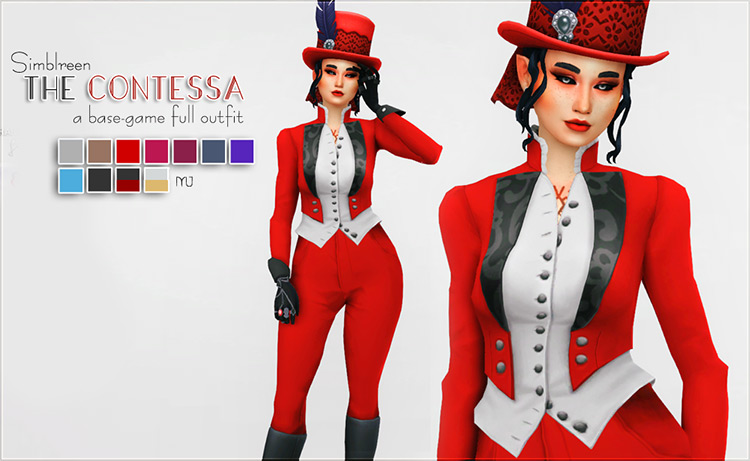 One woman's Halloween costume could be another's everyday outfit.
That's so true here.
As a matter of fact, you might be sad your Sim will only get to wear it for one day.
It's a gorgeously bold full-body outfit that is indeed perfect for vampire vibes and general spookiness.
Paired with some dark makeup and a top hat, and your Sim will be unstoppable come Spooky Day.
This outfit also led me to discover what a contessa is (Italian countess) and not all of them are actually vampires, so it's a real-world non-supernatural title.
So take that, people who think you can't learn anything from video games!
2.

Skeleton Costume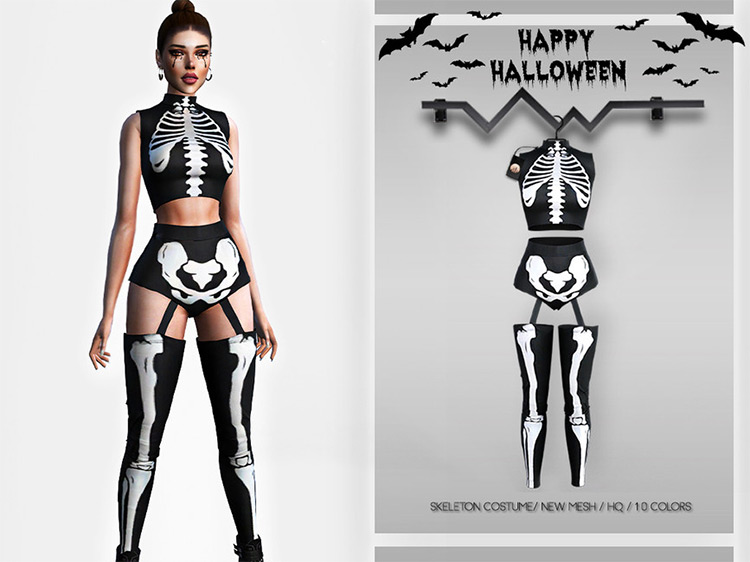 Autumn just isn't autumn unless I see at least 500 skeletons.
I don't know when their popularity began (or why), but it's safe to say the structure inside of us all has become a Halloween staple.
It's pretty weird, when you think about it.
The very thing that prevents us from being sacks of flesh and blood is probably throughout your house every fall, or you've worn it as a costume.
And this outfit is a good choice for your Sims who want to be a little sexy while celebrating.
There are three portions: the top, the bottom, and the legs, which are connected to the bottom by straps.
The bone detail is pretty cool too. And accurate, as far as I know.
3.

Harley Quinn Outfit Set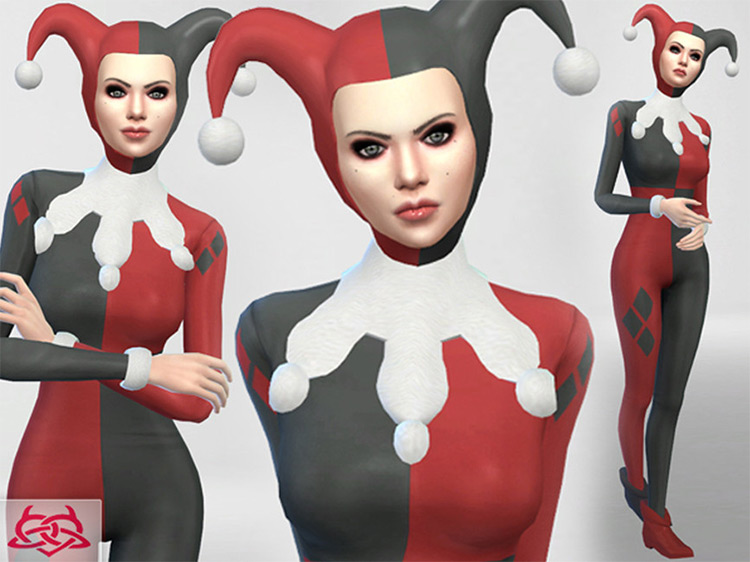 Even though the craze first began a few years ago, I think Harley Quinn will be a go-to costume for a long time.
Wait, were you expecting the Margot Robbie version, with colorful pigtails and a torn t-shirt?
Well, sorry. No pigtails here.
What Colores Urbanos created is even better.
This is the style of early Harley Quinn from the comics or animated series.
It's a simple red and black bodysuit complete with the jester hat. Something about this look has always been inherently creepy to me, so it's great for Halloween.
4.

Ampirel Wings for Pets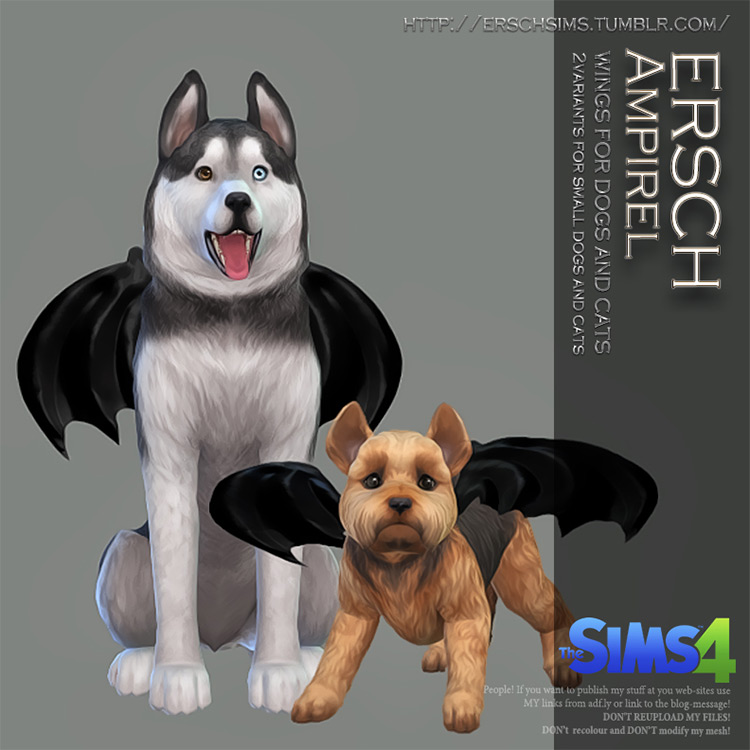 Dressing up your pet is fun year round.
But there's just something extra special about doing so at Halloween. And even further, having a matching costume with your pet!
I don't know if you want to go that far – I totally would.
But these black wings will at least enable you to include your Sim's cats and dogs in the holiday.
They really create a wonderfully strange mix of creepy and cute.
There are even different sizes, so your small dogs and cats can have tiny wings, or regular.
As if there is such a thing as "regular" wings for a dog.
5.

Toddler Halloween Onesie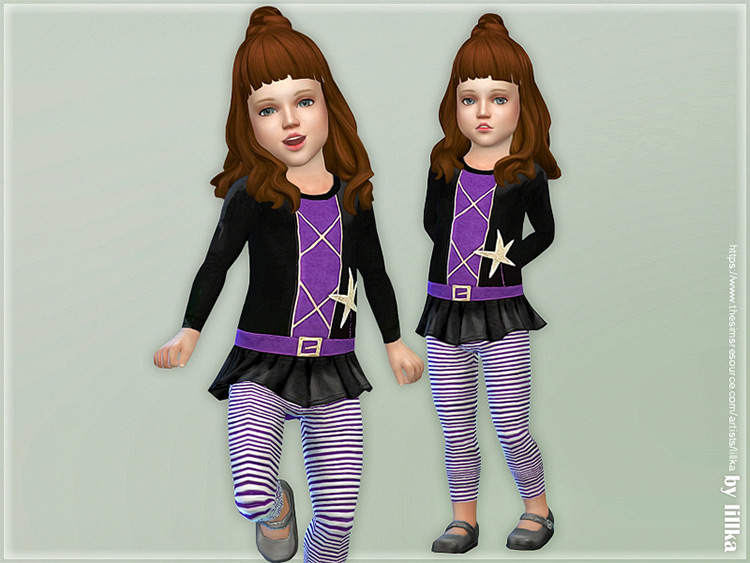 In my opinion, it's really a toss up who's cuter at Halloween: pets or toddlers.
At this age, the little ones only know that Halloween is about dressing up and getting candy.
They probably only care about the candy, honestly.
Their costumes are kept simple and sweet, meant to stay in line with the innocence toddlers have.
No blood or gore or weapons to be found… at least I hope not.
And CC najer lillka has created three adorable onesies for you to choose from – a witch, pumpkin, or skeleton.
6.

Greek Dresses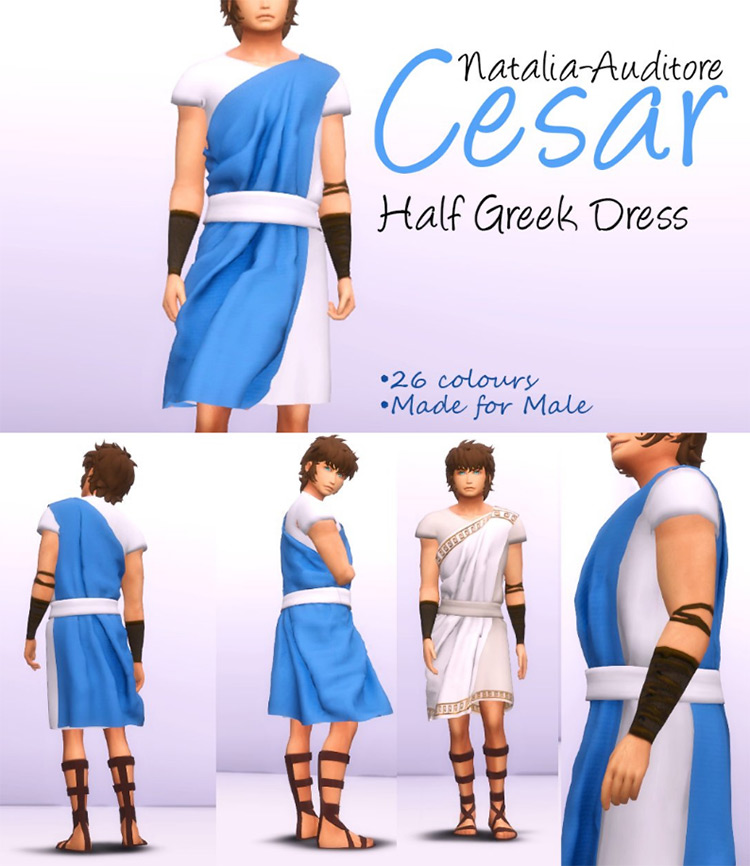 As I' m sure you're aware, not all adult costumes need to be sexy or scary.
There's a perfect medium, and that's what a lot of guys go for.
These Greek outfits are a great choice for your Sims who would like a simple costume.
There really is no mistaking what someone is in one of these, and pretty much any hairstyle will work, so… go crazy with those 26 swatches!
You can choose from two different styles, one is a "half" dress that reaches your Sim's knees, and the other is much longer.
7.

Witch Hat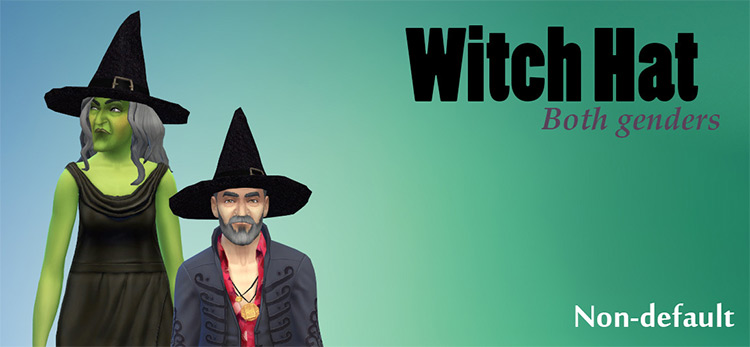 Ah, the witch hat.
Just as much of a classic, if not more so, than skeletons.
This pointy, belted, iconic piece of Halloween imagery is another simple and versatile option.
And this one is available for both male and female Sims, so just pair it with your favorite black or purple clothes and you're good to go.
Or, for an extremely low effort costume, just give them the hat with their usual outfit.
Nobody is judging.
8.

Prison Guard and Sheriff Uniform + Police Costume for Kids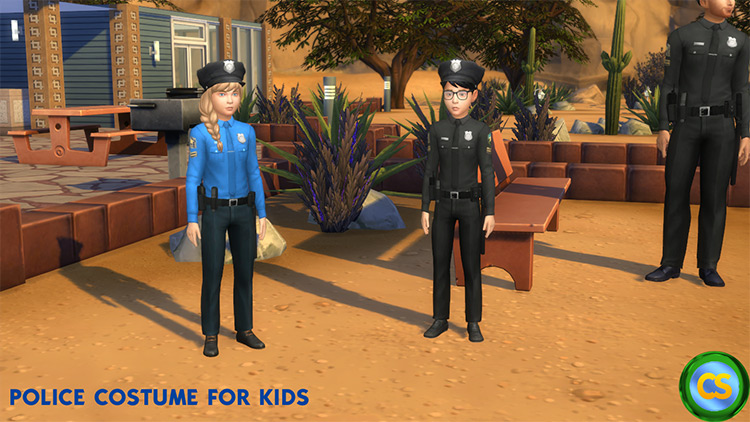 Uniforms from everyday jobs are popular costume choices among both children and adults.
I myself dressed up as a firefighter once.
It's just nice to be someone different, and probably cooler, for a little while.
Besides, this isn't exactly an elaborate type of costume. But it's far from low effort, making it the perfect medium.
You can choose from either prison guard or Sheriff uniforms for the adults here.
Both feature the badges and details that you would expect, but the belts are a little different. Because the guard costume includes keys, while the Sheriff gets a baton.
And the kids can join in on the fun as well, with a police uniform all of their own.
It even comes with a hat, which really sends it over the edge into "adorable" territory.
9.

Simblreen 2017 Collection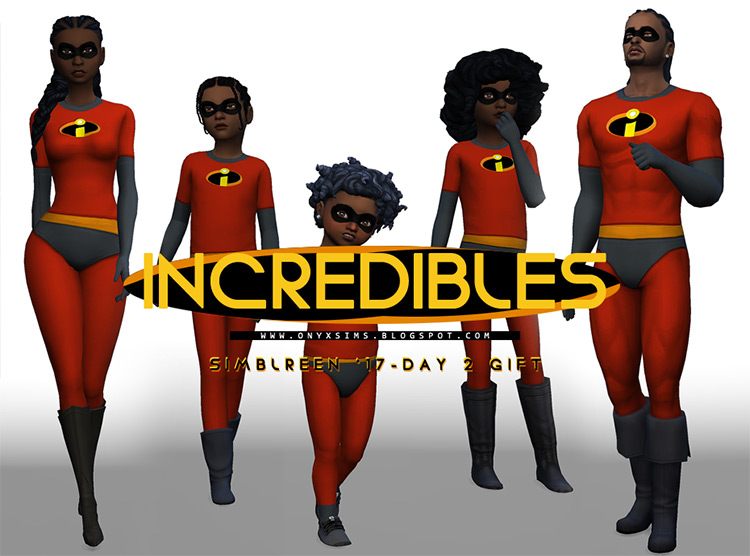 This CC collection will fit your needs for the whole family.
There are a ton of costumes here for all different styles, tastes, and ages.
For toddlers, the adorable pumpkin costume will have you spending the whole day snapping pictures.
Once they're a little older, there are some really amazing junk food themed options. They can be a cupcake, chocolate chip cookie, or carton of milk.
The latter two would be amazing costumes for siblings, especially siblings!
Children also have the option of being ghouls in simple white bodysuits.
And lastly, there's a really amazing option for all ages to dress up as The Incredibles.
10.

Little Princess Set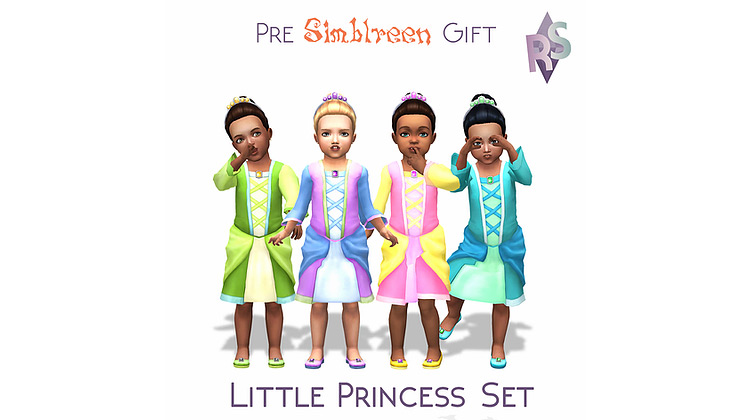 Again, the preciousness of a toddler at Halloween cannot be overstated.
This set for your little princesses will allow them to live out their dreams for a day – or year round.
Everything you'll need for that look is here, including the hair – now that's not something you usually have to buy for Halloween, unless it's a wig!
But in The Sims 4, CC hair can offer more freedom than you could ever dream.
This cute simple bun is indeed fit for a princess, and goes perfectly with the tiara that's included as well (or maybe even another custom tiara).
Then, of course, you can't be a princess without a dress and pretty shoes.
11.

Little Pirate Set
This pirate costume comes from the same creator as the princess costume, and it's just as awesome!
You also get four items here, although instead of a new hair you get an earring accessory.
I just love that.
It's not like pirates are known for their hair anyway.
There's also a pirate hat and the outfit itself, which includes plenty of tatters and stitching for an appropriate and neat yet still "rugged" look.
Everything here just looks so good, it's kind of crazy.
I'm not sure if this is a conversion from another game or a downsized outfit, but it's very impressive no matter how Renorasims went about it!
12.

Mario & Luigi Costumes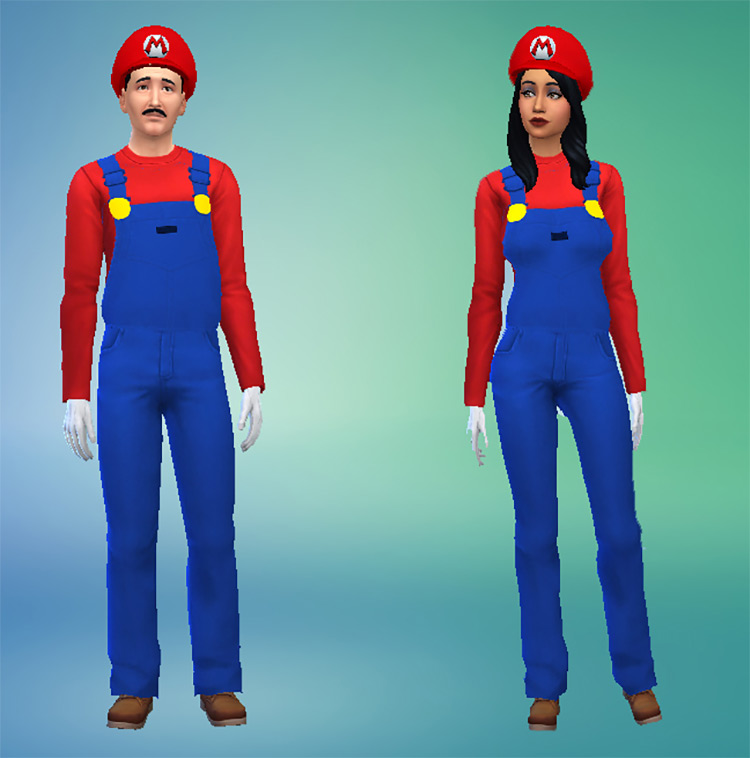 Mario and Luigi have to be one of the biggest non-spooky fallbacks in the history of Halloween costumes.
Being such beloved characters, everyone will recognize your Sim – and all they need are overalls and a cap!
This creator went a step even further and made items that match Mario and Luigi pretty much exactly, oversized gold buttons and all.
It's available to both males and females, and comes in many swatches aside from the typical red and green – in case you want to switch things up.
13.

Skeleton Set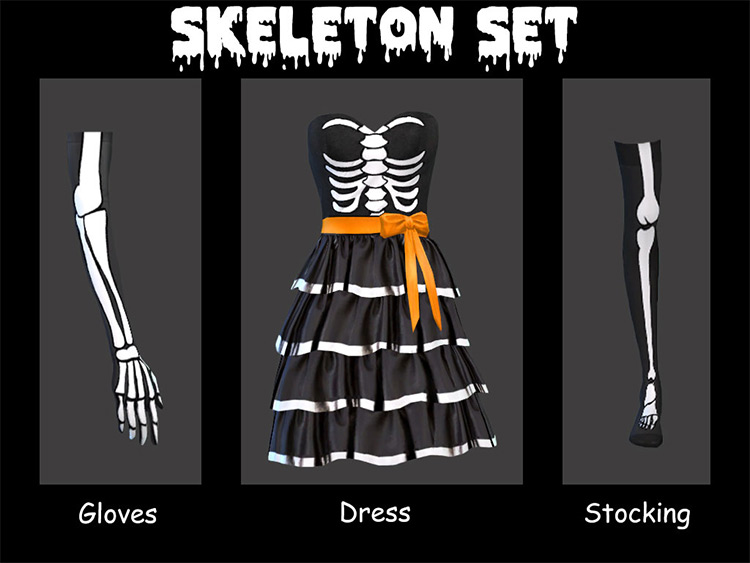 This skeleton costume is markedly scarier than the other one I mentioned, but it might just be the makeup…
Nah. The whole thing is unsettling.
But that's the fun of this holiday!
There are four components here, and they're all vital to the look.
The dress itself features a ribcage pattern with black and white coloring and an orange ribbon.
Then there are the gloves and stockings, which continue the bony details all the way down to the toes.
Lastly, that makeup is just too good to pass up – and it pulls the whole skeletal look together.
14.

Fursuit Costume Set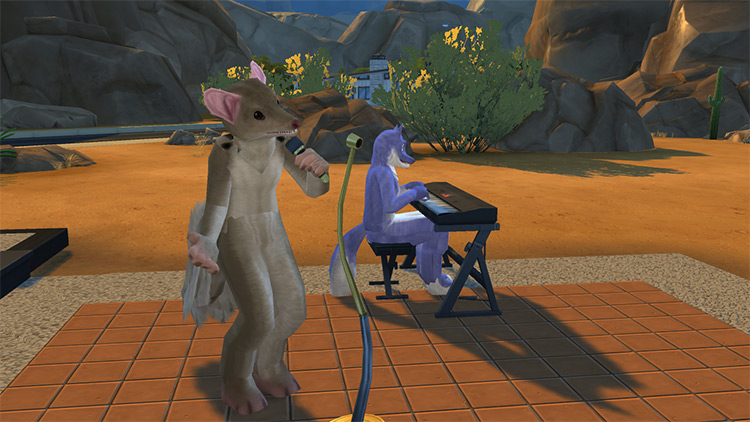 These full-body costumes are definitely a pretty intense look.
Your Sim can dress up as a mongoose, bat, raptor, or canine.
Every detail of these looks fairly realistic, from the bat's fangs, to the raptor's talons, and even the mongoose's beady eyes.
The canine looks the happiest… or maybe just the least angry.
However, this isn't a full-body outfit like you might be used to seeing with the gnome and bear ones our Sims are prone to wind up in.
These come as separate pieces, with the tail and arms being categorized wrist accessories.
15.

Halloween Costume Set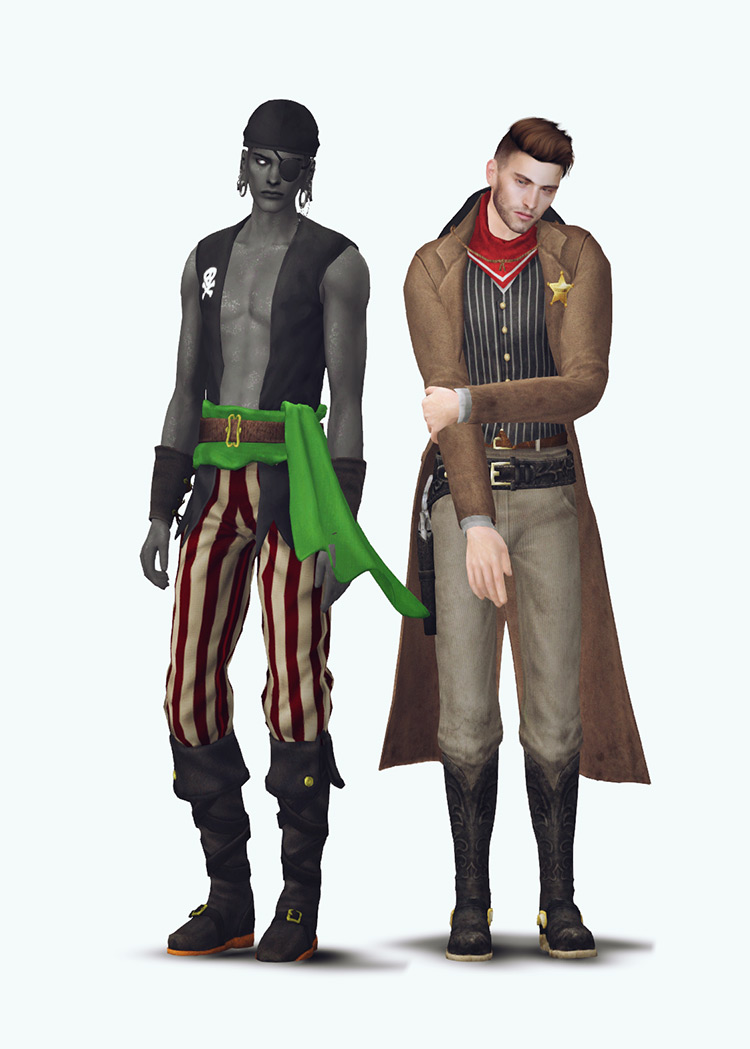 With this set, you'll get several costumes for adults.
And they're all rather incredible.
For guys, you can choose from a spooky pirate, Old West style sheriff, handsome devil, or… well, I'm not sure what you call the last one.
All of your Sim's private bits as well as his legs and neck will be covered in caution tape, which sends quite a message.
Then for the ladies, there are five costumes total – most leaning towards the sexier side.
Female options include a cop, bunny, nurse, witch, and the female version of the caution tape costume, only this time with bandages.
Something really cool about this set is that all the accessories are included in the download, so you get everything in one go.
Browse:
Lists
The Sims 4
Video Games