Cute Cottage House Lots For The Sims 4 (All Free)
This post may contain affiliate links. If you buy something we may get a small commission at no extra cost to you. (Learn more).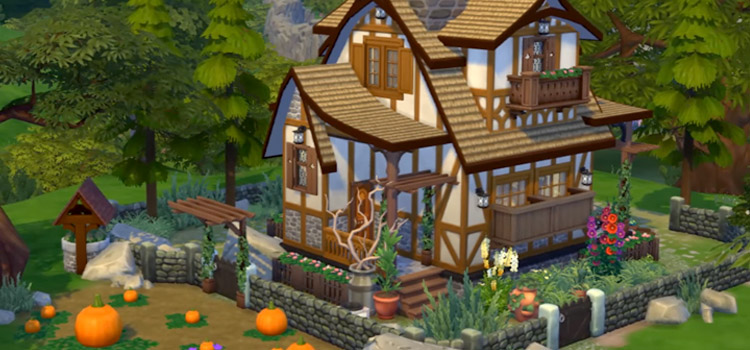 Want to know what I can't do?
Build houses in the Sims.
I have been playing this game for nearly twenty-one years now, and I cannot for the life of me build a house that looks even remotely good enough for my Sims to live in. So, what do I do when I have a specific idea in mind for a house that I can't build?
I head to the gallery (or just around the interwebs) and find what I need.
Today I'm going to share some of the nicest (and coziest) pre-made cottages for your Sims to live in.
1.

Small Skylight Cottage by malinfinstad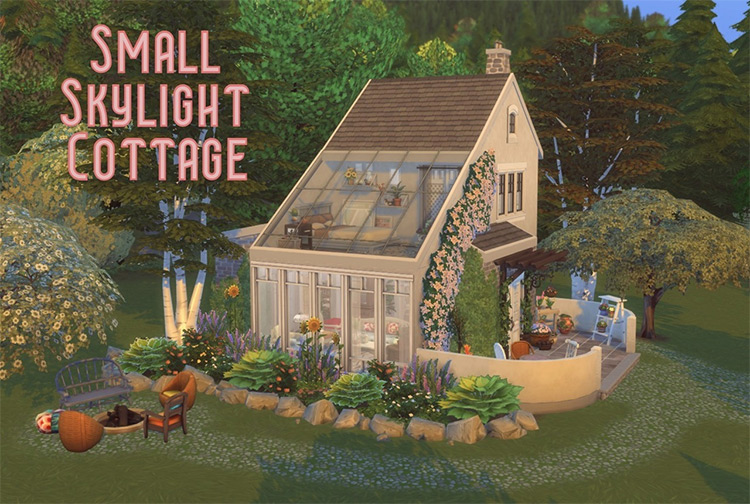 This cute one bedroom, one bath is just big enough for one or two sims.
But what it lacks in size, it more than makes up for in personality.
With a large portion of the roof turned to glass, this house looks so bright and airy that it would give any Sim a good moodlet or two.
While it doesn't have any CC, it does use a rather long list of packs. So you'll need to make sure you have the correct expansions for it.
Your Sim family can move into this little beauty for the low price of 59,045 simoleons.
2.

Gino Boho Cottage by Rirann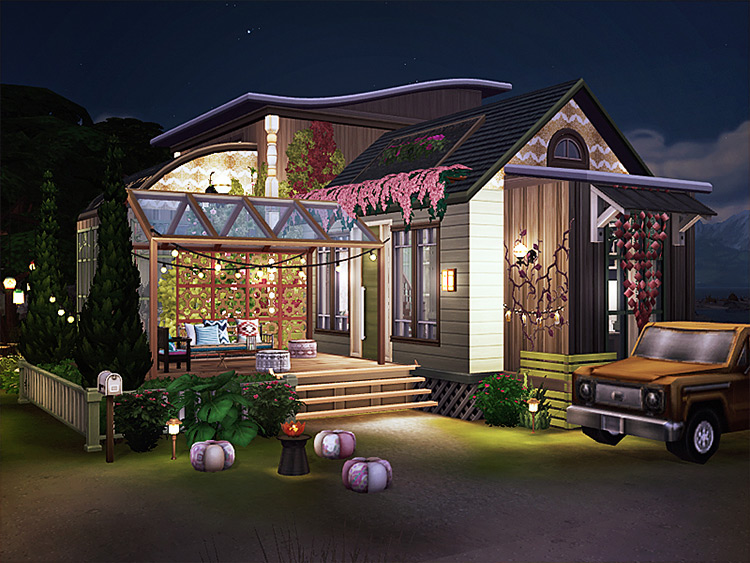 This little boho-themed cottage has one of the best vibes of the houses on this list.
It just feels so comfortable. And even though it's on the smaller side, there's plenty of outdoor space that your Sims can utilize.
It does have CC in the build, but one of the best things about downloading from The Sims Resource is that you can also get all of the needed CC with one click when you hit that download button.
Make sure you check out the front porch on this one, too. Because with the hanging fairy lights and glass covered canopy, your Sims are going to find themselves hanging out there a whole lot.
3.

Hedera Cottage by Xandralynn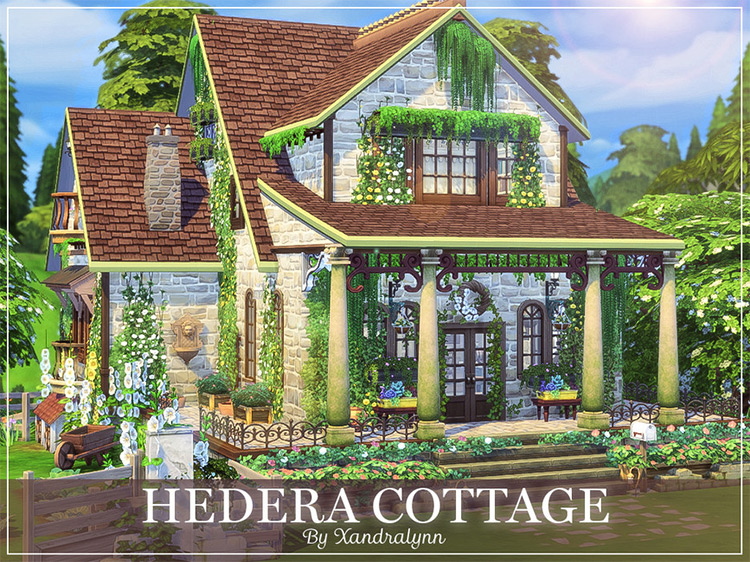 This beautiful ivy-covered home is by far the most regal of the lot, and in the best possible way.
It's a spectacular two-story stone home with two bedrooms, two bathrooms, a living room, dining room, and kitchen.
It also features a bar, fireplace, and desk area in the living room.
The outside is just as lovely as the inside, and has plenty of room for a gardener to explore their talents with a gardening shed, planters, and a flower arranging table.
This gorgeous home can be yours for the price of §140,143.
4.

Good Witch Cottage by simnematographygj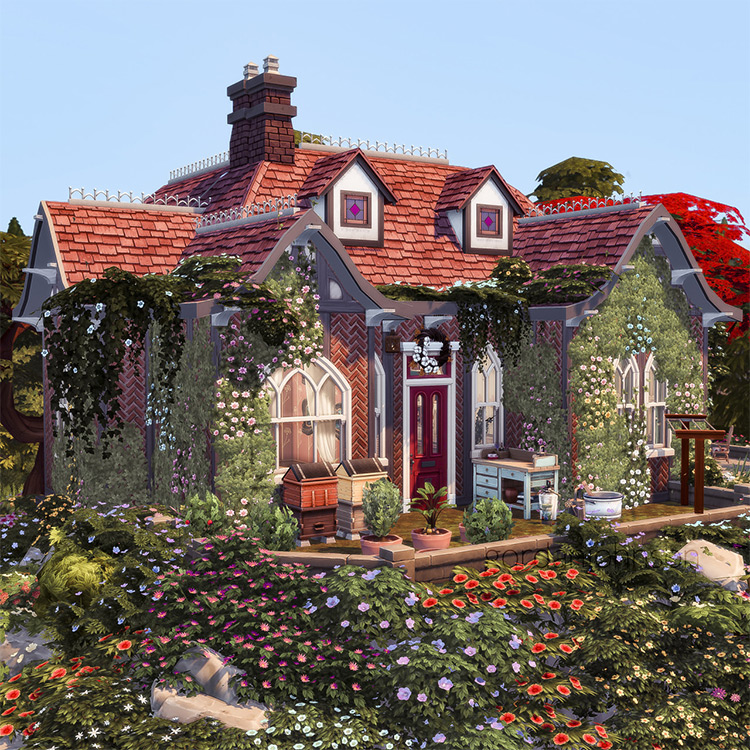 If you have a Sim who possibly lives alone, and has a certain adoration of landscaping, and is perhaps a witch… then this little cottage is perfect for them.
While it is on the small side, the landscaping will blow you away.
It's a one bedroom that also includes a small witchcraft area, and it is also CC-free.
This does use a bit of everything from all the packs, though, so keep that in mind while you're shopping for your next home.
5.

Small Home Clover by Isegrimsims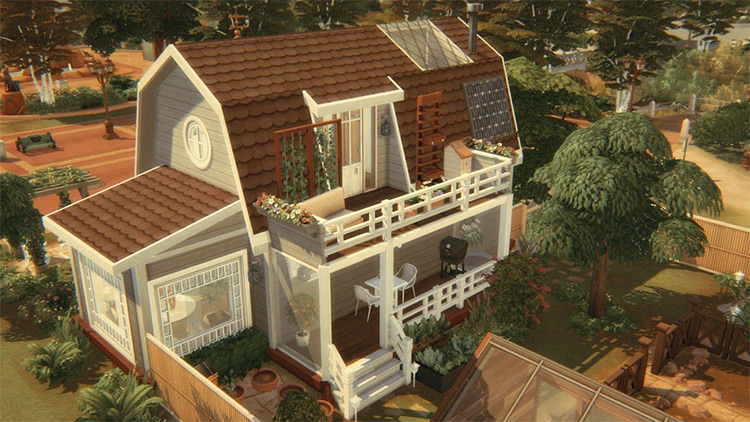 Oh, this one is just precious!
This little dream home could be a remodeled barn as it's still quite spacious, even if it only has one bedroom.
It has a beautiful sunroom that's made up entirely of windows from top to bottom. And that leads to a gorgeous patio with plenty of plants available to satiate your Sims with a green thumb.
It's also CC-free and can be all yours for §102,877.
6.

The Berm Cottage by Kiimy_2_Sweet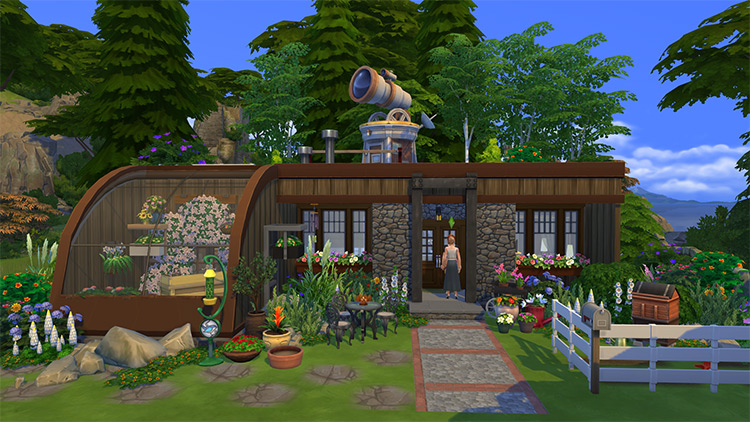 Next up we have our first fully functioning, off-the-grid ready cottage!
It's a quirky home that's literally built into a hill. And it's just the right size for a single sim or a couple and has everything they need to become totally self-sufficient in the game.
This one's a steal too for §89,752.
When you're checking it out, make sure not to miss out on the rooftop patio with the biggest telescope that I've seen on a house in a long time.
7.

Eco Cottage Loft by Grimbucha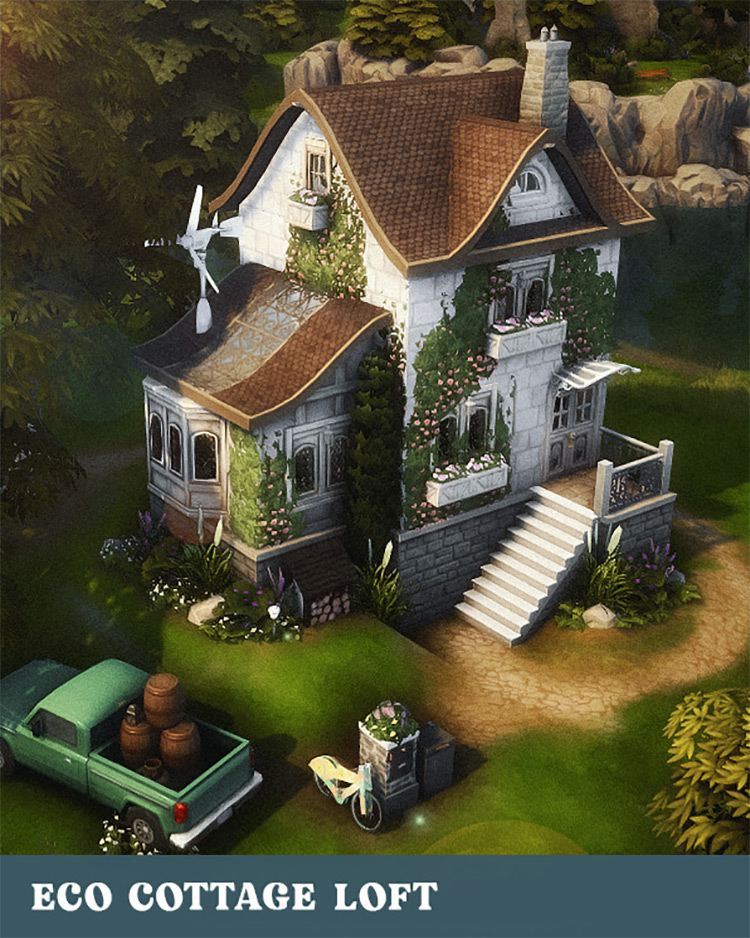 This incredible lofted cottage by Grimbucha might just be favorite of this list!
From the outside, it appears to be a very pretty home. But there have been multiple updates to it that have made it rather eco-friendly!
It has sprawling vines and flowers all along the sides of the stone exterior, and also comes with a bay window for any and all to enjoy.
It doesn't have any CC, but does use a relatively large number of items from varying packs. So as always—be mindful of that.
The best part of this cute little home, though, has to be its price!
Built in Windenburg, but priced to sell, this one could be snatched up for only §53,795.
8.

Brindleton Cottage by MychQQQ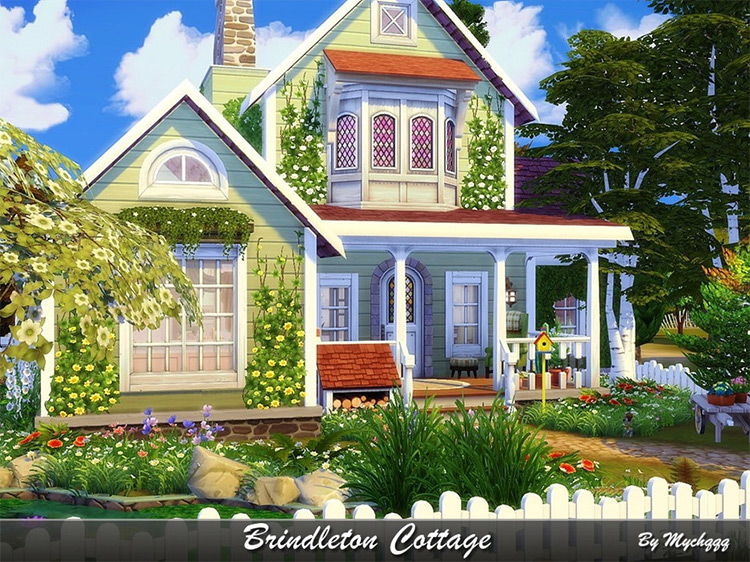 As with most cottages on this list, the exterior is what really sells this one!
The interior, while it's still very quaint and comfortable, is rather small. So you'll need to really use the outdoor space to make up for the size.
There are honestly too many things about this lot to even list them all!
The home comes with the most beautifully decorated patio ever (with a wishing well repurposed as a flowerpot! Can you believe?!).
Not to mention plenty of space to exercise your gardening skills.
If your Sim is looking for a cozy escape from everyday life, you'd better grab this one before it's gone.
9.

Grandma & Grandpa's Cottage by cillaben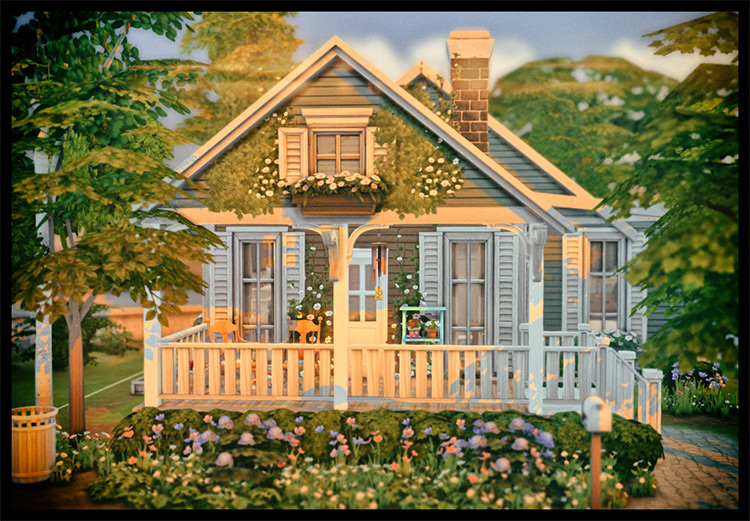 If you haven't found a cottage that has spoken to you yet, this one might be the perfect treat.
The builder created this cute little home for a pair of grandparents who have an affinity for knitting. If you like peace and quiet, then this little cottage is worth a try.
My favorite part of this house has to be the matching rockers on the front porch. Too cute!
It's also CC free, but does use a bit of all the expansion packs.
10.

Flower Cottage by nobody1392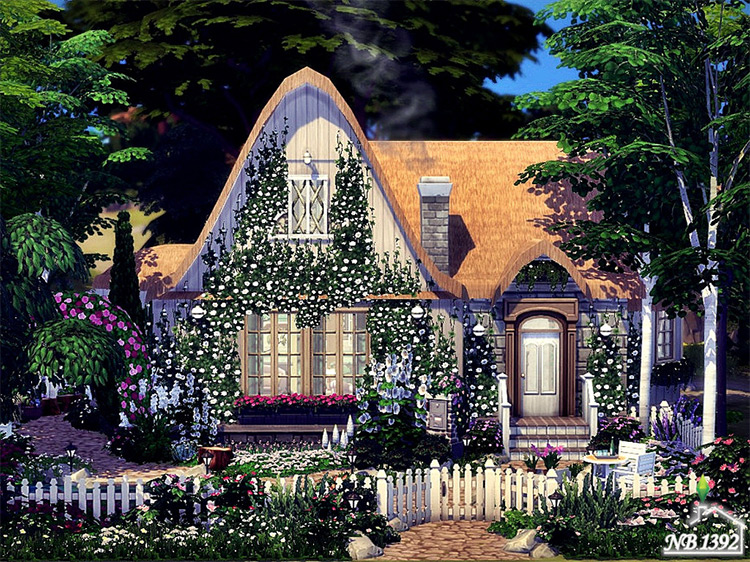 Can you say flower power?
The amount of time it must have taken to plant all of these flowers is truly insane.
This cute little cottage features a workshop/craft room on the first floor, as well as a bathroom, kitchen, living room, dining room, and a terrace.
The only bedroom is located on the top floor. But you could easily change the workshop into another bedroom if needed.
And I've gotta say, this lot really speaks to my soul. And I'm betting it will speak to yours as well.
If your Sims need a comfy, cozy, lazy getaway home, this one is waiting for them.
It's also CC-free, so just download and go!
11.

Valentina Cottage by Pinkfizzzzz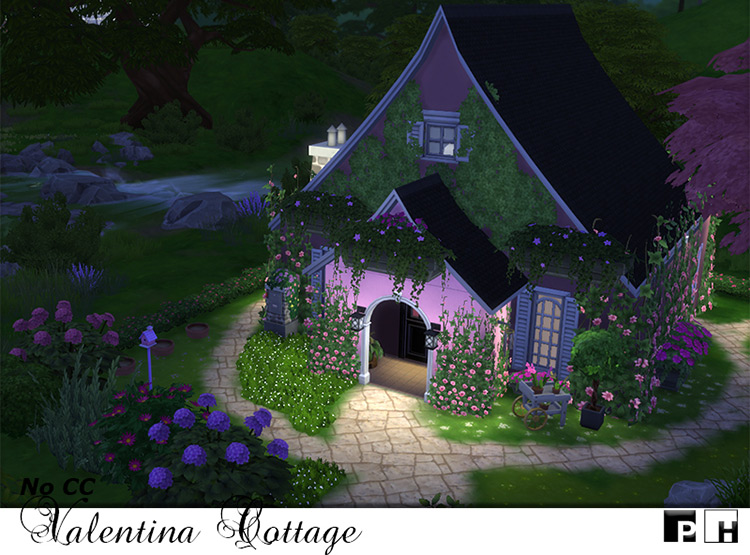 I know I can't keep saying that these are all my favorites, but I mean…it is so pink!
This Valentina cottage lot features a lofted bedroom and a main floor with plenty of space for anything your Sims will need.
This one just screams romance to me. So if you're needing a little bit of love in your Sims' lives, then send them to this gem for a while (it would make a great vacation spot as well as a home).
12.

Miss Honey's Cottage by femmeonamission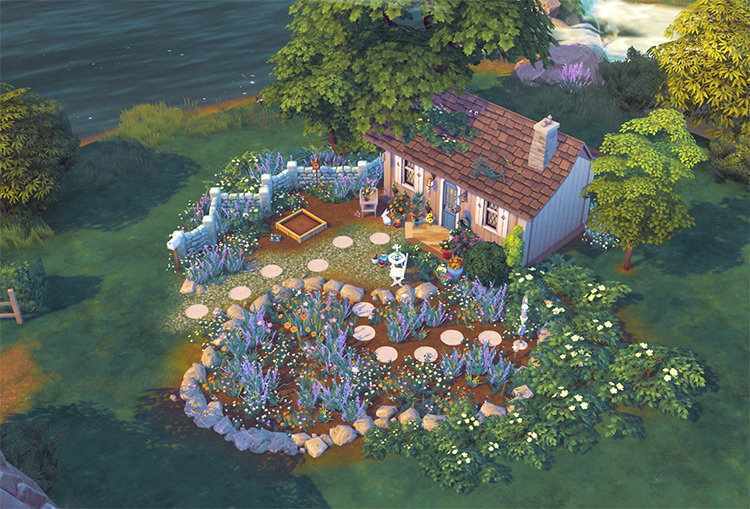 I couldn't believe my eyes when I found this lot.
Can you believe that your Sims get the chance to live in Miss Honey's cottage?
If you haven't seen Matilda, I'm going to need you to step away from the house hunting for a moment and check out the cottage from that movie.
It's the only way to appreciate this little home for all that it is has!
It's a small converted garden shed that's filled to the brim with everything your Sims will need to live a comfy life.
The outside space is actually breathtaking, too. So if you're needing a bit more space, just have a seat in the garden and let the magic wash over you.
13.

Tiny Elfin Treehouse by dasie2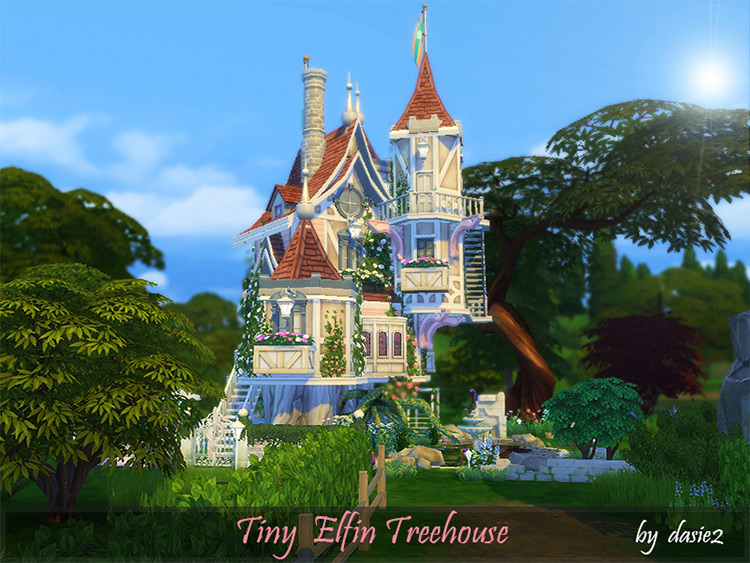 Why didn't my treehouse look like this when I was a kid?
This amazing home is so magical that I feel like it could speak to your Sims.
The builder could very well have pulled this straight from a fairy tale!
This lot is CC-free and offers two-bedrooms, one bathroom, all built into the trees.
It also comes with a beautiful garden and a pool. So what are you waiting for? Magic awaits!
14.

Briar Cottage by Sim Pickens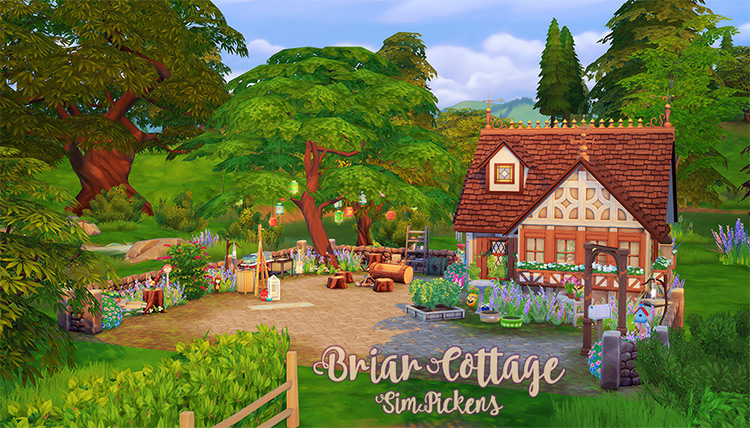 This rather adorable little cottage is just what you need for an easy-going life.
It features a very pretty fence that goes all around the property, so you'll have plenty of privacy. And it also comes with plenty of plants to help hone your gardening skill.
Plus it's one of the cheaper homes on this list, coming in at §41,561 – and it's also CC-free!
15.

Little Laundry Day Cottage by Magnoliidae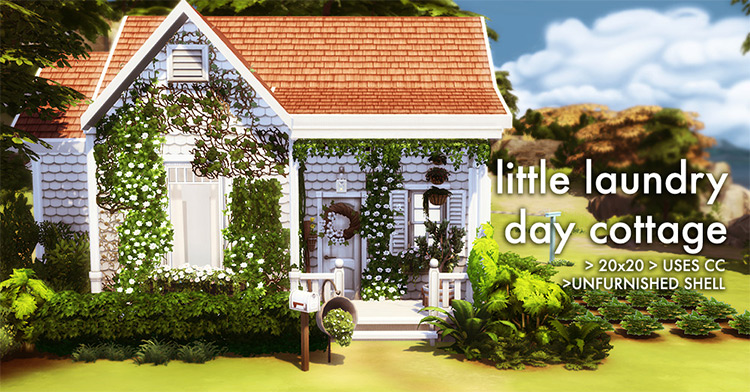 Now if you're looking for a starter cottage and a bit of a project, look no further.
This little lot features an unfurnished one bedroom, one-bathroom cottage, and leaves plenty of room for your Sims to put their own artistic spin on the décor.
The exterior of the home is absolutely stunning, with all the plants and flowers around it everywhere. So even if you don't want to start working on the inside right away, you can just enjoy the nature on your porch.
This one does feature some CC, so make sure you check out the links listed in the description to get those items.
Then you'll be able to get this little cottage for only §18,289.
Browse:
Lists
The Sims 4
Video Games