Best Sims 4 Couch & Sofa CC: Sectionals, L-Shaped & More
This post may contain affiliate links. If you buy something we may get a small commission at no extra cost to you. (Learn more).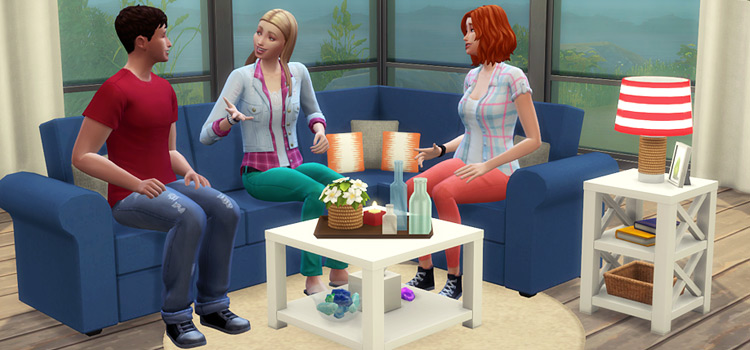 Calling all couch potatoes!
Get off your lazy-boy and let's break down some of the best CC for sofas in The Sims 4.
Well, technically you can stay sitting on your current couch if you'd like.
But let's take a deep dive into some love seats, L-shapes, leather styles and everything else in the world of Sims 4 couches.
15.

Living Christine Loveseat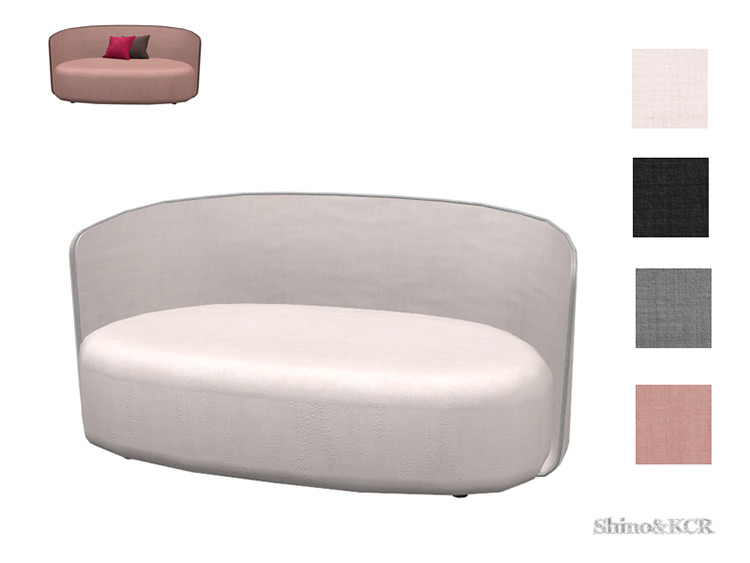 We're kicking off this list with ShinoKRC's loveseat.
The loveseat CC is just roomy enough to make your Netflix & Chill date feel close and comfortable.
The couch comes with 4 unique swatches, with strained black being the best of the bunch.
This is perfect for fitting neatly into small spaces.
14.

Yummy Sofa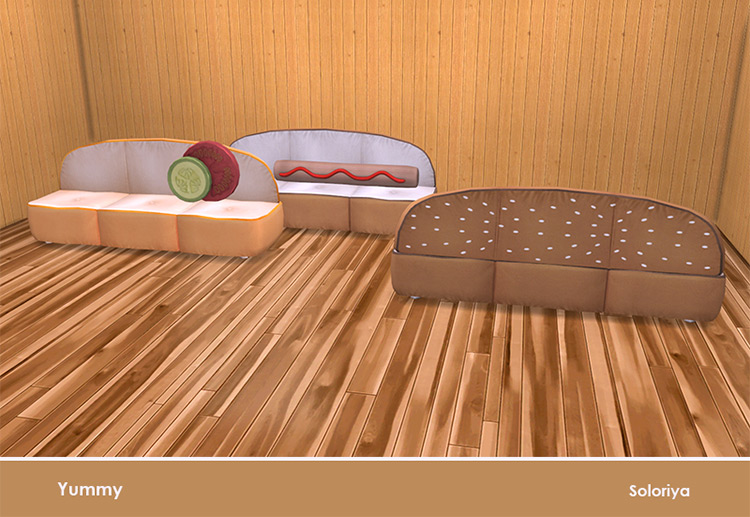 Everybody eats on their sofa. But have you ever wondered about eating your sofa?
Thanks to soloriya, now you might binge eat even more from the look of your couch.
This sofa comes in three unique designs including a hamburger bun, a hot bun with a wiener pillow, and another bun with a lime on it.
Not too sure what the last one is exactly. But for some reason it's my favorite of the bunch.
And for Sims with pets, beware of them tearing through your couch with this food illusion.
13.

Milas Modular Sofa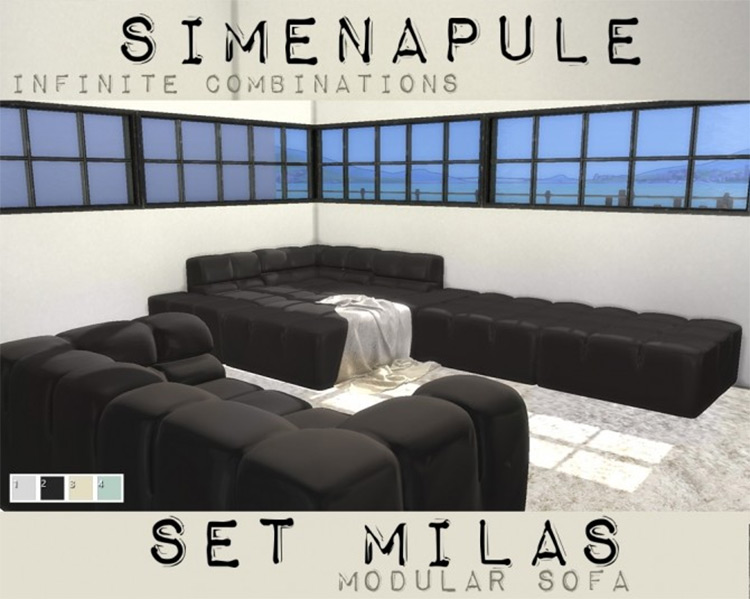 Here we have our first sectional couch CC by Simenapule.
This sofa comes in a U-shaped design fit for larger rooms, and it offers tons of space for Sims to sit.
It comes in 4 swatches and the nice additional feature is the blanket at one of the edge seats.
Small details like this always help an object come through clearer, as you can tell the CC creator put the work in to keep us immersed.
12.

Time Capsule Couch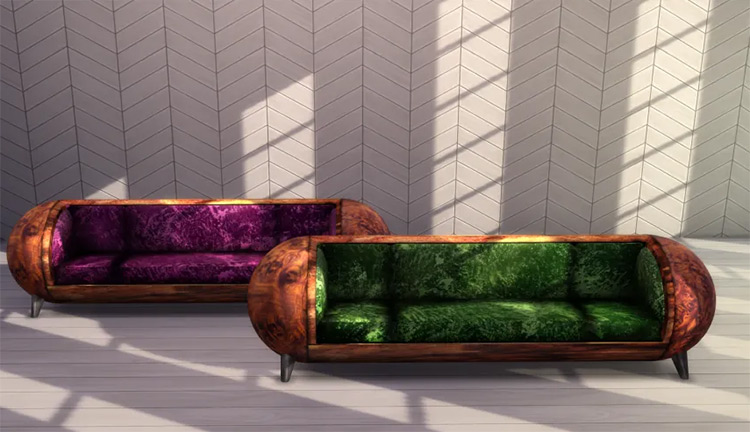 Let's all take a second to remember the Zoey 101 time capsule episode, and cry at the fact Zoey will never really know how Chase felt (kind of).
Now completely unrelated, let's look at this awesome time capsule couch by Polluted Light.
The colors give off some 90's vibes.
And considering it's a time capsule couch, maybe it was in an actual time capsule for 20 years. Conspiracy or truth?
I'm not sure, but damn I miss Zoey 101.
11.

Chesterfield Wingback Chair & Sofa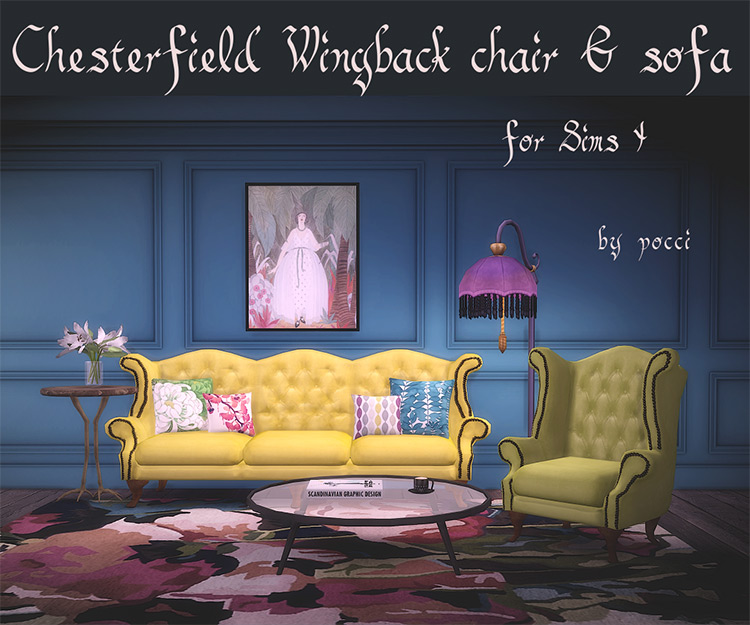 Elegant and rich.
Those are the words that come to my mind looking at this couch and chair combo by Pocci.
This CC is definitely for the upper class, with a rich exterior and a uniquely designed frame.
My favorite of the 7 swatches is the original corn yellow. The colors just pop a little more with this swatch, but try to find one that fits best with your living room.
10.

Ramea Sofa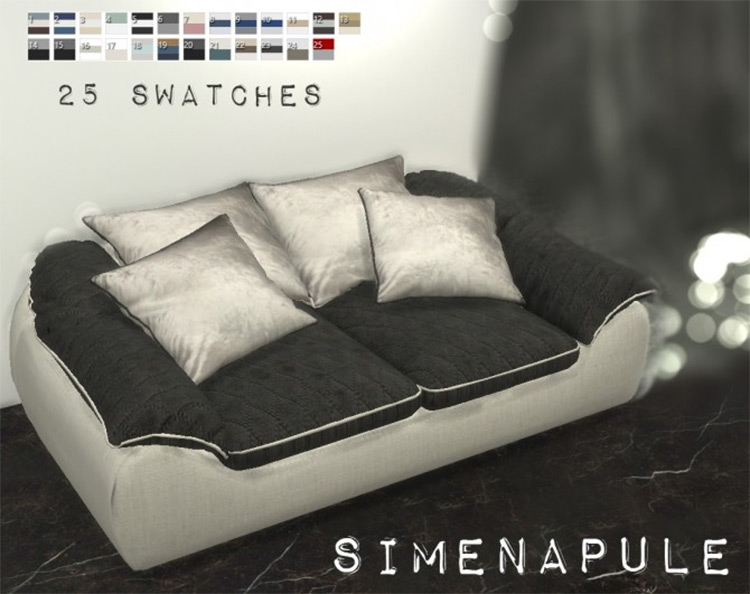 This Ramea Sofa is very similar to the other couch design by Simenapule.
The main difference is the size of the sofa: it acts as a loveseat, but so comfy that there's bound to be more napping than loving.
The texture and pillows are also similarly well detailed, and the sofa comes in a whopping 25 different swatches.
So yeah, plenty to pick here for any room.
If your sim has some simoleons, might I recommend a nice sofa in the master bedroom?
9.

Red Royalty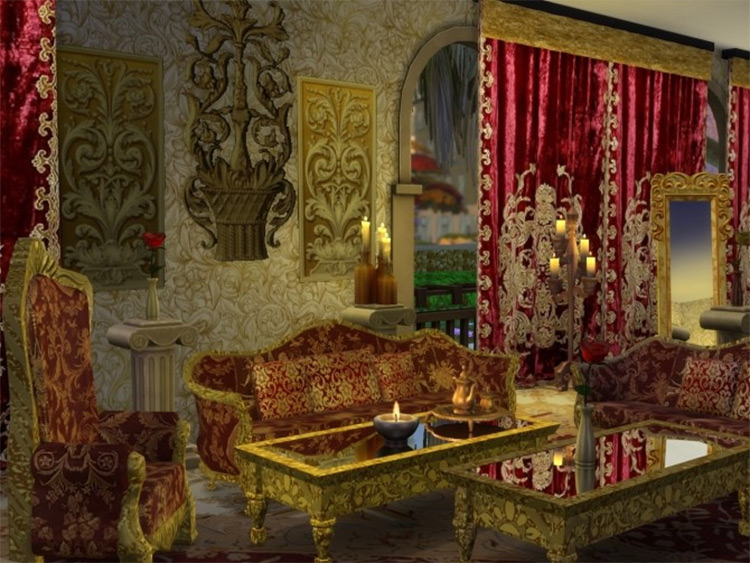 We've talked about some upper class couches, but this next one is for the straight up stinkin' rich.
Anna Quinn Stories hits the nail on the head with the Red Royalty sofa and chairs.
It looks like something straight out of an Indian palace.
If you're into creating the whole medieval times scenario in-game, these pieces would work great in the main castle of that world.
8.

70's Sofa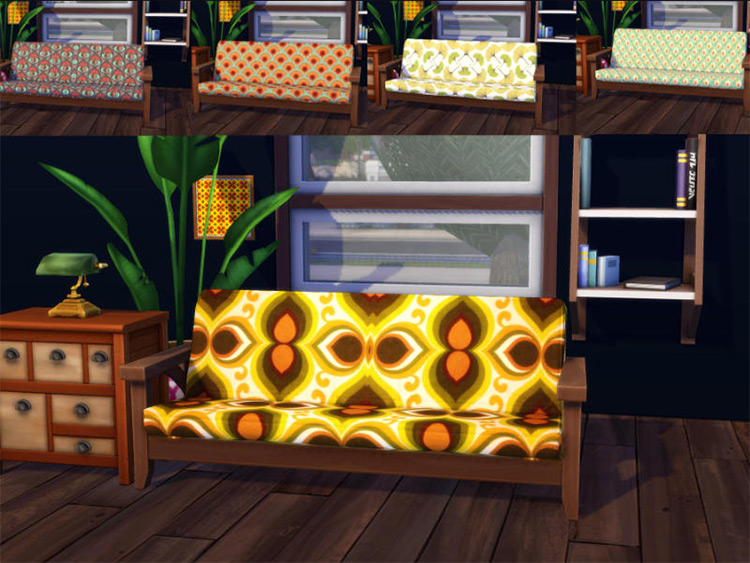 Are you one those people who likes hanging out, down the street?
Like doing the same old thing you did last week?
Hopefully I'm not the only one getting these references.
Tropico-Native presents us with this couch directly out of the 70's. Feels like a nice recolor too.
This snazzy design is a perfect fit for anyone trying to retro their household.
7.

Nola Sofa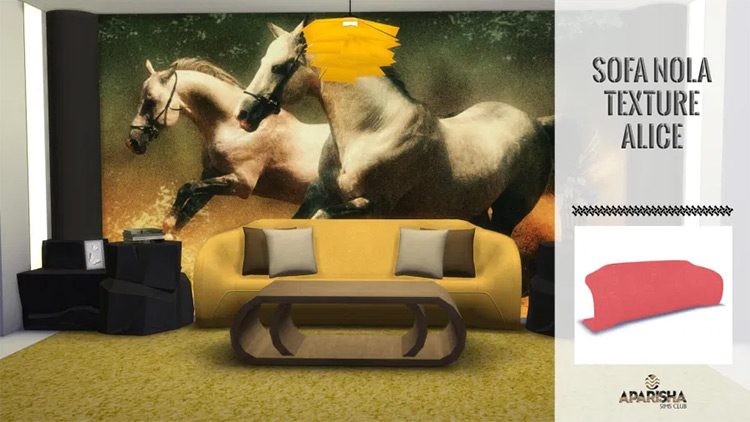 Here we've got the Nola Sofa CC by Aparisha Sims.
This sofa is sharply carved and is aesthetically one of the best looking couches on this list.
It can basically fit into any theme or space, and comes in 12 unique swatches.
In terms of bang for your buck, the Nola Sofa is the way to go for broad appeal.
6.

The Love Bug
I never knew I wanted a couch that looked like Herbie the Love Bug, until now.
Find your inner Lindsay Lohan (maybe not now) and take a ride downtown with your significant other on this uniquely designed love seat.
While coming in various swatches, I think everyone is going to go the original Herbie look; ruby red glossed with white seats.
Cheers to Cyclonesue for this intriguing concept.
5.

AC Inspiration Sofa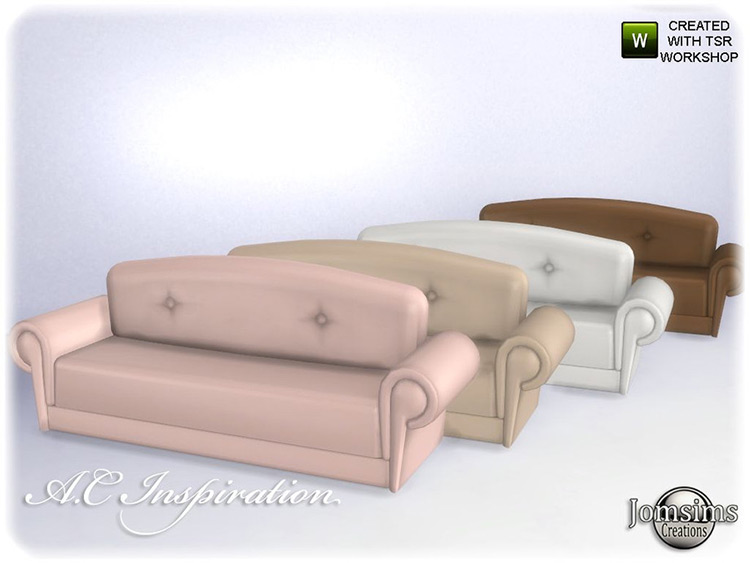 The classic and traditional look finds its way pretty high up in my list.
The button-eyed futon we all love to hate makes its appearance, and it's some brilliant CC.
The biggest selling point for this CC by jomsims is that the overall look feels updated and more detailed than the game version of this piece.
Also the swatches included here are wonderful, in particular cream white and lush pink.
This one is the true definition of the good ol' couch.
4.

Uzux Living Room Sofa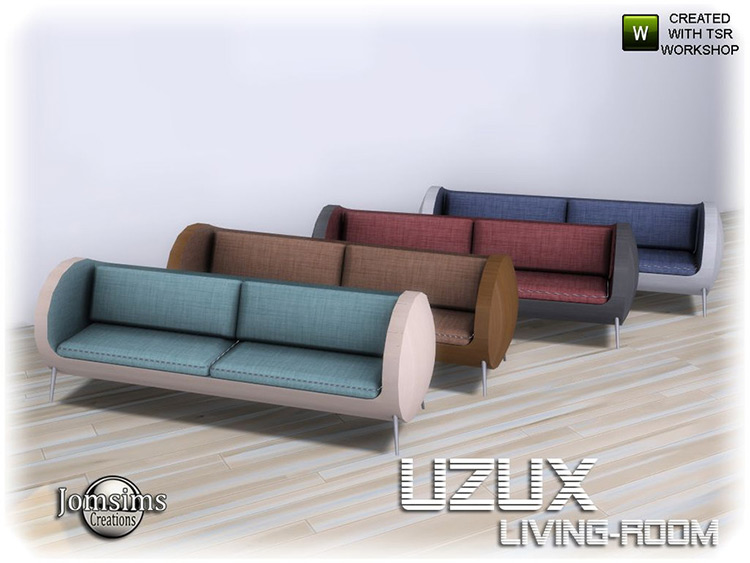 In terms of uniqueness, the Uzux sofa takes the cake.
jomsims goes back to back here with this well-crafted sofa CC.
This could be used as a waiting area in a Get to Work location, or even club seats if you'd like.
It not only has the most unique look, but also has the ability to fit in more places than just your Sim's living room.
3.

Calipso Sofa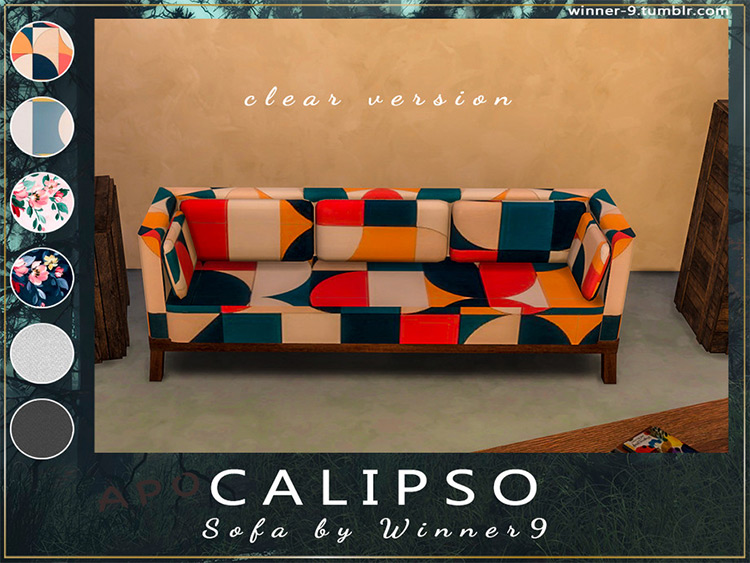 Holy Calipso!
Winner9 does something that hasn't really been a focal point on many of these couches, and that is patterns.
Mostly we've been looking at the actual couch design, since most couches come in various swatches.
But the Calipso Sofa CC stands out immediately with its eye popping pattern weaved in with hot orange, deep blue, and yellow.
Filling all its negative space with bold white to boot.
On top of this, Winner9 still includes 5 other swatches in case the original look wasn't your style.
Plenty to love about this couch.
2.

Music Star Couch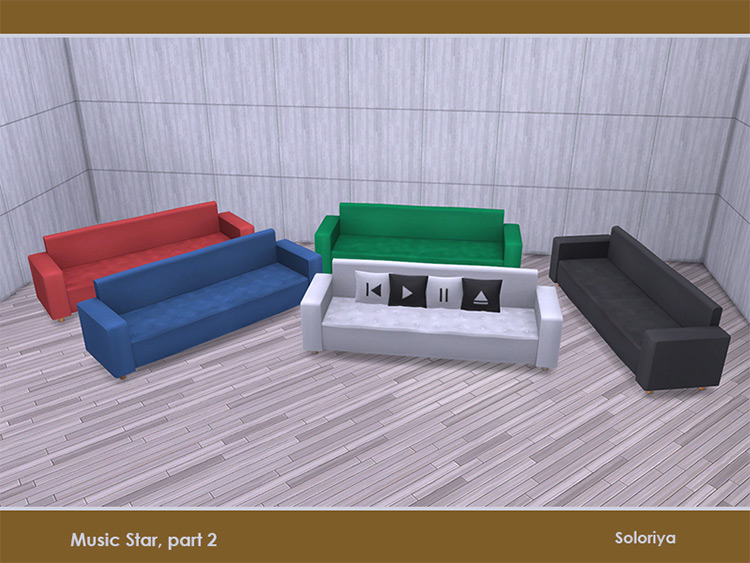 If your Sim is trying to be next Beyoncé, you might want to purchase a fitting sofa.
But seriously, this couch doesn't really scream anything about being a music star.
However, the couch itself offers one of the best designs, shape, and overall look on this list.
In terms of a stand still couch, this is the one I would have in my Sim's home.
Soloriya includes 5 beautifully bold swatches, and this is one of the first times I can't pick a personal favorite. All 5 are great.
The pillows included here are also awesome, while being quite simple. The design even features play, eject, and fast forward buttons.
It would be really cool if I could click the pillow to fast forward while my Sim's asleep, like some sort of God pillow. A man can wish.
1.

Luxurious Sinking Device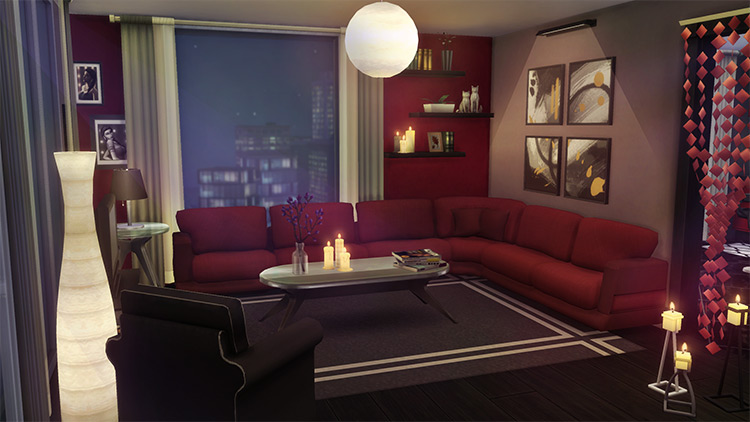 Taking home the gold for this list is the Luxurious Sinking Device CC by simsi45.
It's intended to look like an L-shaped couch.
Masterfully detailed and really stands out in the royal red swatch.
My personal placement for this would be in a penthouse apartment, or a large manor.
It also includes a DIY type break off, making smaller couches out of the larger one, and corner setups like kitchen counters.
These types of extra help take an already great piece of CC, and give it that extra "wow" factor.
Not really sure about the sinking part of the name here, but luxurious is definitely the right word to describe this piece.
Browse:
Lists
The Sims 4
Video Games