Sims 4 Cow Print Clothes & Accessories
This post may contain affiliate links. If you buy something we may get a small commission at no extra cost to you. (Learn more).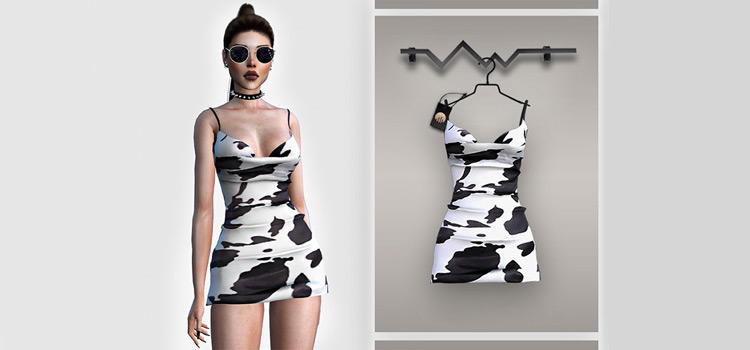 Different patterns and designs have always been what fueled fashion.
Year after year, trends come and go. But one thing that has dominated the clothing game for decades is animal prints – and cow print is the king of them all.
Cheetahs, zebras, and leopards have all had their time in the spotlight, while the lovely cow's coat has gone unappreciated.
Well now you can find plenty of items in the mottled black and white pattern we all know so well.
As always, Simmers are quick to add the latest trends to the game with CC, so our Sims can always look up-to-date.
And for cow prints, you'll find it all here: from totally original items to genius recolors, and even a few unique accessories!
1.

Cow Joggers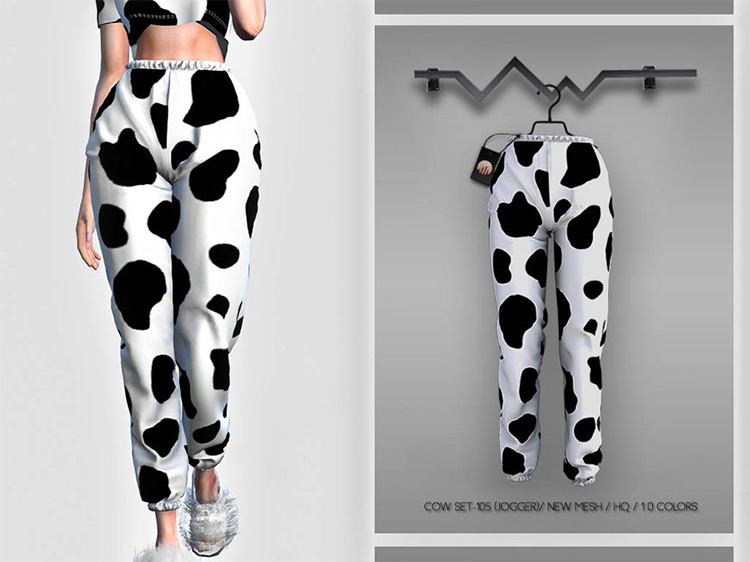 Your Sims can get a moo-ve on at the gym and still be fashionable.
That play on words was bound to happen at some point and I won't apologize! Now that it's out of the way, we can talk about how awesome these pants are.
Many people may think joggers are joggers, and there's nothing really special about them.
But that just isn't true.
These are a staple of any casual wardrobe, and the print especially makes them feel modern.
These come in a high-waisted style, and the top has a realistic stretchy texture. The appearance is realistic in general as well, without going over the top.
This creator gave the pants shadows and wrinkles in all of the right places, and the cow blotches are big and bold.
2.

Cow Print Skirt & Top
As they say, the classics always hold up.
Certain things in fashion have become true iconic pieces forever – like blue jeans or little black dresses.
Two-piece skirt and top sets are quickly on their way to becoming "hall of fame" items themselves.
They're a highly versatile ensemble that's easy to put together, and even easier for your Sims, since it comes as a singular outfit and all.
This set features a nice pastel cow print pattern. You may not think there's much variation to be found when it comes to cow print, but that's not the case.
And this design includes a tighter pattern with smaller blotches breaking up the white
There's also 15 swatches total, such as greens, pinks, yellows, and blues, as well as the expected black and white.
3.

Cowabunga Bucket Hat
Ah, bucket hats.
They might just be the most unexpected accessory to take off this century.
Before 2020, they'd mostly become something comedic, reminding many people of Gilligan's Island or something their grandpa wore to go fishing.
But these hats have once again dominated the casual fashion circuit. Big name brands are churning out new ones all of the time, and even old school styles are still "in".
When future generations look back on this time, a cow print bucket hat will definitely be a sign of the times. They're undeniably 2020s!
Your Sim can rock this one from Anjelicroses and be Simstragram ready from the moment you exit CAS.
This is as stylish of a bucket hat as you'll find, and like much CC, it's the result of great minds coming together.
YoungZoey made the original hat, and Anjelicaroses here went and gave it a makeover, complete with all of the cow print swatches you could want.
There are 9 of those in all, in both light and dark shades.
4.

Cow Handbag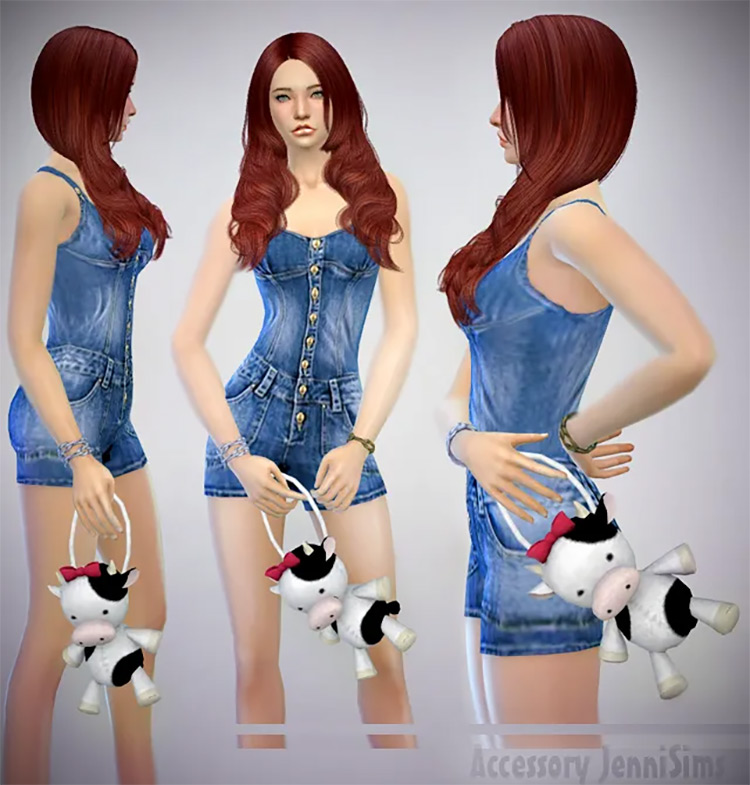 Purses aren't what they used to be… cause they're even better!
Back in the day, a purse was a symbol of womanhood – and therefore expected to have a rather mature appearance.
If you look back at the 1940s, even preteen girl's pursers were like mini versions of what their mother would carry.
Thankfully, 2021 is like a free-for-all where you can do what you want.
Carry a typical "adult" bag or choose something fun that speaks to your heart, most people won't bat an eye. Truly being an adult means being who you are.
This fun handbag is like a cow plush, only with a handle and it can hypothetically hold your Sim's belongings.
You can even see your Sim holding this cute bag, just add it to their outfit in CAS! It can be found in the ring category.
The sweet face of that cow with a bow on its head will never go out of style.
5.

Cow Print Shorts
A good pair of shorts is a lifesaver on a hot day.
These look incredibly comfortable, like your typical cloth shorts, except they're cow print.
This is one thing I've never seen done before, and I can't imagine why not.
Maybe I'm just out of touch, but at least as far as Sims CC goes, Mermaladesimtr is an innovator!
You can use these in a number of ways, from regular everyday outfits to days where you wanna dress your Sim up a little bit.
I wouldn't go quite as far as formal wear, but any Sim will look fantastic with these shorts, their hair in a nice updo, and jewelry.
Cow print shorts are as good for a night out on the town as they are for a trip to the library – and everything in between.
6.

Cow Set
Having a single cow print item as part of your Sim's outfit is one thing.
But having an entire outfit dedicated to the idea looks even better than you'd think.
Let's be honest, on paper that may sound like it would be tacky.
But this creator shows that any idea can be a golden one, it just has to be executed well.
First let's consider the rain hat design, which kinda looks more like something that can be rocked no matter the weather.
It has been flawlessly recolored to incorporate the cow print.
And for the main part of your Sim's outfit we have some overalls. This is probably one of my favorite outfits to use on my Sims, they just never fail to look amazing.
These ones are very stylish with a scalloped, lacy effect at the hem on the legs, defined seams and pockets, and a cropped tee.
Last but not least: the boots.
They're a taller rain boot style, and really bring the whole look together.
7.

Cow Dress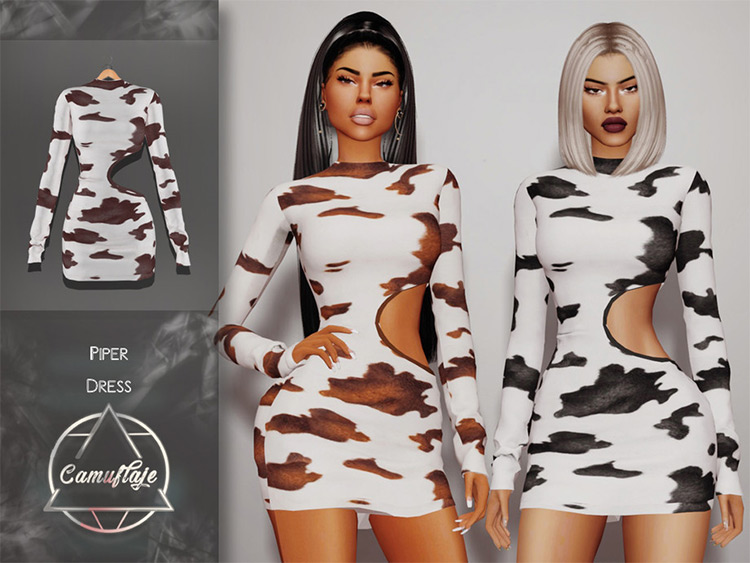 This fitted mini dress will show off what your Sim's mama gave them.
It's a short design, appropriate for any and all warm days. And with the low cut, you can accessorize this with almost any necklace.
There are no set parameters on what you're supposed to wear with cow print, so feel free to think outside of the box!
You'll have five swatches to choose from, but that classic black and white will always be there to fall back on and enjoy.
Like Busra-tr's other cow creation, the shorts found above, this has a fantastic texture and appearance. The wrinkles look very natural and realistic.
8.

Cow Slippers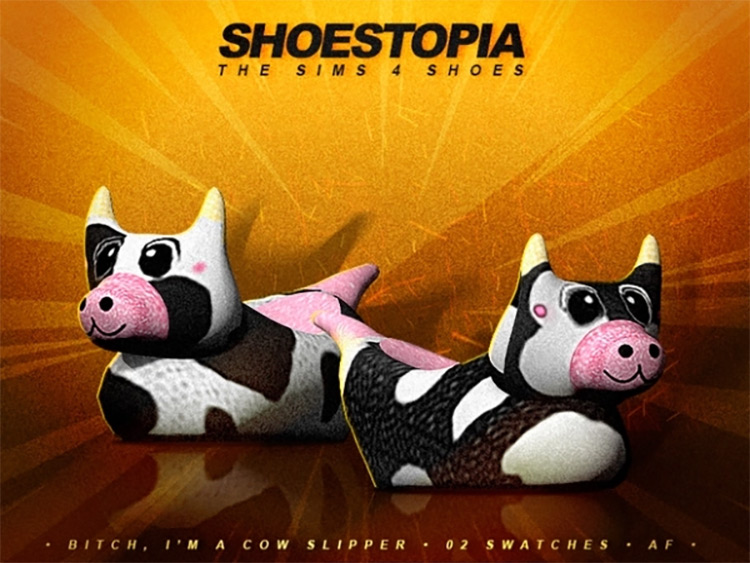 This game is no stranger to unique items. But slippers aren't something that get a ton of attention.
I almost never give my Sims slippers for their sleepwear anyway, because who crawls into bed still wearing them?
No one in their right mind, that's who.
They're just not meant to be worn like that, I tell you!
Semantics aside, the world has plenty of fun slipper designs to offer. And at last the playing field has been leveled.
These slippers from Shoestopia fully take the form of a cow, from head to tail.
That's right, the slippers will even have a tail.
Amazing, isn't it?
Almost as amazing as the cute face up front, which is complete with a snout and horns.
These are just so lovable I've forgotten my previous irritations about Sims wearing slippers to bed. My Sims can wear these to HarvestFest dinner for all I care, they're epic!
9.

Cow Tank Top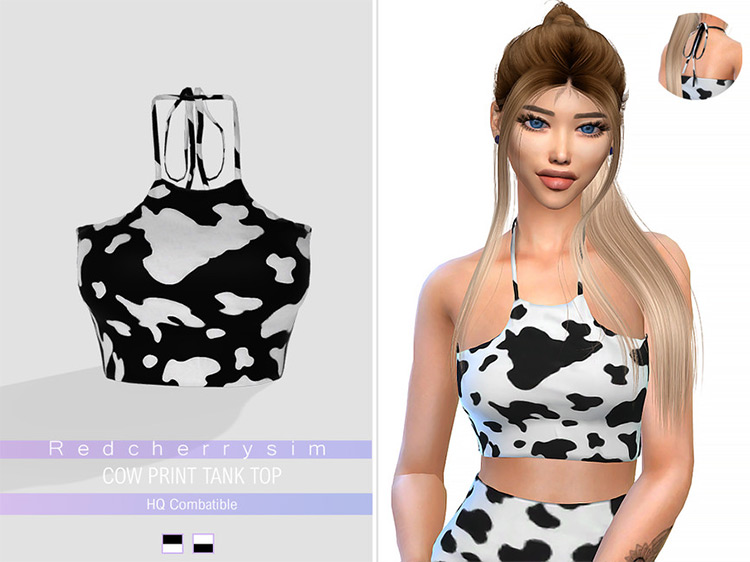 Here's a great halter top your Sim can wear with almost any bottoms.
Shorts, skirts, blue jeans, sweatpants… with something as refined as this up top, anything goes!
The design here is straightforward and something millions of folks have in their summer wardrobes.
It'll reveal your Sim's midriff and ties around her neck. Those strings look great, and truly add a little something to the appearance – an extra bit of authenticity.
You get two swatches here, and they're both black and white, but with a twist.
In one, it's the classic "black spots on a white background" motif, and the other is the opposite.
10.

Moo Shoes
Wouldn't it be ironic if your Sim could eat mu shu pork while wearing their Moo Shoes?
I trust that with food mods, it'll one day be possible.
I know, I started this list with a pun and now we're going out that way too. It was just meant to be.
These platform sandals already have a cool and unique structure.
I don't believe this is something that's available in TS4 in any official capacity, unless I've overlooked it. The heels are rather high for sandals, and will surely add a few inches to your Sim's stature.
But the best part is that the straps have cow print. It's a subtle homage to this fashion craze, yet distinct enough that you'll never miss it.
Browse:
Lists
The Sims 4
Video Games