Sims 4 Crafts Room CC (All Free To Download)
This post may contain affiliate links. If you buy something we may get a small commission at no extra cost to you. (Learn more).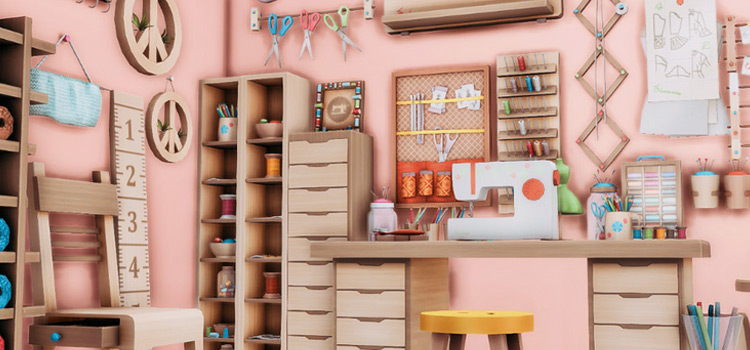 Everyone has something they're passionate about.
For some people, that's a television show.
For others, a certain life simulation game.
And then, there are those with hobbies that are expansive enough to warrant a whole room.
It's pretty awesome, honestly. If I could have a Sims room, I totally would.
But as it stands, all of my crafting supplies are crammed in my bedroom. Your creative Sims, however, don't need to suffer that same fate.
With CC you can make them a room dedicated to their crafty endeavors that'll make any Pinterest user envious.
I'm among them.
Seriously, who would've guessed there's so much cool craft stuff out there for Sims?!
Crafting Room Clutter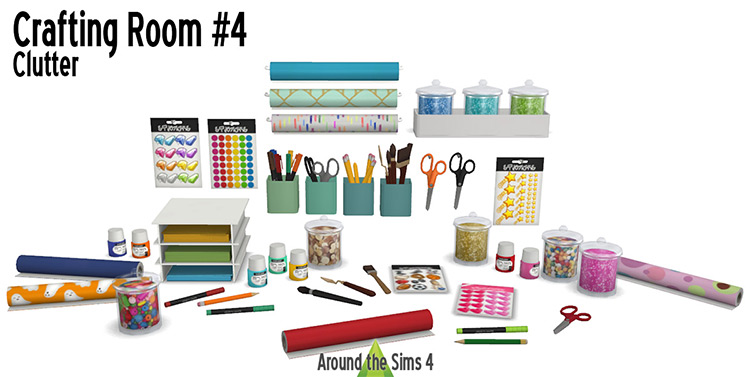 This clutter set includes some of the staples any craft room needs.
It's a pretty broad subject, after all, and most people don't stick to one specific type of activity anyway.
There's everything here from paint brushes, paint bottles, and paper stacks, to even things like jars of buttons and glitter, scissors, stickers, and much more.
Every item has several variations as well. So you can really make your Sim's space as cluttered or organized as you wish.
But let's be honest, cluttering everything up is always more fun and aesthetically pleasing.
You'll find me using all 12 jar variations sometime this week for sure.
Craft Room Set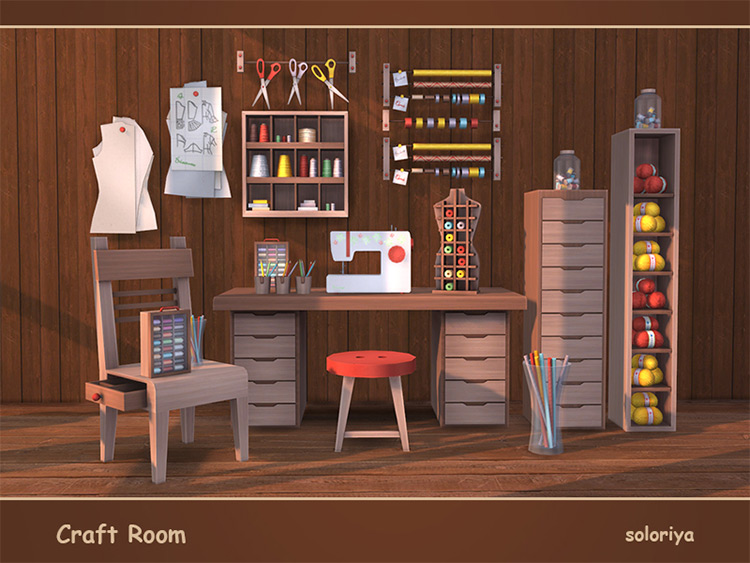 As awesome as it is to have clutter, you'll need a bit more than that to fill a whole room.
With this set from soloriya, you'll have plenty of new furniture to fit your Sim's crafts room.
There are two narrow shelving units with slots for things like yarn and jars of craft supplies – both of which are included here.
Next, there's a desk made just for the sewing machine, with a matching stool.
And lastly there's a chair with a built-in drawer. I have never seen anything like that in real life and now I'm jealous of my Sims again. That's very practical.
Especially if you fill it with snacks and sit in while you're playing Sims…
Um, moving on.
As nice as the furniture is here, the deco items really complete this set.
They include little shelves just for spools of thread, wall-mounted fabric rolls and scissors, as well as patterns.
Love 2 Craft Set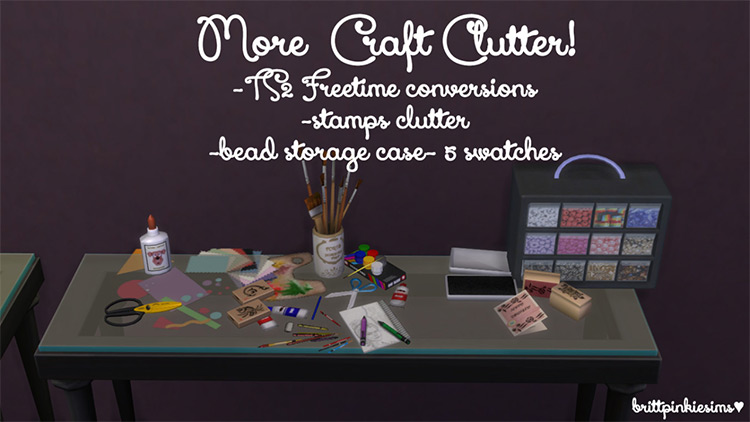 Sets like this really make it clear why, when given the chance to vote on a new pack, Simmers overwhelmingly picked knitting.
That's technically a craft, if not craft-adjacent.
It shows how many players are deeply creative, both online and off.
There's pretty much everything you could ever want for a crafts room here.
Get this: even the wallpaper is craft-themed!
That's right, you don't have to just pick a generic paint swatch anymore, thanks to this wallpaper with a print of sewing machines.
You'll get two new types of craft tables as well, in some mature wood tones for adults, and more bright, fun colors for the kiddos.
The pegboards are really fun, too.
Brittpinkiesims also included some lovely new clutter, unlike any we've seen so far. There's a glue gun, glue bottle, craft paper, glitter jar, functional lamp with deco slots, and more!
Like…a lot more.
A bead storage box, paint, crayons, scissors… you can really make the room look authentic.
Candle Making Kit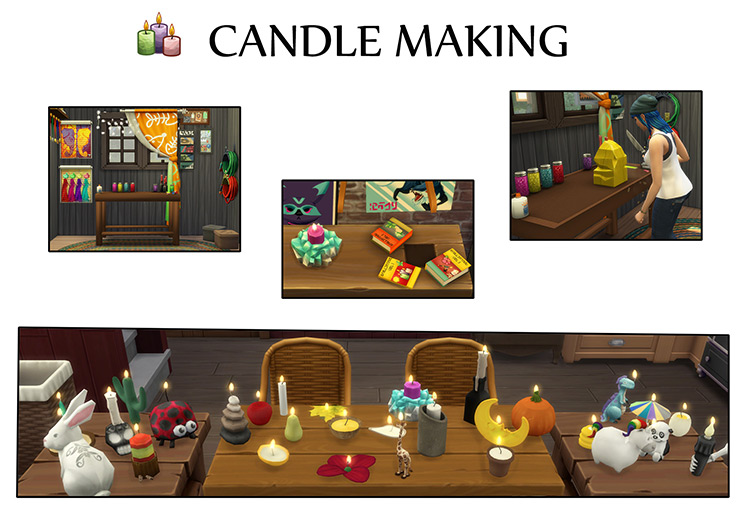 There are many creative pursuits that don't make a mess, but candle making is not one of them.
It's well worth it, though.
Nothing beats creating a functional, nice smelling object with your own hands.
But Sims can't make candles, you say? This isn't functional for them, you say?
Okay, so you probably didn't really say any of that.
But I've got some great news for you: this is indeed functional!
Ahhh! I know, I didn't expect this either. But I guess we should all have accepted by now that our fellow Simmers will always surpass our expectations.
As awesome as all the clutter is, rooms are always best if your Sims can actually get some use out of them – and they definitely can thanks to this kit.
First, you'll need to place the Candle Crafting Table, and then purchase the Candle Crafting Kit.
After that, you're good to go!
For just a few hundred Simoleons, your Sim will be well on their way to creating a wide variety of candles.
They'll get moodlets as they go, and build up the new Candle Making skill as well.
And just in case you're worried you'll forget what that new table and box are for, this set also includes some decorative dye and glitter bottles.
Crafting Room Furniture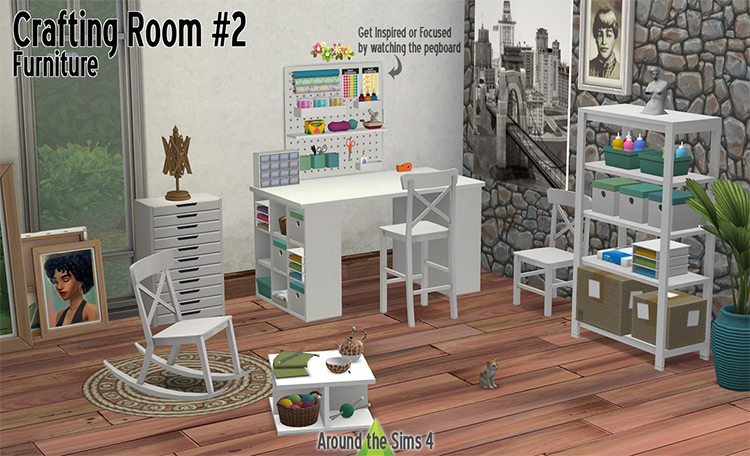 Furniture is pretty important for a crafting room.
Without it, you'll just have to put all of your supplies in piles and sit on the floor.
That's not very efficient at all.
Here's everything you'll need to create crafting areas fit for a pro.
With the desk and coffee table, you'll have plenty of surface space to work with – as well as some cubbies on the desk just begging to be stuffed with clutter.
There are also some decorative boxes, tubs, and drawers to fill things out even more.
Procraftination Crafting Clutter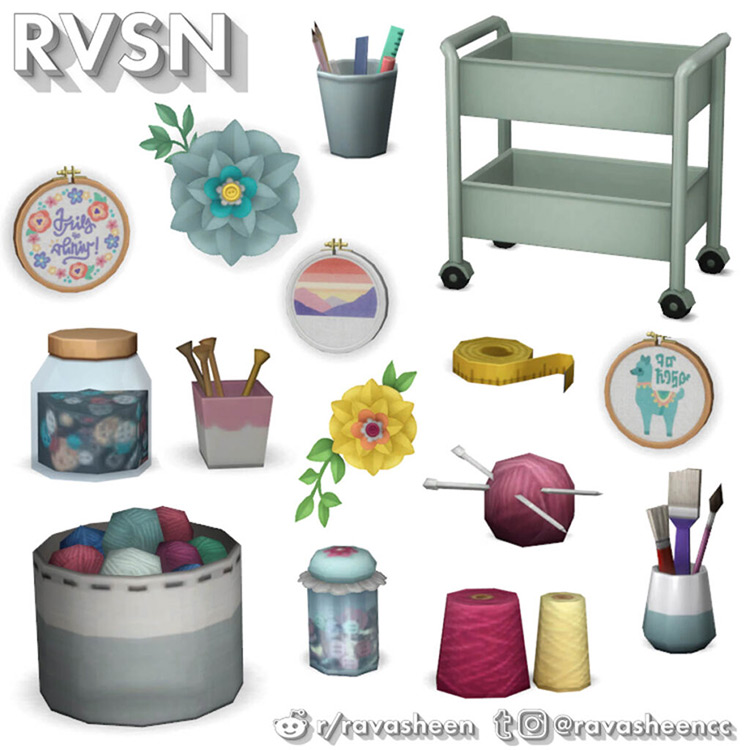 Here are some more great items to set throughout your crafts room to give it a fuller look.
In other words, more clutter!
This lovely little set includes items like a tape measure, cup of paint brushes, jars of buttons, yarn & knitting needles, and more.
I also love the wall embroidery hoops!
That's one craft that has not been represented much in the game, yet it's a very relaxing hobby that makes for great decor.
There are a few different styles you can use to make your craft room cozier.
Mila Art Set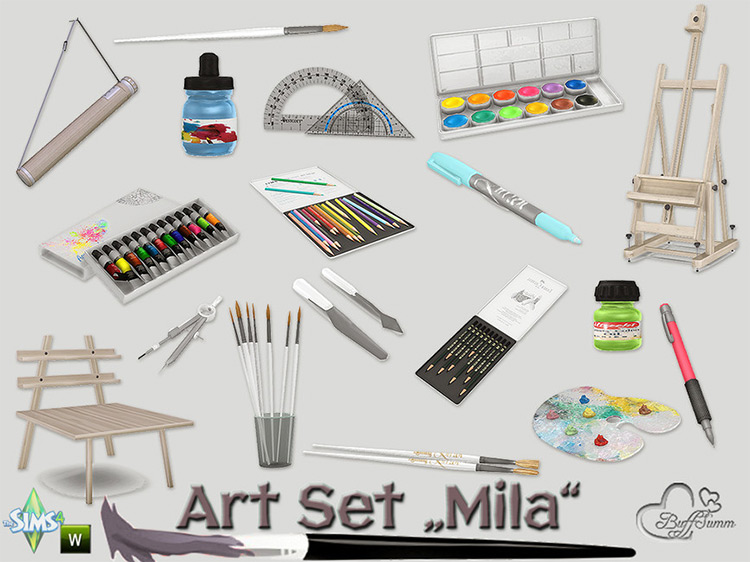 Even if you're not a highly skilled or avid painter, a room dedicated to crafts just wouldn't be right without some paint.
It's one of the first things we're introduced to, if you think about it.
Even the tiniest toddlers in preschool learn to fingerpaint!
And then as you grow up, you may or may not develop a passion. By that point people usually have moved onto a brush, though.
This CC set is a wonderful way to portray the hobby.
It has everything you'll need, from an assortment of paint bottles to a palette and even some colored pencils.
There's even a matching table and easel to hold and display all of the supplies!
Mini Simmer's Craft Room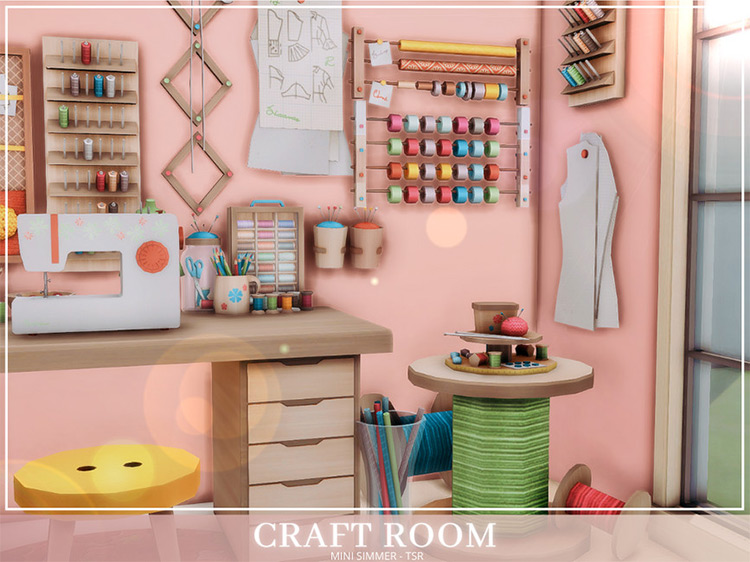 While many people opt for practicality first, aesthetic has to fit in somewhere, too.
You'll want your crafts room to work for your Sim But since you the player will have to look at it all the time, it has to be cute!
There's no question that this set will make the room pop.
All of the times, desks, chairs, and wall decor alike, have light wood swatches and colorful details.
I really like the bottom theme as well.
The stool's seat is actually a button, and there are even some you can hang on the wall! Now that's definitely crafty vibes.
This room is sure to get your Sim in the right headspace for creating.
Fabric Bolts Conversion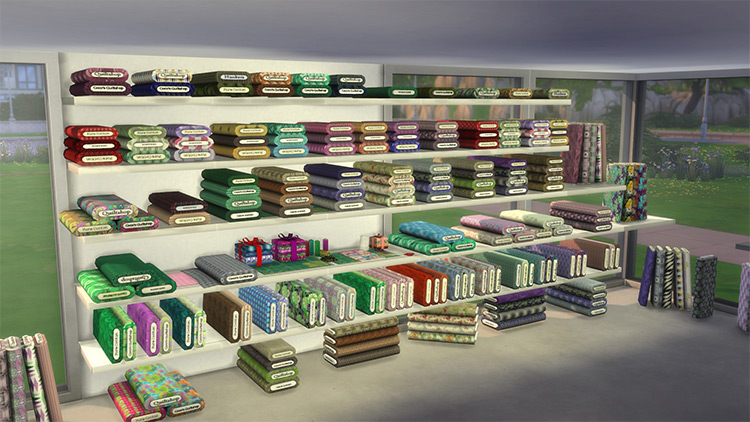 Fabric is still needed for many projects.
From making your own clothes, pillows, curtains, masks, and many other things, you won't get far without some material.
So it makes a lot of sense that almost any avid crafter has a space dedicated to sewing or quilting.
Maybe not enough space to house a quilt shop's worth of fabric, but still.
You'll have plenty of options to choose from here in this CC, so you can pick the fabric bolts that best match your Sim or room.
It comes in a few variations too. The bolts can be displayed vertically, horizontally, or even in different stacks.
Procraftination Art Clutter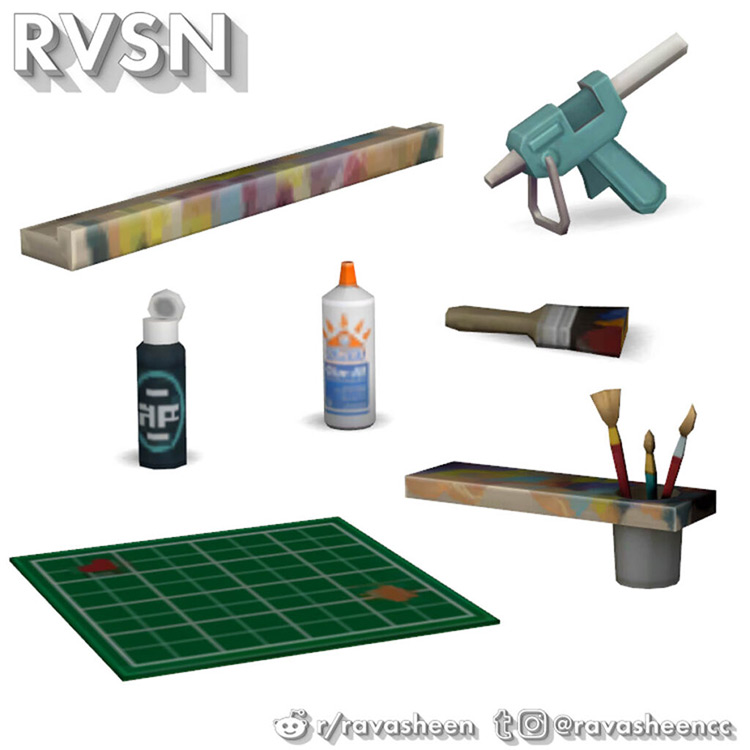 This list just couldn't end without a few more decorative items.
Talented RAVASHEEN includes some amazing, detailed, quality things in this massive clutter pack.
The glue gun (complete with a glue stick in it, I might add) is a necessity for any crafter.
But sometimes you don't want to risk melting your skin off for a project.
And in that case, liquid glue is the way to go. There's a familiar-looking bottle of that here, too.
And lastly, there are some paint brushes as well as a classic green cutting grid – handy for a variety of crafts.
Browse:
Lists
The Sims 4
Video Games