15 Cutest Crop Tops CC For The Sims 4
This post may contain affiliate links. If you buy something we may get a small commission at no extra cost to you. (Learn more).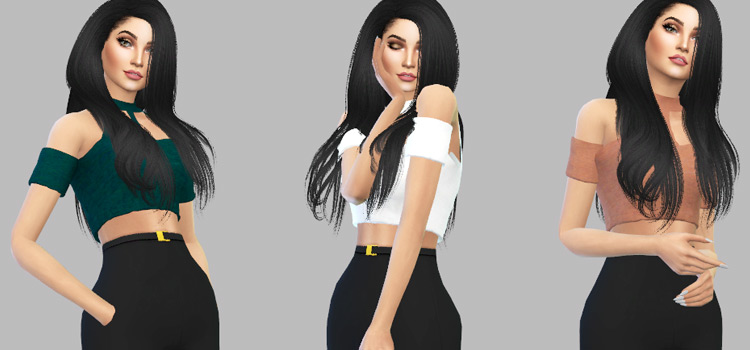 Crop tops are the hottest fashion trend of the decade. They're sexy, breezy, and if you wear 'em well with cardigans and accessories, they're very fashionable.
A cute crop top works with almost any look. Whether your aesthetic is comfy wear, a party outfit, dat summer vibe, or flaunting reveals, crop tops are something you want in your wardrobe.
That trusted top to grab when you want to look cute for your lunch out with friends, but at the same time you're feeling too lazy to dress up… or if you feel like you have nothing to wear (even though you have a closet full of clothes).
And of course, your Sim needs some crop tops in their closet too!
So I've rounded up the cutest crop tops CC for Sims 4, all available for free. Prepare yourself for a digital shopping day, because this list is full of cute stuff you definitely don't want to miss.
15.

Rachel Top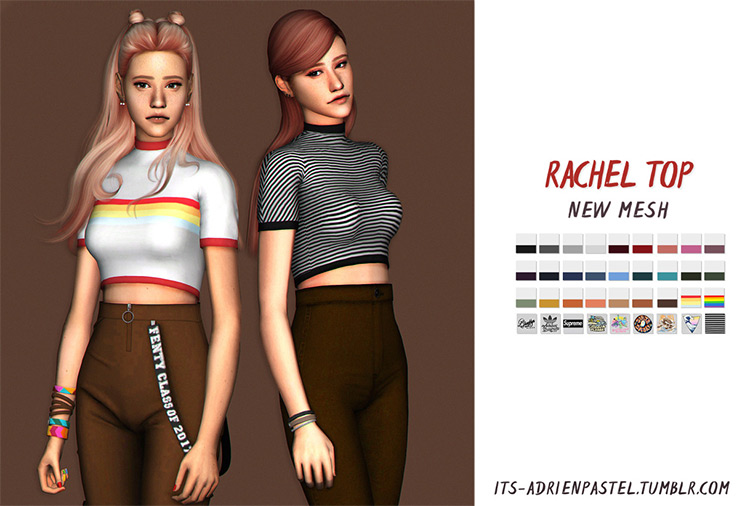 This Rachel top is your basic tee, but in tank top form.
It could make for a fun and comfy everyday go-to choice, especially if you pair this with light wash jeans and white sneakers.
And get this–it's available in 36 swatches and prints.
I'm the type of person who would buy a shirt in every available color, if the shirt suits me well.
Good thing this pack is free to download, it'd cost my Sim a fortune. If this were in stores I just might buy all of them!
14.

Ruffled Crop Top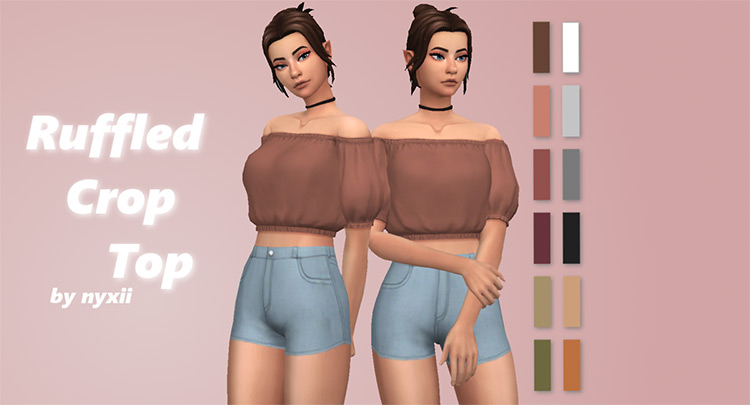 A sweet choice for the neighborhood sweetheart.
This ruffled crop top is an off-shoulder piece in mostly neutral colors, perfect for your Sim who wants to have her darling-of-the-pack moment.
This is an awesome choice when your book club decides to get together at the Salty Paws Saloon, and you want to look cute yet casual.
Use denim shorts with this top and you'll certainly charm anyone, cats and dogs included!
13.

Black Lace Bra Crop Top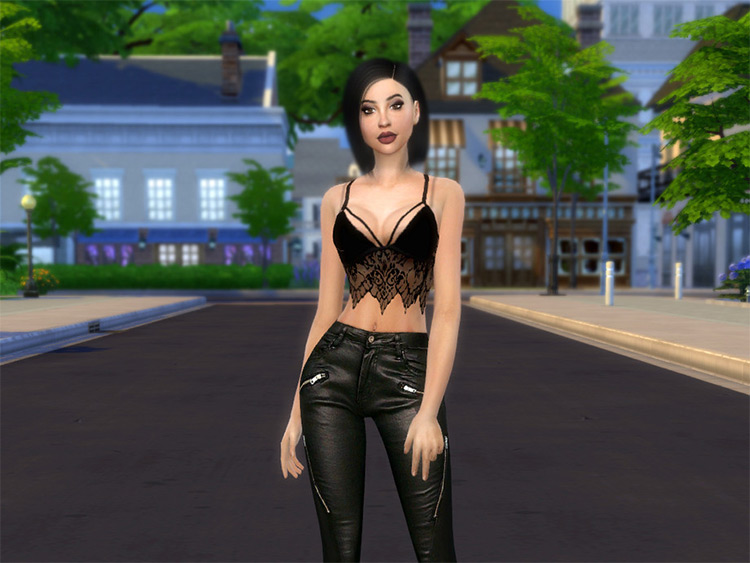 This black lace crop top is for a bold and sassy Sim.
If you pair this top with leather pants or a skirt, you can combine rock-chic and elegance into one look.
Now your Sim is ready to strut around San Myshuno hotspots looking like a show-stopping sensation.
Big thanks to content creator Simmerkate for this one!
12.

High Neck Strapless Crop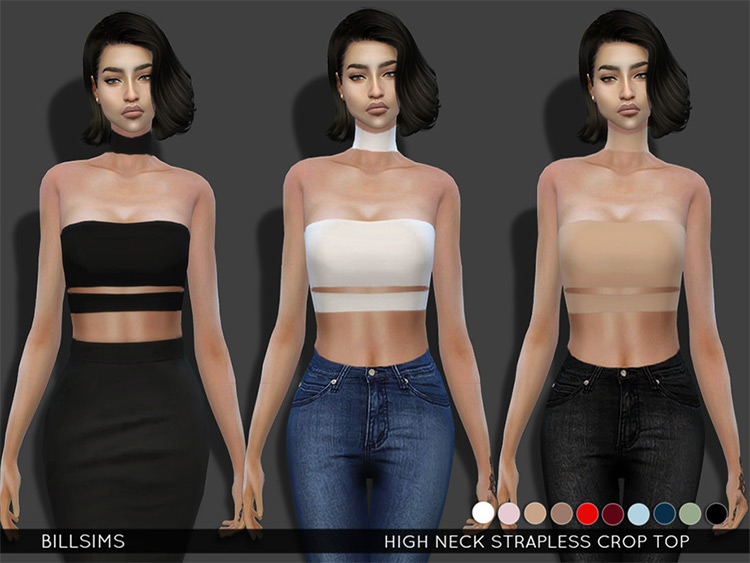 Just when you thought my list couldn't get better!
With this strapless crop top by Bill Sims, your Sim is ready to party in the fanciest of clubs. Basically right alongside the A-Listers.
No need for accessorizing—your shoulder and midriff reveal accentuated by the matching collar included in this top is already beyond stunning.
11.

PieFlavoredPieLover Cropped Top (Recolors)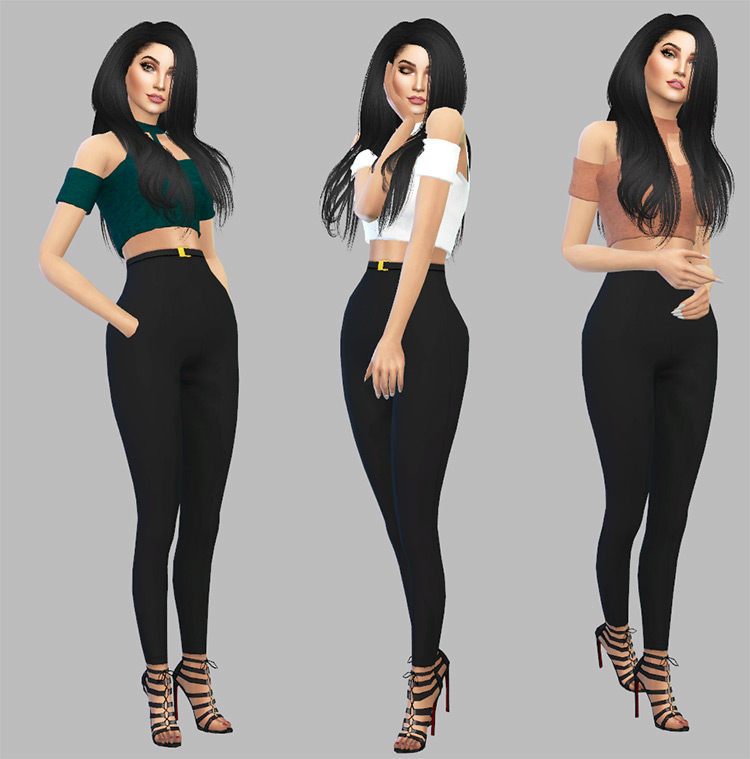 This off-shoulder crop top by Simply Simming is both a trendy and classy piece, especially when worn some nice high-waisted flare pants and heels.
It could double as a smart casual outfit during the day, with a nice blazer and as an outfit to unwind i for a dinner at Villa Bovine after.
Versatile color and style—there's no way you can go wrong with this CC.
10.

Shirring Puff Crop Top
I love puffy sleeves. I think they're quite stylish, so when I came across this awesome puff crop top by Marigold, I knew right away I had to include this in the list.
The polka dot pattern is so cute, too.
But don't underestimate the other eye-catching colors in this pack!
I would pair this with a knee-length white or denim skirt to make it seem a little vintage, but still quite modern.
And don't forget a subtle gold necklace to complete the look.
9.

Knotted Crop Top 4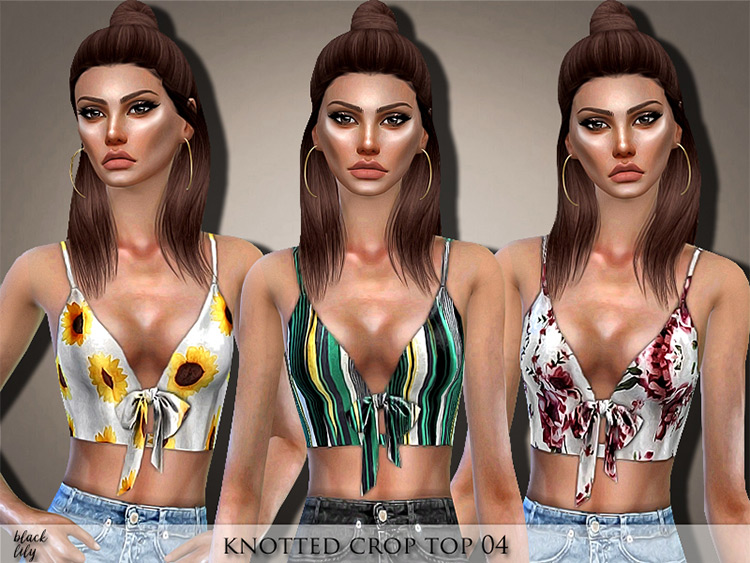 Summertime is in with these knotted crop tops by Black Lily.
Don't they look so fabulous and sultry?
This CC deserves to be paraded down at the beach, or in a resort in Lani St. Taz. You'll definitely look cool in it, sunbathing in the Sand Simoleon Beach while sipping down your margaritas. Yes, pural.
The revealing neckline is sure to attract attention too, so get your romantic mood on!
8.

Slinky Ruched Long-Sleeve Crop Top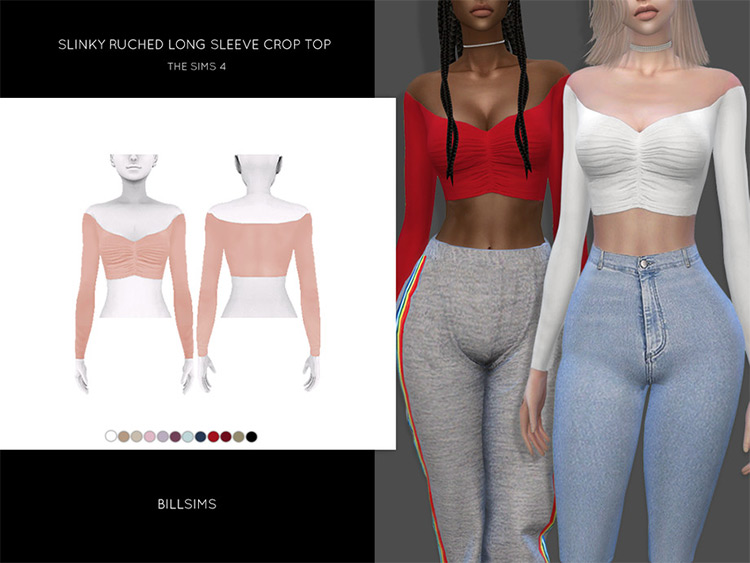 Get just the right reveal with this Slinky Ruched Long Sleeve Crop Top.
The long sleeves make the top look graceful, but the off-shoulder deep neckline feature gives a hint of a daring side.
So if you're looking for a simple but effective top, this is it for sure.
Wear this with some high-waisted pants or a denim skirt, and you're all set for a casual adorable day out.
7.

Megan Sweater Crop Top
Yep, there is such a thing called sweater crop tops. And look, they're so cute and gorgeous!
This design by Screaming Mustard merges your trusty comfortable sweater with the stylishness of crop tops—perfect as loungewear, or even for running some quick errands.
Ahh, the possibilities of this sweater-crop-top are just neverending.
6.

Fishnet Crop Top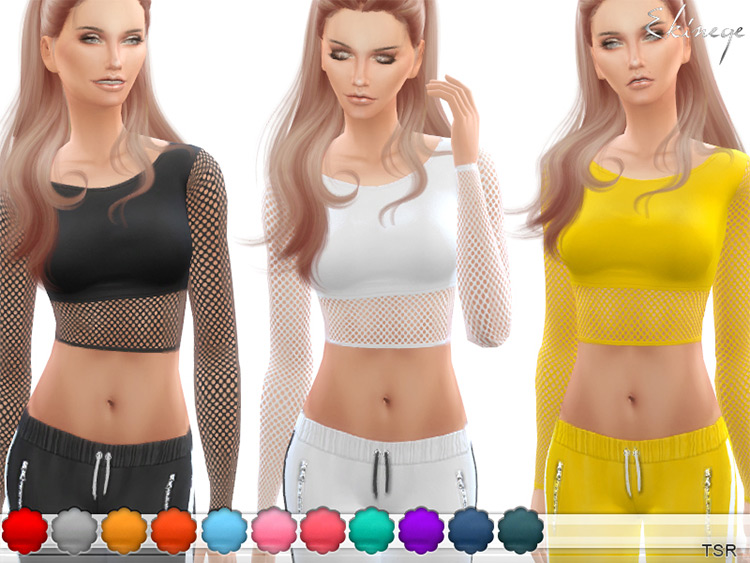 Crop tops for your workout?
Of course!
You're working out to get that perfect body, so you should definitely show off those abs.
Be the most head-turning Sim at your gym with this fishnet top by Ekinege.
Work those bars and slam that treadmill in the 14 different colors included in this pack. Guys will want you, ladies will want to be you, and it's not just envy for your toned physique—they'll envy your style and fashion sense, too.
Three words for you: hot, hot, hot.
5.

Frill Crop Top Remake
This charming frill crop top CC pack by creator Newen has dreamy styles & patterns, tailor-made for your Sim with the ultra-feminine style.
This goes well with any bottom—long and short skirts, shorts, low-waisted or high-waisted pants—as well as any hairstyle!
It's going to give you that effortless cutie vibe, whatever your backdrop.
Kinda has a bit of that "Little House on the Prairie" look too.
From Oasis Springs to Evergreen Harbor to Windenburg, your Sim will stand out as the darling of them all.
4.

Sailor Neck Tie Crop Top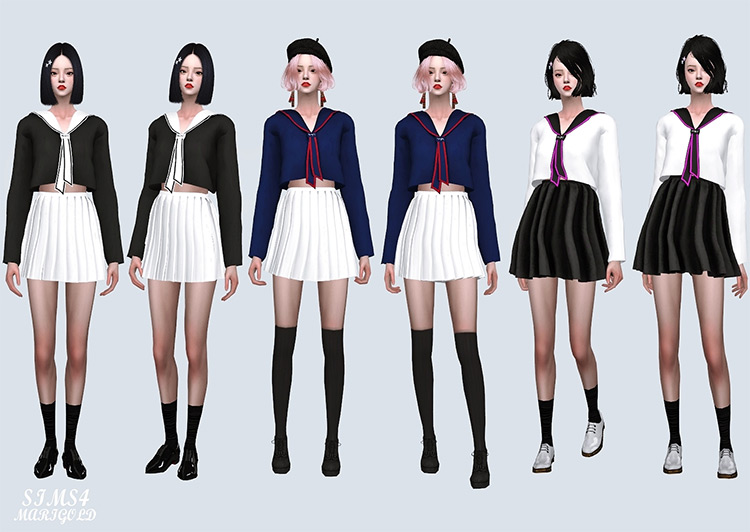 This sailor necktie crop top by Marigold proves that smart casual crop tops are a thing.
And they're a thing you don't want to miss.
The design has Korean aesthetics to it, and it's definitely stylish as can be.
Go full-on K-Pop/Korean wardrobe and pair this top with a skirt, stockings, knee-high socks, and classy shoes—now your Sim is ready to star in her very own K-drama.
3.

Priestess Top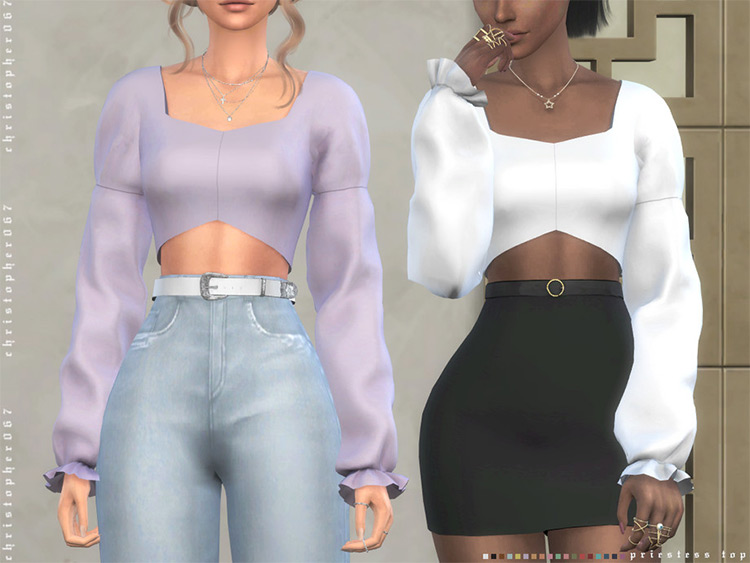 This is the gorgeous Priestess top by Christopher67, and it's a stunning piece of puffy long-sleeved crop top.
The folds and the details in the sleeves make the top look so realistic.
And with 18 colors available in this CC pack, this content is definitely worth the download.
Wear it to the office or for a casual lunch at Chez Llama, or even to a semi-formal party. You can go anywhere and be who you want to be with confidence in this fantastic top.
2.

Long Sleeve Silk Blouse
Speaking of sexy and stylish confidence: that's really the statement of this blouse!
This hot silk blouse by Sims House is the ultimate crop top for the poshest of Sims.
The collar and long-sleeve details make the outfit look truly sophisticated, and if you pair these with black or white A-line pants and pumps, you'll look the part of millionaire businesswoman with successful fashion lines with boutiques in Magnolia Promenade.
Basically, Victoria Beckham.
1.

Arm-Mesh Off Shoulder Crop Top
And for my top spot, well this was tough.
This was list full of pretty things, so for #1 we have to go bigger and puffier and more glamorous than any item before.
And we've got Marigold's Arm-Mesh Off Shoulder crop top—couture glamour and crop top combined!
Look at the glorious lace mesh sleeves and detailed bodice. It seems fit for the runways of Paris and New York Fashion Week.
This crop top will transform your Sim into a media darling princess. Someone that the paparazzi would just love to follow anywhere to get the latest updates about your life.
What I'm saying is just become an influencer and get Simstagram famous! Your fans will follow your every move in this outfit, and they'll learn to count on you for the latest trends.
Nothing says A-List more than this top, paired with some sparkling accessories and a matching skirt.
Happy (digital) shopping!
Browse:
Lists
The Sims 4
Video Games