25 Best Nails CC & Mod Packs For Sims 4 (Free To Download)
This post may contain affiliate links. If you buy something we may get a small commission at no extra cost to you. (Learn more).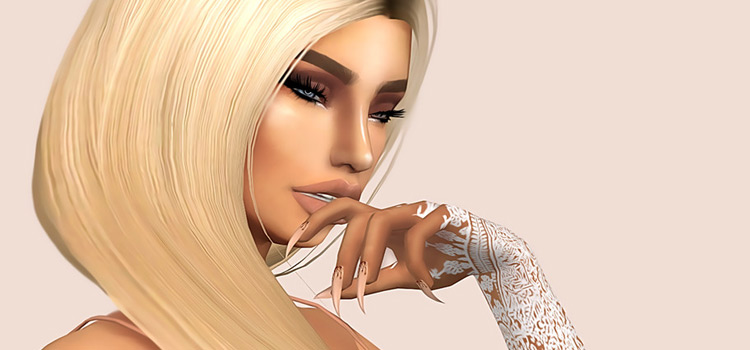 We all know the solution to a bad day is a mani-pedi fix.
Even Elle Woods from Legally Blonde swears by this cure. Call up your trusted salon, book a reservation, and feel your stress melt away bit by bit as your nails are buffed, cleaned, and painted.
Just like that your confidence is back up, and you're ready to take the world by storm again.
Well your Sim feels the same way, too. A mani-pedi greatly improves your Sim's moodlet, and it's no wonder why!
But why not go beyond just cleaning and buffing? Take your Sim's pampering to the next level with some CC to achieve some posh-looking nail art & extensions.
Cause let's be honest, nail spas are quite expensive. Especially if you want those stunning glitter-studded celebrity nail extensions. But now you(or at least your Sim) can achieve those looks for free, just with these TS4 mods and CC packs.
And we've got it all for you here.
Gloss & metallic? Stiletto nail extensions? Holographic colors? Yes, yes, and YES.
25.

French Nails Collection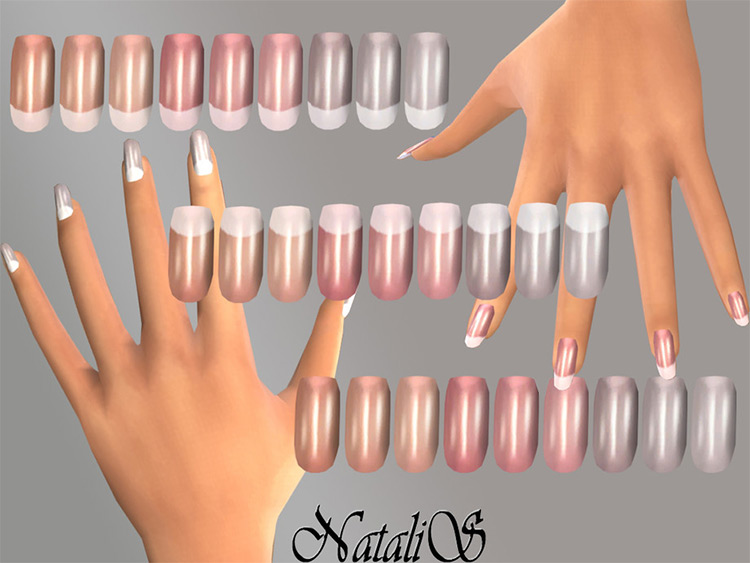 Of course we have to start the list with a classic French manicure.
One can never go wrong with a French manicure, it gives your nails extra shine and pamper on any given day.
This CC gives not only the usual natural colors, but includes silver and brown nude colors too. Definitely worth the download for your sophisticated Sim!
24.

Rainbow Short Nail Recolor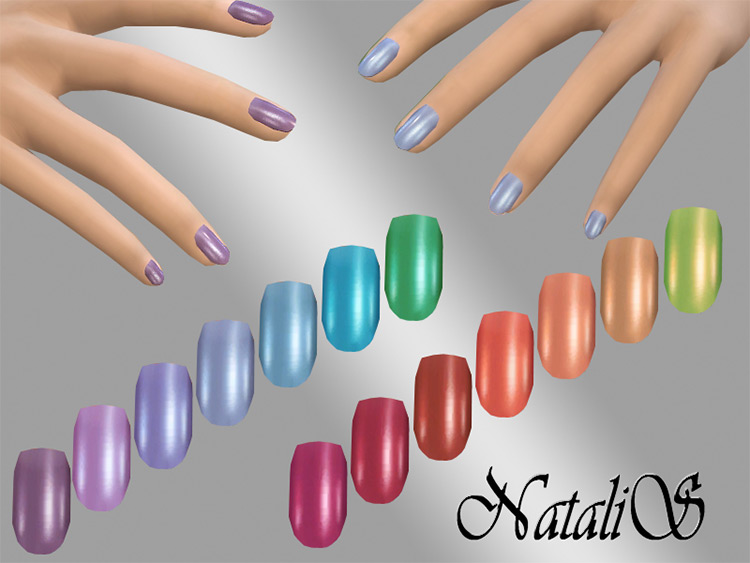 Metallic in pretty technicolor rainbow, oh my!
This colorful set is for your artistic and adventurous Sim who dons bright colors to match her bright personality. The best part?
No need to scrub your nails with acetone every time you feel like changing the colors on your nail polish—simply go to the 'Create a Sim' panel, click your preferred color for the day, and you're all set.
If only it were that easy in real life.
Pair these nails with a basic tee and a short skirt or some cute shorts to achieve the cool "girl next door" look (or the next apartment, if you're living in San Myshuno!)
23.

WM Nails 201907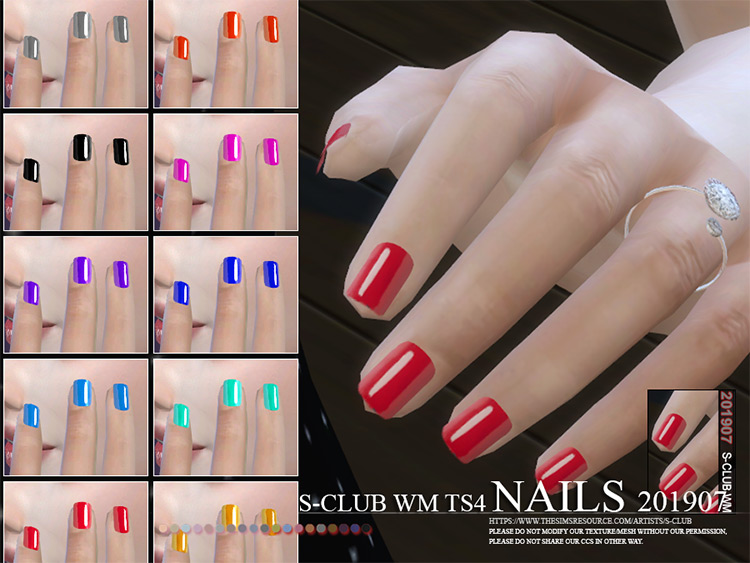 Cute and bright tones in 11 swatches. This nail pack from S-Club is for the Sim who loves gloss and shine.
These nails are at just the right length too, but it's sure to be an eyecatcher no matter where you are: in the club, at parties, you're all set with this batch of unique colors.
The shine makes them great even for formal parties too.
A sophisticated silver color comes included in this pack, which is perfect to pair with a luxurious black gown and some heels. So whether you're an A-Lister is simply looking for a good nail polish, this pack is for you!
22.

Jelly Nails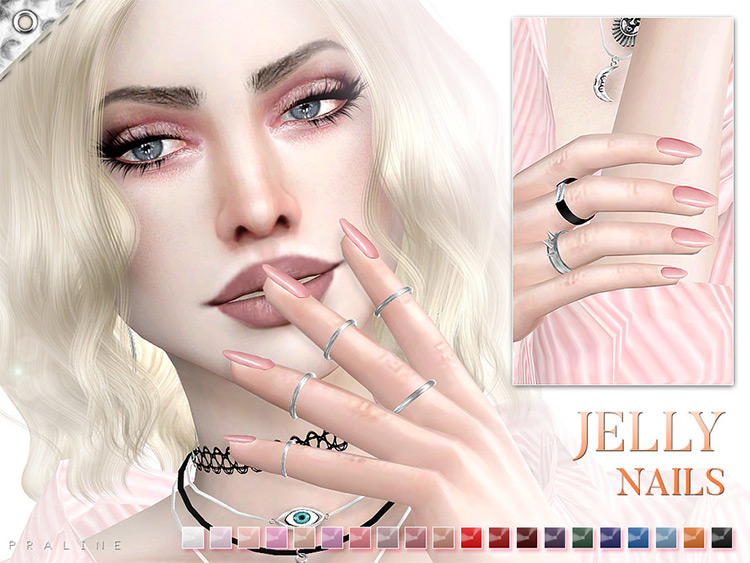 For the fashionista Sim, a nail extension is essential.
These jelly nails by Pralinesims offers a beautiful CC pack to download if you want classic long nails merged with classy color choices.
Above all, the pack features twenty colors to boot!
For a girl's night out, match these nails with rhinestone-studded rings and bangles. Wear your hair in loose waves as well, and get ready to dazzle as you party the night away.
21.

Dolce Nails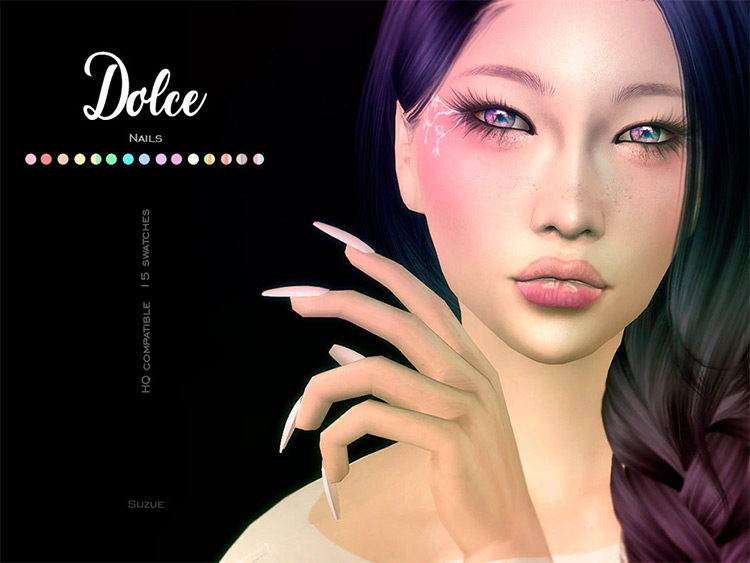 Are normal nail extensions a bit too boring for you?
Then try out this super long claw nails pack by Suzue! This will absolutely amp up the look of your edgy Sim.
It's the perfect length if you want to show that your bold but chic personality.
Complete your look with long eyelashes and an avant-garde outfit, and you'll certainly turn heads wherever you go.
20.

Natural French Manicure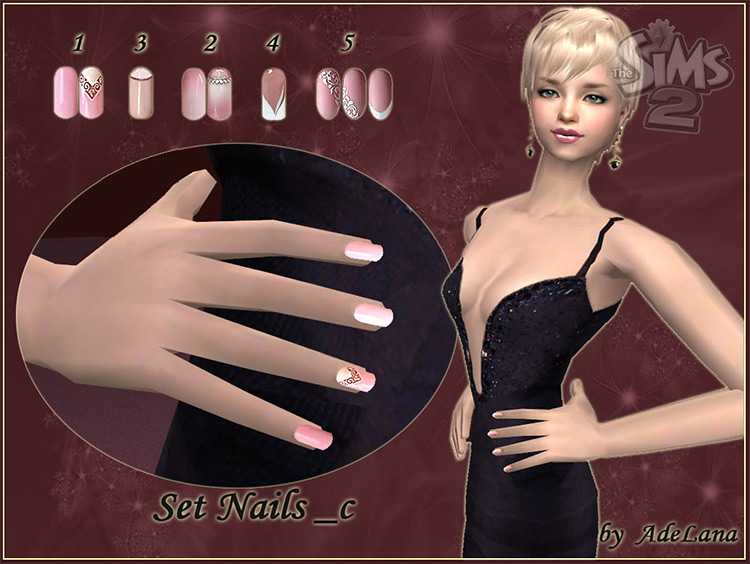 Level up your simple French manicure nails with this upgraded CC design by AdeLana.
For this CC, sparkling rhinestones are added to your typical French tips for even more elegance.
Have a date and want to make a great first impression?
These nails should be a definite.
19.

Romee Nails N21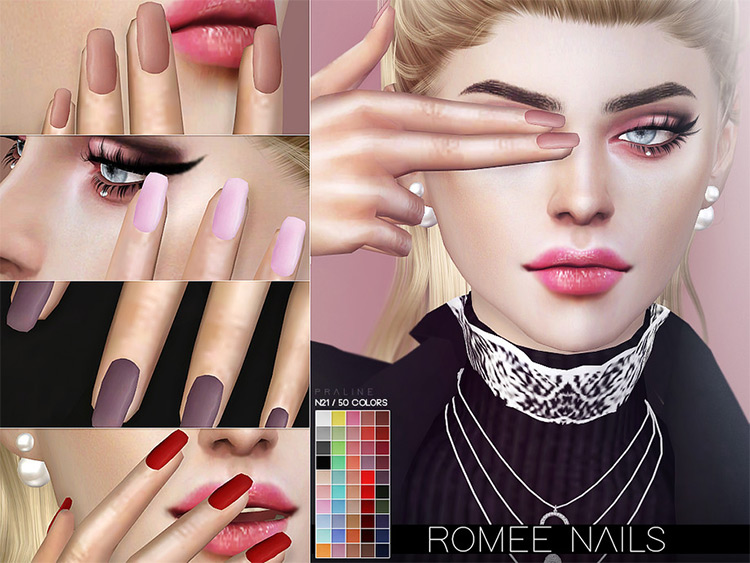 If you're a matte kind of person, well then you're in luck my friend.
Matte nails have become trendy nowadays, mostly from beauty influencers. And rightly so, as they add a posh yet unique look.
This CC is great for the career-driven Sim who needs a nail color to match their office wear, but not too flashy.
Use this CC with other matte details—matte lipsticks, eyeshadows, fabrics—to create a cohesive look.
Go into that meeting confident and strong, knowing that your nails are at the best they could ever be.
18.

SS-Club WM Nails 201910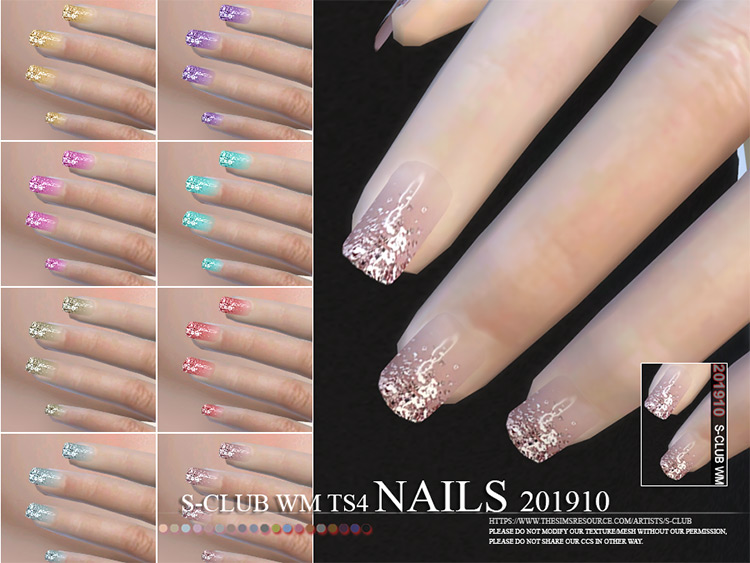 Look at these gorgeous sheer glitter nails! If I had these I wouldn't stop looking at them.
And they're so sweet that your Sim will show these off anywhere and everywhere—parties, on vacation, or even out for a casual lunch out.
These nails will definitely add a dainty look to any outfit.
Small suggestion: wear them with a short dress and simple hairstyle. Your Sim will be ready for a fantastic day.
17.

S-Club WM Nails 201817 (Christmas Nails)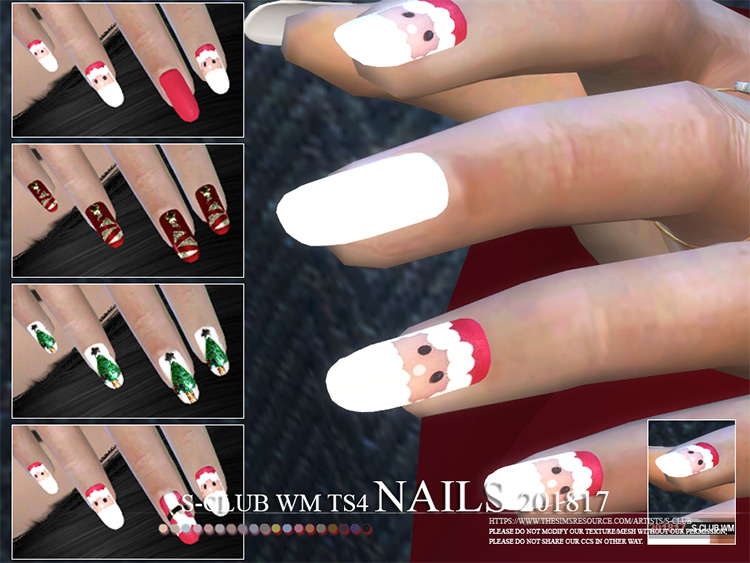 Get into the festive mood with these Christmas-themed Santa Claus & Elves nail art mods.
They'll surely wow your guests at your next Christmas Eve Party, and they'll be talking all about where the heck you got your nails done.
Great decorations, great food, great company, and great nails! The perfect holiday season.
There's only one time a year to use this mod, so don't miss the chance.
16.

Zeta Nails N20
Feeling feisty? These Zeta stiletto nail extensions can help your Sim channel her fierce side.
Get your claws out, literally.
With a whopping 30 colors included in this CC pack, you'll always be ready to accessorize.
These nails should be paired with statement accessories as well, to provide that overall bold and confident aura of a superstar. Personally I think a cute choker would fit these nails to a tee.
You'll fit right in over on Starlight Boulevard!
15.

Transparent Nails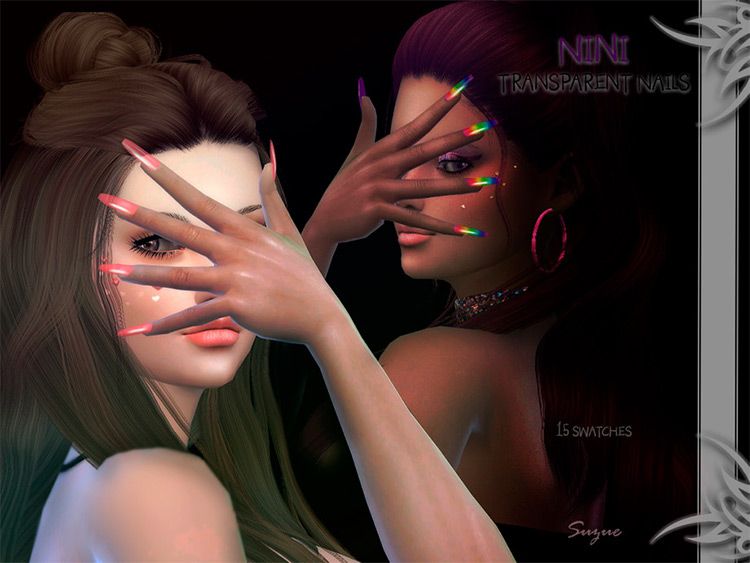 Transparent, colorful, and rainbow nail extensions? You bet it's going on this list!
This unique design is for the artistic Sim who's always on top of fashion trends.
Hurry, put on these nails and vlog about it with your Media Production Skill and you'll surely become a massive influencer in no time.
The one-of-a-kind design of these nail extensions are bound capture the imagination of your many followers.
14.

WM Nails 201906 (Marble-Style)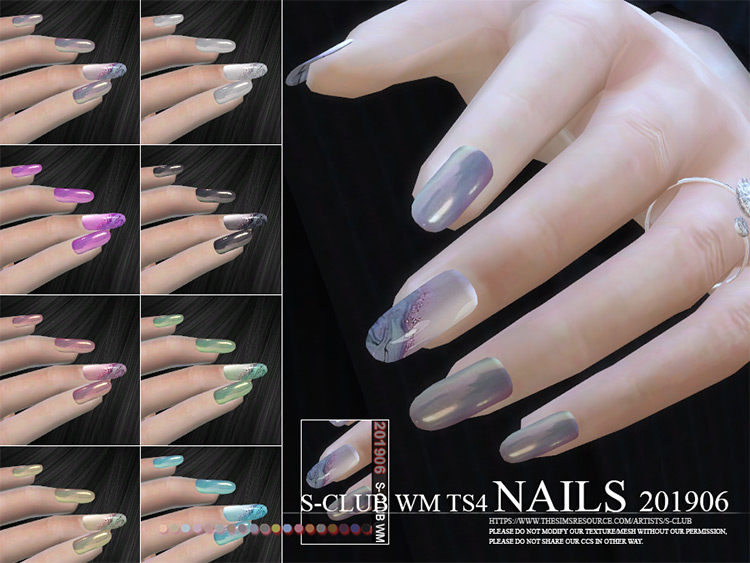 Marble heaven.
If you've jumped onto the marble trend train, you definitely won't want to miss this CC pack.
These nails are as sophisticated as can be, in 15 different swatches no doubt!
If somebody asks you out for a grand dinner at Chez Llama, you should complete your outfit here, just to add extra glamour.
Sit at the finest table at the restaurant and let the candlelight set a sparkle to your gorgeous marble nails.
13.

Orange Nails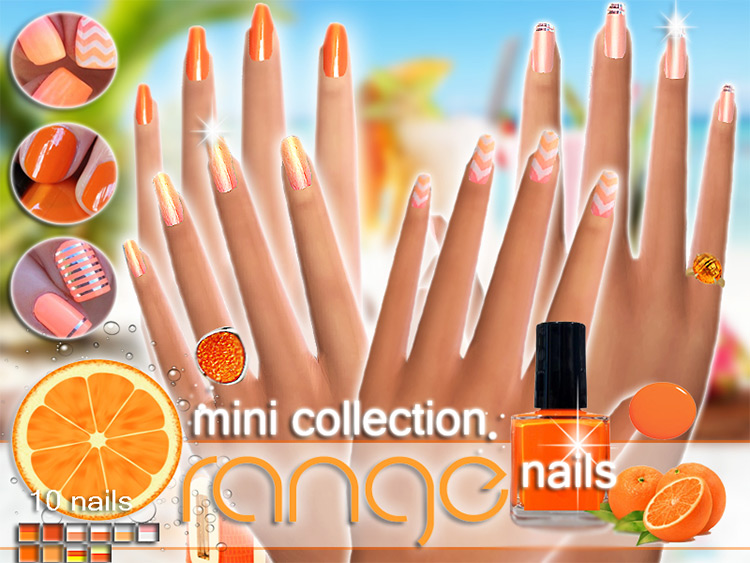 Summer is in the air with this orange nail art collection.
Before you head out to Sulani for your vacation, add this nail art to your Sim and settle into that beach-y vibe.
Every color in this CC pack perfectly mirrors the orange tropical glow of the Sulani island. And it'll make you blend in like a local islander.
This nail pack has also ten differently styled nails, so you can change every single vacation day. Now that's what I'd call overkill(or high fashion!)
Head over to the Tiki Bar, sip your margarita, and wow your fellow vacationers. Who knows, you might even get some attention from a new Mr. Perfect.
12.

Aztec Nails 1 & 2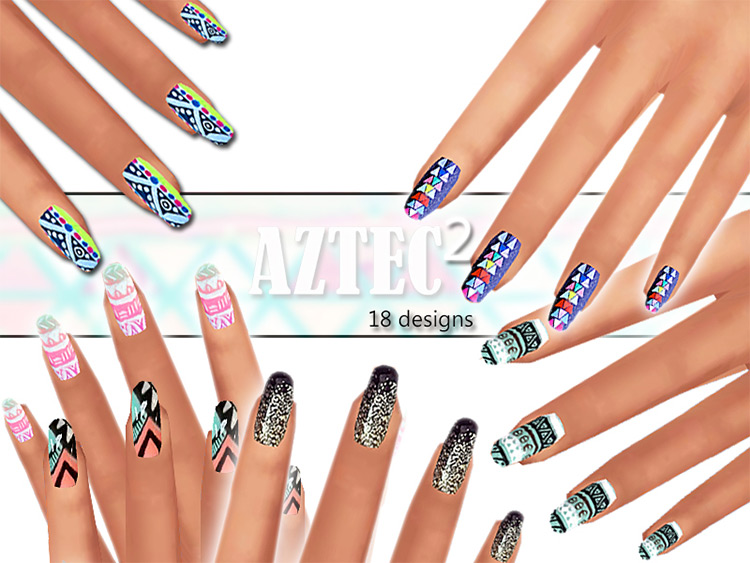 These Aztec nails by Pinkzombiecupcakes are here for their incredible detail and design.
With 14 cute designs in all, this mod pack is something you'll definitely want to download for your quirky Sim.
Can't choose between blue, gold, or silver? Use these nail packs and get them all at the same time!
Between all of these options, I really feel like these nails will definitely be on fleek with the cool kids.
11.

Wedding Nails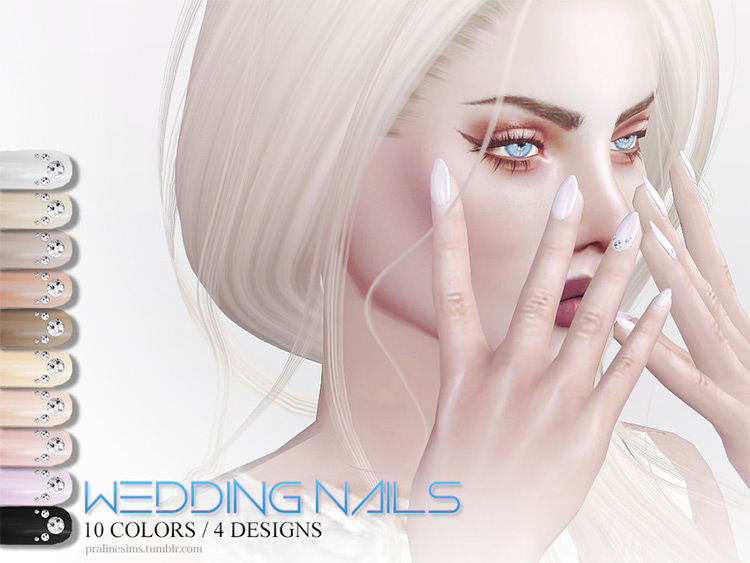 And let those wedding bells ring!
Every bride dreams of a perfect wedding. And the perfect nails must be a part of that checklist.
This pack is designed for your blushing-bride-Sim-to-be, and they'll accentuate any wedding dress perfectly.
With rhinestones and 10 colors across four different designs, your'll have plenty of options to choose from.
Any guy will be lucky to put on a ring on any lady with hands such picture-perfect nails.
10.

Kylie Nails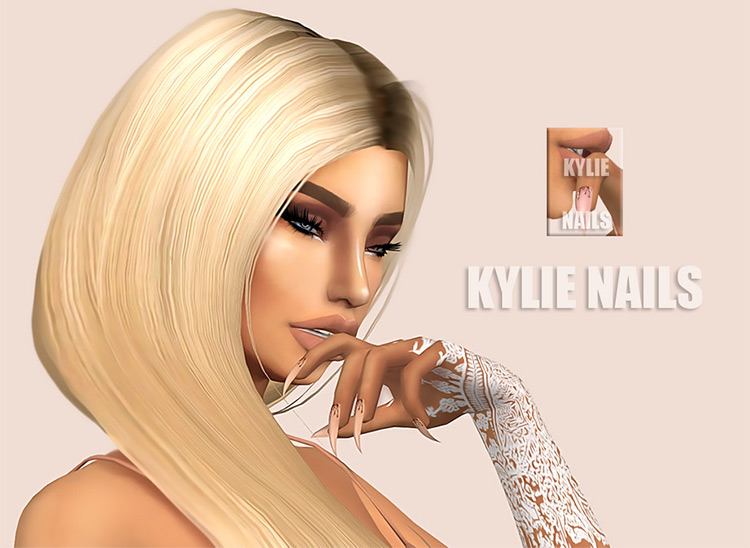 Are you in love with the KoKo? 'Cause we are!
Become an immediate A-Lister with these dangerously sharp & long trademark Kylie nails.
Now this is nail art that any beauty influencer Sim must get their hands on.
With 17 swatches in total, you'll have plenty of colors to choose from whether you want to be a Kardashian or a Jenner for the day. Or maybe both?
And don't forget your long, platinum blonde hair & upscale makeup for your own reality TV show—Keeping Up with the Kardasimians!
9.

WM Nails 201803 (Metallic/Glitter)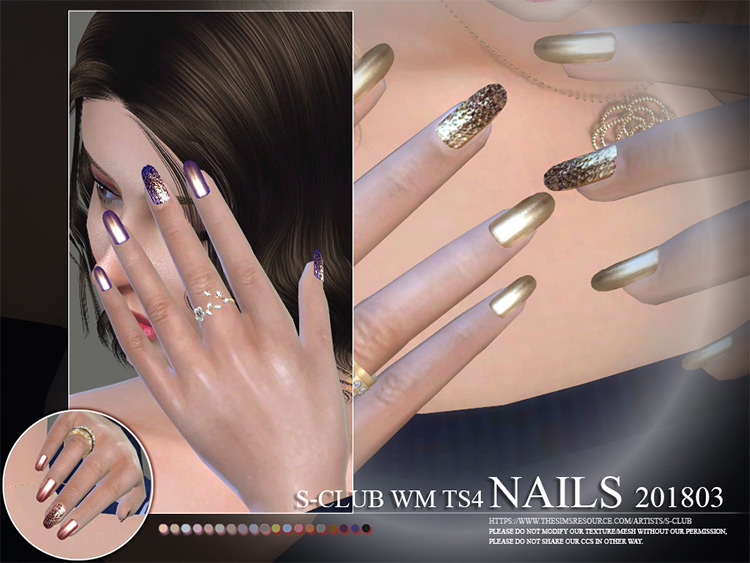 Every girl dreams of the perfect glitter metallic nails. And with this nail pack you certainly get the best of both worlds (or, your sim does).
Three out of five nails are metallic, while the middle finger and the thumb are drenched in ombre glitter—talk about glamour!
With more than 15 different colors to dig into, this pack is surely one of the dreamiest nail mods available online.
These nails are reserved for only the poshest events for your Sim: red carpets, star-studded galas, or your very own wedding.
You'll be on the front cover of Sim magazines with these gorgeous tips.
8.

Kiko French Tip Recolor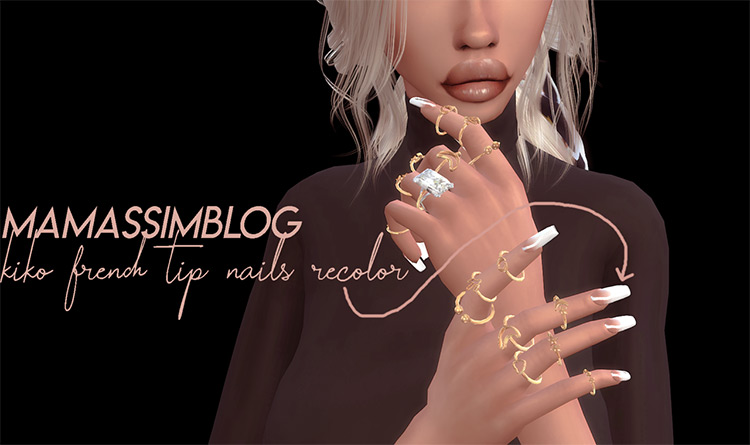 A normal French Tip does not cut it for the top-of-the-fashion Sim.
Classy, fancy, and daring, this is a true staple if your Sim is a certified Housewife of Beverly Hills—er, I mean, Del Sol Valley.
All your friends are stars or wives of A-list celebrities. And you meet up with Judith Ward every Sunday in her mansion for tea and pastries at her invitation.
That's the story these glamorous nails tell.
7.

WM Nails 201809 (Holographic-Style)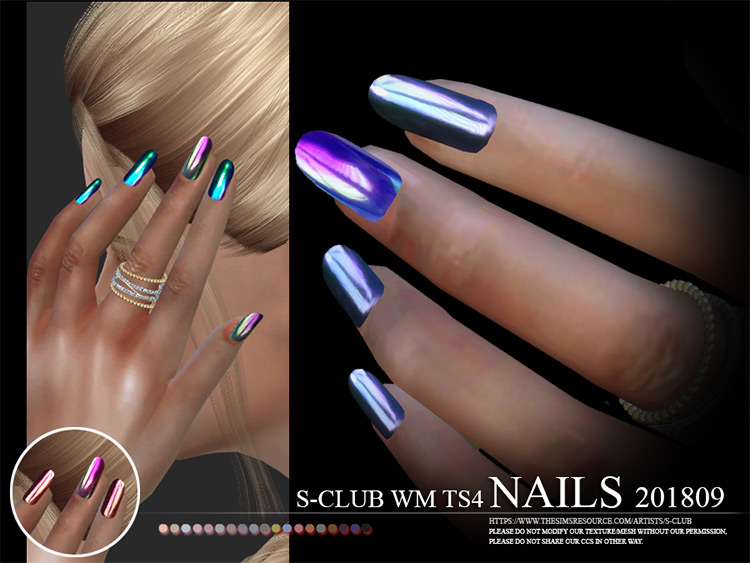 This holographic nail CC pack by S-Club is simply to die for.
The nails shine differently with pink, yellow, violet, and green hues, which give off a futuristic vibe for each one.
This is a true eye-catcher. Especially when paired with statement rings or bangles.
6.

Crystal Nails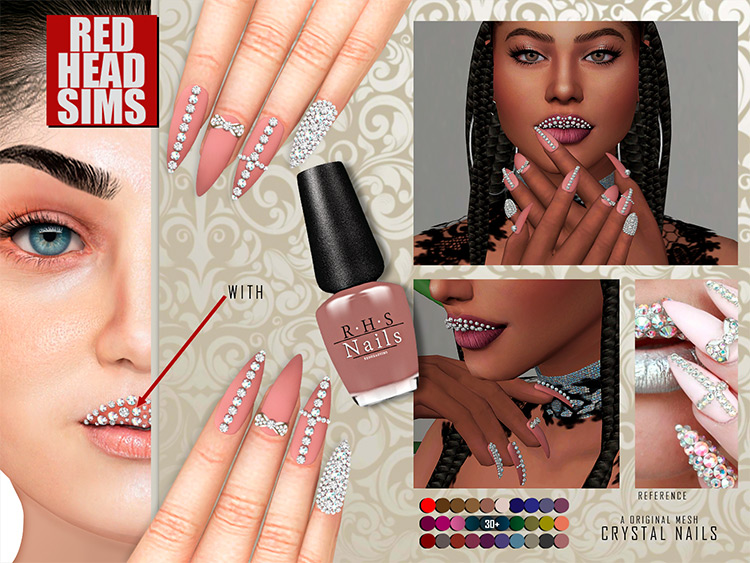 There's enough diamonds in this CC pack to call these nails "jewelry".
This is the nail CC for only the richest and the most fabulous of Sims, for whom anything basic won't cut it.
Make a statement with these flashy nails, and make it known that you're the center of attention. Or at least right up there with her!
No need to take out an ID—you'll be immediately ushered into any VIP section with this look.
This pack comes with more than thirty colors and designs, all worth trying out. So what are you waiting for, you fierce glass ceiling-smasher?
5.

Vampyr Nails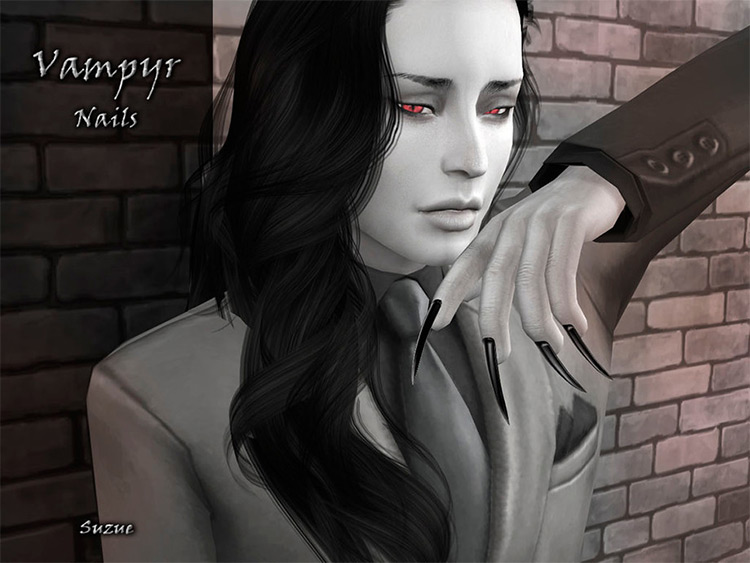 I've never wanted to turn my Sim into a vampire. Especially after Count Vladislaus broke into my apartment one night and hypnotized my Sim and drank her blood (long story, hilarious ending)
But I will say that if being a vampire would mean that I could wear these long metallic claw nails by Suzue, then heck yes sign me up!
These metallic nails are perfect for the vampire-loving Sim who wants to merge terror with fabulous.
You'll be the most fashionable vampire in Forgotten Hollow, and others will whisper your name with awe and fear combined.
4.

Pearl Nails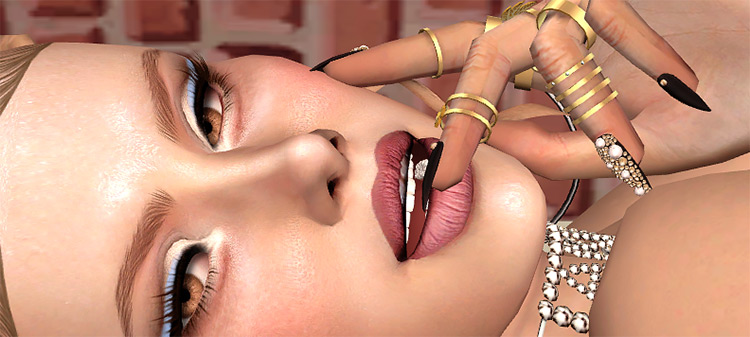 While rich Sims wear pearls around their necks, truly fabulous Sims wear pearls on their nails—simply because they can afford it!
You may not be able to even consider this in real life, but that's what TS4 is all about.
This CC pack has thirty different colors so you can match with any of your outfits. Plus these nails include ombre details too!
If you need to add a level of posh to your Sim, this is the nail mod to go for.
3.

Triangle Moon Nails N17
The most avant-garde nail CC in this list goes to Pralinesims' "Triangle Moon Nails".
This C is not for the faint-hearted with its sharp edges and deep black and red color. Although other colors are included in this pack, so you might find something you really like.
But the variety here is just so wild.
Want to be a showstopper at any event?
These are the perfect nails to immediately get people talking. I guarantee that with this CC, your Sim will be unforgettable.
2.

Chrome Nails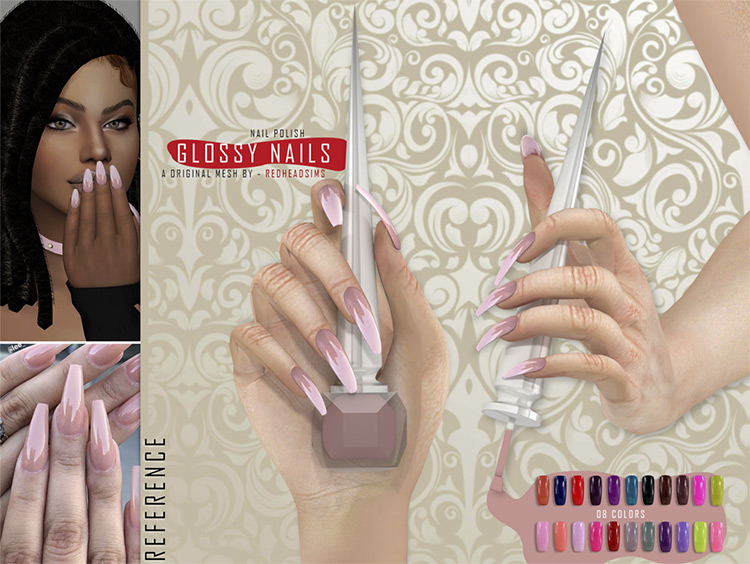 Next up: these gorgeous chrome nails.
This CC will shine, reflect, and glitter under any light. And you can be sure that these nails will be part of the after-party photos on Facebook..
You don't need any more accessories here, these nails should do the trick!
Great for work too, or at least they could match.
Rocker chic, fabulous celebrity, artistic painter, career woman—whoever your Sim is, this nail pack is something you can fit in.
1.

Mermaid Nails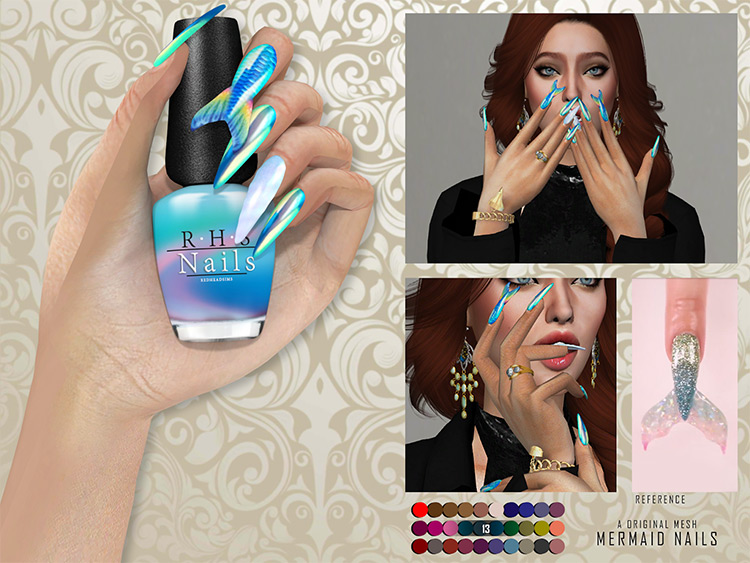 My absolute favorite nails CC has to be this pack by RedHeadSim.
I mean just take a gander at these stunning mermaid nails! This CC allows you to have a pretty miniature mermaid tail on your index finger, and beautiful hues on the rest.
Get to living under the sea with style.
The design is everything that any girl could ever want in a nail art: perfectly long nail extensions, metallic hues, holographic colors, pearlized finishes, and those gosh darn mermaid tails.
What's more, you can switch it up any time you want, since the pack includes 13 different colors.
The attention to detail in this design is fantastic. And the whole look appeals to our secret(or not-so-secret) love of The Little Mermaid.
With these nails you'll be wearing your gorgeous scales, whether you're on land or in the water—cause girl, you're a fabulous mermaid through and through.
Browse:
Lists
The Sims 4
Video Games