Best Cyberpunk Mods & CC For Sims 4
This post may contain affiliate links. If you buy something we may get a small commission at no extra cost to you. (Learn more).
In a futuristic world filled with mohawks and glowing eyes, we find everything fun in the cyberpunk universe.
And if you're a fan then it's time to create this in everyone's favorite modern-day life simulator: The Sims 4.
Here we'll look at the android-sequel, robotic goths, and everything in between that defines the word "cyberpunk".
So let's boot up your plasma computer and get ready to take an edgy trip into this unique outlook on TS4 CC.
10.

Glitch Lenses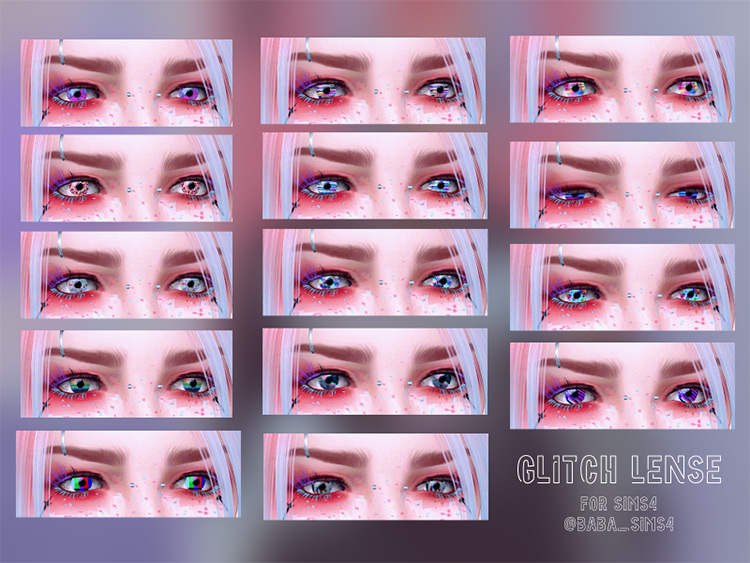 Opening up our list is SpaceBaba's glitch lenses.
This item acts as a face paint in-game, and adds a layer hovering over the eyes that gives off the whole glitch-in-the-system vibe.
It features 12 swatches which help alter the "glitch" of the eye color. And it offers this look for all ages and genders alike, so that's great!
We might still be in the phase where our phones and computers glitch, but soon it might just come knocking on human kind with mods like these.
9.

Peto Gen006
It's time for man's best friend to get a holographic upgrade.
This vest can be attached to your Sim's dog and it features a digital monitor on it.
Along with the futuristic swatches included (camo being my favorite), DanSimsFantasy describes this vest with having secret camouflage technology.
If your dog ends up peeing in the house, he might be able to hide is way out of it.
Human intelligence might end up having a run for its money.
8.

Gen005 Shirts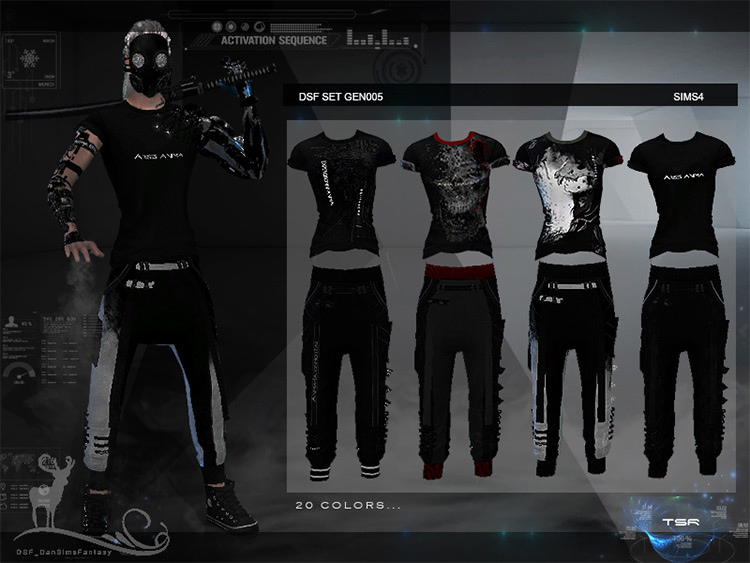 Next up we have a set of Cyberpunk shirts by DanSimsFantasy.
This includes punk designs sets collaborated with a futuristic look.
The space-like sleeves and 4 unique designs make this a perfect thing to wear in a world full of digital goodness and pierced punks.
Or if your Sim is just into super weird outfits.
7.

Detroit Becomes Human Ralph Set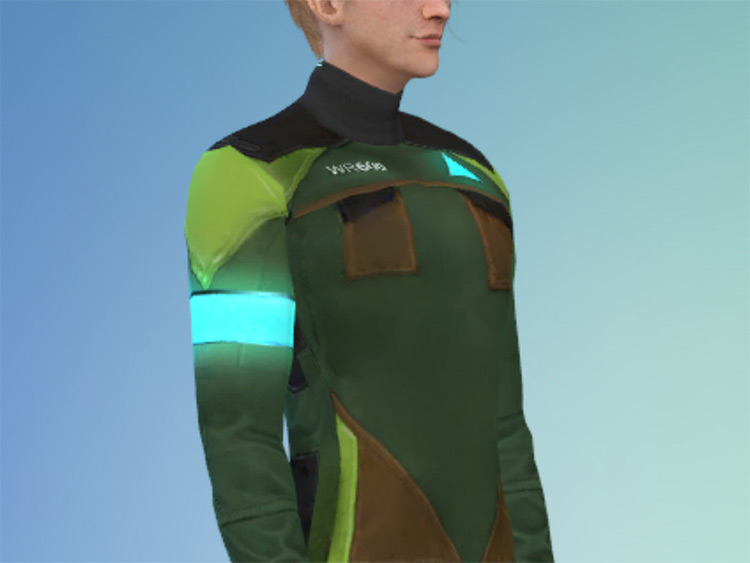 Jane_runs_fast did an awesome job re-creating the Detroit Become Human android wear from head to toe.
This particular piece relates to the manic android that Kara and Alice run into while they're looking for a place to sleep.
Ralph is a little crazy and likes to speak in third person.
Which may bode well for some Sims in this world.
Regardless, this costume CC is a great design for working androids. Or for those looking to create a full-on cyberworld.
6.

Holographic Computer Bracelet
Super Saiyans always had those cool holographic monitors over their eye.
Now, we can bring that idea into our Sim's adventures.
This CC features a holographic arm band attached to a monitor hovering gracefully above your Sim's eye.
Secret agent Sims could definitely use this in day to day life. And it comes in 7 unique colors for the armband & the eyewear.
Charlie's Angels better watch out. Same with Goku.
5.

Buckled Belts Mettalic Swimsuit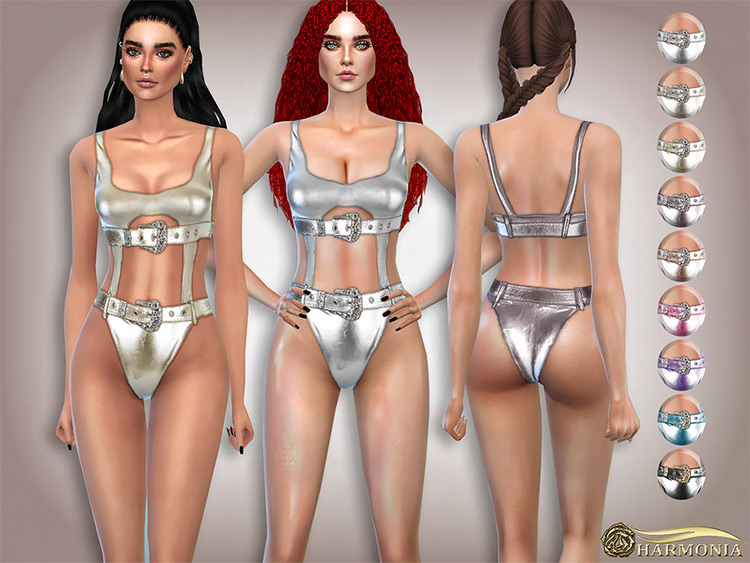 You want to look like a badass with spunk in these newer times?
Look no further than Harmoina's metallic swimsuit.
The swimsuit comes in blistering silver, and features 8 other metallic styles if the default design isn't your thing.
The look is spunky, sleek, and is just so ambiguous that it would fit perfectly in a cyberpunk reality.
I know I said the Charlie's Angels need to watch out, but this outfit may help create the perfect angels for this world. All we need is Bosley.
4.

Cyberpunk Surface Wires
When we talk about the idea of cyberpunk, it might be hard to really nail the concept. Especially with CC.
Some items on this list might be more cyber and futuristic. Others might cater to the punk-ish look, but not have any real ties to digital reality.
This next CC by TemperVoid is really the best definition of a cyberpunk piece.
These are surface wires that run along the face and act as a technological item, usually for robots. But now for your Sims.
While the wire is considered a device, the look correlates back to punk style makeup. Running through the eyes and complementing darker makeup that may surround it.
This is a really nice piece of CC and can help give off that look that your Sim really is artificial intelligence.
3.

Damaged Android Eyes
Another Detroit Become Human reference piece by jane_runs_fast.
These damaged eyes can be used for multiple reasons. They don't just fall into this list as a game shoutout.
The eyes featured here are horrifically stunning, making them perfect for a cyberpunk world.
There are 3 unique colors which include hazy purple, bloodshot aqua, and my personal standout, hypnotic orange.
Definitely represents the damage of this futuristic world. And it amplifies the punk aspects very well, so I'd say this CC is a must-have.
2.

Mask Oritur Plasma
It's funny that the artist Future has a song called Mask Off.
And we're here about to discuss masks for the future. Go figure?
These plasma masks by DanSimsFantasy give off a gas mask vibe. But they act as an awesome wearable CC in a dark and demented futuristic world.
Coming in 15 extravagant looks, this custom content is well-crafted and nicely detailed.
Each scheme features many colors which really exemplifies the effort put into this CC.
I know it's an odd time to be praising a mask, but in this case let's not take Future's advice!
1.

Cyberpunk Café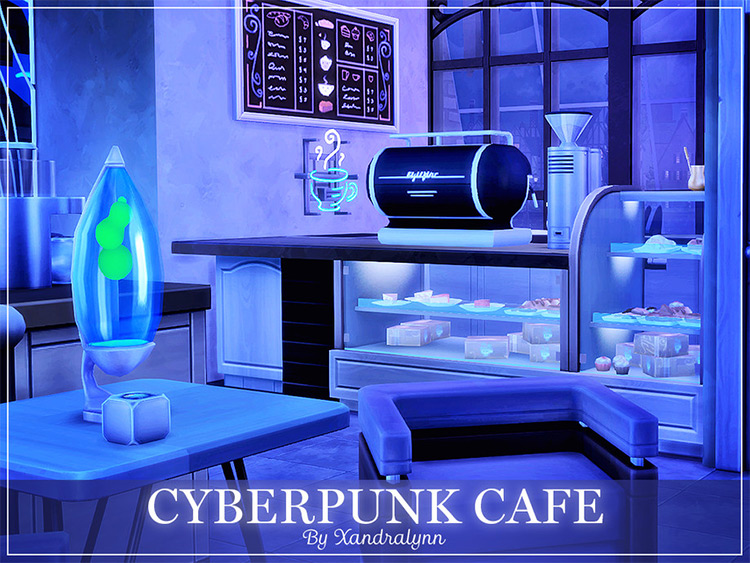 Closing off our list is Xandralynn's Cyberpunk Café.
I'm usually the one to favor items and clothing pieces over full on locations. But this specific lot was too astonishing to pass up.
First of all, the outside look of the café is a brilliant setting to start building an entire cyberpunk town.
Glowing purple lights give it the darkness needed to stand out, but still remain punk.
The inside holds true to its purpose by featuring futuristic computer setups, digital maps, and over the top accessories like a space lava lamp.
If you want to slightly rock out before dealing with some secret agent emails, the Cyberpunk Café mod is a must-have.
Browse:
Lists
The Sims 4
Video Games