Sims 4 Dad CC: Clothes, Hats & More
This post may contain affiliate links. If you buy something we may get a small commission at no extra cost to you. (Learn more).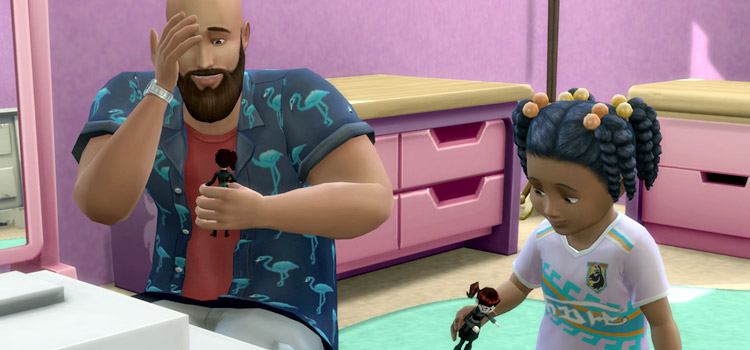 Fatherhood.
It's not just a biological role, but changes a man's life…or at least their children would hope so.
From giving up old hobbies to make more time for the kiddos, sacrificing hard-earned money to support all their wants and desires, and all of the stress that comes from caring so darn much… it's no understatement that being a dad affects every part of life.
That includes their closet.
Sometimes it can be pretty easy to spot a dad. There are plenty of memes about it, and we all know that kind of thing doesn't just come out of thin air. It's founded on science (okay, not really) that fathers appear to be cut from the same cloth.
This list offers all of the best ways to get your Sims looking the part for parenthood.
Sports Jersey Tees
Comfy tees that also allow you to rep your favorite things? That's the heart of any dad's wardrobe.
These jerseys from McLayneSims have really nice detailing and texture.
There are 8 swatches in total, each of which features a different popular team, like the Pittsburgh Steelers and Oakland Raiders, just to name a couple.
Since there aren't really sports teams for your Sims to be fans of, I think this is a fun way to mix in some realism.
Aprons for Dad
I don't know what it is about aprons marketed directly to dads that I find so amusing and wholesome, but I'm very grateful they're now available for our Sims.
Your Sim will be ready for whatever the grill or stove throws at him.
Whether he's cooking in the backyard, on a camping trip, at the park, or just in the kitchen on a Sunday morning – you'll want to make sure your Dad Sim looks the part.
These 8 fun swatches will leave no doubt that your Sim has spawn he adores and loves to cook for.
Summer Flip Flops
Everybody likes flip flops.
But most fathers I've ever known seem to have a special affinity for them.
Perhaps it's because they're so easy. No laces, you don't even have to slip them on like loafers, all that's holding them on is a strip of rubber between your toes.
And lord help you if that strap breaks and you're in public. Yikes.
But dads don't care about that sort of thing.
They just need something to putter around the yard in, chill on the deck, and chase after the kids, which is exactly what you'll get with these revamped flip flops from CC creator MarvinSims.
Loose Fit Skinny Jeans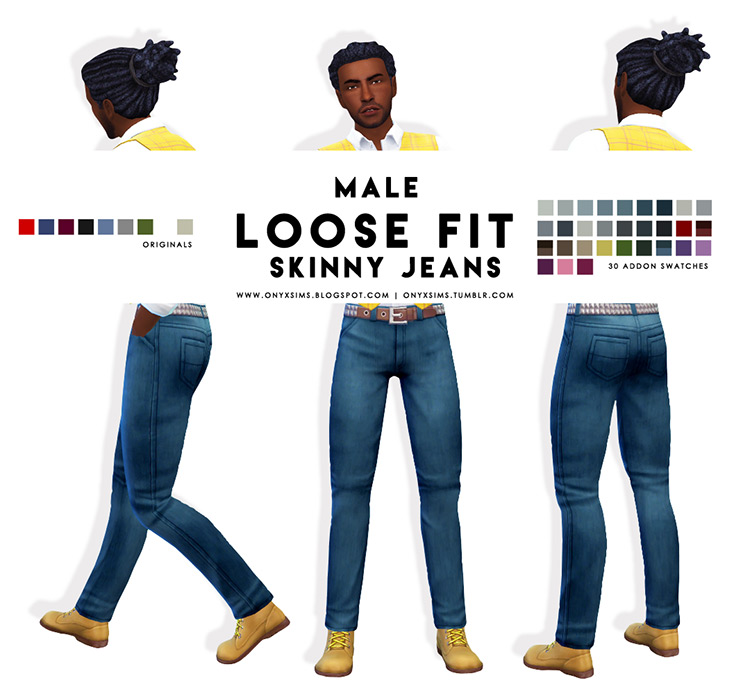 There are two types of dads: flip flops and shorts, or jeans and work boots.
Actually, there are a lot more than that. But for the sake of this list, we shall simplify things.
These jeans will be a very flattering fit for any Sim, and make a dad look well-dressed with little to no effort.
Although this is an edit of base game jeans, they have a more fitted appearance and the creator really went all out on the swatches.
The original 9 denim swatches are still available, but there are 30 additional colors as well.
Denim Shorts
I actually first found these shorts years ago and downloaded them specifically for a very father-y Sim I had.
So these have authentic dad vibes, I personally guarantee it!
Any old pair of denim shorts won't do. It's the length of these, the faded look to some of the swatches, and the belt that all around make them perfect.
The thing I really like about these is that they can be worn with so many different things.
From regular t-shirts to tucked button-ups, there are plenty of ways to style them so they're just right for your dad Sim.
Besides, they're denim!
Everything goes as far as shoes, too. Sandals and sneakers both will look great.
Low Profile Caps
Ah, the ball cap. Need I say more?
I probably should.
Maybe this isn't standard dad fashion everywhere. But where I live, it's practically a uniform.
A good cap serves many purposes, including to keep the sun out of your eyes, be an accessory, or hide a bald spot. I'm not saying that's something that should be hidden, but many guys do. And as such the ball cap has become a necessity for dads everywhere.
MarvinSims, the same creator who brought us the Summer Flip Flops listed above, has vastly improved upon the base game hats.
I've never been a fan of how high they sit or how chunky they are in general. And those issues are gone here.
They're just nice, normal looking hats now and come in a variety of masculine swatches.
Polo Shirts
Polo shirts are another staple in many dad closets.
They're simple, versatile, and a very quick way to look well-dressed and presentable.
As long as the shirt isn't all wrinkly and stained, of course, and this one isn't!
There are 14 swatches here that include stripes, solid, and color blocks. The colors look very nice as well, and it's fastened by large buttons.
Inferno Shirt
Some guys will opt for tuckable shirts every time, in an effort to look a little more dapper.
Or maybe it's just what they like.
These slightly oversized button ups from Trillyke are a must for your dad Sims.
They just look right, to put it simply.
They'll be great paired with jeans, slacks, and shorts alike – especially the denim shorts above!
There are 60 swatches here for every style you could ever want, including flannel, stripes, and florals, as well as tons of solids and cool random designs.
You can use these again and again to flesh out your Sim' wardrobe, and they'll never get old.
Sun Visor
I'm not sure why when it comes to "dad fashion" my mind immediately goes to summer.
From my perspective, that's when the stereotypical dad thrives.
They spend the rest of the year biding their time, waiting for warm weather when they can get back to barbecuing and having fun in the sun with their family.
If you, too, want a generalized dad Sim, then this visor is perfect.
It shields eyes from the sun without messing up or concealing their hair, and makes for a very summery vibe whether your Sim is spending the day in their backyard or at the beach.
Dad Shirts
See, dads really have developed a collective look.
This Simmer is spot on with these open button-down t-shirts.
These come in a variety of bright swatches, 20 in total.
With so many different designs and patterns, these shirts are an awesome way to add color to your Sim dad's wardrobe.
And your Sim can wear these throughout the year, though it's clearly a peak "dad" move to pair them with shorts and flip-flops.
Browse:
Lists
The Sims 4
Video Games