Best Sims 4 Dancing Poses (Couples & Singles)
This post may contain affiliate links. If you buy something we may get a small commission at no extra cost to you. (Learn more).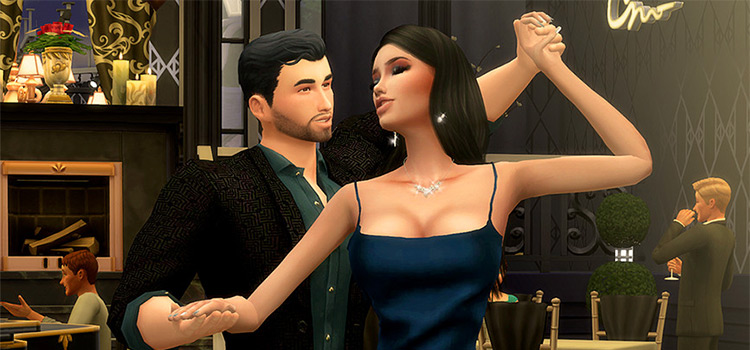 Using poses in The Sims is super addicting.
There's seriously a treasure trove of them out there, for basically every situation you can imagine, and even more that you'd never think of.
That's why having a good old fashioned masterlist to reference is so handy.
I've done the work of compiling the best dancing-related pose packs for you, and these are all really great choices.
Well, it's rare to find bad poses anyway… but it certainly won't happen here, where only the best-of-the-best is allowed.
Just remember, poses aren't animations.
So you'll just get the illusion of more movement here… but it really is tons of fun.
1.

Dance To This Pose Pack
Install this pack & watch your Sims have fun like never before, based on the Dance To This Music video from Troye Sivan and Ariana Grande.
Sims will really be able to get down like a popstar with these 10 poses, which will send them through a variety of well-made positions.
Two Sims can experience this together.
And the dances look very lively, even though there's no actual movement!
Some even include a microphone accessory, so these are really perfect for those of you with Sims in showbiz, or couples who own karaoke night.
2.

Romantic Dance Poses
These intimate poses will be great for two Sims who are each other's whole worlds.
The romance is a palpable force throughout this set, which sees a couple dancing, hand in hand, complete with a spin.
Each Sim will be looking into their partner's eyes, holding their beloved close. It's pretty saucy stuff, I must say.
And now more than ever, when there are no devoted slow dancing interactions, these are priceless.
Just think of the possibilities on anniversaries, date nights, or even weddings.
Heck, you can set the scene right in your Sim's own home and let them have a romantic night of slow dancing in the kitchen.
That's one way to make their time together memorable.
3.

Breakdance Time
It just goes to show the influence dancing has on so many lifestyles that such vastly different poses are available for this game, all with the same general theme of groovin'.
This pose pack from KaTPurpura really has it all – including one trio pose, 3 poses for two Sims, and 4 poses for those who want to show off their moves solo.
All of this is focused on breakdancing. And the creator did a fantastic job of capturing the fast-paced, intense nature of this skill.
Your Sims can be up in the air in some, or balancing on just one hand or foot.
In fact, each one looks so cool that I'm reminded how awesome it is that content like this is totally free.
I can't wait to use these on my young city Sims, though they'll work for Sims from all walks of life!
Nobody is immune to the allure of epic dance moves.
4.

Ballerina Poses
On the complete opposite side of breakdancing, we have some graceful and delicate poses for ballerinas.
Few poses are more elegant or beautiful than Sims posed for ballet.
It takes so much dedication to execute these moves, often starting in childhood. But it sure pays off.
Just one Sim will get to shine with these poses, and each one is truly a sight to behold.
You can't get such beautiful moments naturally in the game, since Sims are normally anything but dignified. For a short time, you'll be able to see your Sims as classier than ever before.
5.

Flamenco Pose Pack
Flamenco music and dancing is easily recognizable.
You may not immediately recognize contemporary or swing dances on sight – but who can miss over the lively expressive nature of Flamenco?
The word "vibrant" may normally be used in regards to colors. But there's no other way to describe this part of Spainaird culture.
It's an art form, the same as painting or sculpting, and it takes a ton of skill to master.
Well you can skip all the hard work and just plop your Sims into a pose. They'll still be gorgeous, and you might even gain a new respect for them.
Sure, they sometimes can't do anything right.
But look how pretty they are!
There are options here for single Sims as well as a few for pairs.
6.

Little Bit Of Solo Dancing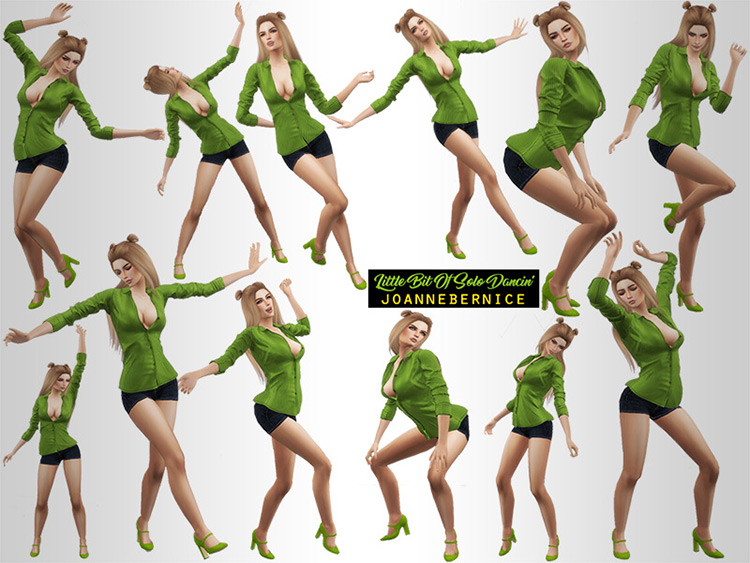 This pose pack has a little bit of everything, and each pose will definitely make it seem like your Sim is having the time of her life.
The dancing we have in the base game isn't exactly… good.
Sims have no rhythm. Plus they dance the same no matter the genre of music, and generally they just look like they're fidgeting around with no rhyme or reason.
JoanneBernice's poses will get your Sims a lot closer to the real thing.
These capture the vibe of a woman who has thrown caution to the wind and is loving life, at least until the song ends.
A perfect choice for your carefree Sims who know how to let loose.
There are even a few twerking poses too – so now The Sims really can have it all.
7.

Swing Night Poses
Now two Sims can dance the night away with these upbeat swing dancing poses, ideal for hopelessly in love couples.
These are great just to admire, and they're nice for those of you who like to take candid screenshots and photos (story time, anyone?)
It'll be so cute to look back on these once your Sims are all old and gray.
Youth may fade, but true love lasts forever!
And what better way is there to express love & adoration than by twirling your partner around in sync with the music?
It's truly a beautiful thing.
Well beautiful things in this game often require some effort from us players. And poses are the simplest way to go.
8.

Euphoria Poses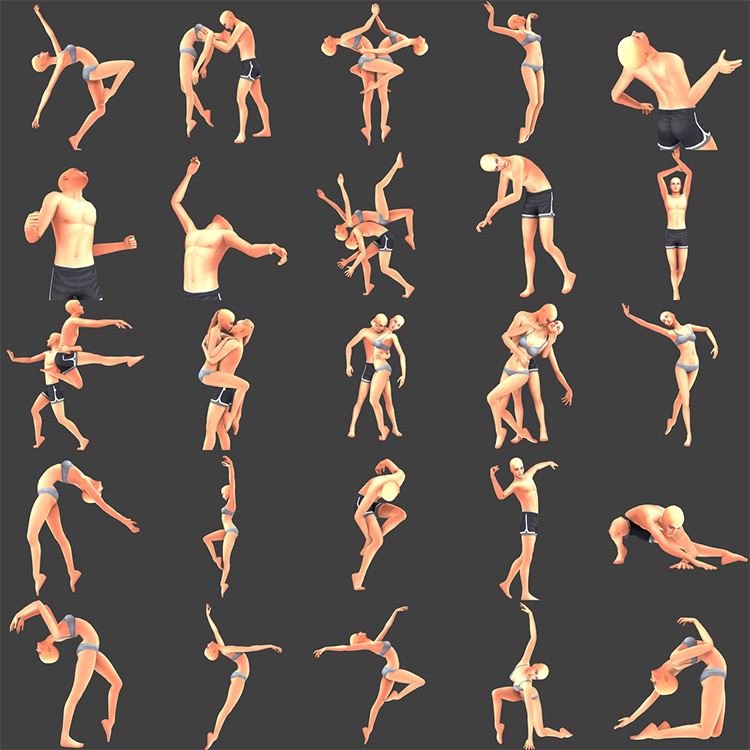 This is a comprehensive pose pack, featuring 7 options for couples, and 18 singles.
25 Poses in total!
Each one is incredibly unique in its own right, as well as very well-made.
It really is impressive to see how creators like Sciophobis can help us see our Sims in such complex yet natural scenarios.
These dance moves are some of my favorites because they cover such a wide range of styles.
Dancing can often be full of emotion (depending on the genre). And that's rather tricky to capture, considering Sims aren't very good at emotions – unless you count smiling all of the time for no good reason.
Here, the single poses for male and female Sims alike are very expressive.
They involve body language to a level that's unexpected for this game, and I mean that in a good way.
Some of the poses are also quite dramatic and intense – which isn't easy to portray in The Sims 4.
Then there are the couple poses, which take the strength of the solo ones and kick it up a notch.
Any two Sims in these poses will be the definition of a power couple.
They're totally intertwined. And some are elaborate, like one where the male Sim has the female on his back, and another where he's lifting her for a kiss.
Give this a try and you're sure to find something you like.
Browse:
Lists
The Sims 4
Video Games