Best Danganronpa CC For The Sims 4 (All Free)
This post may contain affiliate links. If you buy something we may get a small commission at no extra cost to you. (Learn more).
It's hard to imagine two fandoms that differ more than The Sims 4 and Danganronpa.
The Sims is about celebrating life and accompanying simulated human beings through the best years of their whimsically happy existence. On the other hand, Danganronpa deals with human despair and the lengths people will go to survive – such as killing their friends and classmates.
Still, lots of Danganronpa fans are also obsessed with TS4.
And who doesn't love mixing stuff up? Like different soda flavors at Subway, or fries with ice cream… Well this led me to digging around for some good Danganronpa CC for my TS4 game.
If you're after the same stuff then you'll definitely like these finds.
10.

Nagito Komaeda's Outfit
Many people find immense joy in dressing up as their favorite characters – and Sims are no exception.
This outfit is based on Nagito Komaeda's look in Danganronpa 2: Goodbye Despair. With it, your Sim will look just like the Ultimate Lucky Student.
He's polite and cheerful, but a crazed, traumatized individual hides beneath the mellow exterior. Hopefully, your Sim won't get too in-character.
It's a loose adaptation of his in-game outfit, but it's perfect for TS4.
9.

Danganronpa Shirts for Females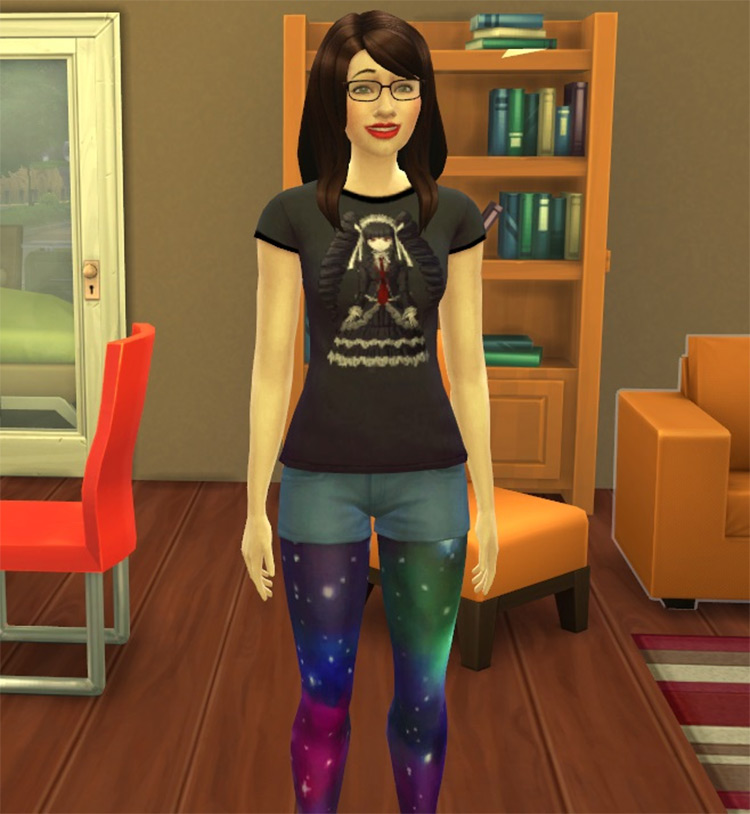 Instead of cosplaying, some fans prefer to show their enthusiasm for shows or video games with trendy t-shirts.
This fantastic collection includes a wide array of Danganronpa motifs, featuring characters from the first two games and some alternative designs promoting despair – such as a black-and-white Monokuma shirt.
Whether you want to show your love for the psycho Junko Enoshima from DR1, or the adorable Chiaki Nanami from DR2, this CC pack has you covered.
Well, the ladies anyways.
8.

Kyoko Kirigiri
If you're looking for Danganronpa CC, chances are you're interested in getting the actual characters from the show – or the next best thing.
This full-body outfit will make you look just like the Ultimate Detective from the original Danganronpa. Kyoko Kirigiri was instrumental in solving the mystery behind the Killing School Life, and now, she'll be there to solve the more mundane puzzles of daily Sim life.
The purple color on a slightly modified highschool uniform looks impressive, and the black gloves complete the look.
7.

Monokuma Costume for Toddlers
Imagine waking up at 3:00 am after a hard night of playing Danganronpa, getting up to get a glass of water, and running into Monokuma half-way down the stairs.
Now that's scary.
It's also what could happen to your Sims if you get this Monokuma Costume for Toddlers. It looks exactly like Monokuma, with a round body and an adorable belly button.
6.

Celestia Ludenberg
Straight from the Killing School Trip of Danganronpa 2 comes Celestia Ludenberg, an expert liar who earned herself the title of Queen of Liars.
She's also quite fond of gambling. The only thing keeping her from being Kakegurui's Yumeko Jabami is her cold and distant personality – and probably some bra sizes.
Regrettably, as the Ultimate Gambler, she couldn't resist the temptation of gambling for her life – and it was a gamble she lost.
With this CC pack, you'll get to have the perfect Celestia Ludenberg Sim in your game. She'll have to learn how to play Journey to Batuu's Sabacc if she wants to keep gambling.
5.

Ibuki Mioda Set
Another excellent character from Danganronpa 2 you'll want in your game is Ibuki Mioda – the Ultimate Musician.
She's hyperactive and full of feelings to share.
This girl is also very kind-hearted, and not the kind of girl that survives a cutthroat killing game. She'll do just fine in Oasis Springs or Newcrest, though.
You'll notice the details of the highschool uniform top are printed on a shirt rather than modeled. This fazed me at first, but then I figured Ibuki would totally dig that.
4.

Monokuma & Usami Figurines
If you're building a Sim home to lock your Danganronpa Sims into (just to see whether they start killing each other) then you'll need help from a certain someone to keep them in line.
These Monokuma & Usami figures are perfect for decorating any space, and they'll remind your sims that the Mastermind is always watching their every move.
The set includes figures depicting Monokuma, Usami, and Monomi. It also features Kumamon, the black bear mascot of Kumamoto Prefecture in Japan, for some reason.
3.

Yasuhiro Hagakure
The most unlikely survivor of the first Killing Game from the original Danganronpa is Yasuhiro Hagakure, a 21-years-old repeated highschool dropout who pretends to be a clairvoyant.
I say "pretend" because he never really shows any clairvoyance skills in the game or the anime – and his crystal ball is probably just some trinket he paid way too much for.
Still, he's known as the Ultimate Clairvoyant.
And considering he survived the Killing School Life unscathed, maybe he sees some useful things while deep in meditation.
This custom creation was converted from the Danganronpa VR game, so it's as accurate as can be. Even his wild hair is perfect.
2.

Aoi Asahina
From the same VR game comes this clean and polished conversion of Aoi Asahina's model into The Sims 4.
She's the Ultimate Swimming Pro, so she'll thrive just as long as your Sim house has a pool – or at the very least has one close by.
If you love this airhead but would prefer something that adheres a bit closer to Maxis's art style, you can get this alternative.
1.

Danganronpa Dorm Room Pixel Nameplates
I've always loved little details that show my love for my favorite franchises in subtle ways.
And these Dorm Room Nameplates are perfect for doing just that in my Sims' home.
In Danganronpa games, characters are always depicted in the menus (and their rooms' nameplates) as 16-bit versions of themselves.
This custom CC will let you decorate your walls with these sprites. A neat little treat for fans.
This varied pack includes the sprites for characters in DR, DR2, and DRV3 – including Monokuma and the Mastermind in every case.
Browse:
Lists
The Sims 4
Video Games