Sims 4 Death Note CC: The Ultimate List
This post may contain affiliate links. If you buy something we may get a small commission at no extra cost to you. (Learn more).
Despite the last official episode airing more than a decade ago (June of 2007, according to the Wiki page), Tsugumi Ohba and Takeshi Obata's Death Note series has yet to sink into obscurity.
The characters were unique, the concept was one-of-a-kind, and the plot was generally gripping!
So it comes as no surprise that there's a modest amount of Death Note-related CC lying around the Sims 4 CC community.
From hair options to full CAS builds, and with lots of Maxis Match looks to go around, here are some custom items that blend both franchises together.
1.

Death Note Journal [Requires Parenthood] by hannahgaskarth
Let's start this list with the star of the show.
I mean, aside from Light Yagami and L. The Death Note itself. Hannahgaskarth's edit of the journal from The Sims 4: Parenthood is a perfect replica of this series' titular tool (and, yes; you'll need this pack for the journal to show up in game).
No word from the creator if writing in this will actually kill off random townies but, hey. You never know.
It only comes in one swatch, of course, because the Death Note only has one acceptable design.
2.

Death Note T-Shirts for Men by TheRomanian
If your Sim is a fan of the show (too), why not let them flaunt it with custom Death Note-themed shirt?
It's a plain black tee with three pretty simple (but pretty awesome!) designs.
One design features the name of the show (skewed letters and all) while another features a clever design that alludes to L's superior intelligence (and even manages to get his initial in there).
The third design uses the negative space to depict Ryuk, one of the resident gods of death, reaching for another one of the show's symbols: the blood-red apple.
3.

L/Lawliet Hair by CosplaySimmer
If you haven't heard of CosplaySimmer yet, they were arguably one of the biggest names in the Sims 4 CC community.
They were especially skilled in remaking anime and/or cartoon characters in The Sims 4 by creating original CAS meshes that matched iconic features of the character's look.
Specific hairstyles, for instance, or specific clothing items.
Sadly, they deactivated a couple years' back, and all their downloaders were discontinued.
But some Simmers and CC creators managed to save the direct download links to some of their stuff, so a good chunk of their collection lives on.
YouTube content creator Shiho uses CosplaySimmer's L/Lawliet Hair to recreate L in The Sims 4. They record their CAS build process in the linked video and include the direct download link to the custom hair in their description.
Note: You can find it there if you go to check out the video linked above, or just use this SimFileShare link!
4.

Squatting/Crouching Pose Pack by bjdanddd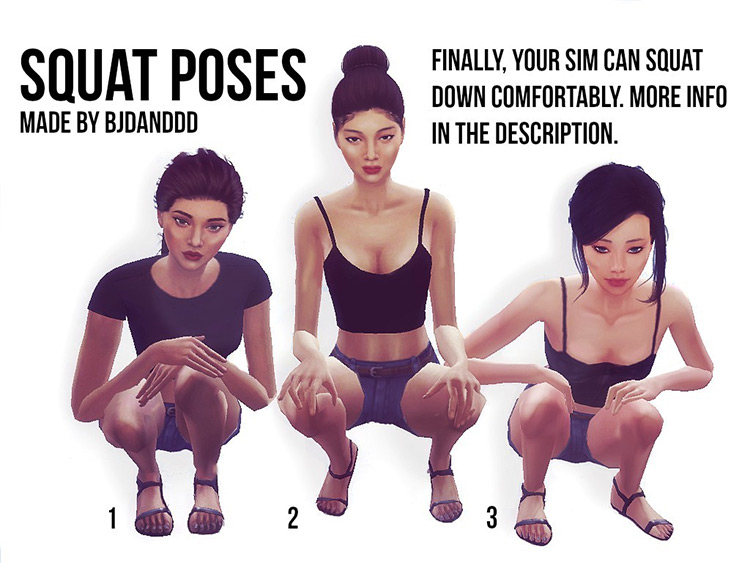 I saw some Death Note custom poses for Sims 3, and I was devastated to learn that there was no Sims 4 version.
So I set off to find specific character pose packs – Light, Misa, L, Ryuk, the usuals – but, sadly, no dice.
I did find this cute quality set of custom crouching poses by bjdanddd that are pretty close to how L/Lawliet sits: the good ol' Asian crouch, as casual as you please. Pose numbers 1 and 3 are especially spot-on!
5.

Misa Amane Cosplay Set by CosplaySimmer
Told you; CosplaySimmer is literally the gold standard for translating anime character duds into useable TS4 CAS stuff.
This Misa Amane Cosplay Set contains Misa's beautiful blonde hair (tied up in her usual tiny pigtails), her goth outfit (complete with fishnet stockings and boots), a choker, and as a fun little treat, her chillingly red Shinigami eyes.
All items are base game-compatible and completely original. No extra mesh needed!
You might notice that the download link says "discontinued." Worry not; some awesome people saved some of CosplaySimmer's CC and uploaded the download links to this site.
Hit old, reliable CTRL + F and type "Misa" to get all ten .package files!
6.

Amane Mittens by PvrpleHaze
Misa's personality may be bright, bubbly, and dripping in sparkles. But her fashion sense is total goth.
Maybe the jarring, contrasting dynamic is what makes her so likeable.
Either way, homegirl is gorgeous.
She absolutely rocks the black-dress-fishnet-tights-silver-cross-earrings combo!
According to the creator, these mittens/gloves/arm warmers are sleek, sexy, and apparently inspired by Misa Amane herself. Makes sense; this is definitely something our resident part-time model, part-time goth queen would go out in.
7.

Jenna Hair by feralpoodles
Another CC item that isn't specifically Death Note, but come on; if you know Death Note, you know this is almost a perfect replica of Misa Amane's everyday hair.
Straight, subtle layers with a middle part and of course those two, tiny pigtails.
This style is also ideal for goths, scene queens, and e-girls.
So you could totally keep it in your CAS catalog even after your Sim's done cosplaying Misa!
8.

Cassie Pigtails by Daylife Sims
Here's another custom hair option for Misa-Misa.
What can I say? She's arguably one of the most fun characters to cosplay because of how distinct her look is.
Plus, she's the only one amongst the whole cast who actually changes clothes.
L's entire wardrobe is white sweaters that you get in wholesale packs at the department store. Ryuk doesn't need clothes. And Light, bless his cold heart, only changes clothes when absolutely necessary.
9.

Light Yagami or Kira from Death Note by Jinxysims
Jinxysims does a pretty spot-on recreation of Light Yagami aka Kira.
The hair, the glare, and even the perfectly-pressed outfit are all on-point.
While the whole Sim isn't currently available for download (whether as an external file or in the actual EA Sims 4 gallery), you can use the same CC they did to make your own Death-Note-toting, kinda-psychotic genius!
Download links for Light's skin overlay, hair, eyebrows, and school uniform are listed in the description. And they all work!
10.

Light Yagami Cosplay CC Set by CosplaySimmer
CosplaySimmer apparently also put out a Light Yagami Cosplay set, like they did for Misa.
I can't seem to find the original post on their site. But based on the .package files, it seems this set includes:
A Death Note accessory
Light's hair
His school uniform
And tidy loafers
Not a bad CAS set, all things considered!
You can try combining CosplaySimmer's clothes with the custom skin and eyebrows from Jinxysims' Light build to get as close of a TS4 version of Kira as possible.
Browse:
Lists
The Sims 4
Video Games