Sims 4 CC: Designer Brand & Luxury Clutter
This post may contain affiliate links. If you buy something we may get a small commission at no extra cost to you. (Learn more).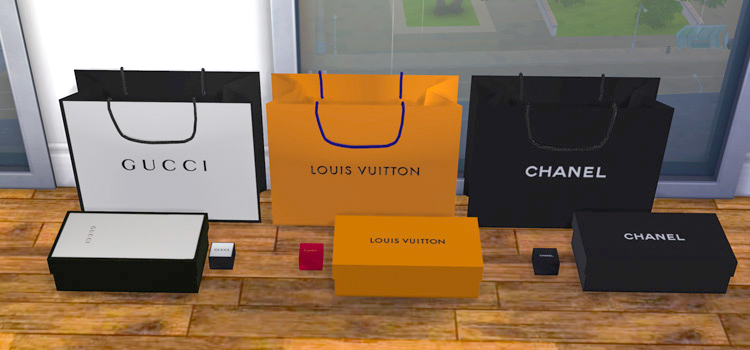 If your Sim has expensive tastes, it's just natural for their homes to follow suit.
Is there an expensive, thousand-Simoleon bag just casually lying around? Or maybe an array of crystal perfume bottles with actual gold stoppers?
Whatever they've got going on, Sims that love luxury will often surround themselves in items that loudly speak of their financial status.
(And, besides; designer brands may cost a pretty Simoleon, but that's what the motherlode cheat is for).
So here's some clutter for your high-end-living Sim.
1.

Too Faced Clutter by lazysundrops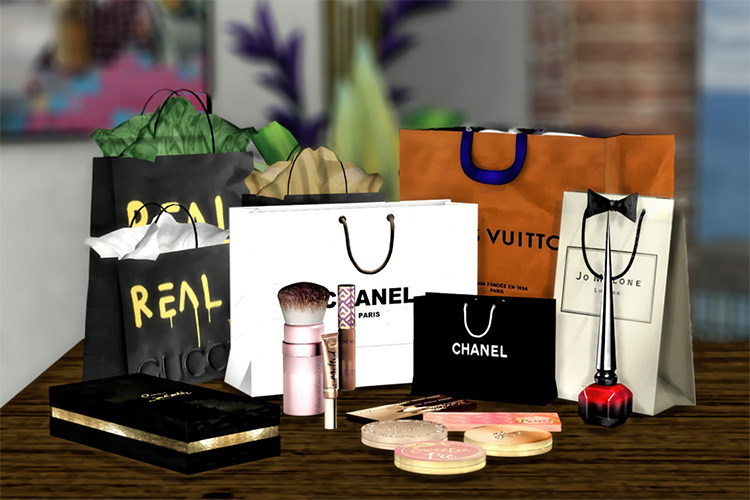 This pack contains seven original TS4 meshes based off of @livelovesimallways' Cosmetic Décor Set.
It makes for great bathroom and/or bedroom clutter for Sims who enjoy high-quality makeup (brand controversy notwithstanding).
P.S. Note that the actual clutter pack only contains the decorative makeup items pictured! The extra shopping bags (from well-known designer brands) seen in the preview photo are from other creators.
2.

Luxury Designer Wallets by PlatinumLuxeSims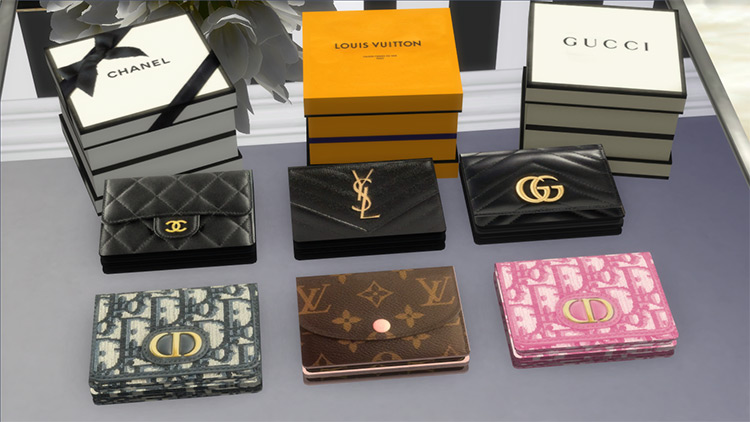 Gucci, Chanel, and Louis Vuitton. Three of the largest names in the fashion industry.
Anything they put out has a golden price tag on it, and owning any of their pieces automatically gets you (or your Sim) flex points.
Let your Sim flaunt what they've got by leaving their designer clutches lying about. Talk about your designer décor!
3.

Folded Designer Hoodies by PlatinumLuxeSims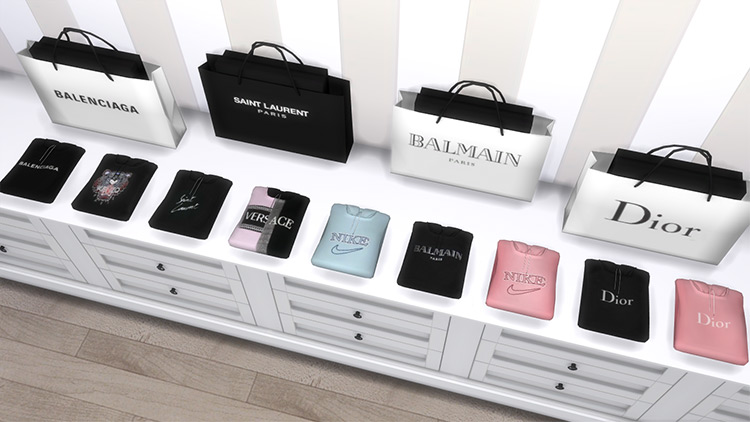 Aside from hundred-Simoleon handbags (or clutches), why not have your Sims leave their thousand-Simoleon hoodies lying around as well?
They're pretty, they're tasteful, and they can bring up a room's market value like crazy.
Don't forget to download the mesh here!
4.

La Mer Skincare Set by CoatiSims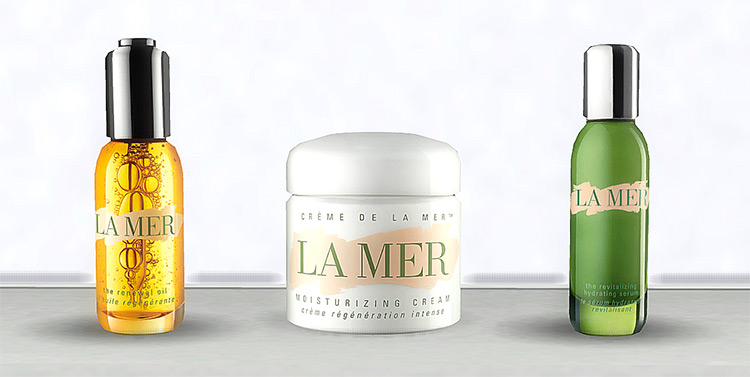 The secret to soft, supple skin and a glowing, youthful complexion is good skincare.
And if we're talking luxury brands, La Mer is definitely up there.
Leave a couple bottles around your Sims dresser and bathroom to imply that they've got a pretty high-end skincare routine established.
5.

Calligaris Purse by SIMcredible!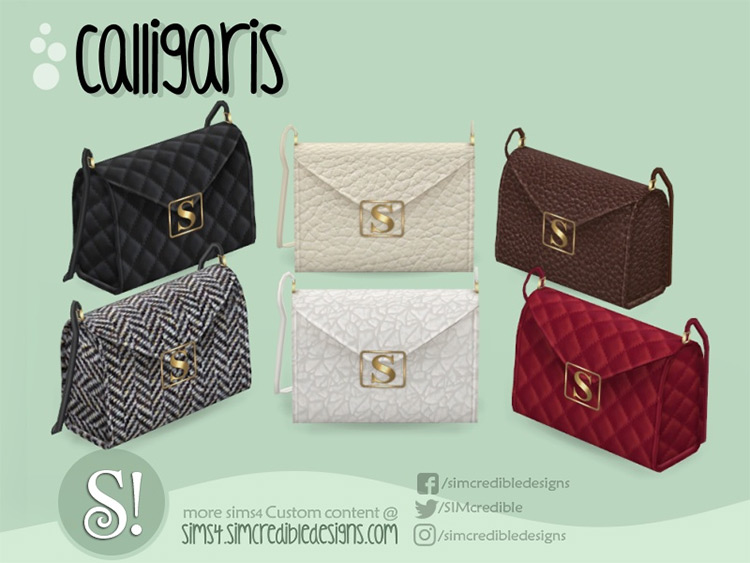 Calligaris is known for its contemporary home furnishings and Italian design.
So I guess it just makes sense for this gorgeous leather purse to be decorative clutter. Plus, the six design options are so tasteful and beautifully colored, they'd fit in flawlessly with any color scheme or aesthetic.
6.

Chanel Urban Spirit Luxury Backpack Vol.1 by PlatinumLuxeSims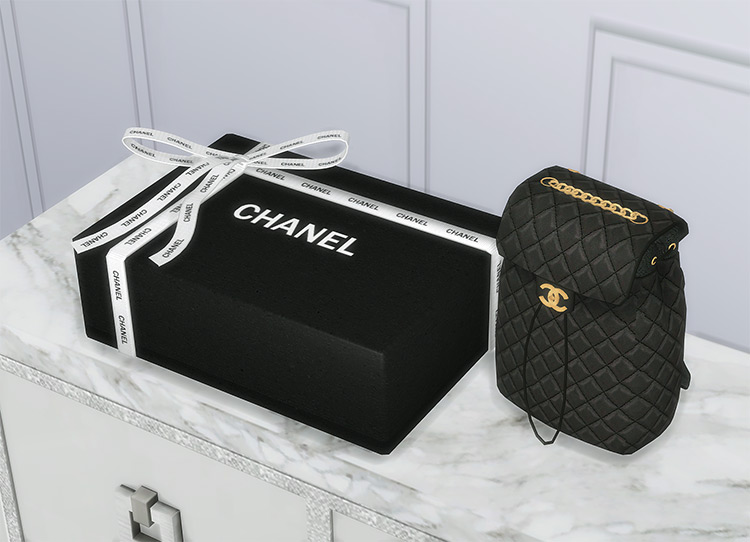 If you prefer some Chanel-stamped bling, this luxury backpack from PlatinumLuxeSims is the perfect addition to any room.
It's simple, unassuming, and comes in four design options: black and/or grey, with either gold or silver detailing.
The definition of simple elegance.
7.

Riekus Valentine's Day Gifts by leosims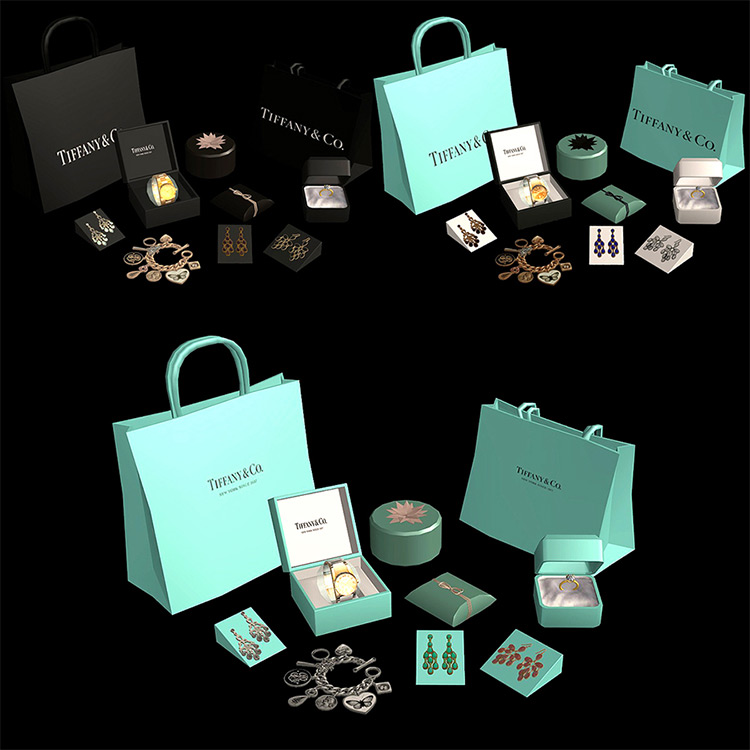 Looks like your Sim went all out for Valentine's day.
Seriously, Tiffany & Co. is a luxury brand for a reason. A lot of their items are heavily sought-after.
So for your Sim to drop a cool grand or so on watches, earrings, necklaces, and bracelets from them? Says a lot.
(And on the Sims Build & Buy side, Tiffany & Co.'s iconic pale mint color scheme can add a delicate pop of color to any room).
8.

Tiffany & Co. Cocktail Watch by Mellouwsim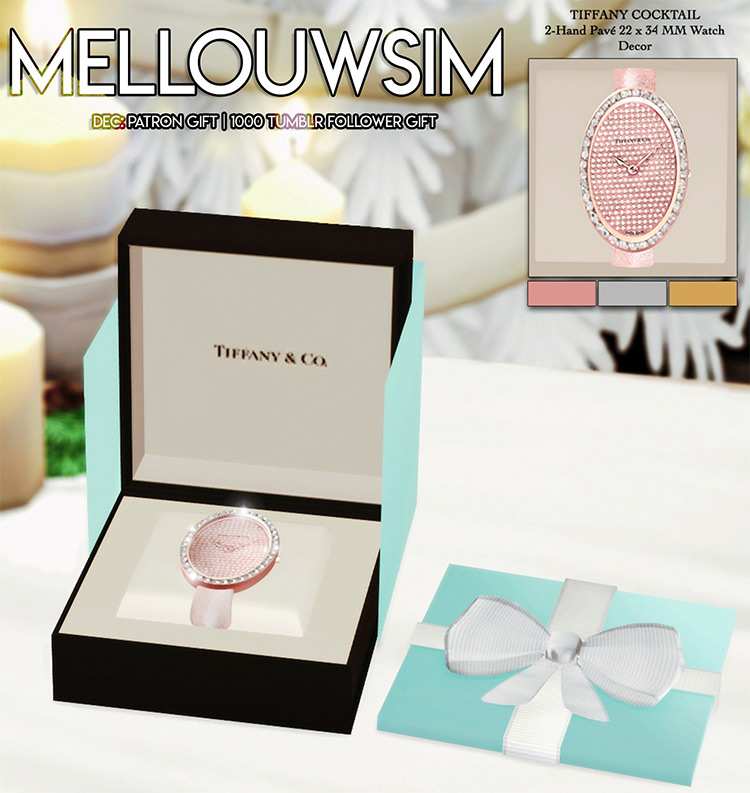 Loved the Tiffany & Co. clutter from the previous CC, but want something more specific? More tastefully detailed?
This delicate cocktail watch from Mellouwsim should check all the boxes.
It sits all pretty and expensive in its open gift box, proudly presenting the brand. It also comes in three pretty swatches: gold, rose gold, and white gold.
9.

Makeup Palettes! by daisyxsims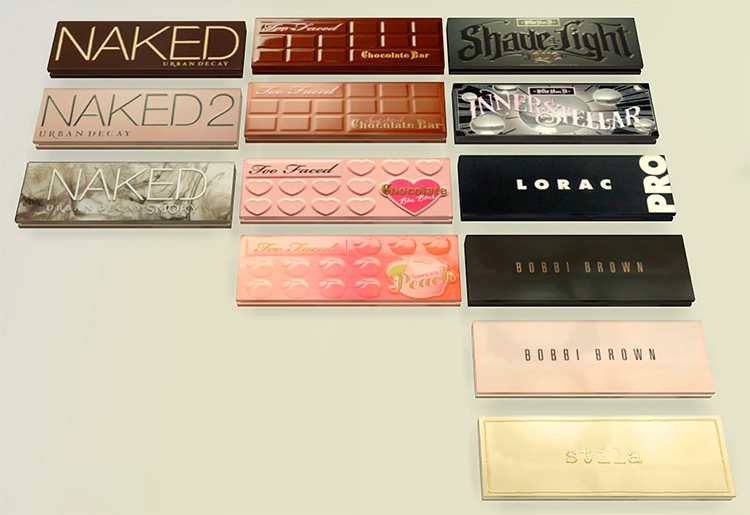 For the true makeup aficionado who loves their branded palettes, daisyxsims provides some fairly well-known, semi-luxury brands like Stila, Lorac, and Urban Decay.
Arguably, these are drugstore brands. But they're not cheap!
And the fact that your Sim can afford a lot of them? That's a flex.
10.

Kate Spade Pillows (9 Recolors) by fairycirclesims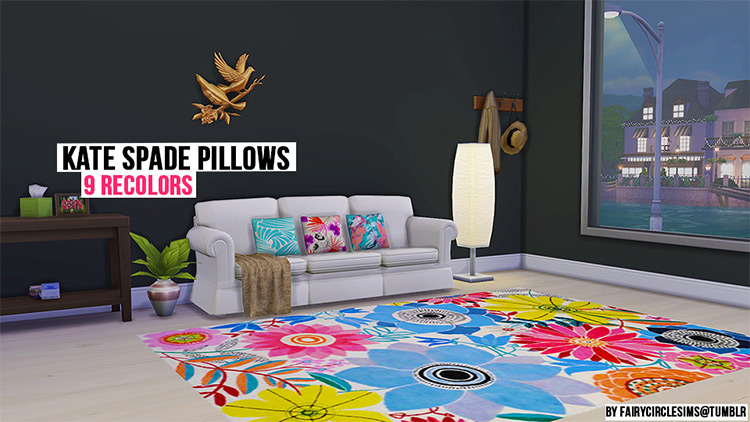 Kate Spade is described as an "American luxury fashion design house," and their designs definitely look luxe.
Now, I'm more familiar with their bags than I am with their home goods. Plus I don't own any designer pillows.
So I can't say for certain whether the style options of this item are based off of actual KS designs or if they're simply inspired by the brand's products.
Either way, these pillows look excellent!
11.

Zara Sandals (Décor Only) by SIMcredible!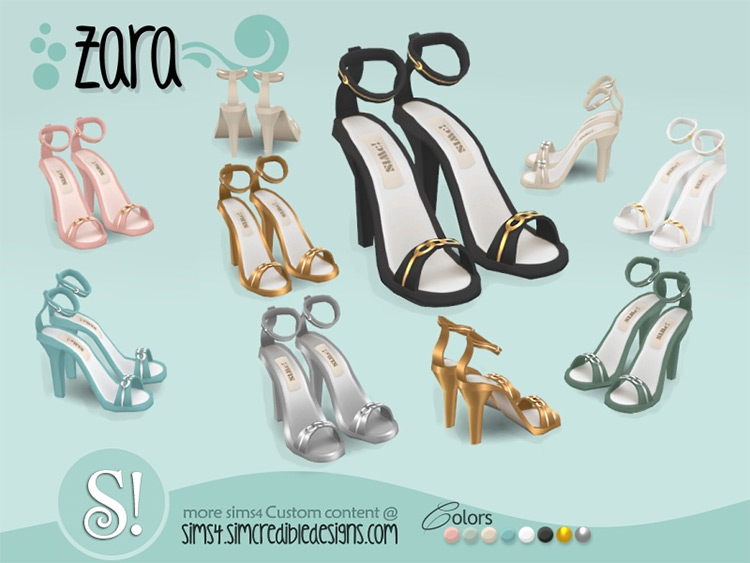 How about some beautiful decorative peep-toe heels from one of the biggest names in fast fashion?
Now I know some might think Zara doesn't belong on this list since it's not exactly a designer brand (what with having no chief designer and all).
However, I also know that Zara is considered a luxury brand by its Asia-Pacific consumers. And I personally think their designs are sufficiently elegant and expensive-looking, so. These heels? They're staying on.
12.

Designer Collection by simmerkate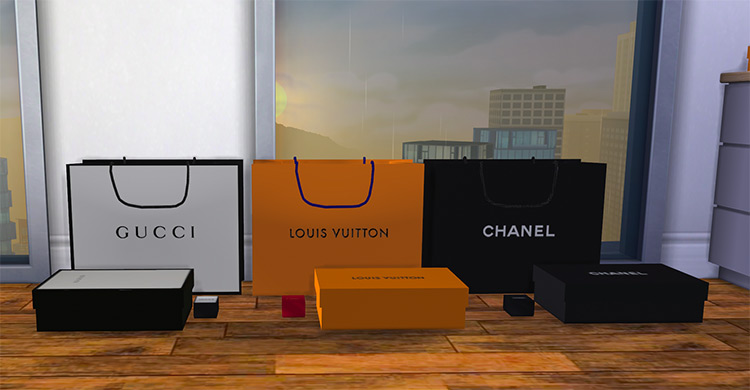 This CC pack is exactly what this list is all about.
Designer gift bags, designer shoes, and designer ring boxes galore. You know; just some casual shopping clutter decorated with some of the most expensive names known to man.
And if the boxes and bags aren't enough, you can scatter Louis Vuitton ornaments and floor rugs 'round your Sim's penthouse apartment. Just to really up the class.
13.

Minc + Morgan Moss Jo Malone Set by morgan-moss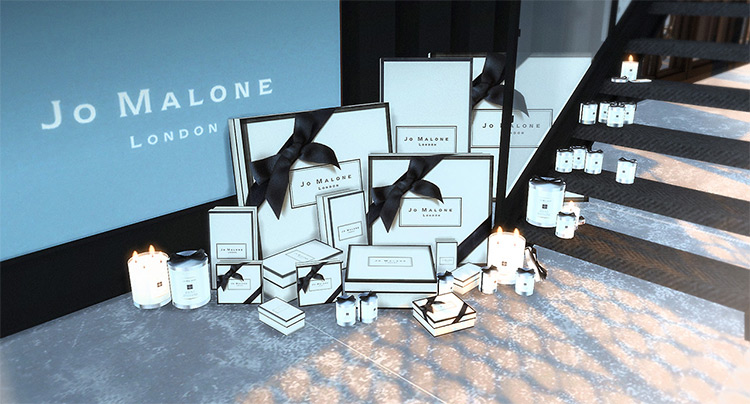 Jo Malone London has been under the Estée Lauder family of brands since 1999, so you know their quality is high-end and luxe.
Their perfumes and candles definitely have that subtle elegance in both design and packaging.
They look expensive, is what I'm trying to say, and this pack perfectly captures that vibe to a T.
14.

Victoria's Secret – Collection 2018 by cherryonkpop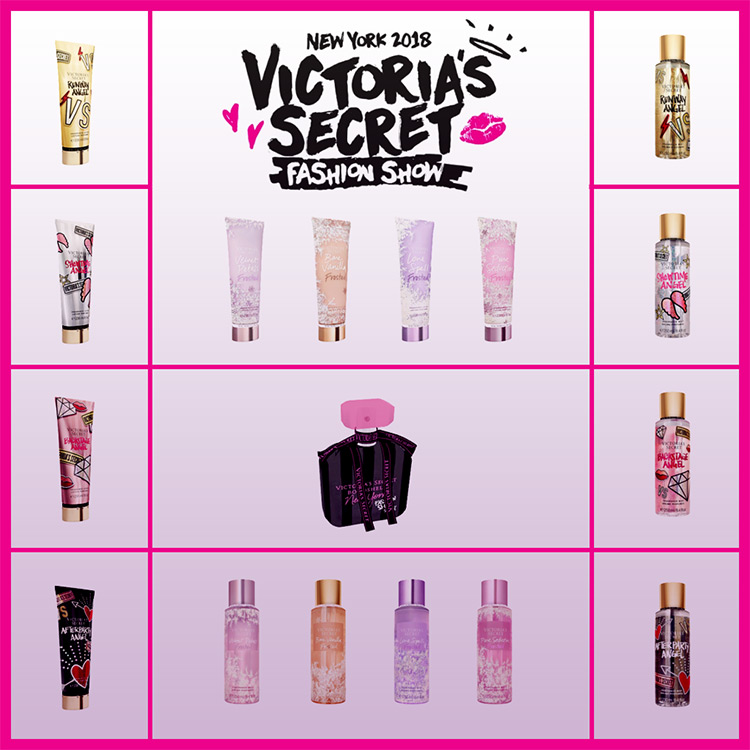 Victoria's Secret (which to this day, that secret is something nobody knows) is a premium brand known for high-visibility marketing.
Among other things.
If you're familiar with their fashion shows, their modeling standards, and the adverts they put out, then you probably know what they sell.
Thankfully, this Victoria's Secret CC pack by cherryonkpop is safe for viewing. It simply contains decorative bottles of VS perfumes and body lotions.
The pretty, dainty packaging with soft designs and pastel colors are great for decorating floral, feminine spaces.
15.

Luxe Birkin Deco by Kamryn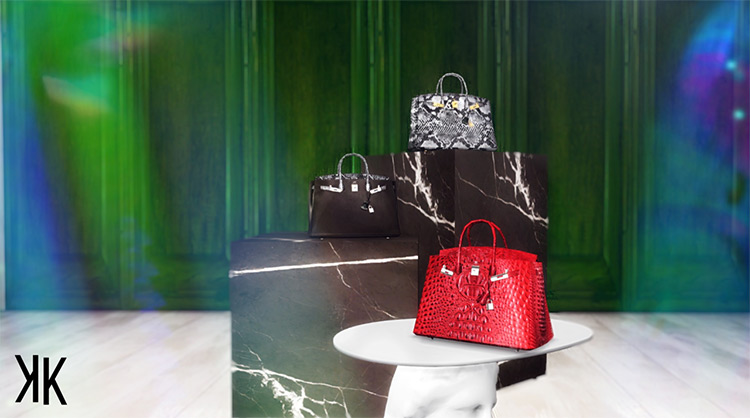 Talk about your luxury designer-brand deco pieces.
This Luxe Birkin bag (decorative, of course) can grace your Sims' home for the low, low price of $500,000 Simoleons. Honestly? The price sounds about right, given that it's a Birkin bag from Hermès.
And if your Sim wants to invest in something that increase the entire property's market value, why not invest in this?
It is a gorgeous handbag.
16.

Dior Backstage Foundation by CoatiSims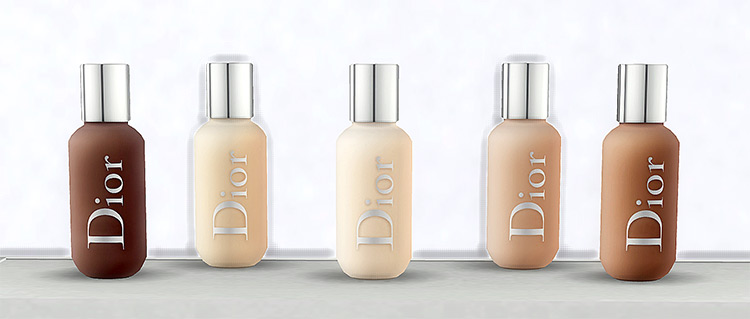 More makeup clutter?
Yes, because Dior is another luxury designer brand that everyone knows.
And if you own even one thing of Dior, you're probably doing well. So here are some innocent bottles of foundation your Sim can leave lying around the guest bathroom. Again, it's all about that cluttered flex.
The creator didn't include the line's entire shade range, but it's great that there's at least enough representation present in the swatches.
17.

Shoe Box Clutter by Simmin My Best Life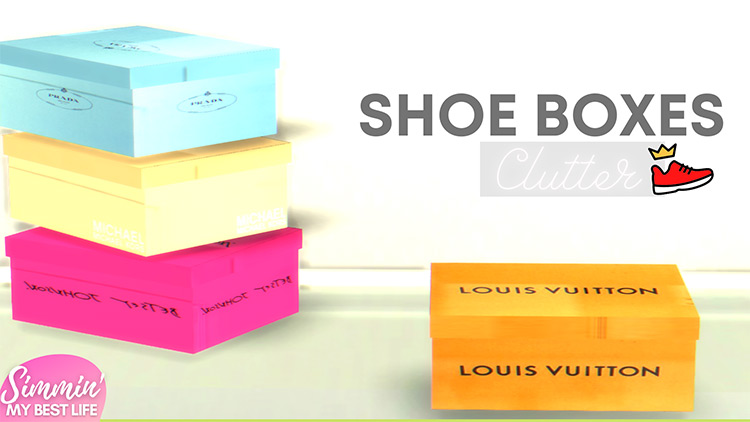 Maybe the shoes aren't lying around (because your Sim is too neat for that nonsense, come on).
But you can at least leave the shoeboxes around.
Just, you know; to let guests know your Sim can afford shoe brands like Louis Vuitton and Nike.
Jokes aside, I love that these boxes are stackable. It ups the customization factor, which is always a plus for TS4 clutter.
Browse:
Lists
The Sims 4
Video Games