Sims 4 Desk CC: Corner Desks, Office Desks & More
This post may contain affiliate links. If you buy something we may get a small commission at no extra cost to you. (Learn more).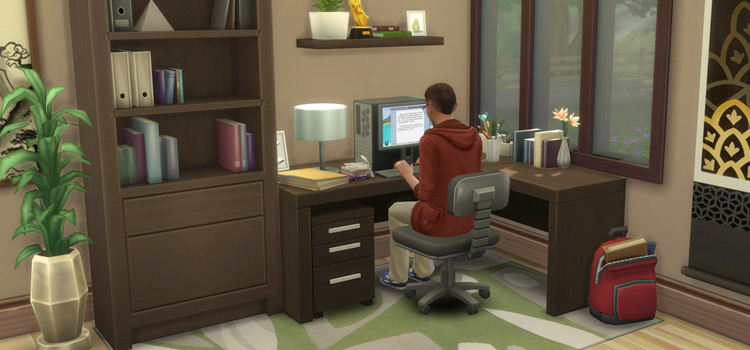 Desks are just as important to our Sims as they are to us, their overlords.
I know some brave players manage with just a trackpad, but not me. My obsessive need to micromanage my Sim's every move requires a mouse and seating area, and I know I'm not alone.
But even if your Sims do have to head out to work every day, having a dedicated surface for homework, hobbies, gaming, and whatever else they like to get up to once they get home is a must in modern life as well.
There are few things worse in this game than moving your Sims into a new home, possibly one you poured hours into building just for them, only to realize you forgot to leave space for a desk.
Then they have a desktop computer on the dining room table, wind up writing letters to their penpal with a bunch of negative moodlets from the rancid dishes, it's just a mess… but an avoidable one.
All of your Sim's pursuits can be more pleasant when they have the right desk. And you'll never be lacking options again after this list of CC.
1.

Never Have Enough Clutter Desk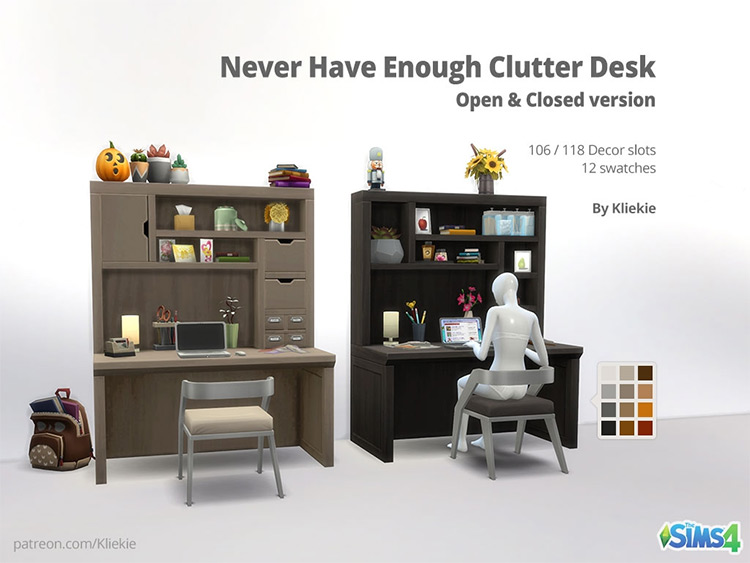 One's workspace is not defined just by the computer and desk, but by all of the crap they've got stored on/in it as well.
Yes, I said crap.
Minimalists are the only people who can honestly say they know everything that's in their desk.
I mean, mine only has two drawers, they're full, and I don't have the foggiest idea what's in there.
That's life, and that should be The Sims!
A clutterless home is not a realistic home.
These two desk variations will finally give you plenty of space to put all of the knick knacks, pictures, flowers, and other décor you desire.
The version with closed doors has 106 slots total, while the open version has 118.
Since most of the objects that we should be able to clutter spaces with take up the entirety of a table or won't even fit on a shelf, this is a game changer.
You'll be able to clutter to your heart's content, with a ton of flexibility.
2.

Menu Rail Desk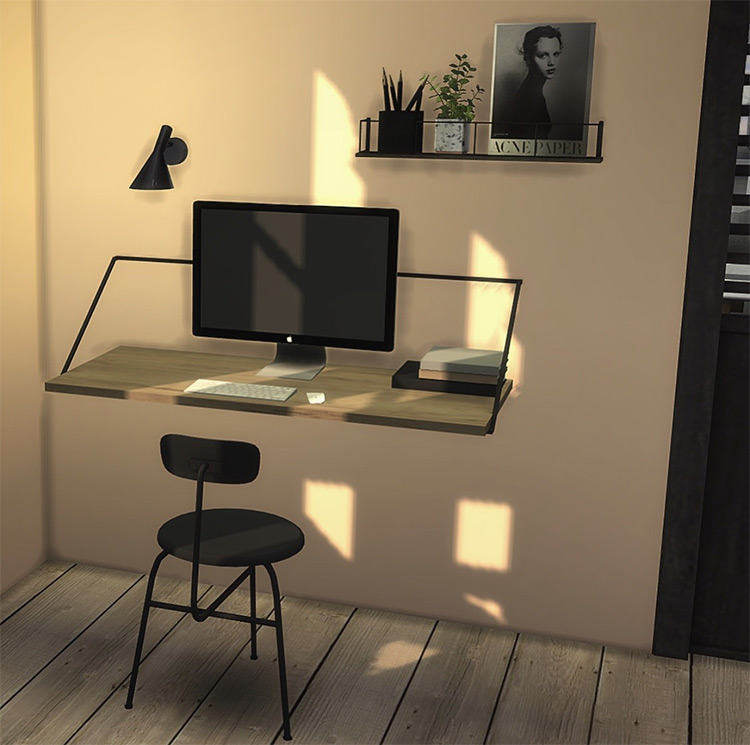 While big desks with lots of shelving certainly have their place, the minimalist folks out there may not see the need.
So if you're somebody who isn't interested in doubling your Sim's workspace as a clutter fest, then this simple floating desk may be more along the lines of what you're looking for.
It's basically a shelf for the computer.
No legs, no drawers, just a thin surface with a few spaces for reasonable clutter.
Which can include books, a cup of pens and pencils… you know, sensible stuff. For a sensible Sim with a wall-mounted desk.
3.

Reclaim It Desk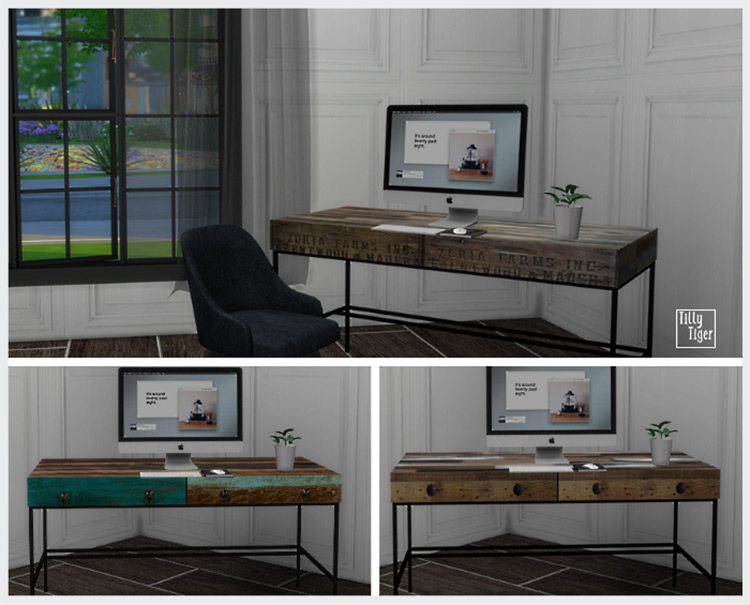 Buying a desk may be the most obvious choice, but savvy people may see opportunities where others see garbage.
One man's trash is another man's treasure, right?
Well since sustainability and recycling are becoming more mainstream, repurposing wood is rising in popularity as well.
There's definitely something to be said for some nice old wood.
It's like you can feel the wisdom and history… especially when all of the original text and flaws remain.
These desks really stand out with their numerous rustic swatches, inspired by vintage furniture.
They have a simple boxy structure with steel legs, but there's a lot of personality as well thanks to the wood designs.
You might not think a desk can or should have personality, but I'm telling you, all furniture should!
You'll be thrilled to have such unique pieces in your Sim's home, while their neighbors keep trucking along with their boring not-upcycled desks.
4.

Paige's Office Desk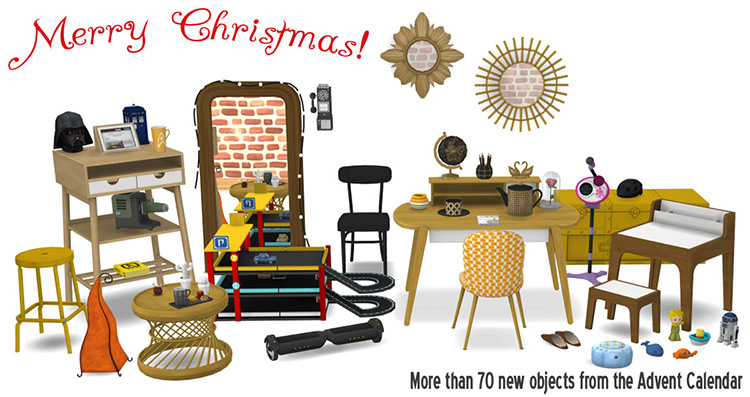 This desk was originally released as part of a Christmas set – but you can download it by itself.
It's just too good to pass up!
The design is a perfect mix of mid-century modern and modern-modern.
…yeah, I'll stick with that.
There's a blend of the compactness you usually only see in retro furniture, plus the simplicity trend of present-day interior design.
And together, those factors have made for an awesome piece of furniture that will add a fresh & unique edge to your Sim's home.
The desktop being oval shaped is really what does it for me, I think.
Almost every item in the game has pointy corners – and that's just a hazard with toddlers around!
5.

Trestle Desk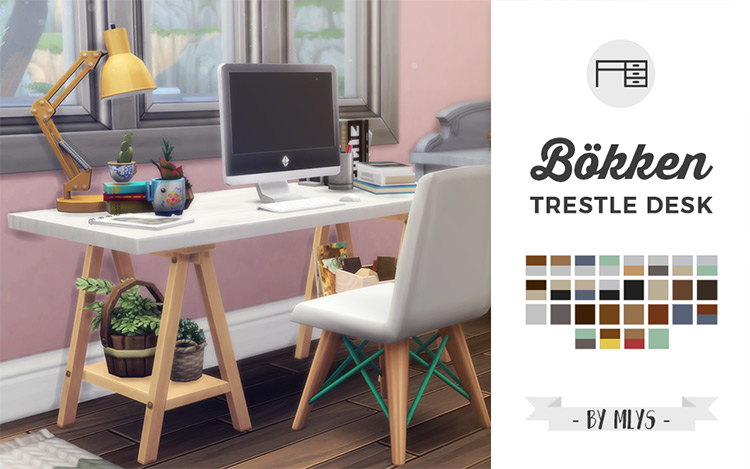 Here's a straightforward design with just a flat top and sturdy supports that offer a little room for decor.
"Trestle" isn't that common of a word. But any context you've seen it in before probably referred to bridges.
Well that makes sense, because this desk will be the bridge between your Sim and the productivity of their computer-related endeavors!
That was a tad forced, but this desk won't be.
It has a very nice neutral, everyday appearance that will work well for homes and office builds alike.
Besides, the flat surface allows for it to be placed in front of a window, which I always like to do.
If a Sim is gonna be building some skills on a computer or doing homework, they'll be seeing a lot of that desk.
It's just proper to give them a view of all the fun they're missing out on in the neighborhood while they're at it.
6.

School Desks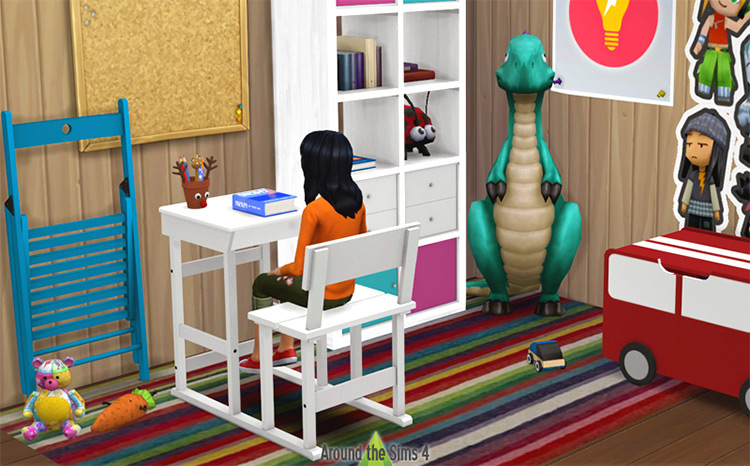 The first place most of us ever encounter a desk is, of course, at school.
And it's rarely a positive experience.
Gum stuck on the underside, suspiciously dirty spots that never come clean, plus the chairs that come along with them with the hair-snatching bolts… man, how did any of us ever learn when subjected to such a medieval environment!?
Miserable or not, those famous school desks are practically a rite of passage.
And it's something your Sims should know as well.
There are three styles in these school desks, all of which can typically blend into any school.
Two are the classic style that includes a storage space within the desk, while the third is the more "mature" type that kids usually get once they have lockers available.
It just includes one of those incredibly uncomfortable chairs and a small desk slab.
At the end of the day, I suppose they all get the job done.
If you plan on building a school or just want your Sim's kiddos to have somewhere to do their homework that'll always keep them in the right headspace, these are the most true to life options you'll find.
7.

L Desk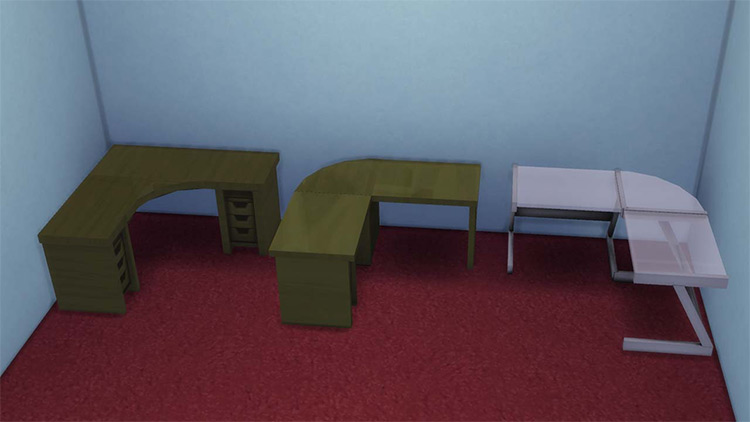 Sometimes you just have to "take the L" and give your Sims a proper desk – even if you didn't originally build their house with such an area in mind.
Corny jokes aside, L desks are tragically absent from the game.
They actually may take up less space than a regular desk, because you can place them in corners & integrate them with shelving and other furniture for a more cohesive look.
This practical design will also be very handy if you'd like to build a cubicle.
It'll really make the most of the space your Sim has to work with.
In addition to two wooden versions, there's also a glass styled L desk here which you can use to customize a desk, making it usable for two or more Sims, depending on how much room you're willing to dedicate.
8.

Victorian Desk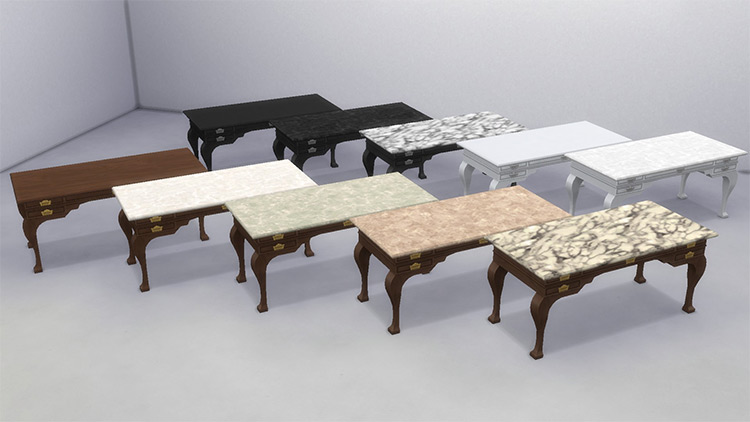 Times have changed since the Victorian era.
But the expectations for desks have more or less stayed the same.
Obviously Victorian people weren't concerned about having enough surface space to accommodate their computer.
But style was as much of a factor then as it is now.
And the best part is that many things from that distant era were epic that they still stand up in the 21st century.
I think it's safe to say wood is never going out of style – and there's never any shortage of that when it comes to Victorian furniture.
This desk also has a classic look, with gold-accented drawers and cabriole legs.
9.

Industrial Desk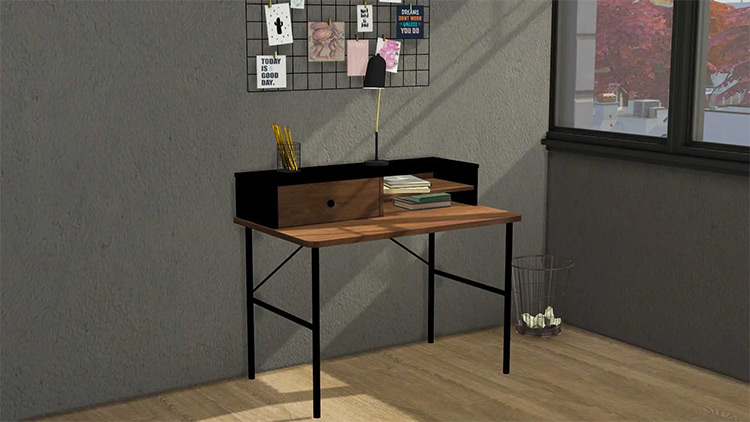 Industrial design is rather perplexing.
The name brings forth mental images of a construction site or powerful household cleaning products.
But in reality, it's just a term used to describe the trend of a more weathered vibe for a home.
A place that looks like it's straight out of a magazine doesn't always evoke feelings of comfort, let alone facilitate a welcoming atmosphere.
It's best if an established Sim's home has furniture that all goes together and speaks to who they are – and this desk is characterized by all of the best undertones of industrial styles, like metal framework and slightly worn wood.
You'll have some more small décor slots to work with here, as well as a decorative drawer up top.
10.

(2-to-4) Country Desk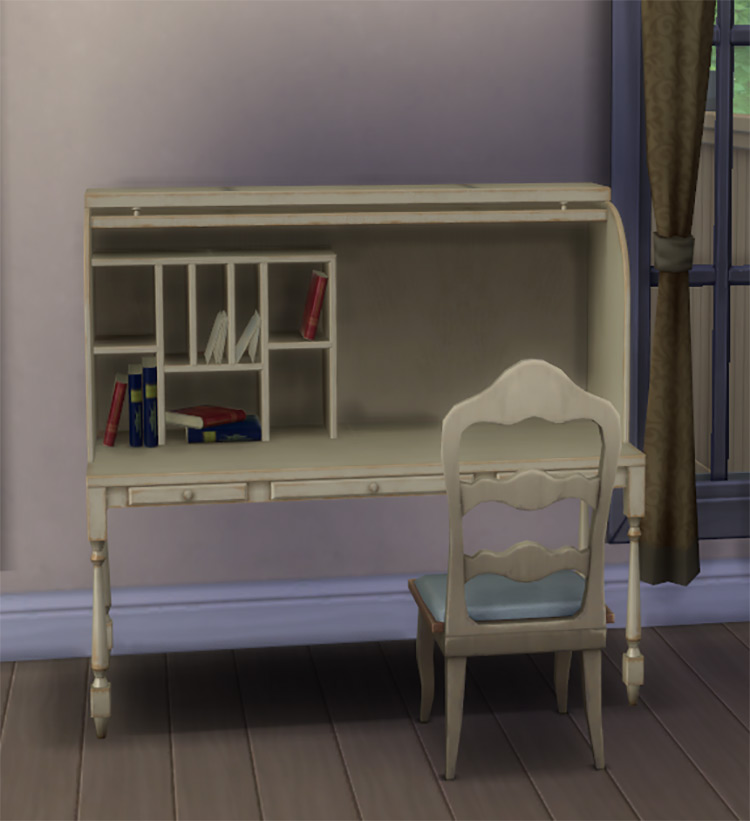 Country furniture has its own distinct look that's automatically identifiable most of the time.
It may not exactly be glamorous, including chipped paint and some old fashioned styles.
But it holds up.
This desk was actually converted from The Sims 2, which makes that antique feeling even more relevant.
There are plenty of little details here typical of country furniture, too, including ornate woodwork along the legs and slender drawers.
The storage slots are typical of older desks as well, meant to house mail, loose papers, and books.
But it's 2021. And you can put whatever you want in there.
Load those cubbies with cooking utensils if you want, no one will ask any questions.
11.

Cuti Desk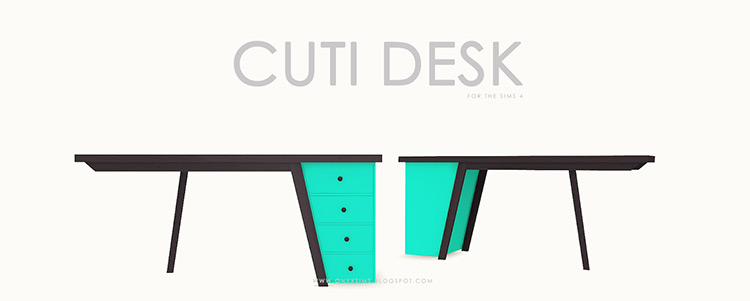 Most desks have a standard practical design and neutral swatches palette.
But this is the desk for your Sims if you'd like something unique with a pop of color.
This interesting creation is based off an Instagram desk, which explains how cool it is. All of the best ideas come off Instagram, at least as far as trendy, modern furniture goes.
The drawers have a slanted effect, where they get increasingly smaller. Or do they get increasingly larger? I suppose it's a glass half full situation, whether you see them as ascending or descending.
The main point is they look awesome, and you will have dozens of swatches to make this desk all your own, or match the feel of your Sim. You'll have some typical grainy woods as well as bright colors.
And at the other end, there's a single leg in the middle working with the two on the other side to provide stability.
Like I said, unique!
My descriptions probably don't do it justice, honestly.
It's unlike anything I've seen, but in the best way.
12.

Corner Desk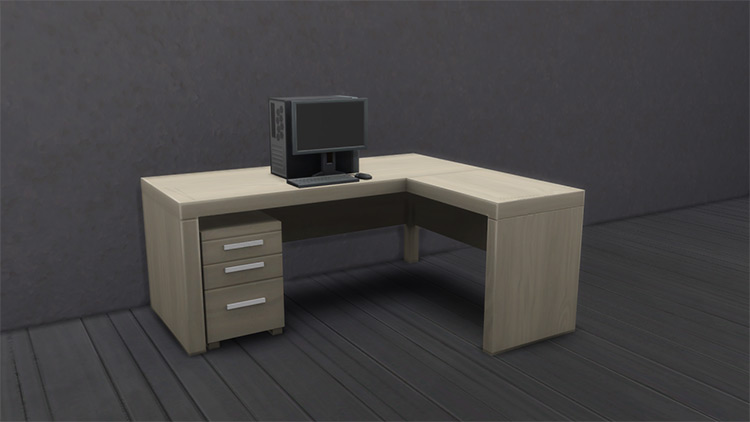 Here we have another corner desk to check out.
You can just never have too many options when it comes to these, since I believe you can only get them in the form of CC.
Perhaps there's one included in a pack I don't have… but even so, custom furniture is always a perk. Because you can just have a single item or set if you want, rather than needing to buy an entire pack to get it.
But I'm really just rambling because, as I said, I think this is something unique to CC.
But it's nevertheless amazing, and so incredibly versatile.
This desk has a bulkier design with a classic style. And it offers plenty of room for computers, books, clutter, and all of the other things a Sim needs.
The design is so classic, in fact, that you'll be able to use this in many different locations.
It could work out in the open space of a loft, just as well as in a bedroom corner.
13.

Work Is Desk-picable Set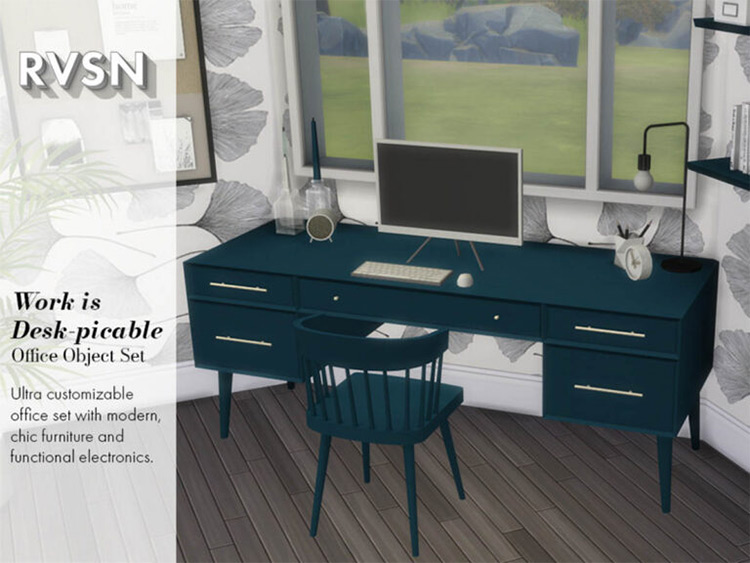 All of the desks you see in the game are what they are.
Big or small, there's no changing their physical appearance outside of swatches.
Well, none of the above applies to this set. That's right, it's a whole set!
You don't just get a desk here – but all of the pieces you'll need to make a desk of your own.
With six separate sectional pieces, you can make a standard sized desk, an L shaped one, something that could hold multiple computers, or anything else you could come up with.
Fill a room, build a command center, the desk's destiny is yours!
The pieces will fit together seamlessly just as counters do, and the desk comes in a variety of fun colors as well as your typical blacks and whites. So the customization possibilities are quite broad here.
14.

Fraxinus Drawing Desk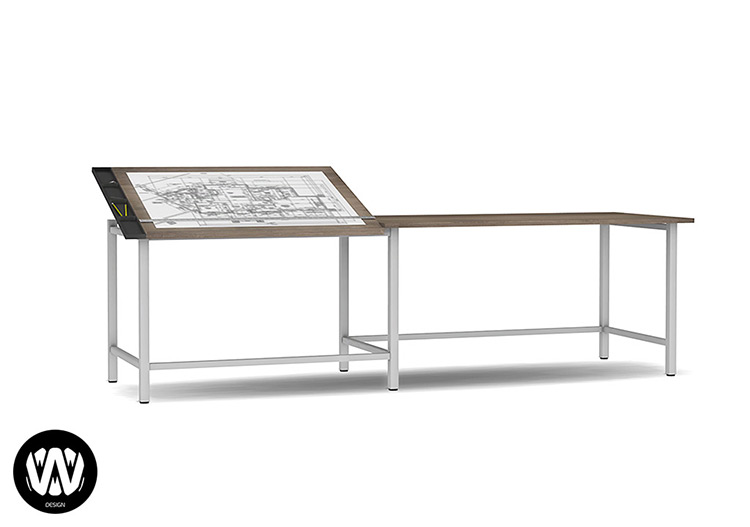 There's been a lot of talk of school work or computers on this list.
But many artist Sims can make their lives easier with a desk, too.
This Fraxinus Drawing Desk CC is perfect for any Sim in a profession that involves sketches, since this table was made specifically with room for one on a propped up side – as well as space to create new ones on the other.
I believe there's actually more than one career that would let you put this to use, but you can always use your imagination as well.
It comes in 4 swatches covering a range of wood shades.
15.

Desk With Cabinet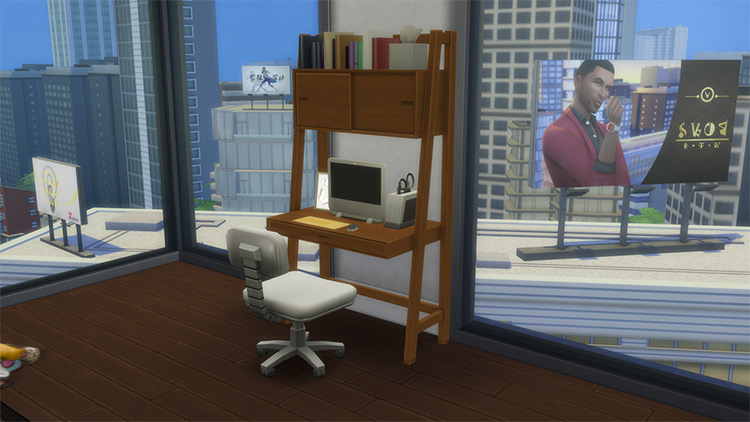 You've probably heard the phrase, "out of sight, out of mind."
I think that has always been used in reference to clutter, but it can work in The Sims too.
The clutter here is implied, since everyone will assume those two nice big overhead cabinets aren't empty.
But as far as we know, they very well could be.
It's Schrodinger's cabinet.
Is there not so much as a speck of dust in there?
Or is it filled to the brim?
That's all about the personality of your Sim's family & up to you to decide.
As it is, the cabinets just serve as a nice decorative piece.
And there are slots up top for you to use as you wish.
The desk itself is another compact type, with a thin and rectangular top and one drawer.
It's fairly narrow compared to most other desks as well. So this is another one you'll be able to use in many different types of homes, maybe even tiny ones.
Browse:
Lists
The Sims 4
Video Games