Best Sims 4 CC & Mods About Detroit: Become Human
This post may contain affiliate links. If you buy something we may get a small commission at no extra cost to you. (Learn more).
Detroit: Become Human forces us to consider what it means to be human, and whether that's even a prerequisite to be respected and have some basic rights.
Considering our Sims – like androids – are a sort of AI made in humans' likeness, it's only appropriate to bring together Detroit: Become Human with The Sims 4.
It's a match made in heaven (or should I say, a Maxis Match? No? I'll show myself out.)
15.

Detroit: Become Human T-Shirts
A straightforward way to add some Detroit: Become Human into your TS4 is to get these stylish T-Shirts.
The pack includes four tee models I'd even wear in real life if I got the chance.
One features the techy fractal design we see everywhere in the game, while another has the Jericho symbol emblazoned on the chest – and so on.
My favorite has to be the Support Android Rights t-shirt, which would make a powerful fashion statement both in TS4 and in real life.
14.

Female Android Crop-Top
On our first walk around town as Markus, we see all kinds of androids helping humans in diverse ways.
There are even some exercise coach androids in the park, and now, they can be in your TS4 too.
This incredibly stylish high-tech crop top was designed for SJV21 fitness coach androids. It's light, looks fresh, and it leaves their chiseled abs out in the open for you to look at and remember why you're doing 10 sets of 100 crunches in the first place.
The pack includes a whopping 55 swatches, and five of them feature an awesome pearlescent effect on the fabric that gives off an intense cyberpunk vibe.
13.

Chloe's Dress
One of my favorite parts about Detroit: Become Human is the interactive main menu, featuring CyberLife's first lifelike android model – Chloe.
If you've also fallen in love with this charming commentator, you might want to get her into your Sims game.
This CC is here to help.
Alternatively, you can also make several Chloe-bots and fill your house up with them, just like Elijah in Detroit.
The dress is available in two shades of blue, a deep brown, and an olive drab tone.
12.

Ralph Character Set
We don't get to spend too much time with Ralph in Detroit: Become Human – something most of us are really happy about, mind you.
This creepy android has had a rough time since he "freed" himself from human control – and his circuitry seems to have taken the toll of living on the streets.
To show everything he's been through, this Character Set includes both a "new" and a deteriorated version of his uniform. It also features Ralph's heavily damaged skin for extra realism.
11.

Damaged Android Eyes
Life as an independent android can be tough.
Especially lacking access to repair shops with the part replacements everyone needs from time to time.
These Damaged Android Eyes will help you manifest this struggle on your own androids.
The pack includes several kinds of damage seen in the game, including the dull, dead eyes seen during the hellish android dumpster scene, and the bright crazy eyes seen on Zlatko's creatures
10.

AX400 (Kara) Uniform
Prolific creator and Detroit: Become Human fan LadySpira brings us an android fashion essential – the housekeeping uniform worn by AX400 androids, like Kara in the game.
It's a very high-quality reproduction of the original garment, and it's perfect for your robot maid to wear at work – if you want her to kill your Sims, kidnap your child, and join an android uprising, that is.
Don't worry: as long as you don't pair your AX400 with a child-mistreating psychopath owner, you should be fine.
9.

Glowing Android LEDs
If you're going to introduce an entirely new race of robot people into your Sims 4 game, you need to be careful you can tell them apart later. For that, we have the Glowing Android LEDs.
These small accessories can be found under "Earrings", even though they actually go on your Sim's temple.
But they come in blue, yellow, and red – so your human Sims can quickly tell a regular android from a murderous deviant in a jiffy.
My favorite part about these is that they actually glow. They're just like the ones in Detroit: Become Human! And they're also available for children.
8.

Eden Club's Glowing Lingerie
Let's face it:
The first thing we'll start seeing once humanity manages to create hyper-realistic androids is robot strip-clubs.
We get to visit just such an establishment in Detroit: Become Human.
Eden Club is the perfect place to visit when you're in need of some robotic love. And now, your Sims can get in on the action too.
This won't teach your Sims how to pole-dance or anything of the sort. But they'll look fly in these black undies bearing Eden Club's logo in glowing letters. High-tech underwear, here we come.
This set includes underwear for both male and female Sims.
7.

Tracy's Jericho Pullover
Sex-androids are perfectly fine and ethical – that is, until they start to develop a conscience.
Things get tricky after that.
In Detroit: Become Human we meet a blue-haired "Traci" bot who escapes from Eden Club to Jericho, harboring deep resentment against humans.
Most of them, anyway.
All of that trauma and hate doesn't keep her from dressing like a fashion icon, though.
This turtleneck-under-a-hoodie has a lot of style, and the colors are just perfect.
6.

North Outfit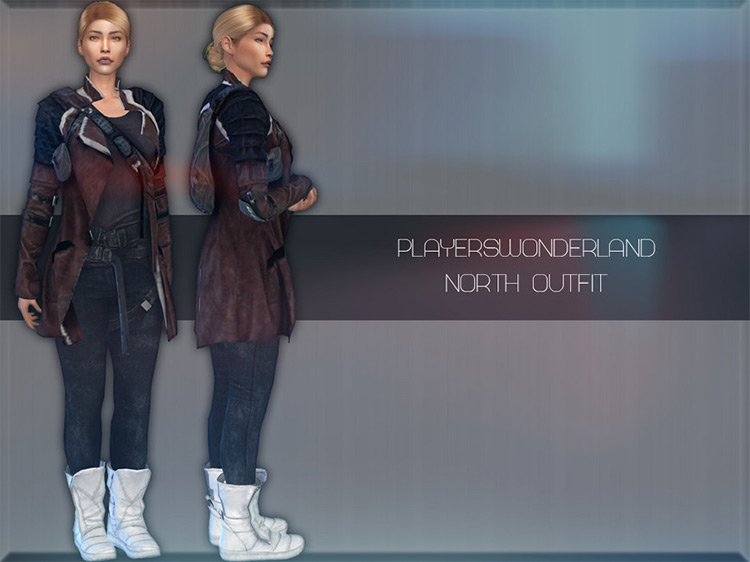 But our blue-haired fashionista isn't the only escaped sex-bot to join the ranks of Jericho.
And she's definitely not the most intense.
North is a bad-ass revolutionary with a really rough and tough look that's a stark contrast to what most Traci models look like – when they're not organizing an uprising against their human oppressors.
This outfit contributes a lot to that look.
It's practical, doesn't draw too much attention, and it also has some interesting Nathan Drake vibes, for those of you who like the Uncharted series.
5.

Lt. Hank Anderson Character Set
Lt. Hank Anderson is a pretty complex but relatable character.
He's seen better days, and he struggles to understand how androids are taking over his workplace – the only thing he's got left by the point we meet him in Detroit: Become Human.
If you feel sympathy for this grizzled alcoholic detective, consider giving him a chance at a normal life in your TS4 game with this Character Set.
Maybe it won't get rid of androids. But you'll help him overcome his alcoholism and turn over a new leaf in Willow Creek or Oasis Springs.
Alternatively, just make him a police officer/private eye in San Myshuno. He'll fit right in.
4.

RK800 Connor Character Set
And you can't get Hank without his adorable android side-kick, Connor.
This RK800 Connor Character CC Set includes appropriate outfits for every situation. So your lovable detective android prototype can blend in at the pool, the gym, a bar, or anywhere he might need to snoop around to solve a case.
Of course, it also includes his main outfit from Detroit: Become Human – complete with glowy, high-tech-looking accents here and there.
It really makes it evident that he's CyberLife's top-of-the-line product.
San Myshuno has never been safer. Let's just hope an android uprising doesn't ruin the moment.
3.

Kara's Post-Zlatko Outfit
Kara is one of the most interesting characters in Detroit: Become Human.
She really goes through a lot. And her run-in with Zlatko – AKA Dr. Frankenstein but with androids – is one of the most traumatic experiences I've ever gone through in a game.
It's only fitting that she'd experience some changes after that horribly challenging situation – and we see this in part through her change in clothes.
This outfit really has that "near future" fashion vibe.
And it reminds me a lot of Lockne's outfit in Death Stranding. That's a total win for a DS fanboy like me!
2.

Female Android Costume
If you're planning to go all-out with the number of androids in your game, you'll need some generic clothes they can wear to work or any sober, important situation.
This Female Android Costume CC is ideal for the office-dwelling or retail-working android.
It's stylish, easy to move in, and will let everyone know the wearer is an android from miles away.
Whether that's actually a good thing, I'll leave that to your own judgment.
But the 3D mesh fabric looks really high-quality, and the bright blue techy highlights are fantastic.
1.

San Myshuno: Become Human
By far the most amazing and exciting D:BH creation to grace our Sims 4 gameplay is San Myshuno: Become Human.
It's a mod that introduces actual androids into your game.
Well, it doesn't quite do that…
Instead, it adds several new traits for your Sims to act like androids. Or basically a way to tell these "androids" apart from normal "human" Sims.
These traits include stuff like Housemaid Android, which makes your Sim happy to get work done around the house or play with children, and WooHoo-Mate Android. You can guess what that one does.
More interestingly, non-android Sims can now have the Pro-Android or Anti-Android trait.
This can make them act differently and feel some strong emotions whenever androids are around.
Browse:
Lists
The Sims 4
Video Games