Sims 4 Diner CC, Mods & Lots (All Free)
This post may contain affiliate links. If you buy something we may get a small commission at no extra cost to you. (Learn more).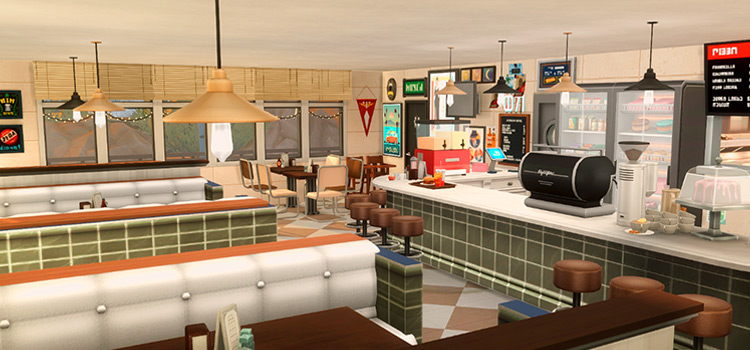 Although restaurant builds of all shapes and sizes and creeds have always been popular, the Sims 4 Dine Out gamepack has inspired content creators to make some truly incredible restaurant lots.
From cafes to fast food joints, to upscale multi-story restaurants, they've covered a lot of ground.
But the diner is something special.
Although it relies heavily on a few key recognizable features, there's still plenty of room for creativity.
Don't believe me?
I'll show you!
1.

Willow's Diner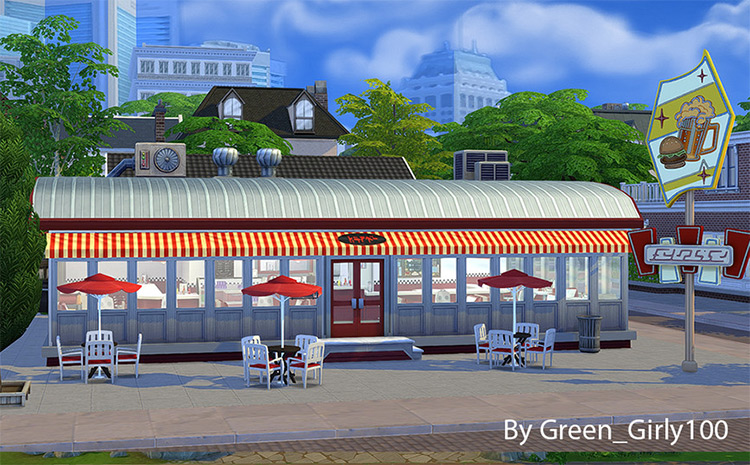 Bright, fun, and very food-centric.
Willow's Diner is the perfect place to start our diner scouring journey.
I know that everyone likes to say it's what's inside that matters. But in my opinion, the best part of this restaurant is the look from the outside.
The adorable striped awning and the tables, chairs, and umbrellas set up outside just look so inviting to me.
Just seeing it as part of my world would give me a little boost of dopamine every time – and it doesn't hurt that the inside is nothing to scoff at, either!
2.

Dine Out Single Booths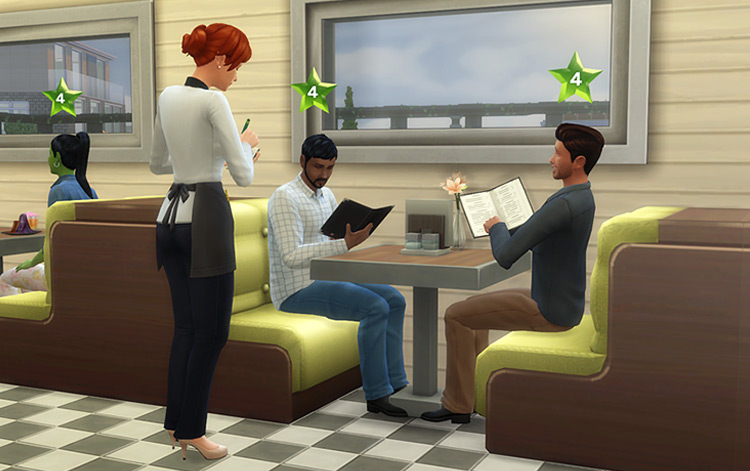 This CC is just a simple addition to the Dine Out gamepack's furniture repertoire.
But it's a much needed one!
Instead of being forced to use exclusively double booths, you'll now have access to some very convenient single booths.
Again, it's a simple change.
But it means you have a lot more flexibility when arranging the seating in your diner.
Plus you can also use it to make odd-number seating, such as triple booths or quintuple booths.
Admittedly, quintuple booths are a little overkill – but the point is you have the option!
3.

In-N-Out Custom Content & Lot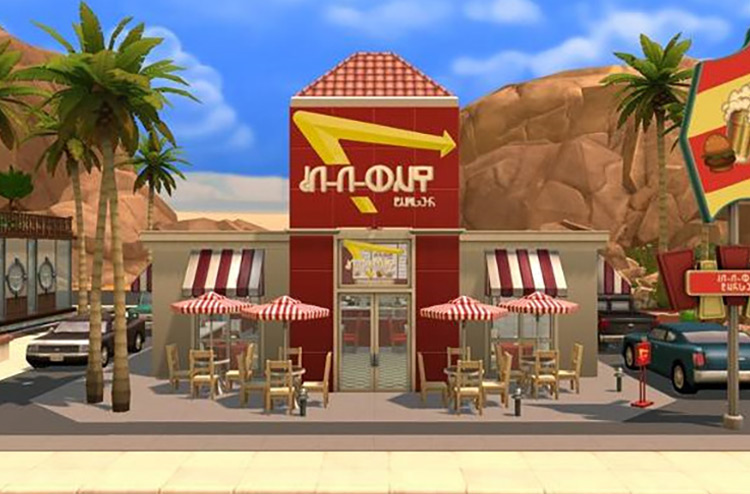 Although it's not the 1950s anymore, there are still a ton of real world diners you can go to, especially in America.
In N Out is really more of a fast food place by now – although it's by far one of the most popular and widespread chains with this "diner feeling", particularly on the west coast.
More importantly, it isn't just another burger joint – it actually retains much of the original 50s diner style!
This lot is gloriously recognizable, and is bound to bring back memories for some of you.
But for those of you less familiar with the restaurant chain, the pack still has value.
It's fully functional as a store (either as retail or as a diner you can run yourself with the Dine Out pack), and it comes with uniforms for the staff.
Plus it's jam-packed with custom content that you could even use in different builds if you wanted to.
4.

The Hungry Cactus Diner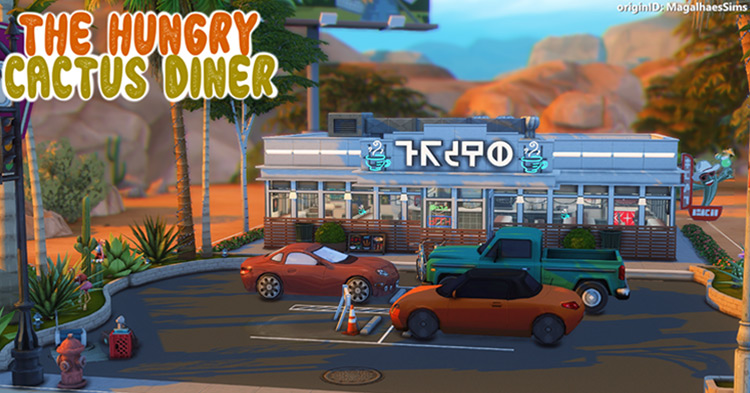 The Hungry Cactus Diner brings retro to the desert as a much-needed Oasis Springs build.
I think the desert is one of the coolest (not literally, of course) places to build in, but it doesn't get as much love as it deserves.
This lot attempts to serve up that missing love, and it does an amazing job.
The lack of cacti notwithstanding, it has everything your typical diner could possibly need.
The creator of the set, MagalhaesSims, is known for making maxis-match custom content – and this set is no exception.
So you won't need to worry about converting everything in your world to alpha to get it to match!
5.

Dine Out Part 2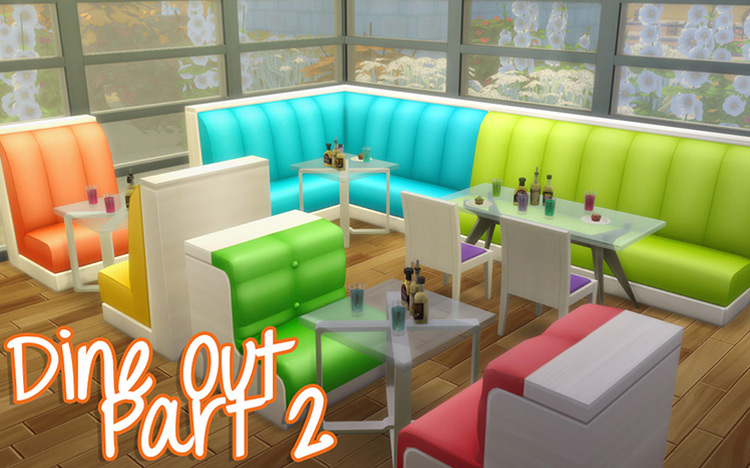 The Dine Out gamepack is pretty much required to make a functional diner (or restaurant of any kind, for that matter).
Like other Sims 4 gamepacks, Dine Out comes with some new furniture to use in your builds.
They're decent pieces, and definitely usable. But they're also lacking in variety.
This CC set will give you the kaleidoscope of colors that you deserve, with an emphasis on colors you'd find in a berry sweet legacies challenge.
It mainly recolors booth seating, but it does include chef's stove recolors too, and it even recolors the single seat booths featured earlier in this list.
The creator has also recolored other items from the Dine Out gamepack – so if you want the full rainbow diner experience, be sure to check them out.
6.

American Diner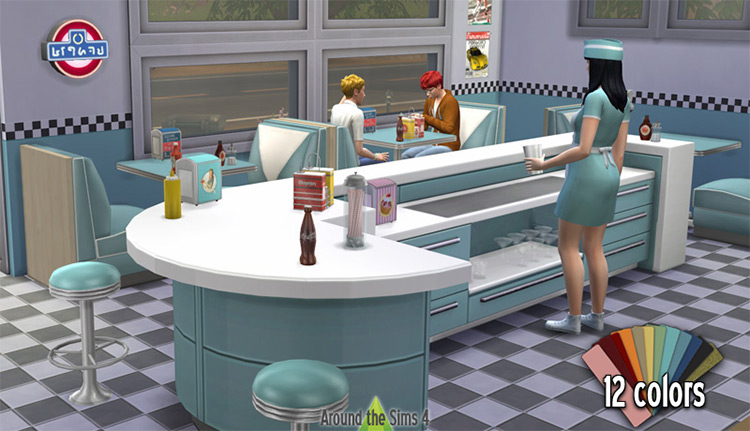 When people think of a diner, they often picture the American diner characterized by good food, bright and funky colors, and the occasional pair of roller skates.
Save for the roller skates, this American diner furniture set will let you bring your greasy restaurant fantasies to reality.
It's perfect for if you want to build your own diner, but don't want to use vanilla furniture or furniture from the Dine Out pack.
The furniture here has up to 12 swatches (depending on the piece), so you aren't stuck with the default grey-blue.
It also includes clutter, a functional milkshake machine, and a popcorn machine.
In summary: it has everything!
7.

American Diner Collaboration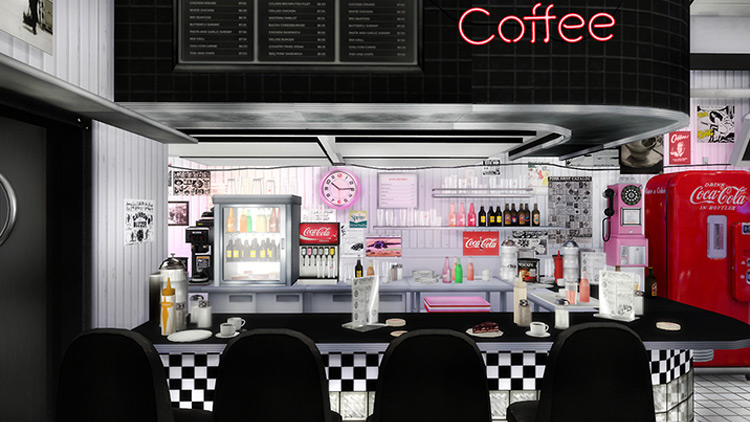 Another furniture pack option is this American diner collaboration between daer0n and Slox.
This set is characterized more by neon signs and an almost bar-like feeling, more than fast food and retro colors, in contrast with the other CC on this list.
And if the previous furniture set had everything, then this CC set somehow has everything and more.
It boasts an impressive 45 new item meshes, including bar counters and a soda machine.
It also happens to be only 1 part in a set of 3, meaning it's even bigger than it initially looks.
In the preview photos, you can see a very unique build (still using elements of classic diners) made with the pieces in this set.
But really, the sky's the limit.
How will this pack reach its full potential? It's up to you!
8.

Snack Time Clutterpack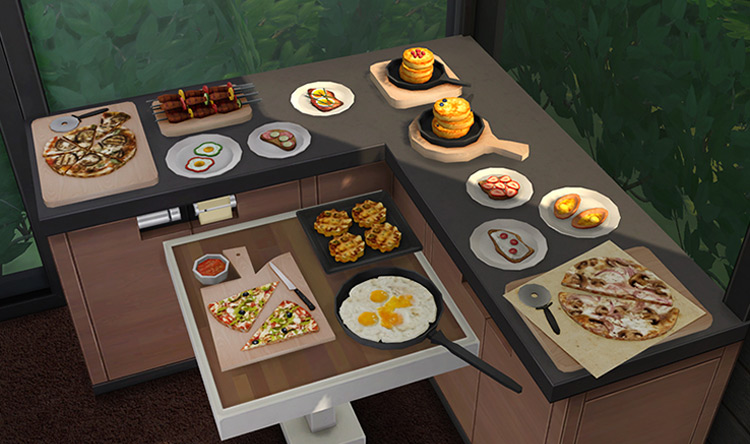 It's time for the literal main course of any diner build: food packs.
As much as I love the furniture and decorations in a diner, there's no point in their existence if not for food.
Yeah, I said it.
The snack time clutterpack has some food items that are very typical for a diner to stock, like an assortment of pizzas and delightfully fluffy pancakes, but it also includes some 'wildcard' foods.
After all, isn't 70+ years a long enough time to have decided to branch out the menu a little?
Whether you stick with the classics or choose something a little more avant-garde, this pack has got your back (or rather, your stomach).
9.

Restaurant Clutter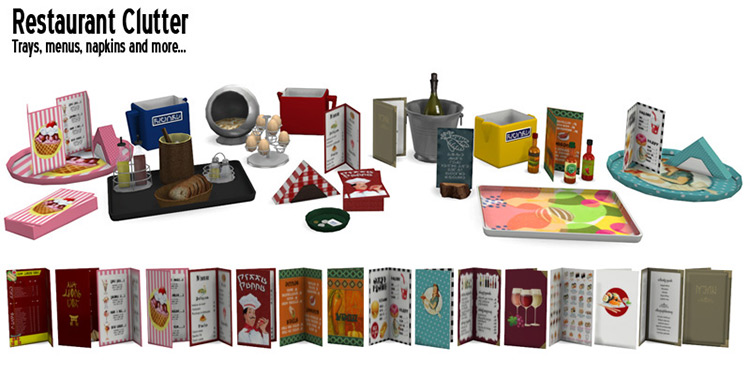 As opposed to the snack time clutterpack, this set of clutter is way, way more focused on the restaurant experience.
It still includes a few food items – but they're mostly in the form of condiments and complementary dishes.
Now, I'm not one to diss complementary dishes or condiments (especially hot sauce). But they aren't really the main appeal here.
The plethora of napkins, pitchers, trays, and menus that are offered in this pack are what make it worth the download.
There's even a polka-dot tray with a 1950s diner waitress printed on it.
You don't get much more fitting for a diner than that!
10.

Animated and Functional Bathroom Stalls
It's time to address the elephant in the room:
Trying to build public bathrooms in vanilla Sims 4 is hard.
It's not hard because you can't do it or because you need to be a high-level toilet wizard.
It's hard because you'll have to accept that awkward mini toilet rooms are the best you can do.
Thankfully, there's a mod for everything that Sims 4 is lacking!
These bathroom stalls will never be glamorous, but they're fully functional, animated, and way better than the alternative.
11.

Anna's Floor Tiles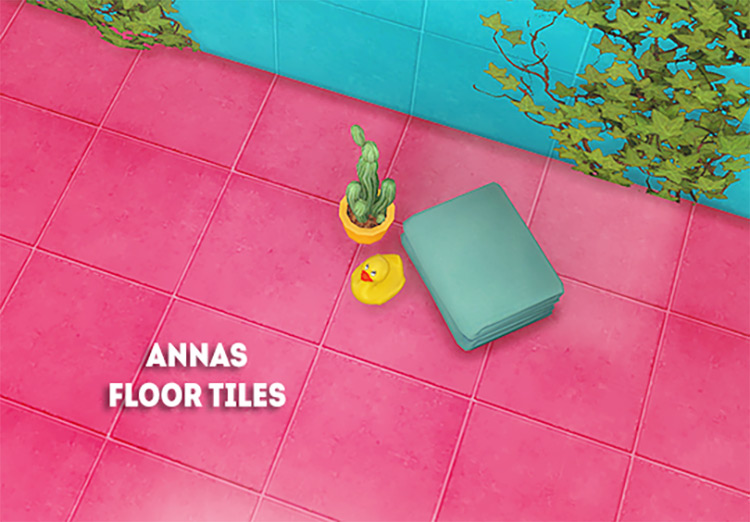 Right next to the booth seating and the cute waitstaff outfits, the tiled flooring is one of the most iconic parts of an 'authentic' diner.
Bonus points if they're in a checkered pattern.
But with Anna's floor tiles, you don't have to stick to the usual black and white flooring if you don't want to (although you still could, of course).
With 19 color swatches to choose from, your diner could be decked out with the entire rainbow just as easily as you could implement a simple white and red design.
And these tiles were originally made for bathroom builds, so don't be afraid to just use the same tiles in a different color for your diner's restroom.
12.

Riverdale Pop's Diner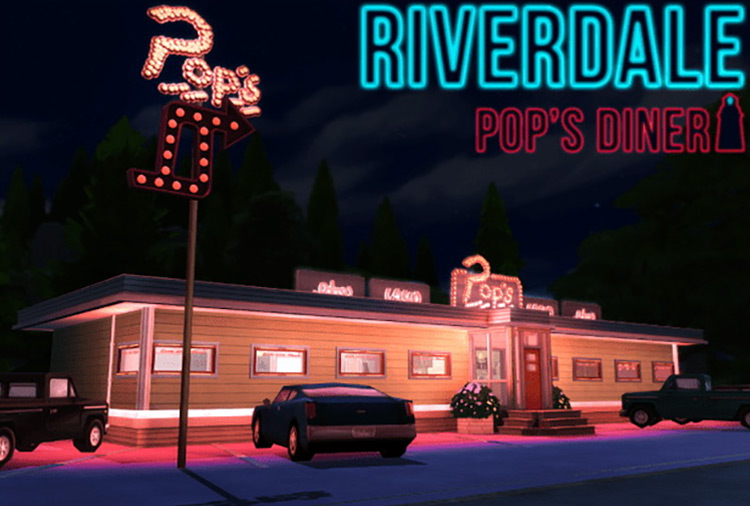 For those of you Simmers who are also Riverdale fans, you can bring Pop's diner (AKA Pop's Chock'lit Shoppe) to digital life using this fanmade lot.
It's a one-to-one recreation of the diner from the show, meaning the only thing stopping you from reenacting iconic scenes is your own imagination.
Even if you aren't a fan of the show, you can use this CC as a regular diner in your Sims world – after all, it is a regular diner in most ways.
So if the fun design catches your eye, then don't worry about not getting the reference.
It still has all the ice cream and soda your sims could possibly want!
Let's just hope that there won't be any murders at the diner this time.
13.

Bessie's Diner Restaurant
This Simblreen inspired set only looks like a normal diner at first glance.
A closer look will reveal that, while it's a restaurant, you can't order any meals.
Why?
Because you're the meal.
It's located in StrangerVille, which only adds to the spooky atmosphere – that and the very hungry cowplant who seems to be running the place.
Note that you will need a few packs to get this build to work: Dine Out, Eco Lifestyle, and StrangerVille to be exact.
But if you have those already, this lot is the perfect choice for a spooky Sims 4 experience (or for sending default characters you don't like to their death – but you didn't hear that from me).
Browse:
Lists
The Sims 4
Video Games