Sims 4 Dining Room CC: Best Furniture Sets & Items For Your Home
This post may contain affiliate links. If you buy something we may get a small commission at no extra cost to you. (Learn more).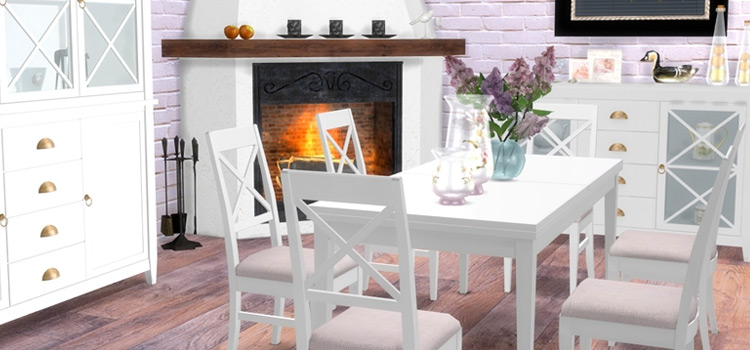 A house is not a perfect house without a dazzling and decked-out dining room.
It's arguably one of the most important rooms in your Sim's house, especially if your Sim loves throwing house parties. To wow your guest and have a successful get together, you need that room where everyone stuffs their face.
Plus some fancy knick-knacks here and there to really up your home's style.
No matter what you want in a dining room, you've come to the right place! Here I've gathered some of the most beautiful dining room CC and mods available for The Sims 4. So you won't have to scour and scroll through dozens of sites just to find the perfect one.
Consider me your personal Sim interior designer!
15.

Scandinavian Dining Room by MXIMS
We're starting off simple with this Scandinavian dining effects by MXIMS.
The Scandinavian trend is the marriage of modern and rustic themes, and so this set would be perfect for the Sim and Simmer who loves modern pieces with soft tones and textures.
Beyond the typical furniture, the pack also includes some cute wall and tabletop decorations that are sure to complete the look.
This sleek CC set will fit well in any San Myshuno apartment!
14.

Vitra Dining Room by SIMcredible!
Now this set's theme is said to be scandi-modern, and I don't really know what that means… but I am definitely loving it.
The Vitra Dining Room pack has it all: plants, vases, wall installations, sleek tables, and pretty chairs.
This is a set great to whip out when your Sim's planning a simple, homey Sunday brunch with their best friends.
Relax, eat, and chat the day away in style.
If you want to complete the design you should download the rest of SIMcredible's Vitra furniture collection. You can then pair your cool dining set with a modern fireplace, lighting, and more.
13.

Flynn Dining Room Accessories by ArtVitalex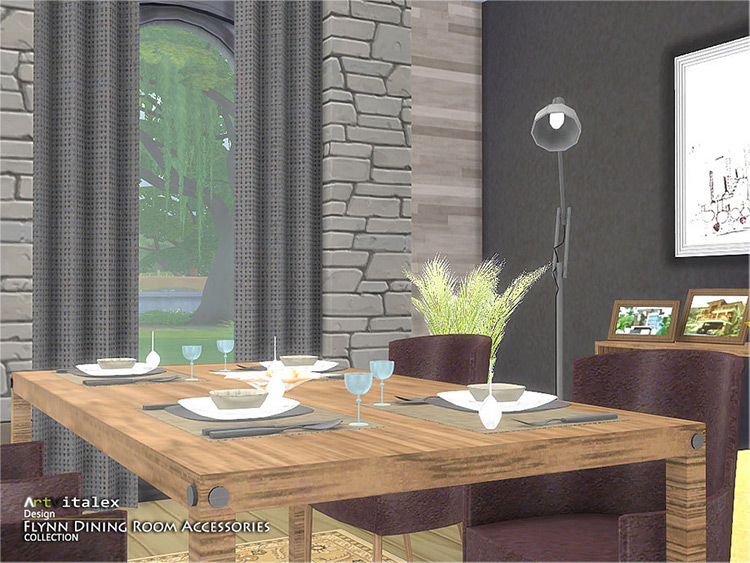 What's a dining room without the utensils and accessories?
The best host must have a well-prepared table with everything to impress guests and make the party a success.
So ArtVitalex's Flynn Dining Room Accessories pack is an important set to snag!
It includes wine glasses, bowls, place mats, and plates, which makes this CC set a one-stop-shop for all your dining room accessory needs.
12.

Manganese Dining Room by Wondymoon
Wondymoon's Manganese Dining Room set will make your Sim feel like it's vacation time all day, every day.
Especially with its rustic wicker accents.
Can't go to Sulani to unwind just yet? This dining set is the next best thing to get into the vacation vibes.
Serve up some cool drinks and cut up some fruits to really bring this theme to the next level.
Or if you're already in Sulani and have your own spot there, don't you think this dining set is great for your beach house?
11.

October by Kiolometro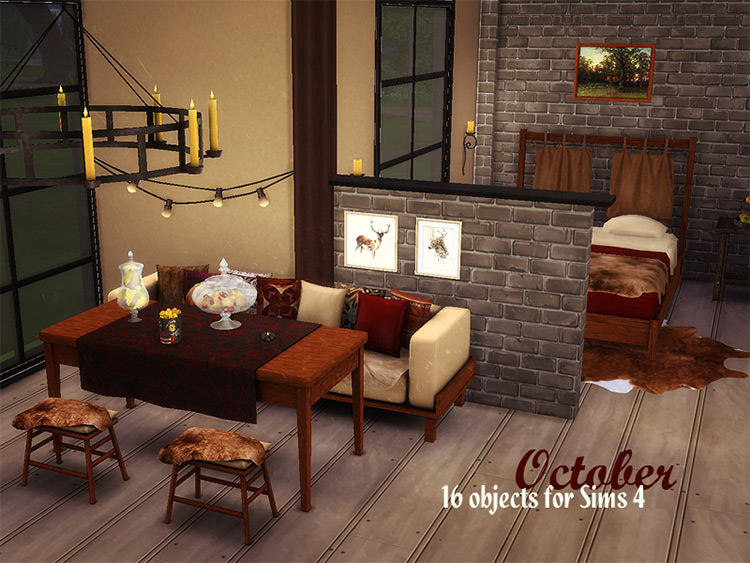 While this CC pack is a complete house set and not just for the dining area, I'm including it in this list because you shouldn't miss the cute dining items in this pack.
The main color is a charming red. And the red pillows in the dining room couch + the red tablecloth will really add a cozy vibe to your house, especially in the fall.
For the Harvestfest holiday, be sure to deck out the table with delicacies such as turkey, pies, and cookies.
Also don't forget to hang up the string lights, and the cute deer wall paintings!
10.

Restoration Hardware Dining 2.0 by MXIMS
This Restoration Hardware Dining pack by MXIMS is one of the most unique dining sets I've found, for the reason that the chairs here are benches and low-backed seats.
I haven't encountered this pairing in real life, but if I do I'd want to have my own!
Until then, I'm settling for this CC pack and letting my Sims live out my best life, but virtually.
9.

Comedor Valens by pqSim4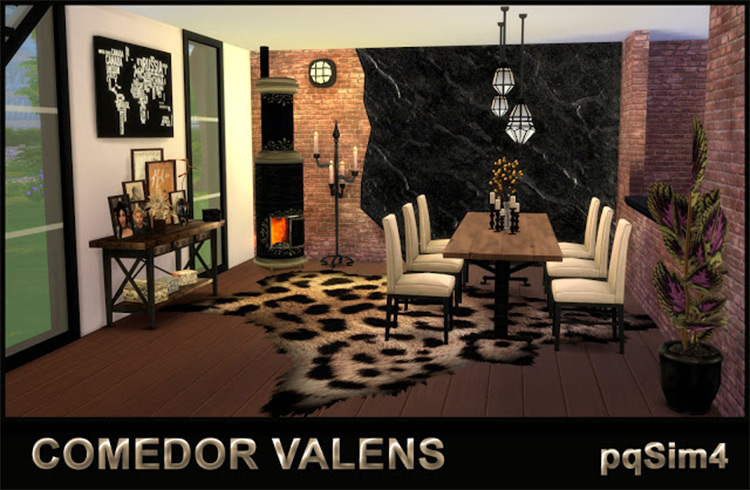 Comedor Valens CC set has dark and warm tones, perfect for an opulent bachelor or bachelorette pad.
The stars items in this pack, though, are the antique decorations that come with the chairs and tables.
There's a world map, a set of picture frames, and also a polished black metallic fireplace, with matching candelabra.
Now that's what you call style.
8.

Lillie Dining Room by Severinka_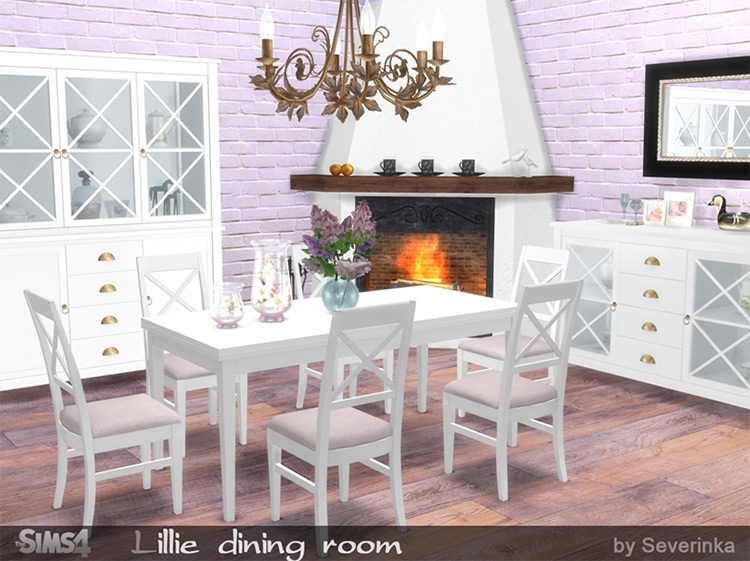 If you fancy cozy cottage-type furniture, this Lillie Dining Room pack is well worth the download.
It includes everything you need to turn your dining area into the ultimate cozy spot: cupboards, fruit bowls, a fireplace, and painted vases.
The tables and chairs also come in 4 different colors so you can easily incorporate these items in your home.
7.

Korean Barbecue Dining Room by JomSims
Who doesn't love Korean barbeque?
Korean BBQ restaurants are a great place to hang with friends and family, with the great food and the DIY grilling atmosphere. Maybe not for any vegan sims, but it's still really fun!
Now your Sims can have their very own mini Korean resto right in the comfort of their own homes!
This pack has a table with a built-in griller that comes in 4 shades, so you can match it with any furniture.
The table is paired with comfortable benches for that minimalist feeling, but still fits with all the fun and excitement of a Korean BBQ design.
6.

Odessa Dining Room by SimthingNew
Simthing New's Odessa Dining Room Set is a great set for the Sim who likes formal and modern styles.
The CC pack includes not just dining tables and chairs in different swatches, but also wall effects, paintings, and plants which go very well with one another.
With bold angles and colors, this dining set is sure to add a cool edge to any house.
5.

Vintage Bar Dining Set by Love9Souls
If you're into home bar set-ups, then you're going to love this Vintage Bar Dining CC by Love9Souls.
The set is predominantly vintage in style.
But the design and texture of the tables and stools are so unique that all-in-all there's a certain modern vibe to the furniture.
This set is something you'll only see in the poshest, most expensive saloons and cafes. But who's to say you can't have it in your home too?
4.

Provence Dining Room by Severinka_
Whenever the city life becomes overwhelming, all you need is a vacation to clear your mind.
And for your rustic vacation house, this Provence Dining Room pack is the best pick.
Your Sim will be taken back to simpler times with the light colored wooden tables and chairs, a custom fireplace, and charming plates with matching tea sets.
3.

Kuidaore Dining by Eniosta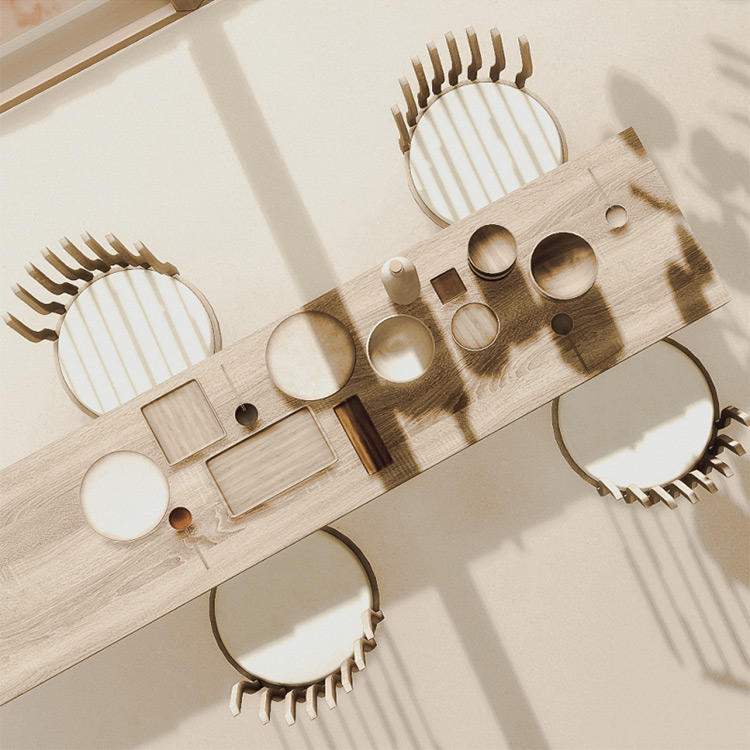 Now here's a set for all you minimalists.
And even if you're not into super minimal, well this Japanese-inspired CC is still worth a look!
Modern and calming, Eniosta's Kuidaore Dining CC is the most zen of all of the dining sets for this game. It comes with all its ergonomic chairs, sleek lines, and teak wood accents.
This is definitely the kind of CC that you'd find in the best designed homes in the world. Well, Sims 4 worlds, anyway.
Fill your dining area with lush greens in matching pots, and you'll have a space to relax, read, and meditate.
Note: this CC pack would go well with Spa Day stuff!
2.

Futuristic Dining by Angela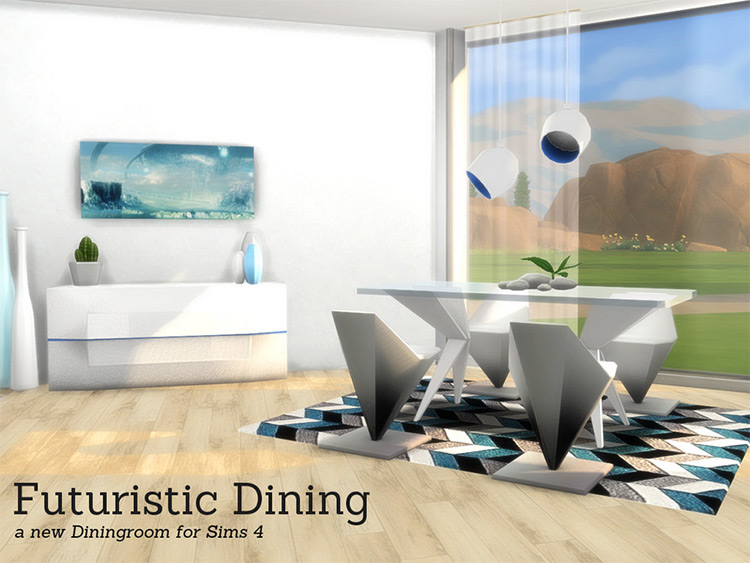 This table does not need a centerpiece. You know why?
It's because the table is the centerpiece.
This Futuristic Dining set by Angela is your ultimate modern dining experience.
With geometric designs not just for its table but also for its chairs, lighting, and wall paintings, this kind of furniture will surely wow your guests at first glance.
The future is here and now, and it's all happening in your Sim's gorgeous house.
1.

Home Cafeteria by SIMcredible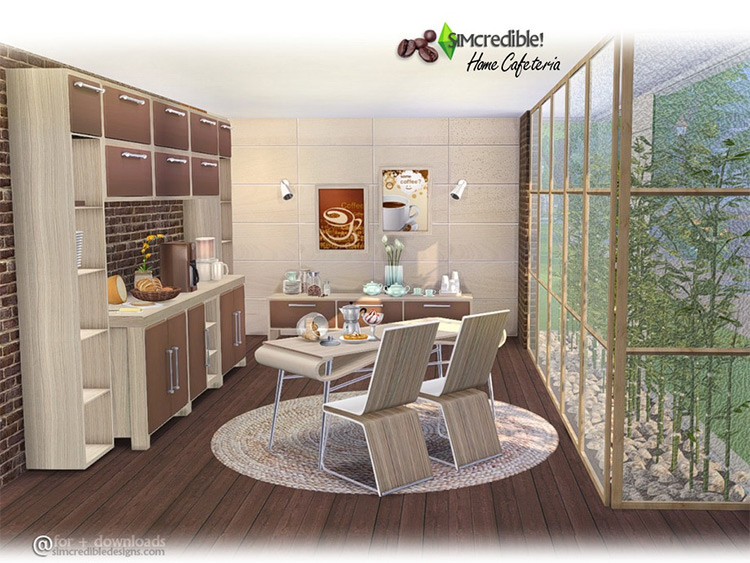 Whatever your preferred home style and interior design may be, you're going to gush over this breathtaking Home Cafeteria CC pack by SIMcredible.
This can serve as an all-in-one library, work, dining, and coffee spot with its modern chairs, fancy rug, and stocked shelves.
Cherry on top: it even includes food tabletop clutter CC & decorations!
It's the perfect little nook for your Sim to relax and read the day away with a cup of coffee. If this were my own nook, I'll never leave the house. Or the room, even!
Browse:
Lists
The Sims 4
Video Games