Best Disney Tattoo CC for The Sims 4
This post may contain affiliate links. If you buy something we may get a small commission at no extra cost to you. (Learn more).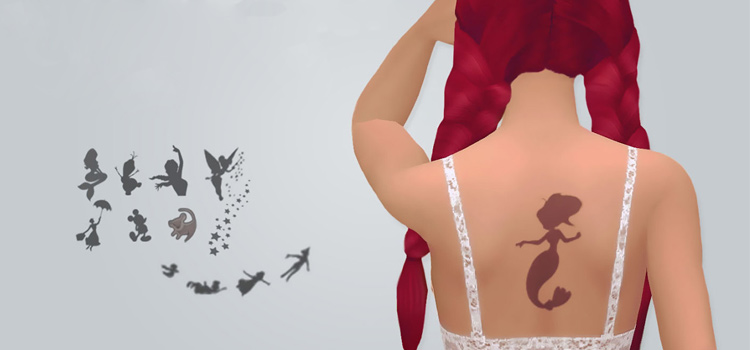 Who doesn't love a good Disney movie?
No matter how old you get, some Disney classics just stick with you. And for some people, the lasting impression is so strong, they get indelibly inked on their skin.
If that's the case for your Sims then hey, gotcha covered. I've curated this list of gorgeous Disney-themed tats to decorate your Sim's body!
1.

Tattoos from Pocahontas by luvjake
If you ever feel like creating Chief Powhatan's beautiful daughter or his strongest, most admired warrior, luvjake's got just the tattoos for that!
This set includes Pocahontas's armband tattoo (for Female frames only!) and Kocoum's bear pawprint chest tattoos (for Male Sims only).
They're pretty simple and probably wouldn't make sense in a general modern setting.
But for Sims cosplaying? Definitely a must-have.
2.

Mulan Tattoo by Faez
Now this is a tattoo that works in a general modern setting.
Heck, it looks like something people would get IRL.
The tattoo is basically a simple outline of that iconic scene in Mulan where the titular heroine chops her hair off using just a sword. If that scene gave you (or your Sim) chills, why not get it inked?
Works for both Male and Female Sims!
3.

Kuzco's Poison Tattoo by Faez
"Oh, right; the poison for Kuzco. The poison chosen specially to kill Kuzco. Kuzco's poison."
At this point, I'm convinced this line will never leave me. It will haunt me 'til the end of my days, and I will happily let it. Patrick Warburton's delivery was simply fantastic.
If you (or your Sim) are a big The Emperor's New Groove fan, they can get a llama tattoo. Or they could get this unmistakable inked outline of Yzma's bony hands clutching the Extract of Llama. Your choice!
4.

Disney Princess Tattoo Set by Overkillsimmer
This tattoo set by Overkillsimmer introduces five upper-thigh tattoos for Female Sims.
Each swatch is a different Disney Princess:
Ariel
Aurora (aka Sleeping Beauty)
Alice
Jasmine
And Belle
Of the designs, I find Ariel and Jasmine to be the most striking. I like how there's just a single pop of color (Ariel's hair and Jasmine's blush) to contrast the use of pure black ink.
5.

Disney Tattoos by aprisims
Now these are my kind of tattoos! Simple and clean silhouettes of characters and concepts so iconic, you can easily guess who they're supposed to be.
The Sim model sports the swatch for Little Mermaid.
There are seven other designs, for a total of eight Disney films represented! I personally love the silhouettes for Peter Pan and Lion King.
6.

Atlantes Tattoo by nolween-sims
Disney's Atlantis is one of the most underrated Disney movies, and you can't change my mind. Everything about it, from the script to the visuals to the character designs, was revolutionary.
Princess Kidagakash – aka Kida – is a strong, regal woman with fierce blue eyes, icy hair, and a helluva lot of warrior tattoos.
You can decorate your Sim in the same warrior bodypaint as her with nolween-sims' Atlantes Tattoo set.
I couldn't find a direct link to the post, so you'll have to scroll down a ways (it's the second post on the page) to see the preview photo. And click here if you need the direct Mediafire link!
7.

Star Wars Chest Tattoo by luvjake
Since Disney technically owns Star Wars (among many other franchises), I think this Star Wars Chest Tattoo counts for this list.
It's a simple illustration of a Storm Trooper (everyone's favorite eagle-eyed sniper) surrounded in what appears to be roses or flowers.
It's a Male frame exclusive, though; sorry to my nerdy Female Sims!
8.

Disney Princess Tattoo Collection by SaffronSiren
SaffronSiren's Disney Princess Tattoo Collection is a set of three simple tattoos featuring items and/or imagery meant to represent a specific Disney princess.
I love the concept!
There are three princesses accounted for so far, and their respective designs are super cute and super simple. Belle's tattoo is the Rose and Crown one linked above. Ariel's is this adorable Happy Crab tattoo. And Jasmine is represented with this fierce Snarling Tiger tat!
9.

Disney Princess Themed Side Body Tattoos by xSarahShadyx
Lemme tell you: these Disney Princess tattoos are more aggressive and full-coverage than the other Diseny-Princess-themed sets on this list.
They're meant to cover the whole of your Sims' left arm, leg, and side torso.
The tattoo comes in four swatches, and each swatch is a full mural of symbols and images related to the princess they represent. The Pocahontas swatch, for instance, has lots of vines, leaves, berries, and Native American patterns.
The Belle swatch, on the other hand, has roses, thorns, stained glass outlines, and a silhouette of the Beast's side profile.
10.

Tattoo Disney Art by Naddiswelt
These watercolor tattoos have a painted look to them that makes them feel more like bodypaint or skin decals rather than actual ink.
However, I can't deny that the designs are drop-dead gorgeous.
All four swatches basically consist of a Disney princess's silhouette. There's also an iconic scene or landmark relating to the princess's movie inside the silhouette.
So Jasmine gets the Agrabah cityscape with two figures flying above it on a magic carpet. Cinderella gets a smaller silhouette of her and Prince Charming dancing at midnight. And so on.
11.

KF Tat Pack #16 by KisaFayd
The creator doesn't specifically mention it, but you can tell from the preview photo alone that three out of the five tattoos in this set are Disney princesses.
I'd recognize Ariel's flaming red hair, Snow White's doe eyes, and Jasmine's hairstyle (and headband!) anywhere.
These go on your Sim's upper back, and each swatch has two variations. A cleaner, more vivid image that looks painted on, and a darker, more faded version that looks more realistic.
12.

"Alice in Wonderland" Tattoo Set by Oliver.Oks
Alice in Wonderland probably has some of the most vivid, colorful, and unforgettable imagery that Disney's ever put out.
Fat purple caterpillars who smoke, sly Cheshire cats with disturbing grins, white rabbits in crimson waistcoats, and a field full of flowers with faces?
The movie may have been confusing as heck but, boy, does that imagery stick with you.
I think Oliver.Oks' did an excellent job of capturing all that madness and converting it into two functional tattoo sleeves for your Sim to strut around in.
Browse:
Disney
Lists
The Sims 4
Video Games