Sims 4 Doc Martens CC: The Ultimate Collection
This post may contain affiliate links. If you buy something we may get a small commission at no extra cost to you. (Learn more).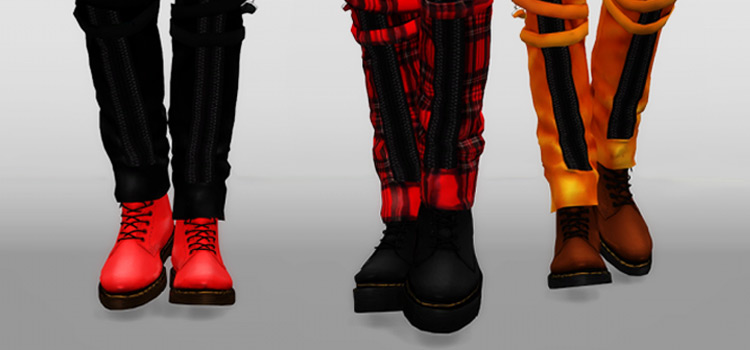 Doc Martens have been not only a household name, but one of the most beloved footwear manufacturers of all time.
Their signature boots are nothing less than iconic.
For decades now, teens and adults alike love to incorporate these bold, durable boots into their outfits in many ways. They can add a stylish edge when worn with a dress, or just complete the look when paired with flannel and denim.
Of course, the possibilities don't end there.
These are the perfect boots to experiment with and find your own way to express yourself.
That's how they've endured!
Now you can bring classic looks to your Sims as well as come up with your own. The love for Doc Martens is definitely felt by Sims 4 players if the sheer amount of CC dedicated to them is any indication.
From the standard styles everyone knows, to unique originals made just for Sims, you'll find it all here.
Dr. Martens Molly
Your Sim will always have that "fresh out of the box" look with these boots.
They're incredibly sleek and capture everything makes Dr. Martens the recognizable beauties that they are.
Let's start at the top and work our way down.
First, there's the bootstrap at the back, which is such a tiny detail yet it definitely adds to the aesthetic. Then we can look at the design of the boot itself and see how perfectly shaped it is, including the laces.
Lastly, it would be a crime to not mention the yellow stitching.
That's actually a big part of the defining features of Doc Martens.
The swatches here are lean towards darker colors, including green, red, and purple, as well as the typical black.
Doc Martens Boots by LollaLeeLoo
Considering that LollaLeeLoo created these less than a month after The Sims 4 was released, I think it's fair to say we desperately need boots like these in the game.
Doc Martens actually began as work and combat boots, and you can see that inspiration here.
They look tough, and any Sim who wears them will look the same way.
Plus the detailing is subtle here, with the strings matching the material.
You can choose from six swatches for that – beyond the good ol' reliable black, there are also fun colors that you don't see often with Doc Martens like pink and yellow.
Dr. Martens 1460
I thought the "1460" was just a random thing the creator threw in there to set them apart from all of the other Simmer's Docs.
But it turns out this is actually the most accurate version of the boots so far.
The Doc Martens 1460 is the most iconic style of them all, since it's actually the original design.
They have the 8 eye silhouette, thin sole, and of course that good ol' yellow stitching. The details here are amazing and everything really pops.
This version is just for male Sims, and you can have so much fun with them. We all know how difficult it can be to give them unique outfits.
But everything is a little more unique once these are involved.
Better Than Mosc. Boots
Let's be honest, Doc Martens are a bit pricey for a lot of us.
That's not to say they aren't worth every penny, but they're simply out of reach.
So what do you do when that name-brand item you want is a little above your means? Find the next best, of course.
There are plenty of boots out there that were clearly inspired by the original ruler of the boot world.
I'm not saying this creator made a knock-off, they're actually an edit from an officially released pair of boots from the Moschino Stuff pack.
It just goes to show how powerful and influential one brand can be once they really take off.
These edgy boots are an awesome creation, featuring all of the stuff you want to see like defined lacing, a sleek composition, and thick heels.
What's really cool is that they're available for both genders and come in 32 swatches.
Fun and style for everyone, thanks to tunayegit!
Pixicat Unisex Boots
If you've been a Sims CC connoisseur for a few years, then you probably recognize the name Pixicat.
She was one of my go-to creators back when I focused on The Sims 3, also known as the time before The Sims 4 took over my life.
But now, all is right in the world again. Because some folks have been converting her old content for usage in the current game, like these awesome unisex boots.
They are another near-replica of the classic Doc Martens, right down to the lettering on the bootstrap.
You can really "feel" the leather texture here too.
Toddler Doc Martens
Adult casualwear downsized for toddlers is the cutest thing ever.
Until someone makes Doc Martens for our cats and dogs, anyway.
Note that you'll need Seasons for these, which is actually a really good touch.
Just imagine little Doc Martens stomping through the snow… see, that's the type of thing that makes being a Sim parent worth it.
And they aren't just available for outerwear, although that alone is pretty great.
You can use these for everyday outfits as well, and in many different ways.
Both male and female toddlers are able to wear them, so you'll probably never run out of ideas.
Women's Doc Martens
The swatches are what stand out with these Dr. Martens, made just for the lady-Sims.
We've seen several different approaches so far, but this is my first time ever seeing a boot with the United Kingdom's flag on the toe!
That's far from all of it, though.
It's hard to choose a favorite from this collection.
There are also plaid and floral designs, as well as great solid colors including yellow, blue, green, and maroon.
With these boots, you'll get a slightly taller, tighter depiction than what we've seen so far. Because of that, they have a nice feminine flair that you can work with in a ton of ways.
Wearing them with stockings and a skirt, or ripped jeans, or even sweatpants… there's no way to make a pair of Doc Martens look out of place.
Kalista Boots
As great as Dr. Martens are all by themselves, they can also be accessorized and customized in some really cool ways.
The little flower accents added in this CC make the boots even more fantastic.
They truly add something special and have great detailing. Flowers like these can be a slippery slope, honestly – you don't want them looking childish.
But that's definitely no concern here.
They look epic and bold against both the brown and black boots.
Browse:
Lists
The Sims 4
Video Games