The Sims 4: Dodge Cars & Trucks CC (All Free)
This post may contain affiliate links. If you buy something we may get a small commission at no extra cost to you. (Learn more).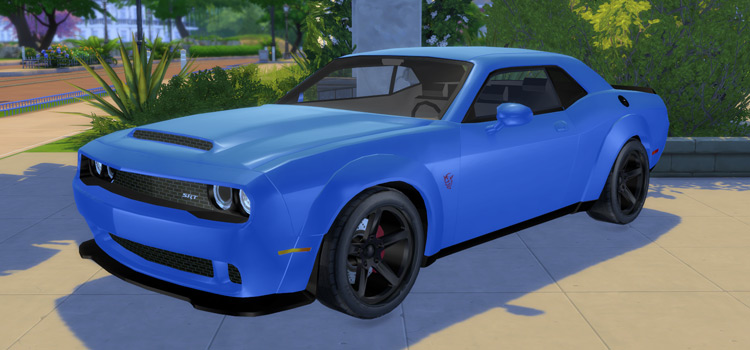 Classic Dodge muscle cars are known for their delightful looks and remarkable performance.
But there's more to this American car manufacturer than meets the eye.
Dodge sells itself as an ally of the working man who can appreciate its powerful engines and reliable vehicles. Just as they make muscle cars, there are fantastic dodge workhorse trucks, spacious vans, and versatile SUVs.
If "sturdy," "dependable," and "robust" are words you'd describe the ideal car with, you can't go wrong with Dodge – and your Sim would definitely feel the same way.
You know they've been working their virtual butts off so you can spend their Simoleons playing around in Buy Mode.
So why don't you get your Sims a nice Dodge to show off to their neighbors?
1.

Dodge Charger R/T (2015)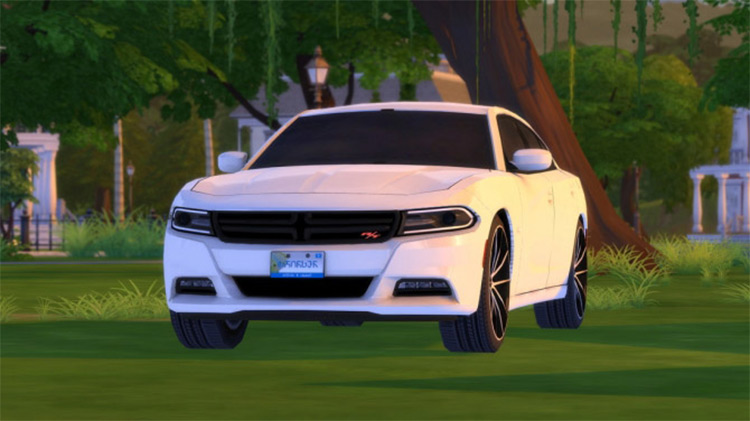 The 2015 Dodge Charger R/T is a four-door sedan with a stylish and modern look that'll turn some heads without making your Sim the center of attention everywhere they go.
Almost any Sim with a reasonably successful career and good taste in cars could end up with one of these in the driveway.
It projects success and confidence without looking out of place in the average suburban neighborhood.
2.

Dodge Grand Caravan (2010)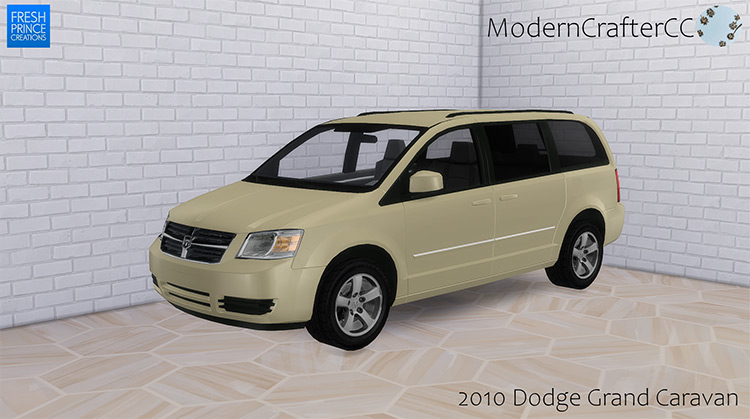 The 2010 Grand Caravan offers ample space and reliability for the working-class family.
This minivan is ideal for moving children or work teams around, and lowering the back passenger seats makes moving equipment and furniture easy.
Thanks to its affordable price tag and neat design, the 2010 model saw excellent sales throughout its run.
3.

Dodge Durango (2011)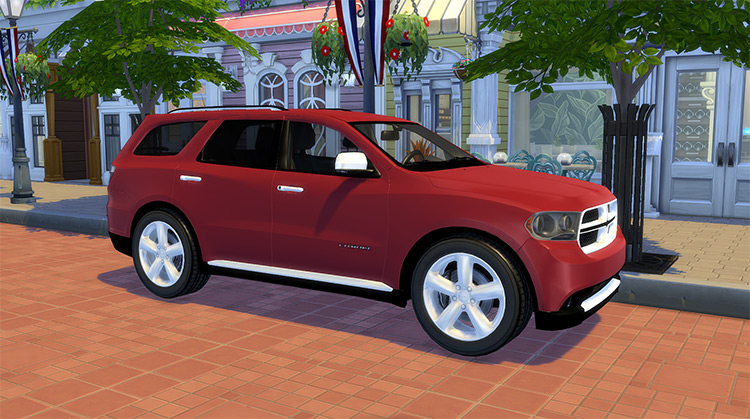 If your Sim wouldn't be caught dead driving a minivan, a mid-size SUV like the Dodge Durango is a great alternative.
The 2011 model is less sporty than the current-day Durango.
But its design has aged pretty well for a decade-old SUV.
It's a sophisticated ride with excellent maneuverability that'll keep your Sim mobile and safe while providing the power they need for carrying the occasional heavy load.
A 2011 Durango can be a great way to project power with a large, modern-looking vehicle without breaking the bank.
4.

Dodge Durango SRT Hellcat (2021)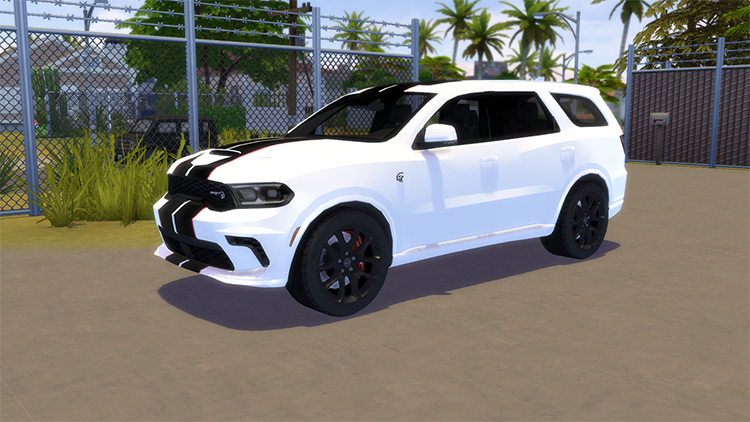 While the original Durango is powerful enough for the average Joe, the SRT Hellcat version is a definite step-up that performance aficionados will go mad about.
Thanks to its top-of-the-line supercharged 6.2L HEMI SRT Hellcat V8 engine, the new 2021 Dodge Durango produces a mind-blowing 710HP from under the hood – propelling this SUV to a max speed of 290kph.
Its outward appearance reflects the fierce heart driving this Durango. Its updated bumper and headlights give the front a much more aggressive look, and the racing stripes are the icing on the cake.
5.

Dodge B-Series (1953)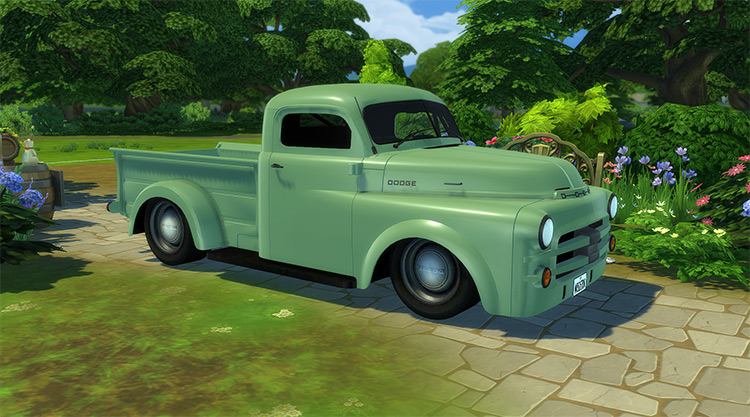 Dodge has manufactured vehicles since the early 1900s, and many of its best creations are scattered throughout the 20th century – including the B-Series truck.
This full-size pickup truck was the follow-up to the pre-WW2 model.
Its design is comically round and even voluptuous by today's standards. But its distinctive 50s look gives the B-Series major vintage appeal.
The 1953 model included in this CC set has a bit of a modern twist. Its chassis was lowered halfway, making this a custom B-Series low rider with a lot of style.
6.

Dodge Dart GT (2013)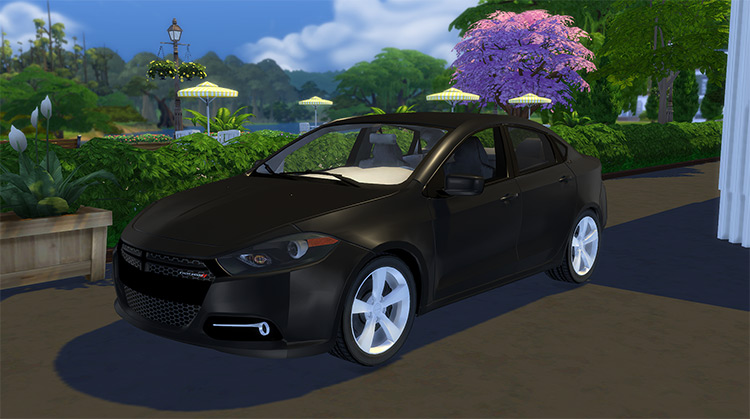 Not to be confused with the classic sedan from the 60s, the 2013 Dodge Dart is a four-door compact sedan conceived with the average consumer in mind.
It brings together a young and spiffy design with excellent safety ratings and fantastic maneuverability – the three things the average city dweller absolutely needs.
The Dart Grand Tourer makes the design more sporty with minor updates like the eighteen-inch aluminum alloy wheels with a granite crystal finish.
7.

Dodge Charger SRT8 (2012)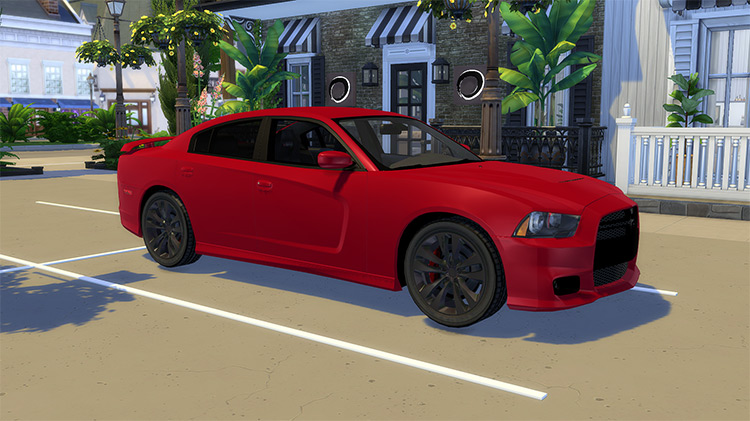 Sims looking for muscle that won't break the bank should check out the Dodge Charger SRT8 from 2012.
This four-door sedan carries on the legacy of the classic Dodge Charger pony car with a compact design that hides the immense power of its 6.4L V8 engine.
Along with its raw power, the 2012 Dodge Charger shines for its comfortable seats and smooth riding.
It even has a heated steering wheel for those days when you want to feel the cold wind on your face without freezing your fingers off.
These contrasting characteristics make this perfect for a Sim who wants to open themselves up to adventure without sacrificing comfort.
8.

Dodge Charger SRT Hellcat (2015)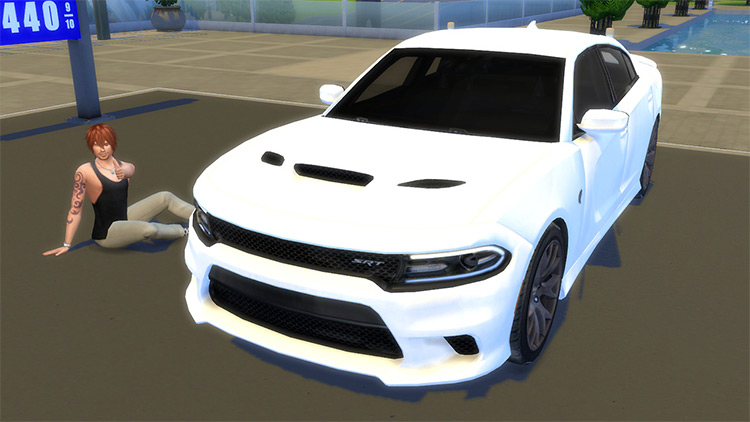 For those performance-oriented Sims who won't settle for any half-decent engine, there's the Dodge Charger SRT Hellcat.
The "Hellcat" name refers to its supercharged 6.2L HEMI V8 engine, which propels this sedan to an insane top speed of almost 330kph with 707HP. This made this Dodge Charger the fastest and most powerful sedan ever made by 2015
Much like the 2012 SRT8, this vehicle still offers a focus on comfort.
Even though the engine sounds like a beast, it's a relatively silent ride whenever you're not going pedal to the metal.
Get this for a Sim who hits the track on the weekends to keep up appearances as a normal adult the rest of the week.
9.

Dodge Charger Daytona (1969)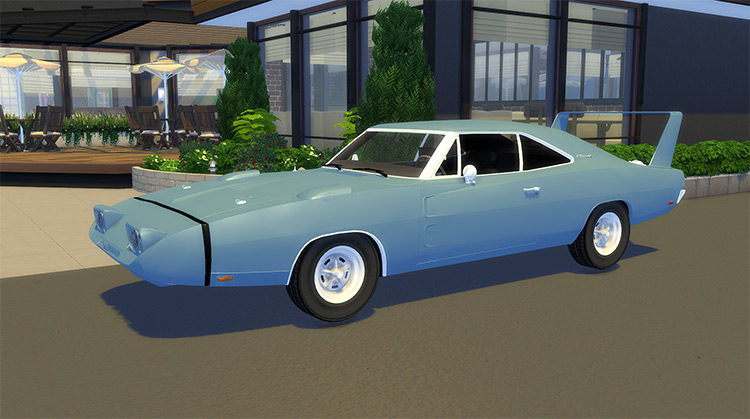 The Daytona 500 has become one of NASCAR's most popular events.
But back in the day, the entirety of Daytona Beach was celebrated as one of America's biggest racing centers.
In 1969, Dodge created a set of customized Dodge Chargers with a supercharged engine and various race-oriented body modifications.
One of the obvious add-ons is the wedge-shaped "nose," which replaces the original square grille in the name of aerodynamics. You'll also notice a massive rear spoiler.
Together, these changes give the Charger Daytona a distinct look you don't see every day.
Get this for the NASCAR fan in your Sim household.
10.

Dodge Charger R/T (1970)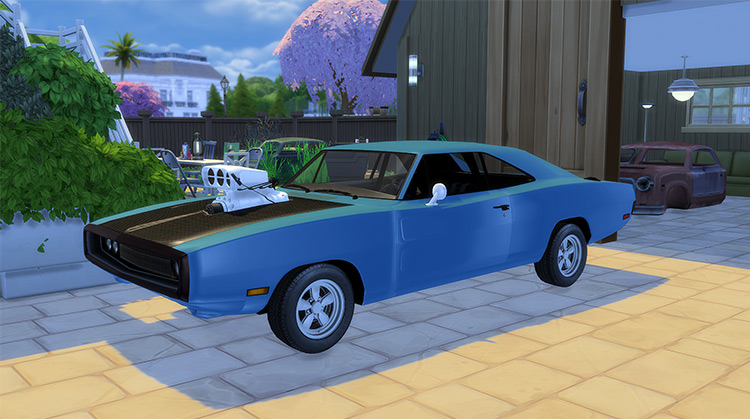 The 1970 Dodge Charger Road/Track featured new, more attractive taillights and rear-facing scoops with the R/T logo on the front doors.
This custom creation seems to be a renovated version of a classic Dodge Charger R/T, with a carbon fiber hood and an exposed engine that gives it a hot-rod vibe.
I love it in all-black, but you've got 21 colors to choose from for this beauty.
11.

Dodge Viper SRT (2013)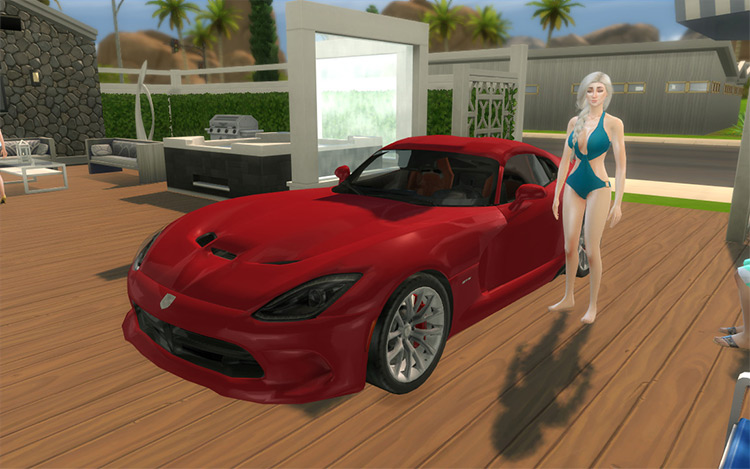 One of Dodge's most well-known product families is the Viper – a sports car with killer design that represents American car manufacturing in the eyes of the world.
The Dodge Viper SRT shines for having one of the biggest engines ever used in a production car. You'll find this 8.4L V10 ideal if you're looking for muscle.
The aggressive and aerodynamic design is softened by its smooth, curvy lines. The result is an elegant look that's eye-catching and lets you know that the Viper is built for speed and performance.
12.

Dodge Viper ACR (2016)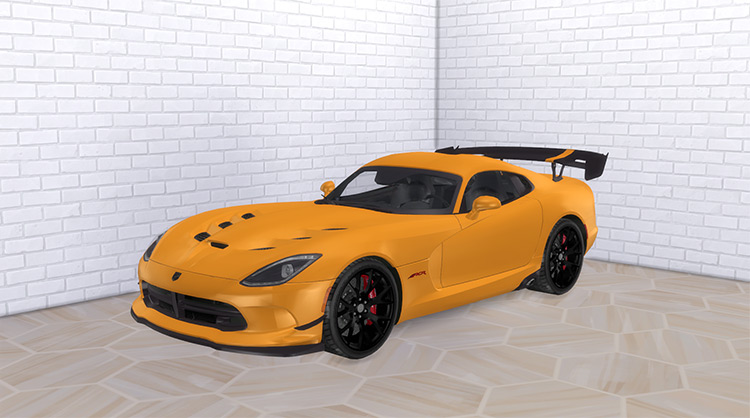 Adrenaline-seeking Sims will love the American Club Racing edition Dodge Viper released for the 2016 model year.
The main differences between this and the previous 2013 Viper SRT are:
Re-shaped (and more numerous) hood scoops.
A curved rear spoiler.
A carbon fiber body kit.
These changes are meant to make the car more aerodynamic while generating the extra downforce needed to keep this beast from taking flight.
The black racing stripe running over the Viper lets everyone know this isn't your average streetcar, even at a distance.
It's also present in half of the 16 color palettes available for this CC.
13.

Dodge Challenger SRT8 (2008)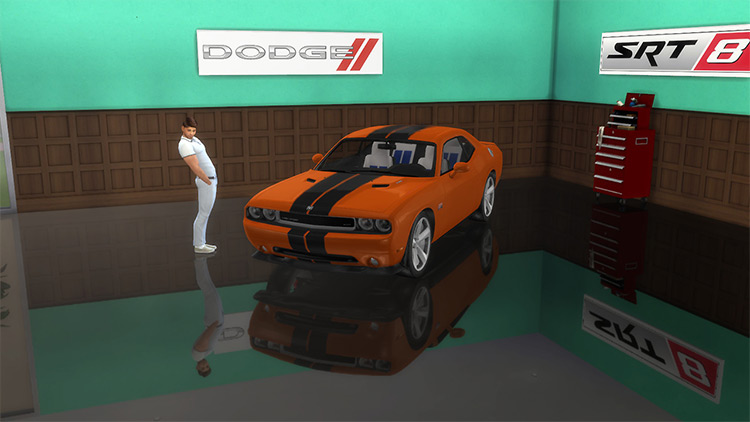 The Dodge Challenger was introduced to compete in the pony car market in 1969.
After a brief stint as an unremarkable subcompact car from 1978 to 1983, it came back in 2008 as a fierce mid-size muscle car that brought back this imposing body shape with more room for a powerful engine.
In the SRT8, that's a 6.1L HEMI V8 beast capable of propelling the car to 100kph in 5s, with a top speed of 274kph.
You might recognize the Dodge Challenger SRT8 as Dominic Toretto's car in Fast Five. The Challenger symbolizes muscle and power, so it couldn't be missing from the beloved street racing series.
14.

Dodge Challenger SRT Hellcat (2015)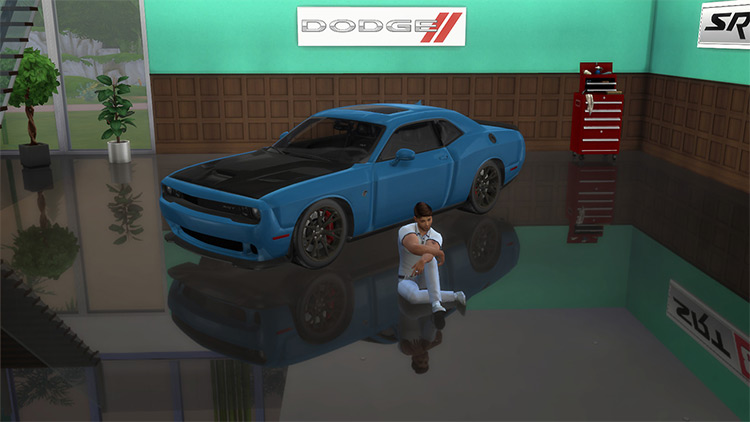 The 2008 Challenger was undeniably a beast on the road, but Dodge wasn't about to stop there.
For the 2015 model, Dodge gave the Challenger a facelift with a new grille inspired by the 1971 Challenger and four LED halo ring headlights matching the LED taillights.
They also replaced the old SRT8 high-performance trim with the SRT Hellcat, powered by a supercharged 6.2L HEMI engine capable of outputting 707HP.
It's one of the most powerful production vehicles ever made.
And any Sim with a thing for beefy cars would get butterflies in their stomach just from looking at it.
15.

Dodge Challenger SRT Demon (2018)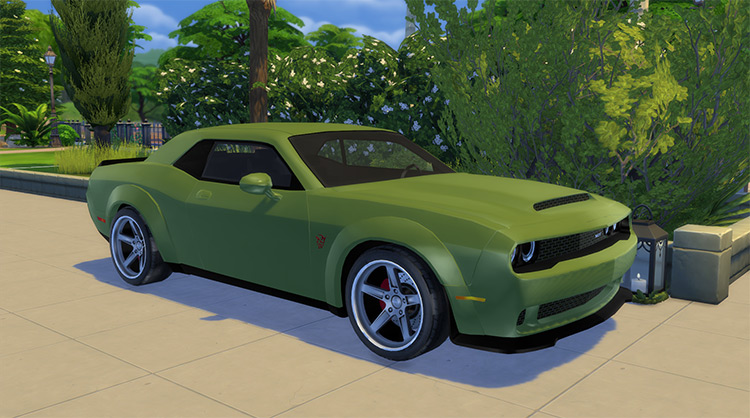 Sitting at the apex of Dodge's hierarchy lies the Dodge Challenger SRT Demon – a limited-edition high-performance muscle car boasting the highest horsepower out of any Challenger.
Thanks to its all-new 2.7L supercharger, the 6.2L V8 engine puts out a whopping 840HP.
In simpler terms:
The Challenger SRT Demon can accelerate from 0-100kph in under 2.5 seconds, subjecting the driver to an absurd 1.8G of force – more than the average Bugatti Veyron.
This custom creation will be a hit with any Sim craving excitement and intense experiences.
Browse:
Lists
The Sims 4
Video Games