Custom Sims 4 Dollhouse CC (All Free To Download)
This post may contain affiliate links. If you buy something we may get a small commission at no extra cost to you. (Learn more).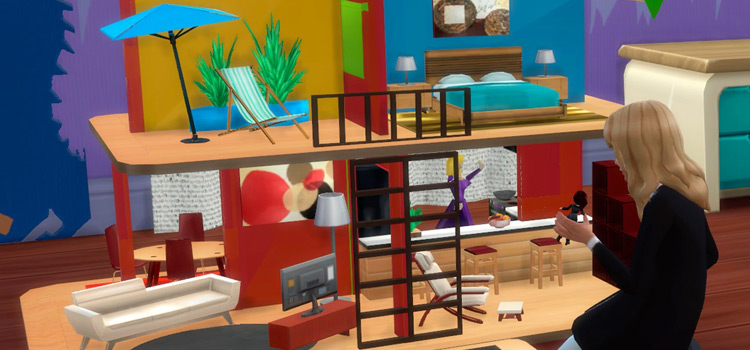 I've said it before, I'll say it again:
The Sims is like playing dollhouse for grown-ups.
It's not that far-fetched of a theory.
Plenty of us first started dressing up dolls, making a home, and playing out elaborate scenarios in our own bedrooms thanks to a dollhouse.
Now everything is just a lot more elaborate and customized. And our little Sims have their own dollhouses. Circle of life and all that, you know?
Custom content makers have not forgotten what likely started it all, and have created plenty of amazing dollhouses to fill your idealistic Sim house with.
Kids Camping Dollhouse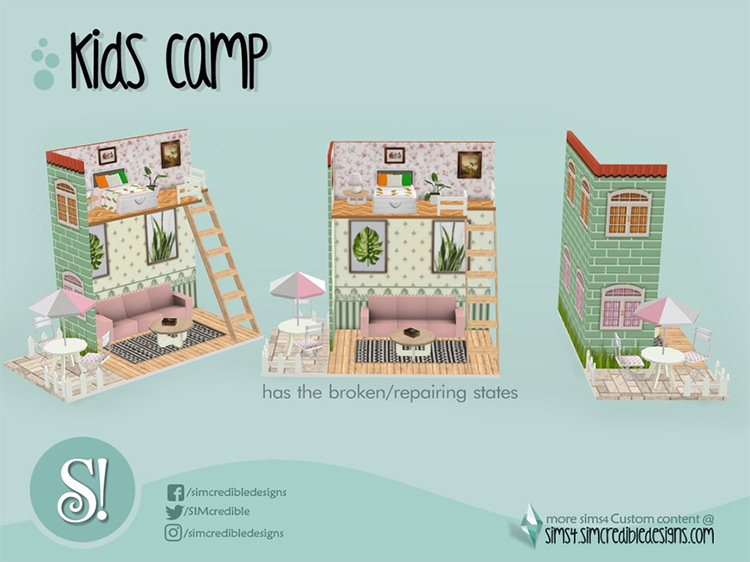 This lovely little creation really mimics some of the best Sim houses.
It has a loft style, with two floors and a ladder connecting them.
The exterior of the dollhouse is brick – a definite change of pace from the ones we already have – and has some really nice details.
You can even see the design of the wallpaper, as well as the furniture. It'll give your little Sim something to aspire to.
And they can indeed play with it… and their siblings can break it.
Home For Two Dollhouse Replica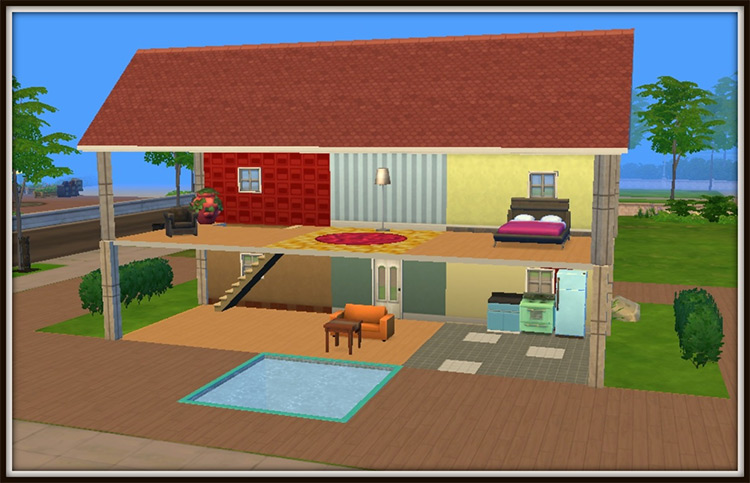 Now this creator really thought outside of the box.
Sure, your Sims can play with a dollhouse… but how about actually living in one?
It's such a fun idea, and rather poetic.
This Simmer just sized up the very house Sims can play with, and has made it the appropriate size for them!
It's complete with the wooden base, little pool, and open walls.
Now you can go back to the days where your dolls did as you said, and that was that. With this house, Sims won't get a bathroom or functioning kitchen – but they'll darn well like it, because you said so!
Homely Dollhouse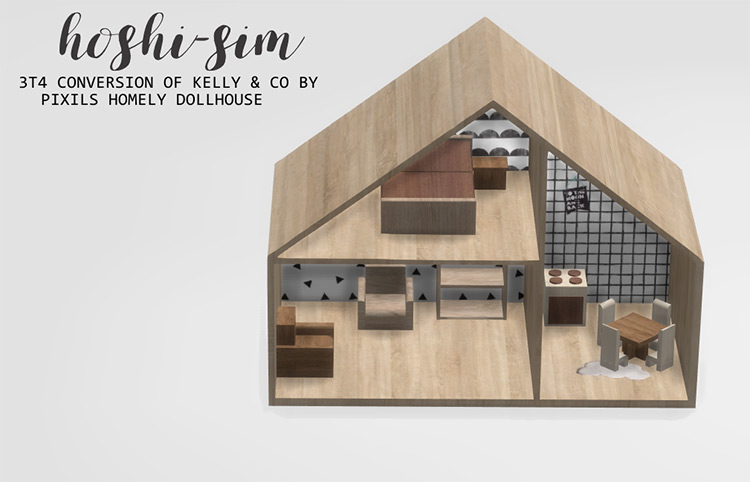 This is a really good example of how different tastes can translate into vastly different dollhouses.
Here, you see an all wooden frame and chic, simple furnishings – which you yourself can place within the house, just so ya know.
It has three rooms and some modernly patterned walls.
Isn't it kinda funny how many dollhouses lack a bathroom? I even noticed that as a kid.
I guess it's another connection, since that is usually the room Sims players care about the least as well.
But I guess when you're playing pretend, it's not that big of a deal. It's an ideal life.
Ken You Not Dollhouses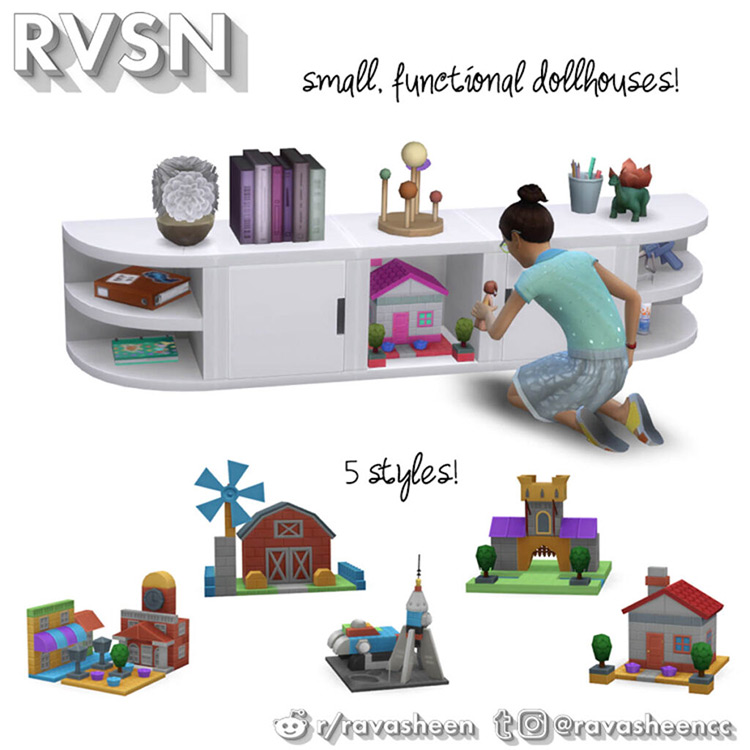 Unless you yourself were a really lucky kid, then you've probably noticed how massive the dollhouses in this game are.
I can't tell you how confused I was when I first started playing this and saw them. Like… that's it? We're going straight for the $200 Barbie Dreamhouse, EA?
My Sim kids never have quite the budget, or room space, to house those mansions.
This CC creator, Ravasheen, has made some smaller and more average sized dollhouses.
And not just one, but five!
These dollhouses are really cute, and come in some awesome styles. There's even a farmhouse one complete with a windmill, a castle, rocket, shops, and of course a regular little house.
Now you have a dollhouse that pretty much any kid will have room for, or you can even place it in the living room so they aren't always closed off away from the rest of the family.
Brown Roof Dollhouse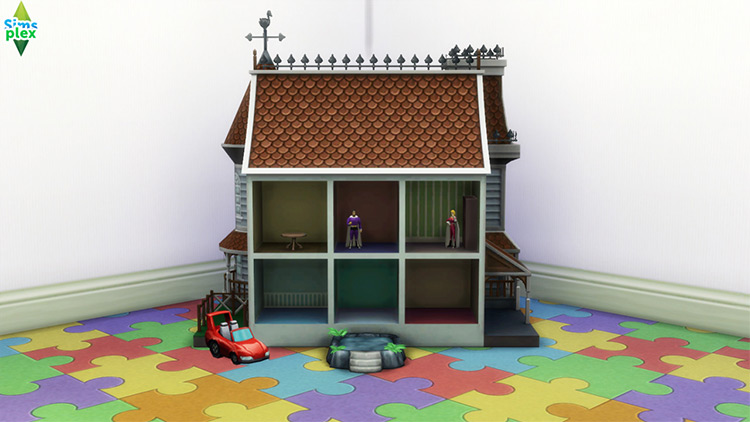 As any avid builder in The Sims will tell you, sometimes just changing the color of the roof and trim can totally improve the look of a house.
Apparently, the same is true for dollhouses.
Of course there's nothing wrong with the color of the dollhouses we already have, but sometimes it's just nice to get a fresh look… especially after years of looking at the same thing.
This recolor, changing the roof of the Victorian-styled dollhouse to brown, definitely makes it look a little more vintage.
You can choose whether or not it has white trim as well, which may not seem like a big deal. But that little detail really does make a difference!
Playmo Pirate Island Dollhouse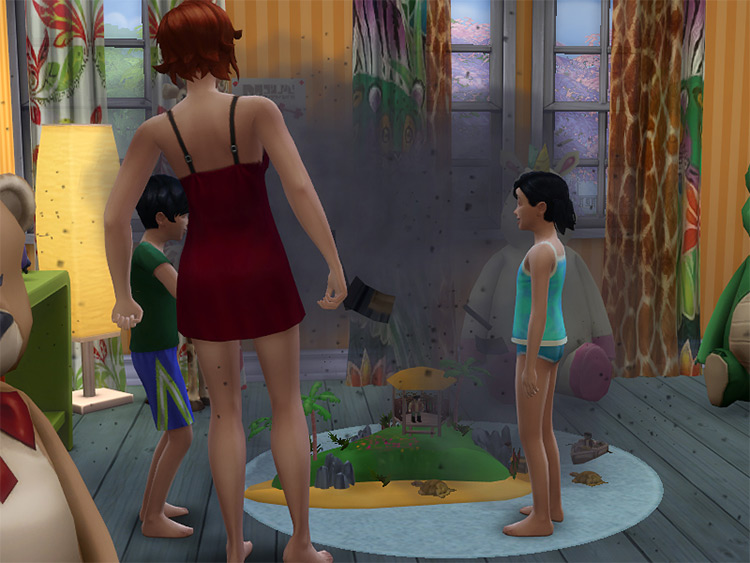 The magic of playing dolls, much like Sims, is that the possibilities are pretty much endless.
With just a bit of imagination, anything and everything can happen in your little world.
Just think about all of the possibilities with a dollhouse like this, a deserted pirate island! This sure would have provided countless hours of entertainment for me as a kid, and it's nice that Sim kids can have cool toys too.
This toy CC is functional and comes with an island shape and gazebo, as well as some toys in the beach and sea areas.
Big Dollhouse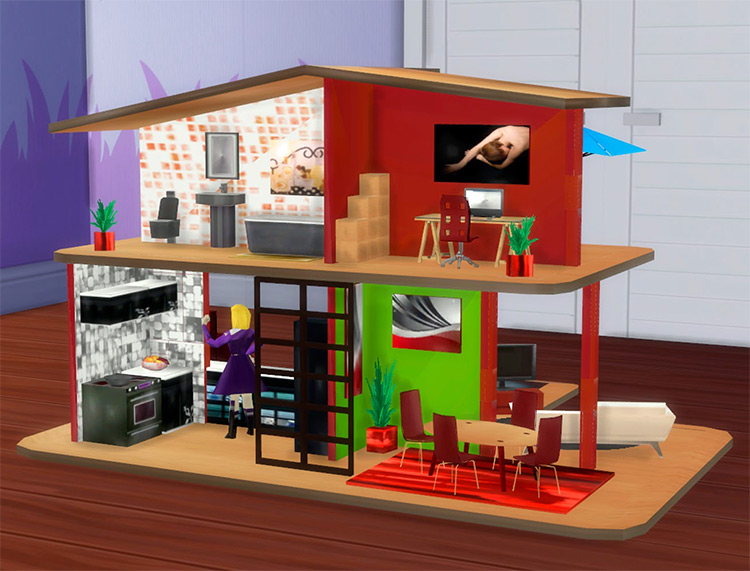 There's definitely still fun to be had with the typical big dollhouses in the game.
This is The Sims, after all. You can live out the stuff you never had.
And this creator revamped one of the large dollhouses, making it much more modern and detailed.
It's like a Sims dreamhome, and even features downsized versions of real furniture in the game.
The details really are fun here. It feels like you're actually looking at a miniature version of a real house.
It's also much bigger than the children, which is always a mark of how awesome a dollhouse is.
Plus there's also a big Mr.Potato Head doll here. He's not related to the dollhouse, but still seemed worth mentioning… maybe he lives a street over or something.
Dollhouse Overrides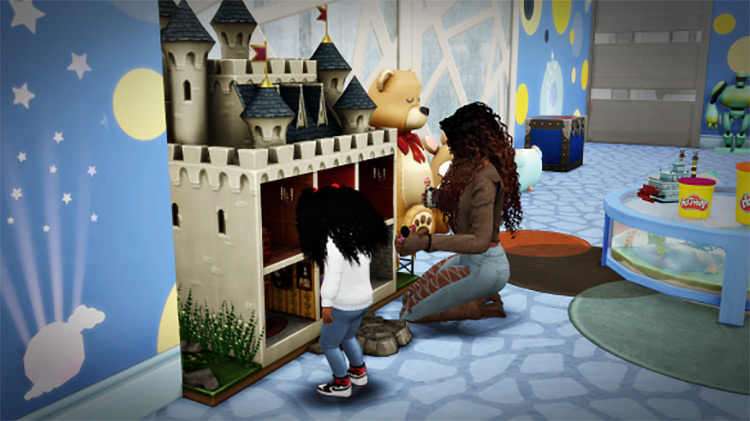 As the creator herself says, representation is important.
Today, things have improved vastly from even a decade ago. Dolls now look a lot more like real people, including a much wider range of skin tones, ethnicities, and cultures than ever before.
Since dollhouses are a relatively tiny part of playing The Sims, the same unfortunately cannot be said for this game – until now.
These overrides will replace the generic dolls with some new African American ones, whose outfits will change depending on which dollhouse your Sims play with.
LEGO Dollhouse
LEGO Dollhouses are really special, because they must be built from the ground up.
It's like you're an architect!
They can also be broken into a billion pieces by a mischievous cat or younger sibling… but at least Sims only have to worry about one of those.
This dollhouse is functional, and structurally looks very different from any of the other houses we have seen.
It has some tall towers as well as very bright, fantasy color schemes.
Honestly, who wouldn't want to live in a tall tower with a blue lawn?
Halosims Dollhouse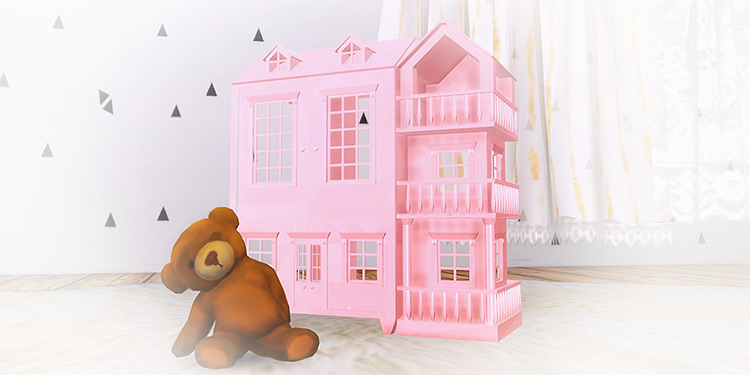 Simmer Halosims created an all-pink dollhouse for The Sims 3, then 20-44-Sims converted it, and the rest is history.
This CC has a nice and open design, with plenty of windows, fencing, and balconies.
Plus, I must repeat – it is all pink.
That alone is a huge plus, if you ask me.
Perfect for your pink-loving child, not so perfect for the pink-hating child.
I've never known whether a house like this is considered two floors or three, with those sort of small windows in the roof… but whatever, this one is just really tall. And that exterior is the envy of any builder!
Browse:
Lists
The Sims 4
Video Games