Sims 4 Dorms & Student Housing Lots (All Free)
This post may contain affiliate links. If you buy something we may get a small commission at no extra cost to you. (Learn more).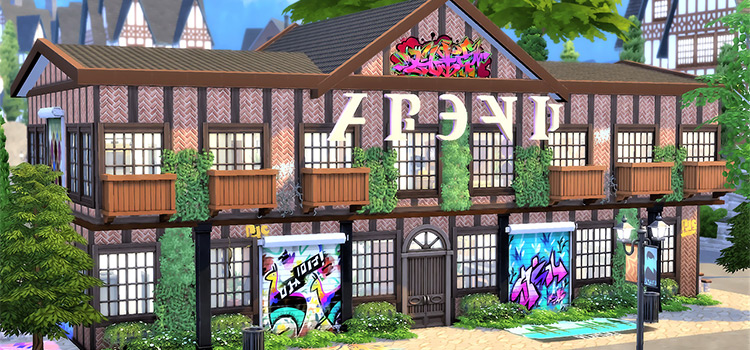 Going off to college is a huge milestone, even for Sims.
They're striking out on their own to experience all sorts of new things, which is exactly why it's so fun for players.
But they'll need somewhere to live. You just can't get the full experience if they're back at home with their parents!
Whatever your Sim's preference might be, there's a great lot out there for them, from massive dorms to compact houses – and everything in between.
1.

Student Bedroom
This is the most typical dorm room ever, in the best way.
Fitting a Sim's whole life into such a small space isn't easy, so there should be clutter…and there's plenty of it here!
Pairs of sneakers, a soccer ball, laundry supplies, and stacks of books are just some of the items that make this look so authentic. Overall, the creator also did an awesome job of making this as functional as possible.
2.

Foxbury Student's Dorm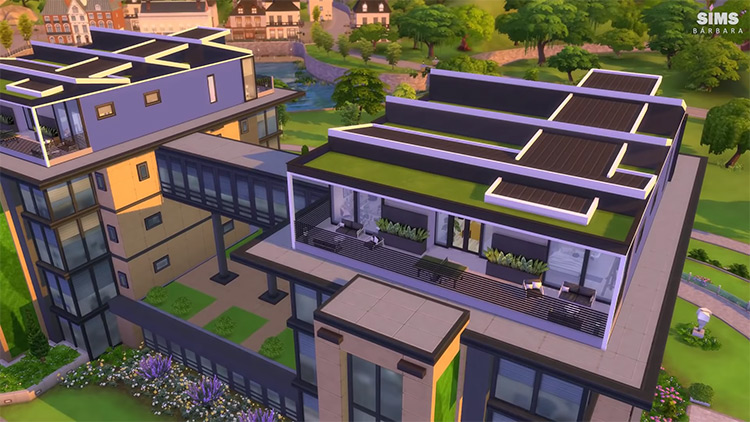 The Foxbury Dorm is the dream living situation for college kids everywhere.
It's very aesthetically pleasing, with a minimalist color palette but an abundance of decor that'll feel personal to your Sims.
Multiple packs plus some CC all work together to bring this build together, and the end result is absolutely incredible. For a realistic touch, you can't beat this.
3.

Old Town Dorms
The building may not be super modern, but it is actually quite spacious. These dorms are perfect for those Sims who are ready to do their own thing without spending every last one of their limited Simoleons.
Several pre-furnished areas are included, but the creator also included 2 empty rooms so you can furnish them in accordance to your own preferences.
4.

Robotics Dorm Room
Have you ever watched a trailer for a new pack and wished the incredible builds in it could actually be in the game?
Well, now that's a reality at least as for some dorms from the Discover University trailer!
This is the ultimate room for any tech lover. It's loaded with great deco items and clutter, plus everything a Sim needs to study and boost their skills.
5.

Messy Dorm Room
College students tend to have a busy schedule, which doesn't include cleaning up very often.
To be fair, there are only so many hours in a Sim day, and that isn't how I want to spend them, either!
This room has a very authentic feel, with lots of clutter. It's not so far gone we've got to start worrying about vermin and bugs.
6.

College Dorm (No CC)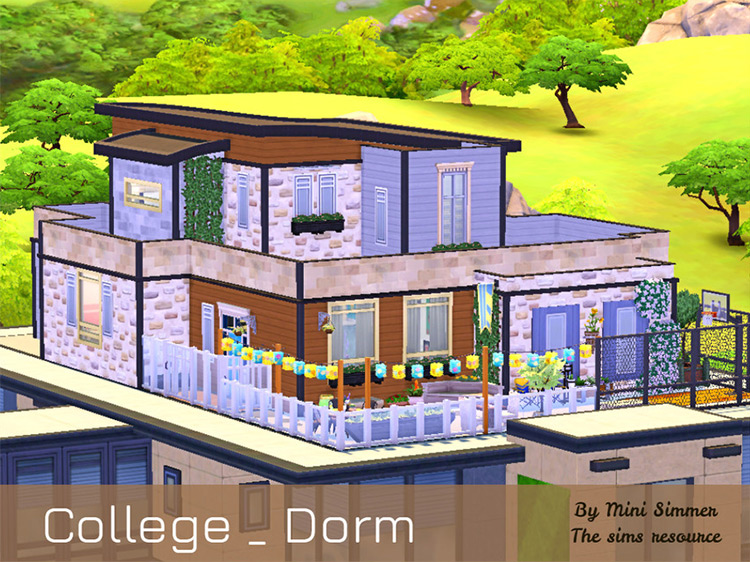 Mini Simmer shows off their skills with this build by using only official content. Numerous packs are necessary, but it's really cool to see how they've all contributed to this ideal dorm.
All of the bedrooms are fully decorated and furnished except one, which is open for you to customize yourself. The community areas might actually be the best, like the basketball hoop and living room.
There's no need for Sims to be all work and no play!
7.

Drake Hall Reno
Anyone who has Discover University is probably familiar with Drake Hall, Wyvern Hall's equally sophisticated competitor.
No lot is exempt from some renovations, however, and you've got to love what Simming Mommy did with it. Now Drake Hall just feels a little more homey and fun, with modest bedrooms as well as spacious shared living areas.
8.

ModelSims4's Dorm Room
If more realistic builds are your style, then ModelSims4's take on a two-person dorm room might be your favorite.
Lots of Alpha CC was put to use here, resulting in an authentic, cluttered, but practical space. The wall decor is very appropriate for young adults, and of course all Sims will be set as far as their needs go thanks to the mini fridge and microwave.
9.

East Coast Co-Ed Dorm
Here's a build so expansive and detailed, it'll rival Drake Hall.
Inside and out, this co-ed dormitory is gorgeous. It's also packed with functional areas to make your Sim's stay a dream come true, including a large pool, outdoor bar & grill, full kitchen, study, and a multitude of recreational activities.
10.

Student Container Homes
Eco-minded or loner Sims may want to pass on the typical dorm experience. This build has a lot of personality, not just because of the fact it's mostly made out of shipping containers, but also due to the uniquely decorated rooms.
It's got a very modern look through and through, plus plenty of opportunities for Simmers to add their own touches.
11.

Oakridge Dormitory
Going to college is about education.
But the experience is also a reason many people go.
Simkoos' Oakridge Dormitory is so awesome, you might find yourself wanting to pass on the "education" part. There's so much to do, including a massive pool, and it's decorated really nicely.
Each floor is like its own separate home complete with bedrooms, kitchens, and bathrooms.
12.

Britechester Bricks
MusiLizzy brings something different with this build, in which there isn't one comprehensive dorm, but three!
Each classic brick building has its own theme that'll be perfect for a variety of Sims. One is for virtuosos, the second was made for creative types, and the last one is great for bookworms and writers.
13.

UBrite Housing
The exterior of this one is so gorgeous with its sprawling greenery and classy columns, you may think the inside can't possibly be that amazing too… but it is!
Thanks to the wood paneling and some lightly battered furniture, it actually has a welcomed cozy vibe. It really does look like a house, which might be just what homesick college kids need.
14.

Foxgrove House
What makes the Foxgrove House stand out is the abundance of clutter, plus just how bright the interior is. This place really looks lived in, and it's somewhere Sims can both work hard and play hard.
There's definitely a youthful vibe throughout and you'll have a more lowkey gameplay experience with this lot, since there's just 3 bedrooms.
15.

Peony Student Housing
Modern architecture is characterized by sharp lines, lots of glass, and elaborate wood.
All of that is present in this lot, giving the Peony House a very fresh look.
The layout inside is quite original and it even features a garage, which has been revamped as a rec room.
Outdoor spaces are always a nice bonus and this build includes both a balcony and a patio.
Browse:
Lists
The Sims 4
Video Games