Sims 4 Dragon Ball / DBZ / DBS CC & Mods (All Free)
This post may contain affiliate links. If you buy something we may get a small commission at no extra cost to you. (Learn more).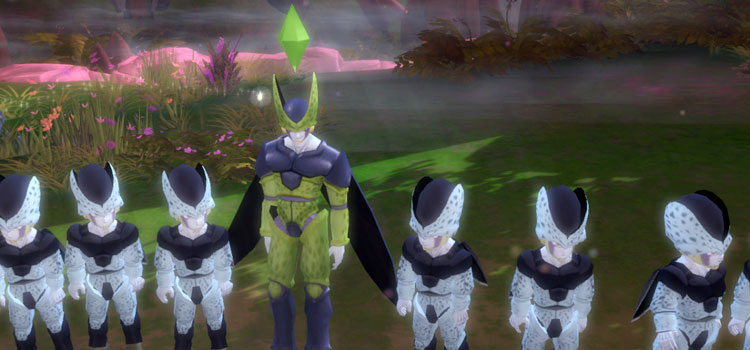 Created by Akira Toriyama back in 1984, the Dragon Ball series has changed a lot since its humble beginnings.
At first it was about a weird but powerful boy exploring the world and causing trouble for baddies. The thing is, the power creep never stopped throughout Dragon Ball Z. And now they're fighting gods and other cosmic beings in Dragon Ball Super (and beyond).
Dragon Ball has become one of the most influential works of the last 40 years – giving rise to a bit of a media empire, and helping popularize anime and manga outside of Japan.
It's the show your parents think about when you mention "anime", and it's easy to see why.
We have Dragon Ball in our screens, in our memories, and in our hearts – and now you can have it in your Sims 4 gameplay with all this awesome custom content.
10.

Ultimate Dragon Ball T-Shirts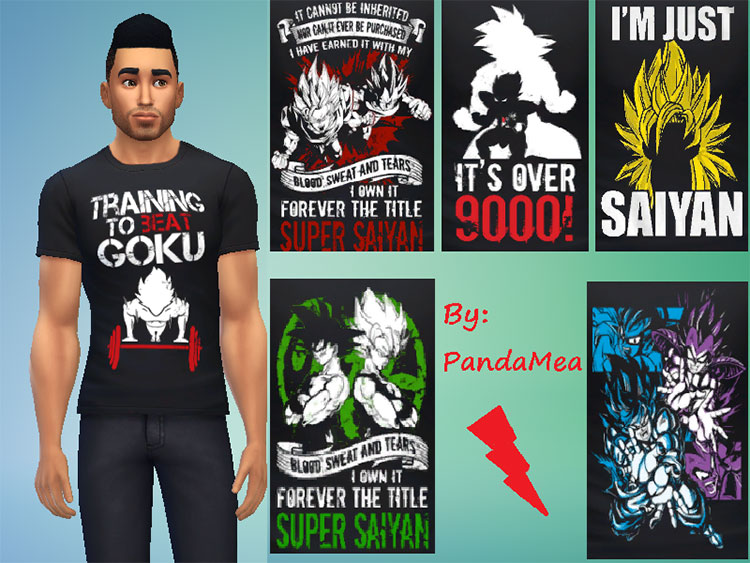 Chances are, at least one of your Sims carries the soul of a Dragon Ball fan – and there's no better way to show it on a day-to-day basis than some cool T-shirts.
These tees by Pandamea mix the likeness of Goku and Vegeta with motivational phrases about training hard and enduring hardship.
There are also a couple with humorous quotes, such as "Just Saiyan'" and the classic "It's over 9000!"
But if you like these and want more, you'll find a set focusing exclusively on Vegeta's bad-assery here.
9.

Shenron Tattoo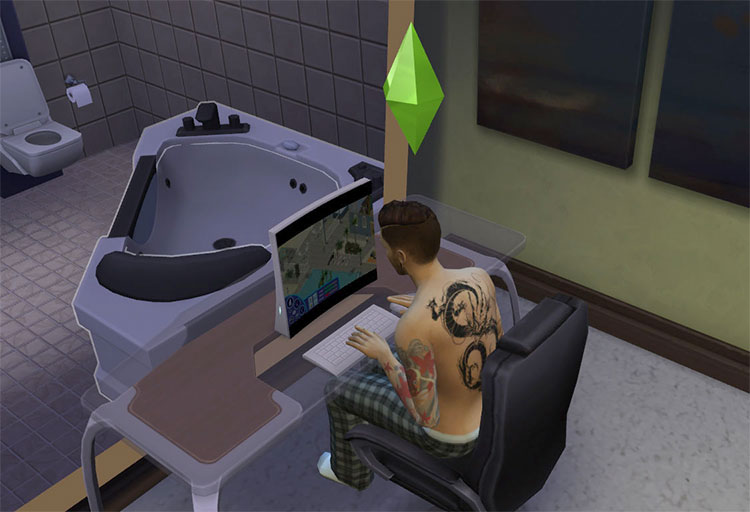 I've been going to the gym to counteract my pizza-eating habits for a long time. And I've come to realize that Dragon Ball tattoos are a dime a dozen among hard-training muscle men.
If you've got a Sim that fits the gym-bro description, you should definitely get him this bad-ass Shenron tattoo.
The Eternal Dragon will forever watch your Sims' back. And you can get it without collecting the Dragon Balls!
It won't grant you any wishes, but it'll make your Sim feel powerful for sure.
8.

Pitch Black Eyes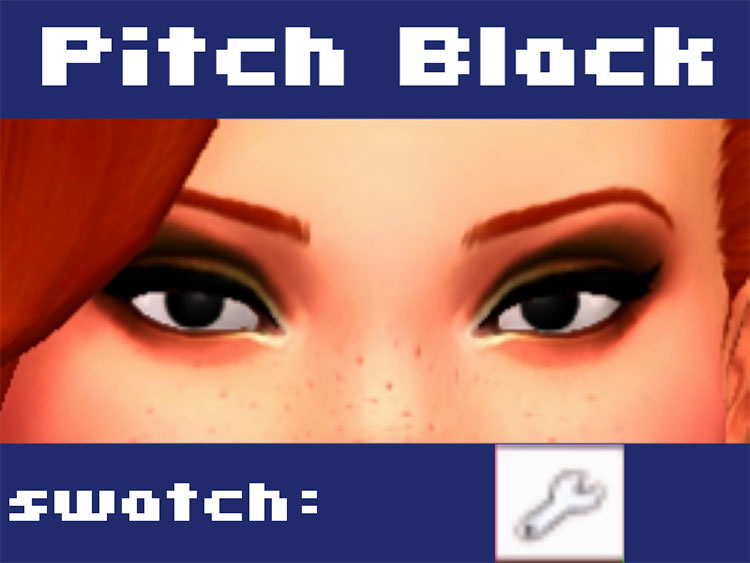 One of the most exciting things to do in The Sims 4 is recreate our favorite media characters. Then we can watch them living their best lives, free from worries in their whimsical world.
That said, Akira Toriyama's designs are a bit hard to reproduce… so you'll need a couple of things – including these Pitch Black Eyes CC by creator IndigoMoon.
With this installed, you can more accurately reproduce Toriyama's eye-drawing style as seen on Vegeta, Goku, Gohan, Yamcha, and so on.
7.

Goku Hair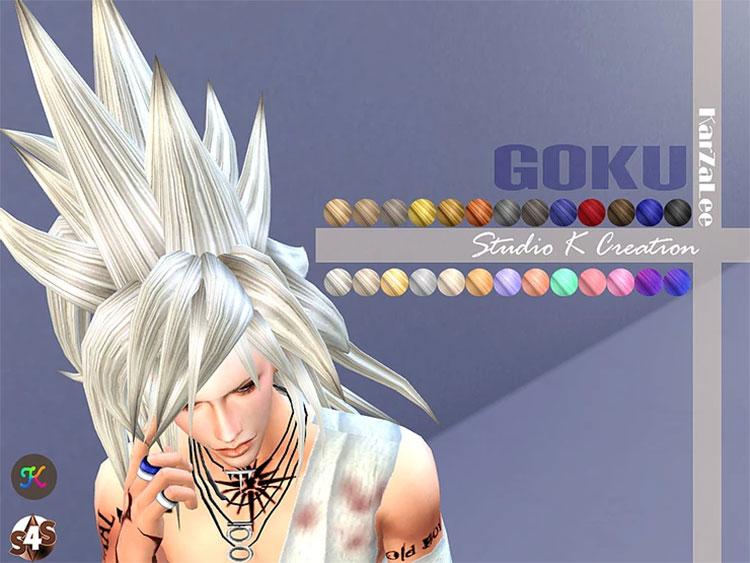 Here's another pretty basic thing you'll need to make Saiyan-like Sims:
Big pointy hair.
Karzalee from Studio K-Creations offers us this incredible rendition of Goku's hair, which comes in a whopping 26 colors so you can make your Sims any shade of Super Saiyan you wish, including the regular SS, SS Blue, SS Rosé, and so on.
It's also available as a hat – which reminds me of a Goku costume I wore back when I was a child. It was itchy, and I wouldn't recommend it – but your Sims don't have to worry about that.
6.

Chichi Cosplay Set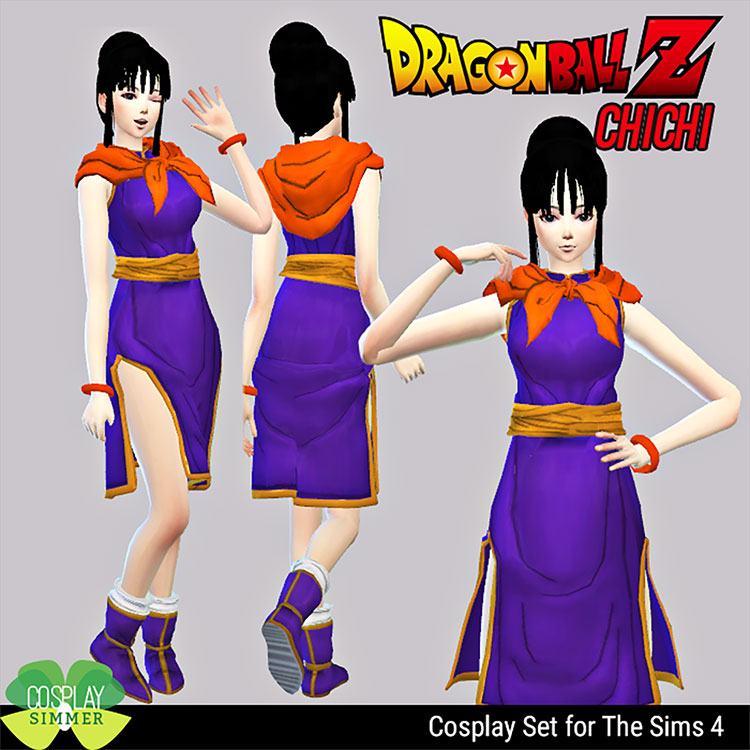 Note: To download, click the link above and search for the file "cosplaysimmer_dragon_ball_z_chichi.zip".
Chichi was first introduced in the original Dragon Ball series as the daughter of the Ox-King, making her the Ox-Princess. She was pretty bad-ass and daring back then, which makes it a shame she was relegated to being "Goku's nagging wife" for DBZ.
This outfit by CosplaySimmer was modeled after her look from the Frieza Saga of DBZ, though it looks a bit sexier than it does on the show – not that I'm complaining, mind you.
5.

Gohan Cosplay Set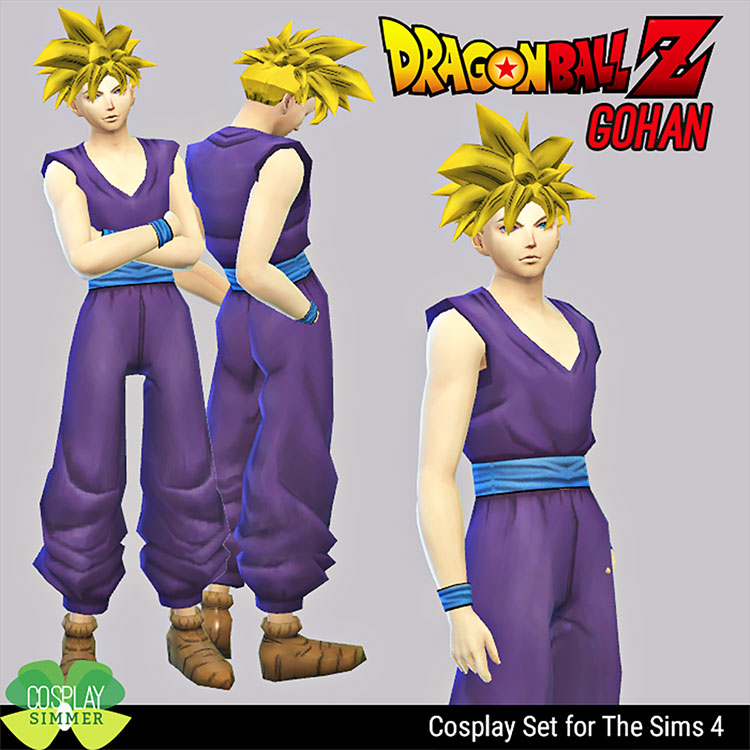 Note: To download, click the link above and search for the file "cosplaysimmer_dragon_ball_z_gohan.zip".
During his first few years, Gohan was always held back from combat and danger by her doting mother Chichi – even though it was apparent the child had inherited Goku's fighting spirit, among other things.
Once she lets him loose, Gohan quickly goes from zero to hero, becoming one of the most powerful characters in the series in an instant.
He goes on to defeat Cell – who had wiped the floor with the rest of the Saiyans on Earth by that point.
This Cosplay Set by CosplaySimmer is based on just that part of the series, where he wore a simple purple Gi.
4.

Bulma Cosplay Set
Note: To download, click the link above and search for the file "cosplaysimmer_dragon_ball_z_bulma.zip/".
Bulma may not have any sort of fighting prowess, which makes her take a back seat when her husband Vegeta and childhood friend Goku are out fighting against universe-destroying gods and the like – but she's far from your average secondary character.
She's been around since the Emperor Pilaf Saga of the original Dragon Ball – where she shows her great intellect, motivated nature, and great personality.
This Cosplay Set by prolific creator CosplaySimmer shows her in her black and yellow outfit from the Namek Saga of DBZ.
It's quite fashionable, and it reminds me a bit of The Bride in Kill Bill.
3.

Vegeta Cosplay Set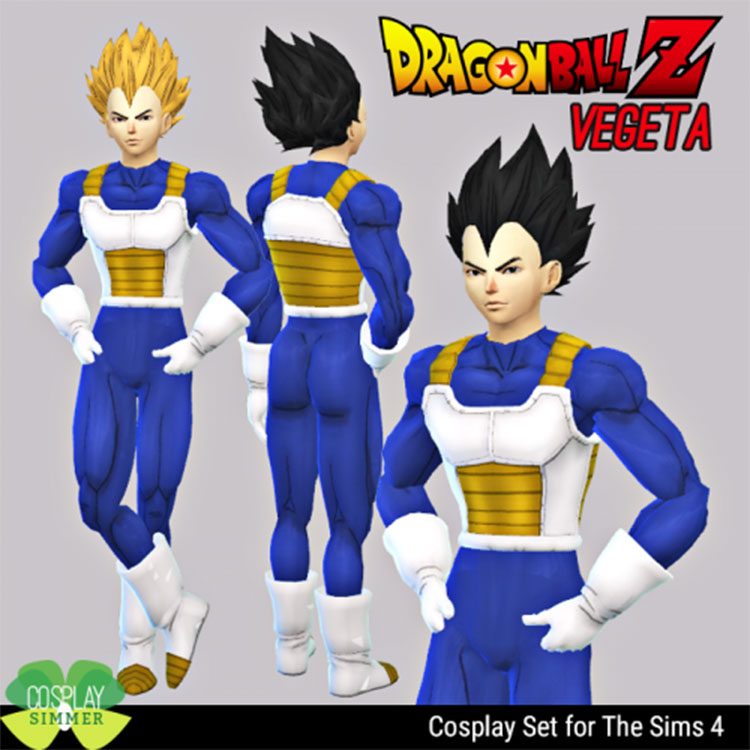 Note: To download, click the link above and search for the file "cosplaysimmer_dragon_ball_z_vegeta.zip".
Vegeta is by far my favorite character in the entire Dragon Ball universe, partly thanks to his all-around bad-assery, but also thanks to his capacity for change.
Despite starting out as an angry and spiteful Saiyan warrior who came to Earth to wreak havoc, he slowly but surely warms up to the place.
Eventually he finds meaning in life as an earthling other than defending his honor as the Prince of the fallen Saiyan race.
CosplaySimmer brings us a Cosplay Set based on his look during the Cell Arc – a simple and iconic armor that serves its purpose and makes him look mobile and powerful.
2.

Goku & Krillin Cosplay Sets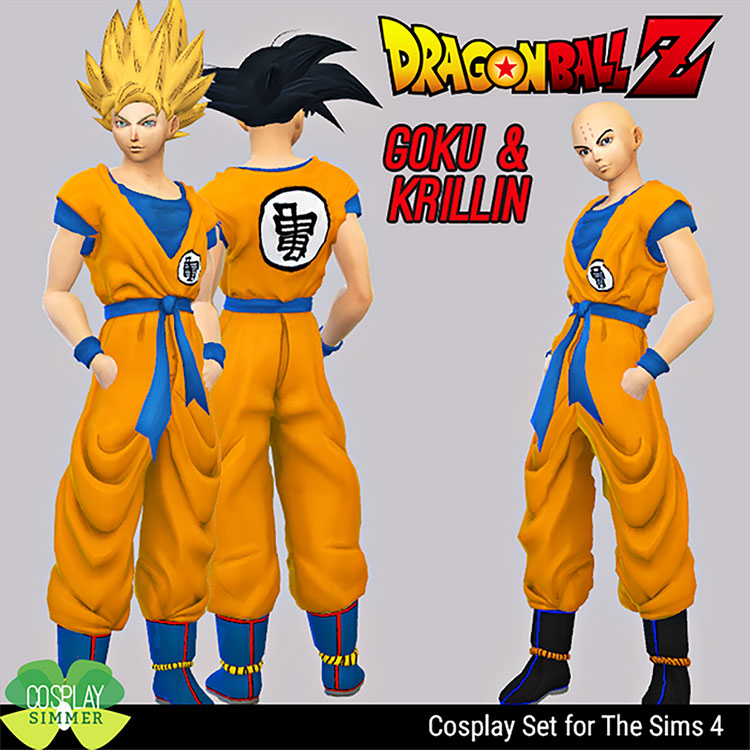 Note: To download, click the link above and search for the file "cosplaysimmer_dragon_ball_z_goku_%26_krillin.zip".
Goku & Krillin have been together for the longest time.
They trained together under Master Roshi back in the original Dragon Ball – and though they got off to a rough start, they became tight companions.
It's only fair that CosplaySimmer released them as a pair – though it probably has more to do with the fact that they dress exactly the same – showing their Kame House pride with an orange Gi bearing the Kanji for "Kame", or "Turtle".
1.

Dragon Ball Super Ultimate Pack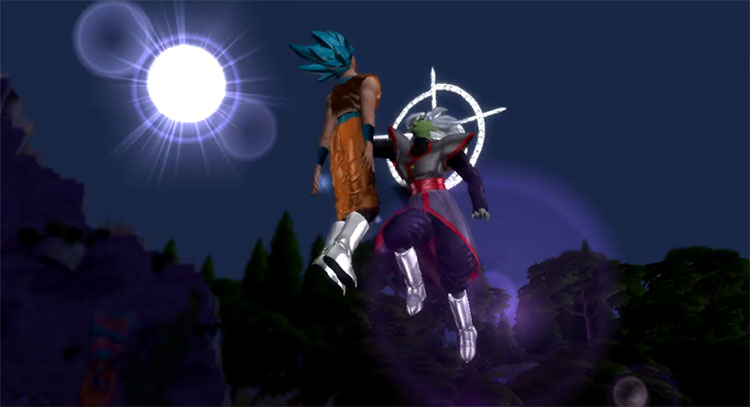 Dragon Ball Super was a ball out of left field for me.
I expected it to suck, but it actually treated me to a very unique story in the world of Dragon Ball – with interesting villains and ridiculous power levels all around.
This character pack by TS4AnimeMods includes everything you need to bring DBS into your TS4 – including Goku, Goku Black, Goku Black Super Saiyan Rosé, Goku Super Saiyan Blue, Trunks, and Zamasu in several forms.
Zamasu has been one of the most unexpected and despicable villains in the history of Dragon Ball, so maybe you could throw him in a pool and take out the stairs while everyone else points and laughs.
The CC link from the preview video should be in the description, but if that doesn't work you can try this link instead.
Browse:
Dragon Ball
Lists
The Sims 4
Video Games