Sims 4 Dreadlocks Hair CC: The Ultimate Collection
This post may contain affiliate links. If you buy something we may get a small commission at no extra cost to you. (Learn more).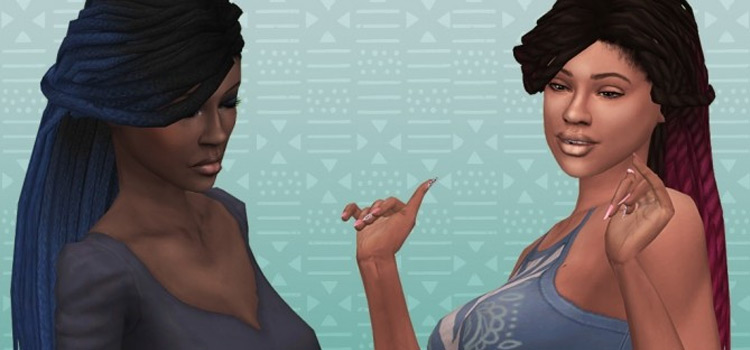 I love to see dreadlocks falling all over, and who wouldn't?
This culturally iconic hairstyle comes in many shapes and sizes, and is one of the most unique hairstyles out there.
And you can get your sim reppin' the gorgeous variants of this awesome hairstyle with free custom content!
Whether you're looking for the Troy Polamalu or the Bob Marley, we've got everything in, out, and between when it comes to dreadlocks in The Sims 4.
15.

City Braids for Both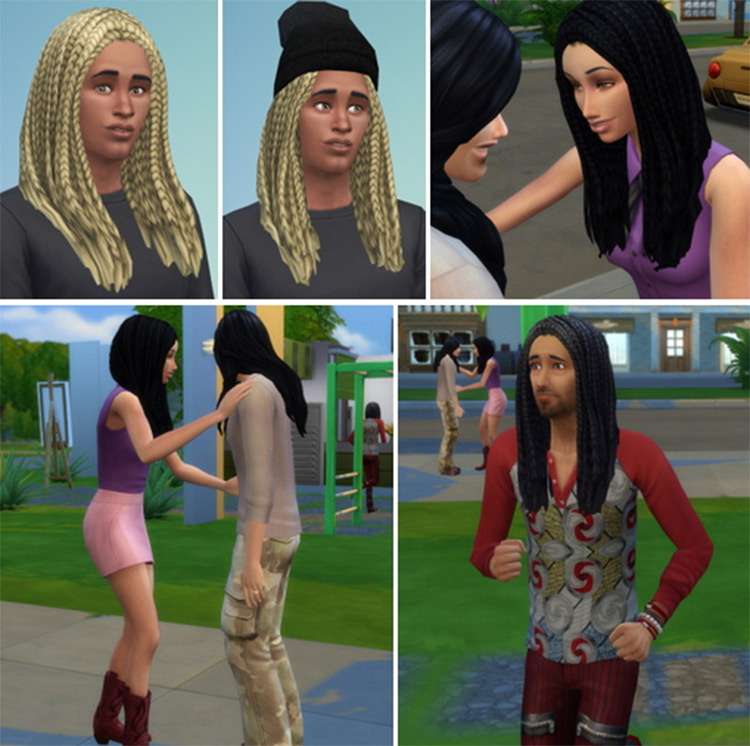 These city braids are an awesome look for Sims looking to walk in style while living the downtown life.
Coming in both a straight and curled look, these dreads have it all. And they're made for both male and female Sims.
The curly dreadlock is a bit more vibrant, I think, and really standouts with the golden locks.
14.

Dreads Ponytail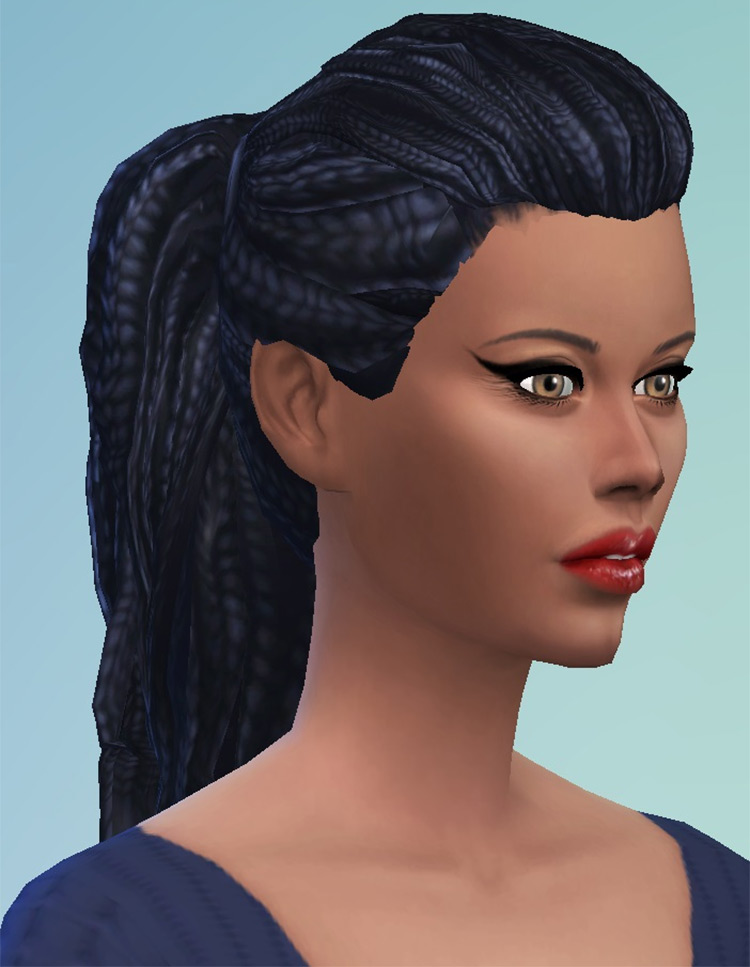 Want to look like the boss lady? The one in charge?
Then this dreaded ponytail is the definition of all business.
A perfectly sleeked back ponytail filled with clean interlocking dreads.
Truly an elegant look for any bossed-up women looking to make some big moves in the workplace.
Protip: I would avoid making any Sims angry if they're sporting this look.
13.

Sahara Dreads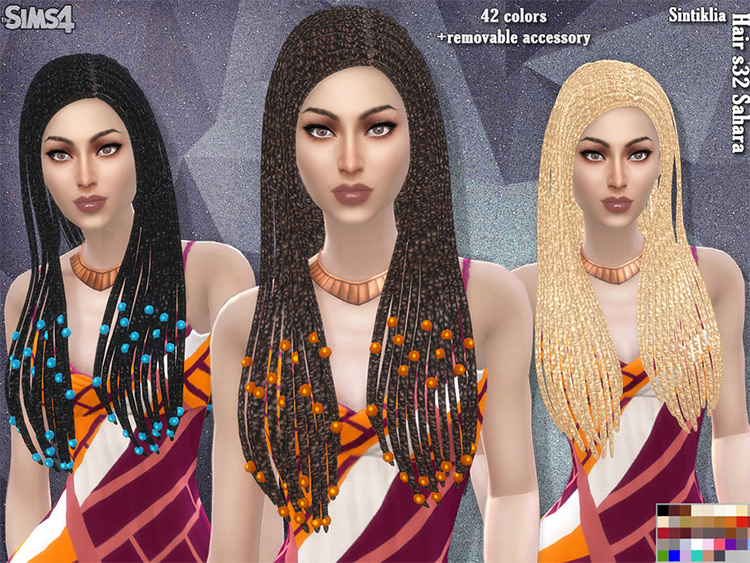 Dreadlocks tend to have accessories to help enhance the styles of the hair-do.
And creator SintikliaSims provides a long dreadlock look with this CC, featuring beads at the bottom part of the hairstyle.
This style uses bold colors including golden blonde and jet black, among 42 possibilities.
This CC also features an option to remove the accessory, if you want your Sim to stick to the all-natural look.
12.

Rasta Bun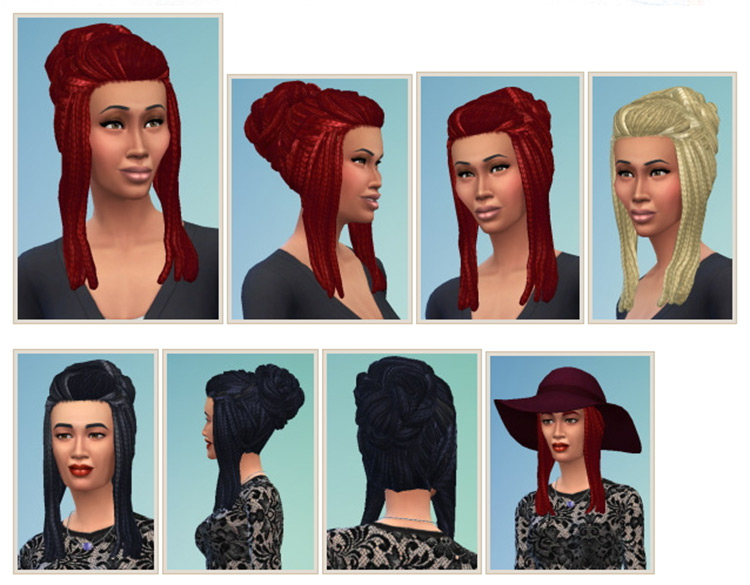 Fierce and fashionable.
Those are the words that come to my mind with this Rasta bun.
Shortly cut at the shoulders, the rest of the hairstyle is wrapped into a traditional Rasta bun paying homage to the classic Jamaican hairstyle correctly.
Whether you're listening to Buffalo Soldier or walking a runway, this hair-do is a perfect addition to different Sims of many different backgrounds.
11.

Braid Bun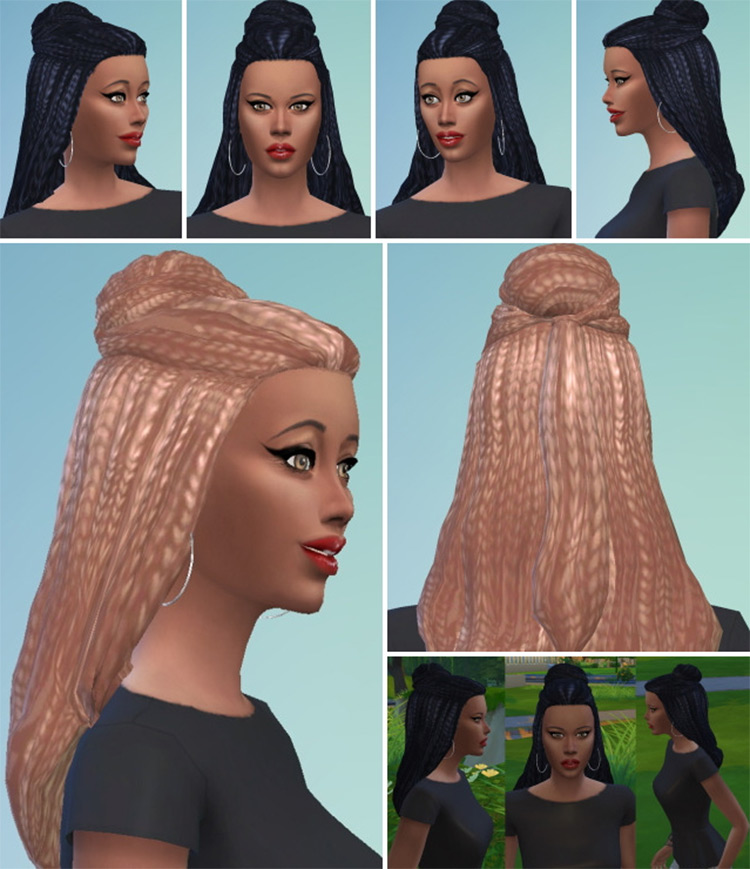 Here's another elegant look with some boss-lady mantra in this braid bun.
Really just a top bun with braids falling behind it.
I'd say this look seems like it fits a true entrepreneur.
A no-nonsense, "don't mess with me" attitude would fit perfectly with this hairstyle.
10.

Dixie Dreads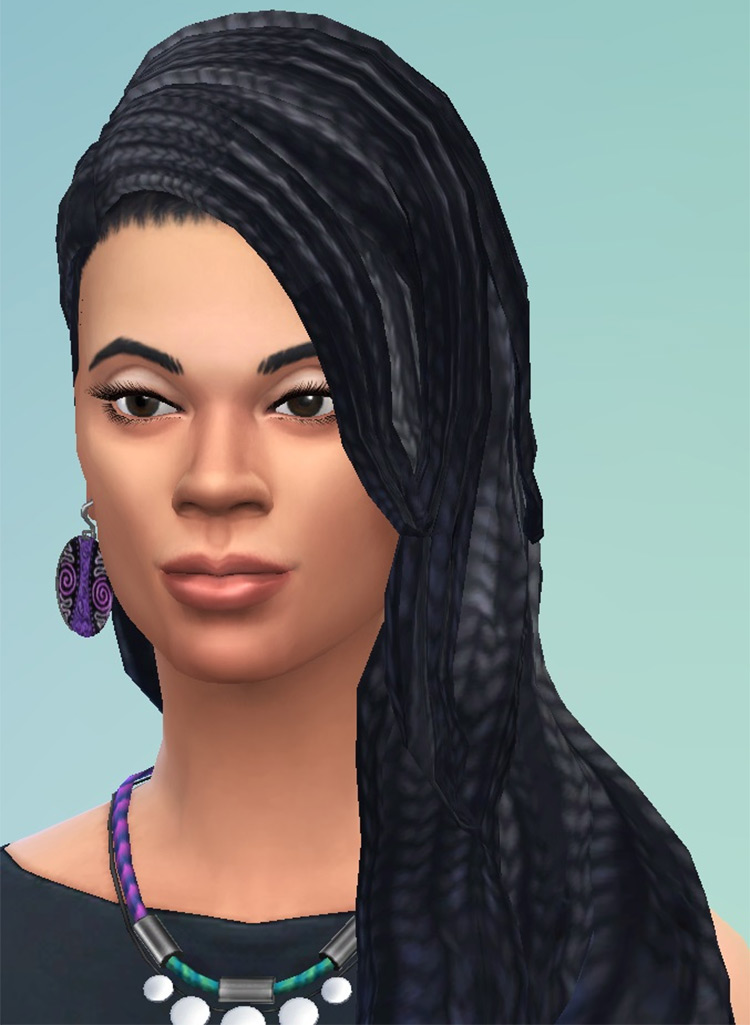 Looking for some long and luscious dreads?
Look no further than this Dixie Dreads CC.
These beautiful dreadlocks run down to your Sim's torso, and provide a lavish look for any dress-up style.
I feel like this particular look could match with almost anyone.
But mostly, this hairstyle would be the beverage equivalent of a tall glass of wine: juicy and luxurious.
9.

LeadLillith DayLily Hair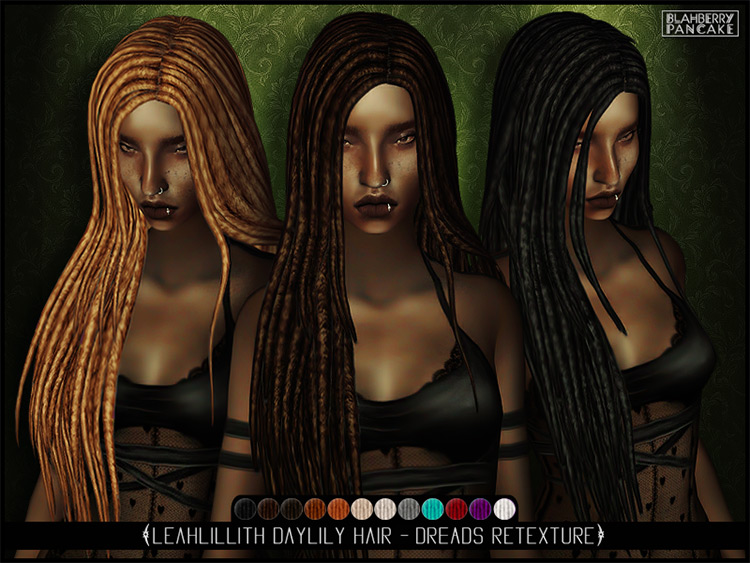 Blahberry Pancake provides us with this custom set of dreadlocks, fitting for gothic Sims or even vampire Sims.
Gloomy, lengthy, and 12+ colors make this emo-tastic look a must-try for all you grungy Sims out there.
Hide the garlic and avoid the sunlight in style with these dark dreadlocks.
8.

Electric Dreads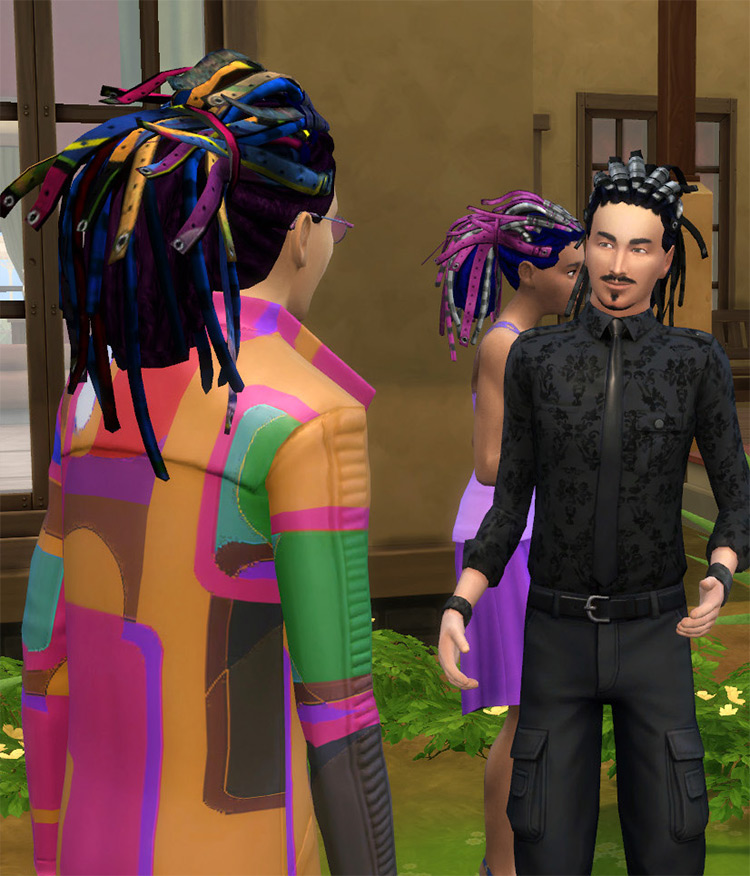 Let's move on from vampires to rock stars.
These electric dreads by Esmeralda are a true rockstar take on the traditional dreadlock.
It features a basic/classic dreadlock look with 2-3 different hair dyes for each individual design.
My personal favorite is the elderly look, with dark grey, white, and sky-blue dye for all the rockin' oldies.
All dreaded guitarist Sims need to strum their way to this look, and find their inner Hendrix.
7.

Messy Bun Dreads
Now this just might be one of the more unique styles we have on this list.
Creator ebonixsims brings a large messy bun dread, and it looks awesome.
The hair-do features a tall wrapped bun, with dreads dropping down close to your Sims sternum.
This hairstyle features two variants: one being a tighter bun with less dreads, and the other features the prominent look.
Try both and see what you think!
6.

High Twisted Dreads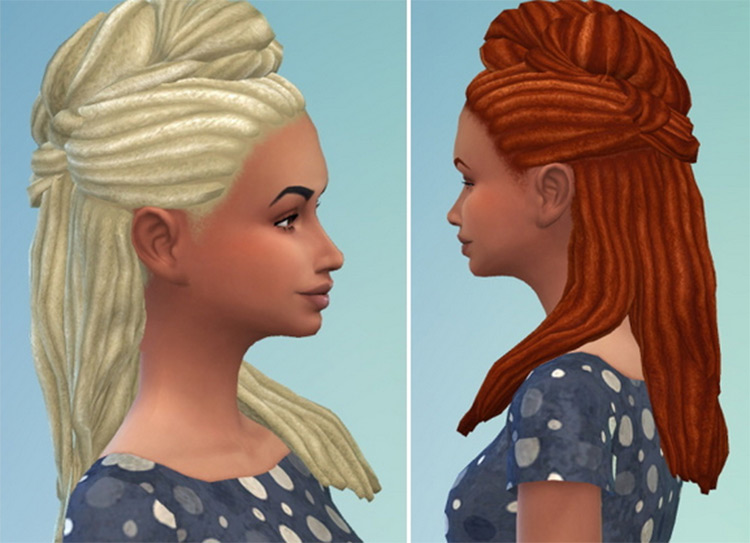 Looking for a tidier option for dreads?
This hairstyle is great for formal events, or just dressier occasions, coming off extremely stylish.
It features a short clean cut back, with a high twister braid. Perfect for a fancy night out, or even for attending a wedding.
Or maybe even useful for having wedding, cause this hair-do can definitely help you end up with a ring.
5.

Dreads with Hair Clip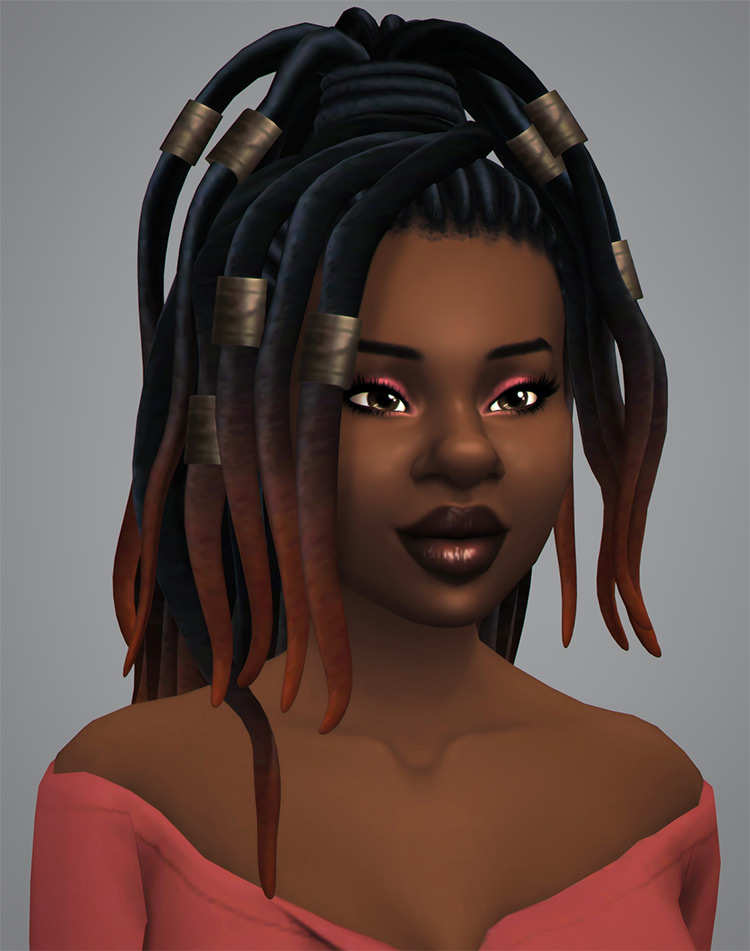 Here's another short-cut dread look with dyed tips.
Similar to Mike Wazowski's girlfriend from Monster's Inc, these dreads are sharply cut and quite stylish.
They also feature a removal hairclip to add a luscious touch.
Nolan-sims knocked it out of the park with this CC.
4.

Goddess Dreads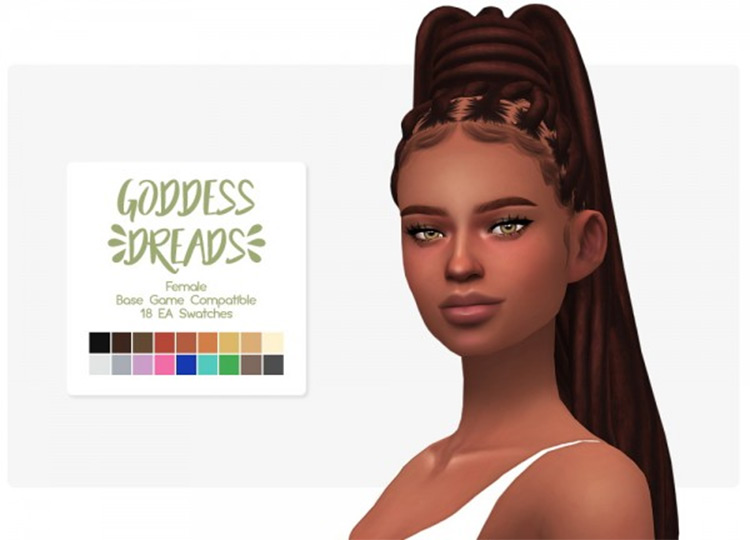 Here we go again: Nolan-sims goes back-to-back with this long-arched Goddess look.
Another great look for formal events, so this hair is definitely one of the most stylish dreadlocks (especially for a fan-made design!)
This look just screams "total queen", and would be great for any of your Simstagram posts to gain a following.
Bougee, bold, and beautiful are the 3 B's I would use to describe this hairstyle.
3.

Shaved Dread Updo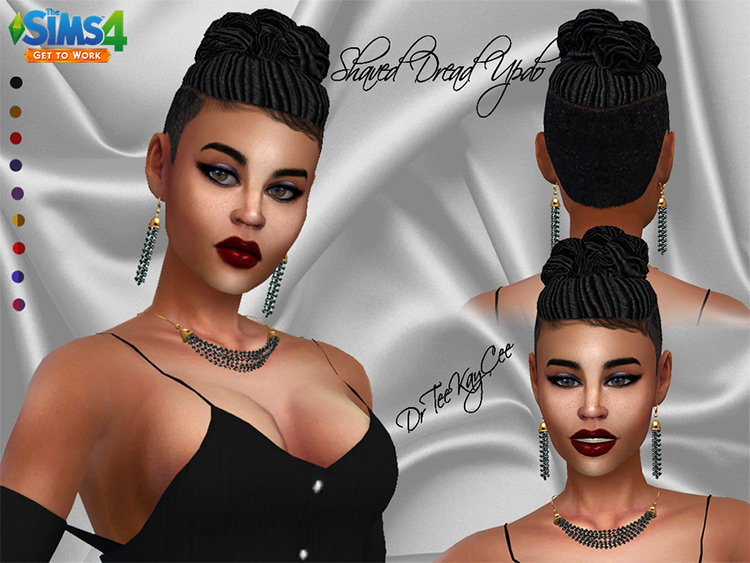 As a part of the Get to Work expansion, this shaved dreaded updo has the word kingpin replaced with "Queen Pin".
Drteekaycee absolutely delivers on this stunning look with a really unique design.
Clean cut, perfectly crafted, and uniquely designed; this hairstyle offers it all for pretty much any Sim that can pull it off.
While other looks may scream "boss lady" or "entrepreneur"…
This look screams "millionaire".
2.

Osiris Hair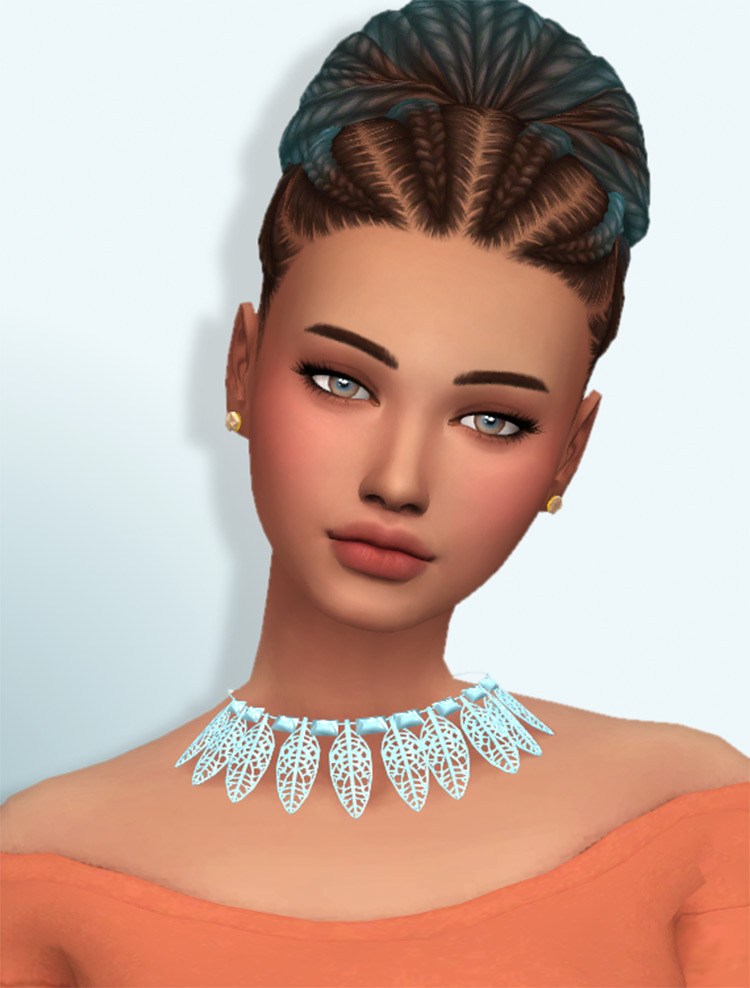 Here's a pretty hairstyle combo for a dreaded look by wondercarlotta.
You'll get tightly rowed dreads with hazelnut color, finished with teal hair dye.
The hair just looks beautiful in its original design.
Really, the Osiris hair is the cream of the crop when it comes to elegance and dreads.
1.

Bohemian Dreads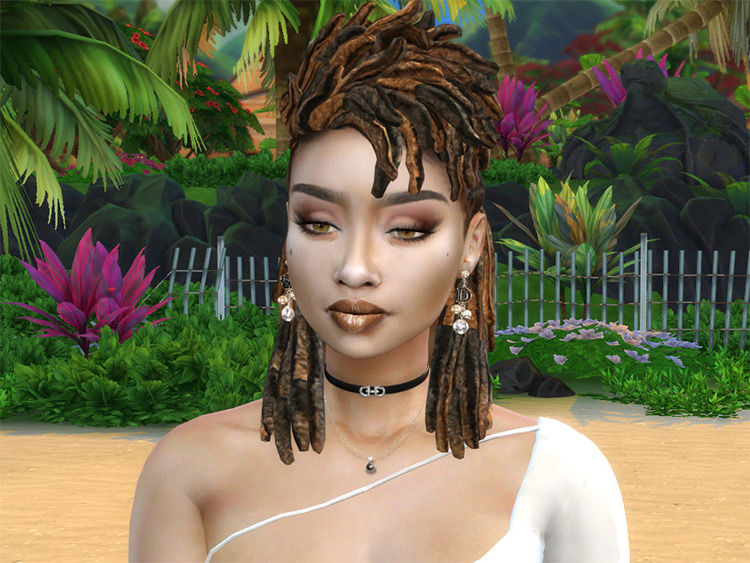 Drteekaycee provides us with an incredibly boho dreadlock style, this one really defining the idea of fierceness.
Short locks on top, long dreads pulled back.
Your Sims can stay cool while looking sizzling.
This CC set comes in 12 unique colors, the perfect combination of beauty and badass.
If any of your Sims are looking for the absolute best dreadlock style, look no further then these Bohemian dreads.
Browse:
Lists
The Sims 4
Video Games