Sims 4 CC: Custom Drums & Drumsets (All Free)
This post may contain affiliate links. If you buy something we may get a small commission at no extra cost to you. (Learn more).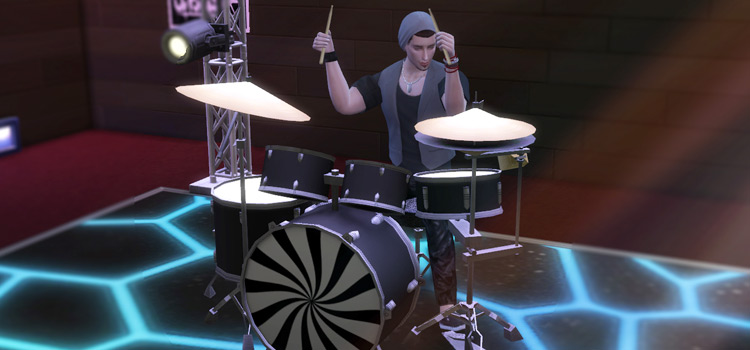 Music is one of the most beloved and versatile artforms that exists.
It's completely subjective, from the style of music a person makes to what they listen to. As long as you feel it in your soul, you're doing it right!
But drums in particular are the root of most genres.
That goes back to the days of cavemen and tribes, I believe. That steady rhythm achieved only with a percussion instrument can really set the tone and even be a song's defining sound.
The skills related to music in The Sims 4 aren't quite as expansive as past games, however. That's why players have had their fingers crossed for a band game pack for a while now. Until that happens, you'll always have custom content, and what you'll find on this list is no consolation prize.
Whether you want a functional drum or just something to act as a prop, Simmers have surely got just the thing.
1.

Drum Kit + Animation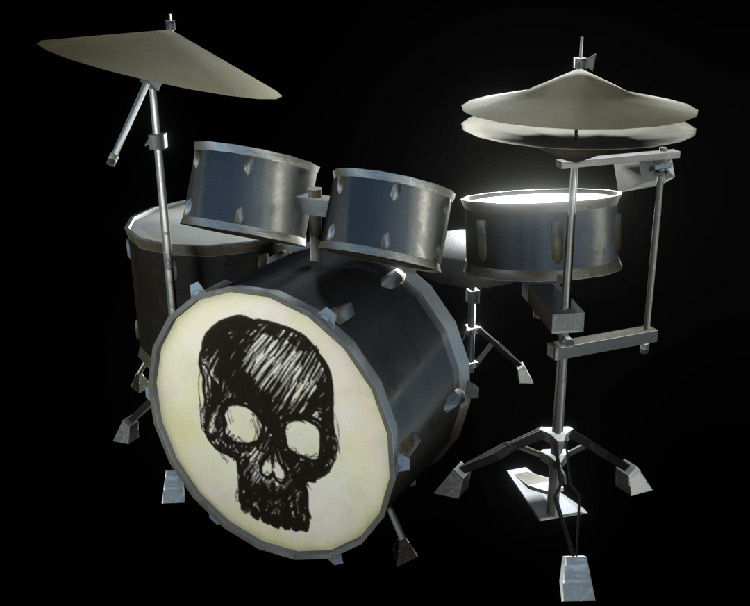 What we have here is everything you'll need to get your Sims drumming for real.
Yes, you may be surprised, but this community has come up with multiple ways to make drum sets functional.
The "how" isn't important here. But awe-inspiring creations like this are seriously the backbone of the Simming community.
Drums are a very important instrument to many people – so their absence from the game is probably quite obvious. Without creative folks like Shushilda, we'd really be stuck.
This is a really cool trifold drumset that will definitely surpass your expectations, if you have any.
The drums themselves look fantastic. I can't say whether they're a conversion or a new mesh, but either way, they're very impressive when you remember there's nothing from The Sims 4 itself to base it on at all.
It's a typical drum set as far as I can tell, complete with cymbals and visible pedals.
The big drum in front (bass drum?) can even have an artsy design in a few swatches, just like all the best bands.
But this isn't just a sculpture.
With the drumming animation, your sim will actually appear to be playing them.
Again, I have no explanation, but it's seriously amazing to see. They'll drum like they were born to do it, never missing a beat!
And to do that, of course, they'll need drumsticks. But you're good to go since this kit also includes some good old wooden sticks that your Sims will hold and smash away. They're found in the earring category and come in 8 swatches.
2.

Playable Drums V1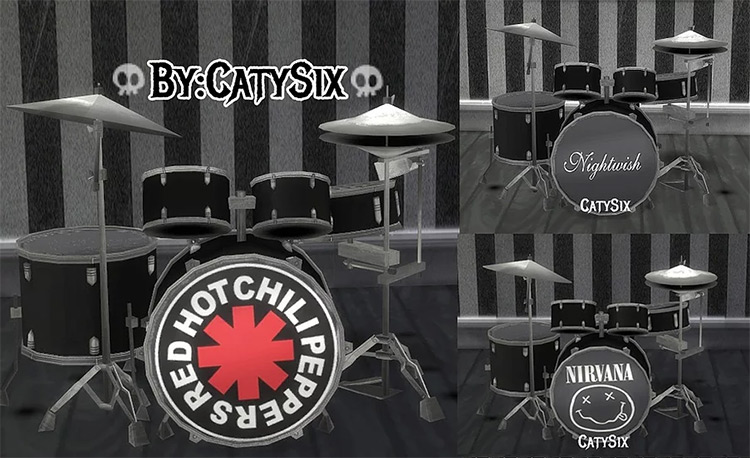 Functionality takes many forms, believe it or not.
With this, your Sims will still sit down and "use" the drums. However it's actually based on how they play piano.
Maybe it's not super technically accurate… but it'll still be very handy if you just want to see your Sim playing the instrument or in a band.
And speaking of bands, this creator pays homage to some big ones with this set.
You'll be able to choose from three designs here: namely Nirvana, Red Hot Chili Peppers, and Nightwish.
It's safe to say those groups inspired a lot of musicians, so this'll be something fun to have if you're a fan!
3.

Susanna Decor Drum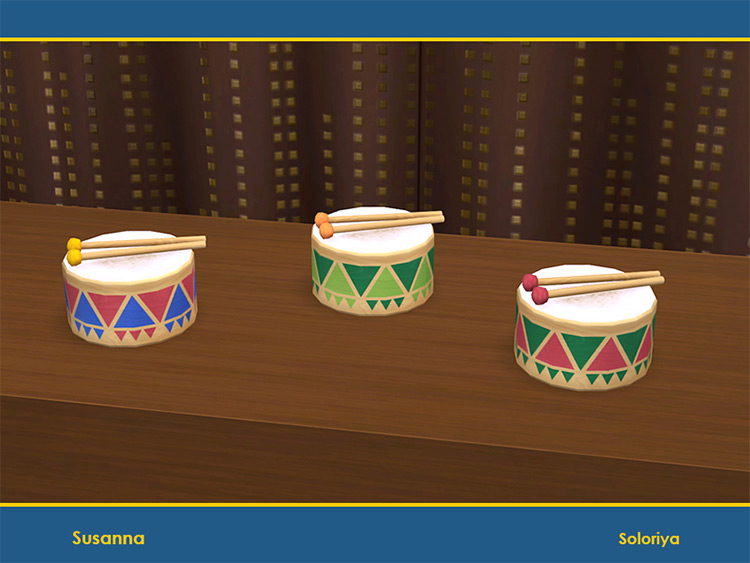 Banging on stuff to make noise is just a natural human instinct.
That's partially how music came about to begin with, I think.
Every baby will start drumming if you set adequate supplies in front of them, even if that's just a pot and a spoon. Then once they hit school age, pencils are likely to become interchangeable with drumsticks.
Eventually they might move onto the real thing.
But an interest in music tends to start in childhood.
Most famous musicians started their preferred instrument as toddlers.
Whether your Sim's tot is destined for the spotlight or not, there's absolutely nothing cuter than a baby with their own miniature version of instruments.
This decorative drum CC is exactly what toddlers can use to start exercising their musical side. Your Sim's kids may not be able to use this, but it'll still be a cute décor piece for their bedroom or play space.
4.

Kardofe Bass Drum
It's really amazing how many different types of music incorporate drums.
Country, rock, pop, disco, classical… they don't have nearly anything in common, except that steady booming bass.
Jazz is one genre where drums are particularly crucial.
That genre is highly expressive and known for being smooth, and that sound is a delicate balance. Drums are always there as the support – without them, everything would be different.
No matter what your Sim's preferred genre is, this decorative CC set will be the foundation of their hypothetical band, just like in real life.
These simply look fantastic, there's not one flaw.
They look just as smooth as jazz music sounds!
5.

Playable Drums V4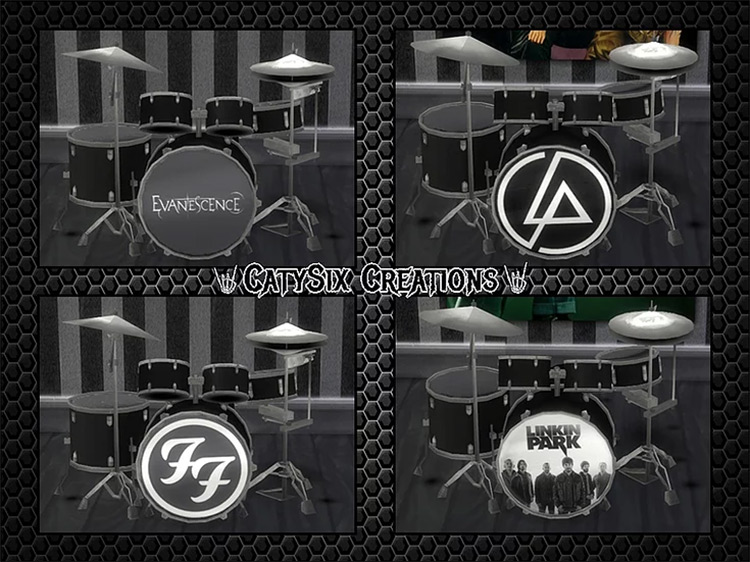 I don't know about you, but I really like being able to show off things I'm a fan of in my game.
That's clearly a common sentiment from Simmers since there are all sorts of custom posters, t-shirts, and sculptures you can find for just about any fandom you want.
Drumsets may seem like an unlikely way to include your favorite bands in the game… but why should they be?
The bass drum is like a blank canvas, just waiting for a design. It might as well be a well-known and beloved band!
And this is another version of the playable drums from CatySix, so just like before, your Sims will be able to sit down and use these in the exact same way they interact with the piano.
You'll have more swatches here with the logos from Evanescence, Linkin Park, and Foo Fighters.
6.

Necrodog's Playable Drums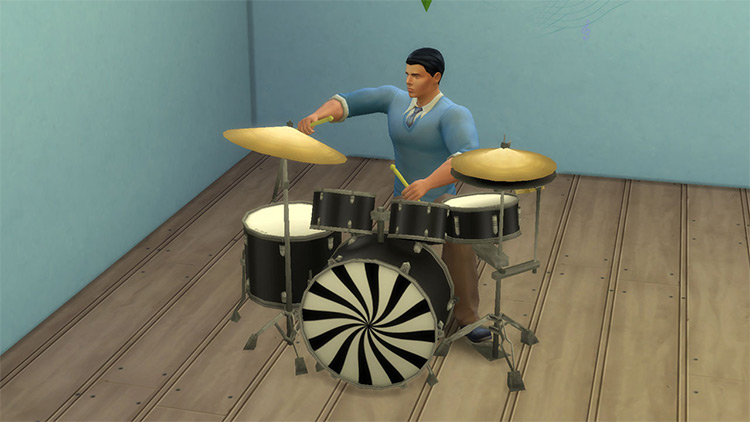 If you have ever looked for elaborate & game changing mods, then chances are you've run across Necrodog.
When it comes to mind-blowing inexplicably complex mods, this guy is hard to top.
He's been creating and sharing content for other players since the heyday of The Sims 2 – and just keeps making cooler and cooler stuff.
So here's another type of functional drums he made, but with a twist. I believe these are the only ones out there that will actually include music when your Sims play.
Some tracks are included, but you can even add your own too!
This also has an animation so your Sims will actually sit down and start banging out some tunes.
7.

Drumstick Accessory
A lot of drums can be played with bare hands. But your standard drum set is not one of them.
Cymbals, bass, snares, and the like need to be beaten with a little wooden stick to get the right sound.
Yes, it's just as brutal as it sounds.
Drummers even expect their sticks to break over time, because that's just how it works.
Pretty hardcore stuff.
These drumstick accessories were made to be used with Kardofe's drum set, which you can find above, along with some poses that you'll be able to find in the "Recommended" tab.
It's not like these are necessarily an intricate item. But these drumsticks really look great.
You can definitely see the grainy texture of the wood.
8.

TS3 Drums Conversion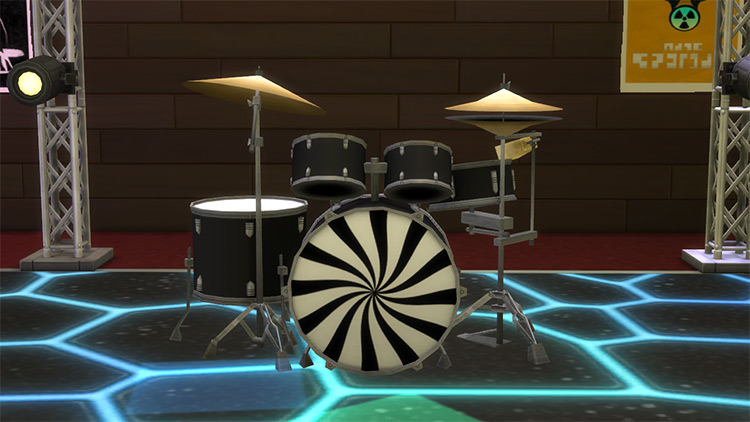 The Sims 3 revolutionized how music is experienced in this game.
With the Late Night expansion pack, Sims could learn a multitude of instrument skills, perform live, form bands, and more.
That whole pack was iconic, by the way.
A Sim just hasn't lived unless they've busked in a Bridgeport park to fund their night at the club.
Well, the heart of all that was really the instruments, anyway.
They looked great.
And now that these drums have been converted to The Sims 4, it's like breathing new life into them.
These are flawless and look just as nice as they did in the old days.
Yes it's mostly decorative, but your Sims can sit at them like a chair. And it's great for poses too.
Browse:
Lists
The Sims 4
Video Games