The Sims 4: Best Eclectic Interior CC For Your Home (All Free)
This post may contain affiliate links. If you buy something we may get a small commission at no extra cost to you. (Learn more).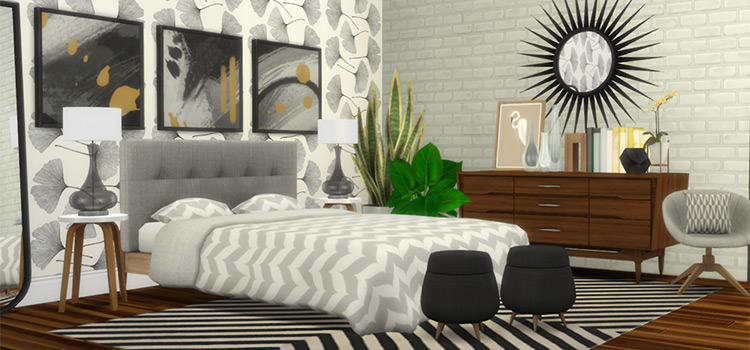 Unless you're truly committed to a particular interior design style, most people's homes are on the eclectic side.
There are different levels, of course. But eclectic tastes don't develop overnight. They're usually born out of a lifetime of accumulation.
Even if you're young and in your first place away from your parents, chances are you took something with you from home – like a shelf or lamp.
And as life goes on, items naturally accumulate that way. Be it from gifts, stuff picked up at the thrift store, or time spent antique-hunting, it'll all result in a unique homey collection of furnishings.
If you'd like your builds to have that same sort of vibe, then you're in luck.
It's quite easy to accomplish in The Sims 4 with all this custom content – and you'll have a never-ending variety of décor, furniture, and even appliances to utilize.
1.

Mid-Century Modern Eclectic Set
Now if you use this entire set at once, your Sim's home may look more retro than eclectic.
But if you select just a few items and combine them with some of the other things already in your game (or on this list) then they'll act as pillars of the look you desire.
Everything here perfectly encapsulates the popular home trends of the mid-20th century, including warm and bold color schemes, a glass lamp than any antique-lover would kill for nowadays, and a totally different chair design than you'll find in most homes in the 2020s.
This is the stuff that was standard in your grandparent's era – so even a little goes a long way towards coziness.
It calls back to days that are long gone, but you and your Sims can make it your own.
2.

4×4 Rugs
Rugs are as important as wall coverings.
They can give a room a lot of personality and set the tone.
Shag rugs, for example, create an air of ultimate comfort, fit for living rooms or bedrooms.
Bear rugs might be a little outdated nowadays – but everyone knows they're a symbol of rough, rustic living.
Well these rugs from Descargas Sims won't elicit any particular style. And that's what makes them so awesome for an eclectic interior.
They're fun, modern, and totally original.
My personal favorite is the one with a great white shark.
I mean, it should be obvious why, that's just amazing!
But each rug here should work in plenty of different rooms, and compliment nearly any furniture/décor you place with it.
Many swatches have geometric shapes too, which always make a room more visually interesting. There's one with an eyeball pattern which isn't nearly as weird as it sounds, and another has a cheetah's profile, and some of them even have natural earthy imagery.
3.

Boho Tapestry Set
If you want a room to look eclectic, add just one boho item.
I say this with love – the bohemian style is all about busy patterns and bright colors, and a lot of them.
They're the kind of items that can be difficult to match or create a singular theme out of. That's what makes them so fun!
I personally don't like my Sim's home to look too one-note and matched. And a little boho is always guaranteed to make things a little livelier.
Even with the Interior Design pack, there's emphasis on personalization and really making a place a proper home for the Sim that lives there.
That'll be no problem with this wildly varied tapestry set.
There are plenty of swatches, surely enough for everyone to find something that speaks to them or their Sim.
Some have a sort of quilted patchwork look. Others have mandalas, and there are plenty of scenic nature-themed options to go around, too.
Plus…it's a tapestry.
I don't think I've ever actually seen one for sale in a store. I think they spawn in relatives' attics and garage sales. That's like, eclectic decorating 101.
4.

Eclectic Pouf
Until I played The Sims 4, I had never heard of a pouf.
I wasn't even sure what it was when I saw it available courtesy of Tiny Living, and I'm still not entirely sure of its purpose now.
Is it a chair? Why doesn't it have a back? Is it just decorative?
These are not questions I really need answered.
All I know is that poufs, mystifying as they may be, are a good way to make a room less empty.
And your Sims can indeed sit on them. Good thing they don't have to worry about back problems.
Since it's just a cube, what really makes a pouf is its design. This creator really went all out with these recolors, providing a huge selection not only of new colors, but patterns too!
You'll have a lot of fun exploring what's available and finding just the right one for your Sim's home.
Once you've picked one or two of them, your poufs will serve as both seating and décor.
5.

Oriental Rugs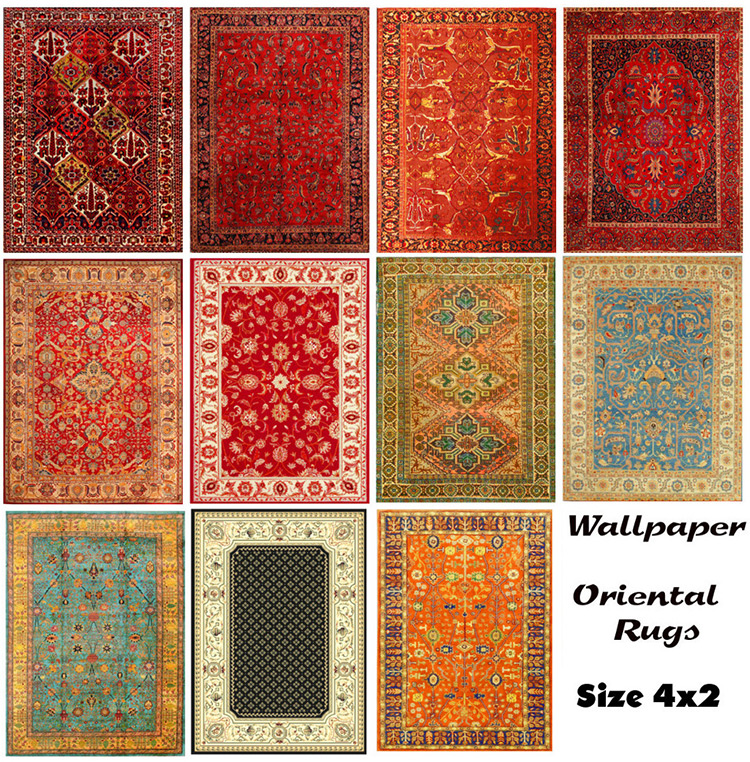 Oriental rugs are steeped in a rich history – and each one is truly an individual work of art.
This creator (Wallpaper) did a splendid job of capturing that beauty.
These rugs are just as intricate and complex as the real things IRL. You'll never grow tired of admiring them!
The best part of this CC is that despite being very visually busy, these will work basically anywhere and never clash against other things.
In the creator's example photos, you can even see how they complement leather seating sets, modern black and white color schemes, and regal furnishings all the same.
No matter how experimental you get with your eclectic interior, an oriental rug will be able to pull it all together.
6.

Mao Table Lamp
Lighting is the bane of many player's existences in this game.
You may know exactly which furniture you want to use, and have a defined style in mind. You can spend hours perfectly editing the floor plan, then choosing wall coverings and window swatches to match.
But then it comes time to add some lamps or ceiling lights so the place isn't as dark as a cave… and everything goes downhill.
It's really a tricky endeavor.
That's not to say there aren't great floor and ceiling lights… but table lamps are another story.
There aren't very many, and the ones that are available are huge.
With this creation from Leosims, you'll get lamps that are a sensible size without sacrificing one bit of style.
In fact, these have more going on than most lighting options I've seen.
From the shade to the base, every inch has been carefully crafted.
Each swatch is completely different and unique too. You'll have no problem finding one that'll work for your eclectic tastes, whether you'd like a little wicker, a lot of color, or subtle textured designs.
7.

Eclectic Prints
It's no secret that art is not only one of the best forms of self-expression, but also very valuable for homes as well.
Sims don't have a lot of personality unless we give it to them. And they honestly deserve homes that reflect who they are… or who we've decided they are.
Existential crisis aside, it's just sad to see a Sim living out their life in a drab, boring, insipid house.
To make it a home, it needs things that really make it look like it's the place where your Sim really belongs.
Most of the wall hangings in The Sims 4 are true artwork, which makes sense.
Well these prints from Ritsuka mostly consist of more casual designs, vintage posters, and cool random pictures – like a rabbit with an eyepatch or a UFO.
There are three different sizes to choose from which are vertical, horizontal, and square.
Between those sizes and all of the swatches for each one, you should have no problem decorating!
8.

SMEGlish Retro Appliance Set
Here's another CC set that may seem a little too uniform for the eclectic style if you use it all together. But just an item or two will give your Sim's kitchen a more natural appearance.
Just think of your own kitchen.
Is everything state-of-the-art, brand new and shiny? Probably not.
As different appliances naturally break down and get replaced, some will start to stand out as older, cultivating an eclectic look.
This set from RAVASHEEN has every kitchen necessity, so you can pick and choose what to mix with the modern furnishings in the game.
Each one has a retro feel and Simlish writing.
The colors really will help your eclectic pursuits, too.
You're not too likely to find a pink fridge anymore!
9.

Avena Living Chair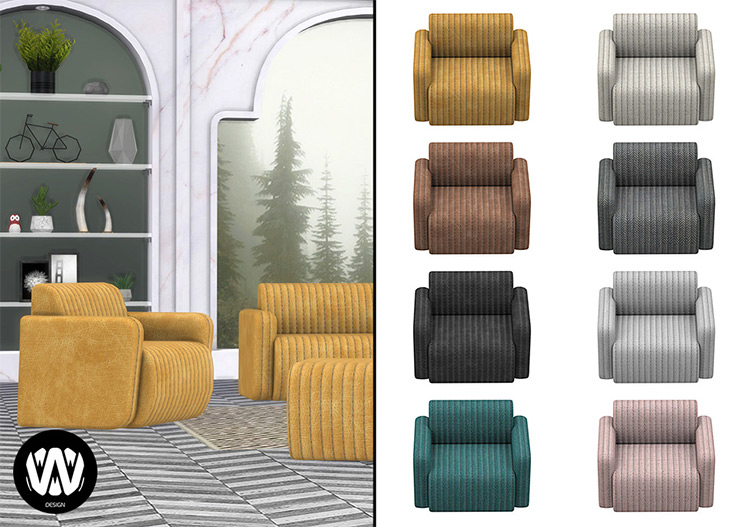 Thrifting and upcycling have become two very popular pastimes in recent years.
Some people have even turned it into their side hustle, turning forgotten things destined for the landfill into someone else's prized possession.
Chairs in particular seem to be a favorite item to turn into a DIY project. And it makes a lot of sense:
For the most part, they don't see nearly as much action as sofas or beds – and generally don't suffer as much wear.
A lot of chairs that get discarded really just need a little love, and maybe some reupholstering. Then they're basically good as new.
This living chair from Wondymoon reminds me a lot of those chairs.
The fabric texture is excellent, and you can even see the stitching.
It just has a feeling like it's been around for a while, been deep cleaned, as is now ready to be loved. The swatches are nice neutral colors like beige, brown, blue, and gray, so they'll be a great fit to any home.
10.

Shabby Chic Wooden Heart Shelf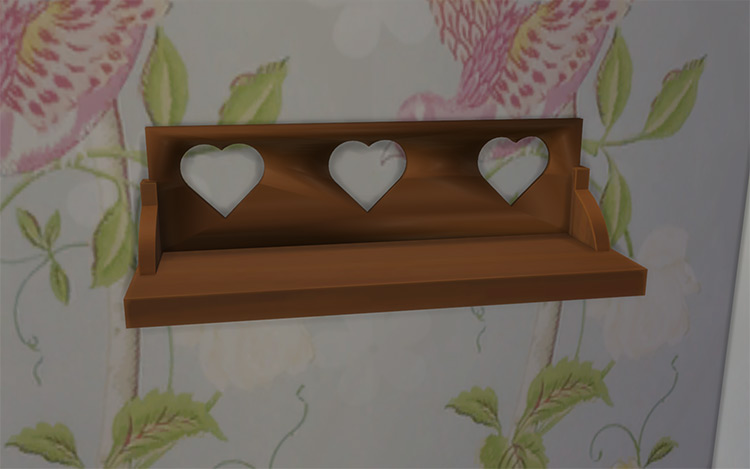 Shelves are usually just what they are.
They exist simply to hold items – so the manufacturers don't bother with frills.
Shabby chic furnishings are a whole different story, however.
Heart cutouts can be found in lots of items, and here they really are a unique, distinct addition to an otherwise basic wooden shelf.
This will be really cute to hold family photos, flowers, knick knacks, and whatever else you may find and want to display.
It comes with three different wood options too, all of which will work nicely with any paint or wallpaper.
11.

Meow-dern Trunk Litter Box
An old-school trunk is already a good candidate for eclectic decor.
This isn't something people really use for the intended purpose anymore, so through the natural course of time, trunks become more like cool pieces of furniture.
Just imagine someone actually using a trunk for luggage.
Fitting that in a car, loading it on a plane… I don't see that going smoothly.
But RAVASHEEN really reinvented the whole idea, turning a typical trunk into something totally new – and this one has more than one purpose.
It may have a wicker exterior, but don't be fooled. This is actually a litter box!
And it's not even the regular type that your Sims will have to scoop – it's self-cleaning!
That's one way to think outside the box, huh? Well, yes and no.
But this is the best way to have the litter box blend in naturally with the rest of your Sim's home. The top even has slots up top for you to place decor.
12.

Sympxls Deer Wraps
I've stumbled across this several times, but never made the leap to downloading it because I wasn't sure how I'd use it.
Taxidermy mounts are quite popular with outdoorsy folks. But if the thought of having a previously living animal stuffed and staring at you for all eternity freaks you out, it's probably not a decorating choice you want to make.
Different strokes for different folks, as they say.
Here's a perfect compromise – and it's pretty crafty.
It symbolizes the outdoors with the iconic deer's head, complete with big antlers, but it's made out of newspaper!
Everyone will know that no hoofed mammals were harmed in the creation of the mount. But it'll still bring a bit of nature to a room.
Now it's clear that this is an ideal wall decoration for an eclectic theme.
You don't need to base all of the furnishings off of nature, either. It takes just one item to make a statement.
13.

Globe Fish Tank
Creative people have come up with all sorts of ways to repurpose old items.
And turning random sculptures into fish tanks could be among the most genius interior decoration trends ever.
The core principle of a fish tank, being to recreate the inhabitants' natural habitat on a smaller scale, has been reduced to a boring glass rectangle – and for too long.
Petsimk took elements from multiple packs to make this marvelous tank.
It's in a standard globe, with the globe itself being completely transparent and that's where the fish live.
You can see all of the colorful coral and plants inside, plus a little lighthouse.
Despite this CC being the product of some DLCs, it should be totally base game compatible.
14.

Vintage Dressers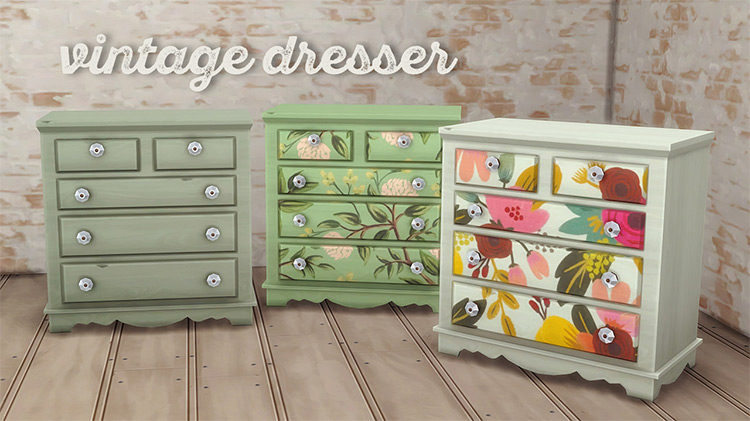 A mark of eclectic-ness is to use furniture for what you want – not necessarily what it was made for.
Like dressers.
They're just supposed to hold clothes and should probably be kept in a bedroom. But I like to place them as though they're side tables in my Sim's home.
A lot of rooms feel too open sometimes, and a dresser will remedy that issue – plus give you more surface space to clutter up.
Besides, this way you won't have to send your Sims all the way to the bedroom every time you want to edit their appearance or plan outfits.
This CC set was created specifically with flea market finds in mind, and the dresser is definitely a gem.
It's a recolor of the one from Parenthood. And thanks to this Simmer, it's now available with beautiful floral overlays and new wood colors.
Nobody should think twice about adding in such a beautiful piece of furniture, no matter what room it's in.
15.

Harlem Table Lamp
To finish off this list, here's one more table lamp.
You can't have too many options, honestly.
And just like the previous one mentioned earlier, this is from Leosims.
It has a bulbous base with some cool colorful accents. The shade is rather distinct with its ridged texture, which contrasts nicely against the rest of the lamp.
Plus, any of these 8 swatches will match an eclectic interior.
Actually I think the whole idea is to avoid matching, but you get the point.
This is probably one of those items that you won't realize how badly you needed it until it's in your game.
Every CC lamp I have ever downloaded has become a beloved part of my mods folder. And they always enhance the experience of furnishing a home!
Browse:
Lists
The Sims 4
Video Games