Sims 4 Elderly CC For Your Sim Grandma & Grandpa
This post may contain affiliate links. If you buy something we may get a small commission at no extra cost to you. (Learn more).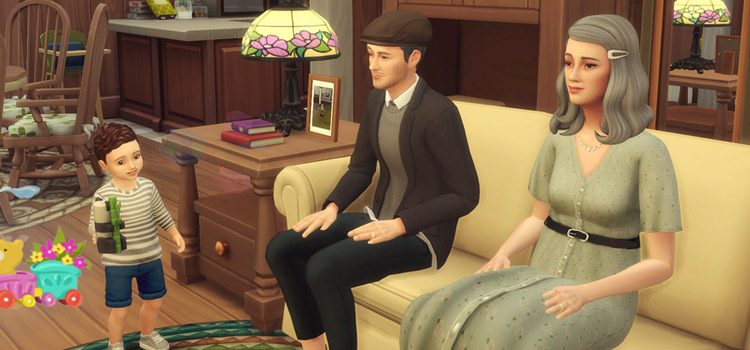 Despite being a large part of most people's lives, grandparents have always been a rather minimal part of The Sims.
By the time a Sim hits that Elder lifestage, most players are ready to move on, shifting their focus to the younger generations. I think this has to do with the fact that Elders aren't really as developed as the other stages.
So we're missing all of the little things that make a grandparent a warm, comforting, and inviting person. We want to make their homes into a place you never want to leave.
Well custom content is here to make everything better, just as grandma always did.
1.

Granny Nightgown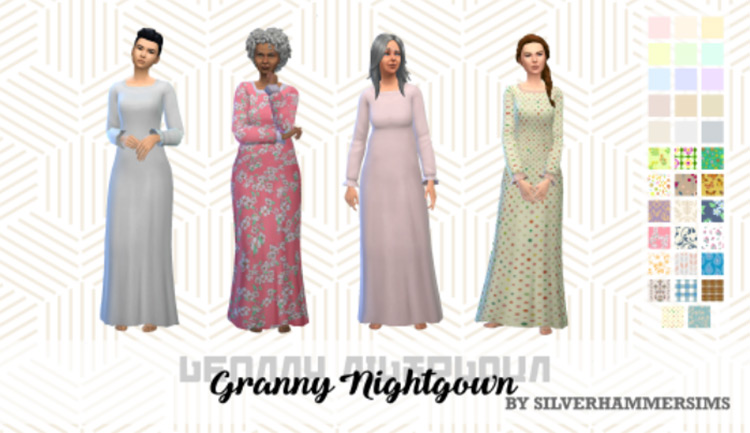 Grandma fashion can be rather unique, as evidenced by classic nightgowns like this one.
There are 35 swatches total here, in both solids and patterns. All of them are satisfyingly 'granny'.
It's a beautiful thing.
Say what you will about nightgowns, but they're a neutral sleepwear option that you can always find in a million different styles.
Elderly folks seem to always prioritize function over form. But the two don't necessarily have to be exclusive to one another. It's all up to the wearer.
Could Granny wear something a little more stylish? Sure.
Does she have to? Heck no. Not at this stage of life.
2.

Grandma's Crocheted Vest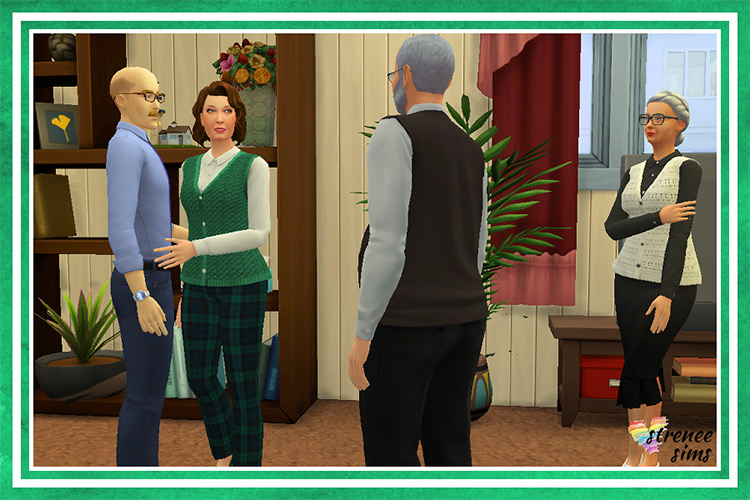 This is a style that was popular many years ago, and is due for a resurgence.. .at least as far as grandmas go.
Crocheted clothes seem to be something that's only rising in popularity. Which I'm sure is something a lot of grandparents are giddy over.
There's just something so satisfying about making something functional you can wear with your own two hands. And contrary to popular belief, I don't think crocheting is exclusively for the elderly.
It's also not the same as knitting.
A crocheted vest is a good way to flesh out your Elder Sim's wardrobe, especially when it comes in so many color variations like this one.
3.

Grandparent Trait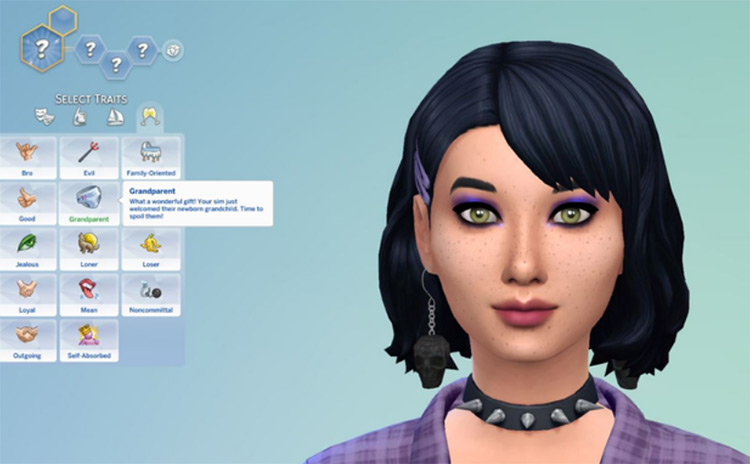 Being a grandparent can be a huge part of someone's life.
And this trait mod from Snowiii95 reflects that.
By giving your Sims this trait, you'll really be giving them a new purpose in life, just as grandkids often do.
This comes with a ton of cool features that'll make your Sims seem a lot more grandparent-like.
Sims will build the social skill with toddlers and kids faster, interact with the family more frequently, and will receive many new whims.
As many grandparents do, your Sim will often want to buy things for the grandkids, like toys or furniture.
So now you can cuddle babies, help with homework, and help toddlers build up skills. Awesome!
4.

Sweater Vests Recolors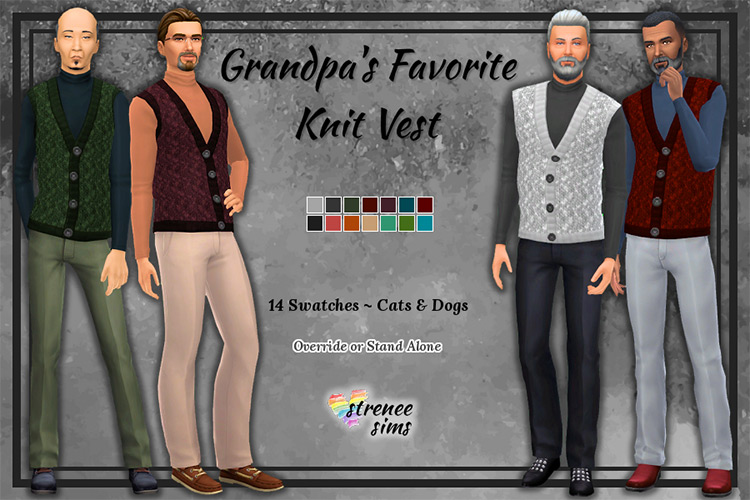 While sweater vests are not exclusively for grandparents, it is kind of an iconic 'grandpa' look all its own.
These recolors of the Cats & Dogs sweaters will be perfect for any well-dressed elderly guy.
Nothing makes someone look more kind, approachable, and like they have a bunch of good stories.
As much as I do love the Cats & Dogs pack, I have never actually used a lot of the CAS items because they're a little too niche.
I don't think I've ever seen anyone wear a sweater vest covered in dog bones. But argyle?
Absolutely.
5.

Grandma's Apron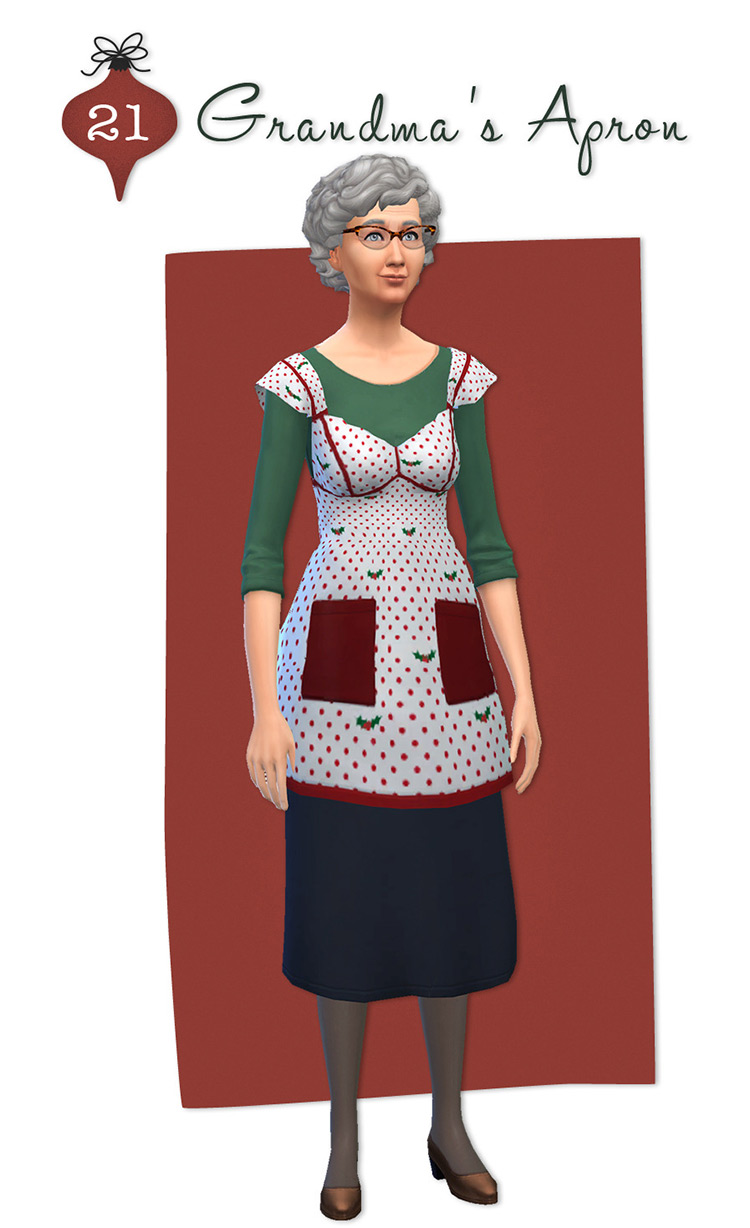 Aprons seem to be another thing that's less common with each passing generation.
Come to think of it, I don't think I've even seen one for sale in… my whole life. And I just don't understand why.
An apron is the perfect way to protect your clothes while in the kitchen.
And these custom aprons from Linzlu will bring a retro flair to your Sim's wardrobe, which is also something perfect for grandparents – no one else can say they've been using the same item for three or four decades, but chances are, every grandma has at least one item they've held onto for years.
All of the swatches here are nice complimentary colors.
There's even one apron with little boughs of holly in red and green, perfect for the holidays.
6.

Spend Weekend With Mod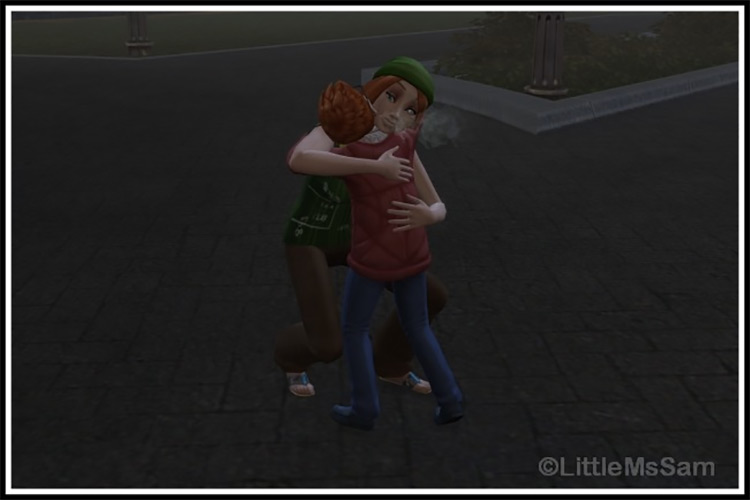 This is something I have desperately wanted across multiple installments of The Sims franchise.
Letting your Sim kids spend the weekend or a few days in another household should not be so tedious or permanent.
I get that the short lifespans we often play with have something to do with it. I mean, you don't want the kids to spend most of their childhood at grandma's.
But it's hard to keep the family feeling like a family when it's so difficult to get a Sim to stay somewhere more than a couple hours.
Thanks to LittleMsSam, this mod will enable you to send Sims around freely.
The kids can go on their merry way to their Grandparent's house until you beckon them back, all through simple phone interactions.
7.

Grandma's Fridge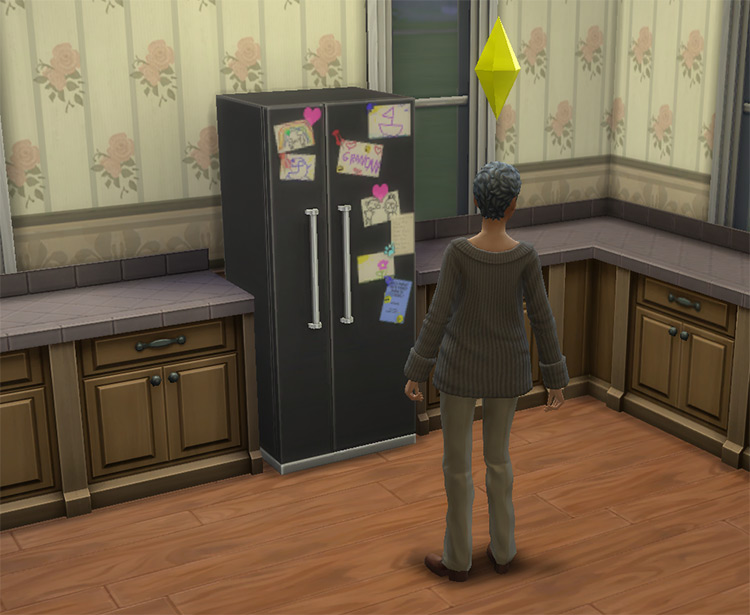 Maybe this is just my nostalgia talking, but I think this is one of the sweetest CC items ever created.
If you want one sure sign that someone is a grandparent, take a look in their kitchen. Nothing says 'I've got grandkids' like really basic scribbles lovingly plastered all over the fridge.
Our Sim's fridges have been plain for far too long.
Honestly, even if you aren't a grandparent, who has a totally bare fridge? No one.
But I don't think anyone has their fridge decor game down quite like a grandma.
These cute drawings and magnets will really aid in bringing the grandparent vibes to your elder Sim's homes.
8.

Grandma's Comfort Soup Pot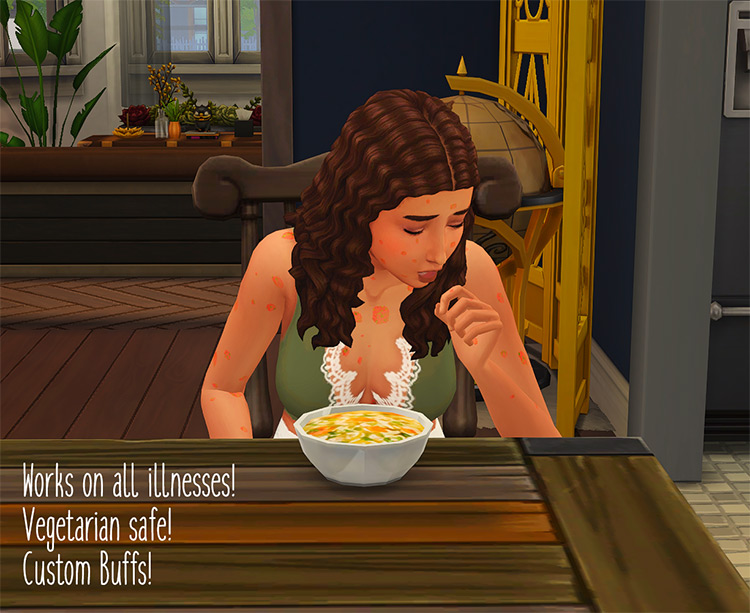 We all know a grandma's food can cure anything.
And the lack of menu diversity in The Sims certainly doesn't reflect that.
Now your Sims can turn to Grandma's cooking to make them feel better, too.
This soup cures all Sim illnesses and fills their hunger. It comes in various swatches, which is a really nice touch, simply because Sim food can get so boring (but we have mods for that too!)
Perhaps best of all here is the crockpot-like appliance, since we all know a crockpot is a grandmother's best friend.
9.

Gradual Aging Wrinkle Set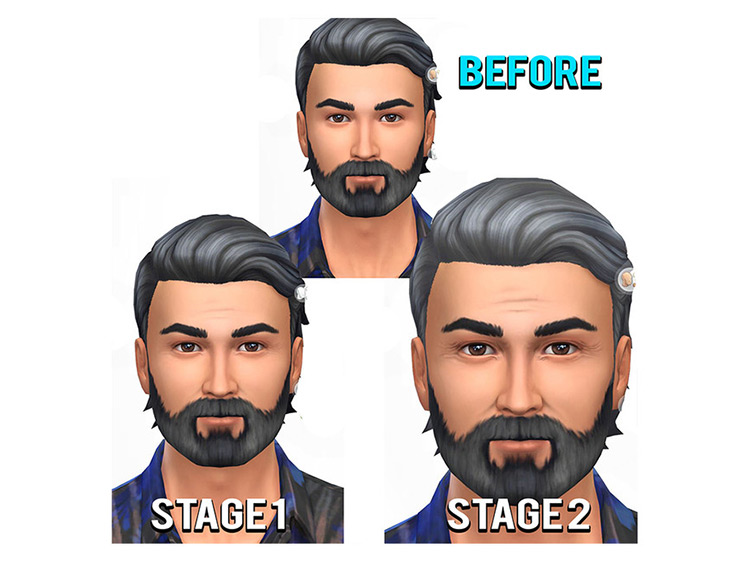 In real life, there are a lot of different ways a person can age.
You can have no wrinkles at all, or a ton of them.
You can go gray in your thirties, or not until your fifties, or (if you're lucky) you never go gray.
And no matter what, signs of aging probably won't be limited to your face and posture like in The Sims 4.
And this Gradual Aging Wrinkle Set from onlyjustaname goes a long way towards filling in the gaps of our elderly Sim's appearances.
There are different stages of wrinkles you can apply to your Sim's face to vary their aging process, and even some details that can be applied to the hands!
Seriously, I don't know how I ever played without this.
Hands are almost always a dead giveaway to someone's true age. They take the brunt of almost anything we do in life.
Showing off that experience is not a bad thing!
10.

Gray Hair Strands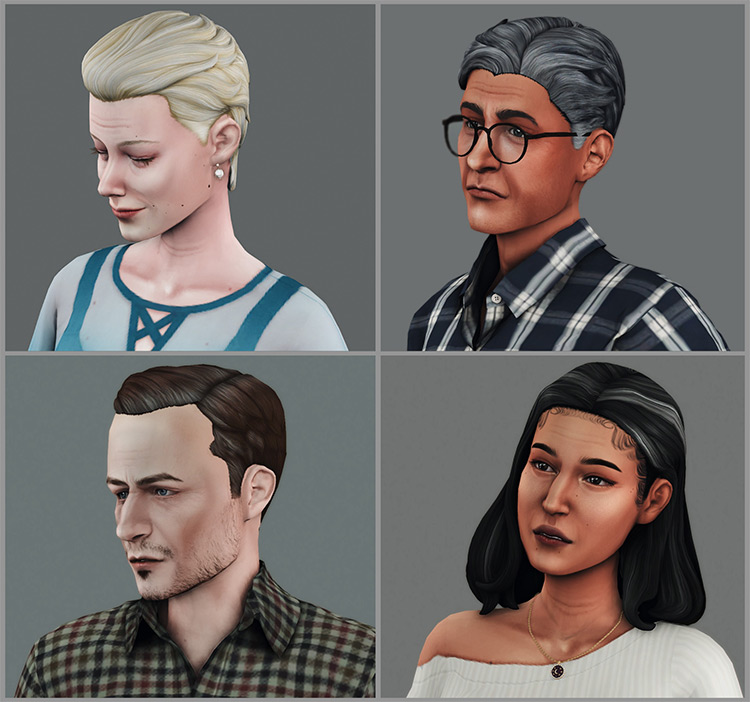 If you want proof that elders are overlooked in The Sims 4, just try to use the graying hair swatches on most of the hairstyles.
That 'salt and pepper' one almost never looks good.
I'm talking like a 1 in 10 chance.
Most of the styles we've got in game, even from newer packs, just don't look right unless you fully commit to the gray.
Well, these accessories are the perfect fix for that.
If you want to give your Sim that aged essence without going fully white-haired, just apply a few of these instead.
Browse:
Lists
The Sims 4
Video Games