Sims 4 Engagement Pose Packs: The Ultimate Collection
This post may contain affiliate links. If you buy something we may get a small commission at no extra cost to you. (Learn more).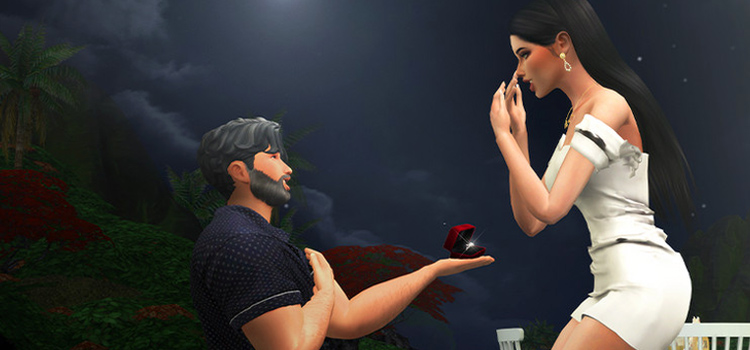 Engagement.
No matter how it turns out, popping the question is always a big day. And your Sims deserve the best setting for their proposal.
So I've gathered a bunch of custom engagement poses for you to play with (and, of course, work into your storyline).
Before we dive in, do note that a lot of these poses will need some sort of ring and a box for the ring. Some creators link the ring CC that they've used, but others either don't remember or don't have a specific recommendation.
If you need a blanket engagement ring box accessory to try out theses poses, the best one is kikovanitysimmer's Engagement Ring & Box, which you can download here. The meshes are included in the whole pose download, so you'll need to download the .package file.
As for the actual engagement rings worn on the fingers (for those quintessential "show off the ring!" photos), we've curated a list of CC engagement rings for your Sim to try.
1.

Marry Me Posepack & Tattoo by kai-hana
Although it seems like the focus of this pose pack is the tattoo (which by the way is such a cool idea), I'd argue that this pack can still stand out without it.
The actual poses themselves photograph beautifully, and I love the emotions the creator decided to convey here.
Of note would be the second pose set, where the Sim being proposed to actually has to sit down for a minute (emotional overwhelm is a real thing), and the fourth pose set, where the same Sim looks like they literally flung themselves at their new fiancé.
It's hella romantic.
And it makes for some sappy (but beautiful) screenshots.
Also, this may seem a little random, but I always appreciate creators who put a little adfly warning on their downloads. This at least prepares me for the pop-ups.
2.

Engagement Photos Pose Pack by something-wicked-sims
This pack by something-wicked-sims was made for the picture-perfect couple.
You know; those really wholesome duos who believe in classic, old-fashioned romance. Chocolates, red roses, walks in the park, sunsets by the beach, a white dress for a white wedding… all that jazz.
Basically, the romantic Sims at heart (who may or may not have the Romantic trait, we'll never know).
These poses fit that narrative exactly.
As the title suggests, the theme is prenuptial photoshoot.
The 5 couple poses in this set look like they belong on the cover of a novel or the poster of a movie.
There's just a lot of cutesy posing, fond looks, and bashful gestures.
I like that the pose sets have pretty straightforward descriptions ("dip kiss," "spin," "gazing into eyes," etc.) that help you find the set you want easily. Even the thumbnails are different to help tell the models apart (Female model has a picture, Male model has a blank square with a letter in it).
The height difference built into the poses is also well done; subtle enough that the models don't look warped, but obvious enough that you see it immediately.
3.

We're Engaged! Poses by Perfect Sims Life
I've reviewed this particular set before when I curated some kissing pose packs, and my opinion has not changed.
Concept? Unique enough.
Execution? Excellent.
And it slips into both pack categories (kissing and engagement) pretty seamlessly because of the little details—like the Sim showing off their engagement ring in the second pack and the proposing Sim jumping for joy in the third.
Like I said in my previous review, the IRL replication of the poses in this set is pretty spot-on.
They're exactly the kind of Instagrammable (or Simstagrammable) engagement shots you'd see on your feed.
And I actually like that there are only three options in total; it keeps the sorting to a minimum and you don't have to spend minutes figuring out which pose is which.
4.

Special Helper Engagement Pose Pack by SamsSims
So this pack is the definition of precious.
It's so cute, it reduced me to a gushy squealing mess—and I'm taking you down with me.
The preview photos are probably enough to tell you the narrative of this pack, but I'll reiterate: the proposing Sim enlists the help of the toddler (by way of subliminal messaging via the toddler's t-shirt) to pop the question.
The other Sim is proposed to while cuddling the toddler, then says yes, and the two kiss happily while the toddler (probably) shares their excitement.
Aside from it being such a unique idea for an engagement pack (couldn't find any packs that were even close to this concept), the quality of the poses is evident in that they tell a simple story so beautifully.
Everything about them – from the facial expressions to the gestures – is striking.
And I love the little details, like the proposing Sim hiding their hand behind their back when they send the toddler off.
I could sing the pack's praises all day. But I'll let you experience it for yourself.
And yes, the toddler's custom proposal tee comes with the pack too. It's pretty darn cute.
5.

[TT] Engagement Poses by talentedtrait
This pack has some of the softest, fondest expressions I've ever seen on a pair of graphically-generated humanoids.
It's seriously crazy how much emotion you can convey with just a bunch of well-coded pixels.
But I digress.
This engagement pose pack is another narrative set that's basically a proposal situation summed up.
Sim 1 confesses their undying love to Sim 2, then Sim 2 says yes, both are overcome with emotion for a solid few minutes, and then Sim 2 admires their sparkly new ring.
It's short, it's sweet, and it makes for a beautiful love story with heartwarming visuals.
Can't really ask for more.
I also like the second solo pose that the creator threw in. The propose-ee's got a cute little smirk going!
6.

Marry Me (Pose Pack) by Beto_ae0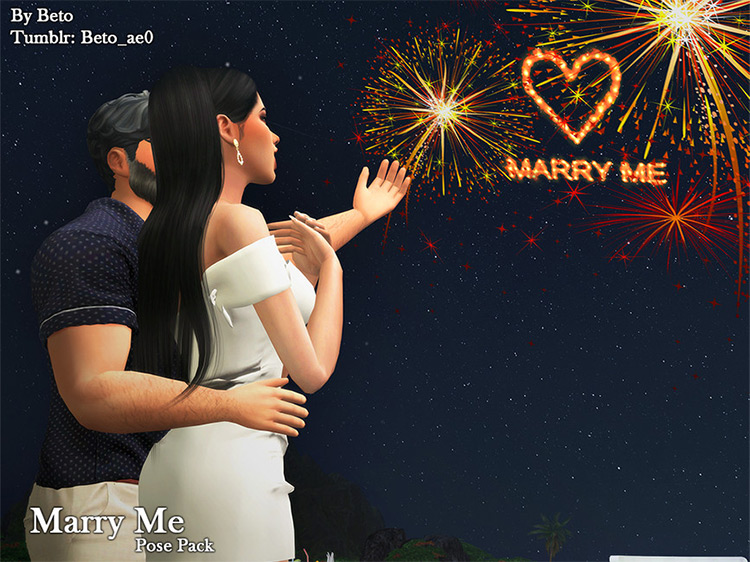 You know those people who are just so extra?
The ones who turn up to pajama parties in three-piece suits?
The invite says "come as you are" and they walk in dolled up, hair done, and dressed to the nines?
This is the perfect pose pack for Sims that embody that go big or go home energy.
If your Sim thinks a customized fireworks display is the best segue to their proposal, Beto_ae0's Marry Me set visualizes that exact narrative.
A nice dinner date (on some private island, according to the preview pics), some drinks, and then bam. Fireworks.
Afterwards, pop the question.
It's a pretty good pack if you prefer creating situations that are anything but subtle.
It also comes with 7 couple poses that are all fairly easy to setup.
The first three poses have to be done at a table (put both teleporters in the middle of a small table and make sure they're facing the same chair). Note that the last four need to be done away from the table, otherwise they end up ghosting through.
7.

Engagement Poses by couquett
Just like the previous "Marry Me" pose pack by Beto_ae0, this custom set by couquett narrates a Sim preceding the Big Question with a fairly grandiose gesture.
No fireworks displays this time around—just a lot of customized heart-shaped balloons and a flock of birds. You know; to really set the scene.
There are 5 couple pose sets and 2 solo shots (that are basically for the Sim to show off their sparkly new engagement ring).
The custom balloons are included in the .package file download, but they are optional.
If you have other ideas for the surprise backdrop (like maybe a party, a big "Will You Marry Me?" sign, or a plethora of flowers), you can totally incorporate them into the background.
It's also worth noting that none of the poses here actually show the Sim popping the big question.
Don't worry, though – you can always get that particular pose from a different engagement pack.
8.

Engagement Pose Pack by tamararoberts
Whereas something-wicked-sims's "Engagement Photos" pose pack had that polished, posed, and picture-perfect feel to it, this pack by tamararoberts radiates raw, unfiltered joy.
Whether it's because of the really wide smiles and big expressive eyes, or if it's just the simplicity of the gestures (no artsy, poetic, or romance-novel-cover-worthy poses), either way this pack feels a lot more spontaneous and a lot less planned.
They sort of look like they're still riding the high of pleasant disbelief.
One Sim can't believe their partner proposed, and the other Sim can't believe their partner said yes.
Honestly, when you put in that perspective, the whole set becomes ten times more wholesome.
I will say that the built-in height difference seems a little extreme. However, the Male Model I used is quite stocky, so maybe that helped emphasize the elongation.
9.

Simplyreality Marry Me? Poses
Don't you love it when a prepared speech about love and lifelong commitment precedes the proposal?
I myself am sort of a sucker for spontaneous rom-com-esque proposals, but I understand those aren't realistically practical.
Ergo, if someone takes the time to plan out a proposal plus speech? You know they're a winner.
That seems to be the premise of Sim_plyreality's Marry Me? posepack, and it pulls it off flawlessly.
There's a lot of quiet build up and soft moments before the ring actually makes an appearance. And the pack doesn't end there.
There are three more pose sets after the question is popped, and all three are freaking adorable.
You've got the obligatory kiss, the "I can't believe we're spending the rest of our lives together!" cuddle, and a fairly unique shot of both Sims admiring the ring while sprawled out on top of each other.
Overall, it's a narrative-type engagement pose pack that's honestly quite the visual treat.
Sim_plyreality's quality is always on-point, and these poses are no exception.
10.

Engagement Photoshoot Poses by atashi77
Atashi77 is a Sims 4 CC creator that always releases high-quality content.
And I am – admittedly – a huge fan of their work.
Their pose packs are usually conceptualized really well, and the results always look awesome in-game.
Take this Engagement Photoshoot set, for instance.
Ten couple poses that are the visual definition of the term, "smitten."
The models look like they're in their own world, utterly obsessed with each other and no one else. Half the time they probably don't even remember the photographer's there!
Pretty true-to-life, if you ask me.
The narrative may be straightforward and the poses may not be that unique (although they're still fairly one-of-a-kind, objectively speaking). But there's no denying this pack's charisma.
All of the screenshots you capture using this set will be an utter delight, I guarantee.
Browse:
Lists
The Sims 4
Video Games