Best Event Mods For The Sims 4 (All Free)
This post may contain affiliate links. If you buy something we may get a small commission at no extra cost to you. (Learn more).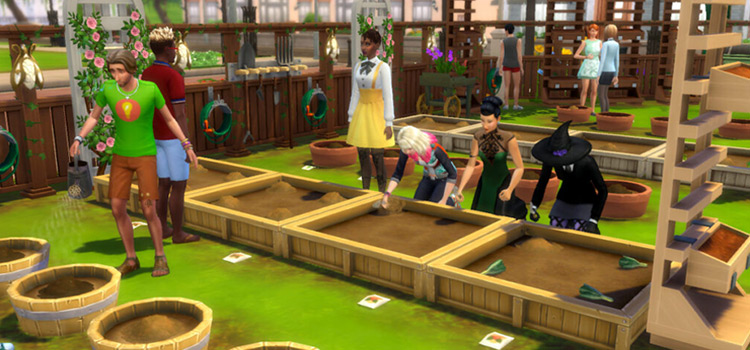 Finished all possible social events in The Sims 4?
Find yourself wishing there were more options?
You're not the only one.
Mods are a huge part of the Sims community, and a lot of them are done to add more gameplay and/or social interactions to the game. Ergo, there are no doubt a thousand Sims 4 mods out there – with concepts ranging from normal to creative to incredibly bizarre.
And for this collection I'm gonna focus on custom event mods.
Specifically some fun ones that'll add a lot of depth to your game.
1.

Memorable Events Mod by KawaiiStacie
Required Packs: None
Let's start with a TS4 event mod that literally every player (who loves modded gameplay) knows: the Memorable Events Mod by KawaiiStacie.
KawaiiStacie is a well-known contributor to the Sims 4 CC community, and she does a lot of great work.
I would say that this mod is one of her crowning glories.
It's a mod that literally every Simmer recommends if your game is feeling lackluster because it adds 40 new social events to the game.
Yep, 40.
It adds options for you to:
Throw a bachelor/bachelorette party
Throw a meet the baby party
Throw a beach party
Organize an Easter egg hunt
Organize a field trip
And so, so much more
That was just five—and they're just the tip of the iceberg.
This is a one-stop-mod for all the social events and interactions you could possibly want.
If you just install this mod and nothing else, I guarantee you'll feel like you got a whole game pack's worth of new gameplay options.
I know Simmers who claim they'd pay for this mod, but the fact that it's free makes it so much better.
2.

High School Reunion Event by KiaraSims4Mods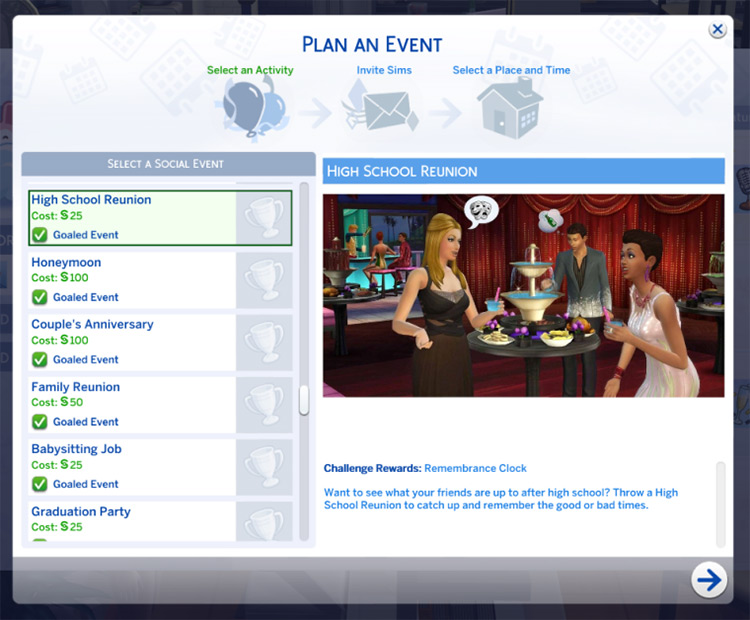 Required Packs: Sims 4 Seasons Expansion Pack
A high school reunion is either a shiny plethora of opportunities, or an actual nightmare that you'd rather avoid.
Some people jump at the chance to show off their glow-up, catch up with old friends, or get the latest dirt on their old schoolmates.
If your Sims feel up to it, why not have them attend a nice high school reunion?
This event mod adds a ton of new social interactions:
Reminisce About HS Days, Chat About HS Loves, Did You Go To University?, Chat While Drinking, and my personal favorite: Figure Out Who's Single or Married.
And many more.
Check out the creator's notes for a full list!
The main goal is to take selfies with your Sims's High School classmates. The reward? An item aptly titled, "Remembrance Clock."
3.

Pillow Talk After Woohoo (1.18) by Shimrod101 | Updated Version by landgraabbed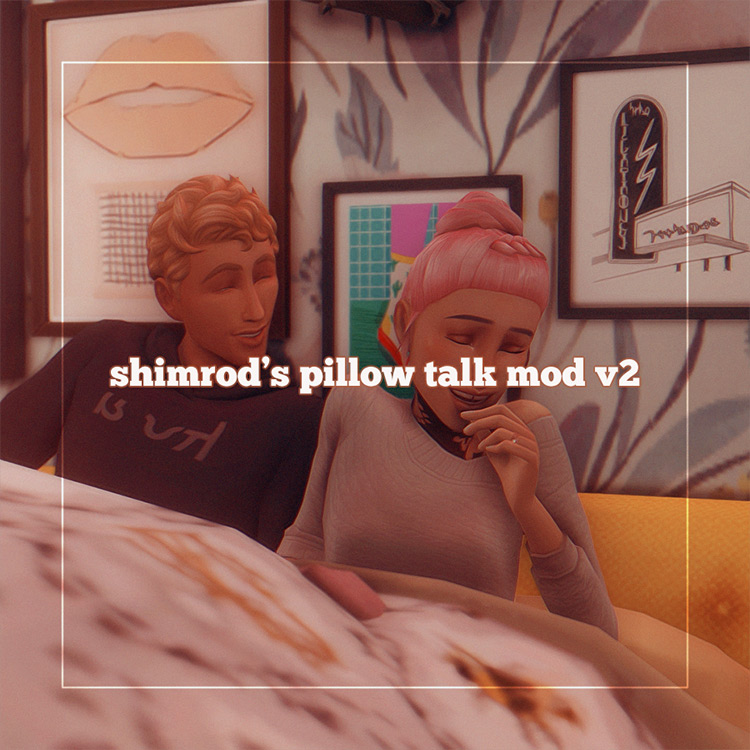 Required Packs: None
After Sims woohoo, they do one of two actions: sleep or spring out of bed.
That's all well and good, but where's the variety?
Where are the post-woohoo cuddles, the lazy chit-chat, the fond teasing?
Having Sims separate immediately after the act makes it feel like a one-and-done kind of deal. And I'm definitely not the only Simmer who'd like something a little more tender.
Enter Shimrod101's beautiful Pillow Talk After Woohoo mod.
Instead of sleeping or slipping out from under the covers, your Sims will instead interact with each other.
There are five animations which, surprisingly, are from the game's original script. They're just not in use (according to the creator).
These five animations are:
Pillow Talk
Whisper Secret
Tickle
Kiss
Snuggle Nuzzle
This is a fairly old mod (last updated 2016), but another Simmer (landgraabbed) recently made it compatible with game version 1.72.28.1030.
You can get more info (and screenshots) about the original mod here.
4.

Bridal Shower Event by KiaraSims4Mods
Required Packs: Sims 4 Movie Hangout Stuff Pack
Weddings in TS4 are definitely a little rushed.
I mean, sure; if you want a no-fuss-no-muss sort of event, then the default setup is perfect.
Your Sims can propose and get married on literally the same day.
All they really need is a functional wedding arch.
But if you'd like a bit more depth and dimension to the wedding aspect of TS4, you're not gonna get it without some help.
This Bridal Shower Event Mod by KiaraSims4Mods is the perfect example of why mods were made: to make the game a little more fun.
Before your bridal Sim ties the knot, why not have her friends throw her a bridal shower?
Celebrate their single life one last time with lots of selfies, fun gifts, and free-flowing drinks.
The main goal? Get the bride to bust a move!
Plus, a successful Bridal Shower grants your Sim 1000 Simoleons. And there's plenty of CC out there to mix into the fun.
That's plenty of new household appliances for the soon-to-be-wed couple.
5.

Gardening Event by Caradriel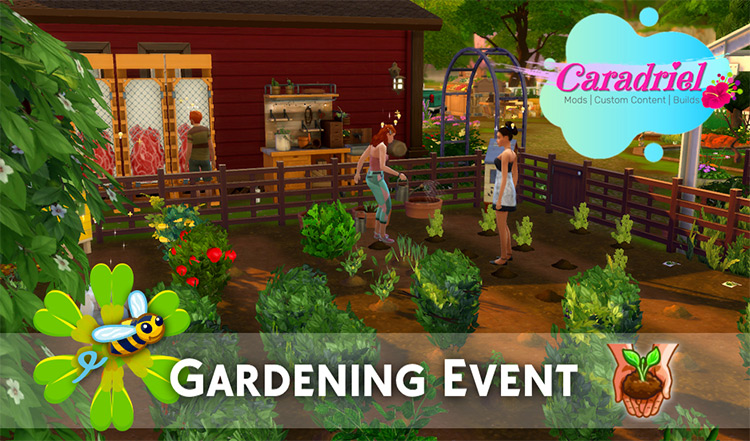 Required Packs: Sims 4 Eco Lifestyle Expansion Pack + Seasons Expansion Pack
Wouldn't it be fun if all our quiet, garden-loving, plant-mom Sims could just get together and chat it up while weeding their leafy little babies?
Look, I love gardening in TS4 as much as anyone.
It's a great way to make some extra cash, and it definitely pays for itself over time.
The only thing I hate is that it doesn't help with my Sim's social needs.
I usually have them talk to the plants just to get the bar back up to green, but talking to plants isn't the same as talking to humans.
So I highly recommend Caradriel's Gardening Event mod.
If you've got Eco Lifestyle and Seasons installed, this is the perfect social event for your plant-loving Sim.
Invite up to 10 Sims to help out with various gardening tasks in any lot of your choosing.
This is a great way to quickly tend to your garden and earn some cool social interaction buffs along the way!
6.

Sims 4 Funeral Mod by SHEnanigans (originally by BrittPinkieSims)
Required Packs: None
Dying in the Sims can be either hilariously intentional (because we've been deleting the ladders in pools ever since The Sims 1, and the community has only grown more creative over the years) or devastatingly unexpected.
Despite it being a fairly tame life simulation game, there are still situations beyond our control.
Some of these situations can end up killing your Sim off.
And if your pleas to Grim fall on deaf ears, their death is final.
As you can probably guess from the title, this social event allows Sims to properly grieve for the dearly departed.
There's even a casket (included in download) and a wreath, and they really set the scene.
It may be a little morbid. But this mod makes for more realistic gameplay.
And I know a lot of Simmers appreciate realistic gameplay.
Originally made by BrittPinkieSims, this mod was so great and so detailed that content creator SHEnanigans had to revive it.
The latest update was in 2020.
As far as I know, the mod still works fine with later versions of the game.
7.

Variable Default Relationships Mod by scumbumbo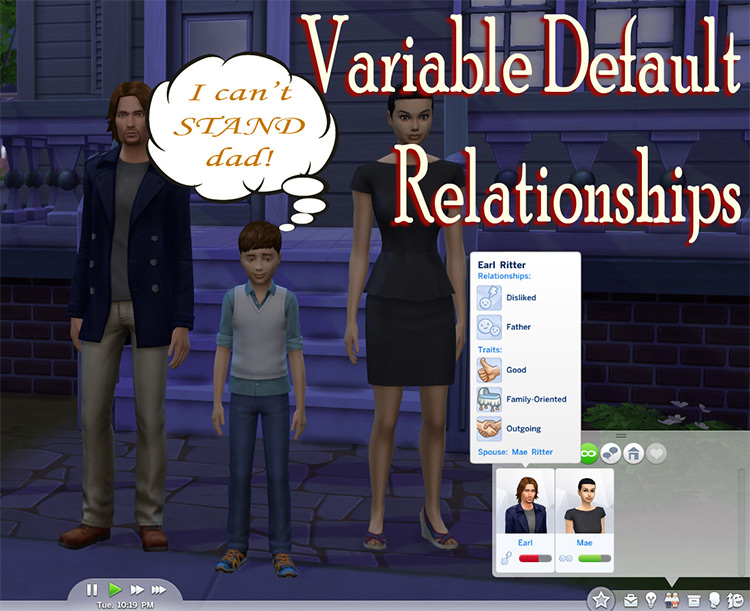 Required Packs: None
Want a bit of a challenge?
In vanilla, when creating a new household, everyone will get along by default. Whether they're a family unit or a gaggle of roommates, their relationships automatically start at neutral.
Depending on how you socialize with them, it can only go red or green from there.
Scumbumbo's Variable Default Relationships mod adds a bit of flavor to the game by randomizing the Sims's starting relationships in a new household.
And when I say random, I mean random.
It could be half a green bar, half an inch worth of pink, or a solid burning red line.
This means that your Sims family could be the most loving unit alive – or the most dysfunctional.
Married partners might not even get any pink! They could simply be the very best of friends.
While some may not like the randomization aspect, it's a great way to add a sort of socialization challenge to the game.
It can push you to work extra hard to fix or change the relationship between your Sims, or to completely redo the social plans you had for them.
Note: last updates reported the mod still working for Patch 1.62.62 (April 2020). Some Simmers report that it still works fine for latest game versions, but others reported issues. Use with caution!
8.

Grand Opening (Restaurant) Event by KiaraSims4Mods
Required Packs: Sims 4 Dine Out Game Pack
Picture this:
It's been your Sim's lifelong dream to open their own restaurant.
They plowed through the entire Culinary career, raised all their Cooking and Baking skills to maximum, and finally earned enough to make their dream a reality.
This is an achievement that should absolutely be celebrated!
And what better way to do that than by inviting their closest friends and confidantes to their restaurant's Grand Opening?
The main goal of this event is to Welcome Customers to the lot, but you'll also need to make sure they enjoy their stay.
This mod adds new interactions like Recommend Food Dishes and Comp Food of 2 Tables.
If you complete the event successfully, you'll get a "What's on the Menu" sign to help decorate your Sim's restaurant.
You can also earn up to $50 Simoleons in tips, which is not half bad!
9.

Teen Lifestyle Gamepack Mod! by Snowiii95
Required Packs: None
This is a common complaint amongst the Sims community: teenagers don't get enough love.
They're like Young Adults, only younger and with more limits.
They don't have anything they can uniquely call their own.
In fact, Teens in The Sims 4 feel very much like a transition era rather than a distinct life stage, and that's just not cool.
If you'd like a game where Teens finally get the attention they deserve, this mod by Snowiii95 is perfect.
It introduces four new aspirations that are exclusively for Teenagers:
Aspiring Athlete
Emo Soul
Heartbreaker
Spoiled Brat
On top of that, there are two new careers (again, only for teens), a new Lot Trait, and 8 new teens-only traits added to CAS.
And each one of these traits comes with its own distinct social interaction!
I guarantee you won't be itching to age your Teen up to a Young Adult once you experience just how entertaining this life stage can be with this mod.
10.

Family Reunion Event by KiaraSims4Mods
Required Packs: Sims 4 City Living Expansion Pack + Movie Hangout Stuff Pack + Seasons Expansion Pack
It's that time of the year.
The head of the family (i.e., the one who calls the shots) knows everyone's schedule has freed up and wants to take advantage.
Or they know everyone's back in the same city and thinks now would be the perfect time for everyone to catch up.
And they won't take no for an answer.
Yup; it's a family reunion!
This mod – once again made by the incredibly talented KiaraSims4Mods – introduces a new social event made just for families.
The main goal is to Hug 2 Family Members.
If your Sim can manage that, they get a sweet new In a Flash! Photo Studio for their home.
If they're not feeling touchy-feely at the moment, that's fine.
There are still plenty of new social interactions for them to do as they navigate the tumultuous waters of having several families crammed in one room.
Like they can:
Prank Someone
Watch a Movie
Sing Karaoke
Make a Dessert
Or they can do at least a dozen more interactive options as well.
It's bound to be chaotic and stressful. But, hey; that's family for you.
11.

Call a Babysitter Mod by LittleMsSam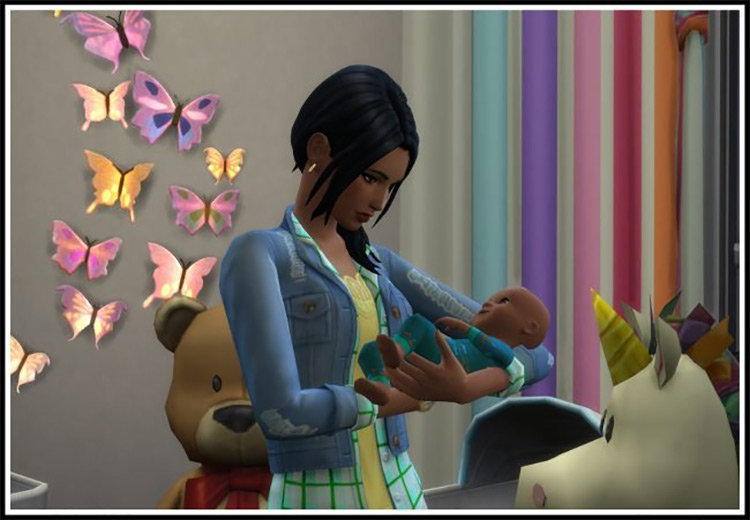 Required Packs: None
Here's another great mod for family gameplay Simmers.
If mom or dad's feeling a little stressed with baby, why not hire someone perfectly qualified to take over for a few hours?
It's a babysitter who is (guess what) also a Teen!
Again, Teens just don't get enough love in TS4.
This mod adds more depth to this particular life stage by giving Teens a possible career/new part-time job.
It's got a practical aspect, too; your Adult/Young Adult gets to have a few uninterrupted hours of quiet to build a skill, strengthen a relationship, take care of a few needs, or even just catch a cat nap.
The possibilities are endless.
Technical stuff for the mod (i.e., optional mods, languages, file information) as well as in-game mechanics are explained in the creator's notes.
They're really detailed and thorough, so you should have no issues figuring out the installation, launch, and mod use.
12.

Explore Mod by KawaiiStacie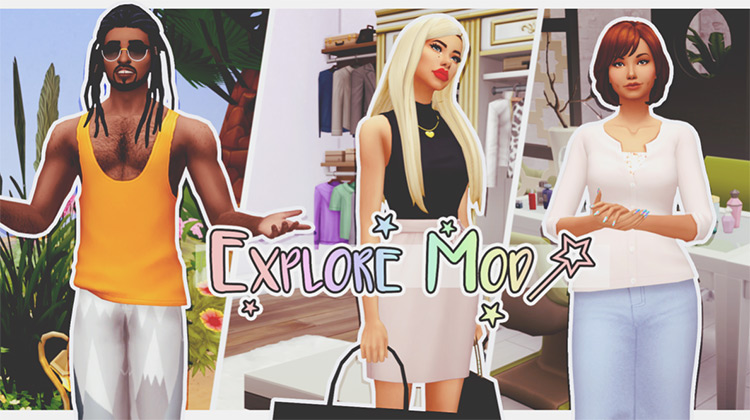 Required Packs: None
Do you feel like you've explored every aspect of The Sims 4?
Breezed through all the expansion packs & game packs and now you don't know what to do with yourself?
Or maybe you're doing the regular TS4 grind where you're just trying to save up as many Simoleons as you can now, so you can do more fun stuff later without career obligations.
Don't worry; I totally get all that.
And I know how boring the grind can get, having to send your Sim away to a rabbit hole for several hours and having them come back with low energy and tense moodlets.
It can get repetitive.
KawaiiStacie once again opens up the possibility of more extensive and interesting gameplay with this Explore mod.
It basically allows your Sim to "explore" more of the outside world, to gain new buffs, skill increases, motive increases, and relationship improvements.
You can have them shop for clothing, gamble their money, get their nails done, get ice cream for takeout, and more!
And you don't need to be hands-on for it to happen.
The mod will send your Sim down a rabbit hole. What they come back with (and how they come back) is dependent on how you'd like them to explore.
This mod just needs the base game to work, but bear in mind that certain options will require optional expansion, game, or stuff packs.
For instance, you'll need The Sims 4: Cool Kitchen Stuff if you want to get ice cream for takeout. If you don't have it, you may potentially get an in-game error.
But, again, a bulk of the mod requires just the base game to work.
So don't let the lack of packs stop you.
The creator explains more of the technicalities of the mod on the download page so make sure you give the notes a good read.
13.

Science Fair Event by ilkavelle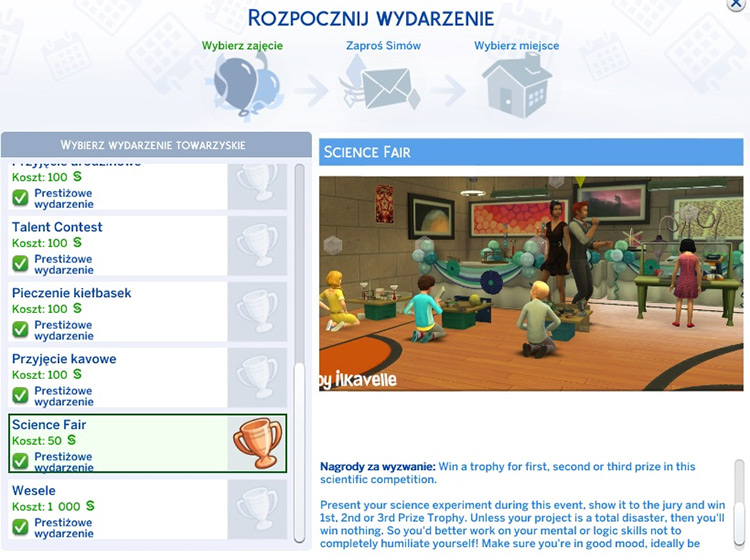 Required Packs: None (Sims 4 Parenthood Game Pack is optional but highly recommended)
Science fairs!
Even if you never liked science, science fairs are always a treat.
The interactive exhibits, the cool displays, the stereotypical exploding volcano that everyone knows how to make… it's an awesome & unforgettable event in a kid's life.
The unmodded TS4 game probably mentions a science fair in passing—like it's just part of a kid's day-to-day routine.
Where's the fun in that?
Well the fun is all in here, with ilkavelle's Science Fair Event mod.
It gives your Child Sim the chance to earn a shiny new trophy and a sweet buff.
But first, they'll have to submit their project for judging.
Ilkavelle's written out a very detailed guide on how to install and run this mod in-game, so I recommend reading through it before trying this out for yourself.
14.

"SimDa" Dating App by LittleMsSam
Required Packs: None
Look, if The Sims 4 has Simstagram, vloggers, and other social networking options, then it makes sense for them to have a dating app.
Physically going out and hunting down a potential partner is old school.
It's time to get with the times.
With the "SimDa" dating app, your Sim can go on a Blind Date, spend time with someone serious, or just score a spicy One Night Stand… all from the comfort of their own phone.
It's so simple and so true-to-life, I'm surprised the EA/Maxis dev team didn't come up with this. It would honestly fit right in with TS4 canon – but I digress.
The concept by itself is pretty simple.
However, if you want to know the details, the gameplay mechanics, and optional mod add-ons, the creator outlines a lot of info on the download page.
15.

Retirement Party Event by KiaraSims4Mods
Required Packs: Sims 4 Parenthood Game Pack
Ah, retirement.
When your Sim hits a certain age, they deserve to be celebrated and honored. Their accomplishments deserve to be recognized.
Throw a Retirement Party for your elderly Sim to kick-start their life as a respected senior member of the community.
This is another mod that gives love to another moderately neglected life stage in The Sims 4: Elders.
Sure, the Nifty Knitting stuff pack gave Elders a cool new hobby to work on.
But there will always be room for more gameplay.
So grab your Sim's phone, invite all their closest friends, and get ready to Chat with a Friend for an Hour.
Or Have an Adult Make a Toast.
There are 9 social interaction goals for this event, with the main goal being to Give a Farewell Speech.
The reward for this event is so cute and wholesome, too.
Browse:
Lists
The Sims 4
Video Games