Best Sims 4 Eyeliner CC & Mods (All Free)
This post may contain affiliate links. If you buy something we may get a small commission at no extra cost to you. (Learn more).
As someone who needs eyeliner to look human 98% of the time, I will be the first to admit that The Sims 4 vanilla game eyeliner is a little … limited.
Is it functional? Sure.
Is it fashionable? Not really.
Do we have a decent number of workable options to choose from? Also no.
Now, when I heard M.A.C and The Sims were launching a collab collection with 12 new makeup looks, I got excited. I thought we'd finally have some great eyeshadow and eyeliner options (because, you know; M.A.C). That was sadly not the case.
And hey, if you liked the new options, great! Not gonna step on your toes.
But if you still need more, check out the awesome eyeliner CC I found. These are all fashionable, fleek, and actually work with a variety of different eye shapes and sizes!
1.

C A T T Y Eyeliner by grimcookies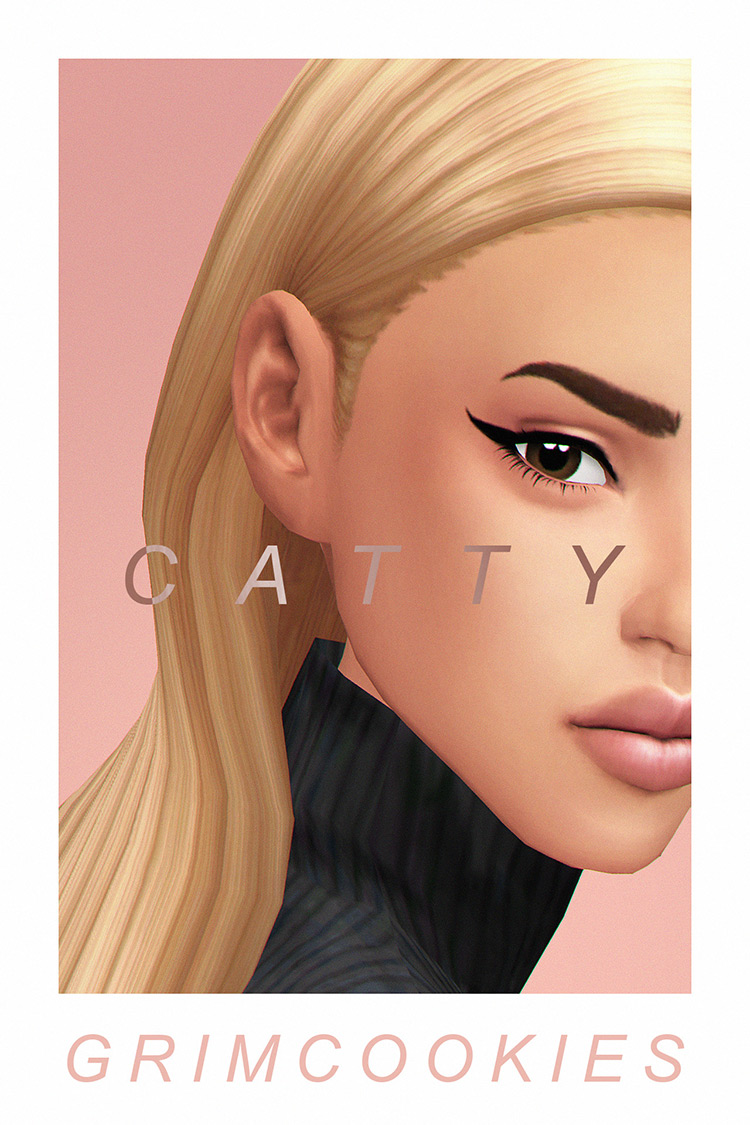 | | |
| --- | --- |
| Design Options: | 1 |
| Color Options: | 2 |
| Total Number of Swatches: | 2 |
I'm starting this post off with one of the simpler – but no less stunning – eyeliners.
As someone who struggles with getting that wing flick for the perfect cat eye, this CC totally got my attention.
It's bold, it's clean, and if I saw someone with a wing this sharp in real life, I would beg them to teach me their ways.
Give your Sims the perfect cat eye with this simple-but-sleek little number. There are two solid color options to choose from, too. You got your basic black, and then your subtler brown (or, as the creator calls it, "catplnt burgundy").
2.

Norah Eyeliner (+ Lashes N81) by Pralinesims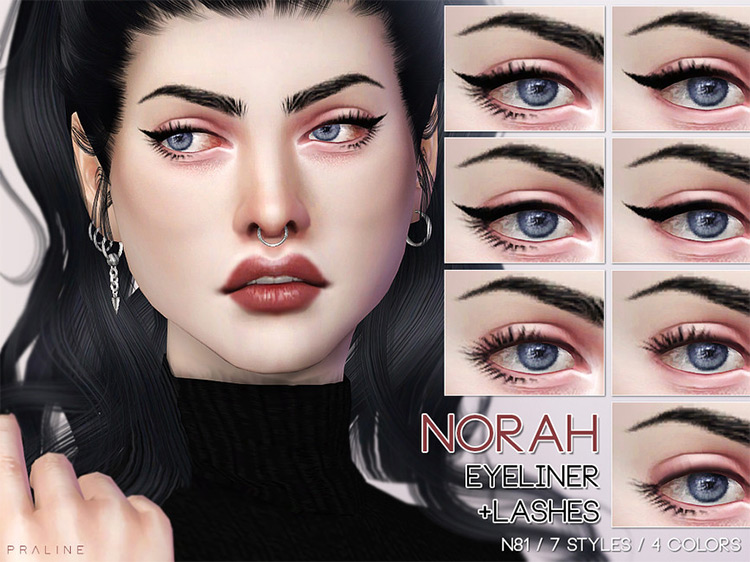 | | |
| --- | --- |
| Design Options: | 7 |
| Color Options: | 4 |
| Total Number of Swatches: | 28 |
I will be the first to admit I'm a huge fan of Pralinesims' makeup stuff.
All of my Sims' face blushes, body blushes, and highlights are from her. She does a lot of Alpha CC content – rejoice, Alpha CC-ers! – but her stuff still works quite well with Maxis Match items.
Her Norah Eyeliner (plus lashes!) is no different. The eyeliner a thick, precise wing so sharp it could kill a man, and the lashes are a pretty painted number that look like dainty falsies.
This set has four colors to choose from, ranging from black to a less intense dark brown. And each color has seven styles, for a total of 28 options.
The styles are all variations of the eyeliner and lashes – lashes on the top, lashes on the bottom, lashes all over… you get the idea.
There are even options to wear the eyeliner with no lashes, and vice versa. Very versatile. This CC is a winner in my book.
3.

Rayfalke Eyeliner N72 by Pralinesims
| | |
| --- | --- |
| Design Options: | 5 |
| Color Options: | 3 |
| Total Number of Swatches: | 5 |
Pralinesims again, and if this CC doesn't reiterate just how damn pretty their makeup creations are, I don't know what will.
This Rayfalke eyeliner is a gorgeously-smudged option that comes with several equally-gorgeous variations.
Whereas the previous two items were all sharp sleek liners with perfectly-pointed wings, this eyeliner leans more towards "artistically imprecise."
There are three color options to choose from (black, gray, and a nice reddish-brown) and five variations of each, for a total of 15 styles.
And honestly speaking, each style variation looks great!
You have the "smudged eyeliner all over" option, the "liner only on the upper lash" option, the "liner with highlight on the inner corner" option … they're all distinctly unique and employ actual makeup styles.
If you're going for a nice, seductive, smokey eye for your Sims, grab the Rayfalke liner. I promise it won't disappoint.
4.

M Liner CC1 by Goppols Me
| | |
| --- | --- |
| Design Options: | 1 |
| Color Options: | 5 |
| Total Number of Swatches: | 5 |
We have a lot of TS4 eyeliner CC specifically catered towards female Sims. Even if they can be worn by both Male and Female Sims, the models are primarily female.
So imagine my delight when I found TS4 eyeliner CC that was created specifically for male Sims.
This M Liner CC1 by Goppols Me is the definition of subtle: soft, tight-lined, lightly-smudged, and barely there. This is the "blink and you'll miss it" kind of eyeliner.
The style that you need to master for that elusive "No Makeup Makeup" look.
It's gorgeous, no-nonsense, and I am very much in love with it.
It only comes in one style, but with five fun colors that work well for a variety of skintones. You can't go wrong with black, of course. But I personally loved the deep navy and dark burgundy options on my Sims.
5.

Male Makeup Pack: M Liner CC2 and M2 Shadows by Goppols Me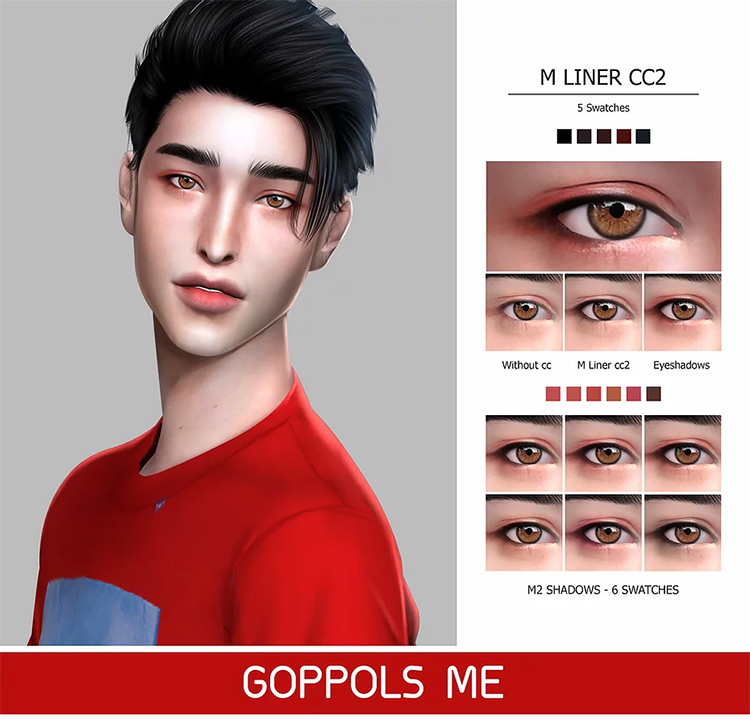 | | |
| --- | --- |
| Design Options: | 1 eyeliner | 1 eyeshadow |
| Color Options: | 5 eyeliner | 6 eyeshadow |
| Total Number of Swatches: | 5 eyeliner | 6 eyeshadow |
Am I done geeking out over Male Sims eyeliner?
Not really.
And although this article is specifically for liner CC, I feel like I have to include the eyeshadows that come with this pack. Aside from the fact that it's an eye makeup package specifically catered for male Sims (the men need more love, okay?), I find that both items pop more when used together.
Take the M Liner CC2 by itself.
Already, it looks pretty good. It's a soft, smudged liner that swoops down from the outer corner, making the eye look slightly droopy. There are five swatches in total: a standard black, couple of dark (and darker) grays, and a deep maroon.
But the M2 shadows are part of the pack, so why not try them too?
There are six solid color options, all varying shades of rose, dusky pinks, and earthy reds. And in true K-beauty fashion, they give the area around your Sims' eyes a subtle pearly sheen that's so soft and pretty.
It isn't obvious until you toggle the eyeshadow on and off for a while, like so: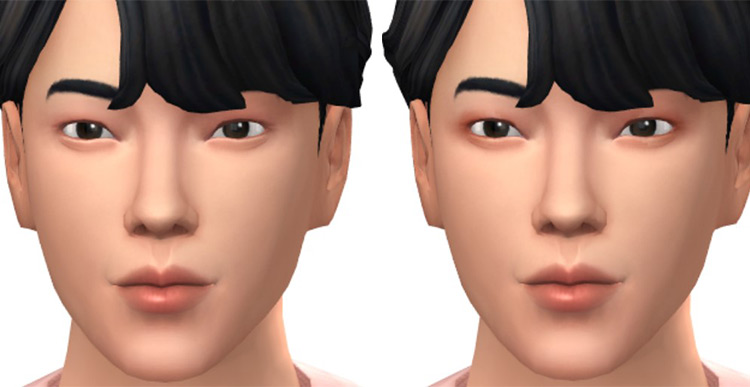 And here's what the eyeliner and eyeshadows look like together: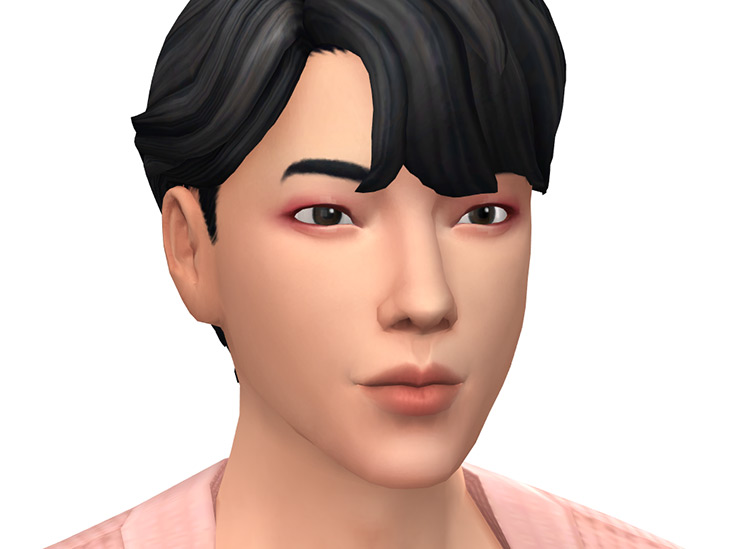 If that isn't the definition of gorgeous, I don't even know.
6.

Liner CC2 by Goppols Me Liner CC2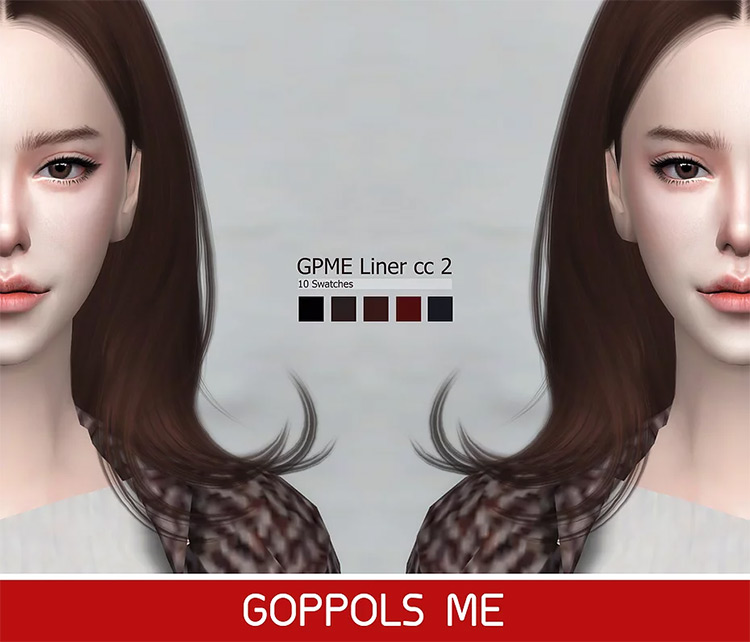 | | |
| --- | --- |
| Design Options: | 2 |
| Color Options: | 5 |
| Total Number of Swatches: | 10 |
This GPME Liner CC2 mod comes in two variations:
(1) long, defined wing, and
(2) shorter, less defined wing.
There are 5 solid color swatches here, giving you a grand total of 10 overall options.
Though not specifically for males (unlike the GPME M Liner CC2) I find that the subtlety of the liner makes it work quite well for both feminine and masculine Sims.
And since both the CC2 and M CC2 liners are from the same creator, I'm happy to announce that you can mix the GPME Liner CC2 with the GPME M2 shadows for some pretty stunning results.
Check out how the middle pink M2 shadow looks with the dark red CC2 liner (second variation):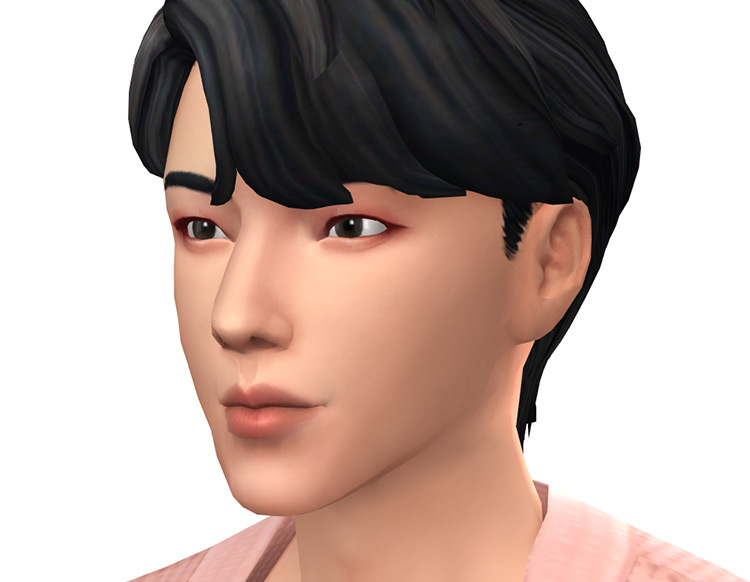 So pretty!
7.

IzzieMcFire's AMF Axelle Eyeliner N.2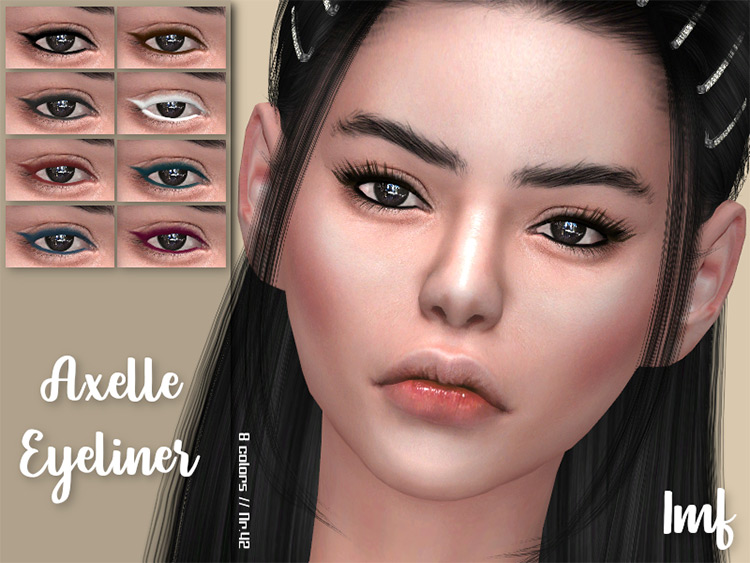 | | |
| --- | --- |
| Design Options: | 1 |
| Color Options: | 8 |
| Total Number of Swatches: | 8 |
Going back to winged not-so-subtle eyeliner, we've got this IMF Axelle Eyeliner N.42.
Just like the first CC on this list, this one is simple and straight to the point.
All-around lining with clean edges and pretty sharp baby wings, I find that this eyeliner blends "functional" with "fashionable" fairly well.
I also like how it's not too saturated. That makes it easier to play with the eight color options the creator provides.
Can't say I'm a fan of the straight-up white liner… but I'm not mad at the avant-garde runway makeup feel of it.
My favorite swatches have to be the dark brown and orange, just because I'm a huge fan of earth colors (plus I feel they're flattering on a lot of skin colors).
8.

Merci's Eyeliner N03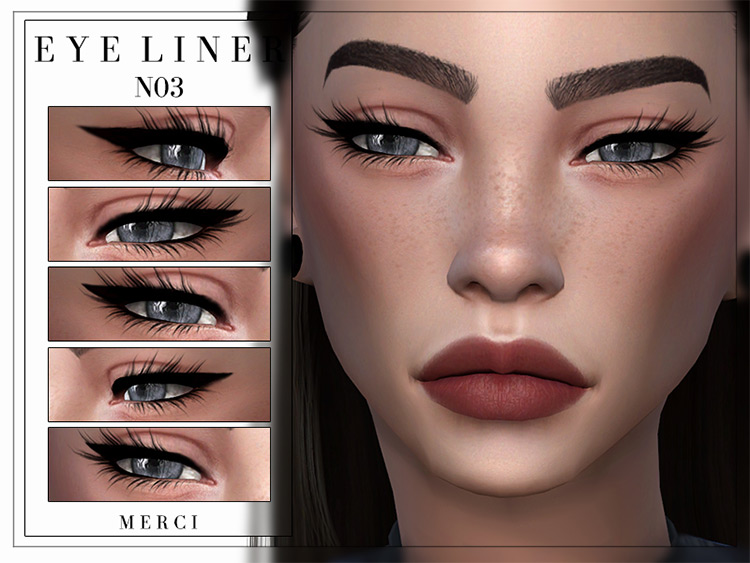 | | |
| --- | --- |
| Design Options: | 1 |
| Color Options: | 6 |
| Total Number of Swatches: | 6 |
Want something a little bolder than CATTY, but not as smoked-out and imprecise as Rayfalke?
Well the Eyeliner N03 CC by Merci could cut a man down to half his size. It's big, bold, and sharp.
I'm talking thick wings, clean edges, pointed outer corners. This eyeliner is basically the epitome of "go big or go home." It's all on the upper lash line too, so it doesn't even look messy or overdone. It's just stylishly sleek!
I tried this on different eye shapes and sizes and, trust me, it is versatile.
9.

Pralinesims' Medissa Eyeliner N63 + Lashes
| | |
| --- | --- |
| Design Options: | 8 |
| Color Options: | 2 |
| Total Number of Swatches: | 16 |
This Medissa Eyeliner (plus lashes!) by Pralinesims is one of the more versatile pieces of CC on this list.
It allows you to wear just the eyeliner, just the eyelashes, or both.
Here's why that's a big deal for me:
When your Sims wears the full lashes and the full liner, they end up with a bold, dramatic look.
When they wear just the lashes – whether it be just on the bottom lash line or all over – they end up with a more subtle feathery effect.
What I'm trying to get at here is one TS4 CC file gives you suitable options for eye looks that are on opposite ends of the spectrum.
Big, smokey wing but no lashes, liner on the lower lash line with full lashes, lashes on the lower lash line with no liner… there are a lot of options and combinations to work with here.
16 options, to be exact, with eight options per color (black and grey).
10.

Ennetkasmtt's Eyeliner EL01
| | |
| --- | --- |
| Design Options: | 3 |
| Color Options: | 3 |
| Total Number of Swatches: | 9 |
This item may not be the most diverse in terms of eyeliner design options.
But it definitely has a soft spot in my heart because of the colors.
Like I said, I'm a huge fan of earth colors. I love my warms, my beiges, and my caramels, and this EL01 eyeliner by Ennetkasmtt is a solid two for three.
It comes in three colors: basic black, striking red, and warm, earthy brown. Each color then has three design options: a sharp winged liner on the top and bottom lash line, a bold wing on the top lash only, and a shorter rounder option (no wing) for both the upper and lower lash line.
11.

S-Club's WM TS4 Eyeliner 06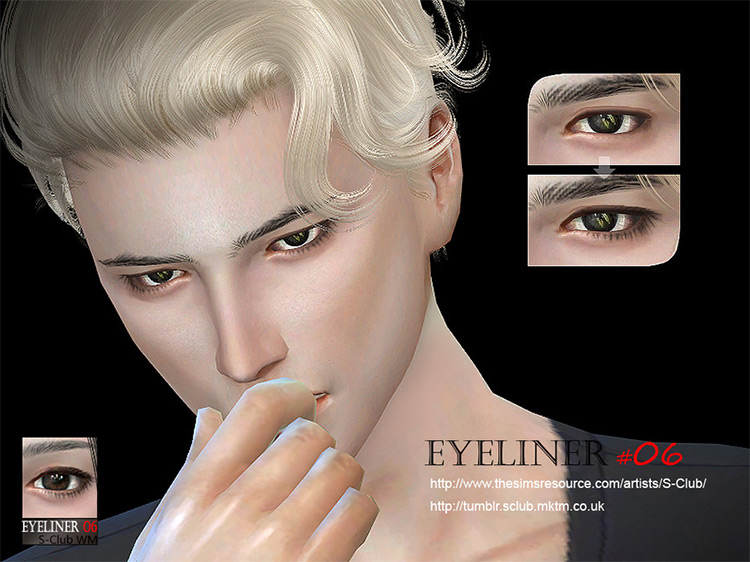 | | |
| --- | --- |
| Design Options: | 1 |
| Color Options: | 3 |
| Total Number of Swatches: | 3 |
This WM TS4 Eyeliner 06 could maybe give the GPME M liners a run for their money – in terms of subtlety, I mean.
Because honestly, look at how light and soft and smudged these liners are! They look freaking fantastic on both male and female Sims, too.
The biggest difference between these and the GPME M liners (aside from the fact that S-Club's liner is just a little thicker) is the presence of lashes. This CC set comes with the softest bottom lashes you'll ever see on your Sims.
Unlike other liner + lashes sets on this list, you don't really have the option to wear the eyeliner without the lashes.
But since the liner itself is so mild, the lashes don't look overdone at all.
TL;DR: loved this liner, you probably will too. It comes in three colors: gray, dark gray, and black.
12.

Pralinesims' Dragonic Eyeliner N38
| | |
| --- | --- |
| Design Options: | 7 |
| Color Options: | 5 |
| Total Number of Swatches: | 35 |
Look at this eyeliner set and tell me you don't understand my obsession with Pralinesims.
Just look at it.
7 gorgeous eyeliner + eyelash design options, five solid colors for each option. Total of 35 possible combinations for you to play with.
Heck, I can't even do more than three styles for my own eyeliner. 35 is just baffling, but in the best way.
I think the pictures speak for themselves. But let me pick out some highlights (aka my favorite styles).
As with Pralinesims' other eyeliner + eyelash sets, you can wear the liner and lashes separately. I personally love the liner on the upper lash line, lashes on the lower lash line combo (in black and reddish brown) and the liner on the upper lash line only option (in black, reddish brown, and actual brown).
Tested them all on different skin tones. They all look great!
13.

Suzue's Midnight Eyeliner N11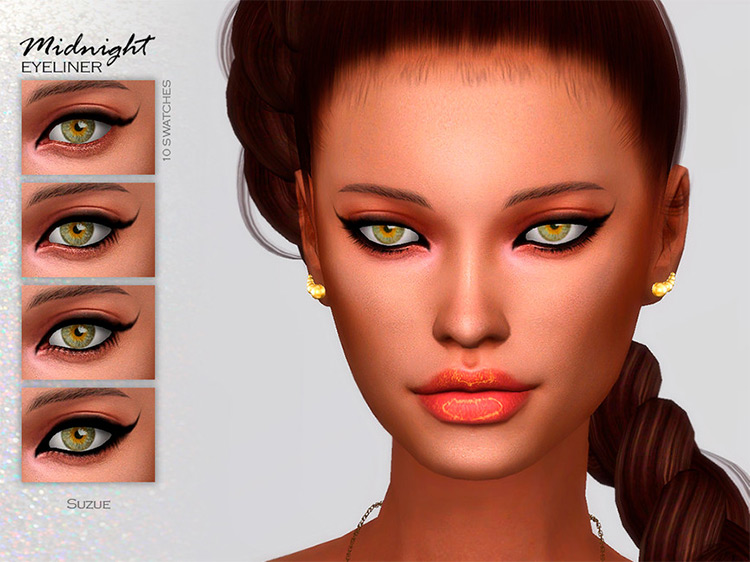 | | |
| --- | --- |
| Design Options: | 5 for black | 1 for multi-colored |
| Color Options: | 1 for black | 5 for multi-colored |
| Total Number of Swatches: | 5 for black | 5 for multi-colored |
This CC, right here, is the definition of cat-eye.
The liner is bold, the colors are saturated as heck, and the wing is on fleek.
The whole package just screams sexy, sultry, and swoopy. Maybe pair it up with some cute neko ears?
Pictures are worth a thousand words and oh, boy; do the photos have a lot to say. I think this is my favorite bold eyeliner design, just because it's so different. And swoopy.
Did I mention it's swoopy?
Anyway, this one's also pretty unique in the sense that it's got a mix of color and design options. What that means is some variations of the design won't come in all colors, and vice versa.
There are 10 swatches to choose from: five of which are black, five of which come in different colors (gray, white, violet, brown, and blue, specifically).
The top five black swatches showcase the liner in five different designs: with lashes, without lashes, liner all around, liner only on the bottom, etc.
The bottom five swatches that come in different colors feature the default design – which is the liner all around, no lashes – in different color swatches.
I get that this is a little confusing, so just download this liner pack for yourself and see what I mean. It's pretty fun to play around with!
14.

PralineSims' Kara Eyeliner
| | |
| --- | --- |
| Design Options: | 1 for solid swatches | 2 for multi-colored |
| Color Options: | 10 for solid swatches | 1 for multi-colored |
| Total Number of Swatches: | 10 solid swatches | 2 multi-colored swatches |
Pralinesims' Kara Eyeliner is yet another interesting CC set from this creator.
The wing isn't that sharp to start with, but the overall look is still pretty bold. I'd describe it as "tightlined,". Maybe like eyeliner drawn really close to the lash lines, following the eye's shape exactly.
No unnecessary swoops or wings to add to the flair.
It comes with 2D lashes which you can't really remove whenever you feel like it.
They're part-and-parcel with the liner (with the exception of one of the tri-colored swatches, but I'll cover that in detail later). Again, the lack of wing and liner-drama tempers the look just enough so that the lashes aren't overkill.
Just like Suzue's Midnight Eyeliner, the color options and style variations for this CC set aren't very straightforward. First off, there are a total of 12 swatches. Ten of the swatches feature the eyeliner with the lashes, just in different solid colors.
The bottom two swatches are tri-colored. One of them features the eyeliner in the color combination, just with no lashes (if there are, they're very faint).
The other one features the eyeliner in the same color combination, but this time with black lashes all over.
Again, it's best you experience the CC for yourself. Go ahead and hit that download link.
15.

Pralinesims' REM Eyeliner
| | |
| --- | --- |
| Design Options: | 20 |
| Color Options: | 5 |
| Total Number of Swatches: | 100 |
The reason I couldn't give Pralinesims' Dragonic Eyeliner the award for Most Swatches is because I included their REM Eyeliner on this list.
There are 100 total swatches for this eyeliner CC… yes, you read that right. 100!
And they all look fantastic. The selection for this set is more than just decent; it's downright generous.
And ridiculous.
Ridiculously generous.
Let me break it down as succinctly as I can.
Five colors. Ten different styles. Each style then has two variations, one with highlighter on the bottom inner edge of the eyes, one without.
And, yes: the difference is obvious.
Each style is of varying intensities, eyeliner lengths, and coverage (i.e., top lash line, bottom lash line, or both). So this gives you a total of 100 swatches.
Seeing all those choices pop out on a huge pull-out window is beyond satisfying.
I also love the colors they chose: black, dark grey, light grey, deep red, and a very pretty shade of rose. Since most of the colors are neutrals, you don't have to worry much about different skin tones.
I will say that the darker shades pop more (obviously) on lighter skin colors, but the black, dark grey, deep red, and rose looked perfectly stunning on my golden, olive, and sun-kissed Sims.
Browse:
Lists
The Sims 4
Video Games