The Sims 4: Best Eyeshadow CC To Try Out (All Free)
This post may contain affiliate links. If you buy something we may get a small commission at no extra cost to you. (Learn more).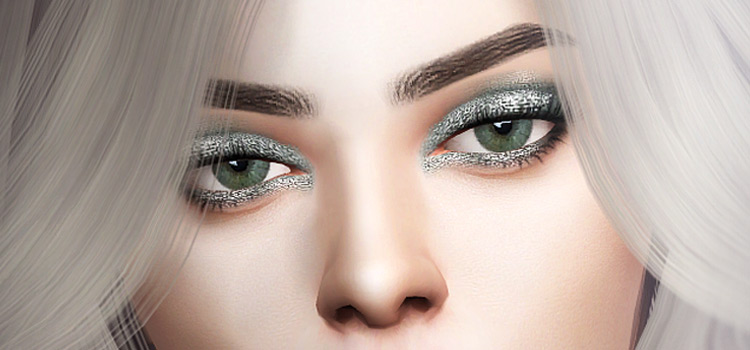 Eyeshadow is one of the most underrated cosmetics.
It's mostly reserved for formal occasions, as most women think it's too burdensome to incorporate into their everyday look. Me included!
But it seems like we underestimate its power.
So it doesn't matter whether your Sim wants to be a serial romantic, or be someone's soulmate. Try on some eyeshadow for a cuter flirtier look!
And these hand-made CC packs are sure to offer far more than the base game's eyeshadow could ever offer.
15.

Miss Matched Eyeshadow Palette
Who said everything has to match?
The only matches we're interested in are matches made in heaven. T
Be a little more daring with the Miss Matched Eyeshadow Palette, brought to you by Lady Simmer94.
This features two different colored eyeshadows for each eye! Don't expect natural tones here, as you have six swatches that mix and matches colors such as pink and teal or yellow and blue.
We suggest wearing this to go clubbing and see how effective it is paired with the words "Yipkee banakatoo narbo bazeed".
14.

Too Faced Natural Love Ultimate Neutral Eyeshadow Palette
One of the most popular looks, oddly enough, is the no-makeup look.
It's the complete opposite of the popular Instagram makeup: there's no overcomplicated contouring or baking here. The only baking we care about involves sugar—lots of it.
Stay sweet and au naturelle by pairing this Too Faced Natural Love Ultimate Neutral Eyeshadow Palette, converted for the game by Mysterious Dane.
This palette has 30 swatches meant to enhance and not overpower your natural look.
13.

Eyeshadow Ultimate Collection
"Looking through a list? Ain't nobody got time for that!"
If this is you, then we won't burden you any further! We have a treat for your instant gratification loving self: this Ultimate Collection CC by PralineSims.
Peep the words 'ultimate' and 'collection' – this CC has every eyeshadow you could need!
Could you ask for more than 76 swatches? Looking for an everyday eyeshadow?
The KV1 and KV2 are great choices.
In a goth mood? There's the Countess and the Eternal Darkness.
Want to walk on the weird side? The Rainfall Glitter and Metamorphosis is your best bet.
Download this pack and see for yourself!
12.

Eternal Winter Eyeshadow Palette
Winter is my favorite time of the year. But it leaves me too lazy to move.
That includes being too lazy to put on makeup.
Can I just stay under the sheets and drink hot chocolate all day, please?
If you really must go out, let's make sure everything goes with the season!
Your Sim will have the iciest stares around wearing this Eternal Winter Eyeshadow Palette by PralineSims. One look using any of the 23 frosty swatches is enough to shiver them timbers.
11.

Eternal Darkness Eyeshadow Palette
When there is light, there is darkness.
Here's a darker counterpart vs the previous CC, and this one's perfect for when you're in the mood to brood.
PralineSims balanced her Eternal Winter with the Eternal Darkness Eyeshadow Palette.
This palette will have your Sim looking a little bit witchy, without the need for broomsticks and pointy noses.
It comes in 25 colors to make your heart pound a bit faster.
10.

Mermaid Eyeshadow
Legends say mermaids were creatures that seduced sailors and dragged them to the depths of the sea, never to return.
Contrary to Ariel, they don't wish to be part of your world.
Well this eyeshadow can lend your Sim some of their beauty—no need to be a part-fish. Well, unless you really want to.
FashionRoyaltySims's Mermaid Eyeshadow has ten sea-themed color options with a metallic glow.
9.

Eye Shadow Aesthetic
I feel like wearing the Eye Shadow Aesthetic from CIIAlan Simmer is just something your Sim would wear, just because they want to.
It's when you want to take a short walk on the whimsy side.
You get four eyeshadow designs in this pack: clouds, sunflowers, and some other blooms. Is it a work of art on your lids?
Maybe.
All we know is we like them, and we have no reason why!
8.

Eyeshadow #46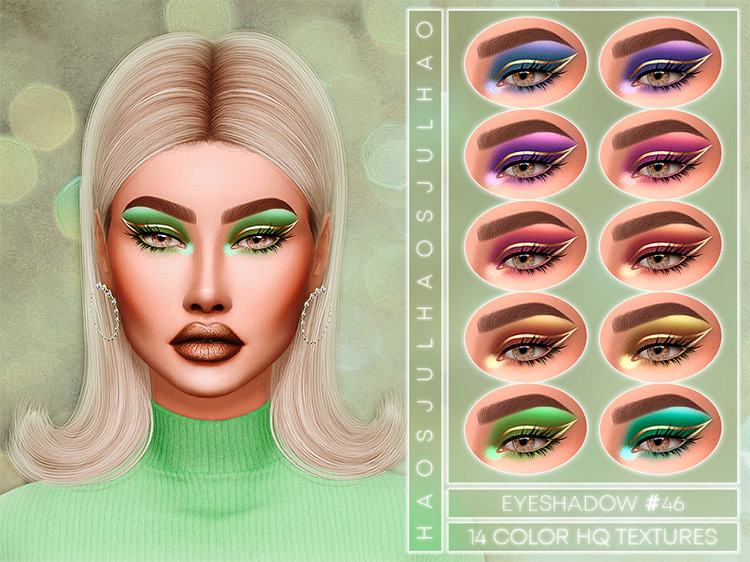 Your game year is 1985. You walk into a club to meet your Sim friends.
"Together in Electric Dreams" is playing in the background.
Your shoulder pads are poppin. Hair permed. Your Sim's eyes are illuminated by Jul_Haos' Eyeshadow #46.
And this is one heck of a eyeshadow + eyeliner combo. Choose from 14 electric variations of green, yellow, red, purple, and blue as the base eyeshadow color – topped off with a gold metallic cat-eye.
Not for those faint of heart!
7.

Dark Smokey Cat Eye
Nothing beats a good ole smokey eye.
Cleopatra did it first! It's an incredibly sexy look that still manages to be classy. A go-to look if you want to add a little more maturity to your Sim's makeup.
Fuse the classic smokey eye with a metallic backdrop using Goppols Me's Dark Smokey Cat Eye.
Or play with 21 colors that will surely enhance the color of your Sim's eyes (especially if you're using a custom eye color) and bestow them with a smoldering stare.
6.

Ciara Eyeshadow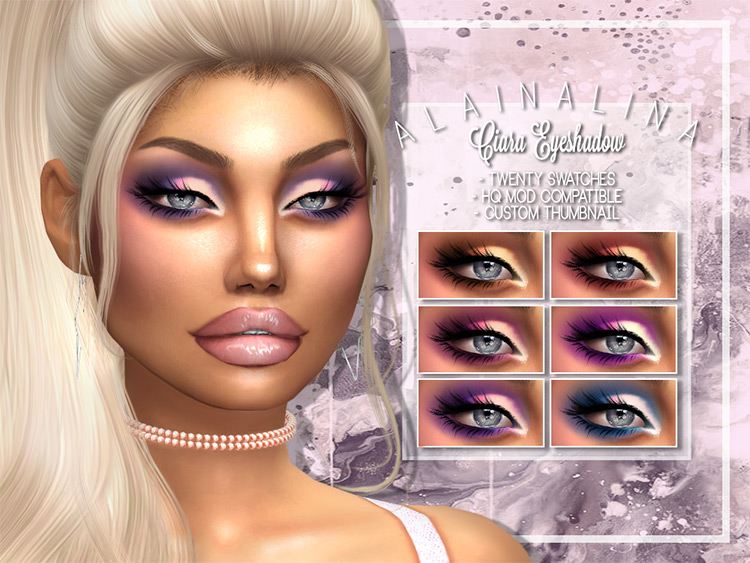 I'm eternally impressed by people who have completely upped their Sim makeup game.
It's a form of art.
I know some people might roll their eyes at that statement – but believe us.
Makeup is an art. And the face is the canvas. It ain't easy!
Applying eyeshadow, for me, is one of the hardest to master, because of all the blending.
Good thing we have CC like this Ciara Eyeshadow by Alainalina. Now I can live my dream makeup through my Sim!
This cut-crease eyeshadow comes with 20 swatches, which is a pain to do in real life, yet is perfect for your Sims.
5.

Liquid Eyeshadow Fantasy
Hey, there's a sparkle in your eyes. Wait, what? That's just eyeshadow?
Girl, hook me up!
Sometimes a little glimmer is all you need to complete your look.
Make Angisi's Liquid Eyeshadow Fantasy the finishing touch for your magical Sim.
There are 12 colors included of these soft-hued glitter eyeshadow. This CC goes around your Sim's eye, even below the waterline, to get a dewier look—goddess realness.
4.

Indra Eyeshadow
Eyeshadows need not be all glimmer, all shimmer, all the time.
I like matte eyeshadows better: they stay on forever, and colors tend to be a bit more vivid.
They also lend a more mature look when you want to play grown-up.
PralineSims brings us another palette again with the Indra Eyeshadow. This matte collection is sure to add a little more drama to your look, and go well with matte lipsticks.
The palette features 30 shades that are berry inspired. Berry good vibes.
3.

Soft Wink Eyeshadow
Gone are the days when red-tinted eyeshadow made you look like you took a bit too much last night.
The Japanese perfected this look, called the Igari, which is also called the hangover look.
This can make your Sim's eyes look dramatic – but not so much that you'd look like a telenovela antagonist.
The sparkles on the Soft Wink Eyeshadow by Goppols Me will help you avoid looking tired, and instead help your eyes look fresh and hydrated.
You get 24 varying degrees of red eyeshadow in this CC, so you can customize how intense you want your Sim's look to be.
2.

Eyeshadow #27
If your Sim is a performer, neutral colors are almost unheard of.
The louder your colors, the better you'll stand out in a sea of people with fame aspirations. We know that sometimes, looks are everything.
So here's some eyeshadow CC worthy of a pop princess!
Eyeshadow #27 is another custom palette from Jul_Haos. Featuring 16 neon colors, it also comes with a flawless winged eyeliner to complete the look (man, I wish I can also download this for real!).
Get ready to start wearing denim on denim, and practice singing the word "baby" every chance you get.
1.

Naked Urban Decay Heat Palette
If we're talking about TS4 eyeshadows, we have to mention Naked's Urban Decay.
This hit has always been on the holy grail list of every cosmetic stan.
Our top find is another one from Goppols Me, the Naked Urban Decay Heat Palette.
Inspired by the original 12-pan eyeshadow, this CC takes it to a whole 'nother level with 32 amber-hued swatches!
Be extra spicy with colors that vary from browns, oranges, and siennas all created with a mix of mattes, metallics, and shimmers.
So yes, my Sim ladies: this palette has got it all for you!
Browse:
Lists
The Sims 4
Video Games